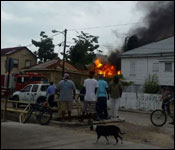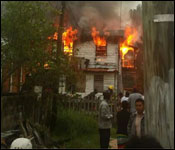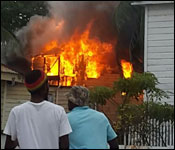 This morning, it was the worst kind of deja vu for one Belize City family when their home was destroyed by fire. Arilee Scott's house - which is just a few hundred feet from this studio - was home to 7 persons - three of them children. And now they are homeless. It's headline news because its the second time this family is getting burnt out of basically the same spot. Jules Vasquez has the story:…
The fire started just before 7:00 this morning, in this home off Prince Street. Arilee Scott and her four year old grandson were the only ones at home:
Norman Gillette – Fire Victim
"My mother mi deh home – my lee four year old son mi deh home; She mi di tek wah shower and the lee boy mi deh watch TV so when she and the lee boy holler, by the time she rum upstairs and see whe gone on, she said she couldn't do nothing because the whole room done eena flames already."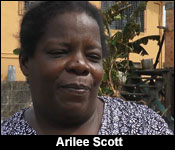 Arilee Scott – Fire Victim
"I was in my room this morning when my grandson come down and tell me the room upstairs on fire and I ran out to see if I could have seen da what to stop it but when I gone up it mi done in a blaze already so nothing I could do. I the holler for my neighbours please, please come help me and when I look all the young men off the street, everybody start to come in to try and help me you know."
For Arilee Scott, it's all too familiar. In July of 2007, she lost her home and all her possessions in this block burner.
Jules Vasquez
"I know this morning you were awful stress."
Arilee Scott
"Oh yes because I remember that big fire and that make I cry and everything but I had a lady Ms. Lisa who come and she assist and she took me to my brother house and help me to calm down you know. It;' not the first time that's why I cried because it's not a good feeling, it's not a good feeling to lose everything but the important thing is life right and we have life but still yet it's not a nice thing to face a fire, not a nice thing at all."
That home in 2007 was right beside this one which burnt this morning. Now, her sons are working hard to try and put on a roof to protect the few belongings she was able to save. Her son who lived upstairs didn't get to save anything:
Jules Vasquez
"So when you reach there were you able to save anything?"
Norman Gillette
"Whole of upstairs done deh on flames, whole upstairs almost complete when I reach."
Jules Vasquez
"So you lost everything?"
Norman Gillette
"Everything, everything I keep in my room, I no put nothing in the hall or kitchen downstairs, I keep everything once I own it, eena my room."
He says that this house, which was built after that 2007 fire, had electrical problems from the start:
Norman Gillette
"So far I feel like da wah electrical problem because so far we never really had power in the whole upstairs thus the light never come but just the outlet but so far we no so sure because from the house build difficulties. We had electrical, termite problem, all kind of problem from since the house build, the house noh even got ten years."
Mow, this family whose lives seem to be bookended by blazes, they hope they can get a fresh start:
Jules Vasquez
"So how you the handle right now?"
Norman Gillette
"Well right now I'm good I almost passed out earlier but I the get a lee breather so I feel good, the fresh air the do me good."
Jules Vasquez
"So what's next for you and your family?"
Norman Gillette
"Start over, you can't do nothing about it, no make sense you cry over it, it done happen, start fresh. It nah easy right but you have to start somewhere."
The fire department was able to contain the fire, and it was not a total loss, but most of the items that made it through the fire suffered either fire or water damage. If you'd like to help the family you can call Arilee Scott at 6687288.