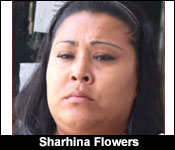 On Monday, Sharhina Flowers appeared in the Magistrate's Court where she was read a single charge for, quote, "suffering a child to be in a public place." Flowers immediately pled guilty to the charge stating the she had nothing to say in her defense. After being asked again by Magistrate Norman Rodriguez if she had anything to say, Flowers admitted that she was working at the Sister Cecilia home when she got a call from her mother telling her that her 13 year old son was being held at the police station.
She went on to explain that she left her son in the care of her mother, and alleges that the boy's father picked him up and took him somewhere else. According to Flowers, at some point the boy's father left him, which led him onto the street where he met up with a female neighbour, and that's when police picked him up.
Offenses like this one are considered serious and can warrant time in prison, however Magistrate Rodriguez instead decided to hand down a non-custodial sentence. Rodriguez said that children being left alone is at the heart of the negative issues occurring in Belize, and instead fined the mother of two $500 plus and additional $5 court fee. Flowers has until the end of June to pay.