But what we didn't hear from Almagro was anything about that Sarstoon protocol. All progress on that seems to have stalled due to intransigence in Guatemala. And, so, even though so much effort was put into it, now it seems like the status quo ion the Sarstoon s good enough. Here's how Belize's Foreign Minister put it:...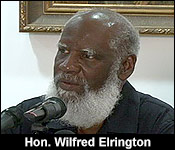 Hon. Wilfred Elrington, Minister of Foreign Affairs
"Things like that I like to think of as matters that we are working on continually. We don't have any definitive position on it yet, but we continue to work on it. The good thing is, the very good thing is that we have no incidents down there and that is exactly what we want."