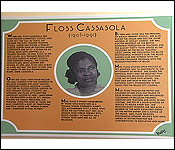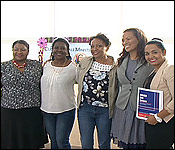 Can a book inspire young women to become future leaders ? That's what the "Building People Movement" group and the Belize Women's Political Caucus hope to accomplish with their new publication. It's entitled "Women can Govern: The Development of Belizean women in Politics." The book was launched today at the George Price Center and high school students were invited. We stopped by to see how the students reacted to the message.
Dorla Bowman, Building People Movement Project, Representative
"The book contains a historical look at women in politics before self-government up until today. It also contains the names of women who have been elected on the national level and municipal level in the country of Belize and the bios of each of these women. We are hoping this will be an educational tool, this is definitely an effort to write women in history. Our history books do not reflect all the contributions women have done."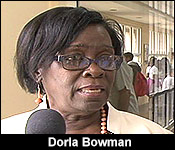 "I would hope you take away the fact that women have governed, women can govern, women have done a lot development work to move Belize forward. You will see a range, a multitude of women from different districts from different backgrounds that they serve our country."
Celia Enriquez, BCS Student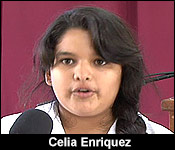 "The presentation was great and it inspires young people to be, to come out and show that women can also be governors."
Courtney Weatherburne, reporter
"Do you see maybe yourself being a Mayor or maybe the first female prime minister of Belize?"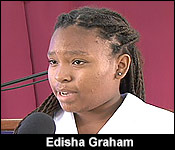 Celia Enriquez, BCS Student
"First female prime minister of Belize."
Edisha Graham, BCS Student
"The presentation has really inspired me to go more for in politics as I see myself being a mayor."
Courtney Weatherburne
"What is the boys' perspective on women being leaders?"
Adriel Mejia, BSC Student
"Well in my opinion girls will make better leaders because they could change the country and they could stop a lot of stuff, they could build more buildings so the children on the street can have a place to sleep over the night and have some food to eat."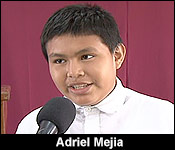 "I would want to be the mayor, but after this book launch I see that girls or women would make a better future."
Courtney Weatherburne
"So you are willing to step aside and put your aspirations for mayor aside for, a woman?"
Adriel Mejia, BSC Student
"Yes ma'am."
The book along with a CD will be given to all high schools free of charge. Bowman and her team are on a traveling high school book exhibit.



A Dozen Days of Christmas
December is here, and Belizeans are getting into the Christmas spirit with the traditional decorations, and hopefully, by also sharing the Christmas spirit with others.
The City Council is doing its part by kicking off its 12 days of Christmas. Mayor Bradley explained the charity campaign: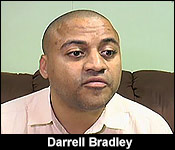 Darrell Bradley, Mayor of Belize City
"This one of the signature events from the City Council. The idea was really initiated last year. The idea was the during the Christmas season we really can promote a great degree of goodwill and a good spirit amongst members of our community. I think that we should show ways of compassion and service to others from December 1st which will be tomorrow until 12 working days into the month of December. The various staff of the City Council including various departments will be mobilizing to do random acts of charity and kindness within the city. Tomorrow we will be mobilizing an event with some of the older people within our community who are often times forgotten. That will be coordinated by the office of the Mayor so members of our council and myself will be sharing a meal and sharing some entertainment and fellowship with older people within our community. We have various other projects that involve going to school, we have repair works that involve refurbishing to a minor degree people's homes. We have various sanitation projects that will be going on through these twelve days."




EU Donates Water Systems
We've told you many times on the news about the European Union's Accompanying Measures for Sugar. It's a EU funded program where millions of dollars have been invested in Northern Belize to improve all aspects of the sugar industry.
But, the EU also a similar program for the Banana industry in the south. It's called the Banana Accompanying Measures, which was first rolled out 2013. Those same Banana Accompanying Measures are now paying for water system upgrades for Hopkins, Hummingbird Community, Middlesex and Pomona. Here's what they had to about the need of the upgrades for these 4 southern villages:
The total cost of those projects is just under 3.19 million Belize dollars, and it should assist about 4,000 residents in these 4 villages.




BHA Meets Next Week
The Belize Hotel Association will have its annual meeting next week. But they won't just be talking shop. Yesterday the President told us that they hope they can capitalize on the increasing airlift to Belize:
Ted Tejada - President BHA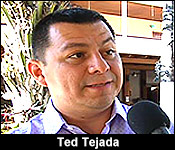 "We are bringing in Mr. Paris Gordon who is in the industry he has been doing the tourism industry for over 20 years. He does hotel evaluations in the United States. He actually lecturers at the University of New York. He has a wealth of experience. He's coming to speak to us on tourism in the Caribbean. What's happened after the hurricane and how can we capitalize this year in Belize and take advantage of what we have in the country. Presently we have been looking at new airlines, we have been looking at new routes and we have about 22 international flights coming into the country on a given Friday and in the high season there's up to 26 international flights coming in. So, we are looking at what other areas we need to tap. We are enhancing our platforms, our marketing platforms actually we are coming up with the guide which should be released by next month. We are doing a map. We are also looking at a webpage, SEO optimization. So we are looking at our members what else benefits can we give them. How else can we tap into the European market into the Central American market. We are forming partnerships and the more people that can come together as members the more money we will have to do this."
And while they are hoping to capitalize on airlift, they also hope that Airbnb accommodations don't steal their guests! Tejada told us that Airbnb is definitely cutting into the overnight sector's take:..
Ted Tejada - President BHA
"I can definitely say that the Airbnb is actually putting a touch on the industry, on the hotels themselves. That is something that the Belize tourism board is addressing. We are looking at all of them. We don't want to get rid of Airbnb. That's not our place. We want to make sure that they are paying the taxes just as we are doing and they are actually following all the legislations of Belize."


Tourist Took A Tumble Off El Castillo
And finally tonight, we ahem the story of a tourist who fell from a Mayan ruin this morning. It happened at about 11:00 am, at Xunantunich. 37 year old Courtney Howard was climbing down from the El Castillo Temple when she slipped and fell about 16 feet.
She did not receive major injury but was taken to the medical facility.