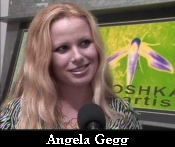 And while Gilbert Alamilla is crossing over from television to music, another TV personality is doing something similar, Angela Gegg is crossing over from her looking show to fine arts. We told you last week about her foray into publishing, well she's gone much further into the arts than that; the smoke mermaid has crashed the fine arts party and brought her particular style to the sometimes staid proceedings. She told us what her paintings are about and why she does them.
Angela Gegg, Proshka
"A lot of people in my opinion, from my personal past experiences, do misinterpret and stereotype artists per say and people always look at me and are like, 'you are an artist?' So I guess that just sort of influenced me and I am like, 'yes I am an artist, so what.' I feel the need to be me and creative at the same time. This is two years of work, a lot time. A lot of new stuff has come; colors shapes, forms."
Keith Swift,
Why don't you stick to one style?
Angela Gegg,
"How boring. People are always telling me I should stick to one style but you know there are so many personalities in the world, so many types of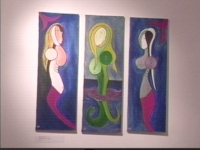 people and people have so many interests. Why should I just do one type of work. I know that is the typical artist thing, you just do one style, but there are so many different aspects of Angela. Why should I just do one style when there are so many parts of me."
Keith Swift,
I see many representations of the female body. Any reason for that?
Angela Gegg,
"I'm female, I know my body. It represents women, like strong women, and women in society I guess. I am female, I know my shape.
I like for people to look at the piece and pull from it themselves. It is not like I am trying to provoke something from them. I want them to look at the piece and get something from it. It doesn't necessarily have to be what I feel it is. For example in the Tears Collection, if they are seeing the tears in the painting, if they are in a good mood, it could be tears of laughter, tears of joy. If they are sad, let it be tears of sadness. It doesn't necessarily mean one thing. That is the beauty of abstract art, it could mean anything at anytime."
You can see more of Angela's Work at Proskha.com.