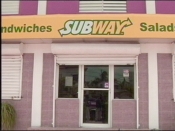 In the global world of sandwich making, Subway is king and in 2003 Belize got its first international fast food chain when a Subway restaurant was opened on Freetown Road. But the Subway on Freetown Road has been closed since Saturday and will stay that way for a while. Well, things dread, apparently even for multinational franchises. Why? Keith Swift found out.
Keith Swift Reporting,
Subway, it is an international brand sold at 26,000 locations in 78 countries. One of those locations is here on Freetown Road in Belize City. But the fast food chain no longer feels welcomed in Belize.
Shelmadine Martinez, Subway Employee
"She told our manager that if it is left to her, there wouldn't be a Subway in Belize and I think that is unfair because we are Belizeans that work here, not foreigners."
The problem is that the Subway chain requires that all their franchises use a specific type of meat, cheese, and bread. To import the special cheese and special meat, Subway needs a permit from government. That is where the problems begin. The store's manager applied to the Ministry of Finance for a permit to import the required ingredients but he was denied.
Jenecia Frazer, Subway Employee
"Subway is a franchise and if you use local meat it won't be a franchise anymore. It would be probably be something like Super Subz and everybody knows that we have Subway, Subway is standardized. Something things we use, Super Subz doesn't use. That is why it is a Subway."
And so since last week Saturday Subway has been closed. There has been no meats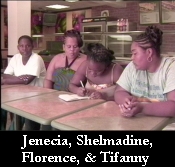 in these tray. Customers have been turned back and that means the store's 11 employees are out of a job.
Shelmadine Martinez,
"We have kids to feed and we have bills to pay also."
Keith Swift,
So how is this affecting you guys?
Florence Sankey,
"It is really bad because school is almost open right now and then we don't have any jobs, we don't have any money to continue our schools."
Keith Swift,
"I cannot believe it is closed."
Shelmadine Martinez,
"Yes. From Sunday morning, from Saturday about 9o'clock the restaurant closed."
Jenecia Frazer,
"We want the lady to understand our pain that we need our job. As she said before, it is not that aliens are working here, it is we Belizeans and as the Prime Minister said he wants to give us more jobs but if we want to give us more jobs, we have about 11 people working here and if we close down, what will we do. Right now it is very hard to find a job, especially if you don't have a sixth form qualification or something like that. It is really hard to find a job. We love our job. W e realty do love our job."
It is a job they love but it is also a that Jenecia, Shelmadine, Florence, and Tifanny is unable to do as they sit in empty restaurant.
The permit for importation was denied by the Ministry of Finance and no one was available for comment.