Emory King, Dead at 76
posted (August 15, 2007)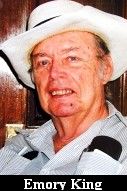 Film commissioner, author and historian Emory King died at his home in Tropical Park last night. He was 76 and had been ailing from symptoms associated with cancer. In his 54 years in Belize, the American born King made a wide mark, not least of them here at Channel 7, where he co-founded Tropical Vision in 1980. Today, to reflect on why King mattered, we pulled up an old interview from 1998. The interview was done at the time for an art project, not for the news - so what you're about to see has never been aired and it provides a useful insight into who Emory King was.
Emory King, Deceased
[1998 Interview]
"I've been here 44 years. I got shipwrecked on the Great Belize reef in 1953 and I've been here ever since."
And King always said that's how his story fits in with the Belize story.
Emory King,
"Belize, the land of the reluctant immigrant. Nobody ever came here willingly but once they got here they never left willingly either. They stayed and stayed. When you stop and think about it, the pirates, the slaves, the Garifuna, the Mestizos - nobody came here because they wanted to but once they were here, hallelujah - they have found paradise."
More than paradise and he also found a place in history.
Yasser Musa, NICH President
"In terms of history he is known to have brought the Mennonites, negotiated the bringing of the Mennonites to Belize, he was a founding member of the Belize Historical Society, he was the film commissioner, he brought many films, documentaries to Belize, and in many instances that creased a lot of employment and opportunities, and an important thing that Emory did for many years was the Tribute to Belizean Patriots. In terms of media, he had a great impact. I know in 1980 along with Net Vasquez, the owner of Tropical Vision, they brought the first satellite dish to Belize, and of course the rest is history in terms of that being a major signpost to the opening up of global culture."
Emory King,
"I wrote books and I have lectures and I got the movies in here, I brought the Mennonites to Belize, and I've had a grand old time."
Yasser Musa,
"But from a personal standpoint, I think anybody that encountered Emory King knows he was a great raconteur, a great storyteller, he always had a pocketful of jokes that at anytime he would deliver with such amazing skill."
And he parlayed that into bit roles in Hollywood movie made in Belize.
Emory King,
"In my first movie which is the 'Dogs of War' in 1980 I stood in a bar with a glass of whiskey and a cigar and Christopher Walking. In my second picture, the 'Mosquito Coast,' I sat in a bar with a glass of whiskey and a cigar and Harrison Ford. In my third picture, a thing called 'Caribe,' I sat in a bar with a glass of beer and my hat and my cigar and a pretty girl across the table. I thought my career was taking off. Unfortunately in my fourth picture, I died - in more ways than one."
But more than a star, King just wanted to be accepted as a Belizean.
Emory King,
"I became a Belizean at heart back in '54 and I became a Belizean legally in 1964 so I only thought about Belize, Belize, Belize."
Jules Vasquez,
Do you feel that you are a full-fledged Belizean?
Emory King,
"I do. I expect there are a lot of people out there, if I live to be 100 years old, will never look at me as anything but a foreigner who came here. Okay I understand that, that is true in all small places. Everywhere in the world, small places tend to look at people from outside as outsiders forever. That's all right, I have two sons and I have grandchildren and everything is going to be alright. Belize will survive and may even prevail."
And that spirit was the subject of his sometimes controversial history books.
Emory King,
"We were not a plantation colony. We were not a colony, that is the first thing. We were on our own business; collected our own taxes, spent it anyway we liked. Every free man, whether he was white or black, could go to the public meeting and vote and party and talk and serve as a Magistrate. It didn't make any difference. Besides that, many men took black slave ladies and fell in love with them and had children with them, created the Creole society that is still going strong in Belize today."
Yasser Musa,
"Yes it was a voice that came under scrutiny and attack in many ways from various historians but that is the beautiful thing about history, there are many perspectives and there are many voices and that is what is great about open dialogue and a free society."
And those ideals are all king could have ever hoped for Belize.
Emory King,
"We're going to do great things in the future, in spite of our mistakes but we have to love Belize and be ready to stand up for Belize and the only way you can do that is to understand our history and appreciate what's happened in the past."
And as he took a daring turn at the YWCA fashion show in 2006 - we can look back and say - we have lost a Belizean and a patriot.
King's funeral has been set for tomorrow at Holy Redeemer.

Home | Archives | Downloads/Podcasts | Advertise | Contact Us