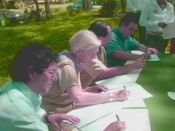 It's an important Mayan site, bordering Belize and Guatemala, but, sadly, every time we hear about El Pilar, the news is about some kind of illegal activity in the border area, usually violent armed assaults of nearby residents or tourists by cross border bandits. But all that is about to change because Pilar is coming under a tri-partite management regime.
Today the National Institute of Culture and history (NICH), the University of California State at Santa Barbara and an NGO, Amigos De El Pilar signed on to a management agreement. This document is the blue print on how the archaeological site will be transformed from a destinations footnote to a premier eco-cultural destination, complete with security for the visiting public and those managing the site. Here are some highlights from the ceremony.
Yasser Musa, NICH President
"We've reached an important step in the vision of El Pilar and its surrounding communities but there is so much work ahead and I want to pledge the commitment of NICH to continue the hard work. While we may work together, not just a community and archeology, a university all in the way in Santa Barbara and Archeology and the community; a community, a university, an archaeology institute, and a neighboring country, that the dynamic that we are sending today is bigger than all of us. At some point the site needs to be taken over and owned by the community, that an archaeologist can't own a site, that a NICH can't own a site, that Guatemala or Belize as concepts of countries can't own a site---it is the people that live near the site that must take this kind of ownership."
Anabel Ford,
"You can't have collaboration without commitment and we can't have a management plan for El Pilar without the commitment we're celebrating here today. This is an amazing, wonderful, momentous moment for me because in my idea, Jaime Awe's saying that some people in other countries are starting to see this, I see that Belize can be the leader and if we have copycats all over the Maya forests we would have regained the Mayan forests today; that is the real celebration here."
Hon. Mark Espat, Minister of Culture
"We believe that the El Pilar Management Plan is visionary because it focuses attention on both the ancient and the modern Maya landscape. That is to say our goal isn't only to conserve the prehistoric monuments of the site but also its wider environments. In the past the traditional method of site development and completely denuding the area of flora and fauna leaving just the monumental architecture exposed, that has been the traditional method. The El Pilar plan continues a vision that we have employed successfully and in different degrees at other sites such as Caracol and at Cahal Pech. It is a also multi-disciplinary approach in that its aim is to equally promote the conservation of the ancient Maya architecture as well as the plants and animals that the Mayas relied upon and continue to rely upon. Our goal then is to develop a park in which Belizeans and Guatemalans and visitors and scientists, our children, and all members of our communities can enjoy, study, and appreciate the symbiotic relationships of the Maya landscape. In many respects my friends, today's event also marks a monumental leap for the NICH because it is the first time really that our institution is joining forces with our counterparts in Guatemala and with a non-governmental organization and the community to manage one of our sites."

The management plan will see botanical trails, forest gardens and eco- friendly developments taking place in the area.