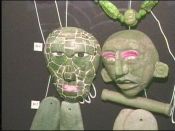 In commemoration of Belize's 25th Independence Anniversary, the Museum of Belize has mounted a new exhibit. Entitled the Jades of Belize Exhibition, it features jade artifacts collected from Mayan sites across the country over decades of exploration. Of course, the Jade Head is there, but so are other less known, very brilliant pieces. We found out more at today's opening.
Alfonso Noble Reporting,
Prime Minister Said Musa along with Executive Director of SATIIM Greg Choc cut the ribbon declaring the 8th exhibit at the Museum of Belize opened. It's called the Jades of Belize and it's the first time such a sprawling collection of these precious stones has been put together in a single display.
Hon. Mark Espat, Minister of Culture
"If diamonds are forever then we are here to celebrate the infinity of jade."
Dr. Jaime Awe, Dir. Of Archaeology
"Jade was one of the most precious stones to the ancient Mayas and to a lot of the cultures across the rope. Its green color reflects substances such as corn, water, and the green ceiba tree that's stands at the center of the Mayan universe. It actually brings together many of the beautiful and exquisite prehistoric masterpieces that were discovered at sites across Belize. As Lita pointed out, it includes the famous Jade Head, still the largest single piece of Jade ever discovered in the Maya World. The exhibit also includes beautiful masks form Caracol, Santa Rita, Cahal Pech; jewelry from Lamanai, and countless other objects from some of the more archaeological sites. This exhibition, I believe, is truly a celebration of our past cultural achievements and thus it is fitting display to honor this, our 25th year of independence."
It's a fitting display honoring independence as Belize's 'crown jewel' the Jade Head which was prominently featured. This along with a treasure trove of jade artifacts including necklaces, effigies, and even masks form part of the collection. Minister of Culture Mark Espat explained the cultural value of this precious green stone.
Hon. Mark Espat,
"Four thousand years after jade first gained value, its distinct green color still represents our closeness to mother earth. Green is a label for sustainability, for longevity; the color and the word representing everything from the movements, the environmental movement to save the earth from self-destruction to a brand of travel and tourism. Belize and Belizeans are proud to inherit this symbol of enduring strength, these manifestations of the creativity and spirituality of our Mayan ancestors."

And while there was public lauding of the Mayan ancestors and their skill and ability to create exquisite, almost eternal pieces of art that now form part of the national patrimony, SATIIM's Director Greg Choc says we can't forget the living Maya.
Greg Choc, SATIIM
"We are seldom asked to participate in activities that showcase our rich cultural heritage, whether it be the women of a Maya City or displaying our ancestor's technology, writing, etc. Today is really significant because we have come to celebrate and receive the spirit of Kinich Ahau. There is nothing wrong with knowing how our ancestors built their world renowned cities that have enriched the landscape of Belize...we have learnt much from the scholars who continue to unravel the mysteries of our ancestors but these scholars' works have not contributed much to changing our realities. I ask you not to forget the realities of the thousands of Mopan and Ketchi Mayas who are fighting for their social and political survival. We also want an equal share of the opportunities that some Belizeans have taken for granted. Opportunities for equal education and good basic health to name a few. We are the faces of the living Maya and we are part of Belize's multicultural, multilingual society. Our culture is as fascinating as that of our ancestors. It is a culture that needs to be safeguarded, not only for the Mayas but for all of Belize."

But while Choc lamented his people's economic and social standing in Belizean society, Prime Minister Said Musa deflected his criticism.
Rt. Hon. Said Musa,
"The Maya Belizean has been virtually fully integrated into Belizean society. It is not like in the colonial times. Today a Mayan Belizean is like another Belizean. They live any part of Belize, many of them hold high posts in government, in the private sector. Yes they do have a long way to go in terms of upgrading, we need to upgrade the standard of living of all our people who live in poverty and not all the Maya do. I think it is important to understand that and in fact our government has been working very hard to deal with the disadvantaged areas of our country, not just south side Belize City but indeed the Toledo District. A lot of investment has been made in the Toledo District."
And while inequality may be the crime of our age, these timeless treasures today eclipsed that dispute with their brilliance.
The exhibit will be open throughout the September celebrations.