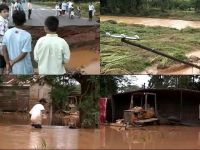 Tonight 5 are confirmed dead and 2 more are suspected dead in southern Belize, the victims of flash floods swept through the south eastern Stann Creek District this morning. The floods are the result of a weather system – related to Tropical Storm Arthur that dumped close to a dozen inches of rain all across Belize in 4 days of relentless showers. And those 4 days caused a fearful swell in the river this morning, something rarely heard of in Southern Belize, a flash flood where the river level raised by feet in a few hours. It caused deaths in three villages: the Valley Community, Hope Creek and Sittee. Our 7NEWS team has been on the ground, in the air and in the water tracking down the story today.
We begin with Keith Swift, who found out about the human impact when he went into the communities where fatalities were recorded.
Keith Swift Reporting,
The flood waters washed away a culvert on the Hummingbird Highway but in the Valley Community at mile 21, it was much more destructive. I am standing where the Ritchie's house used to stand. That was until 2 this morning when the flood waters washed it away. And along with the house, it took the Ritchie family.
Bedford Ritchie, Family Member of the Deceased
"That flood just came right now, sudden one and when I look I saw my nephew's house over there and I told him to get out. It looks like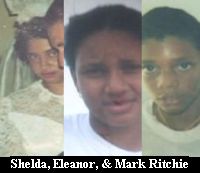 he was trying to pack up his things and the water didn't give him any break. The water just come right up and picked up their house and took it down there and mashed it up.
After that I took my family from here and I took them in the ceiling in the house there. I got some plywood and we went way inside the ceiling. Then I flashed the flashlight and I looked and I saw the house caught up there and a light way up in an orange tree. I gave him the signal to stay there until the water goes down and then we will assist him.
When we got there we found his daughter to the back of the house dead and at another spot we found his wife trapped underneath the house top. She died too and the little son, we can't find the body."
Consuelo Ritchie, Family Member of Deceased
"It is so hard, we are taking it hard because we don't know where the little boy is. We don't know if we will find him."
And then there was even more tragedy here in Hope Creek where we joined a father on a desperate search for his missing and now presumed dead son.
Philberto Roches, Father of Deceased
"The water was about two feet inside the house and by the time I turned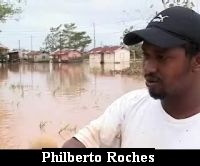 around, got clothes for my boy and come out back, the water was across to neighbour already. So I came outside and tried to swim towards the mango tree and the current pushed me behind Miss Dorothy house and I ended up behind a mango tree.
And when the current came I went underneath the water and I bit my little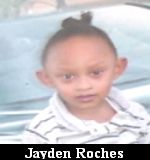 boy in his hand, just to hold him, and by the time I came up back – he was gone. So I turned around and tried to find him and never did find him again. So right now I am just trying to find him. He is somewhere around this area, somewhere around and I will search until I find him."
And while Philberto Roches is confident that he will be able to find his missing son, there is little or no hope in the rest of the village. That is because right now we are walking through knee deep water and residents say that this morning the water was at their waist and the only thing most could save were their lives.
Olga Bol, Flood Victim – Hope Creek
"We lost everything. The house is totally destroyed and I think we need their help at this present moment. I lost everything; documents, diploma, my IDs, and everything. So I think we really really need them to come out and help us."
Keith Swift,
When did you have to flee your house?
Olga Bol,
"It was like 2:30 this morning when we heard the little chicken making noise and then the gentleman that I live with, he woke up and he stepped right into the water and it was already above our knee and then by the time he locked the door and opened it again, the water was coming through. We had to swim towards the tree and then got all scratched up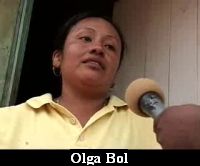 , ants bite and everything."
Keith Swift,
What are you going to do?
Olga Bol,
"I have no idea. I have absolutely no idea what I'll do."
Carmelita Castellanos, Flood Victim – Hope Creek
"We don't have a step, we don't have our mattress, we don't have sheets. We need food, we need a lot of things. I have two daughter and we need a lot of help right now. So that is what we need right now, a lot of help. We don't want them to only come and look at us, we need help because when the water was rising we called the officers because only that I could have called. I called two times and the officers said that he cannot help us. That is the answer I got."
Mario Villafranco, Flood Victim – Hope Creek
"It is so frightening because all of a sudden you step out and you see water is already at your navel. So I came out and I saw everybody going. I just got frightened. I have six kids and I fought for them and we survived. The house was over that corner and now it is in my neighbor's lot. It seems like I pushed my neighbour more to the back."
Keith Swift,
Were you able to save anything?
Mario Villafranco,
"No, nothing – just my kids and me."
And one life that couldn't be saved was that of 36 year old Alwin McNab in Sittee River.
Wellington McKenzie, Friend of Deceased
"Well what happened is that me and this guy went to get a dory to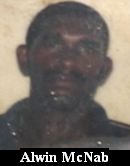 go and save some other guys by my neighbourhood. Before we got there we couldn't reach and so we decided to turn back. While turning back he couldn't stand up no more and he went underneath my house and there he drowned. They found him about two or three hours after."
To give you an idea of what exactly is happening here in Sittee River, behind me is the Sittee River which looks like the 'Sittee Sea' with violent currents – something villagers say they have never seen before.
Hilton Lamb, Flood Victim – Sittee River
"As you can see, pure mud I am dealing with. For three hours I have been right on the vernadah. I can't finish at all, it is pure mud and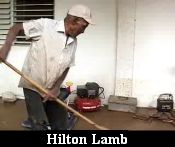 inside is worse. It is all on the bed, all on the chairs, the clothes – everything is wet up, muddy up and things like that."
Keith Swift,
Did it creep up on you or was it gradually rising?
Hilton Lamb,
"It came fast from six this morning. All my banana, plantains – it threw down the plantains and washed them away and all those things."
Keith Swift,
Sir has this happened here before?
Hilton Lamb,
"No, no – never before. I was born right out here and the flood has never come on this land until now."
And while Hilton Lamb has a muddy house to clean, he is one of the lucky ones in Sittee River. The flood has left many homeless.
Florence Gabourel, Flood Victim – Sittee River
"I lost everything, everything everything in my house. We don't have food. This morning the helicopter came and said they would bring food and so and from the time it left, it hasn't come back. We have no clothes, we are all wet up. I lived way to the back and it is the first time in my whole life I see something like this."
Sittee Village Resident,
"We are without food and water from since this morning. One helicopter came and we really don't know if it was NEMO or who but a helicopter came and landed and told us that they are going to Belmopan and get fuel and get us some water and food and come back. But since then nobody has showed up. We haven't heard anything from anybody and the situation is still the same. The water went down but everybody is dry and hungry. So I don't know what is the situation with NEMO and all those people that do those planning and everything. It seems like they didn't plan for Sittee River.
One thing I want to say is that if they have plans to help people I think they should have been here already with at least water and food for the kids. NEMO is just dreams and dreams and dreams – that's all I could say. They are a bag of dreams. PUP or UDP – nothing change."
With those 5 confirmed and 7 possible fatalities, the floods become one of the worst natural disasters in Belize's modern history. In October of 2001, 20 people died aboard the wave dancer – a dive boat that was capsized by the rough waters of Hurricane Iris. But only 2 Belizeans, both crew members were on board the vessel. So this 5 and possibly 7 becomes the greatest number of Belizeans to die in a natural disaster, certainly in the last two decades.