One Weekend, One Dangerous Bridge, Three Accidents, Four Dead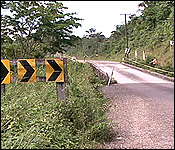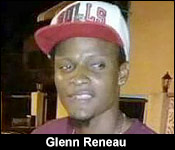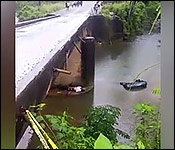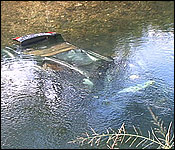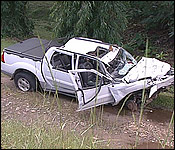 Four men died in two fatal accidents weekend - and both of those accidents happened on the same bad bridge between miles 31 and 32 on the Hummingbird Highway.
It's known as the St. Margaret's Bridge - and it's a single lane span across a creek. What makes it dangerous is that - apart from being narrow, it's on a downhill, and then it has no railings, plus it's on a dark stretch of road.
All those factors - plus lack of safety measures - combined this weekend two create two fatal accidents: one of them a triple fatality. Courtney Weatherburne has the story:..
Courtney Weatherburne, reporter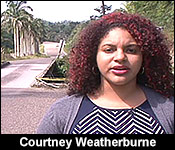 "The Hummingbird Highway was heavily trafficked this weekend. Family and friends from all over the country heading down south for the 19th celebrations. But of all the festivities, there was tragedy. There were 3 accidents at the St. Margaret's Bridge in just 36 hours - about 4 lives lost. It is grisly memory now in engraved at this bridge."
Courtney Weatherburne reporting
Gasps of horror captured in this amateur video after the triple wreckage at St. Margret's Bridge.
The first happened on Saturday night around 10:00. 36 year old Glenn Reneau was driving his grey Honda Accord to Dangriga along with two friends - Glendale Ramos and Maria Ramirez. But Ramos who was in the front seat guiding Reneau along the way, got a call from his dad. Apparently Reneau got distracted and lost sight of the road.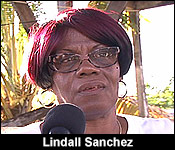 Lindall Sanchez, Mother
"He was guiding Glen along the way, but at the same time his dad call him, wanted to know how far they were."
Courtney Weatherburne, reporter
"Ramos' dad?"
Lindall Sanchez, Mother
"Yes, Ramos daddy called him. So he was talking to his dad and right there everything haywire, everything. That's when my son conscious he was in danger and my son yelled for him. He says "Ramos" and that's it. That was too late. That was the end of him."
They plunged into the creek. Reneau was killed while his friends survived. Ramirez was injured in her left foot while Ramos was injured to his right hand. It is a tragic end for a man who his mom says was cherished by many.
Lindall Sanchez, Mother
"Nice young man, very nice. He knows to steal everybody hearts. Everybody that knows him, he steals their hearts."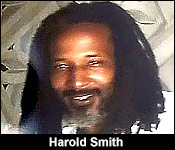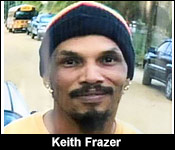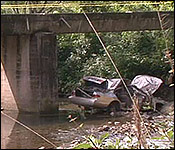 The family of Harold Smith and Keith Frazer also have nothing but fond memories of their loved ones. Smith was driving the Toyota Camry at the time. Frazer along with Marlon Flowers were in the passenger's seat. They were heading back to Belmopan on Sunday afternoon. Information is that Smith lost control of his Toyota Camry and plunged into the creek. All 3 of them died. A family member who was in a separate vehicle driving in front of them had no idea what had happened until he got back his Burrell Boom home.
Kareem Myvett, Relative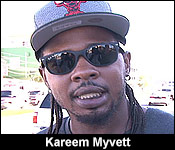 "He was always talking about the 19th. He always wanted to go. He wants to make sure everybody reached there. That's all he's been talking about and my friend came in from Chicago, so that's the only reason I wasn't in the vehicle. We left right before the celebrations and the festivities. We were just saying we wanted to stay, but like they say when death is calling, we are just ready to go."
Courtney Weatherburne, reporter
"You were alone in your vehicles right?"
Kareem Myvett, Relative
"I had 4 people in my vehicle as well, so It was nowhere for us to call. Usually whose going - everybody get together in one vehicle and go, but it just didn't happen like that this time."
Courtney Weatherburne, reporter
"So you all decided to leave together Sunday afternoon, you left in your vehicle with your passengers and then Harold and Keith as well?"
Kareem Myvett, Relative
"He told me go ahead, like he knew, like 'nephew you can't see this, just go ahead, just go ahead.' I'll never forget that face. Like I said cherish your loved ones and for the record, nobody was drunk. This is not a drinking and driving affair, Albert Smith "04" everybody knows he is not a drink man. He would go in the car and go to sleep before entering a club."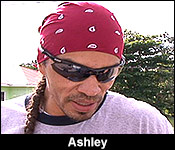 And not much information is known about another accident that happened on Friday but again it was right near the St. Margret's Bridge. Although these families are grieving their loved ones, they along with residents are demanding that the government implement better road safety measure to minimize these fatalities.
Ashley, Relative
"I just like to petition the government or the Ministry of Works, to please try to do something about that and all these little old time bridge, especially like when you go through that. We are in a day and age where they can get enhance, where people can slow down before these bridge. I don't care if you have to put those rigged speed bumps a mile before you hit it, so that everybody is at least to a certain speed by the time they get there."
Voice of: Villager
"It is bad, they have to fix this bridge because it is dangerous, there has been a lot of accidents."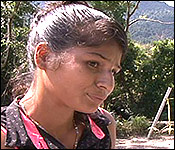 36 year old Glenn Reneau leaves behind 2 children. Reneau's mother says this was his first time attending 19th celebrations. Regarding Sunday afternoon's accident - 37 year old Harold Smith also known as "O4" leaves behind 3 kids and Keith Alonso Frazier leaves behind 2 kids.

Should Police Have Done More?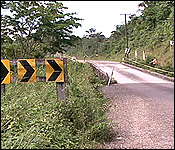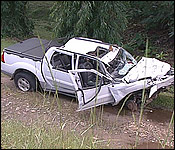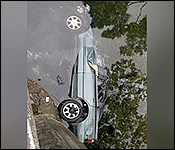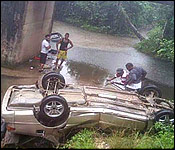 And - as Courtney mentioned in her story - there was another vehicle that also slipped off that very same St. Margaret's bridge this weekend. That accident actually happened on Friday night at 7:00 - when, according to reports, this Ford Pickup was the first to tumble off the bridge. We have to say according to reports, because, incredibly, 96 hours after it happened, Belmopan police still cannot produce a report of that accident.
So, then, the first accident was Friday night - which was non-fatal, and the second accident was Saturday night, which had one fatality, and then on Sunday during the day, the triple fatality. So why didn't Belmopan police or the Ministry of works do something pro-active?
Commander of Operations ACP Edward Broaster told the media today that they were counting on traffic stops in Dangriga:
ACP Edward Broaster, Commander - Operations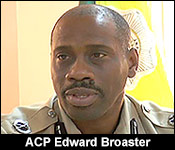 "Well our thing would not have been on the hummingbird highway per se it would have been in the area of Dangriga. And I'm sure the Dangriga formation had put things in place to mitigate any drunken drivers, being, entering on the road."
Luis Wade, Plus TV
"I travelled the highway and there was not one single police vehicle or officer on the Entire highway on the 18th, day or in the night. Where would they have been?"
ACP Edward Broaster, Commander - Operations
"I cannot argue with what you saw, because what you saw, you saw. But I'm sure we had patrols from the special patrol unit on the highway."
Jules Vasquez, 7News
"Sir, it seems like a gross dereliction of duty on behalf of the Ministry of Works and of the Belmopan Police, that, ok, one vehicle falls off the bridge Friday night: bad. A second falls off Saturday, that's fatal. That's awful. A third falls of fun Sunday and at no point is a caution guard put there, is a police officer put there, something put in place to say, listen we have an emergency crisis situation at this very dangerous bridge, it is manifestly dangerous, it has no border, no railing. And it's a one way bridge on a two way road. Why did not law enforcement react in a proactive way to pre-empt further loss of life?"
ACP Edward Broaster, Commander - Operations
"I cannot speak for the ministry of works, Jules. But, like you said the bridge been that way for a while and we haven't been having any accidents in that area. It's just unfortunately that, it so happened that this weekend, we had two, you're saying three."
Luis Wade, PLUS TV
"In a way are you telling is that you are not aware of a third vehicle falling off the bridge, on Friday night. The police is not aware of a third accident?"
ACP Edward Broaster, Commander - Operations
"I am not telling you that the police is not aware. I am telling you that I do not have that information."
The Regional Commander for the South, Senior Superintendent Alford Grinage confirmed that his police did traffic operations on the 17, 18, and 19th during which time they gave out 63 tickets for violations. He said that also had highway patrols covering his zone which ends at mile 30 on the Hummingbird. The fatal accidents happened at mile 32 - which falls within the western zone. He says there were no accidents in the southern zone this weekend.
So while Southern police did their work, what about the Ministry of Works - where were they? And what will they do to fix the bridge? Well, we've been calling their office from 8:00 this morning to speak with the CEO, Errol Gentle but he's either busy or in meeting, but always unavailable. The Chief Engineer who we met at the bridge declined comment.

Driver on Rampage on Central American Blvd. Injures Four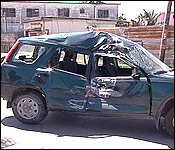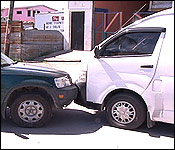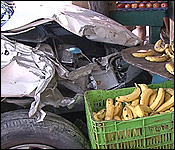 And while those fatal accidents happened on a visibly dangerous bridge, there's no easy explanation for a traffic accident in Belize City on Saturday morning. It was caused by a driver who - it seems - just went crazy on a very busy road and started to plow through traffic at the height of the morning rush at around 10:30 AM.
The drivers wild rampage started at the Hand Roundabout - which is the one you meet who coming off the George Price Highway.
58-year-old Lincoln Webster was halfway across the roundabout in his Toyota Corolla when 65-year-old Phillip Neal crashed into his front end and raced off. Sahar Vasquez tells us what happened next:
Sahar Vasquez reporting
56-year-old Principal Crusita Castillo was driving her Honda CRV towards Belcan Bridge, when, at the Banak Street Junction, 65-year-old Phillip Neal's out of control van rear-ended her. He was speeding and the force of the collision launched her vehicle across the median, raking a palm tree, and landing on the other side of the road where she collided into a parked van. Her vehicle was extensively damaged.
But Neal's rampage didn't end there. He then collided with a parked Saturn Vue. He hit it so hard, he took off one of the wheels. Neal ended off the movie like scenario by crashing into a lamp post that saved a fruit shop from imminent danger.
It sounds unreal for but for those involved it was very real especially for 53-year-old Joseph Meigan. Meighan who had just started washing cars about three weeks ago was washing the parked white Saturn when Neal's van came barreling out of nowhere and hit him. He was thrown all the way up the street. Meighan survived the massive impact and is back at home. He has no recollection of what happened.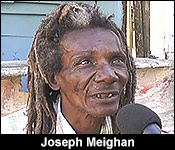 Joseph Meighan, Accident Victim
"I saw myself on the ground when they showed me on the phone. I don't know what happened."
"Well when I found myself my sister brought me home and told me what happened."
Sahar Vasquez, reporter
"What injuries did you sustain?"
Joseph Meighan, Accident Victim
"Only over my eye here and the back of my head got a little bust."
His sister Cynthia was at home washing clothes when she heard the news. She was told that her brother had died. She dropped everything to rush out and see. She was more than relieved to find her brother alive. But she is still tormented by the image of her brother laid out on the pavement.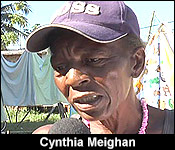 Cynthia Meighan, Sister
"I rushed out and when I reached he was on the ground bent up and he had a chop on his nose and face. His eyes were swollen. They could not open."
The family is glad that their loved one is ok but they are now left with a heap of medical bills and very few answers.
Sahar Vasquez
"What is the action that the family wants to take on the person that did this? You have hospital bills to pay, medications to pay for."
Cynthia Meighan, Sister
"Well I want them to take care of his hospital bills and the wounding he got. RIght now he is still in pain from the foot to the chest."
"The police have not come yet because we still have the police record here for in case they come. No police come yet."
And the rampage continued after the accident. PC Wilbert Cob reports that Neal assaulted him and damaged his watch when he was trying to detain the wayward driver. He was then escorted to the Police Station where he was served with a Notice of Intended Prosecution and a blood sample was taken from him. He is pending charges of multiple traffic offences, resisting arrest, and damage to property.

Four Runner Flips In City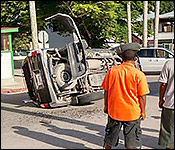 And another unusual accident happened in the city this morning. A Toyota Four Runner flipped in front of BTL Park. Apparently, a minivan was coming out of the corner by Newtown Barracks - and he peered out a little too far, which is right when the Four Runner was passing.
The Four Runner scraped off the van's bumper and toppled over on its side. Fortunately, no one was seriously hurt.


Canadian Critical In Caye Caulker
And now to news of another accident, but this one at sea.
A Canadian is critical condition after a water ferry ran him over in Caye Caulker. At around 9:40 on Friday night, 61-year-old Guy Carey Smith was along with his 19 year old son Travis Tanner Smith out on the sea a dinghy - which is like an inflatable version of a dorey. They were going along when a Koko King Water ferry ran over them. Police say the dinghy had no lights or reflectors - making it impossible to see them in the water.
The 61 year old Smith was knocked unconscious and rushed to the KHMH where he is critical and remains in an induced coma. His teenaged son did not receive major injury.

DPM Faber Narrates Plane Accident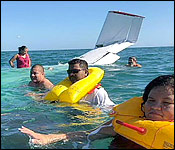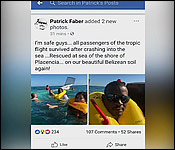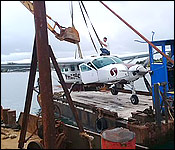 On Friday's news, we told you about the Tropic Air Flight which landed in the sea in front of the Placencia Airstrip. There were 7 passengers on the flight including Acting Prime Minister Patrick Faber; his Cabinet colleague, Godwin Hulse; and the General Manager of Belize Infrastructure Limited, Christy Mastry.
They were headed to Punta Gorda for the official opening ceremony of the PG sporting complex, but, they never made it because as soon as the flight was attempting to take off from the Placencia Airstrip, a Subaru SUV ran into the path of the ascending plane. That vehicle's passenger side clipped the landing gear, and according to Tropic Air, the impact caused the aircraft to lose the speed required to remain airborne. The pilot had to make a forced landing in the sea.
It's the type of nightmare that no passenger would want to experience, and in his first interview since the accident, Deputy Prime Minister Faber described the entire accident to the press this evening. Here's what he had to say:
Hon. Patrick Faber, Deputy Prime Minister
"So we left Belize as I mentioned and we stopped in Dangriga and took off uneventfully to Placencia and dropped off passengers there. I was in deep discussion with my colleague Christry Mastry and BIL. It was a BIL event as well and really even moving off the runway and looking to take off was pretty uneventful. This is, again, something that is routine. I couldn't tell that anything was wrong when the plane was taking off from Placencia until we heard the loud crashing sound and then realized quickly as we continue to ascend that there was a problem; that something was terribly wrong. We ascending I think for another few seconds, maybe up to a minute, and then realized that we were going to go down pretty fast. I think the pilot lost the engine and we then decided to brace for impact. All that was going through my mind was that this can't be real, this can't be happening - this is something that I'm sure everybody who rides one of these planes, think about all the time, but you never really believe it is going to happen and here it was happening. So I contemplated that and try to do my best to prepare my mind for a crash landing"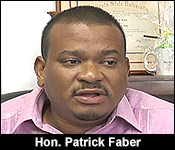 "The landing itself I will say was not that bad, at least not for me. I would have to imagine not that bad for any of the other passengers either, because nobody was hurt to that extent. This is after you evaluate what has happened. I think the pilot did a very skillful job. If you consider all that could have gone wrong. The fact that the plane has been hit by a car - that could have spun it over. The fact that it is up in the air and you have to make now a landing in the sea that could flip the plane. It could have been that we were upside down trapped inside, water getting in, the seatbelts won't open as a result of the rumble or the turn over."
"I really believe that the pilot did a very, very skillful job at landing the plane in the manner in which he did. But the most difficult part for me is when we touched the water. I will tell you that I am a non-swimmer so that became a problem for me and I was sitting immediately behind the pilot and so the pilot opened the door that is alongside him and then I got out of the water. By that time put on my life vest and I had my knapsack which is equip with the compartments for computers and iPads and all of this. So I was able to float on that for just a few minutes before it became soak and started going down. It was then that I was helped. The pilot helped me and also Miss Mastry to get on the wing and that was where I stayed until the plane itself started going down further and further."
"The outpour of support and the outpour of concern was tremendous and it's a good feeling to be loved you know. It was in deed very heartwarming to received and to read after all that happened the many, many concerns, the many messages, the many outpourings of love that came and of course I was very relieve to receive all of that and to know that I would be able to see those people again and to say thank you, I appreciate the concern that you showed, because it could easily have been another way."
Faber told us that he is expected to fully recover from the physical discomforts of the accident. Other occupants of the plane suffered minor injuries.
The Deputy Prime Minister told us that his biggest concern in the accident was the rescue effort, which was not as immediate as the circumstances required. As you heard, he said that he is a non-swimmer and he was worried about being trapped in deep waters for an extended period of time.

Hon. Hulse Didn't Want To Drown In A Sunken Plane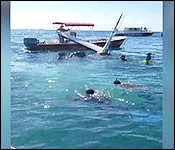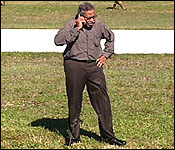 Minister Godwin Hulse's account is similar - but different - because Hulse, who is an engineer by training - prepared himself for the water landing in a different way. He told us how his main idea was to get out immediately and not drown in a sinking plane. We spoke to him via phone - where he picks up the story at the moment of takeoff:...
Hon. Godwin Hulse, Survived Downed Plane
"And I looked through the window and I saw the vehicle, but I could not imagine that that vehicle would not stop. I did see the vehicle going, but I didn't pay it any attention. So when I heard this huge bang, I could not imagine that it was something we hit and then immediately I knew we would have landed in the sea, because whether that was a hole blown in the bottom or something, we were not in any position to land back on land. I will commend the pilot, because I think he accelerated and the plane continue to rise which was good. I think we went maybe a minute, if not less, and we got to maybe 200-300 feet and then I just notice when the wing dips and I knew his was it. So I braced myself and we hit the water."
Jules Vasquez, reporter
"At that point where you fearing for your life?"
Hon. Godwin Hulse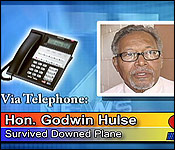 "No, I didn't reached that stage. As it hit I took off my seatbelt and try to scramble for an exit. I think I shouted to every we gotta get out and then there was a guy behind me, I still don't know who he was, but he got the door open and that was good, because my first thought if this plane sinks and we don't get an exit, it would be hard to get out. And then water began to rush in. The plane was taking in water pretty quickly. Anyway I was looking for a life vest. I couldn't find one, but he helped me to get one from under the seat by the door there. By this time I didn't bother to put it on. I was concerned with my glasses, because you know I am blind - I have to wear my glasses and then O got out the plane and somehow I quickly made it to the wing and hang on the wing to get my bearing and looking around I saw the DPM came out. He didn't have a vest, he seemed to be disoriented a little bit, but I had commended this lady Miss Robinson, because like I said she was like really and expert. She began to corral people around including people like myself. Christy Mastry helped the DPM and so we got to the wing and then while we were there, it was a little more stable and then of course that began to go down. By that time we had put on our vest and we were able to have buoyancy."
"We were like a quarter mile out, about 1300-1400 feet from the shore and we were probably were in about 18 feet of water thereabout and when the help came, but this couldn't carry anybody. But just when that was happening a boat was passing and so the boat pulled up and we got onboard the boat and that took us then to shore."
Jules Vasquez, reporter
"Did you or others panic or fear for their lives?"
Hon. Godwin Hulse
"I was kind of determine not to drown in that plane, as best as I could and that anybody could drown in that plane, because once it went down and it was full of water and we were in there, that would have been a hell of a thing."
"It's good to be alive, I am a people's person, do it's good to be alive."
And while he is happy to be alive, Hulse echoes Faber when he says more has to be done to ensure strict safety measures in the area.

Civil Aviation Looking For Answers
And it's the job of the Civil Aviation Department to find out if that barrier was working. As of tonight, they still aren't sure which safety procedures failed and caused the vehicle to end up in the path of the aircraft while it was trying to take off.
On Friday newscast, first responders told us that the barriers did not go down reliably to warn the driver that he needed to give way to the ascending Cessna caravan.
So, we asked the Deputy Director of the Civil Aviation Department if the investigators have been able to confirm that, and he told us via phone today that it is still inconclusive. He was only able to share preliminary information:
Gilberto Torres, Deputy Director - Civil Aviation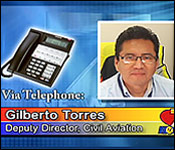 "At the departure at approximately 8:55am, the aircraft came into contact with a vehicle traversing the departure part of the aircraft. This caused the aircraft to ditch and subsequently the aircraft had to do its emergency landing and its emergency evacuation."
"Onboard the aircraft were 9 passengers and 2 crew. When the mishap happened, the aircraft ditched into the waters into the sea. The passengers and crew exited with assistance from the locals in Placencia and also Tropic Air and staff and they made their way to shore."
"Subsequently they were treated with minor injuries by a medical team."
Daniel Ortiz, reporter
"Have the investigators been able to determine whether or not the barriers on both sides were functioning and reliably went down to indicate to traffic on both sides of the airstrip that the Tropic Air flight was attempting to take off?"
Gilberto Torres
"Yes sir, that is the question as we speak. Those interviews are being carried out and until they are conducted, we would be able to determine that. Yes, there are operational procedures at the Placencia Airstrip with regards to the operation on aircraft with the use of the road barriers, sleeping policemen, signage and of course the implementation of these procedures so that aircraft can land and depart safely."
"At this point in time we are unable to determine that, as the investigation continues."
The deputy director told us that drivers are expected to take precautions went approaching the curve around the Placencia airstrip.

Cops Have Four In Ladyville Murder
Turning now to police news, four persons are detained in the investigation into the murder of British woman, Michelle Anison. Police say that her practice of taking a few with villagers may have contributed to her demise:
ASP Alejandro Cowo, CIB - Belize City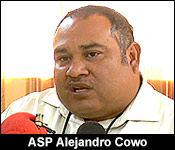 "Upon inspection of the body it had several stab wounds to the chest and to the neck area. The information we have is that the last time she was seen alive was on Monday, sometime after 10:30 in the morning."
"Her vehicle is up to now missing and other belongings are also missing."
Jules Vasquez, reporter
"Okay, so then are you all able to say if the person was there, forced entry or the person it appears had some...?"
ASP Alejandro Cowo
"There was no forced entry into the apartment and so far we have four persons that were detained. One was detained yesterday and we are presently conducting interviews with them so as to see what kind of evidence we can get in regards to the interviews we're conducting."
Jules Vasquez, reporter
"Might she have been socializing and then things progressed from there where someone was able to get into her apartment and kill her?"
ASP Alejandro Cowo
"That is the same information that we have received. Yes, we have gotten that she is a very friendly person and that she was out with the villagers, socializing with them. But the important thing from the information we got is that she had never taken anybody to her house to socialize. All the socializing that she did was outside in the establishment, but not at her house. We are looking at some individuals that we believe that were close to her that we can get more information from them."
Because of the advanced state of decomposition her body was found in, she had to be buried immediately. Her vehicle, a grey Nissan Rogue remains missing.
Anison worked as a volunteer at the Liberty Children's Home in Ladyville. She had lived in Ladyville for about 5 years.

22 year Old Woman Dies: Jandres Shooting Now A Murder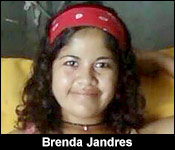 And police in Corozal also have a murder to investigate. 22 year old Brenda Jandres was shot in the midsection in her home three weeks ago. But today we learned that she died from her injuries:..
ACP Joseph Myvette, Head - NCIB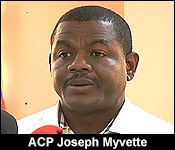 "Over the weekend, on the 19th morning, Brenda Jandres passed away. The police had initially detained two persons when the shooting had recently occurred on the first of November and those two persons are now being sought for further questioning in regards to that matter."
Jandres's family declined comment.

Cops accused of Station Rape Still On Duty While Investigation Lumbers On
And while there is no one detained in that murder, there are also no detentions in a more clear cut case where the alleged culprits are right in the police station! We're talking about the alleged rape in the Independence Police station which the victims say happened over a week ago. The police officers alleged to be involved remain on active duty - and police still have not concluded their investigation. Though today they did confirm that the women were carnally known:...
ACP Joseph Myvette, Head - NCIB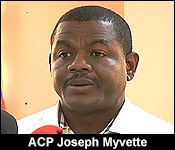 "Yes, the investigation or the examination proved that they were carnally known."
Jules Vasquez, reporter
"So what's the status, right now, of the investigation?"
ACP Joseph Myvett
"The investigation is still ongoing."
Jules Vasquez, reporter
"It's a very long time for a rape investigation to continue. Usually when this happens someone in politics or in law enforcement is involved, meaning that the police lack the will to bring the charges. Is the department covering for its own officers, who the allegation is acted in a grotesque criminal fashion?"
ACP Joseph Myvett
"Of course not. As I had mentioned to you at the last briefing, there are some investigations that require more in depth looking into than others and this is one of those investigations that have led us in different directions, or should I say there are certain inconsistencies which we need to clarify in regards to the investigation."
Jules Vasquez, reporter
"Is there a timeframe for when the investigation might finish?"
ACP Joseph Myvett
"I will not be in a position to answer that, I know the investigators are on the ground."
The women - a Salvadoran and a Belizean - were detained for a drug search - but allege that three cops then raped them on the station compound.

Customs Busts Hon. Patt's Relative, And There's a Near Riot In Pachakan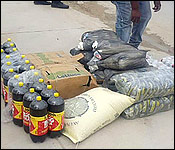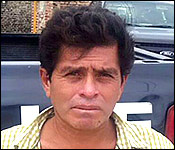 Customs officers came under close and contentious contact this weekend in Patchakan village, Corozal when they made a contraband bust.
On Monday at 9:30 Customs officers say they were chasing down Edgar Patt - who is said to be a relative of UDP Corozal North area representative Hugo Patt - when Edgar ran off the road and into a lamp-post. Customs says he was coming form an illegal crossing called "Estero" and they say they found him trying to hide his stash in a cane field. Customs took possession of the items and claim that a throng of villagers started to hurl stones at them, and so they called in police for backup. The commander of operations seemed to think it unremarkable.
ACP Edward Broaster
"The police officers intercepted a white vehicle with twenty-five cases of beer and turned them over to customs. I don't have the particulars of the driver."
Jules Vasquez, reporter
"Was there any, we had heard that there was a confrontation with law enforcement because, as we know, a lot of times these contraband smugglers have people who protect them because, you know, it's an entire underground system. Did law enforcement report that they had any crowds to quell or anything like that?"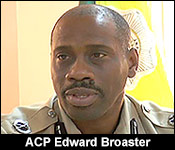 ACP Edward Broaster
"I did not get any report of that nature."
But for customs it was a big deal and they wanted to send a message so they didn't offer Patt to settle out of court, they instead took him to court. He was charged with carrying unaccustomed goods valued at one thousand dollars.
Now usually a persons is assessed three time the value, but Customs went for the maximum fine of 20 thousand dollars. He pleaded not guilty and is out on six thousand dollars bail.
And that's not the end of it. Customs also wants to charge others in the crowd who were throwing rocks and beer bottles for obstruction.
It got so bad at one stage, that Customs claims a tractor came and stole Pat's vehicle that they were trying to impound. Customs and police got information where the vehicle was and took it back. They claims they had to face down a crowd with machetes.

Octogenarian Hubert Still Missing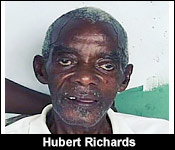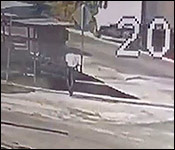 On Friday we told you about 83-year-old Sandhill resident Hubert Richards who went missing last week Thursday. He was running errands in the city and has not been seen since. Today police told us that none of the leads have panned out:
ACP Joseph Yvette, Head - NCIB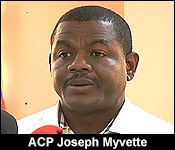 "I know that the investigators are out there and there are at some point coordinating with the family, and following leads as well as to where this person may have been. I believe that there was some surveillance video showing him in the Ladyville area, I believe around Friday."
"There were several leads which the police had followed, and most of them turned out to be that he wasn't in that area. But we are continuing, and we are continuing working with the family."
Footage from a 24/7 gas station in the Lords Bank area shows Richards walking en route to Sandhill. His family says that people have called them reporting a number of sightings of Richards. They believe he slept on a bus on Saturday night and then came down to Belize City.
He was last seen by Benny's on the Phillip Goldson Highway in Belize City. His granddaughter says that even though he was not diagnosed the family suspected he had Alzheimer's as he was becoming unusually forgetful. If you have seen Richards or know anything about his whereabouts the family asks that you contact them at 203-4784 or you can contact the police.

They Want You At The Marijuana Forum
On last Tuesday's news, we told you about the national marijuana consultations that the Attorney General's Ministry intends to carry out in collaboration with CARICOM's Regional Commission on Marijuana.
It's been 2 weeks now that the marijuana decriminalization amendment has been in effect. And, even though the opponents of this decision may believe that a conversation on full legalization is way too early, it will start in 2 days.
The CARICOM commission is visiting all the Caribbean nations to get their perspective on whether legalization of marijuana is a good idea or not. They will then compile a report and present it the CARICOM Heads of Government.
Today, the Solicitor General invited everyone to participate. He said that the Commission wants everyone's views, no matter what their position on marijuana is:
Nigel Hawke - Solicitor General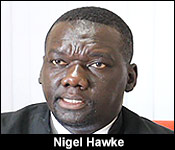 "It's basically a regional commission set up by through the CARICOM Secretariat. There are about 4 commissioners. I think the sole and fundamental purpose of the commission is really to go on a fact-finding mission, to conduct consultations with respect to members of the public, persons who are generally concerned with the issue of marijuana, as to the social, health legal issues impacting the use of marijuana within the region. I know that they've done consultations so far in Antigua, and a few other jurisdictions. So, they will be coming to Belize on Thursday, the 23rd to conduct consultations and that will be held at the Belize Best Western Biltmore, from 9 a.m. to 3 p.m. So, they will be dealing with target audience, like faith-based organizations, NGO, and so on. And in the evening, there will be a session open to members of the public, which will be in the form of a Town Hall type of meeting."
"They are fundamentally putting together a report for the Heads of Government, in terms of making recommendations as to whether the use of marijuana should be declassified, within the region, well basically whether it should be made legal in a sense. So, it's based on the consultations, the feedback from the jurisdictions, they will then, based on those responses, make the necessary recommendations, and based on their findings and their report."
But, is the Government bracing for another quarrel with the church over marijuana? You'll remember that just days after the decriminalization amendment was passed by the House, the National Evangelical Association of Belize came out swinging against the government. They asserted the Government completely ignored their strong objections. The Sol Gen told us that in these legalization talks, the Church is being given a forum to voice their opinions, and the organizers are hoping that they will make use of it:
Daniel Ortiz, reporter
"They were on this trend of thought that the decriminalization was simply a first step toward full legalization. Do you foresee as the Sol Gen that just consideration - or a discussion on whether legalization should take place will spark that sort of outrage again?"
Nigel Hawke - Solicitor General
"It may, and in fairness that is all a part of our democratic system, and I should say that the churches are involved in this consultation process. We want to hear from everybody. But, it doesn't mean because you've passed a law, it means that you will then propel to the issue of total legalization. Everything will take some time, and I think it's important for us to see what the Regional Commission puts forward in their report, and what recommendations they make. And that will certainly inform our process here locally. And it can certainly enure to our benefit."
The consultations take place on Thursday at the Biltmore Plaza Hotel. It will be an all-day event, and we'll be there to show you how that goes.

Police Go Big Time With WhatsApp Investment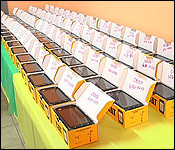 In October of last year, we showed you how police officers from the Rural Eastern Division rolled out a new technology based program to help curb crime. It utilizes WhatsApp, turning the messaging platform into a real time information sharing system.
Well, observing the success of that program, cops from Belize City will get their own version. With last week's 100 thousand dollar donation from the Taiwanese Embassy, the department has purchased 60 rugged phones and 3 desktop computers. The Eastern Division's regional commander told us how they will be put to use:
ACP Dezerie Magdaleno - Regional Commander, Eastern Division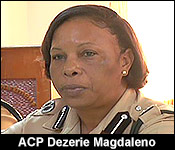 "We're here today to officially launch the implementation of a communication project for Eastern Division that entails the acquisition of 60 rugged cellular phones that will be used to enhance our communication, within our daily work. It will be assisting us in sharing of realtime information. They will be placed at strategic locations both on south and the north side of Belize City. As you all may be aware, a project like this was first piloted in the Rural area, maybe about a year ago. And building on the success of that project, we ventured into expanding it to Belize City, and this is the result of it. We will taking the phones out to the different locations where they will be assigned to as soon as we are through from here."
"Sometimes, we may say that we're looking for a certain person, but putting a face to a name makes a difference. We could be posting up names and photographs of persons wanted and persons apprehended, and it is shared instantly among everybody, at the same time."
Jules Vasquez, reporter
"So, it's being used to take the place of the traditional radio system?"
ACP Dezerie Magdaleno
"Yes, but we will not be depleting that. We will not be taking that away. We will still be using that."
"In terms of the accountability, there will be random checks done very often, where the phones are automatically locked of without any prior notice to the officers. So, whatever it is that you were doing, have been doing on the phone, you have no time to get rid of that information. The minute your phone is locked off, then you're visited, your phone is taken and inspected. So, then, you will be able to see what you have been doing on it, how much data you have used on that phone, for the period of time you have been at that post."
After today's press briefing, the cops started the distribution of the phones and the computers.

Border Enforcement For Bogus Goods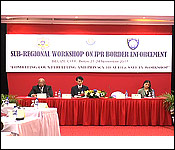 We often see name brand goods in local stores throughout Belize, but many of the products are bogus, counterfeit versions of top shelf products. It's a global issue that happens with not just with shoes and hats but also with medicines. Today a four-day workshop to discuss this subject began at the Ramada hotel in Belize City.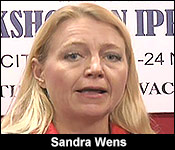 It's called a Sub-Regional workshop on Border Control and the main goal is to combat counterfeits. 7 news was there and we spoke to a few of the participants.
Sandra Wens, Technical Expert Consumer Protection/IPR Programs Compliance Directorate
"Counterfeit is a big problem globally. We see it in every country. Every country has their specific problem. We see also in this region that there are certain specific problems when it comes to certain goods and it is important to the region that we work together and as a good cooperation between the different custom agencies in the region to tackle to problem together and by hosting this event Belize clearly shows their intent to tackle the problem in the region."
Collin Griffith, Comptroller of Belize Customs and Excise Department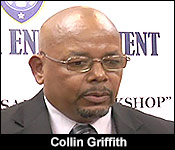 "Belize Customs is of the opinion that the goods are suspicious so we communicate with the agents or the right holders and then they would come in and determine to whether the goods are counterfeit or not. They would then have indemnified the government of Belize and customs department against any action because then it moves into a civil matter with them and the goods, so it is not a customs offence but we recognize our responsibility and they ought to inform us that we should treat the goods as prohibited."
Luis Reveiz, Pharmaceutical Company Representative
"Pharmaceutical companies are victims of large spread counterfeit of their products which indifference of counterfeit products which relates to clothing or watches or hats it is affecting the health of all the citizens across the globe."
"One of the issues that we face is the legislation in most countries is very weak as it relates to criminals that are counterfeiting pharmaceutical products and therefore one of our objectives is to provide training and awareness to local authorities of the issues involved around the counterfeiting of our products and potential health issues the public is exposed to by counterfeit pharmaceuticals."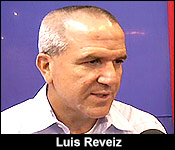 The participants will learn many skills, one of the most important ones is how to distinguish counterfeit and authentic products. The participants are from Belize, Honduras, Mexico, Costa Rica, and El Salvador.

Faber Explains 19th. Absence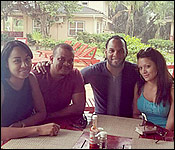 Earlier in the news, we showed you our interview with Deputy Prime Minister Patrick Faber he spoke about his recent airplane mishap.
Well, he said that his brush with danger caused him to decide to take a weekend off from his responsibilities as the Acting Prime Minister. That included his involvement at the official ceremonies in Dangriga for Garifuna Settlement Day.
The Prime Minister went there in a dashiki last year, so Faber's absence was surely noticed - and the Opposition made sure to pounce on it in their social media outlets.
When the press asked him about it, he said that he meant no offense:
Hon. Patrick Faber, Deputy Prime Minister
"After the ordeal on Friday I made a decision that I was going to just relax for the weekend. I think that is fair. I don't think anybody can quarrel with that. I was not certain that I was on the agenda in the manner in which it turn out that I was. I thought that there was some miscommunication initially because I was acting PM that they had expected the Prime Minister to be there. But when I verified with the Prime Minister today he said no, he had intended to be at the Belize City one, but as you all may know by now he had an emergency family situation and he had to leave and he made his apologies."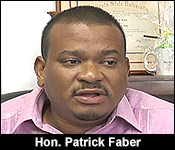 "So I really thought when I went to Hopkins, I didn't stay in Dangriga. I did go to Dangriga on Saturday and Sunday evening, but it was just to observe what was going on basically. I was not hiding from anybody or hiding from my duties as the Opposition has put it on their Facebook page and so on. I think it's just cheap theatrics on the part of the Opposition to try to paint me as somebody who is disrespecting the Garifuna people."
"Listen, everybody who knows me and checks my record will see that I embrace all the cultures in this country. But the people of the south know. I don't only go to Dangriga or to Punta Gorda when it is that they are celebrating the 19th November. I am a regular at all of these events. The National Garifuna Council and the branches of the Garifuna Council in Belize City, in Belmopan - everywhere else that you check will tell you that we support their events. I personally support their events."
"In fact you know in Belize City where my constituency is, every year for the last 13 years we have celebrated Garifuna Settlement Day in a street bram right in front of my office. We recently went through that."
"If I was not the kind of person who embrace the Garifuna culture and all other cultures in this country I would never do something like that."
"I had no idea that that would was what was being expected on the time and if that became a problem for some people, then I am sorry that they saw it that way. But it is out of no disrespect."
As the story goes, Faber's inter-party rival and Dangriga Area Representative Frank Pawpa Mena had to step in and officiate for the Deputy.

What it Was In Griga
And for Faber's benefit - since he missed it - we leave you tonight with highlites of the Yurumein festivities from Dangriga town. It is the re-enactment of the arrival of the Garifuna not Belize's shores - and it was held at coastal municipalities countrywide.
But, Dangriga is the root of the root, and hundreds gathered for the event…
Enjoy and join me back here tomorrow.

Home | Archives | Downloads/Podcasts | Advertise | Contact Us