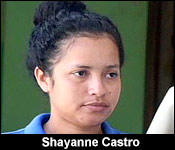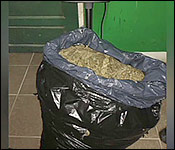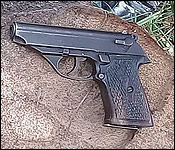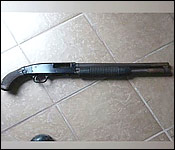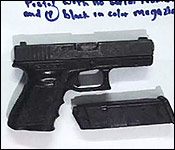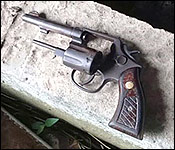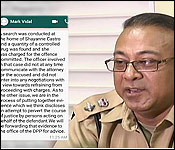 Over the weekend, police got 4 firearms and 37 live rounds of ammunition off the street. It was all done by officers of the Eastern Division's Special Assignment Team, who also seized 12 kilos, or 26.5 pounds of marijuana. Normally, that would have been reported as great police work. Except tonight, a Belize City family is crying foul.
That's because the 26 pounds of marijuana was found at the home of 27 year-old Shayanne Castro's parents. She's the wife of Wasani Castro, minister Edmond Castro's son.
On Saturday evening, the couple were going to her mother's house on Sarstoon Street, when police stopped them.
Her family says that they convinced her to open her mother's house, and they searched it. That's when they found the 26 pounds of marijuana, and because she was the only one there, they charged her with drug trafficking.
The family says that this set in motion a series of events in which they helped the Special Assignment team to find those 4 guns. It was part of some deal that they claim police and their attorney agreed to, where they would help the cops get these guns, and in exchange, Shayanne Castro would not be charged.
Now we know for a fact that this is a standard police practice, but this time, something went wrong. Shayanne Castro's mother says that she held up her end of the bargain, but police charged her daughter with drug trafficking with intent to supply anyway. Tonight, they are claiming that the cops extorted them, and then failed to deliver on their end of a dirty deal.
We've been following the story since yesterday, and Daniel Ortiz has this report:
Daniel Ortiz reporting
27 year-old Shayanne Castro was arraigned in the Magistrate's Court today for drug trafficking. Police from the Eastern Division's Special Assignment Team say that they found 26.6 pounds of marijuana at her mother's house on Sarstoon Street.
It sounds like an open and shut case, but her family asserts that it's anything but that. Her mother, who asked us to conceal her identity, tells us that one of the lead officers allegedly brokered a deal with them. The offer was that if Shayanne or her family could turn over 4 guns, and a grenade, or provided them with the intel to retrieve these illegal weapons, they wouldn't charge her daughter.
Now, we've heard of this type of arrangement before, but it is the first time that someone has come forward to describe it. Shayanne's mother also disputes her involvement in the crime.
Voice of Family Member: Mother of Accused
"My daughter doesn't know what she is walking into. My daughter went to her house and they found weed in there. I rent a young man, a close friend of mine a room in my house because we are in need of the money. The young man came and it looks like he brought weed into my house which I don't tolerate. I have my grandchildren there. I wouldn't tolerate anything illegal in my room. So anyway, they say they found 25 pounds of weed and they say it's for my daughter. That is not for my daughter. She doesn't deal with those kind of thing. My daughter is a respectable woman. My daughter is from home to work. My daughter doesn't go anywhere. My daughter is into her child. So they chance my daughter."
"They made an arrangement with my daughter lawyer stating that they want 4 guns and a grenade and then they will let go my daughter. They made the agreement with the attorney present. So the attorney told that they he doesn't want them (police) to backfire on him when this happens. He (police) says no, that he is a man of his word and this is what will happen."
"Like a mother, I went and took all my scrapings (money) with the help of some friends to try and find out how we can get those things. Eventually we ended up getting them through other else persons and we put the things and we called the policeman and let them know where the things were."
"They got the things and then they talk about they would have let go my daughter. They didn't even let her go. When they got everything they took my daughter. So they came and get the things, they put my daughter in another truck from Faber's Road. Because they took her at Faber's Road and from there they went to Queen Street Police Station to charge my daughter."
"Those policemen needs help. They are out of order. Nobody can't work with those men."
The Special Assignment Team confirmed yesterday that indeed they found four guns - which we can say would have to be a record for seizures in a single day countrywide - much less on just the southside.
As police put it, the first was this .38 special revolver, which they found in an abandoned building at the corner of Mahogany and Sittee Streets at 9:28 AM.
Ten minutes later, the Special Assignment Team found this 9mm pistol which had a magazine, and one .380 live round of ammunition.
About an hour later, the very same Special Assignment Team found this 12 gauge Mossberg shotgun, right on the same Sartoon Street, where Shayanne's family lives.
Then at 2:10pm, the team found this black Glock 9mm pistol and a magazine inside the Lord Ridge Cemetery under a tree near a tomb.
That's four guns in four and a half hours - what might just be a record for any police unit.
But according to Shayanne's mother, it's not good policing, it's extortion.
Voice of Family Member: Mother of Accused
"Please let my daughter go home. You all got what you've asked for. I am broke, I don't have any money. I don't even know where my next meal will come from. They made me scrape up everything I got and then you just lock up my daughter in the piss house. You are (police) are not right, you all need help."
Well, Senior Superintendent Mark Vidal, Commander of the Eastern Division South, made a counter allegation, saying that personalities acting in Shayanne's interest attempted to pervert the course of justice.
Responding via text message to our request for comment, Vidal said, quote, "The officer involved in that case did not at any time communicate with the attorney for the accused and did not enter into any negotiations with a view towards refraining from proceeding with charges. As to the other issue, we are in the process of putting together evidence which we think discloses an attempt to pervert the course of justice by persons acting on behalf of the defendant. We will be forwarding that evidence to the office of the DPP for advice." End quote.
So, the police are denying having any negotiations with the family or their attorney, but after Shayanne's arraignment today, one of her 2 attorneys, Marcel Cardona, asserted that indeed these negotiations happened. He goes even further to say that there is proof in the form of recordings of the conversations with the officer.
Marcel Cardona - Attorney for Shayanne Castro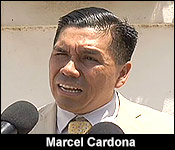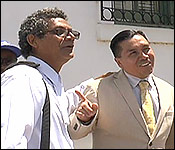 "Yes I have listen to the recordings. There are recordings. There are tapes that do prove that indeed the police department of officials from the police department sought to broker a deal with the family members. The police then proceeded to enter into discussions with her through her attorney after the possibility if she, or her friends and family and associates, if she were able to assist the police in putting off the streets a number of items that are used regularly to commit crimes and even murders etc., if she were able to assist, to get these things off the street, they would be prepared to consider just moving on, because they know for a fact that she does not live at that residence and they know for a fact that she was only visiting and they bated her. She was not living at that residence. She lives in Maskall Village and she was simply in the vicinity approaching the area to go and pay a visit to her family."
Daniel Ortiz, reporter
"Are these recordings available? Would you be able to make those available as proof since the police is calling out the family that you all tried to influence them, instead of the other way around?"
Marcel Cardona
"As I said there are recording that I am aware of, but I am still in consultation with my learned colleague co-counsel to decide on way going forward in relation to this matter."
Cardona told us that he and his co-council, Dickie Bradley, needed to discuss whether to release these recordings publicly. We are waiting for their decision, but for Shayanne's mother, all she cares about is that her daughter has to face the criminal charge of drug trafficking.
Voice of Family Member: Mother of Accused
"You know my daughter has nothing to do with this. My daughter is a respectable woman. Just because you don't like the Castro's and she is married into Castro, you are trying to put things on my daughter. Stop try to do things to my daughter. She is a respectable lady. I bring up my daughter. I didn't drag her up. My daughter has respect. Nobody can say they see my daughter hangs out on the street. You got us looking like the bad one, because we have to go and find those things that we don't even deal with. You know when I hold a gun? The first time I held a gun was yesterday and I was trembling, I felt like I wanted to die. You all are having me passed out and having my pressure going up on nothing."
Shayanne Castro was arraigned before Chief Magistrate Sharon Frazer on the charge of drug trafficking for 12.028 kilos of marijuana. She pleaded not guilty and was released on bail of $9,000. She must hand in her travel documents, and attend all adjournments of the case until it is finished. She returns to court on December 22.
As you saw in our story, police strongly deny the family's accusation that they brokered a deal to refrain from charging her in exchange for the weapons seizures. The family says that there are these recordings with the officer which proves it, but up until news time, they still have not made them public.
GSU Bust Ras Ruben On A Plantation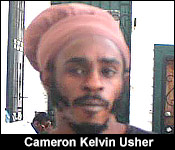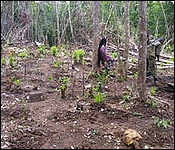 He's a devout rastafarian, a staunch advocate for the legal use of marijuana, and a well known chef who owns the Vegan Bites food business. But, the GSU caught 41-year-old Cameron Kelvin Usher, known as "Ras Ruben" at a marijuana plantation in rural Belize yesterday - and have charged him for Cultivation of Cannabis Plant.
Yesterday at 11:20 am, the GSU descended on the plantation in Lucky Strike Village where they allegedly found Ras Ruben in the middle of a spread with 150 marijuana plants between three and four feet high. Police destroyed all the plants along and some farming equipment.
Ruben was arrested and charged with Cultivation of Cannabis Plant. He appeared in court today where he was charged for cultivation of 121 plants, not 150. He pleaded not guilty and was offered bail of $10,000 dollars which he met. His case was adjourned until December 29.
Now, as a Rastafarian, Ruben is a defender of what those of his belief call a sacrament. They believe that criminally charging Rastafarians for criminal use of marijuana is a kind of religious persecution. Here's how he put it in 2012:...
FILE: July 20, 2012
Ras Ruben - Rastafarian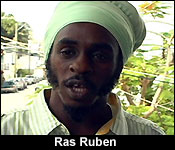 "For me to be criminalize because of my sacrament is unjust, so I feel like it is about high time that we take steps towards decriminalization."
"How long have we been on earth as human beings? How long as it been illegal for human beings? If you look at the statistics it's less than 60 years that they are criminally persecute us. So the people need to understand the whole schematics behind it and understand the holistic..."
Jules Vasquez
"Do you think people have been smoking herb from the beginning of time?"
Ras Ruben
"From the first man came on earth we are giving sacrifice with herb. Herb is a part of our ritual as human beings."

Ras Ruben's Son Disappeared During Bust, 30 Hours Later, He's Still Missing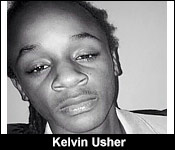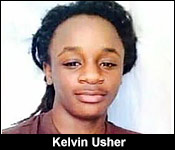 And while Ruben has met bail, the concerns tonight are for his 17 year old son, Kelvin. He was reportedly at the plantation with his father, and when the police came, everyone scattered, disappearing into the bushes. But Kelvin has not re-appeared since - and it's been more than 30 hours.
Today, we spoke via telephone to his mother - who has been leading searches in the Lucky Strike area:
Karima Williams - Mother
"Well, it wasn't until today that we did that missing person report. I wasn't made aware of it until after six yesterday that he is missing. When we found out after six, almost seven, a team went to look for him last night at the site. It was raining, everybody looked as much as they can, it was dark. We had flashlights and stuff but it wasn't much and it started raining so we decided to leave it and start it again today. We found his hat. He had on a gray hat, we found that along the way. We found that, we found, apparently, a little granola bar that he was eating and from what we had seen there were fresh footprints. We know that he had on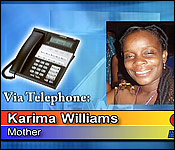 his black air-force. So those prints were visible and it had rained last night and if it had rained last night it wouldn't have been visible this morning. So, from my feeling now, it means that he was maybe good until this morning. I'm not so sure but, you know, speculation. We went everywhere. We went all the way in and out, in and out and I'm trying to figure if he was running why he would have continued to go and not turn back. By now he would have stopped and since come back forward."
Usher had just recently graduated from SJC and is in his first year of 6th form at SJCJC. The search continues. His mother says she filed a missing person's report yesterday evening - but police insist that they have not received any.

PINK EYE….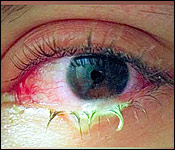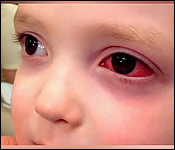 As we told you last week, there have been a number of cases of conjunctivitis also known as pink eye in Corozal, and Orange Walk Districts, and Belize City.
And the news tonight is that it is way more serious than we thought. In fact, health officials are calling it one of the most severe pink eye out breaks since 2005.
In just 3 weeks, there have been about 1,108 cases reported country wide. That's alarming, and today head of Epidemiology Dr. Ethan Gough gave us the breakdown in cases by district and advised what those infected should do.
Dr. Ethan Gough, Head of Epidemiology Unit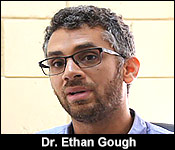 "So basically last week is when we really noticed that there was a problem because we started receiving reports from the various health regions that they were noticing an increased number of cases of conjunctivitis. We got reports initially for Western Health Region so Belmopan, there was a report from a private doctor actually, he reported that he was seeing an unusual number of cases last week and that prompted an investigation and a team from the Western Health Region hospital, so the hospital here in Belmopan went out to investigate and they identified a number of cases it was about 50 cases they identified yes, from the initial report just from the Western Health Region and then I think maybe the same day or the day after that we started getting reports in from Corozal, Orange Walk, Belize City that they were also noticing an increased number of cases. Last week we also…we were made aware of a report from Chetumal that they have been seeing an increased number of cases of conjunctivitis as well, I think there was a news report, I think they reported about 2,200 cases in Chetumal."
"So overall for last week we had a total of 870 cases reported countrywide the majority of them are in Corozal, 379 cases were reported from Corozal last week and so that supports the idea that perhaps a lot of the cases we are seeing are coming from the proximity to Chetumal, the other districts that are affected Orange walk, Belize and Cayo are reporting around 160 cases or so. So Corozal is the highest reported cases so far."
"Conjunctivitis is highly contagious, it spreads person to person very easily it is estimated from outbreaks in other countries that each individual person infected with conjunctivitis can infect between 3 and 7 additional people."
"We encourage anyone who...anyone experiencing any signs or symptoms of conjunctivitis to seek medical attention, get formally diagnosed and treated…itchy eyes, red eyes, water eyes discharge from the wyes those are the major signs and symptoms of conjunctivitis and we also ask people who are showing signs and symptoms to stay at home this goes for both school children and working public."
Gough says they believe it is viral conjunctivitis which spreads quicker than the bacterial type. Health officials will send samples to CARPHA in Trinidad to confirm if it really is viral. For those who want to remain uninfected be sure to wash your hands regularly and try your best to stay away from those who are infected. Again those who are infected, kindly stay home and away from others.


Police Pop Peddler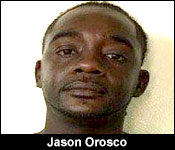 The GSU caught a person they claim is a known drug peddler who operates in the Conch Shell Bay area. On Saturday morning the unit chased 37-year-old Jason Orosco down an alley beside New Asia restaurant on Vernon Street. They ran him down and claim to have found him with three parcels of cannabis amounting to three ounces. Orosco was arrested and charged with Drug Trafficking. This is not the first time the GSU has arrested him for drug-related offenses.

Weed On the Roadside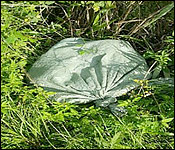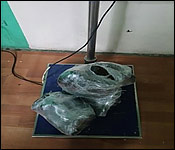 And there was one more GSU bust where they got over 8 pounds of weed. At around 4:00 yesterday evening, the unit was called out to mile two and a half on the George Price highway where they found this bundle of weed stashed in the bushes. It weighed 8.1 pounds. It was deposited as found property.

78 Year Old's Death Being Looked At More Closely
Police are looking more closely at the sudden death of a 78 year old after they found out that he had a broken neck.
Karl Leslie was found lying dead in his home in Hattieville 11 days ago - and because of his advanced age, and the fact that there were no signs of violence, forced entry or theft, police thought he died of natural causes. But, a post mortem showed that he had a broken neck and that has police taking a second look at the case tonight.
Village police are trying to determine if he had a bad fall or if he was choked. So far, there are few leads into the case. We'll keep following it. Leslie lived alone.

Illegal Mahogany On the Move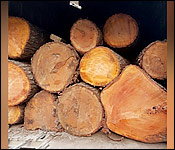 On Sunday, Police busted a cargo truck stuffed with illegally extracted Mahogany.
The cops stopped the Isuzu Freight Truck with 32 mahogany logs inside. Four men were inside. They had no license for the wood, which also did not have any forestry stamps.
All four were detained and the truck plus cargo was handed over to the Forestry Department. They will be charged tomorrow in Orange Walk magistrate's court.

Holdup At Arwing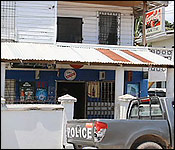 A Santa Barbara Street Chinese store was robbed on Friday evening after 4:00. Store attendant, Wen Wei Yang reported that she was inside the Arwing Shop when a man walked in, pulled out a gun and demanded money. Yang gave up over $1,500 dollars in cash. The man then fled. Yang says a police officer lives upstairs but he was out at the time. Everything was caught on surveillance camera.

Three Year In Jail For "Nothing"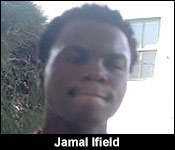 He told the court that he punched a man for "nothing" - and Jamal Ifield will spend three years in jail for it.
The 19 year old fisherman appeared before Chief Magistrate, Sharon Fraser, where he pled guilty to wounding.
Before she sentenced him, Chief Magistrate Fraser asked Ifield why he punched 22 year old Jose Salvador. Ifield's casual reply was that it was for nothing. That's when Chief Magistrate Fraser decided to give him a custodial sentence.
It happened yesterday at the Queen Street Police Station. Both Salvador and Ifield were detained in the cell block. Ifield asked Salvador for a cigarette and when Salvador said he didn't have any, Ifield punched him in the mouth and nose.

Live Rounds Taken Off Street
At the top of the news, we told you about the controversy surrounding the seizures of 4 guns and that garbage bag of weed that the Special Assignment Team seized over the weekend. Well, officers from that police unit also came upon a large stash of ammunition - and this one has no controversy attached to it.
It happened on Saturday night at around 8:30, and the police report that officers from the Team searched an alley off Lakeview Street. That's where they found a black plastic bag, with 36 live rounds of ammunition, 14 rounds for a .38 special revolver, and 22 rounds for a .9mm pistol.
Nobody was the area at the time, and so the ammunition was deposited as found property.

Village Fire Leaves Family Homeless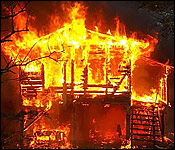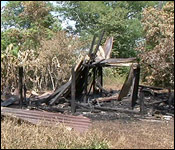 Yesterday morning at around 6:00, there was a house fire in the village of Burrell Boom. The Ladyville fire station along with police did respond but by the time they got there, it was too late: The two houses on the compound were burnt down to the ground.
The house belonged to Dyron Hyde who would usually occupy it with his daughter and girlfriend, but at the time of the fire, none of them were there. We spoke to Hyde and the Station Officer for the National Fire service about the blaze.
Dyron Hyde, Resident of burnt down house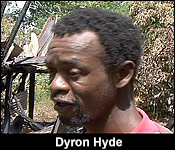 "Somebody called me and told me when I find out and check the number when I checked the number and when I called back it as my mom that called and told me that my whole house burnt down. Two houses went to nothing. I did not save anything."
"That was like my wash house and for other little stuff too like where I store things in and this big one was where we lived."
"When help came they said that the house was already high in flames and the closest they could reach was further out because the heat was so hot, hot, hot."
"So far the police suggest it was arson and I am supposed to see the firemen this morning and see what they will tell me about it."
Orin Smith, Station Officer for the National Fire Service

"Preliminary investigations reveal that the structure was occupied by a family of four two adults, and two minor. The owner according to investigation received from the owner, he and his young daughter left home at around 5 am. Sometime after 6, he received a phone call that is house was destroyed by fire."
The house had no electricity and the investigation into the cause of the fire is ongoing. If you would like to donate anything to Hyde to assist him on the long road ahead you can call him at 664-3117.

Premium Prices Peak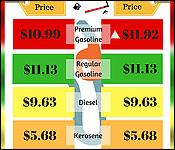 While you were sleeping off that September celebrations hangover on Friday night, fuel prices went up again at midnight.
This time, only premium increased. It went up by 93 cents, erasing that anomaly where it was briefly cheaper than regular gas. Premium is now prohibitively priced at almost 12 dollars a gallon.

PM Skerrit's Hurt and Heartfelt Plea To The UN About Climate Change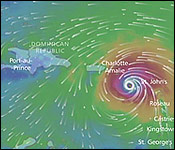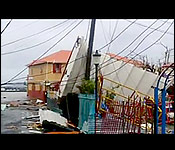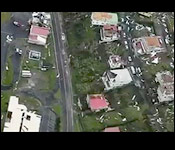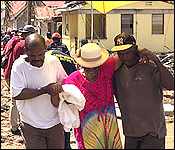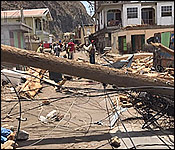 Hurricane Maria's death toll on Dominica is 27 tonight, and more casualties are expected because 18 persons are still listed as missing. As much as 80 percent of the island nation's buildings have been damaged and there's no phone service or electricity. Food and water are scarce, and officials and aid workers say it could take months, if not years to rebuild what has been destroyed.
All that must have been weighing heavily on the mind of Prime Minister Roosevelt Skerrit when he went to the United Nations General Assembly to address the plenary session on Saturday morning.
While the world news followed the antics of Trump and his Rocket-man, Skerrit gave a sobering address on the devastating effects of climate change on small island states:...
Hon. Roosevelt Skerrit- Prime Minister, Dominica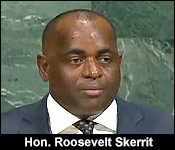 "Mr. President, I come to you straight from the frontline of the war on climate change. With physical and emotional difficulty, I have left my bleeding nation to be with you here today. Mr. President, warmer air and sea temperatures have permanently altered the climate between the tropics of Cancer and Capricorn. Heat is the fuel that takes ordinary storms, storms we could normally master in our sleep, and supercharges them into a devastating force. We as a country and as a region did not start this war against nature, we did not provoke it. The war has come to us. Mr. President, my fellow leaders, there is no more time for conversation. There is little time left for action. While the big countries talk, the small island nations suffer. We need action and we need it now Mr. President. But what is our reality at this moment? Pure devastation, as Dominicans bear the brunt of climate change. I repeat, we are shouldering the consequences of the actions of others, actions that endanger our very existence and all for the enrichment of a few elsewhere. Mr. President, we dug graves today in Dominica, we buried loved ones yesterday and I am sure that as I return home tomorrow we shall discover additional fatalities as a consequence of these encounters. Today 72 thousand Dominicans lie on the frontline in a war they did not choose with extensive casualties from a war they did not start. Our homes are flattened, our buildings roofless, our water pipes smashed, and our road infrastructure destroyed. Our hospital is without power and schools have disappeared beneath the rubble. Our crops are uprooted, where there was green there is now only dust and dirt. The desolation is beyond imagination. Mr. President, fellow leaders, the stars have fallen, Eden is broken. The nation of Dominica has come here to declare an international humanitarian emergency. Let these extraordinary events illicit extraordinary efforts to rebuild nations sustainably. We are in shock but we are not stooped, we cry but we do not despair. We will rise because Dominican people are strong because Caribbean people are resilient. We will rebuild our garden of Eden again for our children and for future generations."
Skeritt noted that in the past century, enduring a category 5 storm once in a lifetime was the norm, but his island has seen two in less than a month.
Dominica remains under curfew, but the place chief reports massive looting after the storm.
Locally, Diamonds International Belize - which owns half of the Fort Street Tourism Village is having a bar-b-que fundraiser on Friday at the Village's Terminal 2. Diamonds International has stores in in many of the Easter Caribbean Countries damaged by Hurricanes Maria and Harvey.

Did You Hug Your Pharmacist Today?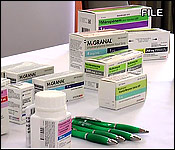 Today, September 25th is celebrated as World Pharmacist Day and Pharmacists all of the country gave back to the community through patient consultations. We found out more about what was done today:
Samira Gongora, Drug Inspector, Pharmacy Department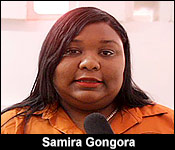 "Well today which is actually pharmacy day we are having a brown bag day at all public health facilities where the pharmacists will be doing consultations. The public is invited to bring out all the medication they had or have had and the pharmacist will assess it to see what is viable, what is still good and what doesn't need to be taken again and they will also be doing a continuing education to the patients that are waiting to see the doctor today."
"On Thursday and Friday of this week we will be having a team building workshop for all public pharmacists where they will be distressing and expressing whatever issue they have and so as a group we can build as a team."
There are 100 registered public pharmacists in the county. The theme for this year's day is "Belizean Pharmacists improving the contribution to health and wellness in communities."

Home | Archives | Downloads/Podcasts | Advertise | Contact Us