73 Year Old Dies Three Weeks After Being Shot
And there is another homicide to report tonight it is the result of a shooting which happened three weeks ago. The night of July 10 is when 73 year-old man, Godfrey Jones was shot in his home on Lizarraga Avenue. Well, he passed away at the KHMH on Monday, an unexpected turn for his family almost a month after he was shot.
He was shot at 9:00 in the night while socializing with 40 year-old Christopher Mayen in front of his house when 2 men entered the yard and fired several gunshots at them. Jones was hit in the knees, while Mayen suffered an injury to his right leg.
They were both rushed to the KHMH in a stable condition, and initially, their wounds weren't considered life-threatening. That is until Jones wound got infected, and it claimed his life on Monday.
No one has been arrested.

PM Says If US Asks for Dr. Elrington, Extradition Proceedings Would Be Normal
Dr. Errol Elrington is a fugitive on the run from the US Federal Government. But, he's safe in Belize for the time being because the Americans have not requested his extradition.
A statement from the US Embassy says, quote,U.S. Embassy is aware of Elrington's status as a fugitive, but is unable to comment further on this issue at this point in time. End quote.

But if and when the US Government does request his extradition the Prime Minister says the case will proceed. He gave these remarks at a press conference at the Biltmore Best Western where he was careful to draw the difference between Errol and his brother, the Foreign Minister Wilfred Elrington: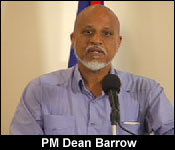 Hon. Dean Barrow, Prime Minister of Belize
"Dr. Elrington's struggles have nothing to do with minister Elrington except from the point of view that this is his brother and certainly nothing to do with the government of Belize.
Dr. Elrington I know, I have found to be an extremely patriotic Belizean, an extremely likeable fellow always struck me as wanting to do good for people and is honest. Now what sort of evidence us authorities might have I don't know I am not interested in finding out if the United States wishes to extradite any Belizeans citizen there is a treaty between our two countries that details the process that must be followed in order for this to be done. If such a request for extradition is ever made in this case by the United States authorities we will proceed in the way we always do."
Barrow added that in the event that the case would ever go before Minister Elrington for adjudication as Attorney General, he would recuse himself.

ASR Rejected Independent Expert in Bagasse Dispute
And at the press conference - which ran for what must be a record two hours and forty-one minutes Prime Minister Barrow also discussed the impasse in the sugar industry. As we have reported, BSI and the Belize Sugar Cane Farmers Association are far from an agreement on the price of bagasse in fact, it's fair to say, they aren't even in the same ball park! Today, the PM addressed the subject at length. He says government had offered to hire an international expert to study the problem and suggest a baseline figure but that was flatly rejected by ASR as recently as this morning. They say that it is a commercial dispute and as senior long time partners, both sides should be able to come to an agreement.
Except, that they haven't and the industry is facing perilous times ahead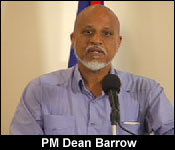 Hon. Dean Barrow, Prime Minister of Belize
"In that context they are saying the coming together of all stakeholders should start with an ability to work out the issues for payment of Bagasse; That if they can't even solve that problem, it doesn't bode very well for the longer term existence of the industry. Bottom line, I don't know how we are going to be talking about starting another crop unless number 1, the commercial agreement which has expired; A new commercial agreement is reached between A.S.R and the farmers. Number 2, the matter of the quantum of payment for Bagasse is sorted out."
Renee Trujillo, LOVE News
"If they continue bucking heads at what point would government be forced to?"
Hon. Dean Barrow
"I hate to confess this and confound some journalist, government isn't all powerful you know and doesn't behave that way. We are well aware of the limitations on the power of government in a democracy and you're talking about a private commercial arrangement, there is a limit to how much government can do. The genesis of this problem was with Bagasse; Government was able to persuade A.S.R to agree to pay for Bagasse. Government couldn't pass a law to tell A.S.R you must pay for Bagasse, the people would pack up and leave. Let's hope that they can solve it themselves, but if not I will merely reiterate that we stand ready if both sides can see the value in this. We stand ready to intervene to try and assist."

Post Mortem: Stephen John Michael Not Murdered
Last week Friday, schoolteacher Stephen John Michael's father found him dead in his house on Jaguar Avenue. The door was open, he was bleeding from the nose, and there was a pool of blood behind his head. That, along with apparent missing belongings led them to believe that he had been clubbed in the head, and then robbed. But the results of the post-mortem on his body this evening say that he died of natural causes.
The medical examiner has certified the cause of death as "acute lung failure and massive pulmonary oedema". The doctor believes that the lung failure is due to natural causes because there signs that he may have been suffering from lung disease. Further specimens have been retrieved and sent for tests for to confirm.
Police said from the outset that it was not a homicide, and they were treating it as sudden death.We could not reach his father for comment. A friend told police that when he last communicated with Michael the night before he was found dead, the 28 year old said he was having a headache.

GOB to Set Up Rapid Training Center for 2k BPO Jobs
Business Process Outsourcing or BPO - it's the fancy term for what you might know as call centers.Government says that BPO Companies are banging down the door trying to get into Belize. But, there is a shortage of trained BPO workers and so today, government signed an agreement to open a Rapid Training Institute for potential BPO Workers.The center will be at the ITVET compound, and they intend to train two thousand persons in two years. CEO Mike Singh explained at today's press conference.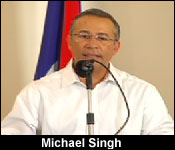 Michael Singh, CEO Ministry of Trade
"The idea is that we will transform a portion of the ITVET campus on Freetown Road into what we call the rapid training institute. The idea being that we will go out, seek at least 100 Belizeans per month, put them into the training, certify them in call centers and at the end of that training we will go through a recruitment drive with the centers so they will come in and directly interview and hire people on the spot. This is what they're asking us to do, this was the model we used 2 years ago that was very successful, the target being that we should have at least 1000 people added to that list within a year and hopefully we get to that 2000 people within the 2 year target, which should make a fundamental difference in our employment numbers."
The intended start date is October first and they intend to take in groups of one hundred at a time.

Rooting Out Corruption at Lands
And while the BPO is hiring, so is the Lands Department. It's part of a new government strategy to bypass the endemic corruption with new staff and new systems.Now, it's not like they can fire anyone we all know that in the public service that's nearly impossible but the strategy is to implement systems that will enforce new levels of transparency and accountability.

Cabinet adopted the recommendations at its last meeting and the PM outlined them today. He was backed up by the CEO in the Ministry whop came up with them along with the Commissioner of Lands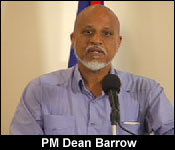 Hon. Dean Barrow, Prime Minister of Belize
"We will provide for the first time at last for effective service delivery. It's going to cost government, we're going to hire additional personnel, all who will have to be on contract because we don't want people getting permanent appointments joining the public service and then we run into the same problem where no matter what happens you can't get rid of them. The new hires will all be on contract with exit clauses.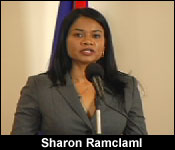 Sharon Ramclaml, CEO Ministry of Natural Resources
"It is clear that the public has been consistent in expressing their frustrations in the level and quality of delivery of service offered at the lands department and this has now come to the fore where the department finds itself having to out many fires over the past weeks and in fact months. In our view the two critical areas at this point for us to tackle are the sections that deal with the national estate and the registry section. Those are the areas that offer day to day service to the public and ought to be offering day to day service to the public in a more efficient manner but at this point we need to address of customer service the critical areas of public relations the security of file sand land tenure and obviously the complaints of wrong doings and misconduct by the lands officers. We also have been faced with issues of theft and I say outright its theft in terms of things happening in the department and we see that we defiantly need to put more surveillance systems in monitoring the movement of staff throughout the department and especially at the district level where they seem to be operating in silos and not connected to the headquarters in Belmopan. We are pleased to announce that we will be installing security cameras in all the publicly accessed pieces in the department at the district level and in Belmopan and also in the areas where the cashier booths are located. We also are putting in place a proper tracking system for visitors. Everybody to visits any of the lands department throughout the country will receive a specific receipt, like a ticket, saying you visited, this is your complaint, this is your query, this is the officer who addressed you, and this is what happened."
Because the Prime Minister seems to have such a short and frustrated fuse with the Lands Department, at the end of 6 months, Ramclam will have to report back to Cabinet one what measurable progress has been made in curbing corruption and increasing efficiency.

Enter Ambassador Alexis
And while those were the positive initiatives unveiled at today's event the headline maker should have been the unveiling of the new ambassador to Guatemala, Alexis Rosado except we kind of beat the Prime Minister to that punch about a week ago.
Today, though, the Prime Minister unveiled Rosado's replacement as Foreign Affairs CEO
Hon. Dean Barrow, Prime Minister of Belize
"Alexis, as you know is extremely experienced in diplomacy and he has been high commissioner in the U.K for number of years. Held various other posts in the Foreign Service; is very well qualified, not just in terms of academic qualifications but in terms of the sort of personal traits that are going to be required in particular for this assignment. I am satisfied that Alexis is far and away the best person that we would ask to take over in Guatemala City. I will ask C.E.O Lawrence Sylvester who is currently as housing to move over to Foreign Affairs. Lawrence again as you no doubt well know was at foreign affairs previously, was also high commissioner to the U.K; He was well permanent P.R in New York, so again somebody who knows the foreign ministry inside out and the position he leaves as C.E.O, Ministry of Housing has to be filled and I will appoint Mr. Denton Belisle to be the new C.E.O in the Ministry of Housing."

Belisle is the former General Manager of Social Security Board under a previous UDP Administration.

PM Says Puerto Azul Still Nebulous
And, of course, it wouldn't be a press conference without some mention of the Puerto Azul project. Indeed, the volume of press releases on the project has far exceeded the body of actual information on the development. And that's because the information that's been released on the project so far shows that it proposes a mega luxury development on the Lighthouse Reef Atoll. So, they say they have to mount massive and sustained resistance to make sure the project does not get off the ground.
But, again today, the Prime Minister was like, what project? Here's how he put it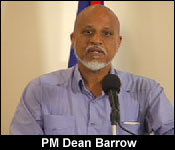 Hon. Dean Barrow, Prime Minister of Belize
"Well my difficulty is, I don't quite know what the project is. These people came with some ideas, with a concept they were told what they needed to do to flesh out that concept, and some of the things from the start would be a no go, and as far as I am aware that process is not yet completed; So I am supportive of the notion that the watchdog groups ought to be if not previous, pre-emptive in terms of discharging their role. But I don't quite understand how they can speak with any degree of accuracy about what is wrong, or what needs to be done, when no scope in terms this project has been agreed by government. I know people were every upset about the notion of some airstrip on the reef. Well that was never ever on. As I say I want to be careful because the environmental community needs to do what it is doing. I just ask that they check with the chair of the cabinet investment sub-committee just to be sure they are not running off half-cocked, when indeed we are not yet at a point where there is anything to complain about."

BIL Will Build
And while Puerto Azul is in a nebulous stage not so for BIL, that's Belize Investment Limited. That's the special purpose vehicle government designed to oversee and manage the construction of sports facilities in all the districts. All told the projects will come up to 60 million dollars, 25 million of that for Belize City and five million each for the municipalities. Today at the Press conference, Manager Christy Mastry gave an overview of what's happened so far the 6 projects which are in the design stage, and one on which work has started:..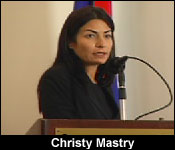 Christy Mastry, General Manager BIL
"These are some of the projects we have contracted to date, the first being Victor Galvez which is a recreational field in San Ignacio and that is really an OUTDOOR recreational space that the community uses for running track; So we will be refurbishing the pathways, outdoor courts, the practice football field itself and other small service amenities within the area. The second is Santa Elena, it has little over 10 acres of land and it really has the ability to house 2 full football fields; So what we are doing is dedicating 1 field to performance competition and so forth, and the second to be open to the public and to the youths at all times for practice. The third, also in San Ignacio is Falcon field and that was a design built contract for 850,000 dollars and that is in construction right now. It's a large roofed facility that will be able to house both volleyball and basketball with bleachers, we're putting in restrooms, we're refurbishing the stage, a new bus stop and it's on Joseph Andrews Boulevard which is also in construction so it is kind of completing that area as an outdoor facility. The next is Belmopan and that is also the improvement of a football facility and this is really complimenting a lot of stakeholder consultation we've done in the area as well as meetings with F.F.B. We've met a lot with them about their facility that they're working on putting in bleachers and have at least one competitive qualifying field throughout the country because for us to qualify for Champion's League to compete in the regionals, we have to have a qualifying field. So what's nice about this; It's a complimentary field within the city of Belmopan so if they are doing practice on one field, the other field can be used for competition play."
San Pedro will get a football field with synthetic turf because of the difficulties growing suitable grass in the island soil.

A Hand in Housing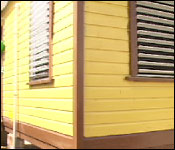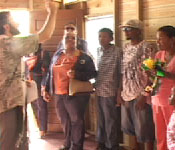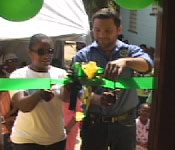 Today, Hand in Hand Ministries with the help of BEL, blessed and donated its 243 house. We spoke to the happy recipient Bernadine Lauriano at the handing over ceremony: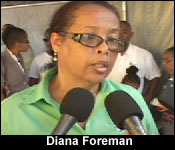 Diana Foreman, Co-Chair BEL Social Club Committee
"BEL under the guidance of the Hand in Hand Ministries got its employees to volunteer to provide the labor and the company sponsored the materials and alongside contracted services to build a 2 bedroom, 1 bathroom facility, 3 block height elevated structure, wooden with zinc roofing and louvers at the cost of approximately 18,000 dollars. The house also comes with a free service entrance because at the end of the day we know that family was not in a position to provide that for themselves."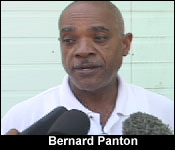 Bernard Panton, Director Hand in Hand Ministries
"This program is a holistic approach that we use. On every first Saturday of every month we have meetings with people who partner with us; it's mandatory they attend if they are to get a house from us, and Ms. Bernadine has been attending for the past 3 years. She didn't realize she had to apply for a house to get a house, so one day she came and asked Mr. P when will I get my house and I told her she needs to apply; We stepped her through that process and it took about a year after that."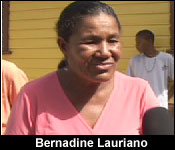 Bernadine Lauriano, Recipient of the House
"I really needed it because my home is very old and I never wanted the home to fall and anybody to die or get hurt, so I went to ask for assistance."
Robin Schaffer
"So could you describe the state of the house before?"
Bernadine Lauriano
"Most of the windows are nailed down because they are gone, the house is leaning over, it's leaking badly and it's very old. I will say I feel very happy for Hand in Hand, BEL and my boss Mr. Joe Lawrence because he gave me all the time off when the house was being built; so thanks and God bless."
Hand in Hand Ministries has been building houses for the marginalized since 2003, and BEL partnered with them as of last year. Eligibility persons must be homeless, elderly, or single parents making less than 1000 dollars per month, and who already own land where a house can be built.

Public Sector Workers' Trust Explains
5 million dollars plus, that's how much the Public Sector Workers Trust has parked in an account the accumulated compensation from two years of frozen wages when then Prime Minister Manuel Esquivel gave teachers and public officers shares in BTL in lieu of their increments.
Today, the Public Service Union sent a release explaining what the money will be used for.
The Union says, quote, The Trust will be fully operational in the very near future, at which time all beneficiaries, including current and retired public officers , teachers, nurses, police, soldiers and coast guard, will be invited to submit projects and proposals as per the purpose of the Trust.

Monica Takes a Walk on the Wild Side
"The Ghetto - it's not a pretty word and one we very reluctantly use. But, there's no other way to describe the area known as Jungle in the Pickstock slash - Fort George Area of Belize City. It's been a famous slum in the city for at least four decades and all those years of broken promises, institutional neglect and structural poverty has left it as one of the most run down areas in the city. At the invitation of the residents, Monica Bodden visited today to take a walk on the inside of the Jungle...
The jungle is on the street called Lovely Lane between Pickstock and Victoria Streets.

SIB Says….
The latest figures from the Statistical Institute of Belize show that theconsumer price index rose 1.3 percent in June. The increase was caused by higher transport and home rental prices. Rent went up in San Ignacio/Santa Elena, Orange Walk and Dangriga Towns. And the change in transport prices wasn't due to bus fares - which are stable - but due to higher international airfares and motor vehicle prices.
The price of vegetables continued to go up due to short supply of cabbage, however, these were offset by decreases in the price of rice, breakfast cereals, pasta and eggs.
Punta Gorda and Belize City recorded the lowest inflation rates at less than one percent while prices in San Ignacio/Santa Elena increased 2.4 percent, almost twice national average.
And while that's the story for inflation, in trade June 2014 was the very first month in over a year that there was an increase in the value of Belize's domestic exports. Exports increased by 20 percent with sugar being single largest export earner, with sales increasing by almost 50 percent to $19 million.

Home | Archives | Downloads/Podcasts | Advertise | Contact Us