Why Was Senior Citizen Fisherman Killed?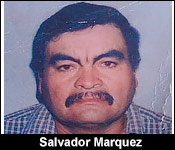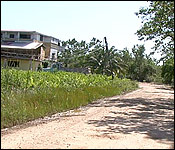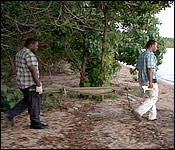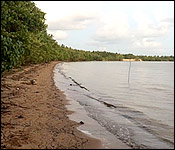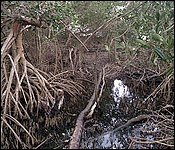 Last night we showed you footage of the Western Highway murder. After 5:00 yesterday evening police were called out to mile 3, in a swampy area way off the highway. There, they found the body of 62 year old Salvador Marquez with several chop wounds to the head. The family told us today that everything seemed just fine yesterday morning when Marquez left to go fishing as he normally does. But it turned out to be far from ordinary when his son found his dead body on the beachside hours later. Here's what I found out today:...
Courtney Weatherburne reporting
Salvador Marquez always had his fishing gear laid out from early in the morning. His net along with this ice box attached to his bicycle.
Marquez would leave around 8:00 in the morning and ride to his favorite spot near mile 3 on the Western Highway, behind Tapir Nightclub.
Yesterday was no different. But now this coastline view that Marquez had been enjoying for 4 years is is now tainted by his murder.
Voice of: Elsy Acosta, relative
"Yesterday morning he left around 8:00 in the morning, my sister mother in law called him around 9:00. he told her that there was an accident so she told him just to be careful and he told her, God is with me, I will be fine."
But he wasn't going to be fine at all. Reports are that Marquez had already caught some fish when he was attacked and chopped to death. It's only until later in the afternoon when he didn't return home, that his family tried calling him but his phone was off. So Marquez's son and mother went looking for him and made the grisly discovery.
Voice of: Elsy Acosta, relative
"My brother in law went and followed his daddy's footprints, my sister and her mother in law stayed in the vehicle, when my brother in law arrived at the spot where he found his daddy laying up on the seaside, he find out that he had a lot of chops in his face, back of his head his hand."
His relatives are stunned by his murder. They say Marquez had been robbed before in this area but they could have never imagined that anything like this would ever happen to him.
Courtney Weatherburne, 7News
"The other time they just robbed him and took his stuff away?"
Voice of: Elsy Acosta, relative
"Yes, they just asked him for his fish that he had already caught and he gave them and that was about it."
But it doesn't seem like it was robbery this time because, all Marquez's belongings were found with him, including his catch.
Courtney Weatherburne, 7News
"And do you have or does the family have any idea why anybody would want to target a 62 year old man?"
Voice of: Elsy Acosta, relative
"We have no idea, he was a person that didn't have any enemies and his son is a good person, he doesn't get into any trouble, so not even to say that his son did something and they targeted him so I don't know, everybody knows this man as a nice person as a quiet person because he had no trouble with nobody."
And that is exactly how Marquez will be remembered by his loved ones.
As you heard police say last night, they are still gathering information in this case. They had to call the Coast Guard for help to process the crime scene. Just to clarify, reports are that the body appeared to be decomposed but that was not the case, the foul smell was coming from the fish Marquez had caught, not from his body. Based on the post mortem examination, he was killed in morning, not too long after he had arrived. In terms of the case, the family says Marquez also took a machete with him and that was the only thing that was missing, but they say the machete was way too dull to be used to kill him. Marquez leaves behind his wife of 42 years, 4 grown kids and 7 grandkids. Marquez and his wife had just moved to Belize from El Salvador 4 years ago.

PM Says Ready To Go To War With Ashcroft Alliance If Any Moves Made Against Belizean Assets
Turning now to today's House Sitting - it was the first for 2017, and the first for new Speaker Laura Longsworth. We'll show you her election to the Speaker's seat later on but we start with the biggest news out of today's meeting. And that is the Prime Minister's defiant position that his government flatly will not pay the fifty million US dollars in arbitration awards that are owed to the Ashcroft Alliance. As we told you earlier this week - the US Supreme Court has refused to hear a case coming from a US District Court. That judgment said the Government of Belize must pay two Ashcroft Alliance Companies a total of 50 million US dollars.
Earlier this week, the Prime Minister's Office sent out a release saying Government won't pay, Today in the House the Prime Minister added more depth to it. He said it's not simply an act of defiance to the US Courts, it's a matter of sovereign importance, since the CCJ had already ruled against these judgments. Here's how he put it:...
Rt. Hon. Dean Barrow - Prime Minister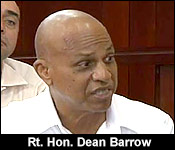 "The BSDL award is in consequence of this government's refusal to honor the accommodation agreement. An accommodation agreement that without a doubt, Madam Speaker, was utterly and outrageously illegal. BCB holdings, same thing, they had some fight with Ashcroft and he had some case against and in order to settle that, they agreed with him a settlement deed that provided as well for all sorts of exemptions from the tax and other legislation of this country. That one, they had the nerve after they got the award, the Ashcroft concern, to bring to Belize for enforcement and that was the one that ended up at the Caribbean court of justice. That was the one that caused the Caribbean court of justice to talk about malignant tumors and that was the one that caused the Caribbean court of justice to say it doesn't matter what the reasoning of the arbitral tribunal was to enforce that award would be repugnant to the public policy, not only of this country and the region, but internationally."
"Now I have to say that we resisted because in every case the litigation arose out of the perfidy of the then People's United Party Administration Government. In the case of BSBL and BCB holdings in my view that perfidy went both ways; both the giver and the taker of these absolutely horrendous deals were at the very least morally guilty of the worst kind of behavior"
"But I want to repeat that in terms of BSDL and BCB holdings, especially the BCB holdings, we, this government has no intention, I repeat, of paying a penny. They have put the Caribbean court of justice in an impossible position where in fact US Courts will relying on the fact that they contracted with respect to these issues with eyes wide open. The US courts are saying we don't care what the Caribbean court of justice has ruled. We will in effect disrespect the Caribbean court of justice. That is what these people have caused."
"You all have caused a situation in which the entire legitimacy of the CCJ has been impugned. in those circumstances apart from the money consideration. How on earth would anyone expect that I will honor an award like this? Our highest court has said that it can't be it is so outrageous, it is so repugnant. No court can order its enforcement. Well if the American courts, not if, since they have done so, I am sorry Madam Speaker I must be clear that it will take wild horses. Let me not get into the rhetoric. I am not prepared to pay those 2 awards."
"BCB holdings sought judicial relief in the United States only after losing in the courts of Belize, appealing to the CCJ and then losing in the CCJ as well. This sort of forum shopping should not be allowed to result in flatly inconsistent results which is the present situation. All the more so when the CCJ's ruling rest on foundational democratic principles aim at combating government corruptions. That is the brief that the corporative republic of Guyana filed."
"Madam Speaker I say again in those circumstances I ain't going to pay. They, Ashcroft concerns, have no recourse here in Belize. They gone abroad and as far as I know we have no assets in the US that they can attached. They will certainly try. I am here to make just this last point: Madam speaker will all, notwithstanding the scandalous record of illegal, improper, corrupt, collaboration between the Ashcroft concerns and the previous government. This government has not attempted to stop any of those concerns in Belize from doing business. His 2 banks are operating without let or hindrance. His telephone company in which he is a partner with the family members of the leader of the opposition, your family members SMART Speednet and I have hold out again the breakdown of the shareholding. Initially he had 55 percent, Ashcroft corner ball and heiver holdings and whatever and Jaime and Renan and Jorge had the rest. They sold and I have the documents here. Jaime sold and Renan sold so much so that now the Ashcroft interest have 70 percent so your family is very much a junior partner, but a partner never the less, with Ashcroft and Speednet."
"Have we attempted in any way to interfere with the doing of business? If they make any effort to go after them in the states, go after our assets which we don't have, but just the fact of any attempt putting us to further litigation expense. I want to say to the nation I will consider that an act of economic war. All options thereafter will be on the table."

What Would John B Do?
So, the Prime Minister says he's prepared to go to war with the Ashcroft Alliance if any move is made to seize Belize's foreign assets - even though he claims to know of no such assets.
But what would the Leader of the Opposition do? That's what the media asked him today:…
Hon. John Briceno, Leader of the Opposition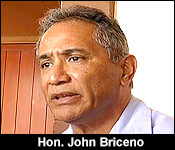 "But he has been running his government as if it is a law firm. So far he has a zero batting average that he has been losing all of these cases. And now put our country in peril because of those foolish, wrong, and rash decisions that he has made. So now what's the best thing for him to do is to continue the blame game. The Belizean people have spoken on that. We have gone through 3 elections. He has to man up and accept that he has made some terrible decisions that now is costing this country, the Belizean people hundreds of millions of dollars."
Reporter
"Sir do you not see the argument that was put forward by the Prime Minister this morning and that he can take the decision to say 'based on all of that I will not pay'."
Hon. John Briceno, Leader of the Opposition
"As I said I don't have all the information. My immediate emotional response was to be like 'well then we don't want to pay'. But until I can see all the information and get the best legal advice to advise him, I can't answer."
Jules Vasquez, 7News
"Sir if you were Prime Minister, would things be what they are? if you were to inherit the leadership of the country to take over right now, would you pay?"
Hon. John Briceno, Leader of the Opposition
"I would like to say that I would not pay, but I don't have the information Jules. As much as I would want to give you a direct answer, until I can get all the information I cannot make the decision. Personally I would love for us not to pay, but until I can get all the information and get the best legal advice, I cannot give you a direct answer."
Jules Vasquez, 7News
"Are you compromising in any way because of your family business relationship with Mr. Ashcroft or the Ashcroft Alliance...?"
Hon. John Briceno, Leader of the Opposition
"I am offended by that question that you would dare ask me such a question if I would anyway be compromised. As I have said, I will always and have always stand on the side of Belize. Whatever dealings that my family has with Mr. Ashcroft, that is their dealings, not mine. God willing, as things are working out, we believe that we are going to form the next government and I can assure you and you can record this, that I will always make the decisions that are going to be in the best interest of the people of this country."

Belize Offers Bondholders 4%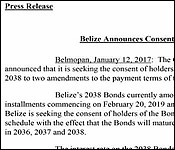 2 and a half months ago, we told you about the Barrow Administration's attempt to convince holders of the Superbond to restructure for a third time. Well, Government has now presented an offer to bondholders.
Principally, government wants to adjust the interest rate. That rate is currently 5% per annum, stepping up to 6.77%, starting August 20 of this year. The Government of Belize wants to amend that by fixing it at 4% per annum starting with the next payment, which is due in a month.
To make the offer more attractive, Belize is also offering to pay holders a consent fee of 0.25% of the face value of the bond. This consent solicitation, which is simply an invitation to discuss, closes in two weeks, on January 26, 2017.
Financial Secretary Joe Waight says that Belize is not asking for any reduction in the principal, and neither is the country proposing to extend the final maturity date of the Bonds. "The proposed amendments," Waight said, "will only adjust the amortization schedule of the Bonds within its existing maturity profile and effect a modest reduction to the interest rate."
It's left to be seen how the bondholders react.

New Speaker Takes The Chair, With Grace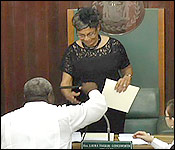 And now back to today's House Meeting. It was a historic day in the House as the UDP Government saw the ascent of its first female Speaker of the House. The PUP had two during their two-term tenure, and now the UDP has brought in Nurse Laura Tucker-Longsworth.
She's well known for her professionalism in the medical field, and her serene and stately demeanor. It is hoped that she can use those traits to bring so harmony and civility to the often-fractious house.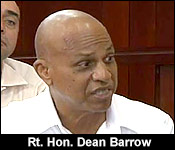 But it's not like an appointment or a contract officer who just shows up for work; not at all. The Speaker of the House - like all other members of the House - must be elected - and here's how that Ceremony went today:...
Rt. Hon. Dean Barrow, Prime Minister
"I propose to the house Mrs. Laura Tucker Longsworth as the new speaker."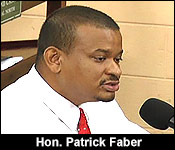 Hon. Patrick Faber
"I second that proposal."
Eddie Webster, Clerk. National Assembly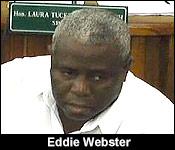 "Since there are no more nominations, I call on the sponsored and the seconder to go with me to fetch the new madam speaker Laura Tucker Longsworth."
After that, Tucker-Longsworth took the Oath of Office, and then delivered a brief address laying out the hopes she has for her tenure:..
Laura Tucker-Longsworth - Elected Speaker of the House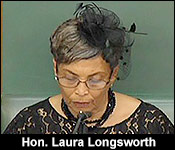 "I stand before you as the first woman speaker nominated by the sitting government and the third woman who has been appointed speaker in the history of Belize. An important historical milestone is also being achieved as I am the first nurse to serve in the legislature as the speaker of the House of Representatives. I was confronted with numerous reasons for not accepting the nomination as speaker. But those reasons receded in order of importance when compared to the rear opportunity to represent women at this high level and my country as speaker of the house of representatives. One message that truly resonates with me is an encounter with an ordinary citizen o Belize, an older creole woman who stopped me in the isle of the supermarket to inquire if I was that lady who would become the speaker of the house. Her message to me was, 'darling I hope you can make them behave themselves, I feel really bad when I watch them on TV, and I always wonder why they have to act like that.' Ironically she capture the main theme of messages that were expressed via social media, broadcast media and personally. Chaos and the complexity of business in the honorable house is expected but it requires that members harmonize efforts to create better decorum in conducting business in national assembly. It is with humility that I accept the position of speaker and pledge to serve in a just and fair manner."
Rt. Hon. Dean Barrow - Prime Minister
"Your accession will usher in a new era, an atmosphere entirely conducive to the smooth flow of business in parliament. Clearly there can be no forsaking spirited robust even fierce debate. Nobody wants a colorless bloodless house. Combativeness, though not incivility is surely allowed, even desirable. So let the words fly. Let the rhetoric be in passion, but let us never again descend into venom and vitro. I say this madam speaker as one who has been guilty in the past, yes I have. But as one who now knows that cannot continue this because it is not right and because you our new madam speaker will not permit it."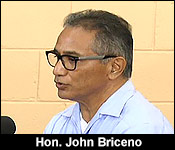 Hon. John Briceno - Leader of the Opposition
"I have listen to the prime minister's comments and I'm happy to hear that he is also committing and admitting that over the past years there have many instances when the debate and the behavior in the house have gotten completely out of control and I do agree with the creole lady that spoke with you, that whilst we are supposed to be giving the example to this country. In many instances the behavior in this house has been the exact opposite. We are going to do everything possible to corporate with you and we will do our part to ensure that we have a level of civility in the house that is merited and that what I think every Belizean expects from each one of us."

Motion to Bring Back Julius
And the first order of business was the single matter that perhaps played a part in Laura Longsworth's ascension. Her predecessor Mike Peyrefitte had famously clashed with the PUP Representative for Cayo South Julius Espat, resulting in his forcible ejection from the House. So, today, the House heard the motion from the government side to bring Espat back - but it's clear that there were definitely mixed feelings about it:...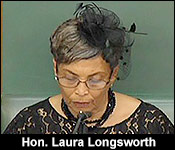 Hon. Laura Longsworth, Speaker of the House
"It is therefore for this honorable house to consider a resolution to terminate the suspension of the honorable member at this time."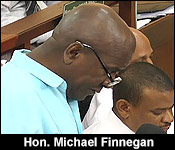 Hon. Michael Finnegan
"And that I hope and pray to the lord in heaven that as long as I live I will never want to witness what happened on the 26th of August last year. I would hope that every member in this house must realize that you are the person, Madam Speaker, that is in charge of this house. You have the last decision to make whether we agree with you or we don't. Your decision is the rule of the day. Madam Speaker, I move a resolution that the Honorable Julius Espat, member for Cayo South be reinstated to his parliamentary duties and attend the next siting of the house of representatives."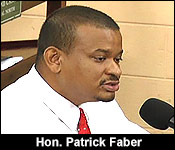 Hon. Patrick Faber
"I remember his word particularly, Madam Speaker, saying 'which one of you thieves are going to name me?'. Casting aspersions Madam Speaker not only in terms of disrespect to you but casting aspersions on all on this side. Madam Speaker, while we believe that it is very important for him to come back to this honorable house, particularly because he represents a portion of this country that is very important to Belize's development, the people of Cayo south. Let us not pretend that he is all soft and ready. We had seen where that member demonstrated time and time again disregard. You can say that it was either ignorance an intentional thing not to learn the standing orders and follow them. I am hoping again that with the dawn of your era there will be some change once he is allowed to come back to this honorable house via the motion that my friend the member from Mesopotamia has passed."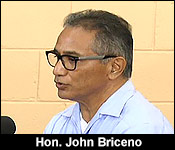 Hon. John Briceno
"Whilst I am grateful for the honorable member from Mesopotamia for the resolution, I must register my disappointment that the honorable member from Cayo South is not allowed to come to this house meeting. The people from Cayo south has been without a representative in this honorable house since august of last year. That representative needs to be here in this honorable house representing his people. There's just no justifiable reason why he can't be allowed to come to this house today."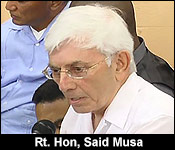 Rt. Hon. Said Musa
"I believe that it's the first time in the history of our parliamentary democracy that not only the member, but indeed the entire press was forcibly and violently evicted from this house. That should never again happen Madam Speaker."
Rt. Hon. Dean Barrow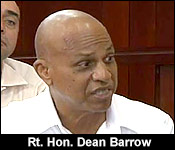 "In terms of what happened, we all regret it. But when Mr. Member for Fort George, you will make it seem as though the force that was used was entirely unprovoked, forget the media. I don't know what took place with our friend from channel 7, but he certainly got up and indicated that he did not have a problem with what happened. But with respect to the member, when he was named, he refused to leave. Having been given opportunity after opportunity. After being named, he insisted on staying for a while to make a point, I could have understood that but this was a prolonged refusal that ultimately turned violent and for what reason? It was not that some fundamental interest of his party of the country was involved. This was ego and arrogance and a kind of bolshevism that resulted in this violent resistance when the forces of law and order acting in the accordance with the instruction of the speaker tried to remove him. This was after half an hour, if not more. But please as the member who moved the motion said, let us just pray to God that there is never again going to be that sort of a spectacle. but let us hope that notwithstanding that there is a genuine degree of contrition. Absent that while he must come back since we can't deprive the people of Cayo south of representation, we're going to go down the same road again. I recollect some old saying that if a cloth be washed a hundred times, how can it be rendered clean if it is washed in dirty water?"
So, while Espat did not return today, his suspension has been lifted with the motion moved to bring him back. So, he returns at the next House Sitting which will be at the end of this month or early next month.

PUP Firmly Opposes Change In Referendum Threshold
And he surely would have wanted to be part of the very lively debate on the Referendum Amendment Bill, which was brought back for its second and third readings. At least 10 members on the PUP bench stood up to oppose it. As we've reported, the bill seeks to lower the threshold for the passage of referendum to a simple majority: 50% + 1.
The UDP had set the threshold at 60%, but in a gesture of goodwill to the international community, the new law lowers it to 50% to bring it in line with Guatemala's. That paves the way for referendums in both countries on whether the Belize - Guatemala Territorial Dispute should go to the ICJ.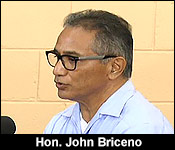 The PUP calls it the appeasement of an unfriendly neighbor:...
Hon. John Briceno, Leader of the Opposition
"Now we all know why UDP government is proposing this amendment. They are actually under a lot of pressure from Guatemala to change the law to a simple majority so that both countries can hold their referendum over Guatemala's unfounded claim over Belize so that they can take it to the international court of justice. Let me make a few points on the issue of Guatemala. Why are we appeasing Guatemala at this time? All the indications are that Guatemala will hold no referendum. They are asking the international community about 50 million US dollars so that they can hold their referendum and all indications are that they are not going to get that 50 million dollars."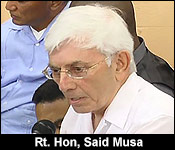 Rt. Hon, Said Musa
"How can we possibly talk about amending and facilitating the process of going towards a referendum when all we've been faced with is hostility from the Guatemalans. All we've been faced with it is we've stand a very good chance the way things are right now and the incompetent way it has been handled in the ministry of foreign affairs. We stand much clearly the possibility of losing the Sarstoon to the Guatemalans. This is what is happening."
Hon. Oscar Requena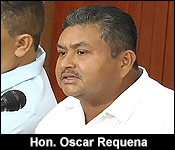 "But I can tell you that this is the cry of the people that I represent that this government particularly under the leadership of the minister of foreign affairs has failed in carrying out a comprehensive education program to educate our people on what are the pros and cons of going to the ICJ. Now I heard him mention earlier in reference to the referendum, saying that we are now making the amendment where we want to move the threshold from 60% to a simple majority. Once we get this pass then we are going to move the education process. Madam Speaker they should not get off the hook, they have had 8 years of being in government. so don't come with any excuse that at the last minute you are now going to blame that we need to pass this first before we begin that education process."
Hon. Cordel Hyde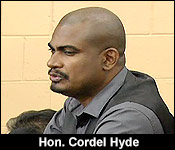 "I find it amazing that for the very house meeting in this year a special sitting, mind you, this is the primary thing on the agenda. This removal of the threshold in the referendum act, this kissing up to Guatemala, this clearing of the road to go to the ICJ. There's no guarantee that we'll go to the ICJ and get a favorable ruling that they will respect and abide by the ruling. There is no guarantee that if they get a favorable ruling that it will be satisfactory to them, or enough for them. There are no guarantees, so don't pretend as if though they are guarantees, as if though this is the end all and if we're going to have a permanent solution. Don't try to sell us that, because nobody on this side of the house is buying that."
Rt. Hon. Dean Barrow
"Please may I disabuse you of the notion that passage of these amendments are so as to hasten the process of trying to hold a referendum. absolutely not. Again, speaking for myself, since there was this decoupling from the provision in the compromise that require the 2 countries to hold the referendum simultaneously. As far as I am concerned we aren't holding any referendum until they hold theirs. I have my reservations although I wish it would be otherwise as to whether the people of this country will vote yes in a referendum and if the Guatemalans in fact trick us into our going first and we say no. They will then have the moral high ground. It will be the easiest thing for their people to then hold the referendum and say yes so that Belize can appear to be the bad guys. So if it is up to me and I hope we can agree on that, we do not go first. I don't care what any international community says, I don't care who urges a different course of action. Let them go first, it was fine when it was to be done simultaneously. They asked for that change because according to them the inability of them holding it except on the same date as a presidential election, okay that's been given to them, but you go first Guatemala, no way we will go before them as far as I am concerned."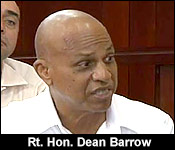 "I am not sure where the motion comes from that the referendum with respect to going to the ICJ would, if it takes place, when this government is an office not be considered binding. I don't care how you try to interpret the language in the act. The international agreement, all that we have said and done ratified by the senate makes clear that you do not go to the ICJ except the people of Belize agree that you go by the referendum. No ifs, maybes, ands or buts where that is concerned. We all absolutely agree you cannot go to the ICJ except the majority of the people of this country so determine in a referendum."
At the end of the two hour debate, the Opposition Leader called for a division and there were 16 from the government side in favour of the bill, and 9 on the PUP side opposed to it with 5 absences and one suspended.

GOB Balks At Li Mark's Asking Price For Chon Saan Bldg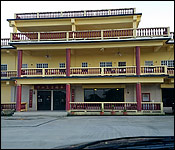 And one more matter which came to the House floor today was the issue of whether government had moved ahead to purchase the Chon Saan building in Belmopan as the new Headquarters for the Immigration Department. The question came from an opposition member to the Prime Minister. As we reported one month ago, it was all both a done deal, and the Ministry of Finance was in the final stages of negotiation. But as they say, there's many a slip between the cup and lip, and it seems this sale slipped down because the seller, Li Mark Chang is asking for too high a price:...
Rt. Hon. Dean Barrow, Prime Minister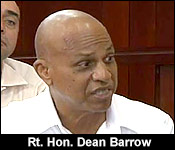 "The owners of Chon Saan did approached government with an offer to sell its building. Government has not agree to do so, because principally the asking price from the owners of the property is too much. What we did, as I said we did have an interest because of the urgency of the needs of the Immigration Department, we got an independent professional valuer to do a valuation and the valuation that he came up with is something like $300,000 plus dollars less than the asking price from the owners from Chon Saan. Except they would be prepared to sell for the price that the valuer has come up with, there will be no purchase. I am never going to have government pay a money for premises from anybody at a rate that the professional say would be excessive."
The PM stressed that the Immigration Department is very much in need of a new building because the old one is decrepit, leaks, and has mold. The US has promised to gift a new passport machine - but will not do so once the Department is housed in the old building.

Garbage Being Moved, Slowly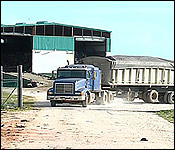 On Tuesday we told you about the build up of waste at local garbage transfer stations. The problem started when the MEXICAN company responsible for taking the waste from the transfer stations to the regional landfill abruptly ceased operations last week. But, according to a press release from the Solid Waste Management Authority, a solution was already in the works. We stopped by the Belize City transfer station today to see if there had been any progress, and there had been.
While the waste has continued to pile up, we noticed that some of it was being loaded onto trucks and transported out of the station. We tried to contact the Solid Waste Management Authority for an update, but were unable to reach them.

Football Jaguars Ready For Panama
Tonight - in just about 25 minutes - the Belize Jaguars are playing their first game in the Copa Centroamericano tournament, or Nation's Cup in Panama. The team - under a new Polish coach - has been practicing together for six weeks, and have are confident that they will surprise many opponents.
A few hours ago, we spoke to Marlon Kuylen, the President of the Football Federation of Belize about how confident they are in going up against the host nation tonight...
The game starts at 8 - and you can catch it here on Channel 7. This tournament is a qualifier for the CONCACAF Gold Cup.

Burglar Robbed The Deputy Governor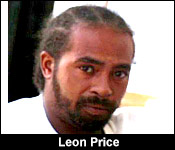 Tonight, 32 year-old Leon Price is at prison tonight awaiting a sentencing after he was convicted of burglary in the Magistrate's Court. He was accused of breaking into the home of Christine Vellos, the Deputy Governor of the Central Bank, and stealing $3,000 worth of her jewelry.
Her husband, Russell Vellos, who is the editor of the Amandala Newspaper, testified against Price that the incident happened on August 13, 2016, when Price was working for him in the yard. He said that he gave his house keys to Price so that he could deliver it to their cleaning lady, Juanita Lopez, because he had to go out. He made it explicitly clear that he did not give Price permission to enter his house.
Christine Vellos testified that on the next day, she was preparing to go to church when she noticed that her jewelry were missing from the jewelry box she kept in their bedroom. She estimated that $3,000 worth of jewelry was missing. The main witness against Price was the cleaning lady, Juanita Lopez, who told the court that when she arrived at the Vellos residence, she noticed that the front door was opened. She told the court that she said good morning twice, and that's when she saw Price coming out of the bedroom. She said that Price went back in, stayed there for 2 minutes more, before coming out and asking for a glass of water. He then handed the keys over to Juanita and left.
In his defence, Price gave an unsworn statement denying that he committed the offence. After considering all the evidence, Magistrate Norman Rodriguez found him guilty of the charge, and he has deferred sentencing until Thursday, January 19.

Another Hilux Stolen
Another Toyota Hilux has been stolen in Cayo. San Ignacio Police are looking closely at this one though. That's because the person reporting the theft said that someone came to him and told him he had come to pick up the 2014 Hilux, and he just handed over the key. Police note that they also took 6 hours to report the theft. The Hilux had a tracking device and it has been traced to Melchor. Other details have not been reported by the Police press office.

13th Senator Confusion
Today, the House of Representatives passed the NGO Amendment Bill - meaning it will go to the Senate next week Thursday. That's the day before the commencement order for the new 13th. Senator from the NGO Community comes into effect - meaning he cannot be in the Senate to debate it. The Leader of the Opposition has interpreted this timing as almost malicious:...
But while government has said that the commencement order for the 13th Senator takes effect on the 20th January - it seems many have concluded that will be the day of the swearing in. But, not according to Minister Godwin Hulse. Yesterday, he told LOVE FM it may take a few months before Osmany Salas takes up his seat as the 13th Senator:…
When the 13th Senator takes up his seat, it will stack 7 non-UDP Senators against the UDP's 6 - while the president still has a casting vote.

Home | Archives | Downloads/Podcasts | Advertise | Contact Us