7News To The Sarstoon, No Guatemalan Harassment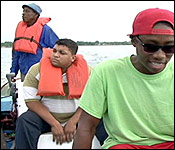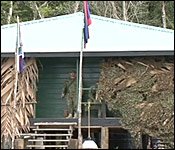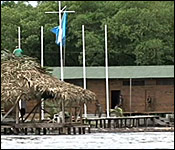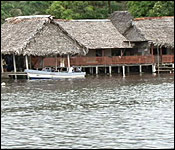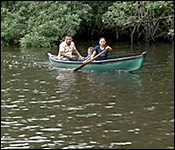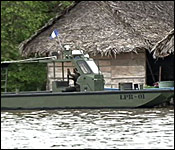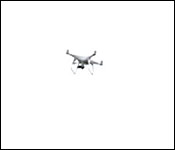 On Tuesday, at the OAS Building in Washington DC, delegations from Belize and Guatemala spoke for 5 hours, and when it was all done, Foreign Minister Wilfred Elrington and Ambassador Alexis Rosado were unable able to tell us anything more than that the negotiations over the Sarstoon River Mechanism had started.
The Statement from OAS would only say that quote, "good progress was made during the meeting", and that, quote, "best practices for the de-escalation of tensions in the Sarstoon River" would be used. But, it was unclear what "best practices" truly refer to, so, today, we decided to visit the Sarstoon for ourselves to see if the Guatemalan military had truly stopped harassing Belizeans in the river.
Daniel Ortiz left the Toledo Coast a little after 7:00 this morning and he has the story:
When our news team entered the mouth of the Sarstoon River, the first thing we noticed was that there were no Guatemalan military vessels present and ready to intercept at a moment's notice. In fact, apart from a few other Guatemalan civilian boats, there was almost no traffic.
We got the sense that we had arrived unannounced to the soldiers on duty at both the Guatemalan and Belizean base. But, that was the point of this trip, a spot check to see if the Guatemalan vigilance and rapid response across the entire river had subsided.
Our boat captain slowly took us through the northside of the Sarstoon, and still, nothing. So far so good, untrammeled access was happening in real time. We saw a few Guatemalans paddling their canoes, going about their business a little further up, and by the time we passed the Western edge of the Sarstoon Island, it was clear that we would not be harrassed today.
After about another 15 minutes of slow travel further into the river, the boat captain informed us that we had already come further than Channel 5 managed to go last week when they were intercepted by the Guatemalan military. He was the one driving the boat when that happened, and he knew exactly what happened, and how it happened.
At that point, we were certain that we wouldn't be bothered, and our captain decided to take a pass around the southern side of the Sarstoon Island.
While on that side, we encountered a number of Guatemalan civlians on the Southern Banks of the Sarstoon. Most of them observed us warily as we passed, but apart from that, there was no military personnel.
It wasn't until we arrived in front of their Forward Operating Base that they appeared to have noticed our presence. The Guatemalan soldier sat in their metal shark, which was parked on the banks of the river. A little further down, other Guatemalan soldiers caught sight of us, and that's the first time we saw any sort of movement in reaction to our presence.
Shortly after that, the Guat military launched their drone which zoomed out above our heads. No doubt they were watching and recording us the very same way our camera was watching them.
Our captain then took us near the Belizean Forward Operating Base and we engaged the on-duty soldiers who told us that we didn't have permission to dock.
Satisfied that the Guatemalans knew we were there, and they had still not come out to intercept us, we then started making our way back Punta Gorda Town. At this time, it is uncertain why the Guatemalans had left us alone. But, one possibility is that there actually was underestimated progress in the Washington Talks, and this was the first example of what the joint press release called a de-escalation by the Guatemalan military.
Reporting for 7News, Daniel Ortiz.
We purposefully planned the trip as only media and asked activist and provocateur Wil Maheia to sit this one out. We did that because we have credible information that the Guatemalan military has marked him as their chief trouble maker in the Sarstoon River.
So, we strongly suspect that Maheia's absence may have contributed to a calmer response from the Guatemalan military based at the Sarstoon. Our boat captain told us that he also made a different approach to the navigable channel this time around which placed our vessel in a blindspot for the Guatemalans, for most of the journey.
As we told you, we suspect that we caught them off-guard, and our captain reasoned that if they had time to prepare, they may have mobilized to intercept us. Of course, we were in no rush to get out of the river, so if the Guatemalans did indeed intend to stop us, they had ample time to do so.

Eminent Panelists Debating The ICJ
Last night at the Bliss Center for the Performing Arts, the SSB Debate on Belize Guatemala relations was extensive and fiery. The debate went on for 1 hour and 49 minutes as the six panelists for and against the ICJ tried to bring the audience around to their point of view.
The affirmative slate, represented by of Ambassadors Lisa Shoman and James Murphy, and Gian Vasquez tackled the issue from the historical perspective. They gave the audience a history lesson outlining the more than 100 years that all persons involved tried and failed to resolve the dispute.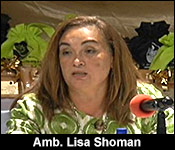 Their main pitch for a yes vote is that Belize has tried everything and everything failed, all except litigation at the International Court of Justice. Here's the affirmative slate making the case for the ICJ, along with the rebuttal from the negative slate:
Amb. Lisa Shoman - In Favor Of ICJ
"There's much healthy skepticism in Belize on the matter of going to court and I think it has to do with the universally poor perception of any court system. Thanks to our own domestic situation. Court is a loaded word to Belizeans and we think courts are there to dispense injustice and not justice. But if one must settle a dispute actually, the best mechanism for doing so is a juridical settlement. It is definitive, it is binding and it will put pressure on Guatemala and yes, on Belize to deal with the issue once and for all."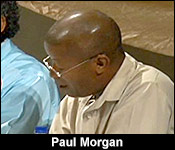 Paul Morgan - Against ICJ
"Asking the ICJ to determine finally the boundaries of our country exposes our territory to probable loss. Yes, Mr. moderator, the ICJ is an international court, but we all know that in such a court cases are won or loss not necessarily on pure facts and just causes but largely on persuasive presentations. Allow me to remind my worthy opponents that the ICJ judgement they seek is un-appealable. If we lose there, there will be weeping and mashing of teeth and I will add that those who promote this unimaginable risk have not considered any contingency plan."
Gian Vasquez - In Favor of ICJ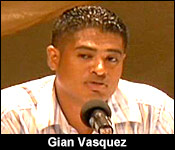 "There is no common ground to be reached between Belize and Guatemala and so we believe it is the right or it is a ruling from the International Court of Justice will be the only body that will bring us to a common ground."
Paul Morgan - Against ICJ
"A court is the ultimate theatre of surprises and we cannot, unlike Guatemala afford to be the ones surprised."
Dickie Bradley - Against ICJ
"There are other ways and we have not even began to try and discuss them, but they are rushing us to quickly go to ICJ."
Paul Morgan - Against ICJ
"Mr. Moderator, if my worthy opponents were not well meaning and honorable Belizeans, I would conclude that their argument is promoting bare face treason and I yield 10 minutes."
Panelists who argued against going to the ICJ included Richard "Dickie" Bradley, Fred Hunter, and Paul Morgan. They say that one of the main alternatives to going to the ICJ in the short term is to take the dispute directly to the United Nations Security Council. Here are the debaters trying to convince the audience why this would or would not work:
Paul Morgan - Against ICJ
"As a matter of urgency, we recommend that Belize do what the Republic of Guinea did in 1970, when she was being aggressed by Portugal. Guinea intelligently referred the matter to the UN Security Council which is the only UN body with the authority to enforce its own decisions and as a result the UN Security Council issued Resolution 289 and 290 of 1970. The resolutions demanded the Portugal cease its military aggression and compensate Guinea or face further punishment. These resolutions demonstrate the role of the Security Council in enforcing the rights of small decolonized countries and in preserving world peace."
Amb. Lisa Shoman - In Favor Of ICJ
"An approach to the UN Security Council under chapter 7 of the UN Charter would in all likelihood only result in the UN Security Council recommending that the parties submit voluntary to the ICJ. So, if you go to the Security Council and said, well what do you think about what Guatemala is doing to us? Isn't it a terrible thing? Let me tell you that even under the section that deals with disputes that threaten an endangered world's stability, the first thing they tell you is negotiate, mediate, go to the court before you come here, and in all likelihood that is what they would say to us."
Paul Morgan - Against ICJ
"Mr. Moderator, appealing to the Security UN Council is not intended to be a solution to the dispute. It is intended to stop Guatemala's military aggression against Belize and to avoid the tragic loss of both Belizean and Guatemalan lives while the relevant nation seek to find a solution to the matter."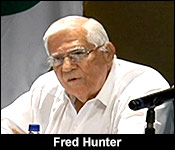 Another alternative that the Negative Panel put forward is to take the issue back to the international community in the same way that Belizean diplomats did to secure Belize's independence. That's also another popular alternative that we've heard before, but here's how the panelists against the ICJ explained how it would work.
Fred Hunter - Against ICJ
"We have 7 separate Treaties, International Treaties, 4 with Guatemala and the UK, 2 with United States and UK and one with United Kingdom and Mexico all establishing legitimately the border between Belize and Guatemala."
Amb. Lisa Shoman - In Favor Of ICJ
"Frankly, if we have 7 Treaties and things are so bright, let's go to court. What are we worrying about? If there is 7 Treaties that ratify that we absolutely solidly own our territory."
Fred Hunter - Against ICJ
"The 1859 Treaty is in full force demarcating the border between Belize and Guatemala. Why in the name of logic should we go to the ICJ to tell us where our well-marked out legal borders are? We must internationalize this problem with Guatemala. We got our independence by going to the United Nations, which from 1970 to 1981. We should go back to the United Nations. We should get fellow members of the Commonwealth, CARICOM, the ACP and all our friends internationally and put this question in United Nations to deal with Guatemala in not respecting the integrity and the invariability of our borders as the 1980 Resolution. Article 7 said that our borders must be viable and respected."
An immediate concern we've heard on this internationalization campaign is that the body for resolving territorial disputes within the UN is the ICJ.
Finally, one other alternative which was put forward by the panel against going to the ICJ is that Belize is being forced to take on a dispute that actually exists between Guatemala and the United Kingdom. Here's Dickie Bradley making the point that the British Government should be the ones trying to resolve this claim, since the quarrel that Guatemala has with the 1859 treaty is that Britain - not Belize - failed to honor the terms of the cart road: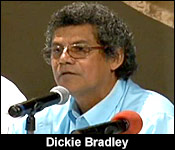 Dickie Bradley - Against ICJ
"In 1863, there was a supplemental convention, the word convention means Treaty. There is a Treaty to try and see if we could get over this problem of Article 7. That convention had 2 important Articles; 1 is that the British will pay over to Guatemala the sum of 50 thousand pounds. Google that and see how much million that is today. They will pay that to Guatemala so Guatemala could start the road project, that is there way of rectifying and satisfying Article 7 of the 1859 Treaty. The records in the British foreign ministry office showed that they decided we will make that treaty lapse. In other words they punk Guatemala. If they are on the south side they get shot for that. Guatemala said how can you do this to me? Alright the Treaty lapse, let us sign a new Treaty. No way. Guatemala then decide, you did not live up to Article 7, you didn't help do anything about the road, why you are treating me like this? The 1859 Treaty, that is dead and buried. The British violated a Treaty according to the Guatemalans and the Guatemalans violated according to the British. You all go to the ICJ to solve your problem. You pay those people for what happen if you all want. Why should I give up my territory? The people of Belize need to ask themselves this question, if 2 of your neighbors are quarrelling about your land, why would go and give them piece of your land to one of them?"
Amb. Lisa Shoman - In Favor Of ICJ
"We have to go to the ICJ, because we will never get the Guatemalan boot off the back of our necks until we get up and do something about it and a final binding, lasting juridical solution really and truly can only be found at the ICJ."
At the start of the Debate, the Social Security Board asked all those who attended to participate in an entrance poll. After the debate was concluded, they asked the audience to complete an exit poll to gauge if the opinions have been changed by what the panelists had to say. We asked social security for the results of that audience poll - and they told us we'd have it this afternoon, but up to enws time it still had not arrived. We'll follow up next week.

Mass Chopping In Yo Creek, Maims One, Seriously Injures Minors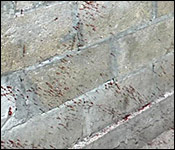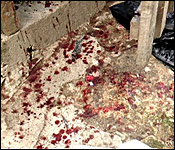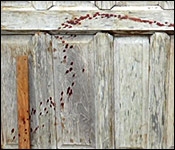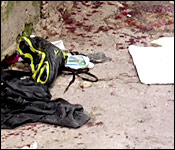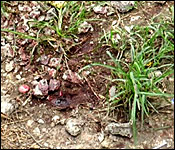 Six people - three adults and three minors were very seriously injured in a chopping in Yo Creek Village in the Orange Walk District this afternoon. It happened at around 2:00 when Larry Banner - who has a history of mental illness - arrived at his family home, erupted into a rage and started flailing his machete wildly. He chopped his sister in law Adela Chuc and three minors, including her son. He then went across the street to his neighbor Moises and 54 year old Juanita Pech's home. She was celebrating her birthday - and he told them he just came to visit. But that is when he lifted his bloodied machete. Moises Pech was the most seriously injured; he raised his arm to defend himself and his hand was severed. His wife was also chopped to her head. Her daughter in law and her two year old son narrowly escaped. Neighbors tell us Banner has a history of mental illness and had been in jail for a similar crime before. We'll have more on this story on Monday's news.

Police Take Guns Off The Street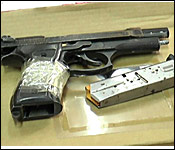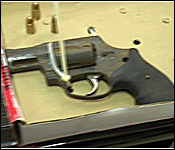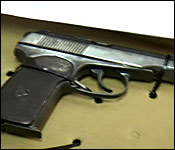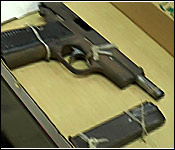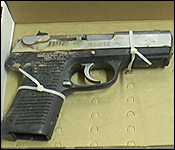 5 more guns are off city streets. For this entire week the police have been patrolling and searching hot spots on the Southside, and today Commander Chester Williams held sort of a showcase of these seizures at his Raccoon Street office. Williams told us more about the weeklong operation and its impact on crime control.
ACP Chester Williams- O. C., Eastern South Division
"We have 5 firearms; 3 - 9mm pistols, 1 - 380 and 1- .38 special revolver and these firearms are the product of the hard work of the police officers on the Southside Belize City between precinct 1, 2, the Strike Team and Special Branch working in collaboration to be able to remove as much firearms as we can from off the streets of Belize city. All of them are found properties and they are a result of the police searches in different areas, known hotspots in Belize City. We have two that was found in the St. Martin's area near Flamboyant Street; we have one that was found on Euphrates Avenue, which is the .380 revolver; we have these two that were found on Mahogany Street in the Precinct 1 area. So it's a good catch for the police and these were all retrieve this week. So for this week between Monday and today, we have retrieve a total of 5 firearms off the streets."
"These operations are very critical to our day to day policing of Southside Belize City. We know that Southside is gang ridden and it's an area where the issue of gun violence have become prevalent and the more guns removed off the streets, the better it is, the more safer the community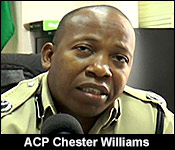 will be and so as a part of our daily routines as you have always heard me say before, that we have a dual approach to the fight against crime. We have the community policing aspect, which is the soft wide and we have the operational aspect that goes out on a daily basis, searching homes and searching bases and targeting those persons who we know are involved in criminal activities and these firearms are the result of those operations."
As you heard these guns were found in several areas on the Southside. Now taking these guns off the street is only one aspect of the operations, these guns will be tested to see if they were used in any crime and if they were reported stolen. Pictures of these guns are posted on the police facebook page "One Less Gun" so the public can be aware of these operations.

Alleged Burglars Bangled In Court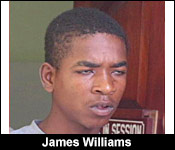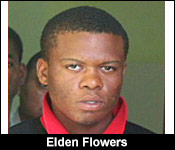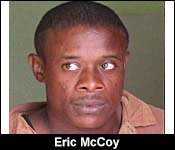 Earlier this week we told you about the three young men who were caught inside a house on Franklin Street. The three were allegedly caught red handed burglarizing the place when police intercepted them. Today they were taken before the court where they were read charges of burglary with intent to steal. They are 18 year old James Williams, 25 year old Eric McCoy and 18 year old Elden Flowers. Now although police say they caught them red handed, all three pleaded not guilty. The prosecutor objected to bail on the grounds that they might interfere with witnesses. Senior Magistrate upheld that objection and remanded them into custody until their next court date set for August 10th. Senior Magistrate Sharon Fraser told the three accused that she was remanding them to prison for their own safety. The incident occurred on Wednesday June 22nd. Police got wind of a burglary in progress on Franklin Street and found the suspects hiding inside the house.

Urbie Out Of Jail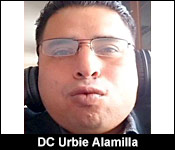 After three days in jail, Detective Constable Urbie Alamilla is out on $8,000 bail tonight. The bail was offered on the condition that Alamilla appears in court on each and every adjourned date, that he does not commit any other offence while on bail, that he does not interfere with any of the witnesses and that he reports to the police station until the conclusion of the case. As we told you, Alamilla was charged for discharging a firearm in public. The incident happened on Saturday June 18th at the Green Jade Restaurant in Ladyville. The report is that Alamilla was trying to defuse some disagreement between 2 other persons and that is when he shot at the floor inside the restaurant. This is not the first time he has fired his gun in public. About 8 days before this restaurant incident, he fired 3 shots in the air on Perez Road in Ladyville. In both cases, Alamilla was reported to be intoxicated.

Rat Bite At Regional Hospital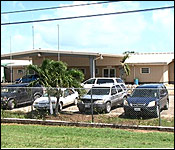 Another person has been bitten at a hospital, and this time it's the southern regional. Today's Reporter newspaper reports that a male nurse was bitten by a rat while he was on duty. The paper states that he was working the night shift in the emergency room at the southern regional, when the rat but him near the right ankle while he was sitting at his desk taking a break.
The good news is that he didn't get rabies or any other disease. He is on sick leave and has no illness. The bad news is that it's another case of rats on the loose at a regional hospital. If you follow the news, you'll surely remember in August of 2015 when a rat bit a newborn at the Western Regional Hospital.
Today the CEO in the Ministry of Health told us that the incident was not reported to the regional health manager, or to the ministry, so they learned of it through the Reporter Newspaper. He confirms that it happened on the 7th of June and since then the public health department has set traps all around the hospital to curb the increased rodent activity.
He says it is an incident that he doesn't know how they could have prevented but conceded that the hospital does have major structural problems. But for the time being, he is satisfied that the proper measures were taken, and quote, "that patients are not at risk from these rodents."

Mek Mi Rich Legal Battle Continues
In February of this year Curtis Swasey's claim was vindicated after Justice Courtney Abel ruled that Mek Mi Rich and BTL indeed profited from his original idea. As a result the court ordered that the claimant be paid $25 thousand dollars in damages in addition to an award of costs. Today all relevant parties met inside the chambers of Justice Courtney Abel to decide on what those additional award costs would look like. But the matter got snagged on a technicality. Eventually the case had to be adjourned for next month. Outside of the courtroom we spoke to Swasey's attorney Kareem Musa, who expressed his client's frustration at having to see this matter continuously dragged on.
Hon. Kareem Musa, Attorney for Curtis Swasey
"The court made an order in February of this year that the costs were to be assessed. This morning we had to rehash the same old arguments that we had in February of this year because the defendants want a different method applied to award cost, but the judge had already made an order that it be assessed. That is the difficulty that we had today, basically going through this again and now we have to come back in July for the same thing again."
Reporter
"For those of us who might not understand, explain to us the difference between assessments of cost and prescribed cost, I believe."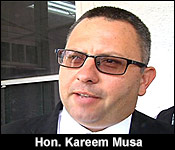 Hon. Kareem Musa, Attorney for Curtis Swasey
"The reason that the judge gave on the last occasion why he elected to go by way of an assessment is because of the novelty of this case, because of the weight and complexity of this case. He believes that we should submit a bill of cost itemizing the amount of time and effort that we dedicated to this case. It was an extremely bulky case and it took a lot of time and research. It's the first of its kind in Belize, because it was a case of breach of confidence, not a very common cause of action in Belize. The judge actually realized that and thus he ordered the assessment."
That case on the award costs was adjourned for July 20th.
Now as we told you the court also ordered the defendants to pay $25 thousand dollars in damages. Well according to the claimants, they felt that was just not enough. They have since filed an appeal of that decision. But the problem even back then was that the claimants were unable to provide any records of Mek Mi Rich earnings, making the court unable to pin an accurate figure on the royalties that should be granted. So what's different now? That's what we asked Attorney Kareem Musa today.
Hon. Kareem Musa, Attorney for Curtis Swasey
"As you know, Mek Mi Rich has folded whether that is temporary or permanent is left to be seen, but I think that was the difficulty, the fact that they had folded and were no longer operational. So it's difficult to realize if it was that they were making or losing money, I think that's their argument that they weren't making money. Nonetheless, the law does provide that a loyalty should have been attached in favor of Mr. Swasey because of the breach of confidence of his ideas and his concepts."
Reporter
"I understand what you're saying but if there was no figure that you can present to the court, then it would be a royalty on what figure?"
Hon. Kareem Musa, Attorney for Curtis Swasey
"If they are to continue with the game then of course they would have to provide their figures and then a royalty would be attached. We haven't gotten to that stage of proceedings as yet because we don't know if they'll be coming back."
Reporter
"In the matter of the appeal, will you be able then to perhaps be subpoena their records, by now they must have some records for tax purposes?"
Hon. Kareem Musa, Attorney for Curtis Swasey
"The records that are before the Supreme Court are the only records that will be provided at the court of appeal. No new information will be coming out at that stage."
Reporter
"If there a figure that you and your client maybe hope to see?"
Hon. Kareem Musa, Attorney for Curtis Swasey
"Well I can't say at this stage because; like I said, I don't know that their books are and I don't want to accuse them of cooking their books, but certainly what he deserves is a fair percentage of the profits of that company."
A date for that appeal is yet to be determined. Now if you've been following the case you would know that the defendants have also filed for an appeal on the ruling back in February. So even though the claimants were successful in their case, there is really no telling which side will win this legal battle.

Analysing Accounting Norms In Belize
Today the Institute of Chartered Accountants of the Caribbean held its 34th annual conference. The main vision for this conference is to discuss ways to improve the Caribbean economy through effective accounting. Now the conference comes at a fitting time given the current state of Government's cash strapped finances, reflected in the impending sale of BEL and BTL shares to the Social Security Board. While Belize's President of the Institute of Chartered Accountants Reynaldo Magana could not speak on that specific topic, he admitted that Government's accounting practices need to be improved and upgraded. Magana told us how this conference can assist. Also, one of the presenters Dr. Leroy Almendarez told us about the other major topics that have to address in Belize's outlook.
Reynaldo Magana, President, ICAB

"This is not just about the figures, it's about being professional, following the standards, making sure that the accountants in the region sing one song and not be singing different songs. We, as an accounting body, here as well as the Caribbean and globally, we follow international financial reporting standards of accounting. What we do here is, one, to provide updates to the professionals as well as provide guidance as to how to better service clientele as well as the government. One of the key things in this conference is the Governmental and Accounting Standards. What we're trying to do is as an institute, we are pledge assistance to the government to see how we can help them improve accounting and reporting. With regards to the public funds with the way how we see it at the moment is really accounting on a cash basis. Accounting on a cash basis is okay, but not the best form of accounting, for example, within industry we report on accrual basis of accounting whereby you would include all your assets and liabilities on your balance sheet. Going in that direction for the government would help them show what all assets they have and all liabilities they have as well."
Dr. Leroy Almendarez, Director of Foreign Trade
"My role is to talk about opportunities in the Caribbean, so it's taking a broader look into accounting. One of the things I'll be focusing on is services. Accounting services is one of those things that CARICOM tracks. The other thing we must look at is that there is a need to diversify the economy. We know that, in terms of trade, there is a trade imbalance or there's a deficit in terms of trading goods and there's a surplus in trading services."
But the conference was not only about evaluating Government's financial strategies; it was also about highlighting opportunities for the business community. The Co-founder of an international consulting firm called Zcloud told us about their business management software and how it can reshape your business operations.
Zelena Khan, Co-founder, Zcloud
"This conference is giving us the platform to launch a business software and companies across the Caribbean can access and use. The difference is that here is this is the number one cloud business management solution and it's around the world except in the Caribbean. That's one of the voids that I saw and I'm from Guyana so Caribbean is my heart. One of the motivations for starting Zcloud was to be able to bring the cloud
solution here. It is not an accounting software, it's a business management software and the easy differentiation for that is for accounting you do all of your accounting functions, in a business management's perspective, you have your accounting, payroll, sales team, budgeting, forecasting, and every single aspect of your business that you manage is managed on that software. That software is called 'Netsuite" and it that has over 30 thousand customers around the world. Why are the Caribbean companies not on that software? That's what we're bringing here today."
The main sponsor of this event is Grant Thornton, one of the leading accountancy firms in the world. The conference ends tomorrow.

PUC Ignores Independent Expert and BEL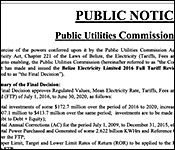 The Public Utilities Commission has made its final decision on what will be the electricity rate from July of 2016 to June of 2020, known as the "Full Tariff Review Period." This final decision comes after months of back and forth between BEL, the PUC and an independent expert. BEL first asked for an average rate of 39 cents per kilowatt hour, the PUC proposed 36 cents per kilowatt hour. That's when BEL asked for an independent expert and he recommended 38 cents per kilowatt hour - which BEL agrees with. But the PUC didn't, and today the regulator's final decision is for an average rate of 36.99 cents per kilowatt hour, nearly 37 cents. The new rate goes into effect at the start of next month.

Spaying Session For Dogs
Spaying and neutering of animals can cost anywhere from $150 US dollars to $600 US dollars depending on the size of the animal. But a group of volunteer veterinarians from the US are in Belize to give the service for free. They have joined the Belize Humane Society and the Hopkins Humane Society to conduct this three-day pet clinic at the SCA campus in Belize City. Emanuel Pech visited the clinic today to find out more.
The clinic service began today and will continue up until Sunday from 8 am to 5 pm. The organizers hope to treat about 500 to 600 pets by the end of it.

Getting More Belizeans Tested For HIV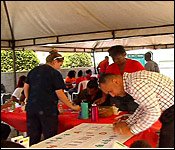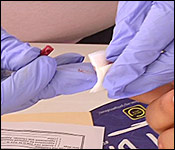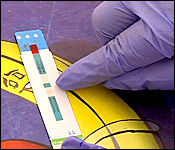 Today is known as the Regional Testing Day. It's an initiative led by Scotia Bank and Pancap every year since 2007 in an effort to get more people tested for HIV.
In Belize, the National Aids Commission partnered with the Ministry of Health and the Belize Family life association to conduct free HIV tests - in an effort to increase the number of persons who know their HIV status. This year the event was held at the Scotia Bank parking lot in Albert Street. We stopped by this morning:
Emanuel Pech
"What is the turn out of the event, because normally when it comes to these sort of sensitive issues, they wouldn't want to come to such an open event?"
Arthur Usher, Comm. Ofc., Natn'l Aids Commission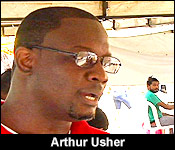 "What we're finding is over the years Belizeans have been more sensitized and more aware of their sexual health, so they're coming out more consistently. Again, recognizing that there is more life after HIV positive or negative. If you're negative it's good to always try to continue living that negative lifestyle. If you're positive, there's also resources and help available for those who are positive. There is some fear and stigma still but its dwindling a bit because people are recognizing more and educated."
Ana Carillo, Got Tested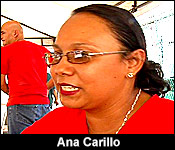 "I think because its practice for me that I do it twice a year, it doesn't bother me but I do see people flinching and people turning their faces, I'm okay with it. It doesn't hurt, it's mostly the anticipation of it, that's where you'll get scared, and after that it's okay. Believe it or not, a lot of people still don't understand the virus. People have been living with the virus for many years and they live quite productive and healthy lives. It's not a death sentence, it's getting care and treatment as you get a result once it's positive. For those of you who are negative, it's to also maintain a negative status."
Ceford Myles, Got Tested
"To be honest with you, this is the first time I've ever taken this type of blood test. I think it's most necessary because when people see that you go to the hospital and you come out they'll say you drop off a lot. I've dropped off a lot because, I don't eat much, they'll say 'oh that man has aids', but the only best thing to do is to take the test and prove to the world that it's not so."
Emanuel Pech
"As an elderly man, one of the statistics is that a lot of men don't get tested, it's mostly women who come here and get tested. What would you say to those younger men who are engaged in activities of sex nature and are not coming in to get tested?"
Ceford Myles, Got Tested
"I would say, it would be necessary for them to come and take the test while they can, should incase if you have the virus you can get the medication in due time or else, you can't wait until you're already dying."
This is the 5th year that Belize has participated in this regional event.

Reporter Raises Controversy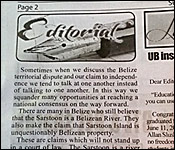 "Treason!" - that's what some said when they read today's editorial in the reporter newspaper. The editorial makes the case that the Sarstoon River and the Sarstoon Island are not unquestionably Belizean property. The editorial argues that Sarstoon Island, quote, "maybe as much as one half of this island is on the Guatemalan side of the center line. This means that Belize cannot justify a claim to the whole of Sarstoon Island." End quote.
Well, the CEO in the Ministry of Foreign Affairs was one of many who took issue with the editorial - and he immediately fired off a letter to the Editor - which was also sent out as a press release. The letter points to the 1859 treaty which specified the boundary between Belize and Guatemala and makes it clear that the Sarstoon Island is "wholly Belizean territory."

The African Message
The Universal Negro Improvement Association is inviting all members of the black community in Belize to join them on Monday for what they call the World Wind Tour forum which is taking place at the Gateway Youth Center in Belize City. The talks will be given by inspirational speaker, researcher and current president general of the UNIA-ACL Runoko Rashidi. He is on a Central American tour and will be in Belize for three days before heading back to the US. One of the main topics of the forum will be black Belizeans' influence in the region.
The forum begins at 7 pm on Monday at the Gateway Youth Center in Belize City. Entrance is free.

Home | Archives | Downloads/Podcasts | Advertise | Contact Us