Kareem Musa Won't Challenge Briceno For Leadership
Last week PUP Deputy Leader Kareem Musa publicly flirted with the idea of challenging John Briceno for party leadership in an upcoming party convention on November 26th. Musa said the party needs a unifier - and made it clear that his leader has not been that.
But, he didn't commit to challenging him - because that's no small task - since Briceno does have firm support - evidenced by the two dozen or so endorsements he has received from constituencies across the country.
With the deadline to nominate persons for executive posts in just 9 days, Musa's window to declare his candidacy or just to sit back was closing - and in a two minute statement issued today, he made it official - he's not challenging. Here's how he put it:...
Hon. Kareem Musa, PUP Deputy Party Leader (East)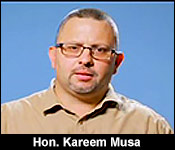 "So many people, especially the young people of Belize, see me as a leader. It was my duty to listen and take counsel on this very important decision."
"I will not stand in the way and allow even the slightest perception of disunity to impair the capacity of our party to win. Therefore, I will not offer myself for party leader at this time."
"We must win and win big for Belize. The stakes are high. The people are depending on us and we must not let them down."
Musa did not indicate if he will remain in the executive as Briceno's Deputy Leader for the East. Via text he told us today that he simply doesn't know because he has not spoken to the Party leader.

PM Defends, Explains, Expands On Faber's Road Contract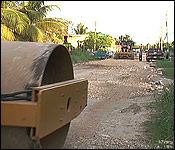 And while Musa snagged today's headline - this afternoon all the media's attention was focused on the Prime Minister at a two hour press conference called to defend the controversial contract for the reconstruction of Faber's Road.
It's been all over the news for the past week, ever since we first questioned how could it be that government is paying 8 million dollars to pave 1.1. Miles of Faber's Road. That released an avalanche of criticism from COLA, the VIP, and the PUP.
Well, today the Prime Minister held a press conference - not to announce that public pressure is forcing government to rescind the contract, but to explain that it's much more than just one mile of road. To do so, he brought in the Ministry of Works project engineer who gave a half an hour masters class on the finer details of engineering - complete with diagrams. Here's a super compressed version of how they explained it:..
Rt. Hon. Dean Barrow - Prime Minister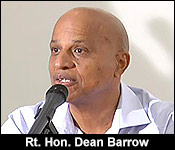 "We hope today to set the record straight and demonstrate what a fine, necessary, above-board project this is, how it will employ 200 south side people, inject new economic life into marginalized communities and greatly improve transportation and cost efficiencies, especially for exporters using the Belize City Port. I will ask Mr. Moody, who was involved in the design of the project from 6 years or so ago, when it was first conceived, to come and tell you exactly what the scope of works entails so that you and the public can understand that you're talking about miles and miles. The carriageway on Faber's Road is 1.7 miles almost but in terms of the lined canal that is being built from Crewman Lagoon to go all the way to the sea so that those people don't have to go through what they went through on the last occasion when there was flooding and the hurricane and the deputy prime minister had to be scrambling to see how he could help, so that that sort of thing doesn't happen again. The reinforced concrete drains, the sidewalks, he will break down for you the details of the project give you the scope of works so that anybody, who is at all reasonably, will understand that the costing that has been come up with, far from being inflated or bloated, is perfectly reasonable with what you are getting."
Evondale Moody - Project Engineer, Project Execution Unit, MOW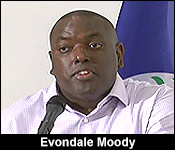 "So when you add those four items together, the road, the concrete, drains and the outfall canal, the preliminary and the generally, you get $7.1 million dollars, easy. I don't see how people could be saying that they could do it for $3.5 and $4 and $5. Honestly, I really don't know. I need them to come and tell me and justify to me how you can come up with that figure. No matter which contractor you ask and I would suggest that you ask a reputable contractor, don't ask any old contractor. Honestly, I'm just being real. Those are the facts. There is nothing that we have blown out of proportion. So, looking at that, that is $7.1 and normally we add in 10% contingencies. The contingencies must be authorized by the engineer, can't be spent just like that, but it's for items that we don't foresee; and that is always the case. For every project, every single project that we've had, we've had items that we've missed out because we are only human. So, I have to include the 10%. So, 10% of $7.1 million is $710 thousand. $710 thousand plus $7.1 million takes you around $7.9, which is what the guy bid. I need someone, based on the news, to let me know how they can do it for cheaper. And this pavement is nothing like the mayor of Belize has done on the other streets. We are at a different level. He has done 4 inch, 5 inch; we are at a different level, complete. And this is some of the stuff that I've learned from Mr. Puga. I've been with him 19 years this year and we've implemented all these projects for the government, both governments, and we have to report to the government and we have to report to the funding agencies. We have to do audit. So, we have to be scrutinized. We are at a high standard, we don't deal with low standards."

Ministry of Works Misunderstanding All Because Press Excluded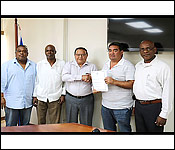 Between the Prime Minister's explanation and his engineer's that session lasted about 45 minutes - before the question and answer session - which was another half an hour. All of that necessitated, why? Because when the Minister of Works signed the contract last week Thursday - they didn't invite the media. Instead, they called in the government press office and then sent out a press release which did not cover the full scope of the project. It could all have been avoided by just doing their job and inviting the media. Our News Director, Jules Vasquez questioned them about that today:...
Jules Vasquez - Reporter
"Just to be clear, the press release said 1.9 kilometers; I can read it to you. 1.9 kilometers, engineer, I'm not an authority in math like you, I think that's 1.1 miles."
Evondale Moody - Project Engineer, Project Execution Unit, MOW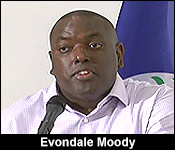 "Yes, but that 1.9 kilometers is for the drain."
Jules Vasquez
"Yes but that was the only figure in the press release."
Evondale Moody
"Yes, and that could have been an error on our part."
Jules Vasquez
"Error, he said, error, engineers never make those, sir."
Evondale Moody
"No, that is not true, we are all humans."
Jules Vasquez
"But not you though. So let me move on but we are clear that an error was made; good. Second, the real error seems to be that the Ministry of Works, the two personalities up there, are enemies of the free press. The antipathy of the media coverage when Mr. Boots Martinez, say what you will, we weren't invited to contract signings. You are all are deliberate, consistent, repeat, serial offenders of inviting the press office, sir. Is it then also an error, could the good Minister comment? This could have all been avoided if you all had invited the free press to ask questions and the brilliant, enlightened Mr. Moody could have broken it down sweetly. Would you then concede sir, that it was an awful, aberrant, oversight on the part of your ministry to continue to exclude the media, please sir."
Errol Gentle - CEO, Ministry of Works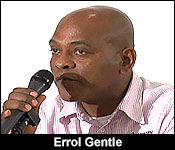 "I could answer, I am the CEO and I am the person who organizes the ceremonial contract signing and I am the person who, not because I don't like the media but we have the press office and I usually get the press office and the press office then disseminate the information. But in the future my friend, I have never shied away from the press, I have spoken to you, I have spoken to many of the personalities and I have never shied away from the press because I'm at the top of my game."
Jules Vasquez
"It shows in this case."
Errol Gentle - CEO
"And in the future, if you want to be invited to the ceremonial signing of the contract then we don't have any problem with that."
Rt. Hon. Dean Barrow
"You dih get weh with that 1.9 you know because even though the 1.9 was used that was not all that was in the press release. You omitted all the other features of the project..."
Jules Vasquez
"Which was sent in the mealey - mouthed follow up."
Rt. Hon. Dean Barrow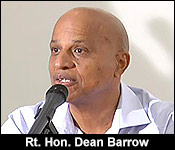 "Bully for you, you get over with one."
Jules Vasquez
"A second press release had to be sent."
Rt. Hon. Dean Barrow
"Indeed sir."
The project is being funded by the OPEC Fund for Development as Phase 3 of the poverty alleviation project.

Engineer Makes It Plain About Failure On Lake I Boulevard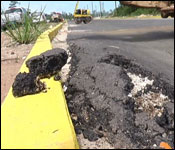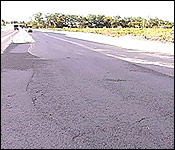 That project will also give the government 15 million dollars in reimbursement for the roundabouts abutting the Chetumal Street Bridge. That project - like this one for Faber's Road is overseen by the Ministry of Works Project Execution Unit - which, as you saw, has highly qualified engineers.
So then, what went wrong with Lake Independence Boulevard!? That's a galloping disaster. It seems like every week road crews are out there trying to do patchwork on the road that is uneven and sinking fast.
Today, in the first lucid and forthright explanation of what went wrong there, the Minister of Works Engineer said that he did the design of Lake I Boulevard, and the Ministry oversaw the landfill.
But then, along came BIL - which is Belize Infrastructure Limited - and they ignored the engineers, removed the landfill and did their own thing leading to a Boulevard of broken pavement:..
Evondale Moody- Project Engineer, Project Execution Unit, MOW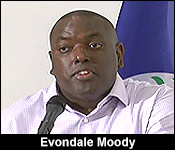 "In respect to the Chetumal Street the Lake Independence Boulevard, yes I was involved in the detailed design of the entire boulevard including the two roundabouts and the boulevard. However, after we had implemented the two roundabouts, the bridge and the section of Chetumal Street from Albert Hoy to the bridge we had only filled from Chetumal Street to Faber's Road. The reason why we only filled that was because we had recommended to the government that it needs to consolidate before you pave it. We placed approximately 6 feet, 1.5 meters of fill from Chetumal Street from Faber's Road and we stopped. Our reasoning and rational was the area is swamp, we have placed a layer of geogrid and we've filled it. During that time, we understand that I think BIL took it over and that was out of our control because we decided that we were only going to focus on the roundabout and the bridge. However, when BIL took it over, from a professional standpoint, they came in and they excavated the fill that we place which was wrong. The reason why we placed that fill was because we wanted that material to consolidate we wanted it to settle and reach a level that is adequate. They did not do that. They went in and they cut out what we did almost to the geogrid layer and then placed only, I think it was, 6 inches of road-based material and then they placed the hot-mix on top. If I go back to the iteration process for the design of pavement it goes back to the same two key factors: CBR, which is the strength of your sub grid and traffic loading. The traffic loading is causing the problem now because the vehicles are numerous in number and the pavement that is there cannot handle it. We had issued the design to the Ministry of Works based on what I had done but that was never used. When I passed there I had asked Mr. Pugar about it but it was beyond our control. We had completed the sections that we were supposed to do. In my mind, the failure is a designed failure, it's not a construction failure. Why? Because the hot-mix was adequate but the layer underneath which is your pavement layer was inadequate. So that is the reason why that section of the road is failing and it will continue to fail."
Reporter
"So, it's a designed failure? But who designed it?"
Evondale Moody
"BIL, I think somebody from BIL did it. It wasn't my design that was used."
Rt. Hon. Dean Barrow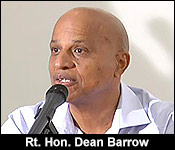 "I think a sort of scab has been lifted with respect to that portion of road that unfortunately is failing. I would want to suggest that you speak to Miss Mastry who is the CEO of BIL. I have spoken to her because Mr. Moody gave me the same version of events to which he has treated you this afternoon. Miss Mastry has her explanation and more importantly because I did press her on what's going to be done to fix what has gone wrong, I don't want to try to recount what was said. I will, therefore, ask you and any other member of the media to pose these legitimate questions to her and I will certainly say to her and I am sure that the Minister who is co-chair of BIL will do the same that there has to be a full accounting giving to the media and to the public with respect to the failure that obviously has taken place in terms of that Lake I Boulevard."


BIL Boss Rebuffs Blame Game
The Prime Minister and the engineer didn't hold back in blaming Belize Infrastructure Limited for the failure of the Lake I Boulevard.
So, we reached Christy Mastry, the General Manager of BIL by phone today for her rebuttal. She said she does accept some of the blame but it is a team effort and the fault is not just hers.
Christy Mastry, General Manager - BIL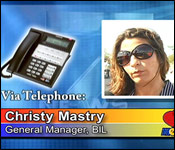 "I think that there is a little bit of nervousness, because its public perception that we want to find some way to maybe blame. This isn't necessarily a good thing, because we are all a part of the same team. I think that we work closely with the Ministry of Works and the decision that we made early on with Lake Independence Boulevard was we knew that there would be ample new land area - 50 acres for development and that road wasn't to be a road. It was really to be almost like an interlink highway between the northern and the western. Which means the demand for that road as far as traffic was much more than any of the other internal city streets. So we look to do a double lane boulevard."
"The idea of designing Lake Independence Boulevard was the right design and the right road width. We don't back down on that. We believe that was a good decision by BIL and the engineering team. What we should have done initially when that area was filled and this was before BIL came into fruition, was not to put clay on that site, because particularly where a road is, a road base as Ministry of Works knows really well, really needs a combination of post landfill geogrid to make sure that that clay doesn't seep. Unfortunately what has put there was clay. So truth of the matter was we were working on a shoestring for that road which is only 3 million dollars. I know Faber's Road now is about 9 million - 8.9 million I think. So really we should have had a higher budget from day one and maybe we should take a little bit of blame and should have excavated that road good."
"I don't think it's a matter of blame, I think its matter of all we spent was 3 million. It's half the length and double the width of what some roads are costing now. We have to put new money in there and do a proper job on that. I think that's a decision we could make."
"We tried to do the hot mix. We thought it would be more forgiving to the level of settlement, but no one could have predicted the level of settlement that would have occurred."
"We accept responsibility and we live on and we work together as a team and that's what we should be doing. I think the best way to resolve anything is the commitment to work together as a team and to try and find the best solution and try to spend government dollars as best as possible with every single negotiated contract. So I don't want to put a blame on anyone. We rather take the responsibility and get it fix and over the next couple years and do what's best for the country."
Mastry said this is a learning experience for all involved not just BIL. All entities will work to fix the road. From what the engineer said, that would seem to mean digging it up, and starting back again with the landfill and then re-paving it with increased pavement thickness.

PM Says Fuel Price Coming Down Soon
And, coming off all that talk about a broken boulevard, what about the gas for the cars that drive on it? Two weeks ago the Prime Minister promised lower fuel prices by mid-month. Today he said, wait a few more days for an incoming shipment of fuel from Venezuela:...
Jules Vasquez, reporter
"Mr. Prime Minister, fuel prices, the mid-month has passed only the regular went down at about the 9th [October]...
Rt. Hon. Dean Barrow, Prime Minister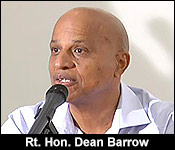 "Give me another few days, going down."
Jules Vasquez, reporter
"Is it a concern in this regard that the Trump Administration has put sort of a kingpin designation - the equivalent of a kingpin designation on Venezuela and its oil company PDVSA in so far as not allowing US banks to do business."
Rt. Hon. Dean Barrow, Prime Minister
"It is causing some problems, but the Venezuelans and ourselves, we are trying to work it out, because the question of payment and how to effect foreign currency payment to PDVSA lose or large in the context of Mr. Trump's actions. Although I must say that when I checked on the sanctions, as I understood it there are no sanctions against PDVSA as PDVSA. There are sanctions against individuals. There are designations of President Maduro and so on, but the banks, even though you point that, say we will not touch any transaction. We will not, with a 10 foot pole, we will not facilitate any currency transfer to Venezuela. So it is a difficulty, but the Venezuelans have been extremely good in allowing us to pay for the fuel in Belize dollars. Now when and how a conversion will be able to take place is a matter that's very much up in the air. In the meantime though a ship set out from Curazao maybe 2-3 days ago with Venezuelan oil filling an order that has been placed after PUMA got in the one that saw some reduction in price and by our calculations when that shipment is landed you will see a further decrease in prices to below where the prices were when we had that spike."

Police Still Have One Suspect In Case Of Alleged Child Abduction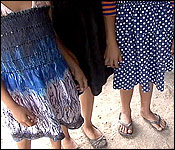 The alleged El Progresso kidnapper is in custody OF Cayo police but no charges can be brought as yet because police still don't have a clear account of what actually happened.
It is a complicated case because our information is that the girls keep changing their stories. As you heard last night, the version we got is that the 3 girls were heading to school after 8:30 on Monday morning. That is when a Caucasian man allegedly drove up in a blue Isuzu truck, grabbed them and pushed them in the pan of the truck. According to girls, two of them were tied up by their feet with one of their uniform shirts. But that is not the end of it. Although the medical examination confirmed that the girls were not violated, they reported that the man took them to a bushy area, removed one of the girl's underwear and touched her and another one of the girls.
After that, the girl's father was fortunate to be driving along the Georgville road at the same time the man was passing with the girls in the truck. One of the girls jumped out of truck, then went back to rescue another one of the girls while the third child jumped out too. The Caucasian man then sped off. It's quite an incredible story, and at this point there are still many gaps and details that police are trying to figure out.
But as regards to the alleged abductor - he is well known in the village. According to residents, he does not live in El Progresso but lives nearby and owns a bar in the village. In our interview with the father of two of the girls, he said he would have never thought that this man would ever do something like this. Here is how the father put it. Again, to protect the children, we will not reveal the identity of the father.
Voice of: Father
"My statements are that when I saw that situation where the little girl jumped he could have seen when the little girl was hanging on from the bumper he could have stopped if he didn't have any bad intentions and let the girls get down if the girls wanted to get down from the vehicle."
"Why didn't he wait until we got to him and he could have given us an explanation that he doesn't want bad for the girls that maybe they asked for a ride but they don't have any business out there."
"We would have never suspected a man like him, a respectable man."
Again, these are allegations, and police are still investigating. No one has been charged. Our sources say, the file will be sent to the DPP for advice. We will keep following this case.

Octogenarian Beaten, Police Mum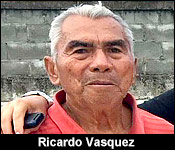 Police haven't reported it - but tonight an 82 year old man is clinging to life in the KHMH after he was viciously beaten down and robbed on the city's southside.
On Saturday night at 10:00 Ricardo Vasquez was at the corner of Water Lane and West Street. Vasquez was reportedly at Kent Market, a game room where he is reported to be a regular patron.
He stepped outside and that is when he was attacked, robbed of his wallet and left in the drain. Police picked him up out of the drain and rushed him to the KHMH where he is now hanging on for dear life. His family members are completely baffled as no one is able to tell them exactly what occurred and the police haven't told them anything, nor have they sent a report to the media. Vasquez is on life support and he is in desperate need of "A Negative" blood type. If you would like to donate you can do so at the blood bank in Belize City.

Senior Officers Sent Out On Patrol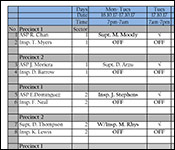 You only need to watch the news nightly and you will know that in the last three months, murders and violent crime have spiraled out of control. The Police Senior command is scrambling for answers - especially in Belize City where there have been 24 murders since July - and 7 recorded just this month alone.
And one novel approach started on Monday of this week where senior police officers - meaning the Inspectors, Assistant Superintendents and even Superintendents have been deployed on regular mobile patrols. That means you'll see the men in brown - reportedly as many as a dozen of them - out on duty in patrol vehicles in the various Belize City sectors. And they have to do so on 12 hour shifts just like regular cops, working from 7:00 am to 7:00 pm, and 7:00 pm to 7:00 am.
As we understand it, the directive from the Senior Command is that these senior officers are now supposed to provide better real time supervision for the junior officers - since that is now being blamed as one of the causes for the murderous crime wave in the city.
We're told the officers are none too pleased about it, some feel that it is a disrespect meant to humiliate them. The new system went into effect on Monday, so it's too early to judge if it will reduce crime.

Rogue Cops Criminally Charged
Two more police officers have been charged for extortion. A San Ignacio resident reported that in September police arrested him for Harm. While in custody PC Samuel Elijio and Allen Castillo told him he could be freed of the charge if he pay them $100. The resident agreed and one of the officers took him home to get the money. The resident was released and he made a report to the Professional Standards Branch. An investigation was done and both officers were charged yesterday. They were also placed on disciplinary charges for Soliciting a Bribe and Act to the Prejudice of good order and discipline. They appeared in San Ignacio town magistrate court yesterday where they plead not guilty. They were offered and met bail of $2,000. The case was adjourned until December 18th, 2017.

PM Explains Cattouse Murder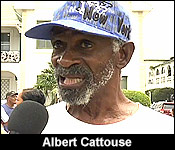 And while the police department has not provided an update on any of the 7 murders recorded in Belize City this month, today, the Prime Minister did speak on the Albert Cattouse murder.
In a moment that defies comprehension, the head of government had to give a narrative on a murder that police have not been able to speak to the press on for one week now. First, the PM said, Cattouse's murder was not political:...
Rt. Hon. Dean Barrow, Prime Minister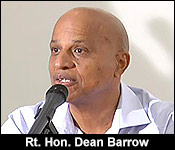 "Now I know you said Mr. Cattouse was an activist and no doubt he was, but I considered myself very much an acquaintance of Mr. Cattouse. I knew him well and I didn't see him very often these latter days, but whenever I did we were extremely pleasant to each other."
"What I gathered from the police is completely at odds with any motion that this was a political hit and I am willing to bet my life that no UDP personality in the leadership of this party would ever do something like that. It seems that somebody caught Mr. Cattouse's taxi. The fare has him drive to a particular neighborhood where two other persons came into the taxi and then Mr. Cattouse was told that they needed to go to a particular area. By then he realize that a gun was evident and the version that the police has been told, is that he refused. He said he wasn't on that and obviously the fear was that these people were going to in fact perform some sort of a hit or commit murder, some heinous act and he refused and according to the report I saw, he told them they had to get out and stop his taxi they exited. But when they were exiting, one of them shot him and killed him."
While the media and the public are grateful for this, the first substantial update on this high profile murder, we note that the days of the Head of Government having to give the media information draws a not so inspiring parallel to the early 70's when - our media elders who used to work at Radio Belize tell us - George Price himself used to give the state owned radio the police news. Not exactly an inspiring 21st century example.

PM Promises Progress on Police Media Relations, Police Minister Holds The Line
But that's the way the Belize Police Department wants it. For over a month now - the senior command has refused to approve a single media interview to clarify or discuss any crime. And there have been many. As we just told you, there have been 24 murders in the city since July - and 6 have been committed in the city for just this month.
But, the police won't budge; they simply will not answer the media's questions. And their backative on this comes from their Minster Wilfred Elrington - who - as he outlined to us today - has a distinctly 19th century approach to media engagement. You'll hear from him shortly, but first to the PM - who said he wants the media and the police to normalize relations:...
Rt. Hon. Dean Barrow, Prime Minister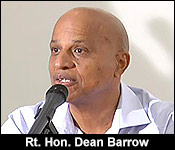 "In terms of the police and the deterioration of the relationship of the media, well both ministers are here and I'm sure that can be worked out. We are concerned and I have said that it is the duty of the government to treat you well despite the fact that it seems to be the obligation of you and your fellows to treat the government badly but that is the way it is. So, in a democracy, I am complete with you that the press should never be excluded and we will sort out that business of the disruption of relations between the media and the police."
And while the Prime Minister has a progressive approach - just 15 minutes later, his police Minister took us right back to the 70's - or maybe the 1870's! Here's our back and forth with Wilfred Elrington:
Hon. Wilfred Elrington - Minister of Home Affairs
"I have difficulty though with the media having members of the police giving extensive statements to the media on nightly bases on almost every channel on matters that are live before the court or matters that are under investigation. I think it unnecessarily scares the public, local as well as international and many times the investigation is ongoing, most of what is said is speculation. And so I don't think it helps the society. I think it does more harm than good. So, I prefer for us to notify the public as to what is transpiring by means of a press release and if it is warranted we do press conferences."
Reporter
"Respectfully sir, it's a departure from all the ground that had been accomplished between the media and the police department earlier this year in terms of hammering out a manual and a general approach that would have worked for both parties. You are saying essentially that..."
Hon. Wilfred Elrington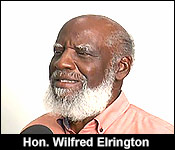 "My appointment as Minister is a departure as well. I operate differently but I really don't think, and the members of the police really are not happy with the attitude of the press in terms of the insistence on having individual police officers giving interviews in extense to matters that are under investigation. They don't feel comfortable about it."
Jules Vasquez
"Would you agree though that you can't point out to a single case that has been undermined by this, you're an experienced attorney and a jurist, that you can't point to one case, that's number one and number two, would you agree also that since September 13, when you all changed your rules of engagement, there has been a spate of murders, I believe it's over a dozen murders. We are in a crisis. You all can't afford to make enemies you need to build alliances."
Hon. Wilfred Elrington
"Actually the data doesn't support what you are saying. The data doesn't support what you are saying. You have all these statements that are being made but they are not backed up by the data. "
Jules Vasquez
"But you have no data."
Hon. Wilfred Elrington
"We have very very precise data as to the incidents that occur. The importance is for us to try to stem it and in the interim for us not to give undue cause for alarm to our society."
Jules Vasquez
"But the society needs reassurance as well. Sir, you don't live in Jane Usher, those people live in terror, daily terror."
Hon. Wilfred Elrington
"My constituency is Pick Stock, we have problems too. And I am telling you we are working on it and we are going to turn it around."
Jules Vasquez
"But they need reassurances from the police. We ask questions that the public wants to know."
Hon. Wilfred Elrington
"I am suggesting to you that the kind of interviews that you do with the police do not give reassurance, they scare people. Many times they are very alarmed. I myself get uncomfortable when I watch the television. I don't think that helps the society."
Jules Vasquez
"But the Prime Minister just said the differences should be ironed out."
Hon. Wilfred Elrington
"And you know I'm always willing to talk to you. We have got to reach a modus operandi and as I said to you…"
Jules Vasquez
"But the commissioner won't meet with us sir."
Hon. Wilfred Elrington
"We were the ones who called the press conference when Usher was missing, we were the ones that gave instructions for the press releases to be issued and as a matter of fact we have taken a very firm decision to strengthen our department to do more PR to make the police more accessible but in a more organized way. Not in these excitable occasions."
Jules Vasquez
"It's bogus sir."
Hon. Wilfred Elrington
"I don't think you know Jules that we have a responsibility to provide news for you all. You must do your work to find the news."
Jules Vasquez
"But you all have a public obligation. But we find the news."
Hon. Wilfred Elrington
"We inform the public."
Jules Vasquez
"But there are two policemen right now who extorted somebody in Cayo, the press office doesn't report it, there is poor Mr. Ricardo Vasquez 82 years old, the police don't report it. You all are trying to suppress information sir, you all are enemies of the press."
Hon. Wilfred Elrington
"You get the news before us."
Jules Vasquez
"It is your duty and obligation to send it to us sir."
Hon. Wilfred Elrington
"If I may imitate Mr. Trump, you know, I'll take a page out of his book."
Jules Vasquez
"That's always a good page."
Hon. Wilfred Elrington
"Many times it is fake news."
Jules Vasquez
"You are trying to put the blame on us because you don't like the press because you can't control us, sir. That is your problem."
Hon. Wilfred Elrington
"No, no, no. I have no design in wanting to control the press. Isani can tell you, he's more at my house than I am. I'll give you more interviews, as a matter of fact I give you interviews so readily Jules that you don't need to ask for interviews these days."
Jules Vasquez
"But it's not a favor sir, it's your job. Don't ask me to praise you for doing your job."
Hon. Wilfred Elrington
"Whenever I am asked I give. I would like to ask that you try to understand the point of view of the police. Because if you are in the process of investigation I think it does more harm than good really for you to be inviting police officers who are in the midst of an investigation to be speculating as to what happened, how it happened, why it happened. I think it would be sufficient to report the incident."
Jules Vasquez
"Would you agree in principle that the public has a need and a right to know?"
Hon. Wilfred Elrington
"I agree on that 100%."

Barracuda Is Safe (Probably)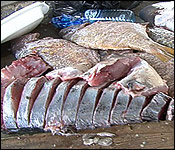 Two months ago, we told you about 10 people who'd gotten Ciguatera Poisoning from eating Barracuda with the toxin. Those fish were purchased in the Ladyville area.
Today the Ministry of Health sent out a public advisory saying it's safe to eat Barracuda again, but be vary careful: meaning, be on the lookout for any symptoms of fish poisoning.
Ciguatera Symptoms include tingling and numbness in fingers and toes, around lips, tongue, mouth, and throat; upset stomach, vomiting, diarrhea and/or abdominal cramps, joint pains, headache, and difficulty breathing.

Labour Commissioner At Senate Hearings
Last week Wednesday you saw Immigration CEO Edmund Zuniga take the seat at the Senate Hearings. His testimony was mostly about administrative changes that have been implemented to prevent any form of corruption or shady dealings in the department. Well today it was just as straightforward or maybe even more so when Labor Commissioner Ivan Williams and Deputy Registrar of the Vital Statistics Unit Patricia Hinkson were called in. We start off with Williams as he outlines the basic role of the labor commission as it relates to work permits and how it connects to the Immigration department.
Ivan Williams, Labor Commissioner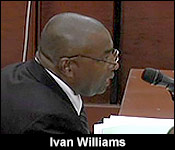 "I would like to correct that the labor department does not issue work permits, the labor department approves work permits, work permits are issued by the Director of Immigration and Nationality."
"You apply to the Ministry of Labor and the Ministry of Labor does it's labor market system to determine whether such a person is required for the purposes of work where Belizeans are not available or the requisite skills and issues a voucher to the director which says this is the person approved for the work permit but the issuance is done by the director in other words if anything is wrong or for any reasons the work permit may not be issued by the director."
"That is the reason why I believe the law creates a dual responsibility between Ministry of labor and the department of immigration."
"The application when it reaches the office, an officer of the labor department, the first thing that is required under the operating procedure for the staff is to check to make sure the person has legal status in Belize. That is obtained by viewing the passport to see if the person has an entry stamp an updated stamp."
"And you have to be in the country to apply for a work permit it is not something you can apply overseas. There has to be a police record in other words either from your country where you last reside or if you are here in Belize for more than 6 months a police report is part of the requirement obtained by my officers."
Hon. Elena Smith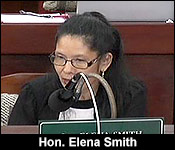 "Is there anything in the policy where the officers or the committee then that they are required to check that for example if I say I am applying for a work permit to work at whether it is a Chinese store or restaurant that anybody would be required to check to see if that establishment needs additional employees or if it is open any at all, is that a apart of the policy that must be done?"
Ivan Williams
"Yes when the application reaches the committee like I said the committee can do one of three things, it can either approve if they are satisfied or they can pend it and in that case say why there are pending it and ask for an inspection to be conducted by another officer or somebody to see whether in fact what is presented because for the most part the committee would be looking at the documentation."

What's With The Labour Permits?
Jinchen An, Yiu Pang Chen and Bo-Jie Shan - those are just a few of the many Chinese names that have come out during these senate hearings and throughout recent years as it relates to fraudulent immigration documents. While we do need migrant workers to fill posts especially in the banana and citrus industries - the problem, according to Chairman Aldo Salazar, isn't with Central American migrants - it's with these Asian nationals.
Ivan Williams, Labor Commissioner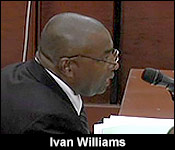 "The bulk of the work permits comes as a result of a request coming out of the industries, the porous nature of our borders that we have with Guatemala begs for people to come over in many respects irregular undocumented."
Hon. Aldo Salazar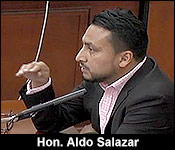 "Commissioner, as a select committee we have been tasked with particularly looking at the issues that have come out of the report of the Auditor General which any impartial observer will note that and this is my view, any impartial observer should note that there is evidence of systemic problems with immigration, part of it has to do with some sort of corruption."
"I think that the issue of immigration from Central America has not necessarily fed this corruption because frankly those people are too poor, those people who are coming from here from...those migrant workers are too poor to feed that sort of corruption that is being fed by a different type of immigrant I feel what we have seen from the report has practicality a large number to do with Asians, Asian immigrants."
"Is there a specific policy in relation to those types of people because on my part I would say we don't necessarily need any more shop attendants, clerks in Belize, Belizeans can do those jobs."
Ivan Williams
"Yes one of the term of reference of the national employment permit committee speaks to that, they have the responsibly to suggest, to recommend areas for which work permits should not be improved and I can tell you that shop assistants and shop clerks are part of the recommendation and so they don't issue work permits in those areas."
"The most important part is that you have said the buck stops at the Immigration Department meaning that the work permit, if they do not want to issue a work permit or if there is a problem despite your recommendation the immigration department has under the law the authority not to issue that work permit."
But as you heard, the responsibility ultimately lies with the Immigration department to issue work permits.

Vital Stats Secure?
Patricia Hinkson from Vital Stats took the stand next in a very short back and forth conversation. She recently took up the post so she didn't provide much depth as it relates to fraudulent birth certificates. Based on what she said there are no stringent measures to ensure there is no fraud.
Hon. Aldo Salazar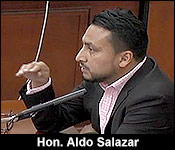 "Some years ago there was a person who was caught with a birth certificate now he wasn't born in Belize but he was found using the birth certificate of somebody who was born I believe in shipyard and pretending as if he was that person born in shipyard so clearly he went to vital statistics unit and the document was issued out of the vital statistics unit as far as I am aware it was not a forged document or a fake birth certificate it was a real birth certificate but it was issued to a person who wasn't the real person."
Patricia Hinkson, Deputy Registrar of the Vital Statistics Unit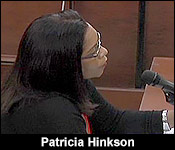 "But anybody can apply for a birth certificate."
Hon. Aldo Salazar
"So that is really what I think my collogue is trying to get at is what measures are there which would assist something like that not occurring or is it something that we can't prevent because anybody can apply for a birth certificate and pretend to be somebody?"
Patricia Hinkson
"Well anybody can apply, anybody can come into the office and apply for my birth certificate. That is just the rule anybody can apply for a birth certificate."
Hon. Elena Smith
"But there has to be something in place though that if I apply for a birth certificate for you there has to be something in place that tells you the person who is receiving it is authorized to do so."
Patricia Hinkson
"No, once that person has his or her social security or passport they can apply for any document in that unit."
Hon. Aldo Salazar
"What exists right now that would prevent let's say I come from wherever, I come from Vietnam and I bring a considerable amount of money and I try to speak to somebody inside your office and I want them to produce a birth certificate for me as if I was born in Belize what is in place to prevent me from being able to do that."
Patricia Hinkson
"Well it all depends on the integrity of the fixer and the verifier."
Hon. Aldo Salazar
"It is a two person control."
Patricia Hinkson
"(Nods yes)...or if it is in the case of the registration clerk at the hospital."
Hon. Aldo Salazar
"But I am an adult already, meaning I am already an adult, so I wouldn't be able to."
Patricia Hinkson
"Well the system tells you exactly who did what and on what date that action was done."
Hon. Elena Smith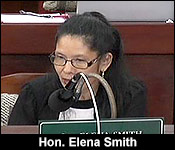 "Having been there for such a short time if you feel there are any other resources that you might need to assist you in insuring that any of these things can't happen?"
Patricia Hinkson
"Well we are in the process of recruiting additional staff members but you know that will take time."
Today's Senate meeting finished at noon - one of the earliest times on record - probably because business senator Mark Lizarraga was not there.
We will have more from senate tomorrow.

What Is The Value of the Reef?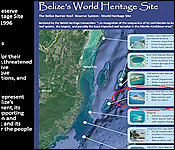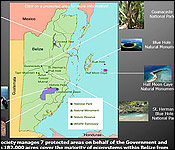 Today, the World Wildlife Fund and partner organizations launched a report assessing the value of Belize's marine resources. The idea is to highlight the incredible resource that is imperiled by a host of issues. And to bring into focus the urgency to protect the second largest Barrier Reef in the World, the experts put a dollar value on it. Nadia Budd of the WWF explained that and Adriel Castaneda summarized the main topics discussed at the conference.
Adreil Castaneda, Fisheries Officer of the Belize Fisheries Department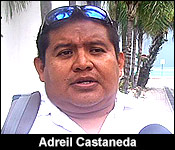 "Essentially we are trying to evaluate what the value of our marine protected areas are and compare it to the actual cost of operation and as we can see or as we saw on the presentations for one specific site we are talking about 8 million US dollars in benefits just looking at the tourism industry. Considering there are countless other services tourism, livelihood there is much more that we can take out from the marine protected areas that are beneficial."
Sahar Vasquez, reporter
"What is the barrier worth?"
Nadia Bood, WWF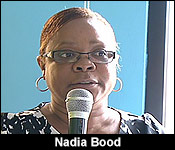 "As some of the presenters mentioned before there was a study done in 2009 that looked at the economic value of our reef system through goods and service provided through tourism, fisheries, and coastal protection and it found that it could be worth half a million USD. Half a billion sorry."
As Bood said, the Belize Barrier Reef is worth a half a billion US dollars.

Conservationists Welcome Moratorium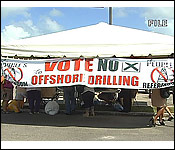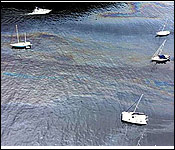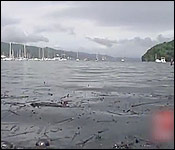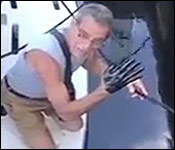 There's a house meeting on Friday is highly anticipated because government will introduce legislation for the moratorium on offshore oil exploration in Belize's waters. The bill may even get bi-partisan support.
Oceana and concerned Belizeans have been waiting for this since it was announced in the last house meeting back in September. This morning we spoke to the Vice President of Oceana Janelle Chanona who reiterated why the moratorium is important for Belize.
Sahar Vasquez, reporter
"The moratorium is coming up on Friday. How are you feeling going into this big event?"
Janelle Chanona, OCEANA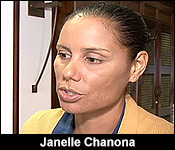 "You're absolutely right this is history in the making. This would be huge not only for Belize but in terms of communicating to the world some of the information you have just heard presented."
"Our Belizean Barrier Reef in just three services is contributing something like a billion dollars conservatively to our local economy so this would be a huge step in recognizing that fact."
"Anybody that saw and continue to see the tragic imagery coming out of Trinidad you make that immediate connection that this is the reality of living and trying to fish and trying to use marine assets where this activity is taking place."
"We are very sorry to use Trinidad as a reference point but in a way the Trinidadian experience allows us to go into future decisions eyes wide open."
"As I said it is really that our continued vigilance and our collective leadership on this will really dictate the quality of the future that all of us want to enjoy as Belizeans."
When passed, the moratorium will legislate the indefinite prohibition of offshore drilling in Belizean waters.

Election and Boundaries Rebuffs BUFERHD Conclusion
5 weeks ago on September 13th, Derek Aikman's group, called "BUFERHD" held a voter Simulation exercise, to try and establish that due to the numbering of ballots, your ballot is not secret. It made the news this week when the Teachers Union President endorsed the exercise as legitimate and illustrative of a serious problem. That has forced the Elections and Boundaries Office to send out a release. They say that ballot papers are numbered for reconciliation and accountability purposes so that Election Officials can ensure that all ballot papers counted in an election include only the legitimate ballot papers issued by the Presiding Officer. But the Elections and Boundaries office stresses that "no Presiding Officer or any election official is required to inform anyone of the ballot book series or the ballot paper number he/she issues at any given point during the election process."
They add that "It has never been the standard practice that ballot books number sequence is announced at the polling station; nor are ballots issued to voters in sequential order."
And so the statement concludes, "the process employed in the simulations conducted by BUFERHD is flawed and without merit."

Home | Archives | Downloads/Podcasts | Advertise | Contact Us