House Meeting History: Small Amounts of Marijuana Decriminalized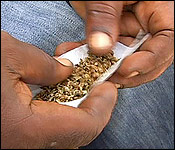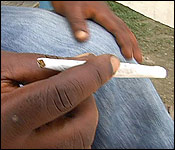 History was made at the House Meeting in Belmopan today when the bill to decriminalize possession of small amounts of marijuana was introduced. Minister of Home Affairs Wilfred Elrington bought it to the house for the first reading:..
Hon. Wilfred Elrington - UDP Area Rep.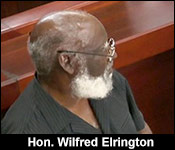 "To decriminalize the possession of cannabis in amounts not exceeding ten grams. To provide for the imposition of monetary and non-recordable penalties for the possession of cannabis in such amounts occurring on school premises in specified circumstances, to decriminalize the smoking of cannabis in private premises and to provide for matters connected therewith or incidental thereto. This bill has long been in gestation. I think it is recognized by members on both sides of this House that the present regime which we have dealing with marijuana is not equitable. As a matter of fact, it is viewed that it is unduly prejudicial, particularly to the poorer members of our society, who for one reason or the other use marijuana in smaller quantities and this is a small step towards ameliorating what we consider to be an injustice over the years perpetrated against our people."
This was just the first reading, so there was no debate and, it is not the law at this time. It will now go back to committee for consideration and public consultation, and will be brought back to the house for the second and third reading. After that, the bill will be taken to the Senate for passage - and it can only become law after that - a process that will take a few months.

"Weedists" Celebrate, Evangelicals Lament, GOB Calls It Progress
And while tonight "weedists" all over Belize are celebrating, evangelical church leaders are lamenting, and we'll have their points and counterpoints for you later on in the news. But for the Barrow Administration, they are taking it as a progressive and worthwhile step forward. The Prime Minister explained:...
Rt. Hon. Dean Barrow - Prime Minister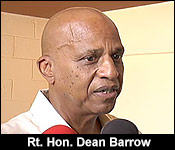 "I feel both as a matter of conviction that it is something good to do, but also that as a society as a whole will support it."
Jules Vasquez - Reporter
"Sir, the most cynical interpretation will be that, well, there is an election in a few months and the UDP has had this on the backburner for some while but your government brought it to the front burner to give it a little boost for the elections since you don't have a lot of money to spread around."
Rt. Hon. Dean Barrow- Prime Minister
"No, I don't think it's that sort of an issue that will make any material difference to the election. Certainly, that was not the reason."
Jules Vasquez - Reporter
"Will there be a public awareness campaign to sort of tell people, it's not to say you can smoke marijuana publicly."
Rt. Hon. Dean Barrow - Prime Minister
"There will have to be because I gather that already on the talk shows the level of, not ignorance, perhaps, wishful thinking is amazing so we will have to let people know that basically, we are creeping before we walk and so it doesn't go nearly as far as I am sure a lot of people will like. So you are perfectly correct there will have to be some sort of education campaign."
Later on we'll have the views of the Council of Churches, and the National Evangelical Association, and well as weed advocate Pulu Lightburn plus you'll see the Prime Minister and Plus TV's Luis Wade clash on the subject.

Hon. Julius Espat Walks Out, Not Dragged Out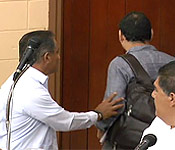 But going back to today's House Meeting, Cayo South Representative Julius Espat did it again! He clashed with the speaker over the very same subject that got him carried out of the house by police exactly one year ago!
51 weeks ago on August 26, 2016, he insisted that he would speak on the audit of the Immigration Department - and when the speaker did not allow him, and ordered him to leave the house, Espat refused to budge, forcing police to drag him out - certainly the most shameful, eye-popping moment in Belize's parliamentary history.
Well today - on the adjournment Espat asked to speak again on the latest report coming form the Auditor General's office. But, just as in the last case - the speaker did not permit him, except this time, he played it cool, and simply walked out. Here's how the whole exchange went:..
Hon. Julius Espat - PUP Cayo South Area Rep.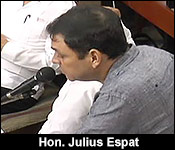 "I rise today on a matter of public concern and that is the auditor general's report for the year 2012-2013, I want to make some comments."
Laura Longsworth - House Speaker
"Sorry honorable member that will refer to committee."
Hon. Julius Espat
"Yes, mam but I am the chairman of the public accounts committee and I can refer to it."
Laura Longsworth
"But we haven't had the report from you yet."
Hon. Julius Espat
"No mam, but I'm just making some comments in reference to it. I'm not reporting on it."
Laura Longsworth
"But that's unusual isn't it?"
Hon. Julius Espat
"No mam, last year it was allowed even though I was kicked out, it was allowed initially."
Laura Longsworth
"Thanks for reminding me, honorable member."
Hon. Julius Espat
"And I wouldn't like for that to be repeated madam speaker."
Laura Longsworth
"[laughs], me neither but at the end of the day as we've discussed before we'd like you to..."
Hon. Julius Espat
"Yes mam, but this is the only opportunity that opposition members have to be able to show transparency by means of ventilating the issues."
Laura Longsworth
"Honourable member, we know the House rules, we have referred it to you, you are the Chair, right?"
Hon. Julius Espat
"Yes mam."
Laura Longsworth
"Can we move on from that?"
Hon. Julius Espat
"I can't mam, because this is exactly what we need to do."
Hon. John Briceno - Leader of the opposition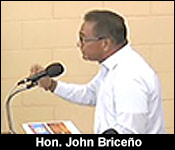 "You can also give the leeway to allow the honorable member to speak on such an important matter. The entire country is expecting us to say something about this today because they are just getting bits and pieces of the rank corruption that has been taken place under this government, madam speaker. So I'm urging you to please allow the gentleman to speak."
Laura Longsworth - House Speaker
"Honorable opposition leader, you are also aware that these matters have to have permission prior to the meetings. I am kindly asking to adhere to the rules of the House."
Hon. Julius Espat
"Madam Speaker, if I may, I am extremely disappointed on your decision, madam speaker, but I would just like to inform you that a letter was sent to you this morning and that I will be convening public hearings on the public's account committee based on the report, madam Speaker."
Laura Longsworth
"Yes, I have it here."
Hon. Julius Espat
"Because this issue has to be ventilated, the Belizean people have to get to the bottom of it and it is a sad day today that again we are going down the road the undemocratic way, Madam Speaker, when you are not allowing members of this legislator to be able to ventilate the issues that are hurting us Madam Speaker. But we will leave it as that. Thank you very much."
Rt. Hon. Dean Barrow - Prime Minister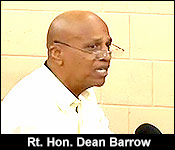 "Madam Speaker, sorry, I have to protest. That's very unfair for the member to suggest that because you are regulating the business of the House in accordance with the standing orders that you're undemocratic. You can't debate something before it has gone to the PAC. He has already announced publicly that he will summon a meeting of the PAC, hallelujah! And that is where everything will be…you see? And then you have to behave like…anyway. Madam Speaker I take offense that he should accuse you of being undemocratic."
Jules Vasquez - reporter
"You're walking out again."
Hon. Julius Espat
"Yes."
Jules Vasquez
"You know the rules, sir; they've been explained to you. The rule is you can't speak about a matter..."
Hon. Julius Espat
"No, that's a rule that they make up."
Jules Vasquez
"It's called the standing orders, sir."
Hon. Julius Espat
"No, the standing orders give you the right to speak on any issue."
Jules Vasquez
"Yes but this is a matter before the House that you will chair."
Hon. Julius Espat
"No, the rules does not say that you can't speak on something that's stable. It is quite clear in the adjournment; it says that any member of the House can speak on any issue of public importance. And this, in my opinion, is one of the major important issues that's being highlighted right now."
Jules Vasquez
"Ok, I want to ask you what's important in there but one second. Why when you walked out your party didn't follow you?"
Hon. Julius Espat
"I'm not the leader of the party."
Jules Vasquez
"But sir, it's an old tradition in parliament, you touch one you touch all."
Hon. Julius Espat
"I don't follow the old traditions. I believe that we have to make drastic changes and I stand for what I believe in."
Hipolito Novelo - Reporter
"You signaled them to follow you."
Hon. Julius Espat
"I asked the party leader what will happen next, I didn't signal him. I can't signal him."
Hipolito Novelo
"But you expected them to follow you?"
Hon. Julius Espat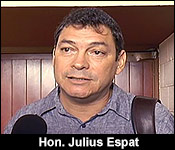 "They didn't follow me the last time, so, no. I don't expect anything from anybody."
Jules Vasquez
"But sir, this is serial behavior."
Hon. Julius Espat
"Are we gonna speak on a serious issue or are we gonna play games? What do you want to know?"
Jules Vasquez
"But sir, what concerns me is that you are a representative of the people and you are showing serial behavior."
Hon. Julius Espat
"What is serial behavior, to stand up for your rights?"
"Fu go on like bad pickni. You have to play by the rules, I don't want to be unkind honorable sir."
Hon. Julius Espat
"Jules, if standing up for what you believe in, if standing up for something that's undemocratic, if standing up to a corrupt government is acting like bad pickni, then maybe I am a bad pickni. And I have no fear in saying that and I have no shame in saying that. That is the role that I play as an opposition member, that is the role that I should play as the chairman of the PAC and that is the role that the people of Cayo South elected me to do."
Hipolito Novel - Reporter
"Sir, but, as we've seen in previous occasions that if you don't get it your way you get carried out. You don't see anything wrong with that? - Always walking out."
Hon. Julius Espat
"I see something wrong with Belizeans not standing up for their rights. I see things that reporters are not reporting on things objectively. I see leaders that are being paid to do their job and sit and do nothing. I have a problem with that."

Espat Says Audit Doesn't Dig Deep Enough
What he also has a problem with is the auditor general. Espat says her new audit doesn't dig deep enough, and it doesn't examine the most important ministry with any depth:...
Hon. Julius Espat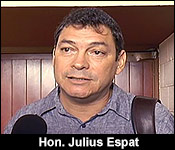 "I believe the auditor general has not gone far enough. I believe that you have the biggest budget in all the ministries is the Ministry of Finance. That has not been audited at all, not even mentioned- one section with the GST was mentioned. I believe that even the analysis that was done in the ministry of Works was insignificant. You are talking about 1.2 million dollars being lost when they only analyzed 1.7 million. So of 1.7 million dollars the auditor general is reporting that 1.2 has been lost as revenue and that sends up a lot of signals because the Ministry of Work's main expenditure is not the purchase of tires, it is the awarding of contracts throughout the entire country and no mention has been made of that and no analysis has been made of that."
Marisol Amaya - Reporter
"Sir, some of the things have you've mentioned actually go back to when your party was in power. The report does speak to that. So when you say that UDP's are the ones favored the same thing was happening under a PUP administration so what's to be said about that?"
Hon. Julius Espat
"Well if it is wrong then and it is wrong now, we don't want it to be wrong in the future we want to correct it."


Finnegan Throws Serious Shade At His Cabinet Colleagues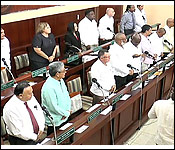 And in that same spirit of condemnation for corruption in both parties, UDP Party Whip Michael Finnegan had some very uncharitable words for his own parliamentary colleagues. Based on what we have picked up about tensions in the UDP, we asked him how he feels to be seated just a few feet from his much scandalized colleague Gaspar Vega. Finnegan gave a telling and compelling answer:...
Jules Vasquez, reporter
"You are 3 seats away from Mr. Vega who is a back bencher, but has been brought to the front bench and backbenchers don't belong on the front bench and also I would think that those on the front bench like Mr. Faber and Mr. Saldivar who have leaders aspirations maybe feel a bit unfortunate about that."
Hon. Michael Finnegan, UDP Party Whip
"Mr. Vega probably have company, because a lot of them out of the 31 don't belong in the house any at all."
Jules Vasquez, reporter
"But that includes your members sir."
Hon. Michael Finnegan, UDP Party Whip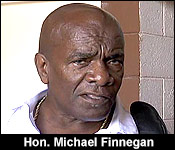 "I said lots of them don't belong in the house out of the 31. That's an answer."
Jules Vasquez, reporter
"18 of the 31?"
Hon. Michael Finnegan, UDP Party Whip
"That's a satisfying answer - lot of the 31 don't belong in the house."
Jules Vasquez, reporter
"It's a shocking one. Thank you sir."

PM Says Hon. Espat's Walkout Was Wrong
That's heavy stuff, and the PM was not so outspoken - but he did lament the irregularities which have been raised in the audit:...
Rt. Hon. Dean Barrow- Prime Minister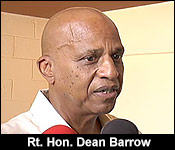 "There are things in the report that clearly are worrying, things in the report that are worrying, with respect to things that happened not just under our administration, it went beyond that, certainly, under education. But any report from the auditor general deserves to be ventilated and must be ventilated and there are clear provisions in our laws and in the standing orders for that to be done. First of all, I am obliged to lay it on the table once it comes to me. Once that is done, it is obligatory for me to go to the public accounts committee. The public accounts committee, the chairman has already singled, will be meeting shortly, and will go through the report in a way that will see the public being able to follow along and to be educated as to what is exactly on the report and as to any possible explanations there might be. That is how it should be and that's how it is. I find it really distressing, really regrettable that because in accordance with the standing orders, the member for Cayo South was not able to debate it or ventilate it today, he should walk out in a huff. It's really time we get beyond that."

PM Cagey When Discussing Alleged Misuse of Funds At BAA
And one statutory board that does seem to need an audit is the Belize Airports Authority. In 2014, it erupted in a patronage scandal when it was discovered that funds were being used for the then Minister's constituency. That Minister Edmond Castro was stripped, and measures were taken to ensure that it didn't happen again. Except, it now appears that it has. Government has been keeping a tight lid on what the Authority's former accountant pointed out as irregularities supposedly involving misuse of funds. And today, when we asked the Prime Minster about it, he toed the fine line of plausible deniability:...
Rt. Hon. Dean Barrow - Prime Minister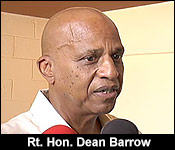 "I do know, to be perfectly frank with you, that there was an ex-employee of the BAA that had raise some concerns and it may well be that it's in consequence of that that the chairperson resigned, if he has resigned. But I don't know enough and I don't want to prejudice anybody so let me just leave it."
Jules Vasquez, reporter
"Are you aware of misallocation or misuse of the funds at that board once again in terms of persons receiving pre-payment of their stipend, misuse of the credit card - other things related to that?"
Rt. Hon. Dean Barrow - Prime Minister
"I am not aware. I've not been presented with any evidence of any board member having been the recipient of prepaid stipend. I have heard that this may have taken place, but the person who came to see me did not offer any evidence of that, so I am not trying to be the artful dodger. I know that there has been that talk, but I certainly wasn't given any evidence of that."

They Came By River: Big Money Heist at Bowen and Bowen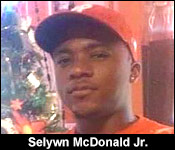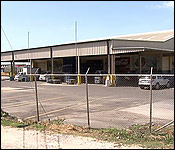 There was a big money robbery at Bowen & Bowen's Slaughterhouse Distribution Center last night. Armed thieves stole over twenty-five thousand dollars.
At around 7:45, 4 masked men - two of them armed - went into the sales office, held up the employees and helped themselves to all the cash they had collected form the day's sales. The foursome then escaped in a boat which sped off toward the Belcan Bridge.
Police are investigating, and it appears that they suspect that it may be an inside job. That's caused a lot of worry and concern for the Belize City family of 22 year-old Selywn McDonald Jr. He's a high school graduate who recently began working at the company. He reported for work for his usual evening shift yesterday, but never got home - because police took him into custody.
His family has been clamoring to see him - but up until midday, the police refused to allow him any visitors. We spoke with his mother, who told us today that she is sure that her son did not commit this robbery:
Daphne Grant, Mother of Selwyn McDonald Jr.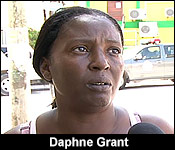 "We are waiting for him about 8pm last night, because that is the time he usually comes from his shift and then he goes back and come home after 11pm and well he didn't come in, because he had slept at my mom house, so my brother came and woke me and tell me that they robbed Bowen and Bowen and how gunmen took my son. But it wasn't true, it was the police who took him and the people at Bowen doesn't want to say anything, nobody wanted to talk to me. When my daughter came, they told her that have my son for a pending investigation and robbery. But they can't have my son on pending investigation and robbery. They can have my son for questioning, because yes they robbed the place where he is working. But they are putting him like he is a criminal and they will lock him for 48 hours. If they need to question him, then question him and let him go. If they need him, he is right there. True or lie? I am on the right track right?"
"I am saying the police are dealing with you as if you are foolish. I think somebody should tell you something. If it's your son, you jump up out of you bed, they bring a bad news like that - at least somebody could answer some questions for me. I am out here from morning and nobody [police] is answering my questions. So I say I need to call the media to speak about this, because I can't leave myself silent. I already lost a son, so when they come and tell me that gunmen went my son this morning, you imagine how I felt - to come to these people [police] and they treat you like that."
Daniel Ortiz, reporter
"I'll ask you straight up: did you think your son had anything to do with that robbery?"
Daphne Grant
"My son doesn't have anything to do with robbery. If my son works for $50 and that would satisfy him. My son tell me that the job is not paying too good, but that he will hang in there because he want to go back at the other Bowen and Bowen up the road. So it's a job where he wants to stay in. He just graduate from high school the other day. He wants a job. They don't have any jobs for graduate students anymore, so he settle for what he got. He is an honest person. He has not ended up with police as a thief or anything. He has never been in police hands. So they can't put my son like that. He is not a thief and I will put my head on the block all the time."
We called Bowen & Bowen for comment, and this evening, Shelly Bowen Stonesifer, the Consumer Marketing Manager at Bowen & Bowen, responded to our requests. Via text message, she told us, quote, "four robbers made off with cash from the days sales which was scheduled for Armoured Truck collection…we will be reviewing our security protocols company wide because of this incident. Thankfully, all B&B Staff were unharmed, and are being counseled from the trauma of the robbery." End quote.
Police say that they were looking for one more person, and best information to 7News is that they detained another employee of the company.
The last major robbery at the Slaughterhouse compound happened in June 2002. Former employees Leslie Pipersburgh and Patrick Robateau are serving life sentences at the Belize Central Prison for that robbery where 4 persons were murdered. Among the victims were security guards Kevin Alvarez and Fidel Mai, who were shot and killed inside the compound. Civilians David Flowers and Cherry Tucker were killed while the robbers were trying to escape.

Beware of the Barracuda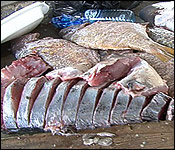 For you barracuda lovers, if you don't want to end up in the hospital - DON'T EAT IT ! That's the warning from public health officials. This is after 10 people had to be hospitalized since August 9th, with fish poisoning also known as Ciguatera Poisoning. Now, no one has actually died from this illness but it causes some serious symptoms and it can severely impact persons with other conditions such as diabetes. Today Senior Public Health Inspector Lisa Tillett explained what Ciguatera is why you have to stay away from barracuda at this time because of it.
Lisa Tillett, Sr. Public Health Insp., MOH
"So whatever is a toxin mostly in Barracuda fishes. We have other fishes that they can have it also. How the Barracuda gets the Ciguatera toxin inside them is they would eat on the smaller fishes and the smaller fishes would have the toxin them because they eat the little algae from the bottom of the sea."
Reporter
"Let's say you go ahead and you buy the fish. What are some of the symptoms that you can look out for and when do you actually go to the hospital?"
Lisa Tillett, Sr. Public Health Insp., MOH

"It's a toxin and if you know anything about toxins, toxins go directly to the nervous system. So you will start having tingling in your toes, fingers, lips, and throat. You will start will the abdominal cramps, headache, vomiting, diarrhea - it's something that occurs rapidly and that's what food poisoning is all about. The time it takes to react in the body. So it will start anything from like an hour to like 3-4 hours after you consume it."
"The first case was a family from Sandhill and they happen to buy the fish at the same location that the second family bought it from. So this was easy for us to find the source in this case. But in most cases it would be a little bit difficult to find the source, but this one was easy for us."
Reporter
"And the source as mentioned in the release, it's a vendor in Ladyville."
Lisa Tillett, Sr. Public Health Insp., MOH
"Yes, but how we do is go and see the person directly and inform them of what's happening. Because with the Ciguatera, some fishermen will be able to see that's something is wrong, but others won't be able to smell, see or that nothing is wrong with the fish. They would just sell it as normal and us we wouldn't know the difference between none of them."
Reporter
"What are some of the things that we should look out for specifically when buying Barracuda?"
Lisa Tillett, Sr. Public Health Insp., MOH
"See and that's the thing, common people like you and I we won't be able to spot anything wrong with it and that is why we are just asking to refrain from consuming. To be on the safe side, just refrain from consuming."
As you heard, the first case was brought in on August 9th, since then 10 others have had to be taken to hospital for poisoning. 2 of the 10 are still hospitalized due to other conditions that were aggravated because of the toxin. The others were released about 12 hours after they were admitted to the hospital. Now as you heard, you might not be able to tell which barracuda fish is contaminated, and some fishermen don't know either, but for those fishers who do, health officials are asking that you do not sell the contaminated barracuda. And for you consumers - health authorities warn: do not eat barracuda at this time. We will keep following up on this public health issue.

Church Council Conservative on Cannabis
As we told you in the first segment, the government introduced the amendment to the Misuse of Drugs Act today in Belmopan. While no vigorous debate had begun as yet, we asked Methodist Bishop and President of the Belize Council of Churches, Roosevelt Papaloutte to give his preliminary reaction to the legislation. He was quite diplomatic and open minded on the matter. So he didn't take a hard line stance, but he did say that many factors need to be considered especially when it comes to how this change will impact youth.
Reporter
"One aspect of the amendment is that pretty much if you are caught with 10 grams or less anywhere in the country there will be no charge. What are your thoughts or your comment in response to that?"
Roosevelt Papaloutte, Methodist Bishop - President of the Belize Council of Churches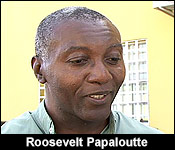 "Again, I know that perhaps that the essence of it, is there any other thing attach to that, because if you are caught today with 10 grams and perhaps one week later with 10 grams and less than 10 grams and 2 months later with less than 10 grams. What is in place? That are a lot of implications that perhaps we will have to look at as to how this is going to take place."
Reporter
"One other element to the amendment is that if you are found with under 10 grams in your home, there will be no charge. What are your thoughts to this and I know you express concerns in terms of youths - young children, they will be in the homes as well. So what are your thoughts in terms of that portion of the amendment?"
Roosevelt Papaloutte
"And that's what I feel is that it's not simply the amendment to the law, but what are we going to put in place to help if it is something that is happening in the home for example, lack of guidance or wherever that young person is. What are going to put in place to we give you that ease, but what are we going to give you to guide you to help you to discipline yourselves, because whether we believe it or not, 10 grams or less, it still means something, especially for the younger generations. We need to have programs within the schools or in the churches and when we were looking at it as well as church leaders and I am speaking frankly from the Belize Council of Churches point of view - we were also looking at we too as a church. What can we put in place?"
Reporter
"In your opinion, you do support this ease in terms of cutting back on the charges for this small amount of weed. You would consider that, you're open to that?"
Roosevelt Papaloutte
"I would consider that. I believe a number of us from the church community have given thought to that. The amendments is a welcome step. We need to have it before us to see exactly all that it entails and I believe the church is not really an opposition party. We tend to sit down and look at what is before us and make meaningful recommendations that will be useful not only for the young people, but for generations and for the country at large."
Now while Papaloutte was more open to finding common ground on this issue, the National Evangelical Association of Belize simply won't have it. In a release sent out today it opens by saying "The National Evangelical Association of Belize and it's 250+ represented churches expresses its disagreement with intent and steps of Government to decriminalize marijuana, a move that we are convinced is an incremental step towards legalization." It goes on to say that the Association had presented studies and reports reflecting the "danger of marijuana use" and that it's members had asked the government to NOT go in this direction.

PLUS TV Faces Off, PM Barrow Walks Away
And today, one of the members of that National Evangelical Association of Belize, Nazarene Pastor and media personality Luis Wade wore both his hats when he got into the media scrum with Prime Minister Dean Barrow. He wanted to ask some very technical questions about the rationale for legalizing 10 grammes of marijuana. But that's after the PLUS TV cameraman and reporter put in his own testimony about the ills of marijuana use. Here's how that led to a rather awkward back and forth with 7News smack in the middle:
Cirillo Choco, "Marijuana destroyed my life"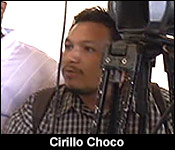 "12 years now that I don't smoke no more. I have money, I have my family and I'm moving forward. I had to take myself and rehab myself so that I can come out of this lifestyle of marijuana that's why I want to say, why pass it? Why?"
Rt. Hon. Dean Barrow - Prime Minister
"Whatever happened to you is singular. I don't know that you can extrapolate from that…but that's what you believe. If you can point me to the scientific data that supports that then we'd perhaps have an argument."
Louis Wade - Plus TV
"The University of Toronto, just..."
Rt. Hon. Dean Barrow - Prime Minister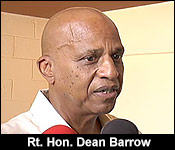 "You know what if we are going to get into a debate..."
Louis Wade - Plus TV
"But you asked him to point out some science. Can I point some science to you, sir?"
Rt. Hon. Dean Barrow- Prime Minister
"Sir, this is a huge subject on which opinions will be terribly divided. I respect your position. I respect your position, sir. There are very many people I know who smoke marijuana and are not addicted and lead productive lives. But please, I really don't think that we have the time to get into a debate with you."
Louis Wade - Plus TV
"Take the question, but you don't have to answer it."
Rt. Hon. Dean Barrow - Prime Minister
"No, you want to be able to in effect make a comment and that's fine you have your station but I'm not gonna get into it."
Louis Wade - Plus TV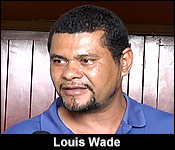 "Here is the question, alcohol is not measured by the quantity that a person has on him at the time, it is measured by the amount of alcohol content in the blood. According to your legislation, discuss with us the amount of tetra hydro cannabinol or THC content that your legislation provides that's legal. What is the legal limit in the blood for marijuana?"
Rt. Hon. Dean Barrow - Prime Minister
"Sorry Mr. Wade, I am not going to get into a debate with you."

The Good and The Bad of Ganja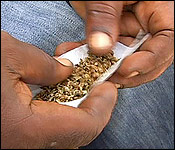 As you just saw Pastor Louis Wade is against the passing of the amendment to the Misuse of Drugs Act. We spoke to Wade, after his sharp exchange with the Prime Minister, about what he doesn't like about the law. But first, here's what someone on the opposite side of the argument has to say. Clinton "Pulu" Lightburn is a long time proponent for the legalization of marijuana, and has voiced his opinion on the subject on this newscast several times before. He gave us his thoughts on the newly read amendment, and what he thinks is the way forward...
Clinton "Pulu" Lightburn, For Decriminalization
"I think it's a step in the right direction, but there is a lot more that needs to be done for us to get it right. I think what we are doing as I would say in creole "dem di play haul and back." The reality of it is that the world has found out that what we were taught about marijuana was wrong, misleading and purposely done so. The reality of it is that scientist have found out through various studies done by universities in the Ivy League, in Europe and a lot of other places in the world. And it has been discovered that marijuana has over 400 medicinal properties. As opposed to cigarette which has over 4,000 poisons. So for those advocates who are against marijuana, before we go even farther I want you to answer this question for me: Why is it that tobacco which has over 4,000 poisons is legal and marijuana which has over 400 medicinal properties is illegal?"
Reporter
"In order for us to get that legalize place how much more do we have to go? Do we need more push back from the people? From the Opposition? From who?"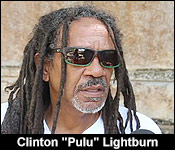 Clinton "Pulu" Lightburn, For Decriminalization
"It will be time. Time will take care of everything. We cannot get away from it. Marijuana worldwide is going to be legal within the next 10 years, unless you are a draconian country. The countries that are still going to have marijuana as being illegal are going to be countries where there are no human rights."
And while Lightburn claims that all 400 of those "medicinal properties" are positive, Louis Wade says that only 50 of them have been identified by scientists. Wade also told us about his objection to marijuana being restricted by amount as opposed to blood content. Here's what he had to say...
Louis Wade, Against Decriminalization
"Imagine if alcohol was regulated in this country based upon how much rum you had on you on the moment the police comes. That's is not how drugs work. It's not when they bust you in an accident they count the pint bottles that you have on you. That is not science. What is done is a drug test is taken and the law prescribes a legal limit for alcohol consumption. It's not how much pint bottles you have. I don't know where the Prime Minister's cabinet got the concept that marijuana should be regulated based upon how much you have on you. Alcohol is measured based upon a legal limit and my question to the Prime Minister that he could not answer was very simple: What is the legal limit for marijuana in the blood? He could not answer that, because every kind of marijuana contains different quantities of Tetrahydrocannabinol just like how every beer versus tequila versus elephant foot has a different. It is very simple science that we ask the Prime Minister."
Jules Vasquez, reporter
"I know you are a scientist or scientifically disposed, but your objection is not only scientific, it is also moral. You believe that smoking marijuana is indicative or will lead to moral laxity or breakdown."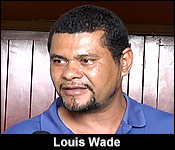 Louis Wade, Against Decriminalization
"No. Marijuana comes from a plant just like cocaine comes from a plant, just like alcohol comes from a plant, just like heroine comes from a plant. Plants have chemicals. It just so happens that marijuana has 420 Tetrahydrocannabinol of which science has only identified and tested 50 of the 420. When a person smokes marijuana they add heat to 420 chemicals, so a chemical reaction takes place and the 420 chemicals turn into something else. So we are looking at the science of marijuana in the first instance."
The National Evangelical Association of Belize, which Wade is a part of, submitted several medical studies to the PM which outline the detriments of marijuana usage, and they urged the government reconsider passing the amendment.

Hilux Home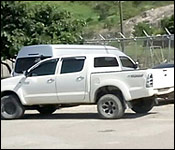 The stolen white Toyota Hilux which was found in Melchor two days ago - has made it back to Belize in record time. Last night we told you that authorities on that side of the border had opened an investigation because the new owner was trying to pay duties on the pickup. Well, that has been worked out and today we confirmed that the pickup was back on the Belize side of the border.

Offshore Drilling Moratorium Ad Infinitum?
And while the controversial marijuana decriminalization issue took the headlines tonight - the other major announcement coming out of today's house sitting is that government has made it official: it will introduce legislation to enact an indefinite moratorium on offshore oil exploration in Belize's territorial sea.
Here's the Prime Minister making the announcement:
Rt. Hon. Dean Barrow - Prime Minister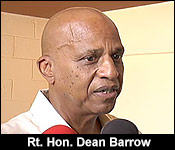 "We agreed, some time ago, to a policy decision that there will be a moratorium but there were those who wanted a more permanent ban and I've always said that I am completely against that and I am still against that. A moratorium is a different thing. Even though it is indefinite, the fact is that it is not permanent; it is not expressed to be permanent, so that you cannot rule out the possibility that at some point in the future, clearly not in the near future, when technology has advanced, there might be very easy ways of determining whether we do have resources where some people think there might be, without having to go through the sort of process that the environmentalists object to, that is the position now. We can't fetter parliament, we can't bind parliament. So when we pass the law, even though it's not expressed to be permanent, they would have wanted us to say well even to lift the non-permanent ban you will need to go through certain steps- they talked about a referendum- you can't do that, you can't put in a bill that a future Parliament will not be able to change this bill except if there is a referendum, no. That referendum provision in the bill is part of a bill that future Parliament can simply up-end, so there is clearly still the opening for somewhere down the road- I stress, it will no doubt be far down the road, if at all- for us to, not us, I will be long gone, but whoever is there to come back and say 'listen, lets' talk to people now because it appears by way of these new fangled methods of making an assessment, developing an estimate, there is lots of oil out there and should we not then have the conversation as to whether, given that we are a poor country, it might not be time to think about oil exploration.'"

OCEANA Overjoyed
OCEANA's Vice President for Belize Janelle Chanona attended today's house sitting to hear the announcement that her organization has fought so long for. Outside the houses he told us it's exemplary leadership which will benefit all Belizeans:...
Jannelle Chanona - VP, OCEANA Belize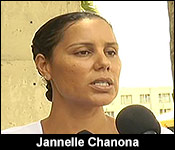 "Today is a very momentous day, this is an example of exemplary leadership, we hope it will be replicated around the globe but certainly, I think, as the Prime Minister referenced in his comments, it affords Belizeans the peace of mind, that all Belizeans deserve on this issue, that they have stated and restated, that they want to be involved in this issue, so once this law is passed that is exactly what they would be able to enjoy. That, you know, once this indefinite moratorium is passed, that our marine resources will be safeguarded from the inherent hazards of offshore oil development."
Jules Vasquez - Reporter
"Is it gratifying from an emotional perspective in so far as you all have labored for so long, from when Audrey was at Oceana and she had the referendum and now finally it's here."
Jannelle Chanona - VP, OCEANA Belize
"Jules I have to think that it needs no reminding that for tens of thousands of Belizeans that depend on these marine resources for their livelihoods and their quality of life, that this is a very emotional issue because this is a bread and butter issue. So I think the emotional factor of that is not lost and again that's a peace of mind that money can't buy. For me personally I have no difficulty in saying that from a personal point of view I would be very emotional once this becomes a law and as I said if the law is along the exact lines of the spirit and intention expressed today, I think it's something that we can all live with and I for one am fully prepared to be publicly emotional when that good day happens in the House of Representatives here in Belmopan. As far as we have been assured by the Prime Minister, the details of the draft will be exactly as he expressed it today and on the basis of that strength, we are definitely looking forward to seeing that it will cover the territorial seas and exclusive economic activity zone and that it will mean that there will be no offshore oil activity, from seismic up. We no that seismic is one of the initial phases but no concessions are being leased or sold, there will be nothing, as we understand it, there will be no offshore oil activity in Belize until some other parliament decides that they may be minded to change it. I'm looking forward to hearing the opposition's reaction but I really think this is one of those opportunities for bi-partisan support and that certainly, based on the national following and global communities reaction that this will be very well received. I don't think there will be any negative push back in terms of this being a good thing to do."
Jules Vasquez - Reporter
"Is this a swan song for Oceana in so far as Oak Foundation has moved on, we know that is one of your major funders, this is the major campaign you guys were on. So funding having gone, mission accomplished, does Oceana move on from Belize?"
Jannelle Chanona - VP, OCEANA Belize
"Well, just as a technicality, this campaign is not closed until we have legislation that everyone can live with; and actually no, Oceana came to Belize because of fisheries in 2009. So I'm actually looking forward that once we get this legislation through the House and it becomes law, we can go back to our fisheries work and this decision today is bound to attract even more funding opportunities and opportunities for government NGO projects and initiatives because I think, especially in today's world, where there is so much attention on climate change and protecting coral reefs, this type of leadership is what anyone that is donating money, wants to hear."

Deviling the Details of Moratorium
As Chanona mentioned, OCEANA will now have to look very carefully at the legislation to make sure that what they agreed to is what they get. The Prime Minister discussed some of the finer details and how the decision came about in the first place:...
Rt. Hon. Dean Barrow- Prime Minister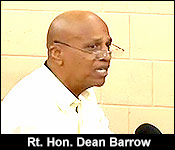 "Madam Speaker, I take great pleasure in announcing to the house and to the nation that cabinet on a meeting on Tuesday, agreed to have prepared and to bring to parliament, a bill that would enshrine into law the moratorium against offshore oil exploration activity. In consequence of conversation with Oceana and the Belize Coalition to Save our Natural Heritage, cabinet felt that the time has come to put the policy commitment into law. It makes no practical difference since under either regime, there is not going to be any licenses granted for offshore oil exploration activity but it certainly, I believe, gives comfort to those who require such comfort that this is a step beyond just the policy commitment."

Harvey Hit Barbados
Yesterday we told you about Tropical Storm Harvey, the storm that is projected to make landfall in this general area on Tuesday. Well, at the time, Harvey was gathering strength off the coast of Barbados and it swept through the small island nation last night.
In preparation, all flights in and out of the country were cancelled and all government offices were closed and public transportation was suspended. So far reports say that Harvey caused minor damage and flooding, and officials believe that no widespread public utility outages occurred.
At 12:00 this afternoon, Barbados' Department of Emergency Management issued the all clear.

Is Harvey Coming This Way?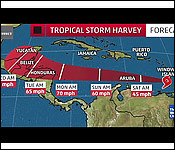 So, what's next for Tropical Storm Harvey? Well, as of 6:00 pm today the storm was moving west at 21 miles per hour with maximum winds of 40 miles per hour.
Currently, it's about 1,700 miles east of Belize, and forecasters say that it will not arrive close enough to affect the country until around next week Monday or Tuesday.
But, there is a lot that the storm could do before it is close enough to become a serious threat to Belize.
This evening, the deputy meteorologist told us via phone that Belizeans should be closely monitoring this storm to find out what it eventually does. Here's what he had to say:
Derrick Rudon, Deputy Chief Meteorologist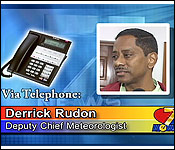 "Nothing has changed really from last night or from this morning. The forecast is still the same. Coming out if the national hurricane center, they still forecast Harvey to strengthen a bit and to move over the Caribbean Sea and by next week Monday/Tuesday should be over the northwest Caribbean which is basically in our area. The center of the cone comes right over Belize, but it is not necessarily have to go right up the center, it could be anywhere in the cone, in the area at that time."
"What we can say is we will be affected by this system next week late Monday or into Tuesday. We don't know if it's going to be a minimum storm or a minimum hurricane, but it will affect us somehow or the other. It could fizzle out and weaken to maybe a depression or just a wave, or it could strengthen. If it hits the northeastern portion of Honduras, Nicaragua there, it will certainly weaken and some of the models are doing that - they are weakening the system, but others are keeping it as a storm and strengthen and show some strengthening over the northwest Caribbean Sea. So we can't say what strength it will be, but we know that system will affect us late Monday into Tuesday."
Channel 7 will keep following the storm over the weekend.

PM on Banos-Vega Land Deals: It is What It Is
10 years into government, Prime Minister Dean Barrow has clearly grown tired of having to answer for the less than stellar conduct of many in his cabinet. That was clear today when the press asked him to answer for the Bano's-Vega land deals which we showed you two weeks ago. Its a series of transactions, where Ramon Rosendo Banos - who is Rene Montero's sideman - would acquire crown lands in the name of every imaginable member of his family and then sell those lands to Eduardo and Alma Vega.
Today, the PM said he saw our story, and concludes, resignedly, "it is what it is":
Rt. Hon. Dean Barrow, Prime Minister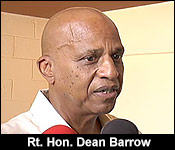 "What I've seen on the news. Why would I look at those documents? What it is, is what it is. You are able to document that people on the face of it legitimately got land and that they ended up afterwards selling it to particular persons. I don't know that there is any actionable illegality there. But the implications and the conclusions that you have drawn are not anything I will argue with you over at all."

PM Says Shoman Has Answering To Do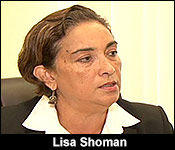 But the PM did regain some of his trademark wit when we asked him about that letter that former Foreign Minister Lisa Shoman sent him yesterday. The open letter complains lyrically about the many failings of current Foreign Minister Wilfred Elrington.
And with clear relish, the PM suggested that the letter may have gotten Shoman into some trouble:...
Jules Vasquez, reporter
"Former Senator Lisa Shoman, former foreign minister has written you a letter. Will you respond to it, what do you make of it?"
Rt. Hon. Dean Barrow, Prime Minister
"I am not sure if I will respond to that letter. I just something today from the IDB you see a while ago. Ms. Shoman is a member of a tribunal that deals with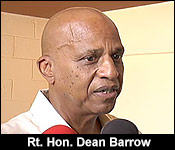 staff matters. There is now a complaint made against her in consequence of what she said with respect to the foreign minister and the whole issue of borders and so on. I don't know what the details are. I haven't seen the letter that she sent to me, but I better leave that alone in the event that Ms. Shoman might want to rethink her position in consequence of what is happening at the IDB."








Aimee Flores On Making It
And that's it for politics tonight. For a more refreshing perspective, we have a little leftover from our interview with Belizean Biochemistry Researcher, Aimee Flores. In our profile last night we told you about the groundbreaking stem cell research team which she led. But, breaking into the research world wasn't as simple as it might seem from the outside. She had done her masters in Pathology and got into the research setting by volunteering in a lab. That's where she met some of the most highly regarded published researchers, and top international students entering the Broad Center of Regenerative Medicine and Stem Cell Research. We asked her how she competed with the best in the US and the world:
Jules Vasquez, reporter
"How is it that you were able to compete alongside people who had been primed in the best schools and colleges for this their whole life?"
Aimee Flores, Doctoral Student - UCLA

"I feel like if you are determined enough, you can do whatever you want. I, yes, you know, was there as part of the programme with people from all over the world, people who had research experience many years before I did, people who were primed for it from high school, but at the end of the day, I put in the work I needed to put in. I studied what I needed to study and I worked in the lab, and I was determined enough to do it. And I think it's possible for anybody. I don't think that you necessarily need to come from a terribly strong background to be able to survive, I feel that you just need to want it enough."
"Most people think that, you know, if you or your kid is interested in the sciences, you can only become a doctor, you know? But there are many other things that you can do in the sciences, you can be pathologist, you can work in the lab, you can do research, you can go into teaching, there are many different avenues. It just so happens that I chose to be a scientist."
Aimee is only in town for a week and returns to California this weekend.



CODICADER Kids
On Sunday, 110 Belizean youth athletes will embark on a journey to Tegucigalpa, Honduras where they will participate in the 2017 CODICADER students sports games. This evening at the Marion Jones conference room, a press conference was held to introduce the team and here's what they had to say:
Jones and the sports council also donated 2 motorcycles to Police Superintendent Moody. The bikes will be used to heighten security around the area while those who use the facility are exercising.



Mayor Loves Track and Field Athletes
And that wasn't the only attention given to young athletes today. Earlier on in the afternoon, a few of Belize City's youngest and most talented track and field stars were invited to City Hall for a small award ceremony. Mayor Darrell Bradley and his Councillors distributed plaques as well as a monetary token as a way to recognize their achievements. We spoke to Bradley after ceremony about why he felt the ceremony was an important gesture...
Bradley also presented awards to the parents and coaches of the athletes.

Home | Archives | Downloads/Podcasts | Advertise | Contact Us