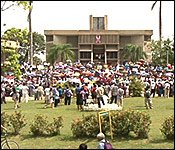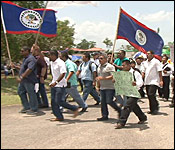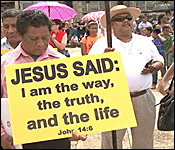 Last night, we told you about how the evangelists were preparing to stage a protest on the steps of the National Assembly Building. They're trying to bring public pressure against the Barrow Government to force them to re-consider their decision not to appeal the Chief Justice's ruling to decriminalize gay sex.
It happened today, and our 7News team was right there to watch it all unfold. Daniel Ortiz was also there to challenge them on their continued attempts to resist the ruling. Here's his report:
Daniel Ortiz reporting
Hundreds of Evangelists assembled at the foot of the National Assembly Building to show what they claim is just a breath of the full might of their discontent.
There were moments which resembled the religious leaders delivering powerful sermons from the pulpit, and at times, it looked like a church crusade had taken up residence on Independence Hill.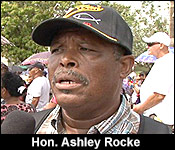 They even made sure to put off a short march around the National Assembly, all in an effort send the message that they are not happy with both the ruling, and the Prime Minister's Decision not to appeal it.
Hon. Ashley Rocke - Church Senator
"The church is registering its discontent with the ruling. We feel that the ruling does not represent the constitution correctly. If we say that the constitution is founded upon god, the principles of god, which god are we talking about?"
Albert Cattouse - Protester/COLA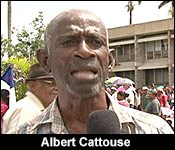 "The prime minister of this country, dean barrow, is always shouting 'for god's sake stop it'. Now he has me confused because I don't know which god he's talking about."
Pastor Victor Hernandez - President, Southern Region Pastors Assoc.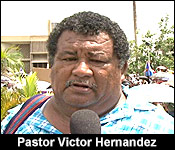 "The word of god is what we look at for leadership and the word of god tells us that sodomy is a sin. It's against what we believe but more so, why we want this to be appealed is because we believe that it does not reflect the majority of the Belizean people."
Pastor Scott Stirm - VP, NEAB
"I don't like to inflate numbers but we're expecting close to a thousand people and I think we're pretty close to that."
Louis Wade - Talkshow Host/Protester
"The church has not yet mobilized, this is only the Toledo and the Orange Walk district. We have not mobilized the country nor have we mobilized other denominations who also oppose this issue. Nor have we mobilized the secular groups that are also aligned with us."
Hon. Ashley Rocke - Church Senator
"We feel that the constitution was registered on the principle of god in heaven, so the ruling to us was wrong."
Geovannie Brackett - President, COLA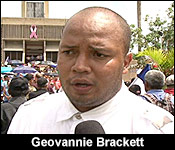 "We do not support sodomy, we believe that this latest ruling only indicates that what the prime minister really wanted was to have another entity such as the courts to do their bidding."
Pastor Scott Stirm - VP, NEAB
"The purpose of this is to express our displeasure with the chief justice ruling as well as the fact that our government has stated that they will not appeal. I don't believe that there's even been a ruling as controversial and history making and history defining as this ruling."
Hon. Ashley Rocke - Church Senator
"What was surprising to us was that the man who made that ruling is a married man. He has his wife and his children and he made that ruling. So what signal is he sending to his children?"
Louis Wade - Talkshow Host/Protester
"It is not that we are trying to impose a will upon the people. We represent the conservative and moderate views of the nation. It is the government, be it the legislator, executive, or the court, that is taking an ultraliberal agenda and imposing it on the people."
It's still unclear whether the Church can appeal the decision, but the National Evangelical Association of Belize has declared that it will make a concerted effort.
Hon. Ashley Rocke - Church Senator
"The Prime Minister created, because he knows that the churches are not financially viable to do such a thing. So yea we would like to but it would take a lot to garner up all the money that is needed to take such a ruling to, not the appeal, but directly to the CCJ."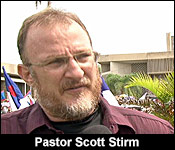 Pastor Scott Stirm - VP, NEAB
"There are 3 different interesting parties, and so it's my understanding that 2 of them have decided to not appeal. We are of the camp that is pushing towards appeal because we are not going to stop even if we don't get the appeal we are not going to stop. We will find the resources, finances follow faith."
The reason for this, the Christians claim, is that the state is ignoring their significant voice as a large sector of the population.
Hon. Ashley Rocke - Church Senator
"This government that is in right now came in on democracy, majority rule 3 times. Now on a moral issue like this that is very dear to the people of Belize, we do not feel that a majority could have made that ruling. How can majority be to put you in the House of Representatives but in the issues of morality, and as it relates to the church, we are saying that the minority could have done that. To us, that's not democracy, that's hypocrisy."
But could the church be playing the role of villain in this part of history in the making, given that a minority keeps crying out loudly that they're being disenfranchised?
Daniel Ortiz
"The popular vote of a particular issue is not always right, 'might' is not always right and history has shown that minorities have experienced the injustices of the majority. Quickly that comes to mind is slavery, you have the issue of the right to vote. Isn't this an example of where the majority popular vote will disenfranchise a minority who is entitled to the same rights and freedoms of the church?"
Hon. Ashley Rocke - Church Senator
"Would you agree with me that had they not meddle with this at all, things would have just continued the way it was going?"
Daniel Ortiz
"I agree with you but there are person who would say that the threat of being prosecuted is just as bad as being prosecuted."
Hon. Ashley Rocke - Church Senator
"They have their views, we don't necessarily share that view."
Pastor Scott Stirm - VP, NEAB
"We stand upon universal declaration of human rights which grants religious freedom, protections, family protections and education protections. This is what is being called today the evolving human rights and so that evolution, we don't buy that."
So, for the church the bottom line is that this is a moral issue; Sodomy - they say-is not permitted in the Kingdom of God. They regard it as a social ill, but what about those social ills that have infiltrated their clergy's ranks? Do they still have that right to cast the first stone?
Daniel Ortiz
"There are instances of adultery, child sexual abuse, fornication and those things are swept under the rug. We know specifically of one pastor who was a major important leader of one of the associations, allegations were made against him and that was put aside, is that not an example of the hypocrisy?"
Hon. Ashley Rocke - Church Senator
"The ruling has done something for the church, it has challenged the fathers to go back home to their family. It has challenged mothers to start paying attention to their children. It has challenged the home to regroup, because if we don't regroup and fix our own problems then imagine if we have to deal with that problem."
Pastor Scott Stirm - VP, NEAB
"We did not pick this fight. Caleb Orozco picked this fight, he brought a lawsuit to try to change our laws to say "why don't you go deal with this and deal with that?" we are dealing with all those issues but on this issue, this is historic in the nation of Belize and so that's why it's such a big issue. It's clearly obvious that if the government does not stand up, the church will."
Daniel Ortiz
"Even the own challenges that the church has"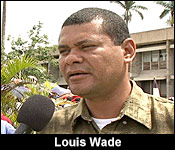 Louis Wade - Talkshow Host/Protester
"What challenges? I don't know of any challenge that the church has."
Daniel Ortiz
"Specifically where there are instances in the church where there is child sexual abuse in certain parts of the church. There is adultery and fornication from senior leaders of the church. Do you concede that these things happen?"
Louis Wade - Talkshow Host/Protester
"It happens throughout the society that predators look for wherever children are and they guise themselves as prime ministers, area representatives, judges, priests, pastors, teachers and in any garb that offers them a shield of protection while they can simultaneously make our children vulnerable."
At the height of the crowd, our estimates put the number of protesters at a thousand. The churches claim higher numbers, saying they brought two dozen buses from Toledo alone - which at 60 persons per bus is over a thousand.
But they'll have another chance to impress us: We understand that they intend to show up again to protest this Friday's House Meeting when the Prime Minister will be back in country.
Stirm: Church Leading, Not Misleading
While we had the opportunity today, we asked Pastor Scott Stirm about the suggestion that leaders within the church are misleading their congregations to create a false sense of urgency that the ruling is the first step toward same-sex marriage.
Last week, the Prime Minister himself took a few questions from the pastors who challenged him that indeed the ruling paves the way in that direction, which conservatives say is the final plan in the LGBT agenda. The Prime Minister firmly rejected that, and when we asked the Attorney General that question once again yesterday she maintained the same position.
So, today we asked Stirm if he and the other church leaders who insist that the ruling opens the door to other gay rights challenges are simply misrepresenting the facts. He told us that the leaders of the National Evangelical Association of Belize has gotten numerous legal opinions to back their assertion, and so they firmly believe that they are not misinforming anyone:
Pastor Scott Stirm - VP, NEAB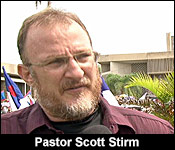 "Any person could look at this. We have at least 7 different senior counsel attorneys together with us that have been vetting all of our processing and there is more out there that are contacting us as well. Every one of those senior counselor attorneys has said "yes you're exactly right, all of those things have been preapproved, they are just awaiting the lawsuit" So when they say that this has absolutely nothing to do with same sex marriage, that just absolutely not true. The same thought processes and rational that was used to have section 53 declared unconstitutional will now be used to go after the marriage act, to go after every other law that they consider is now discriminating them, because the Chief Justice expanded in his ruling which we believe he jumped the tracks when he did that - that sex is to include sexual orientation. I'm sorry, in other countries when they tried that, they had to change their constitution to get that. I don't believe that the Chief Justice has the authority to make that decree for us as a nation."
Daniel Ortiz
"Do you fear that the position you've taken as the politicians have accused you all are misleading the rest of the church to take that view?"
Pastor Scott Stirm - VP, NEAB
"When you have at least 7 senior counsel attorneys that are saying yes this is exactly accurate, then its starts to raise the question of who's misleading. All we are trying to say is to stand for the truth. It doesn't even take a senior counsel attorney to look at that ruling and see that everything is been preapproved. In all respect to the Prime Minister, he is one of the most intelligent and sharp legal minds in the whole Caribbean, I would trust he should be able to look at that ruling and be able to make that deduction."
And in related news, unions representing the 3 utility companies, namely the Belize Communication Workers Union, the Belize Energy Workers Union, and the Belize Water Services Workers Union, sent out a joint press release which says that they are also disappointed that the Government will not appeal the ruling.
Their statement says, quote, "The Unions... hereby express our grave dissatisfaction and concern with the Government's response to the Judgement against Section 53 of the Criminal Code... This recent Judgment and the Government's failure to react and respond in defence of its people clearly brings to light the fact that the ill will of a few are being forced down the collective throats of the masses in our society that we were led to believe was ruled through democracy." End quote.
The utility unions share the view of the church and their statement continues, "Take heed that once precedence is established in Belize, it will only be a matter of time before the same is imposed on the rest of the Caribbean nations. We therefore urge all concerned organizations, governments and the entire people of the Caribbean Region to join us in our efforts to defend our values and our way of life...we pledge our support to the Churches as they prepare to appeal the case through the courts, and we call upon all Belizeans to stand in solidarity in defence of our country's moral values for our people and all the generations that will follow." End Quote.

The Auditor Generalís Report: The Visa Hustle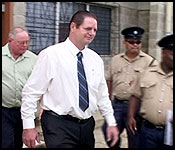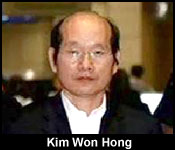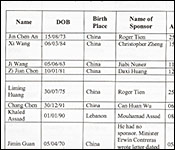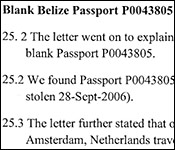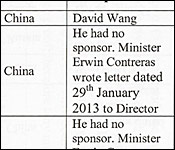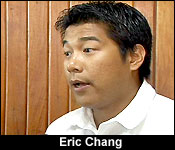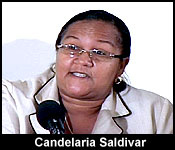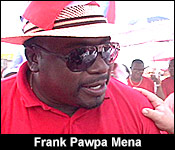 The Citizen Kim scandal broke three years ago in September of 2013, and since then we have learnt many despairing details about how the Immigration and Nationality Department was run like a flea market by public officers, politicians, party cronies, and passport and visa peddlers of all types and backgrounds. Well, tonight, the wider picture is just becoming apparent, and it's like a horror movie, that's so scary, you just can't look away. The long delayed Auditor General Special Audits into the issuances of passports and visas between 2011 and 2013 will be tabled in the House of Representatives on Friday and members received copies last week. It's two documents, the first on passports is well over 200 pages, and the other on visas is about 150 pages. We've been poring over the documents all day, and tonight we can share a few initial details.
First, on the visas - these were sort of gateway documents, and the report notes that 28 persons who were issued visas then went on to acquire Belizean nationality and passports in very short order. In 15 other cases, those who were issued visas quickly receiver permanent residence status.
And how did these folks get visas? Well, that's probably where the business end came in. The report notes, quote, "Ministers of Government, (a) CEO, and a mayor made recommendations and requests to the department for the approval of Belize visas."
For those 28 who were issued visas and then promptly issued passports, the report produces a table of names nationalities and the name of their sponsors. In the case of Chinese national Jimin Guan, he had no sponsor and Minister Erwin Contreras wrote a letter for him to the Director on January 29th, 2013.
Contreras did the same for Weidong Li on that same date in January, and Mupong Chen - again on the 29th January.
The report goes on to detail who all made requests for visas to be facilitated at the Belmopan office. The list starts with Chief Exectuive Office r and sister of Minister John Saldivar Candelara Saldivar, divisional caretakers Michael Hutchinson and as an yet unelected Frank Pawpa Mena, the former Mayor of San Ignacio John August and a UDP insider who, the report states, quote, "requested that some visa applicants receives Belize visas."
The report goes unto say that Minister of Government made 7 requests to Port Commander at the Northern Border and the PGIA to facilitate persons with visas.
And, at the Western border station on Boxing day, December 26th, 2012, 8 visa foils went missing. Turns out these were removed by an Immigration officer and given to one Mr. Middleton for sale. Middleton - the report states is the common law husband of an Immigration officer. And this is where it gets interesting. The report sates, quote, "Middleton took the visas to Belize City Deputy Mayor Eric Chang and another person who purchased the visas.
Coming up later in the news - we'll have more on Chang and his desperate attempts to visit Citizen Kim in a Taiwan jail.

Aragon: Tough Time For UDP
So, right now, with all this breaking, it's a tough time to be a member of the ruling UDP, especially for those young politicians who are at the beginning of their career. The Barrow Administration is lurching from one scandal to the next, having only being given a small ease from the William Danny Mason saga.
So, what does what Orange Walk East Representative think about the Auditor General's reports? That's what we asked him today, and here's how he responded:
Daniel Ortiz
"It would be a very tough time to be affiliated with the UDP Government. Are you prepared for that?"
Hon. Elodio Aragon Jr., Minister of State, Youth, Culture & Sports
"First and foremost I am a representative of the people of Orange Walk East Division and I've been given this opportunity to serve them as a representative in the House of Representatives and thus a part of the United Democratic Party in government and I will continue to do that. I don't see any issues that are there. I was not there in terms of that, so I don't see it as an issue. Of course there are issues out there and I think those are being addressed as best as they can by the government."
Daniel Ortiz
"Would it be something that cause regret for you as a member of the party that it continues to remain embattled?"
Hon. Elodio Aragon Jr., Minister of State, Youth, Culture & Sports
"These issues, you will always find them. I think that it is how we deal with these issues, and I do think the Prime Minister has done what he had to do in terms of dealing with the Immigration issues; I think what the Attorney General is doing right now, in terms of dealing with the Vital Statistics Office, these are the things a Government has to deal with; corruption is about the eye, it's not only about the act but it's also about the people who commit these things, and a lot of these people, sadly, are within our public service system. And what the Government has to do is to crack down on these things and to ensure we reduce these things. And I think the United Democratic Party has shown its will in terms of dealing with the issues; whether it was the Minister responsible for Immigration and otherwise, these things have shown that under the leadership of the Right Honourable Dean Barrow he has taken such actions, and therefore we continue to ensure that we do our best to govern this country."
As we said, the reports are voluminous, and we've only just gotten possession of them today. We'll have more for you a little later in the news, and much more in the days to come.

Workshop On Inner City Violence
In June we told you about the launch of Dr. Herbert Gayle's book entitled "Like Bush Fire". The book explores the topic of violence and what fuels it among young people. Well, Dr. Gayle wants the youth advocates, counselors and leaders to put the content of this book and his research to practice. Today was the start of a 3 day training that focuses on a number of relevant topics dealing with crime and violence in Belize. Dr. Gayle explained why this training is crucial to the future of Belizean youth and those who interact with them:
The workshop ends on Thursday.

Educating Caregivers For The Elderly
Today 17 persons graduated from a 5 week care giving course. The main objective was to train those who are interested in caring for the elderly. It was about ensuring these care givers understand what to do with an elderly, how to meet their basic needs and why it is important to properly care for them. We spoke to the coordinator and she told us more about the course.
17 people graduated today.

Investing In Chiquibul
The Chiquibul Forest, its 423 thousand acres make up almost 8% of Belize's territory - but as we've shown you many times on this newscast - it's abundant protected areas are almost a magnet for Guatemalan farmers who have run out of arable land in their own country, and for Guatemalan poachers who press into`the Chiquibul to steal Xate, timber, gold and wildlife.
Well now the effort to protect the Chiquibul is getting a major boost form the Ministry of Agriculture, Fisheries, Forestry, the Environment and Sustainable Development. It's called the Chiquibul Forests Investment Initiative - which was launched this afternoon at the Biltmore. Minister Omar Figueroa outlined the broad strokes of the effort:..
The two and a half hour launch finished this evening - and we'll tell you more about the details in tomorrow's news.

September Theme-Maker Honoured
The September CELEBRAITON SEASON is starting, and this year, theme is "Sovereign and Strong - Together as one!".
The person who penned that theme and handed it over to NICH is Argelia Mendoza Ken, who's a teacher and counselor at the Belize High School of Agriculture in the Orange Walk District.
So, to make sure that she does not go down as just a footnote in the September Celebrations, NICH and Minister of Culture Elodio Aragon, awardED her with a cheque for $1,000 and an opportunity to meet the press.
Today, Aragon told us that he was happy to recognize her public, especially because she is a fellow Suga City resident:
This year is also Aragon's first time as co-chair of the September Celebrations Commission, and told us what Belizeans can look forward to on this year's calendar:

Eric Chang Worked Hard For Citizen Kim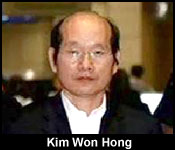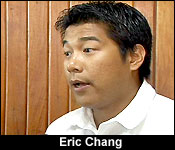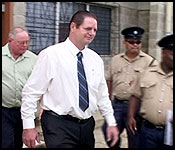 Eric Chang - he's the former Belize City Councillor who seemed to have been the intermediary between Wong Hong Kim, or Citizen Kim and former Minister of State Elvin Penner. Penner got the passport fast tracked in Belize, and Chang - it seems - was the man who was to grease the wheels for Kim in Taiwan. At the time, Kim was in a Taiwanese jail - awaiting - and desperately trying to avoid - extradition to South Korea. He wanted the entirely fraudulent Belizean passport to use as a sort of get out of jail card.
Now, the auditor general's report on passport irregularities shows the extent of Chang's machinations to get Citizen Kim freed.
The report details this in an email from the then Belize Ambassador to Taiwan Cherie Nisbet who says that she got an urgent call from Chang in mid-September 2013. Chang reportedly told her he needed two urgent visas to Belize for two South Korean nationals who needed to go to Belize the next day. Nisbet said she needed all the details before she could help anyone. Chang - she claims - could not explain the emergency and said he may have to call a minister in Belize to issue visas upon arrival. The next day Chang told her he was at a detention center in Taiwan, visiting a South Korean national. He told her that Taiwan Immigration may call her to ask if he is indeed the Deputy Mayor of Belize City - which he was at the time. This suggests that he was trying to use all means - including his Belizean credentials to spring Citizen Kim from jail.
Nisbet says she later got a call from Taiwan immigration warning her that it is not advisable for Chang to visit Citizen Kim.
The auditor general's report also details that Alejandro Young, the Charge d'affairs if Honduras brought the Citizen Kim passport to Ambassador Nisbet. He asked that a letter be written to validate the passport and the nationality so that Kim could be issued a Taiwan visa in the Belize passport to be released from detention. Citizen Kim had sworn to a petition that he be released as a Belizean citizen and be placed under the protection of the Belize Embassy. This never happened.

Home | Archives | Downloads/Podcasts | Advertise | Contact Us