Will Flowers/Mason Tandem Take On Hon. Saldivar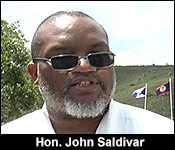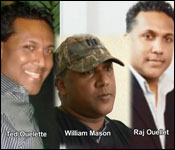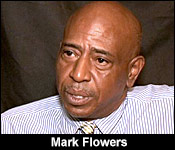 Superintendent of Police Mark Flowers may have called William "Danny" Mason a con man who he was investigating under cover - but multiple reports say that Mason and Flowers have linked up behind bars at the Hattieville Prison to compare notes. There are reports, which say that if Flowers gets Supreme Court bail - as he is expected to tomorrow - he will be making certain disclosures coming from Danny Mason - specifically pointing to Mason's relationship with John Saldivar. We'll be at court tomorrow to see what comes out of that, but the Prime Minister's Wife Kim Barrow isn't waiting until then to challenge a narrative put out there by Danny Mason! According to reports, Mason is saying that his company, "i-Cloud" got the contract to perform works at the Pediatric Intensive Care Unit, which is a project spearheaded by the office of the Special Envoy.
Well, Kim Barrow's office sent out a release today saying that company did bid to provide equipment for the Unit. But his bid was unsuccessful and that was the end of it. The contract was ultimately awarded to a US company called D-R-E Inc.
Of course "i-Cloud" is a variation on a name ripped off from the popular Apple "icloud" service - the type of thing, which is usually done, to create confusion and facilitate fraud.
IT's only one of Mason's many, many enterprises which include a pig farm, a veterinary clinic, and, we have learned, he also ran a black market money changing service - where due to the scarcity of foreign exchange shortage - he would accept Belize dollars and then make US dollar deposits in foreign banks. Our reports say, he would duly make the cash transfers up to a point - thus gaining the confidence of the businesspersons he was working for. And then as they felt confident changing more money, the transfers would be held up, and the Belize dollars would disappear.

Broke Bank Benque: Mount Carmel Folds, Members Will Lose Deposits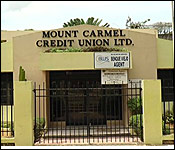 The Mount Carmel Credit Union in Benque Viejo Town has been in financial trouble for more than 15 years now - and last night members were told that their Credit Union would be closing down. Why? Well, Mount Carmel is bankrupt, and the credit union is about to lose its headquarters to the DFC, to which it owes 454 thousand dollars -and cannot pay.
And the bottom line for the hundreds of members? It's really bad news….they will lose all their savings just like that (poof) gone! The few dozen members who showed up to a meeting with the Credit Union League were given the bad news last night. Today in Benque Viejo, long time member David Ruiz told us it was like a sudden death:
David Ruiz, Mt. Carmel Credit Union Member
"Well very disheartening news Jules, that the credit union will just stop functioning, the DFC will come and sell the building, close it down and that's it. That's basically it. It was very disheartening and presented in a very de-humanized form. I mean there is no money to give you or shares back to recover your shares. So that's the news we have to say. The league just say that we can't do anything - it your credit union - as plain as that."
Jules Vasquez
"So what happens to your savings?"
David Ruiz, Mt. Carmel Credit Union Member
"Well we lose our savings and there were some people at the meeting that worked their whole lives in the US. There is this lady who lost this money that she had to build her house."
Jules Vasquez
"I heard she had $50,000 in there."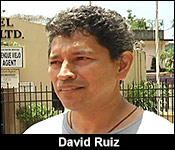 David Ruiz, Mt. Carmel Credit Union Member
"About that. The elderly, which hurts my heart, the people with pension, pensioners - people that were just living from day to day getting their savings and that's it. At no point did the league come and meet with the members, call a meeting. Why last night until the very end when we are about to lose the building. I mean what can we do in a matter of days you know? People were just shocked and people couldn't even plan, a follow up thing to say we're going to do this. We need time to synced in - it's like a sudden death. This is simply a failure of the whole structure. We as members who failed to demand accountability when it happened, the failure of management, board of directors, because it was not an overnight thing and then the big embezzlement, the people who stole the money. There are elements that want the credit union to die, so that the evidence dies with it. Because if there is a forensic auditing, many people would have to account and respond - what happened to that money? The poorer people just put up. The amount I had which was $7,000 which is significant for me at this point. You can't find $7,000 out there. I mean for the poorer people. Benque is not an aggressive community and its part of our culture, but also part of our culture is we have the indigenous part where people can take many things, but when the cup runs over, that's when things can become really bad."
Ruiz says they are trying to take up a petition to the Prime Minister to ask forgiveness for the DFC loan. The Executive Director of the Belize Credit Union League, Corrine Robinson-Fuller did not return our calls for a comment. We are told she delivered last night's bad news.
Mount Carmel began running into trouble from at least 2001 when two employees, Martita Duarte and Julio Santos were accused of embezzling more than five hundred thousand dollars form the institution.. They were charged but the prosecution fell through, and nothing was repaid. Later reports said the sum lost may have been closer to a million dollars.

The Storm After The Settlement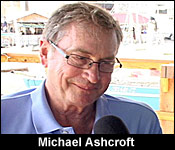 6 days ago, we told you about the new quarrel between the Ashcroft Alliance and the Government of Belize over BTL. They're arguing over US dollars, and they can't agree about how exactly the Arbitration Award should be paid.
The Government paid the first half of the nearly half a billion dollar judgment debt, with 40% in US dollars and 60% in Belize dollars. The Ashcroft Alliance is complaining that this wasn't what was agreed to - they want the whole thing in US dollars. So, the Alliance immediately filed suit at the Caribbean Court of Justice asking the court to interpret the decision once and for all, and to make binding orders that the Government will have to abide by.
The Government also has its own counter-claim that the Arbitration Panel used the incorrect math to calculate how much the total Arbitral Award should be. They're contending that the Panel used the wrong rate of exchange to arrive at the compensation figure, and that the calculation of interest is also wrong. The Government says, quote, "Both mistakes by the Tribunal prejudiced GOB and resulted overall in larger sums being awarded than were justified." End Quote.
So, just when everyone thought the fight over BTL was over, the two sides are at it again before Caribbean Court of Justice. The first case management conference for this US Currency fight was held this morning via teleconference.
After the hearing, we spoke with Government attorney Denys Barrow, and we asked why this quarrel is so urgent: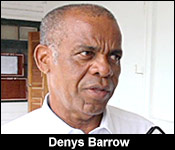 Denys Barrow, SC - Attorney for GOB
"Why we are here is this; the settlement agreement made provision that the sum awarded by the arbitrary tribunal would killed it - would bring to an end the question as to compensation and that award was in fact handed down and everybody agrees as to what is the total. But remember the settlement agreement was made with a provision in it which says that there is a restricted amount and the restricted amount is the amount which the arbitrary tribunal said represented the enhanced value of the shares provided by the accommodation agreement. So the settlement agreement is that that enhanced value, that will be a restricted amount and that will be for the benefit of the people of Belize. The unrestricted amount will be for the benefit of Dunkeld and the other Ashcroft related entities. So the distinction between restricted and unrestricted amount. The expectation when they made the settlement agreement was that the amount per share, which the tribunal would award, would have been greater in favor of the unrestricted amount. Greater in favor of what is to go into Ashcroft's pocket. It turned out to be exactly the opposite. They were expecting that it would be something like 70% to Ashcroft, 30% to the people of Belize. As you now know what the tribunal decided is its 40% to Ashcroft and 60% to the people of Belize. The issue now is that Ashcroft says but the agreement provides that I was to get 50% of the total award upfront. The problem is that if it had gone as was expected 70/30, then you could get 50%, because that would still leave another 20 to go along with the 30 to towards the people of Belize."
Of course, the Ashcroft Alliance doesn't agree with the Government's interpretation, and today, Dunkeld International's Attorney, Eamon Courtenay, explained how this quarrel over US dollars impacts his clients:
Eamon Courtenay, SC - Attorney for Ashcroft Alliance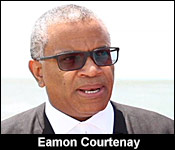 "Well what has happened is that government agreed under the settlement agreement that was signed last year September that it would pay 50% of the arbitral award within 10 days of the award being published. That was the 13th July. That was to be paid in US dollars and we said there is absolutely no doubt about that in the agreement. The government did not pay it in US dollars. They paid a portion of it in Belize dollars and a portion in US dollars. The companies who are entitled to the payment have come to the Caribbean Court of Justice to say we are asking you to construe the agreement and if you agree with us to made an order that the government pays the balance in US dollars and the Belize dollars portion would then be paid back to government because that was not a part of the agreement."
"This morning the Caribbean Court of Justice commence the hearing and indicated that they want full submissions, they want further evidence and they are going to hear it on the 19th August. The government has indicated essentially that even if the Caribbean Court of Justice orders that, my clients are entitle to be paid in US dollars, but the government is not in a position to make US dollars available. As I understand the government's position the government of Belize does not have the US dollars available to make the payment and the Central Bank is not prepared to sell the government of Belize the US dollars to make the payment."
"So, we are going to have a very historic standoff between a court, if they agree with us saying that you should pay in US dollars and the government saying I don't have it and the Central Bank saying I have but I will not sell it to the government of Belize."
"I would just remind people that this arose out of an acquisition of property and the constitution says you are to be compensated. The government that the arbitrators were to determine it. The government agreed that they would pay 50% in 10 days. They agreed that they would pay it in US dollars and now that the time has come to pay, they are saying we are broke. That does not absolve you of your legal obligations."
As you may have noticed, Courtenay claims that the Government revealed in today's hearing that the Country cannot afford to pay the arbitral award with the amount of US currency that the Ashcroft Alliance is claiming. So, the press asked Denys Barrow if this is true, and he did confirm that. Here's that back and forth:
Reporter
"I was made to understand however that with regards to this particular application the government is essentially saying that it doesn't have the amount being requested in US currency and the Central Bank is not forthcoming with providing government that amount. Correct?"
Denys Barrow, SC - Attorney for GOB
"That is also a significant part of it. But more fundamental is the part which I mentioned. But almost equally significant, is that government says we have gotten from Central Bank, I think 29 million. We have consulted Central Bank and Central Bank has in fact written a letter to the financial secretary setting out I think in 4 pages exactly why they cannot find 70 million or any really other significant portion of money in US dollars to sell to the government now to pay to Ashcroft."
Both sides will make an appearance before the CCJ at their Headquarters in Port of Spain, Trinidad. That hearing takes place on August 19, and we'll tell you how it goes.

Central Bank Warns Of Dire Position With Reserves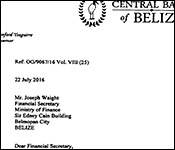 And this just in, we've received a copy of that letter which the Denys Barrow says Central Bank Governor Glenford Ysaguirre wrote to Joseph Waight, the Financial Secretary. He does warn that Belize's economy cannot handle the strain of diverting anymore of the Central Bank's US Currency Reserves.
He notes in his 3 page letter that quote, "…It is necessary to advise all concerned that it would be destructive for the economy of Belize if the Central Bank were to even attempt to facilitate any such requests to facilitate for an additional amount of foreign currency, given the currently level of official foreign reserves and other external demands facing the bank…the Central Bank…must…exercise careful management of the international reserves by balancing the foreign exchange needs of the Government against those of the domestic banking system, and the wider private sector. " End Quote.
The Central Bank Governor notes that the country's present demand for foreign reserves is at around US 193 million dollars. To accommodate the Ashcroft Alliance Demand would balloon that demand to US 263 million dollars. The Governor ends his letter by stating that given the clear outline of the Belize's Foreign Reserves needs, the Central Bank would be unable to provide the additional US 70 million dollars that the Dunkeld and Trust company is now demanding.

Man Dies From Stab Wounds On Day He Should've been Release From Hospital
A 30 year old resident of Victoria Street, Alfonso Castillo was stabbed last Thursday and despite having an initially positive prognosis, he died this morning while undergoing treatment at the KHMH. Police had arrested Raheem Marsden for the stabbing but his charge will be upgraded to murder. Still medics have yet to determine what actually caused Castillo's death in the first place because, as it turns out, he was scheduled to be released from the hospital today. Emanuel Pech visited the family this morning and has this report.
They say death comes like thief in the night and this morning the family of 30 year old Alfonso Castillo learnt that painful truth.
It all started with a stabbing last week here inside an ally a couple blocks away from his home on Victoria Street.
Alfonso was hanging with a few known friends when an argument erupted between him and another men. That argument quickly turned violent as he was stabbed three times.
Voice of: Arlette Bevans- Aunt of Deceased
"Thursday my sister shouted at me, I was in my house and when I came out I saw my nephew bleeding so we rushed him to the hospital, the police actually took him and I went behind in a private vehicle. When we got there they rushed him into surgery because they were saying that one of his organs was touched by the knife, the stab in his stomach. So he was in surgery for over 4 hours and we were there until early morning and left from there almost 4 in the morning. We waited until he woke up, and when he did we went back every day to check on him and make sure he was okay. He was doing fine."
Last night was the last time any of his family members spoke to him. He was excited to be released from the hospital and celebrate his aunt's birthday this weekend. But this morning the family got a call from the hospital which told them the devastating news.
Voice of: Arlette Bevans- Aunt of Deceased
"When I went there this morning the doctor told me that he went to the bathroom this morning when they were doing rounds and he wasn't in his bed when they went to do rounds. They went inside the bathroom and he was slouched in the bathroom on the floor so they brought him out and tried to resuscitate him. I was actually there and they really worked on him. I just need to thank the doctors and nurses because they tried."
Emanuel Pech
"Now I mean, how do you guys feel that the very day he's supposed to come out you got the news?"
Voice of: Arlette Bevans- Aunt of Deceased
"We're just upset, we just want to know what went wrong that is why we're waiting for the post mortem. We need to know what went wrong, because by all signs he was supposed to come out today so, I'm sorry."
Authorities are still trying to determine the official cause of death, meanwhile the family grieves for their loved who one, who they say did not deserve to die like this as he was known to them as a peaceful, loving guy. Reporting for 7 news Emanuel Pech.
Raheem Marsden is remanded to prison for the stabbing of Castillo, however his case has gotten more serious as a result of Castillo's death.

Teenaged Accident Victim Succumbs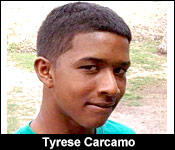 Yesterday we told you about 16 year old Tyrese Carcamo, who was knocked down from his bicycle on Tuesday evening. Well has died last night, around 6:35.
Carcamo was riding his bicycle between miles 8 and 9 on the George Price Highway, heading in the direction of Belize City, when he was knocked down by a taxi driver travelling in the same direction. The driver, EDWARD CASTELLANOS said that Carcamo suddenly cut in front of him and though he attempted to swerve to avoid hitting him, - he crashed into the teenager. Carcamo sustained severe head injuries as his head smashed against the front windshield of the vehicle. Police have served CASTELLANOS with a notice of intended prosecution but are still waiting on forensics test to confirm whether or not he was driving with an alcohol concentration above the prescribed limit.

Keron Caught A Spray Of Bullets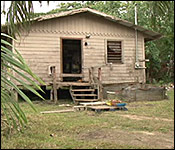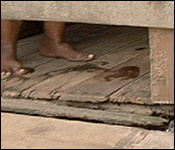 27 year old Keron Moss was greeted at his doorsteps by a spray of bullets. According to reports a couple of unwelcomed visitors knocked on the door of Moss's house on Farmers site area in Hattieville Village around 9:40 last night. Moss opened the door, but as he did so one of the men shot at him. Fortunately Moss was only shot to the leg. He is currently receiving treatment at the Karl Huesner Memorial Hospital but nothing appears to be life threatening. Still police and the family members of Moss are still trying to figure out just what motivated such a daring move which could have easily claimed another young life.
William Moss, Father of Shooting Victim
"We were watching the American convention, my wife and I was in bed, when I thought a heard a noise at the door so my son came out and said 'what's going on with you guys?' and after that we heard gun shots. When I ran out here I didn't see anyone there. I had on my veranda light and everything but when I came out here I didn't see anyone, so I don't know if it was Tom, Dick, or Harry. When I came out, the door was wide open and I saw him on the floor in the parlor, he said 'dad I just got shot'. When I ran out here and my wife came behind me I said 'what? who shot you?' he said 'I don't know dad I juts got shot'."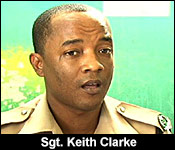 Sgt. Keith Clarke, Station Mgr., Hattieville Police
"Upon arrival, Mr. Moss was observed suffering from what appeared to be a single gunshot wound to the left leg. Upon being interviewed Mr. Moss stated that around 9:40pm on the same date, he was at home when he heard a knock on his door. When he went to answer the door, he saw 2 male persons, one of whom he recognized. The other whom Mr. Moss was apparently not able to recognize was armed with a handgun. This armed male person pointed the gun at Mr. Moss and fired 2 shots, one of which caught Mr. Moss on his left leg, both male persons then fled the scene. Mr. Moss was then transported to the KHMH via BERT ambulance where he's in a stable condition."
Reporter
"Sir has police been able to establish any motive for this shooting."
Sgt. Keith Clarke, Station Mgr., Hattieville Police
"Up to this point no concrete motive has been established. However, we believe is Mr. Moss gives us an official police statement, we can establish a motive."
Reporter
"Has he been cooperating with the police?"
Sgt. Keith Clarke, Station Mgr., Hattieville Police
"From what we have gathered up to this point, it doesn't seem as if Mr. Moss would want to give an official statement to the police. However, that does not preclude us from trying and the detective will be visiting him at the KHMH to encourage him to give an official statement."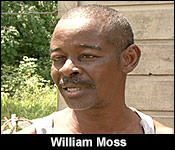 William Moss, Father of Shooting Victim
"He is just a humble guy. He has a drinking problem, but he wouldn't harm anyone that kind of way so I don't know why someone would try to come here to harm the man that kind of way there. It's uncalled for, to me, and way at the house here too. I'm not swaying for my son, but I know he's not that kind of person, because I don't follow him around. He just got a job which his mother and I are happy for. I don't know who would try to hurt him that kind of way. I already lost a son by gun violence already and then a next one? I'm not really happy at all, I don't like it. I just want the police do their job and maybe they can find out what is going on."
Police have two men detained pending further investigations.

Deliveryman Jacked In Ladyville
This afternoon in Ladyville a Santiago Castillo salesman was jacked in Ladyville.
At 12:20 Mark Lisbey was making sales in Ladyville where he collected 2,743 dollars. When he stepped out of the store, he saw a man who had been following him from the previous stop.
Lisbey turned away but the man then pulled out a 12 inch long ice pick and, a next man grabbed him by the neck. Lisbey fell to the ground and they took away his black bag which had the day's proceeds. The men drove off with 3,843 dollars in cash and 4808 in cheques.

Taken From USA, Brought To Belize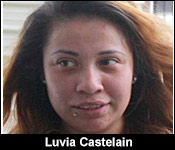 Thirty-one year old Luvia Castelain, was deported from the US in August of last year, and is in jail tonight, serving a 6 months sentence. She pled guilty to failure to comply with the deportee requirement specified by the Commissioner of Police, which is that she reports to the Queen Street Policed Station every Friday for 1 year. Magistrate Anderson was going to give her a fine but when CASTELAIN said that she was only born in Belize but never lived here and has to be with her children who are in the US, Magistrate Emerita Anderson told her that she has to make sure that she stays in Belize. Castelain had not reported to the Queen Street Police Station from January 8, 2016 to July 22, 2016, a period of 29 weeks. She said she was in Mexico during that time.

Peace Between Citco and CWU
Things got harsh between The Christian Workers Union and the Belize City Council back in early 2014 when the security guards were put under private management. But, today the CWU announced that it will sign its first Collective Agreement with the City Council tomorrow.
We'll show you that breakthrough agreement in tomorrow night's news.

Courtney Gillett Takes It To The World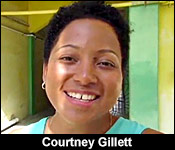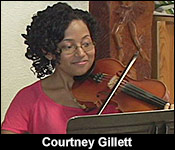 We've featured the talented violinist Courtney Gillett many times on this newscast, and tonight she's sharing her talents with the world as Gillett becomes the first Belizean to join the YOA Orchestra of the Americas not once, but twice. She is
The YOA is going on their 2016 Nordic-Baltic Tour, which will take them to countries like Estonia, Latvia, Lithuania, Poland, Sweden, Denmark and Germany. Gillett is known in Belize as a violin teacher at the Pallotti School of Music, She has a Diploma in Music Performance from the Associated Board of the Royal Schools of Music in London and a minor in Music from Xavier University in Cincinnati, Ohio. She's also an active member of the of the National Youth Orchestra and Choir of Belize.
She becomes the first Belizean to make the cut for 2 tours. She was first drafted back in 2013.
The tour is playing in Sweden tonight and then moves unto Denmark and Germany.
The YOA is a world-class symphony orchestra of gifted young musicians, between the ages of 18 to 30, representing 25 countries in the Western Hemisphere.

BCVI At 35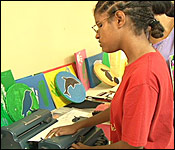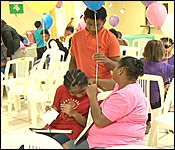 The Belize Council for the Visually Impaired held its annual general meeting this morning and used the opportunity to celebrate 35 years of existence.
BCVI has grown by leaps and bounds since it was founded in the early 80's and today they provide several essential services to the visually impaired, including everything from free eye tests to counseling and life training for the blind. And for the sighted, it's also a great place to get affordable eye glasses. Today we learned more about the role they play in the society as a non-profit organization that advocates for the visually impaired.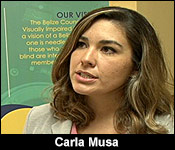 Carla Musa, Executive Director, BCVI
"Today we were releasing our 2015 annual report and so in addition to that, we're celebrating our 35 years of service to the people of Belize. We were very excited to share not only what we did last year but our various programs and how everything connects and why this service is so important."
Emanuel Pech
"Talk to us about the importance of having this set of services in Belize."
Carla Musa, Executive Director, BCVI
"BCVI is the only organization in the entire country that helps people who are blind or visually impaired. our primary eye care program is the first point of entry for any patient accessing and there's absolutely no fee to see the doctor in that program, because we are targeting people who need an eye exam, who can't afford private prices, who can't afford expensive glasses and encouraging them to come in. we also have a national diabetic retinopathy program so anyone who is diagnosed with diabetes who is not seeing an ophthalmologist should come in for the free screening services that we offer as well."
Emanuel Pech
"It's a nonprofit organization, so how does BCVI come up with the funds to really provide the services that they do."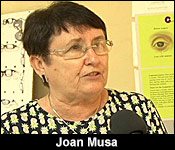 Joan Musa, Executive President, BCVI
"As I said in the beginning it was voluntary. We'd just do cake sales, BBQ sales, but we realized that that wasn't going to be enough. At that time there was far more interest in persons with disabilities and we got international funding to start many of our programs. However, last year we lost our main funders, Sight Savers International, who actually were instrumental in founding the organization as they left the Caribbean area to concentrate more on the African countries. So we depend very much on fees for services. We've got a small contribution from the government, national health insurance would provide some services through that and also for fundraising. So we very much appreciate anybody that can donate towards our work."
But apart from cheap and affordable, they also are the only organization that provides life skills training for the blind. We spoke a student who learnt how to read through the use of braille.
Maria Cal, BCVI Patient
"It's not the end of the world, I can still show people who I am, and I read in my class as well at school."
Emanuel Pech
"How did you learn to read?"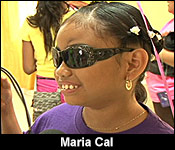 Maria Cal, BCVI Patient
"Well my teacher was Miss Lisa, because at first in Std. 1 and Std. 2, I was stuck, I couldn't even read a word, not a letter I could read. I was not good at reading, but then I juts practiced and practiced until one day I got better at it."
Emanuel Pech
"Now you like it?"
Maria Cal, BCVI Patient
"Yes, I love it."
Carla Musa, Executive Director, BCVI
"I think that what happens is that a lot of people with a diagnosis like that juts lose hope. Part of our mission is to ensure that even those people who cannot get services from us in the eye care or eye health program are given an opportunity for counselling, for training and how to use a cane, and how to adapt a new lifestyle as being blind. That is something that we feel is extremely important to the success of that individual and of our society."
BCVI was established in 1981.

The Plan For Cayo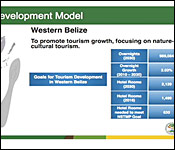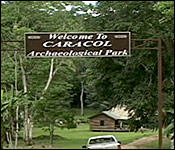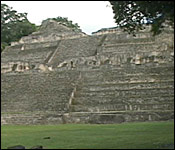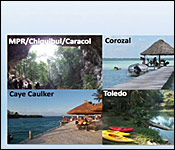 Last night, we showed you the Ministry of Tourism's Launch of the Corozal Tourism Destination Development Plan. It's part of an IDB funded called the Sustainable Tourism Project II (2), in which the Ministry is trying to boost traffic to emerging destinations like Corozal, Caye Caulker, and Toledo, which have attractions, but aren't as well-known as the blue chip tourism destinations like San Pedro, Placencia, and the Cayo District.
Well, the Ministry says that though Cayo's Rainforest Lodges and rivers may be a mainstay for visitors, the district's lesser known attractions need more attention. That's why today, they launched the Destination Development Plan for that District. It focuses on the sites such as Chiquibul, Caracol, and the Mountain Pine Ridge area, and today our News Team went to San Ignacio to find out what they intend to do improve these areas. Here's what the experts told us today:
Terry Wright, Program Manager - STP 2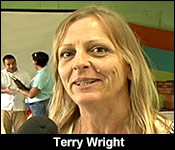 "Caracol in particular was identified in the national sustainable master plan as being the iconic anchor sign for Belize and fro the western part of the country. From day 1 we knew that we needed to put some kind of investment into Caracol. we will be upgrading the facilities there, particularity looking at water and just the basic infrastructure really, but it's the needs about that water is a particular problem, looking at alternative solutions for energy and then upgrading the facilities that are there so we can increase the visitor experience, the value for money and so forth."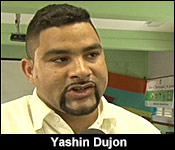 Yashin Dujon, CEO - Ministry of Tourism
"The STP2 destination development plan for Cayo focuses not only on Caracol but also on Chiquibul National Park, Chiquibul Forest Reserve and the Mountain Pine Ridge. It treats all 4 protected areas as one tourism destination that is going to make critical investments in to develop for tourism use and further development. There several challenges, I think that road access was brought up here at this meeting and we intend to address it although we may or may not have concrete budget to complete it. There are other challenges that happened with security, maintenance of tourism infrastructure in the area with low utilization, so we intend to address all of those matter from here on out to see how we can improve usage and infrastructure development in the 4 protected areas. STP1 focused in developing 4 of these traditional tourist destination areas. STP2 now is focusing on the emerging destinations areas that we intend to develop. So a launch was held last week in Corozal and in Toledo as well. We're hosting one here today and one will be hosted next week in Caye Caulker. The focus on these emerging areas is to put the investments in place to facilitate tourism growth, to help with the expansion of the development within these areas."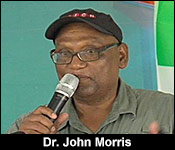 Dr. John Morris - Director, Institute of Archeology
"The Cayo district, extremely rich diverse environment. People call it the Mecca of Tourism, people say you come to Belize, you go to the Cayes or you come to Cayo and that's it. Now it's Placencia I think and PG too. Hopefully by time this STP2 is over we're going to have Corozal and other places."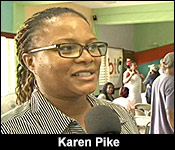 Karen Pike, Director of Marketing - BTB
"For the country, Cayo is the number 2 destination for tourism and with that we realize that it's very important to marketing and to development. Therefore Belize tourism board definitely puts a lot of effort and emphasis on this region."
There is one more Destination launch planned for Caye Caulker on Next week Monday night.

Off to The Olympics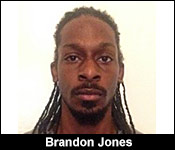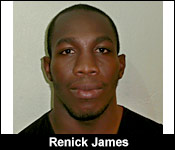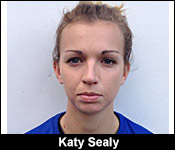 The Belize National Olympic Committee has announced that Belize is sending three athletes and four officials to represent Belize in two disciplines at the Rio 2016 Olympics.
Renick James will compete in the Judo - 90 kilogram while Katy Sealy will compete in the 100m Hurdles and Brandon Jones in the 200meters.
Accompanying the athletes are Judo and Athletics delegates Franz Menzies and Deon Sutherland along with Athletics coach Denis Costello. Team Belize will travel to Rio on Monday, August 1st, 2016. Renick competes on August 10th while Katy and Brandon compete on the 16th.
Brandon Jones will be the flag bearer for Belize at the Games of the XXXI Olympiad.

Dara Ride's For Hunger
If you watch the news with any regularity, you know grassroots philanthropist Joel Dara Robinson. He runs a feeding program for needy primary school students all across Belize City. He usually depends on generous donations, but to get additional funding, he's come up with his annual Bob Marley and Lucky Dube Reggae Tribute Concerts, and his Ride For Hunger. That ride takes place Sunday for the 5th year now, and spokesperson Kwame Scott stopped by to tell us why they want you to come out and ride with them:
The proceeds of the 10 dollar registration fee will go toward funding Dara's Feeding Program.

Home | Archives | Downloads/Podcasts | Advertise | Contact Us