Fatal Shooting Happened During A "Wet Drop" Crack Down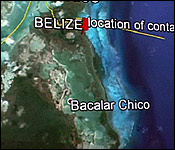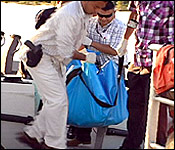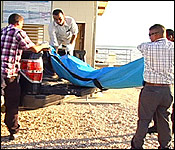 Tonight 6 men are detained as the result of a police sweep of Northern Ambergris Caye. This is part of an operation that was launched over the weekend to crack down on illegal narcotics activity on the north end of the island - due to increased "wet-drop" activity. Yesterday the law enforcement operation resulted in the fatal shooting of Peter Castillo. He was shot by the Coast Guard who say they were forced to fire after he pointed this pump action shot gun at them - as seen in the san Pedro Sun.
Today his family came from Punta Gorda to Belize city for the post mortem and his aunt spoke to Daniel Ortiz:..
Alfonsa Castillo, aunt of deceased
"Listening to the news last night when they said Peter Castillo, I immediately call his father in PG who is my cousin and I ask him if it's true and he said yes my sister, that is how we greet each other because we are old. So he said yes my sister, its Peter. So I ask what was Peter doing in San Pedro and he replied that he went to look for a job."
Commander Elton Bennett - Vice Commandant, Belize National Coast Guard
"The Coast Guard identified three armed men approaching the Patrol Habour location. The patrol sentry then verbally challenge the three armed men that were approaching the area and instructed them to stop and put down their firearms. Two of the men turned away and escaped whilst the third who was armed with a shotgun, raised his shotgun as though he had intensions of engaging the patrol. One of the member of the patrol then open fire on that individual fatally wounding him."
Daniel Ortiz
"Does that sound anything like the Peter you know?"
Alfonsa Castillo, aunt of deceased
"Honestly, no. On a whole Peter was raised by my mom which is his grand aunt and you know raising up with your grandmother, you will listen. So, Peter was well brought up. So, at the end of the day I don't understand how Peter reached San Pedro or how he got into what happened to his yesterday. Honestly I don't know."
Daniel Ortiz
"Was he hanging out with anybody that you know of is that is on strange character that you would not approve of?"
Alfonsa Castillo, aunt of deceased
"No, not that I know of."
Commander Elton Bennett
"Patrol commander reported that this individual who got shot, of the three men, he was the one who raised his firearm as though he had intensions of engaging the patrol. It was for this reason that that individual got shot. The other two turned their backs and fled. They fled in the opposition direction away from the patrol and for this reason, the patrol did not engage the fleeing men."
Daniel Ortiz
"Do you believe the story that the Coast Guard has presented?"
Alfonsa Castillo, aunt of deceased
"No, I don't."
Daniel Ortiz
"What causes you to doubt their version?"
Alfonsa Castillo, aunt of deceased
"Because the understanding that I got from his older brother who is in BDF, he said when he went to the morgue his hands were up, like he was surrendering. So, how could they shoot a man who is surrendering? That's my thing."
Daniel Ortiz
"So you concede that the times when you guys weren't around, he could have been participating in illegal activities? Do you concede that, because you don't know for sure."
Alfonsa Castillo, aunt of deceased
"Well I won't put my head on the block because when you have your loved ones who anybody who you are familiar with around, they show you a different picture. But, honestly I believe Peter is not that kind of person. I guess he was following friends or something of that sort. That is all I could say; he must have been following friends."
Commander Elton Bennett
"This is the first time that the Coast Guard has come in contact with this individual. We understand that the police in San Pedro, for some reason, had some contact with him a few weeks ago."
Witnesses in the area told the Sun that over a dozen shots were fired and they are looking for the persons who were with Castillo to charge them for attempted murder.
Presently, the activity called "playar" - or beachcombing is very active because of recent cocaine drops - or wet drops in the area. Every day and night, playadors or beachcombers from two San Pedro based drug camps scour the beach at the north end for any floating parcels of drugs.

Guatemalan President Arriving In Belize For SICA Summit
The President of Guatemala Otto Perez Molina arrives in Belize tomorrow morning at 7:00 am via helicopter for the 44th Summit of the SICA Heads of State. He joins the Presidents of Nicaragua, Honduras, Dominican Republic and Panama along with heads of delegations for Costa Rica and El Salvador.
The one-day Summit commences at 8:45 am at the Belize Ocean Club in Placencia where Belize will hand over the pro-tem presidency of SICA to Guatemala. Matters to be dealt with in the summit include the migration of unaccompanied minors to the United States, regional security, and climate change, among other topics.
The meeting of the council of ministers of foreign affairs was held today in Belmopan.
The Heads of State are arriving at the little used Riversdale Airport where we are told civil aviation, customs and immigration have set up makeshift operations while the management of the PGIA is sending a fire truck there for tomorrow.

Thyrel Hyde: Burglary Suspect?
Thyrell Hyde - in late 2013 after he produced security camera footage showing police shaking him down in an Atlantic Bank ATM. But tonight Belmopan police say he is a key person of interest in their investigation of a major heist at an electronics store in the capital.
The burglary of Cellular World Belmopan happened between the eighth and ninth December when thieves got in through a window, turned the security camera away from them and stole 13 cell phones and other electronic accessories to a total value of twenty one thousand dollars.
Police have detained two persons and recovered a number of the high-end phones which were sold to unsuspecting buyers at prices just below market value. The cops say Thyrell Hyde is a person of interest who can assist them in their investigation but they have not been able to locate him. They are asking anyone in the public who knows his whereabouts to call 922-tips or the Belmopan police station at 8021404.

Ambergris Cop Caught Red-Handed In Extortion Sting
On Friday, we told you about the cop who was caught red handed in an extortion sting. Well, Police Constable John Arana has been arrested and charged for extortion. Arana told a San Pedro businessman that he could fix a civil matter that was pending against him in court. Apparently the businessman had some unpaid grocery bills - and Arana allegedly said he could make it go away - for a fee. He asked for 1,200 dollars, and the businessman gave him seven hundred. But when he got the second payment, of five hundred dollars, the bills had been marked and photocopied and police were waiting to pick him up as soon as he had collected it at Mamacita's Bar on Friday morning.
Today, Deputy Commander for Eastern Division Edward Broaster, was asked about him at a press conference held today by Police. He couldn't give us any specifics on the corrupt cop, but he said that this should put police on notice that even though the Department cannot control their actions while their out in the field, they will be dealt with harshly:..
Sr. Supt. Edward Broaster, Deputy Commander, Eastern Division

"Police officers in a whole must be reminded of their mandatory duties and I know of a case where someone came and made a report that a police was extorting them and this was basically the police, bidding the business of the complainant against the defendant as pertains to damages to a business in a traffic accident. We placed that officer on charge for prejudice to good order and discipline. I am not talking about the case in San Pedro. I am talking about another case of which I was told that it may be similar to the one in San Pedro. For those officers who would be as you said, wanting to extort the members of the public, they will be dealt with very seriously. We have zero tolerance for those type of behaviors and in our daily briefings we been advising our officers to act professional and carry out their duties responsibly."

The Perils Of Unprofessional Police Behavior
And while, we had the chance, we asked him about another bad cop who continues to do time in Prison. He's Police Constable Randolph Scott, the officer we told you about who was sentenced to 2 months in prison for sexual assault which he committed against one of his colleagues, a woman constable.
Now, that is embarrassing enough, but during the course of the trial, reports emerged that drinking on the job, and drinking while on the Belama Police Station Premises was a contributing factor of the assault.
Broaster responded to that as well:
Sr. Supt. Edward Broaster, Deputy Commander, Eastern Division
"I think that case speaks for itself. A lot of times people would say that we cover for each other, but that in itself is another case where we are very transparent and above board in discharging our responsibilities and not because it is a police officer we would not do a proper investigation or cover up any sort of wrong doing whether its against a member of the department or member of the public. We have had instances where we have discipline officers as it pertains to drinking whilst on the job. As a matter of fact we are investigating two officers right now that were actually on duty and purchasing beer. Unprofessional behavior is a zero tolerance here at the Eastern Division and we are ensuring that we deal with every complaint and everything that comes to our attention."

Police Christmas Patrol In Operation
But, to ensure that the spike in criminal activity that inevitably accompanies the holiday season is contained, the Eastern Division has stepped up their presence by putting more officers on the ground, especially in the business areas of the city.
Broaster told us that they're doing all they can to stop thieves from operating, but you need to do your part too:
Sr. Supt. Edward Broaster, Deputy Commander, Eastern Division

"From the 15th November, we have stepped up the security for the anti-Christmas crime campaign. If you drive around the city you will notice that we have officers almost at every corner of the city. The rapid response of the police to any reports of crime and so forth has been significantly increased. And we want to encourage the citizenry to do their part in securing their belongings. Just yesterday, a lady was texting walking with her purse under her arm and someone came and grabbed it. We need to pay attention when we are about the city walking and don't present the opportunity for the criminals who are lurking around at the very opportunity to rob or thief anyone. We want to encourage the community to do their part. We are doing our part."
This increase in police presence will continue into next month.

UDP Vs PUP In Cayo North: Round 1
Yesterday San Ignacio was the stage for much political scenery - when the UDP and the PUP turned things up for nomination day. Both sides brought out crowds, and both of them relied on out of towners to populate the parades. But tonight the PUP is crying foul: they say that UDP Candidate Omar Figueroa brought in support not only from out of town, but out of the country. The PUP campaign today sent us these pictures, which show persons wearing Omar Figueroa shirts coming across the border for the rally. You could say they were caught red-shirted, but seasoned political observers will tell you that as odious as it may seem, bringing in supporters, and, yes, even registered voters, from across all borders happens a lot during elections.
It's just one issue springing out a local campaign that's garnering national attention because on the verge of a municipal election season, the Cayo North by-election is seen as an important heat-check for both parties.
As we showed you yesterday, the contrast in political cultures was very distinct: the PUP supporters were more reserved, while the UDP loyalists were dancing in the street.
But that isn't the only contrast: there is also a contrast in styles between the candidates. Both are well-educated sons of Cayo, but Figueroa is a wildlife expert while Harrison is a businessman. Harrison is also an ideas man, regularly putting forth ad hoc policy papers on business and governance. But while he's for business, yesterday he told us that he wants to take the PUP back to its working class roots:..
Richard Harrison, Nominated for PUP Cayo North
"We need to bring back the People's United Party and hand this country back to the workers of Belize. That's what I want to do here. That's the reason why I am here. This party has to return to the working men and women of Belize and this is where it starts in Cayo North."
Indeed, the PUP did come out of the labour movement - but Harrison also advocates for the private sector - and the neo-liberal position he has publicly adopted on GST exemptions doesn't quite seem to square with working class needs:..
Richard Harrison, Nominated for PUP Cayo North
"This thing has a lot of exemptions to it. Over 35%-45% of the consumption of the country is being charged GST and the balance, the majority of consumption is not being charged GST. So, this causes a major imbalance in the distribution and the revenue source. So what I had proposed and very clearly so, is that all taxes should be lower and they should be balance across all shoulders equally. That's something that we need to do to create a fair and balance distribution of wealth in the country."
Jules Vasquez
"Sir, but some shoulders can't take it, that's why the exemption for things that poor people very sadly have to eat, ramen, sausage - that's why those things are exempted. But you are saying those should not be exempted?"
Richard Harrison, Nominated for PUP Cayo North
"The assumption that you are making is a false assumption. It has been proven. The government of Belize in April 1st, Aprils Fools Day 2010, they said we will lower the cost of living no matter what. Remember that? And then they proceeded to lower the import duties on certain goods, destroying my business too and removing GST on a lot of items including ramen, destroying the rice industry, forcing people to eat ramen instead of rice. So, the lowering of these things, the exemptions of these things does not cause reduction in cost of living."
And in an effort to make this one just a little more interesting we've cut together a few positions and counter-position taken by both candidates. Sure, it's not as much fun as Boots Martinez and Gilroy Usher going at it on the sidewalk - but it's the best we could do early into the race:..
Richard Harrison, Nominated for PUP Cayo North
"Now, I have come up with a strategy; a tripod. It's basically the growing of the value of the tourism of our area. The growing of the agri-business, mining and forestry area and then the creation and growth of the service sector in health, education and technology."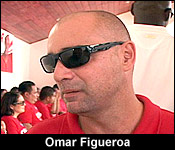 Omar Figueroa, Nominated for UDP Cayo North
"They are not asking for 5 star hotels and to sell this building and all kinds of empty promises. They want some tangible, concrete promises."
Richard Harrison
"First of all we haven't promise anything. What we have done is created a draft plan of ideas. This is completely different. The people of Cayo North are not use to getting a representative that ask for their vote and at the same time give them a menu of different potential things that we can do to develop the area."
Omar Figueroa
"It doesn't make any sense for me to come to them with a 5-10 year plan. This bi-elections is for 2 years and after this two years, they will decide whether I are meeting what their needs are or whether I am not."
Richard Harrison
"But the thing is when we reach to government we will have people behind our plan and that's completely different. The other person doesn't have a plan."
Omar Figueroa
"I mean no disrespect to him when I say that he is irrelevant in this fight."
Richard Harrison
"We are walking the streets and we are visiting the homes and that's where we will win."
Omar Figueroa
"I won't come and tell you what I think will happen on January 5th, but I am telling you, some people in this country will have a rude awakening."
Richard Harrison
"This is not an election only about Cayo North. This is an election that will have impact on the municipal elections and also on the general elections to come. So, this is the first domino that will fall and we will deliver this seat on January 5th."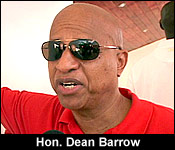 Hon. Dean Barrow, Party Leader - UDP
"January 5th, the start of the increase in momentum. March 4th, a continuation in that increase of momentum and that takes us straight into a general election victory."
Municipal elections are set for March fourth.

Emmanuel Willoughby Still On The Run
Police have several leads on the location of Emmanuel Willoughby but none have proven successful. As we reported last night Willoughby cut a hole in his cell door and escaped from the Belize Central Prison early Saturday morning. He is still on the run and has relatives in Libertad village in Corozal, Belize City and Georgeville village in Cayo.
Police advise the public to be vigilant and to call 225 6229 or 610 4805 if Willoughby is seen.

Family Protests Against KHMH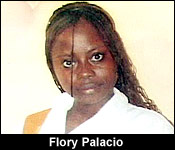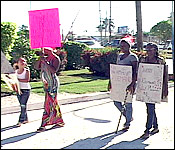 A protest was held in front of the KHMH today. It involved the family of 19 year old Flory Palacio - who died on the 27th of September - after being hospitalized for 7 days at the KHMH where she was being treated for Tuberculosis.
Her family told us today that numerous tests were conducted on the young woman for TB and all came back negative. When a medical letter was requested from the hospital in order for Palacio to get medical treatment abroad, the family claims they were denied. Palacio died shortly after and her death certificate stated that the cause of death was Hodgkin's lymphoma - a type of lymphoma, which is a cancer originating from white blood cells. Today her family came together to demand her medical file to do their own investigation.
Lylette Barkley Waight - Grandmother of Flory Palacio
"I came in and I had concerns and questions even of her treatment while she was undergoing treatment. I was out of the country. So, when I came in, I decided I would come in and request a copy of her medical records. I did that on November 17th, a written request. At that point, I was told to come back in a week. When I came back, I was told that the report was being prepared and I said I did not request a report, I requested a copy of the medical files. I was sent upstairs. I went upstairs and I was told Dr. Coye was preparing the report, but he was busy and was unable to complete it. Again, I stated my case, that I did not request a report. I requested a copy of the medical files or the docket as they called it. That got turn around, I then got a called saying that Dr. Coye wanted to review the files with me. I came in. When I came in, it was Dr. Coye and the quality assurance person and I was being told that they don't normally do this. They don't normally give records to people. I listen very quietly and obediently and at that point I indicated to them that it is the family's legal right to get a copy of the medical records. I decided to go into war mode because I will not be pushed around any longer. This is our right to get and I will accept nothing less than a full copy."
"Now, when we had the review, the file was incomplete. We had from 1995 - July of 2014, her admission in September and her consequent death was nowhere in the file, nowhere in the docket. So, I want a complete copy of her docket and that's what I am here for."
Monica Bodden
"Her death certificate stated what was the cause of death?"
Lylette Barkley Waight
"Hodgkin's lymphoma."
Monica Bodden
"She was being treated at the KHMH for what?"
Lylette Barkley Waight
"Tuberculosis. Yes, tuberculosis."
Monica Bodden
"I understand that you were trying to get her out of the country for treatment and she was denied a letter from the KHMH for her medical visa?"
Lylette Barkley Waight
"Yes. We had a doctor in North Carolina, that was willing to take care of her free - pro bono - free. All we needed was for her to get letter stating her condition so she could have taken it to the embassy and get a visa. The mother was denied that letter because she was told that the child has tuberculosis and the embassy will not give her a visa. Now, there is nothing at all that says tuberculosis. There is no positive test results that says tuberculosis. And when somebody will look at me and tell me I was hoping it was TB - I don't want to hear that. We don't operate on hope. Not in the medical field. I will even go a little further and tell you, in the early stages when she was sent to the chest clinic for a treatment for TB, the chest clinic said we can't treat her for TB because we have nothing showing she has TB. They tested Flory again, they test Norilee, the sister, her Erneice, the sister, Nevhan, the brother and Juanita, the mother. Nobody had TB, but yet she was being treated for TB. And don't tell me TB can hide. Don't tell me that because that is illogical. But I'll tell you one thing; there is a lymphoma that masks itself like tuberculosis. I did that research. I found that out and I sent that information to Juanita. But because Juanita is a young lady who is a humble person and looks up to authority, when they tell her she doesn't know what she is talking about or ask if she thinks she is a doctor - all that did was shut that mother down."
When we last spoke to the family this evening, they still hadn't received anything. They plan to continue the protest tomorrow.

Westline Purchased D&E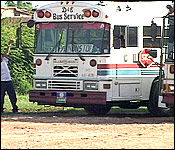 Commuters along the western corridor can expect some changes with D and E Bus Line out of Benque Viejo. That's because it has been bought by Westline Bus out of San Ignacio. The owner of Westline Sergio Chuc told us how it will benefit commuters:..
Sergio Chuc, owner - Westline

"It means improvement in the services because we know that D&E was going through a little crisis. You could see equipment was deteriorating. I am at liberty to discuss the details of their financials, but they needed to get out of the business and I think we have an excellent management crew that can take it over. We took over the operations on Saturday and we already introduced a new bus to the government workers; the ones that were complaining the most. So we had a nice bus that was put out for them this morning. By the end of the week we will put out another run and hopefully in January we could bring 2-3 more on board. So, the service is definitely going to get better. If the people from Belize City, if they had passed through Caribbean Tires today, they would have seen that several of the buses that were there changing tires and getting service, so that we could be more reliable."
The acquisition was finalized on Friday and Chuc says he has already changed tyres on the D and E busses.

Omar's Camp Were All Belizeans
Before we could say "Belice es Guatemala" - we got a call from UDP candidate Omar Figueroa's camp saying that the persons we showed wearing his shirts and crossing the Belize Guatemala border were crossing the border to the Melchor side were a combination of Cayo North voters who work in the Benque Free Zone and UDP's from Belmopan who used the outing to Cayo to take a trip to Melchor.

Unicorn International Sues GOB
Viewers may remember that infamous fraud case which shoved Bahamians Rohn Knowles and Kelvin Leach into the glare of the public lens. That's after they were accused with 4 others by the US Government of participating in a billion dollar scheme to defraud the government of taxes they should have received for securities trading.
During the initial stages of the operation to indict this men, Law enforcement from Belize conducted an extensive raid of their offices at the Matalon Building which resulted in the officers removing all the documents and items.
That happened right around the time when the Financial Intelligence Unit went to the Supreme Court to freeze the monies that these men and their companies had in Belizean Banks. At the end, the Chief Justice unfroze the finances after ruling that there was not enough evidence against them to substantiate it.
Well, Unicorn International Securities LLC, one of the corporate entities affected by this case, as conducted by local law enforcement, is suing the Government of Belize to recover damages. That case came up today for the first hearing, and we spoke to the attorney about why his clients want to press this case.
Michael Young, SC - Unicorn Securities Int'l, LLC

"On the 9th September, as everybody knows, the offices of these respondents were (if I may use the word) invaded by a team on behalf of the state and documents and items were seized from those offices. The matter of the freezing order which the chief justice ruled on, that is separate. We have filed on behalf of our client Unicorn Securities a constitutional claim for relief. What happened to them on that day, I am talking about the 9th September 2014 was devastating to their business and we contend that it was wrong, that it was unconstitutional and they are entitled to relief. Those relief includes damages, but they also include the return of the documents and items which has been seized. That file having been claimed, today was the first date of hearing and what happen id that directions were given for steps to be taken that would lead to the trial. But a part from that, we filed urgently an application for the immediate return of the documents and items that were seized and that order was granted by the court today. The order was made that the state needs to return those documents within 2 days of today."
Daniel Ortiz
"Have you clients discussed with you whether or not they intend to continue doing business if they should resolve this issue that is still hanging over their heads in the foreign jurisdiction?"
Michael Young, SC - Unicorn Securities Int'l, LLC
"That I am oblige to treat confidentially. Naturally, our clients will consult with us on several aspects of the case of what they intend to do and this type of thing, but that's confidential information between attorney and client."
The US Government believes that Unicorn is owned by Canadian Jim Can, who remains out of their reach at this time
We'll keep following the case, since this company's suit against the Government could result in public funds being used to pay an award of damages.

Treaty Energy Workers Criminally Charged
Treaty Energy - it's a licensed oil exploration operation in Belize, but we caught their drift very early on when they started sending out fantastical claims about bogus oil discoveries in early 2012. There was no truth to it, but the press releases were apparently calculated to drive up Treaty's share price.
Now, the Securities and Exchange Commission has come down on the company. News reports out of New Orleans Louisiana say that Federal regulators on Monday charged five officers at a New Orleans oil and gas exploration company with lying about striking oil in Belize in order to drive up the price of the company's stock, which was then illegally sold to investors.
The company's Houston attorney was also charged with helping facilitate the stock-trading scheme.
The Securities and Exchange Commission has filed a complaint in Texas Federal Court, accusing Treaty of putting out false press releases claiming drilling success in Belize and Texas to ramp up interest in unregistered stock.
It's consequential in Belize because Treaty Energy Belize is an oil exploration company that operates under the umbrella of Princess Petroleum.

Will The Petrocaribe Initiative Survive?
Keeping the focus on oil - what is the future of Petrocaribe? There's bene a lot of speculation that the programme will come to an end soon because with plummeting world oil prices, the Venezuelans just can't afford to keep it going. Last week we asked the Deputy Chairman of APBEL - which handles Petrocaribe in Belize - what the future looks like:..
Jules Vasquez
"Are they giving any indication at the official level that the program is under review or the program may have to be terminated because they can no longer sustained it?"
John Mencias, Dep. Chmn - APBEL (Alba Petrocaribe Belize Energy Limited)
"No, not terminated at all."
Jules Vasquez
"Downscaled?"
John Mencias
"Neither downscale. I have said before that if people are expecting the PetroCaribe program to last from now until eternity under the same terms and conditions, that doesn't make sense, because conditions are changing around. It will have to adjust to realities around it. But the commitment to a program like this that is reaching out to the region - that will continue in some form or the other. Venezuela might be going through some trying times right now. The whole idea is that we come together and cooperate with them, make adjustment on our side so that the program can get through this period of time and it can rebound and again, one of the important things with the barter is that it gives us an opportunity to provide Venezuela with something that they want."
The Reuters news agency quotes Venezuelan President Nicolas Maduro at a recent ALBA summit in Cuba that he wants to expand the Petrocaribe program of providing oil at preferential terms.
Maduro did not mention the impact of a 46 percent decline in oil prices since June.
He is quoted as saying, "Petrocaribe, what it must do at this stage, is consolidate, strengthen, grow and deploy itself with even more strength," end quote.

Fuel Prices Are Lowest In 12 Months
And the new fuel prices reflecting that low world price for a barrel of oil went into effect at midnight last night. It's not quite as low as our advance intel said it would be, but it is lower than it has been this year.
A gallon of diesel is now seven dollars and eighty eight cents down from eight dollars and sixty nine cents, while regular is down to eight dollars and thirty seven cents from nine dollars and twenty cents, and the non PetroCaribe premium is actually up, from 9.57 to 9.63.

Feeding The Needy And Spreading X-Mas Cheer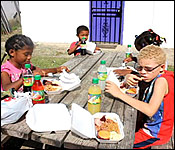 There is a one dimensional Christmas story that is mostly celebrated - that's the story about family gatherings and mass, decorations and gifts to spread that Christmas spirit. But how about the story of those who may not be able to experience all that? Today the St. John's Cathedral Soup Kitchen hosted a Christmas lunch for the needy and the coordinators catered for 450 people. Tanisha Camal, a resident of Pen Road told us how for her and many others, this lunch is Christmas.
Lillith Parks Sobernanis, Coordinator
"Well as you can see we are here with our soup kitchen. This is the soup kitchen from St. John's Cathedral. We have been operating since 2010, and so this is our 5th Christmas dinner, the turkey dinner which is very popular."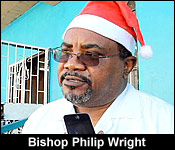 Bishop Philip Wright, Anglican Bishop of Belize
"Thank God as a ministry it's a ministry we have been able to keep going for several years now and it was an initiative of course to get the church more into the community to try to make a difference and thanks to some very faithful ladies especially, a few men too and some very generous members and other supporters, we have been able to keep it going."
Tanisha Camal, Pen Road Area Resident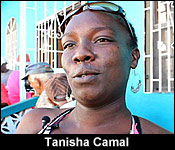 "It's a good thing the Bishop and the community did. A lot of people will eat this Christmas."
The St. John's Cathedral Soup Kitchen caters to about 300 people every Tuesday.

Vehicles Donated to Inspiration Center
On Wednesday we reported on the launch of the 2015 Inspiration Center Calendar that features the drawings of 12 children. And today the center is making news again. They received two wheelchair accessible vehicles from Taiwan. Kendra Griffith, Executive Director of the Inspiration Center tells us how this donation will assist them to reach out to more children with diverse abilities.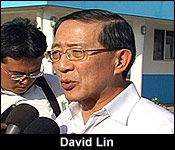 David Lin, Foreign Minister, Taiwan
"I'm very happy to be here to witness the handing over of these two special vehicles. As I mentioned earlier, we are really supportive of this project to help the children, women here in Belize especially in cooperation with Mrs. Barrow."
Kendra Griffith, Executive Director, Inspiration Center
"These vehicles that were handed over today really contribute to the provision of our services because you would find that often the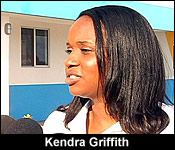 families of these children face severe financial constraints and these financial constraints don't allow them many times to access the basic services that they need. Sometimes healthcare services and even therapy services."
The 2014 El Dorado Aerotech 240 Bus along with the 2014 Ford E-250 van can carry 9 wheelchairs in all. Over 30 children will benefit from this donation.

Belize Among The Happiest Place To Live
Is Belize a happy country? Now if your answer is 'no' it might be because - based on a 2014 Global Report on Violence Prevention- Belize's homicide rates are listed among the highest in the America's along with Honduras, Venezuela and Jamaica.
Also, add to that the fact that over 40% of the population is below the poverty line - and the overall profile seems pretty grim.
But turn that frown into a smile, people! According to a World Happy Planet Index, Belize is one of the happiest nations in the world, ranking 4th on the list. The Index does not focus on crime rates or affluence but on the ecological foot print. This has to do with the level of human impact on the environment and according to this index Belize is doing a great job in reducing the negative impact on the environment. Other very happy countries include Costa Rica as the happiest nation in the world - which is plausible given that they renounced their military in 1948 deterring war and social unrest - followed by Vietnam, Columbia then Belize.

Police Put On COPS Play
When you think of police officers, the first thing that usually comes to mind is strict discipline and enforcement. Well, they're relaxing that image to put on a Christmas play in which they want to entertain you.
They're going to dramatize the different cultures they experience on a regular basis while putting a comical twist on it. The play is called Commissioner of Police Offering Peace to the Society, or COPS for short, and the officers put on their first production last year.
It's back again, and the Deputy Commander of the Eastern Division told us why you should come out to see these officers perform:
Sr. Supt. Edward Broaster, Deputy Commander, Eastern Division
"The Eastern Division is hosting its second Christmas Cop Show and the cops stands for Commissioner of Police Offering Peace to the Society. Tis show will be hosted at the BTL Park. It will be free of cost to the general public and we will be having some giveaways, drama, dance and what have you. Last year we had a snag with the giveaways and we ensure that this year we won't have any glitches as it pertains to the giveaways. So first persons that come will get their tickets when they enter BTL Park area and with that ticket we will do the raffle. No one person will have more than one ticket for the giveaways at the end of the show. The show promises to be dramatic and splendid show, dealing with issues affecting the society and the police and the community at large. One of the drama that we will be performing at the BTL Park is the life of a policeman at Christmas time and that promises to be a good drama and you will see the things that police officers go through during the time of Christmas, just in order to protect the citizenry in a whole."
The play takes place on Friday night at BTL Park.

Fire Victim Gets A New House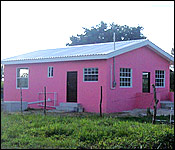 A Hattieville fire victim received a brand new house yesterday from the Hattieville Resource Center. 54 year old Eloise Hyde lost $50,000 worth of items when her house was burnt down on July 9th of this year. Her 8-year-old grandson was playing with a lighter and he lit a curtain on fire and it spread, destroying the structure. They have been living in a shelter for the past 5 months but now they have an opportunity to a new start with their 3 bedroom cement bungalow house. The house costs about 70 thousand dollars.

Home | Archives | Downloads/Podcasts | Advertise | Contact Us