The Holy Helicopter Cometh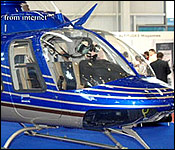 Finally, the Belize Defense Force will have its own helicopter. Since the pullout of the British Military Training unit in 2012, government has been going around cap in hand begging their partners in the US, the UK and Taiwan for assistance in getting a helicopter. But at eight to 12 million US dollars for one helicopter, there have been no takers, so now the Barrow Administration has found a multi-million dollar deal, for not one, but two helicopters - and they announced today that they are taking it. National Security Minister John Saldivar was the first to speak at a press conference this afternoon where it was called a glorious day for Belize:..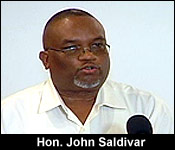 Hon. John Saldivar, Minister of National Security
"Our desire for a helicopter is about to become a reality. We were in discussions with the British, the US, the Canadians and the Taiwanese, however, none of these have borne fruit."
Hon. Dean Barrow, Prime Minister
"Now, what we are looking at is a cost of 4.1 million dollars for two refurbished helicopters; a smaller one and a bigger one."
Brig. Gen. David Jones, Commander, Belize Defence Force
"This is welcome news for the Belize Defence Force when it comes to fruition. It has been a vision for us for a few years now and the decision by Cabinet to make this a reality is going to be most welcome to the men and women of the Belize Defence Force. These two helicopters are Bell 206; a small one is the Jet Ranger; a bit larger one is the Long Ranger. These two platforms will assist and aid us in regards to troop transport to the various observations posts along the border, insertion and extraction of our troops because as you are aware our soldiers have to walk for days into the Chiquibul and other parts of our jungle to reach the conservation posts and having the helicopter will be able to insert them in a matter of two hours instead of 3-4 days. We will be able to do search and rescue missions. We will be able to do reconnaissance missions after a hurricane. When in times of natural disasters we will be able to assist NEMO and any other organization which includes the Coast Guard out at sea to do further reconnaissance and troop extraction."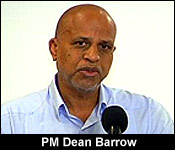 Hon. Dean Barrow, Prime Minister
"I am satisfied that subject to one final effort that will complete our comprehensive review of the air worthiness if you will, of these assets. I am satisfied that subject to that this is in fact a good deal."
Brig. Gen. David Jones, Commander, Belize Defence Force
"We intend to actually go and physically check the platforms. A mechanic and also a pilot, perhaps myself may go on this journey to physically look at these platforms and have the technical experts look at them and verify if it is worth the investment which means we will have physical inspection of the airframe, checks on the engine and check on the serviceability of these two platforms."
Hon. Dean Barrow, Prime Minister
"In the event that the physical inspection doesn't completely satisfy us, we would not proceed with the purchase of the two refurbished helicopters, but in that case government would buy one absolutely brand new helicopter at a cost of 5.68 million dollars."
To repeat what was said at the press conference, the Helicopters that are being looked at are BELL 206's - one a Jetranger and the second a Long Ranger.
They are being sourced from a Bell authorized agent in Miami, Florida. So, who's going to fly these things? General Jones says training is already underway:..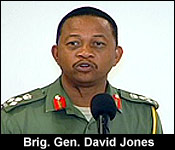 Brig. Gen. David Jones, Commander, Belize Defence Force
"We've already had 3 pilots that have gone through the Jamaica training course. They acquired 100 hours flying these helicopters already, so it's a matter of getting them the extra hours that they need to completely be able to fly it on their own. So within a 3 month period we will be able to have 3 pilots that are fully functional and capable of flying these aircrafts on their own."
Jules Vasquez
"And then you would have to train the mechanics as well."
Brig. Gen. David Jones, Commander, Belize Defence Force
"Yes, the mechanics, the training primarily we would be able to get it from our Caricom friend in Jamaica as well. We have other options in Canada and the US to provide mechanical training for them to repair these helicopters."
According to Jones, the annual cost of maintenance for the two helicopters is 280 thousand Belize dollars. He says two hundred thousand of that will come out of the annual budget that is currently set aside for renting Astrum Helicopters.

USA To GOB on Hunting Caye: Give It To The Gautes or Pay Your Own Way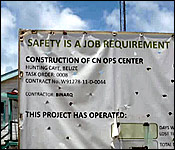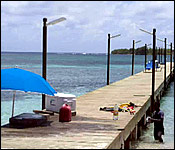 The other security issue of national importance, which was discussed at the press conference today, was the Hunting Caye forward operating base for the Coast Guard. As has been widely reported, the US Army Corp of Engineers subcontracted it out to a Guatemalan contractor named Binarq. After public uproar made that untenable the contract was cancelled and other options were sought. But, it seems no Belizean firm was big enough to meet what are known as the prequalification terms to be eligble for a US Corp of Engineers contract. So, the US gave Belize two choices. The Security Minister outlined them today:..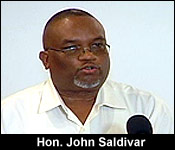 Hon. John Saldivar, Minister of National Security
"We have been advised by the US Army Corps of Engineers that at this point there are only two options for Belize; one, that the construction of the forward operating base continues under the existing contractual arrangements with BINARQ and no change in their workforce configuration. Option 2 is for the Government of Belize to complete the construction of the forward operating base. These two options were presented to Cabinet on Tuesday by my ministry and Cabinet has made a decision to go with option 2 which is for the Government of Belize to continue and complete the construction of the forward operating base."
Hon. Dean Barrow, Prime Minister
"I am perfectly happy with the decision of Cabinet that in the final analysis we should be prepared to spend the 1.6 million dollars to complete what is after all our forward operating base - our facility. That decision is not in any sense meant to be a rebuke to the United States of America. The fact is that in contracting with the Guatemalans, they did what the status of forces agreement signed by the last administration perfectly entitle them to do, so they can be no quarrel with them."
Mike Rudon, Ch5
"You said in your address that the decision by the government at this point to take it over is not a rebuke to the US. Have you thought that maybe it might be a rebuke from the US - maybe in light of the decision taken with the Ebola threat?"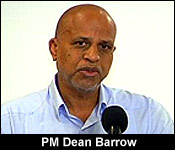 Hon. Dean Barrow, Prime Minister
"Hope I am not being naive, but I know that the President of the United States made this powerful speech saying that his policy is that right makes might and not might makes right. I take him at his word and I therefore am certain that one thing has nothing to do with the other."
But there is a caveat: the Guatemalan firm Binarq did contact the government today to discuss a possible compromise. Saldivar told us what is proposed:..
Hon. John Saldivar, Minister of National Security
"As of today though we have receive a subsequent correspondence from the Army Corps of Engineers that indicates that BINARQ might be acceptable and agreeable to some compromise. If we are able reach a compromise with them, the matter will be taken back to Cabinet. We are hoping that BINARQ will agree to some configuration which we will still have to take back to Cabinet, but it basically involves the employment of Belizean workers."

GOB Not Backing Down On Petro Caribe
So, government isn't flinching at that figure or at the 4.1 million US dollars for the helicopters. And why is that? Petrocaribe, of course! No doubt, the petro-bucks have the Barrow administration drunk in love with Chavvissimo. Except now, the PUP is trying to break up the party - by asking the Supreme Court to intervene and stop the government from borrowing or spending more Petrocaribe proceeds. But the Prime Minister says, the petro-bucks can't stop, won't stop:..
Hon. Dean Barrow, Prime Minister
"I believe honestly and with the utmost conviction that this challenge to the Petrocaribe program and this effort to stop the Petrocaribe spending is a case that the opposition cannot win either in the supreme court or in the court of public opinion. In terms of accounting for the Petrocaribe funds, we account not just to the Belizean people, we account to the Venezuelans. They were here 6 months ago and did a complete evaluation and pronounce themselves, my word not theirs, "ecstatic" about the fact that the program is so absolutely well-run, so impeccably run in this country."
Jules Vasquez
"Are you concerned though that in fact there has not been a public accounting of these funds other than word of mouth?"
Hon. Dean Barrow, Prime Minister
"Well as we made clear, we've never concealed the fact of the funds. In deed we have spoken repeatedly about the funds and all the good work that those funds in fact finance. People of course are able to see the infrastructure, the social programs and so there can be no doubt in anybody's mind that Petrocaribe monies are being put to first class use. Naturally, the budget talks about Petrocaribe, but there cannot be the kind of line-by-line listing of every program that Petrocaribe monies fund. What we do know, what is clear and I invite you to have an extended session with the financial secretary who will confirm that there is no spending that this government does of Petrocaribe money or any other monies unless the proper procedures are followed and we both double check to ensure that there is no spending that cannot be properly accounted for."
The media had a wide ranging discussion with the prime minister today and we'll have more of it a little later on in the news.

Eastern Div. Strike Team Stops Robbery In Progress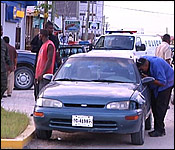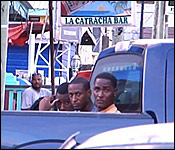 You probably haven't heard of the Eastern Division Strike Team - but they're making news tonight after the impressive and swift apprehension of a carload of alleged armed robbers.
Here's what happened: at a few minutes after 4:00, a pair of robbers held up a Chinese Grocer store on Albert Hoy Street. They escaped in a small green car, which was waiting for them. The Eastern Division strike team sprang into action and intercepted the car on Coney Drive a few minutes later.
They stopped a green Geo Prizm with four men inside. Inside the car, police found the bag containing the money and also a .38 revolver loaded with live rounds.
The men match the description of the suspects in the robbery and all four have been detained pending charges for robbery, and keeping an unlicensed firearm and ammunition.

CHIK-V: From CARPHA To CDC
Last week we told you about the four suspected cases of Chikungunya coming out of the Belmopan area. As we told you on Friday, it's down to two suspect cases, since two of the women have since tested positive for Dengue. But we've been waiting now for two weeks for the test on the most suspect case to come back from Carpha in Trinidad. Well, things have changed: now it's coming from the Centers For Disease Control in Atlanta. How did that happen? Well CARPHA tells the Belize Ministry of Helath that it's been inundated with requests for tests on Chikungunya from other countries so it was forced to redirect the Belize sample to the CDC. Still, they expect the result to come back by the end of this week. We'll keep you posted.

Major Suit For Government
4 weeks ago, we told you about the lawsuit that Belize City resident Allyson Major Sr. is bringing against the Attorney General and the Police Department. He's seeking an award of damages for the ordeal he experienced while he was wrongly accused of being in possession of a weapon. He's also seeking the get the Supreme Court to strike down sections of the Gun Laws, which have been oppressive and punitive.
As we've told you, back in April of 2012, Police seized 2 weapons from a Peter Seco Street home, where 6 persons were charged and remanded. Fortunately, one of the defendants, a resident of the house accepted guilt, but those other 5 did not get an automatic acquittal. Major, who has a visiting relationship with the woman of the house, protested that he knew nothing about the weapons.
Still, he was arrested, charged, arraigned and remanded based on faulty police intelligence, and he was held in custody for 38 days. He was forced to stand an entire trial before his freedom and reputation was restored to him after being acquitted.
Major contends that he has been forced to endure that ordeal at the hands of the police and the Government which was responsible for the draconian amendments to the gun laws. His case was called up for a brief first hearing today before Justice Michelle Arana. We spoke with them outside of court afterwards, and here's what they told us:
Anthony Sylvestre, attorney

"The matter was disposed of after the persecution close its case. That took place sometime last year in November. We've brought this claim to the Supreme Court claiming damages - exemplary and aggravated damages for various of breaches of Mr. Majors constitutional right. In particular, his right not to be charged unless there is reasonable suspicion. As the public is well aware the provisions of the firearms act allows a person to be charged when apply even if that person in real sense may not necessarily have had any knowledge of the particular ammunition of firearm and therefore they may not have been any reasonable basis for that person to be charged. In the case of Mr. Major, he did not live at the residence, he was not even present and that notwithstanding he was still sought after a group of persons who were present were charged, taken to court, one pleaded guilty and so in all the circumstances we see how the application of the firearms act causes grave injustice to a citizen and in deed any individual who actually in is the country of Belize."
Allyson Major Sr.
"I wasn't at the house, I didn't live at the house. I have a relationship with the woman yes I do and I just go back and front. At the time of the search I wasn't there and I sew the complaint on the TV, so I went to the police station and ask them what happen, they say you are under arrest and from there to the courthouse to the prison and I spent my time there until I get a supreme court bail."
Daniel Ortiz
"The police at any time try to discuss with you how it is they would tie you to this weapon?"
Allyson Major Sr.
"They just brought me from the station to the courthouse."
As we've reported, the Government recently made amendments to the Crime Control and Criminal Justice Act and the Firearms Act, which were passed into law. These amendments were supposed to alleviate the problems created by the flawed gun laws. Before it was given the Governor General's ascent, Sylvestre told us that in practice these amendments do nothing to help the innocent citizens charged with firearm offences. We asked him to explain today, and he said that those citizens still aren't allowed to get bail during their arraignment. This, he said, was a huge oversight by the legal draftsman:
Anthony Sylvestre, attorney
"The provisions of the crime control and criminal justice act which restricts bail for a series of offences which includes firearms related offences. That was not in my view and certainly in the people opposition view and indeed any other Belizeans - that it was properly and thoroughly addressed. What was provision to the crime control and criminal justice act, it allows now for a person who may be regarded as being a person of good character and doesn't have a previous conviction for their bail to be brought up a little earlier, but here is the thing; a person still has to be arraigned before the magistrate court, still will be remanded, still has to make application to the supreme court and when his application is made, his attorney has to write the court and ask that his bail be brought up earlier than the required 10 working days which would amount to at least 14 days. So the amendment doesn't fully address the concern which was being raised that you have people who ought not to be arrested and who as a consequence of the harshness of the law are still remanded in prison. So people are still being remanded and they still have to find monies to employ an attorney and apply for bail to the Supreme Court. So you could answer the question for yourself, does that address the concerns? Certainly it doesn't."
Allyson Major's lawsuit goes back to court on November 27.

Cops Captured Drinking Dos Equis
A picture is worth a thousand words. And one image that has attracted quite a negative response is one of two police officers - who were allegedly off duty - drinking Mexican beers at the Benque Free Zone. Now, many might say that police officers like government workers and teachers have a personal life too but not in uniform. We spoke to ASP Daniel Arzu, the officer commanding the Benque Police Formation today about the incident and he says he is well aware of the situation and disciplinary actions have been taken against both officers. He lamented the media exposure.

Titan Securities Case Still In Chambers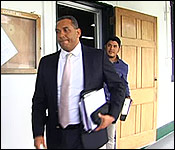 For almost the entire day, Chief Justice Kenneth Benjamin was busy with the billion-dollar securities fraud case which has made it to the Supreme Court due through the efforts of the Financial Intelligence Unit.
The convocation of legal eagles representing the 6 men and the 6 companies indicted by a federal court in New York were back in court on Tuesday. They were dealing with preliminary issues that have emerged in the case. They all returned today, and will be back tomorrow for the continuation of the in-chambers hearing.
So, what's being discussed in these hearings? Well, we can't tell you because at this time, the media is not allowed to sit in and listen to the progress of the trial.
The last we heard was the Financial Intelligence Unit was trying to convince Chief Justice Benjamin to freeze the local bank accounts and funds connected to these 12 defendants. That was last week Tuesday.
This case holds great importance it is the first time that securities and penny stock fraud, US white collar crimes, are being prosecuted in Belize, which has no such laws against it.

The Strange Sonic History Of Naguya Nei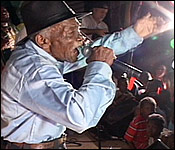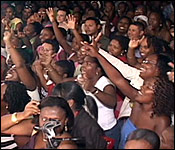 Tonight in Punta Gorda preparations for Paul Nabor's funeral are going into high gear - or as high gear as laid back Punta Gorda gets. And tonight at 7News, we continue our examination of his peculiar legend. As we told you last night - his body of recorded work is incredibly small: there are only about three songs on one album that are commercially available - maybe collectors have a couple more from earlier years - and his friends have songs they just recorded at his home, known as The Temple.
But the recording of his most famous song is kind of an accident - not in how it happened - but in how it came out. Producer Ivan Duran who made the recording at Diamond Studios in Belize City recalled for us the recording quirk that made "Naguya Nei" a timeless classic:
Ivan Duran, Producer - "Naguya Nei"
"Naguya Nei has to be one of the most beautiful Garifuna songs ever composed. It's just a song that from the first moment you hear it you know it's something special and it touches your heart."
Jules Vasquez reporting
It is a feeling and a sound well known to anyone who's heard the song live - where this is the usual crowd reaction to the opening notes. So beguiling, so gentle yet persuasive, so masterful - yet you'd be shocked to know those opening chords are actually a mistake:
Ivan Duran, Producer - "Naguya Nei"
"That hook on that song on the guitar, the way it starts "dang ding don ty ty thon kong" - that was Nabor tuning his guitar. That's the way he would like start most of the songs and he would be tuning his guitar and I decided to ask him to keep that hook throughout the song. Usually he would start right away and I'll never forget that moment because not only the song, but musically that little hook is something that every single somebody in Belize recognizes even before he start singing and that almost happen by accident. If I had not heard him tuned his guitar that moment, probably would have missed it."
And so instead of a miss, it is a hit - of sorts, but properly put it's an anthem known loved and sung by not only the Garifuna but all Belizeans:
Ivan Duran, Producer - "Naguya Nei"
"And I am sure that will be remembered of as an iconic musical moment for Belizean music and Garifuna music."
We spoke to Duran via face-time from Montreal Canada.
There's still much more about Paul Nabor's legend ahead on 7News tonight as we talked to a pair of good friends who told us 7 things you never knew about him - including how he learned to ride a bicycle at the age of 76 - and how he got his stage name Paul Nabor.

Gov't Services Are Going Electronic
Last night we told you about the Lands and Survey Department Sweep in ORANGE WALK to solve those long standing land issues. Well, government departments are following the trend of improving services to the public by installing e -government services. This means no more long lines and patiently, or, as the case may be, impatiently, waiting on applications to be processed. We found out more today at an e government conference.
There are several projects being implemented under this service such as the license and permit system.

Midway Village Writes PM; Declares Support For Oil
In August, we told you how the Mayan Buffer Community of Midway joined Sunday Wood Village as the only indigenous communities who have openly declared that they support oil exploration in the south around the buffer communities. That's following a meeting with the District Association for Village Councils (DAVCO).
Well, in case there is any confusion, the Alcaldes wrote a letter to the Prime Minister 2 weeks ago, on October 17.
In that letter they say quote, "We the Alcaldes of the Village of Midway... officially informs the Government of Belize that (neither) the Sarstoon Temash Institute for Indigenous Management (SATIIM)... The Maya Leaders Alliance (MLA), nor the Toledo Alcaldes Association (TAA) represent or are authorized to represent the village of Midway..." End quote. This means that none of these organizations or their agents can presume to speak for them on any topical issue, or include them in any court challenge against the Government and US Capital Energy.
The letter then continues on to issue a harsh put down of SATIIM, stating for the record that in all its 18 years of existence, SATIIM has not made any significant contribution towards the development of any of the buffer communities it was created to serve. The Midway Alcalde contrasts that with US Capital Energy which has been working to improve lives of the Mayans living in these communities.
The letter, signed by the alcalde and village council members, ends by declaring support for oil exploration in Southern Belize. The letter was copied to the media and various Ministries of Government.

The Healing Abilities Of The Mind?
We should all be familiar with traditional western medicine - that is healing through prescription medications and doctor visits, but there is another form of healing that entails nothing more but your mind.
Now, the mainstream would be quick to write it off as quackery, but visiting American Health Educator, Dr. Mark Pirtle says it's real. He told Courtney weatherbuene about it today:
Dr. Pirtle will host a one day workshop on Saturday at the Radisson.

7 Things You May Not Know About Paul Nabor
We've learned a lot about Paul Nabor this week and through the film The Three Kings many of us already knew a lot about him. But, still, the man is an enigma - and that's because he's a bundle of contradictions: great global fame matched up against great humility; great talent but precious few recordings…and the list goes on.
Yesterday we spoke to his great friend Michale Norales from Punta Gorda by way of Dangriga. Along with Darius Avila, he set up the Paul Nabor Birthday concert every January - and yesterday he reminisced with us about some of the little known things about Paul Nabor. Ivan Duran who toured all over the world with Nabor also chipped in with some reminiscences:…
And later on - we'll have one more shot of Nabor as we show you highlites from his first tribute concert last night in Punta Gorda Town…

PM Discusses RFP Proposals
Last week we told you about the results for the initial review of the request for power from the public utilities commission. One proponent of alternative energy who got a low rating form the PUC seems to have enlisted COLA to sweat fever for him.
A release from the activist group today says quote, "COLA endorses fully the seventh-placed project in the list, the proposal by Cohune Energy Limited".
But the PUC didn't seem too taken by it, and today COLA's president Geovannie Brackett put on his journalist hat to ask the Prime Minister about it - which got into a wide ranging discussion about the energy proposals:..
Hon. Dean Barrow, Prime Minister
"I don't know the details. i did inquire of Minister Grant in Cabinet and she said first of all its not really cohune, I forget what she said it really was before you get to the cohune, but she made the point. I don't want to misrepresent her, but the point was made that that project was evaluated, was found not to be viable and there are very many reasons why a project might be found not to be viable in terms of making onto the shortlist; cost, lack of expertise, whatever. But she reminded me and Cabinet that the process of evaluating these proposals was conducted in the most transparent fashion with assistance from the Clinton Foundation. I remember I met with Ira Magaziner who was... you will recollect, big deal in those day when Clinton was president - I met with Ira Magaziner who had said that their experts are going to be assisting the PUC and that I could be certain that the most professional evaluation would take place. I have to feel that that is what occurred. I have just this morning sent a message to Mr. John Avery why sir is not the PUC getting out there and explaining to the public precisely how the process operated and why it is that in the decision of the experts that project did not qualify to be on the shortlist. That can't be anything magical about that."
Geovannie Brackett, reporter
"Yes, there is 350 million in financing already for the project."
Hon. Dean Barrow, Prime Minister
"Well Geovannie if you believe that - you must have been around long enough to know that everybody walks through the door and the amount they say they have is always bigger than the amount the last person said they have and none of them end with it. Don't tell me about it because that happens to me pretty much every week, but I don't know the details. All I am saying is the PUC which does know the details should come and tell the media exactly what took place and what is wrong with the project why in fact it was not shortlisted, so over to them."
Geovannie Brackett, reporter
"There is a Guatemalan company, the parent company is Green Tropics. Are you concern that we would even consider......."
Hon. Dean Barrow, Prime Minister
"Not at all, man listen, you know some people in the media make it appear as though energy will be produce in Guatemala and transmitted to us... Green Tropics is a company that's here in Belize - that has helped us to diversify the sugar industry in terms of the geographic location by going ahead planting and building full speed now the second mill in this country for sugar. It is biomass as a consequence of the grinding of sugar that they will use to convert to energy in the same way as BELCOGEN is doing to sell to the grid. So that's right here, there is nothing coming from Guatemala and I don't care if Green Tropics is ultimately...."
Geovannie Brackett, reporter
"...Owned by Guatemala."
Hon. Dean Barrow, Prime Minister
"No sir, why would I care? They are here in Belize. They fool around you know what will happen? National security interest. Let me not get carried away."
Geovannie Brackett, reporter
"But you could understand the skepticism... you can't understand it?"
Hon. Dean Barrow, Prime Minister
"No sir, the company is here. Anybody had anything to say when they came and did the investment? Anybody had anything to say about the construction of the factory and the planting of cane? Anybody has anything to say about the scores of Belizeans that are being employed even though by that company? Sorry sir, I don't hold to that view at all. I think we can take our nationalism too far and become utterly misguided. This is a company that is here, that is, that is doing business for a while. The energy will in fact be as I said the conversion of the biomass to energy will be done here in country, a process over which we clearly have control over - no fears on that."
Geovannie Brackett, reporter
"Can you say categorically if your son Anwar Barrow has any relationship with Southern Renewable Energy?"
Hon. Dean Barrow, Prime Minister
"I don't."
Geovannie Brackett, reporter
"I know I see him attending some of the meetings at the PUC and reports are that...."
Hon. Dean Barrow, Prime Minister
"I don't know, but I wouldn't be surprised and what would be the difficulty with that?"
Geovannie Brackett, reporter
"Well your son and..."
Hon. Dean Barrow, Prime Minister
"You don't ask questions just like that."
Geovannie Brackett, reporter
"No, I am very straight up, respectful, but straight up."
Hon. Dean Barrow, Prime Minister
"What's the question?"
Geovannie Brackett, reporter
"There are 3 proposal from Southern Renewable Energy that has made it to the top 5. Just for the record..."
Hon. Dean Barrow, Prime Minister
"Listen, I've told you about the utterly transparent evaluation process, not necessarily steered, certainly guided or assisted by the international organization. My son is completely entitled to pursue his business interest as long as there is no conflict of interest in terms of my office and the government. This is a PUC deal. I believe the persons that conducted the evaluation came from the professionals at the PUC, helped as said by the Clinton Foundation - on the face of it I don't see that there is any kind of an argument to be made."
Back to the Cohune proposals - as we understand it, the PUC position is that Cohune energy limited didn't propose cohune, but planting eucalyptus trees to burn.

GSU Seizes Tens Of Thousands In Weed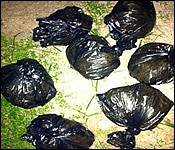 There have been more drug seizures by the GSU. On Monday GSU personnel searched a small wooden house on West Street and found 996 grams or about 2 pounds of high grade weed, known as Hydro in a barrel, wrapped in a black plastic bag with a street value of $13,000 dollars. No one was found in the area but they believe the drugs are the property of members of the George Street Gang.
And on Antelope Street on Monday at about 6:55 in the evening 797 grams or one pound of weed was found underneath a house, separated in 7 black bags. Near that area 91 grams or 3.2 ounces of cannabis was found between a zinc fence. GSU believe it belongs to well-known drug peddlers from the Antelope Street Area.

BBBFF President Under Sustained Criticism
Last night, we showed you how the Belize Body Building and Fitness Federation responded to the allegations of misuse of funds which bodybuilder Cricel Castillo made against them.
The President had to answer personally to that allegation, and Castillo is not the only person who's criticizing his leadership. Clinton Tucker, who you may know as the head trainer at the Lion's Den Boxing Gym in Ladyville, is also a bodybuilder and a member of the Federation.
He's also the back to back winner of the Mr. Physique competition, a category within the Bodybuilding Championships. He and Moody had a recent falling out over money; he claims that the monetary prizes for winning the competition have been unreasonably decreased, and he blames the federation executives for not raising funds.
Yesterday, the president was asked about it at the press conference they hosted, and here's how he explained what he views as an unimportant dispute with Tucker.
Stanley Moody, President, B.B.B.F.F.
"Last week when Mr. Tucker came to pick up his stipend as we put it for winning the Mr. Physique, he came to my place of business, I had customers in my business, he was given his cheque and on his way out the door he turn around and started making a whole heap of noise about if this is the little bit of money he is getting and that this cant satisfies him and he was being very loud in my place of business. So I turned around and said Mr. Tucker can you keep it down, and I have witnesses because they were all sitting down there stunned. I said Mr. Tucker you are in my place of business, if you have something to say, let's go to the back. He was very unhappy. He said if they added all the total of all the cash prizes that still wouldn't satisfy him. So I said if that's the case then you can give back the cheque. If you are so unhappy with it then just give it back. No one is forcing you to compete. I said this is an amateur sport, no one is forcing you to compete and as amateur athletes. We don't have to give money, we are not required to give money. Those are IFBB rules, we are not required to give money. Trophies, medals - yes. But we feel that these athletes works hard, and it's an expensive sport, so if we can supplement them a little by giving some funds we do it, but it's not a given."
We also got a chance to speak with Tucker about his version of events, as well as his complaint against the way Moody is running the Federation. He told us yesterday that Moody is doing nothing to grow the federation or its resources: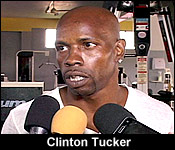 Clinton Tucker
"It's really bad for the prizes to be devalued for this year because we had bigger trophies and better prizes last year and for you to ask athletes to be better and bigger and giving them the least, I think that's very disrespectful of the federation, as a president. I think he is disrespecting all the athletes on a whole, but only a few athletes will speak out. What is it for us to be raising our children to grow up into a community without sports, that's no discipline at all and as a president, he know he is doing us wrong."
Geovannie Brackett, reporter
"What they are arguing is that cash prizes is not an obligation, but it's like "brata" and that maybe you misunderstood that principle."
Clinton Tucker
"They are very unprofessional in what they are doing because they would like the athletes themselves to bring their own prizes to sponsor the prizes themselves - to go out there and seek prizes for themselves and that's why we have a federation and that's why we pay our dues so that they can do their job. We have this competition once a year and they wait until the final moment to get out there and work for us while we are working all year long to try to maintain and try to hold these conditions and physique."
So, to recap, the President says that Monetary awards are not a must for winners of the championship tournament. He also notes that the sponsorship for the tournament decreased, and that's why there is a noticeable decrease in the prizes this year as compared to last year.

Positive Vibes' Punta Inna You Blood
The artist Positive Vibes has released a new album. The man who made hits with songs such as "Liabetes" says he's gone fully Punta this time while keeping a premium on entertainment:..
Vibes will be hosting a prerelease show this Saturday at the Downtown Plaza. The official release will be on November 15th.





Home | Archives | Downloads/Podcasts | Advertise | Contact Us