Security Guard Murdered - Family Says He Was Targeted
A 61 year old man was killed at his workplace over the weekend. Security guard Baltazar Sarmiento was on duty at the Buca Shell Gas Station on the Phillip Goldson Highway - when he was attacked and shot in the head. Police believe it was burglary, but Sarmiento's son says his dad was targeted. Courtney Weatherburne has more.
Courtney Weatherburne reporting
For Maikor Sarmiento, having his dad with him for his high school graduation is one of the most precious moments in his life.
Now, Maikor has to constantly revisit that memory to try and block out the horrid reality of his father's murder.
61 year old Baltazar Sarmiento was shot and killed at the Buca Shell Gas Station compound early on Sunday morning. He had been working at the gas station as a security guard for about 16 years. He was on his night shift, when two men emerged from the nearby river - everything was caught on camera.
ASP Alejandro Cowo, OC - CIB

"He was approached by two male persons one of which fired a single shot, causing the injuries to him."
"Yes we have a footage that we are looking and that is assisting us in the investigation."
Maikor Sarmiento, Son
"I was the first one to find out about it, I was asleep I wake up 6:00 and my neighbor wake me up and tell me, Sunday morning, wake me up and tell me I must go check on my dad so I jumped on my bike and I ride way there but I didn't believe it so I just ride and went to see if I could see my father because I dint believe it and then I see his blood where they killed him."
At this point, police believe it was attempted burglary.
ASP Alejandro Cowo, OC - CIB
"But, we are of the belief that probably they went to burglarize the establishment and they met up with the security that was working there, noh?"
But his son doesn't believe so. He thinks his dad was targeted.
Maikor Sarmiento, Son
"To me I think somebody wanted to kill him because I didn't see no sign of robbery and it hard for me."
Courtney Weatherburne, reporter
"Why do you think somebody wanted to kill your dad?"
Maikor Sarmiento, Son
"I am not sure I don't know why anybody would want kill my father."
Courtney Weatherburne
"He never have no problem with anybody here or in anybody at Honduras right?"
Maikor Sarmiento, Son
"He is from home straight to work and from work to home."
Sarmiento carried no gun. He was originally from Honduras and had been living in Belize for about 20 years. He has 3 kids living here in Belize and 5 others in Honduras. As you heard, the incident was caught on camera - but police have no suspects at this time.

Con-Man Has Hit Eight Businesses
Police say that a con-man is making the rounds to local merchants and duping with a smooth game. He's hit 7 or 8 businesses in Belize City - and that's after doing the same in San Ignacio and Orange Walk.
Here's what he does: he tells business owners that he's come to collect on behalf of one of the large wholesalers - and he presents them with bogus paperwork to that effect. The business pays, but it doesn't go to their supplier, because he pockets the money. Tonight, police are warning business owners to check with their suppliers before issuing that cheque:
ASP Alejandro Cowo, OC - CIB

"We have been receiving several complaints especially on the north side that there is an individual that is posing to be a representative of a company going from business to business trying to collect money from them before a product is being delivered. So, we are advising the public that if in case they meet up with this person, make sure you contact the business that he is referring to so as to avoid any loss to your business establishment. This has been happening since last week and we are close to finding out who is this person so we can deal with him."
Isani Cayetano, reporter
"Do you have a description of this particular individual?"
ASP Alejandro Cowo
"The person is using different companies' names so it does not only go by one specific company. Sometimes he uses a name and the other he uses another business company. The description of the person is a person of dark complexion, about five feet eight inches in height; stoutest. He is a very low haircut person."
"He has been doing this in San Ignacio; he has been doing this in Orange Walk, now he is here in Belize City. So before you do any payment you consult the business to verify if in deed this is a legal representative of that company."
The payments that the con-man collected so far in Belize City are from five to eight hundred dollars each.
The con-man is described as about 5 feet eight inches tall, dark-skinned, heavyset with a low haircut.

Fire Touched Finnegan Market Area Unexpectedly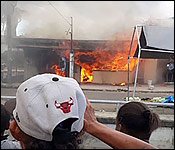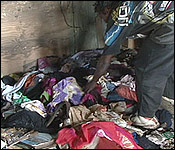 A clothes vendor at the Hyde's mini market is asking for help after her stall and all her belongings were destroyed by fire. It started on Saturday afternoon - right after the busiest time at the adjacent Michael Finnegan market. As amateur video shows, the fire started right at the edge of the street:
Courtney Weatherburne reporting
In a matter of minutes, this small market stall was gutted by flames. Helpless passersby just looked on. The tenant, Pearl Usher was standing nearby as all her clothes turned to brittle blackened rubble.
Pearl Usher, Clothes Vendor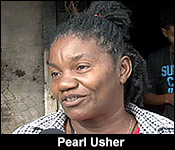 "One of my friends tell me Pauline your place is on fire, but then I didn't believe because she lies to run joke. So I came and check and see the place was on fire for true."
Courtney Weatherburne, reporter
"So you were right across the street?"
Pearl Usher, Clothes Vendor
"Everything was lost."
The authorities as well as Usher are still trying to figure out what caused the fire.
ASP Alejandro Como, OC - CIB
"The entire structure was destroyed by fire and the water damage caused by the fire department. Up to now the cause of fire has not been ascertain."
Courtney Weatherburne, reporter
"You are not sure what had caused the fire?"
Pearl Usher, Clothes Vendor
"We don't have any electricity in this place and we don't have any stove, nothing in here - just clothes."
Courtney Weatherburne, reporter
"The people who were selling for you, they don't have any idea what started the fire?"
Pearl Usher, Clothes Vendor
"They just saw the flames coming out from the top and then when they opened the door there was flames."
Usher says she lost about $600 worth of clothes but it goes beyond just the monetary value, these clothes were all Usher had to make a living for her child.
Pearl Usher, Clothes Vendor
"I have a special need child and so I don't want to get a job, this is what I do to take care of him."
If you would like to assist with clothing that Usher could sell or building material to repair the stall, you can call 607-4082.

Cops Make Arrests For Big Money Jacking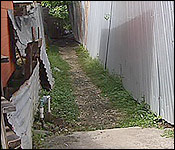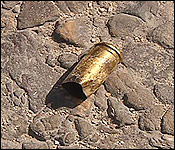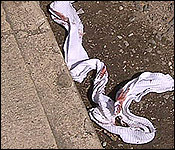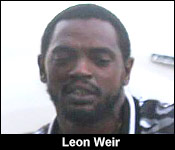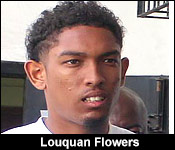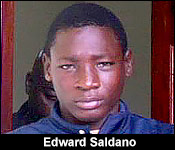 Police have charged two men who they say were responsible for a 12 thousand dollar robbery last week. 28 year old Leon Weir and 18 year old Louquan Flowers were caught on camera last week Wednesday when they robbed 45 year old businesswoman Zeneida Allen. She was at an apartment building at 4 Fullers Lane when a group of men barged in and one of them struck her on the face with a stone. Another man then snatched a bag containing $8,800 in cash that she was sitting on. They also grabbed an I-phone, a Tory Burch designer wallet and a Jeep Compass vehicle key.
Police were nearby and set chase after the men - leading to a shootout on Euphrates Avenue.
But, they say that chase is not what led to the arrests - instead, it was surveillance video.
ASP Alejandro Como, OC - CIB
"Reference that robbery, three persons have been arrested. They were arrested on Friday and they will be going to court this morning. We have that the persons that were charged were Leon Earl Weir, a thirty-three-year-old Belizean, Luwan Flowers and one Edward Saldano. Weir and Flowers were charged for the burglary, aggravated burglary and Saldano was charged for handling stolen goods."
Reporter
"So was anything recovered?"
ASP Alejandro Cowo
"One of the cell phones was recovered."
Reporter
"Okay, but still a large [sum hasn't]"
ASP Alejandro Cowo
"We are still dealing with the rest of the cash and the other things that were stolen."
Today in court, 18 year old Edward Saldano was charged for handling stolen goods after police say they found him with the Iphone. He pleaded not guilty and was offered bail of $1,000.
Weir and Flowers were charged for aggravated burglary and wounding. They both pleaded not guilty.
The prosecutor objected to bail for Weir and Flowers. Senior Magistrate Aretha Ford agreed and denied them bail. She remanded them into custody until January 24.


Tomza Thieves Caught In A Hurry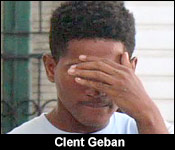 The Gas Tomza mini depot at mile one and a half on the Western Highway sits in an isolated area, and for that reason, it has been targeted by thieves more than twice. And it happened again last week Thursday.
Two men lured the female clerk outside and held her up with a knife. They then dragged her inside and ransacked the office to find money. They made off with almost $1,500 dollars in cash.
But, this time police were quick to catch the robbers. Today the head of CIB, ASP Cowo told us it's because of the use of those new "Cat" phones that police were able to get the word out quickly and catch one of the suspects a mile away near the Lord Ridge Cemetery:..
ASP Alejandro Como, OC - CIB

"One of the patrol in the Antelope Extension saw a person fitting the description and pursue the person and was able to detain that person. That assist us also in the investigation and as a result Clent Geban and Leeroy Brown were charged for that robbery. The CAT phone that were recently given to police officers where the information is shared as the incident is happening. That is a result of that device."
Today in court, 20 year old former-BDF soldier Leeroy Brown and 19 year old Clent Geban, were charged with robbery when they appeared before Senior Magistrate Aretha Ford. They pled not guilty. The prosecutor objected to bail which Senior Magistrate Ford upheld, and she remanded them until January 31, 2018.
Brown was picked up at his home in Jane Usher Boulevard.

War Of Words Over Workers Trust Continues
Last week Thursday, we showed you the press conference that the Public Sector Workers Trust, the Public Service Union and the BNTU held. They wanted to answer questions about the state of affairs with the Trust. That's after the 600 retired public officers sued them over management and control of just under 8 million dollars in back pay and won.
Well, just a few hours before the start of tonight's news, the claimants, who brought the lawsuit against the Unions and the Trust on behalf of the retired public officers, called a press conference to respond.
They want to clear up some areas they feel the other side has deliberately clouded up. One issue is their interpretation of the judgment. We pick up the conversation where their attorney detailed the exact orders of the judgement:
Magali Marin-Young, Attorney for the Claimants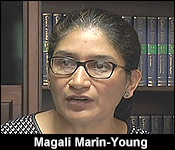 "Ultimately the court decided that the trust deed was void. It decided that the true beneficiaries were those public officers who were employed between 1995-1997. The court also asked the trustees who were the unions to do a full accounting of all funds that they have received between 1997-2014. So that is the gist of the decision of this court. So this matter has been tried and there is an actual decision on the case. The court, however, ordered that the unions in consultation with the beneficiaries and the government come up with a draft of a proper trust deed to reflect the true purpose of the trust and to reflect who are the true beneficiaries of this trust. And gave the parties liberty to apply, to enforce its order."
Reporter
"Since the trust deed that they drafted in 2013 was determined to be null and void, how do you and your clients regard the current trustees who are setting in those positions? Is it legal that they are still sitting as trustees even though they were empowered by a trust deed that has been struck down?"
Magali Marin-Young
"That's a very legal question. But yes, when any property is handed to any person and in this case, the background that in 2007 government transferred the BTL shares to the unions and then in 2014 it transfer all the income derived from these shares to the unions. But in law whenever property is transferred to you in trust for somebody else, you are trustee. So presently the unions are the defacto trustees of this fund, until a proper trust deed is drafted. The beneficiaries were seeking to restrain the trustees from lending monies, disbursing monies out of the trust funds and we were successful in getting an order restraining the trustees from disbursing trust funds without permission of the court."
Reporter
"Is that an injunction?"
Magali Marin-Young
"Yes it is. There is a restraint on them. A restraint is an injunction."
We also asked them for their perspective on the Trust's continuation of their loans program to all public officers. As you heard, the trust should be used for benefit of only those public officers where were there between 1995 to 1997, and thus affected by the wage and increment freeze.
Their attorney says that they have serious concerns about the way that the trust has been using the money. Here's what she had to say on that topic:
Reporter
"How do you guys regard this loan scheme which was being allowed or from their perspective it's still ongoing to all public officers?"
Magali Marin-Young, Attorney for the Claimants
"The purpose for which government established this trust and which it promise to these public officers why it was establishing this trust was to provide for programs that would be beneficial to them. The trustees has established a lending scheme using trust funds presently and have been lending to public officers generally, unsecured loans. We understand that they are taking a security some charge on the emoluments of public officers, but for the most part the little we have gathered is that they are unsecured loans and it's not exclusively to the benefit of the true beneficiaries. It has been established for all public officers."
"Now, the trustees have told the court the loans, the lending scheme is an investment. They are earning interest on those loans and they consider it an investment. We do have concerns relating to the lending scheme, because I have provided you with the trustees auditors report for the financial year 2015 and when we peruse the auditor's report, over $430,000 has been loan to the unions themselves and we see a category there as associations. We do not know what those associations are. So that is the reason we have asked the court for an accounting. That is the reason the court order for them to provide us a full list, because we want to understand who has benefitted from the lending scheme and we are particularly concern about the unions who are trustees of this fund lending themselves money and it's not a little bit of money, it is a lot. It is up until the end of 2015. It is in excess of $430,000 according to their own auditors report."
So, the court has ordered that a new trust deed be drafted, in consultation with the claimants and the Government of Belize. The Government must be the settlor of this new trust deed, and it must reflect that only the public officers from that 95-97 wage freeze are the true beneficiaries.
So after that point, what do the claimants want? Well, they say, they have no interest in forcefully taking control of the Trust from the Unions' trustees. They told us that all they want is to get some sort of compensation for the wage and increment freeze. Here's how Sheila Genitty explained it: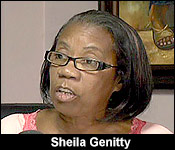 Sheila Genitty, Claimant
"The area that they mentioned that we want to manage the trust was never true. That was never our goal. I want to go back to the reason why this trust was set up. In those 2 years all the beneficiaries and public officers who were working at that time lost 2 years of increment. Now that multiply, because by the time we retired those 2 years of increment cause our gratuity to be smaller, because it was work out on a lower salary. It caused our pensions to be smaller. Our objective from the beginning was to be compensated for the loss that we had and I will go back to increment. The way an increment works is between the employer and the employee. It is an award-base system. You work well, you get your increment. They employer pays when your increment is awarded to you."
"Now we cannot understand how it is that the loss that we suffered, instead of that money coming to us or the dividends coming to us who suffered the loss, it was given to a third party and the third party is the unions and then now they sit in control of that funds. So in effect what they are doing, they are denying me and denying Mr. Gardener and Miss Ruth and every other beneficiary the increments that should have received. The unions were never a part of the increment program. When you work you get your increment. The union has nothing to do with that. So why should they sit now in a position of control to say 'you will not get anything, you have to bring a proposal, you have to bring something else to be able to get something from this fund.' Everybody else is benefitting and the people who lost have received nothing."
"We are not interested in running a trust. We want to be compensated. That was always our goal. One of the misinformation out there is that there is no way of finding out who the beneficiaries are and the number of beneficiaries. That's what the union keep saying. They'd been saying that for the past 20 years. They'd been saying that since 2014 and we made a call out there in the media and we received names. People contributed to our fund, so we were able to get legal counsel and we have a list, so to me it seems that the unions deliberately mean to pretend that they can't get a list of beneficiaries. We have the list of beneficiaries right here. The fact that we could get this, they could have done the same."
Reporter
"How many are on that list?"
Sheila Genitty, Claimant
"On this list we have 5,861 people on this list."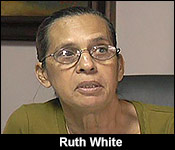 Ruth White, Claimant
"We have concluded that the intention they have never had an intention to acknowledge us as beneficiaries, even though the court has ordered or stated it clearly that we are the beneficiaries."
The mediation sessions are still outstanding. The claimants tell us that they are hoping that in the final draft of this new Trust Deed, they are looking for 2 important things.
They want other persons who have no connections to the union to be named trustees. The way they see it, those persons would act as an oversight mechanism to review decisions that the Union's trustees make, to make sure that it is in the best interest of the true beneficiaries.
Secondly, they want a protector to be selected who also has no connection to the union, again, to act as a second level of scrutiny.

Police Cautious In Exploring Sexual Assault Case
Last week, a 25 year old Orange Walk woman came forward to say that in April, her manager had forced her to perform indecent acts on him.
Police today said it is an investigation they are proceeding with cautiously:...
ASP Alejandro Como, OC - CIB

"No arrest has been made. I know that the matter is still being investigated. It is something that we have to investigate in-depth. It is not something that you just go with what is one person is saying, so we have to really in all angles that everything is covered before any arrest is made."

Police Plan To Charge "Cellie" For Sodomy
In another uncommon report of a sex crime, Police say they are getting ready to charge a prison inmate for sodomising his cellmate. As we reported, the 21 year old prisoner told police that on November 24th and 29th his cellmate forcefully sodomised him. He told police that on the first occasion his cellmate chocked him and he went unconscious - and woke up to find he had been raped. The same thing happened five days later - but this time it ended in a fight.
A medical examination confirmed that the rape had caused an injury which was classified as harm.
Today, police said they will charge the cellmate:..
ASP Alejandro Como, OC - CIB
"I think that today, the guy will be charged before the court, either today or tomorrow morning."
Reporter
"And would that charge be, what would that charge be? An unnatural act?"
ASP Alejandro Cowo
"Yes, two counts."
The accused prisoner was not taken to court today.
In another disturbing allegation of sexual assault, on Thursday a 14 year old minor went with a social worker to Ladyville police and reported that on Wednesday she was on a public bus when she was sexually assaulted by both the conductor and the driver. Police arrested and charged 21 year old Bus Driver Set Guity and 27 year old conductor Jarel Haylock, both of Lords Bank Village for Sexual Assault. She claimed that both men touched her private parts.

Family Says Wanted Westby Captured In Mexico, Cops Clueless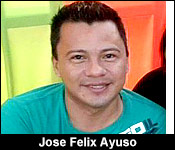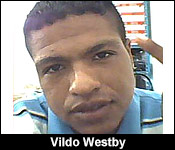 Last week Friday, news broke in Belize that a man wanted for a San Pedro murder had been found in Mexico. Vildo Westby - who is wanted for killing 44 year old Islander Felix Ayuso in February, was reportedly captured in Mexico on the strength of an Interpol Alert from Belize.
The San Pedro Sun quotes Ayuso's family as saying that they got a tip from someone in Las Choapas, Mexico near Veracruz to say that he was hiding out. Family members tell the Sun they travelled there "which led to the successful apprehension of Westby," and that a $13,000 reward had been given to the person that tipped them off.
So far, so good - meaning the only question left is when he would be deported to Belize. But today the police told us they have had no official confirmation that he has been caught:..
ASP Alejandro Cowo, OC - CIB

"We have been communicating with Interpol Mexico. We know that we have shared a wanted poster with him and a warrant for his arrest, however, we have not established or confirmed yet from them that if indeed he has been arrested there. We have heard rumors that he was detained somewhere in Mexico, but we are waiting for confirmation from Interpol Mexico to verify that information with us."
Reporter
"So no confirmation as yet?"
ASP Alejandro Cowo
"No confirmation as yet. It's just a rumor that we have been hearing."
The family told the San Pedro Sun that Westby has been processed for immediate deportation to Belize where he will face murder charges from the San Pedro Police Department. Cowo would only say that in the event of his return, they would want to question him.

Chuc Found Dead On Road - Not Foul Play Police Say
A man was found dead in Cayo yesterday morning - but police do not suspect foul play. At 6:30 in the morning, 34 year old Israel Chuc was found lying face down on the right side of the road. Police say they saw no signs of violence - and added that he had just been to the hospital:..
ASP Alejandro Cowo, OC - CIB

"Police visited the Branch Mouth where they found him lying apparently dead. He was observed with some injuries to the neck; however, we understand that he had previously visited the hospital complaining about some injuries on himself. We believe that no foul play is suspected in his death. At present the post mortem will be conducted today so we are awaiting the post mortem results. But there are no other injuries on the body that we can observe that can lead to any other believed to be any homicide or any murder."

LOO Laments Loan Timing
Turning now to politics, we couldn't get everything from Friday's house meeting unto the news. One of them was a loan motion from the Government of Taiwan for 40 Million US dollars. We've been reporting on that for weeks now - it's the usual program of assistance - and that 40 million US is for four years. But the Leader of the Opposition questioned the timing:..

No Funding For Western Region Expansion
And while some sparks flew on that one, there was hardly an eyebrow raised when the Health Minister casually mentioned that major funding to rehabilitate the Western Regional Hospital in Belmopan had fallen through.
In 2015 when the rat in the incubator story burst out - the media was told that the old hospital would soon get an upgrade through a 30 million dollar European Union project. Well, that won't happen again. It seems the Ministry let the money slip away:...
Hon. Pablo Marin, Minister of Health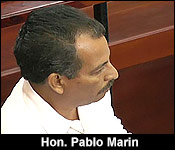 "Talking about the hospital that we wanted to do in Belmopan. Yes, the funds were there with the EU, but it was EU funds. It happened that there was some kind of problems from the EU that we couldn't get the funds anymore. So that hospital is not going to be done right now. We had some funds we have already approved through SIF - 1.4 million for us to do an extension to the hospital here in Belmopan."
The 30 million dollars would have been used to construct a separate wing on the grounds of the Western Regional Hospital.

Coast Guard SEA Cadets Called Up
You've heard about Police and BDF cadets, and now another arm of law enforcement, the Belize Coast Guard, has launched its new cadet program.
It's called the SEA Cadet & Mentorship Program, and they invited us today to find out how it will work, and what positive influences they hope to have on the children who sign up.
Here's what they had to say about the benefits of this program:
The program was inaugurated today, but it will actually start on January 9. That's when the first mentorship sessions will begin. Participating children are between the ages of 9 and 12.

Capital Kids and Cops Cattle Ranching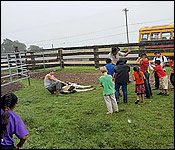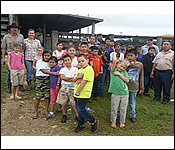 In other news about positive engagement between law enforcement and youths, Belmopan Police had kids playing cowboy over the weekend. The cops took a group of capital kids to the Cayo farm of Joseph Friezen for day's outing. They got to experience farm life, and learned a bit about cattle rearing. The children participated in activities such as roping a calf, and branding it. They also learned how to administer bovine injections, and they were given a lesson on how to recognize the different breeds of calf.
Belmopan police have reached out to several hundred children in this year alone.

Cops Say No To Toy Guns
And keeping it on kids and cops, today police sent out a public caution to parents: be very careful when buying toy guns this Christmas. Those can include airguns, or imitation guns. Senior Superintendent Bart Jones said that play guns can cause real trouble:...

No Gold Yet For Belize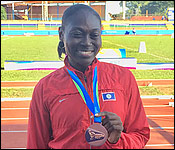 When we left you on Friday, Belize had only gotten one bronze medal a the Central American games, but the count as of this morning shows that it has now gotten two silver medals and two bronze - and during the course of today there were more. The latest figures show that Belize has now gotten three silver and three bronze for a total of 6 medals - which is way at the back of the pack. Guatemala leads with 173.
But, hope springs eternal and, today the Table Tennis delegation left to Nicaragua for the games. The team comprises Taye Parkinson, Deveah Hukmani, Terry Su and Kelly Liu. Competition starts on Wednesday in Nicaragua.

Weighty Weed In Cayo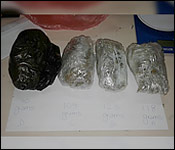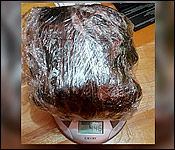 San Ignacio police conducted a pre-dawn operation on Saturday and caught a 17 year old minor with 70 grams of weed. Police also found 6 pounds, or 2.7 kilos of weed. The drugs were labeled as found property.

"Mex" For Crack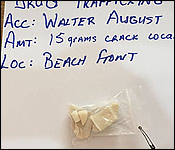 And on Caye Caulker a fisherman was arrested and charged for drug trafficking - but this time it was crack cocaine. Police searched 56 year old Walter August, known as Mexican and found 15 grams of crack cocaine on him.

Honoring Civil Aviation Greats
On last week Friday's news, we showed you how The Civil Aviation Department opened up their fancy new second floor for the viewing of their multimillion-dollar radar system.
We got to show you the highlight, but because of the length of the news, we didn't get a a chance to show you how the International Civil Aviation Day ceremonies went.
Here's an excerpt of the presentations that the speakers gave:

Home | Archives | Downloads/Podcasts | Advertise | Contact Us