Cowo Killer Charged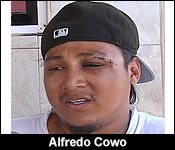 San Pedro Police have arrested a man for the execution style murder of Alfredo Cowo. It happened early on Tuesday morning in the center of the town - when a lone gunman walked up and shot Cowo in the chest.
Well, based on an ID parade, and, reportedly, corroboration from his accomplice, police have arrested and charged 33 year old San Pedrano William Godoy for Murder.
He was charged this evening, and is expected to be arraigned on Monday.
Police believe the murder is the result of underworld dealings related to drugs. As we reported, the 26 year old Cowo had a 7 and half page rap sheet including 43 charges and 9 convictions.
Many still point to police involvement since he was leading a criminal prosecution for wounding against a pair of officers - who got off the week before his murder. Cowo said he had been threatened by police. His rap sheet included at least 6 charges for assaulting a police officer dating back to 2011.

Foreign Minister Speaks on Kaibiles Coming Over To Belize Side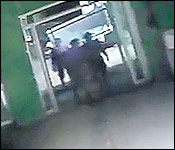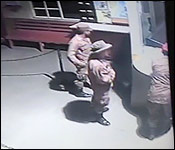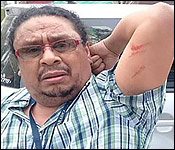 Last night, we showed you that leaked video surveillance footage from the Benque Viejo Border where 3 Guatemalan soldiers waltzed into the Belize Immigration Hall.
As we told you, those with experience in border relations see it a major disrespect, but these soldiers came over to the Belizean side on Tuesday night at around 8:30. They were there to inquire about an incident that had occurred earlier in the day. One of the soldiers, a Kaibil, spoke to the on-duty immigration officer, but he was directed to take his inquiries to the OAS Office.
Government sources tell us that they were on Belizean territory for about 10 minutes or so after started going around.
So, we sought Foreign Affairs Minister Wilfred Elrington for his perspective on the incident. He told us today that it was resolved without incident, and he would not advise Belizean law enforcement to do the same thing on the Guatemalan side. He explained why:
Hon. Wilfred Elrington - Minister of Foreign Affairs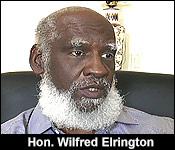 "The report which we got from both the police and the immigration simply states that 3 of them came to the Immigration post at the western border and inquired about the incident that had occurred, I think, the day before with journalist. They were directed to go and make their inquiries at the OAS office, and they left. There is no reporting that they were in any way menacing or belligerent. They just came in, and one of them identified himself as a captain in the Guatemalan military, asked about the incident and was directed to the OAS Office, and they left. There was no evidence of any weapon on any of them. That is essentially the report that we got."
Daniel Ortiz, reporter
"So, from your perspective, much ado about nothing."
Hon. Wilfred Elrington
"I would want to think so."
Daniel Ortiz
"Let's say, for example, if the shoe were on the other foot, would that have been appropriate? Or would it be in appropriate?"
Hon. Wilfred Elrington
"For our military to have gone across?"
Daniel Ortiz
"Yes, to go across, and to question..."
Hon. Wilfred Elrington
"I don't know if that happens in the normal course of business between our military, and their military, or our military and their immigration personnel. I don't think that that is the normal type of behavior. What the report suggests here is that when the Guatemalan captain asked about the incident, the response given was that really, matters of this type, if you want to find any information, you can go to the - it's really dealt with by the Ministry of Foreign Affairs. I think that was said, and they also referred the person to the OAS, and I think that that is appropriate. You should not be asking our police personnel what transpired. If they thought something untoward occurred, they should deal with at the Foreign Ministry level. I think that is the most appropriate way."
Daniel Ortiz
"So, from your perspective Belizean officers ought not to behave in a similar fashion."
Hon. Wilfred Elrington
"I wouldn't advise it. If they have an incident which they think could deteriorate a situation that none of us would want to have to deal with, I think the proper thing to do is to report it to the [proper] channel. Of course, if people are coming into the country unlawfully, they have an obligation and a duty to deal with that."

Opposition Leader Says UDP Gov't Needs Help On Foreign Affairs
And Opposition Leader John Briceno had his own take on it today. He says the government negotiators need help from the PUP. CTV-3 caught up with Briceno on the campaign trail in Corozal.
Hon. John Briceno, Leader of the Opposition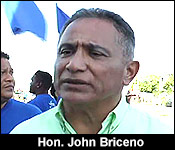 "The Guatemalan military brazenly walked into our territory with complete disregard to our borders. We are calling out the government that we need to be able to act and address these things expeditiously. We can't wait. We need to act on it very quickly. We in the PUP we stand ready to work with the government on this matter. We cannot sit back idly and allow the Guatemalans to just move in as easily as they wish into our territory. We need to call them out. We need to write the OAS. We need to write the Security Council. We need to write the UN. We need to be able to visit the Friends of Belize all over the world; in Central America, the Caribbean, United States, Canada and meet with their foreign minister to tell them to look at what is happening and we need your support."

What Really Happened With the Guatemalan Journalist
Those Guatemalan soldiers were trying to get a clear understanding of what happened when a Guatemalan journalist came in contact with a Belize police officer in in the Adjacency Zone area.
That journalist, Rigoberto Escobar, reported that he was attacked by Belizean law enforcement in the Adjacency Zone - also known as the Belize border - because he was trying to get footage of the area. According to the report from the Prensa Libre newspaper he works for, a policeman and 2 civilians approached him and told him to leave. That's allegedly when the officer assaulted him. After the incident, he reported it to the Guatemalan customs.
This cell phone video of the incident, courtesy Jose Sanchez, shows Escobar in a confrontation with a Belizean police officer. In the footage, it appears that the officer is calmly trying to tell him that he is not allowed to use his camera in that location. Escobar appears to be confronting the officer insisting that he should be allowed to carrying his business. The video does not show what, if anything, happened after that.
So, we asked Elrington about it, and he shared the gist of the incident report that the police produced after the confrontation:
Hon. Wilfred Elrington - Minister of Foreign Affairs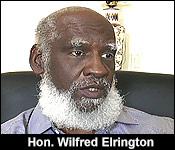 "There is a report coming out from our police department which indicated that in fact, there was some contact made with him, in an attempt to prevent him from taking photographs. I thought that that was not necessary. I personally can't see any good reason why you would want to stop a person taking photographs. As I am saying, everybody seems to have a phone these days, and people can photograph you from any place. So, I can't see any need for any attempt to stop a person who is taking a photograph. And I say that in relation to the police and the Guatemalan, as well as in relation to what transpires on our street every day because we do get compliant that in fact, when police are in operation, and Belizean try to photograph them, they get offended by it, and try to stop the people from doing it. I don't know whether or not that is unlawful. As far as I am a concerned, it is not unlawful, and therefore, the police should not bother you. The suggestion we got in relation to the journalist really was that it may well have in connection with their own education campaign that they are embarking upon. The only information we have is that there was some body contact in an attempt to prevent him from taking a photograph."
The Prensa Libre reports that personnel from the Consulate of Guatemala became aware of the incident and arrived in Belize at the customs office with the objective of collecting information on it. They reportedly told Escobar to file a formal complaint.


Hon. Elrington Says US Work Visa Eligibility Revocation for Belizeans Isolated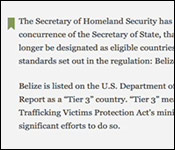 We also took the opportunity to ask Elrington about the ban that the US Department of Homeland Security placed on Belizeans who are no longer eligible to get H2 or work visas.
The US Department of Homeland Security published a decision that Belize, Haiti and Samoa are to be put on a list of countries whose citizens can't get this class of visas.
The ban will last for 1 year, at least and the US Government's reason for it is that the authorities here are not doing enough to combat human trafficking. The Federal Register says, quote, "Belize is listed on the U.S. Department of State's 2017 Trafficking in Persons Report as a Tier 3'' country. Tier 3'' means the country does not fully meet the Trafficking Victims Protection Act's minimum standards for the elimination of trafficking and is not making significant efforts to do so."
This ban comes a month after the UN General Assembly vote where Belize joined 127 countries challenging the US for moving its Israeli Embassy to Jerusalem. Seasoned observers aren't surprised, and they suspect that the ban is connected to that. We asked Elrington about the possible co-relation, and he told us that from his perspective, there is none. Here's how he explained why he thinks it is pure co-incidence:
Daniel Ortiz
"Has that crossed your mind as Foreign Minister, or is that completely..."
Hon. Wilfred Elrington - Minister of Foreign Affairs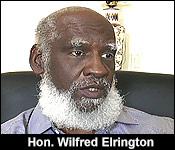 "No, actually, the Americans have indicated why. They have decided not to grant the visas, and the reason they are giving is that we have not complied with their expectation in terms of the human trafficking. That is something that they had been warning us about for some time now Human trafficking issue is a matter of grave concern to us, and it's also a grave concern to them. And they have formed the view, rightly or wrongly, that we are not doing sufficiently to satisfy them that in fact, we are serious about it. And so, with a view to try to pressure us to be more proactive in dealing with this very serious issue, they've decided to limit grant - or restrained, or restrict the granting of visas - certain type of visas at this time."
Daniel Ortiz
"So, for you, it's purely coincidental that those things happened in close proximity, in terms of timelines."
Hon. Wilfred Elrington
"To my mind, [yes]."
You saw how Attorney General Michael Peyrefitte wasn't too pleased to learn about the ban. He has been working with the Government agencies to do all they can strengthen to Belize's systems, so that the country can better combat human trafficking. So, what is Elrington's perspective as the Former Attorney General? Here's the back and forth on that:
Daniel Ortiz
"Do you agree with that perspective, or is that an unreasonable conclusion to be drawn?"
Hon. Wilfred Elrington - Minister of Foreign Affairs
"Certainly, I am aware of the fact that it is a matter which is discussed from time to time in our Cabinet, and I do know that the Attorney General has been working assiduously to try to deal with the matter. And it's something that I have talked to the police, since I have become responsible for them. These are issues which we have raised, but society has limitations, you know. We have serious limitations, and so, we may just not be able to do much more than we are doing. But, it is not because we are not trying. We have resource limitations. My own sense is that certainly, since Minister Peyrefitte became the AG, he has really been active in trying to ensure that we do all in our power to try to combat that scourge. But, as I said, we have our limitations."

Opposition Leader Says Visa Ban Due To UDP Corruption
And we also have reaction from opposition leader John Briceno. He says the ban on workers visas is all about the actions, and inaction of the UDP:
Hon. John Briceno, Leader of the Opposition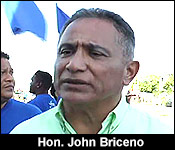 "The reality is that the United States government has been calling out the government on the serious issues of human trafficking. The United States have been calling out the government on issues of drug trafficking in this country and they believe that they are high officials that are involved both in human trafficking and drug trafficking and that we are turning a blind eye and until we take decisive steps, until we take decisive actions, they are going to continue to punish. And it's unfortunate that it's not the ministers that are going to suffer, because as Ministry Castro says he doesn't want to go to the United States, so he is not going to apply for a visa. But that aside, there are people, hardworking Belizeans that go every year to work for 8-9 months in the US and then they come back. There are several people in San Estevan that I know every year they go to work and now because of the corruption and the incompetence of the Dean Barrow administration they will be unable to continue to work in the United States and come back home."
In 2016 the US Embassy in Belmopan processed 299 H-2 visas for Belizeans.

Butane Companies Come Around To GOB's Price Solution, But For How Long?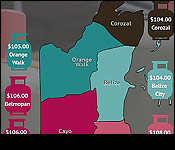 All this week - the Central American companies that import butane or LPG into Belize have been shorting their supply. They've also threatened to cut off that supply - trying to force government into the second increase in a week. As we reported, last week Friday's increase pushed the price per hundred pound cylinder up by seven dollars.
But the suppliers say world prices have cut deep into their margins, and they need the increase. But, after a few tough days of negotiation with the Bureau of Standards and the Ministry of Economic Development, all sides have agreed that the price will remain as is - for now.
A release issued this afternoon says quote, "The Government of Belize…has arrived at a successful agreement with the importers of LPG…the supply of LPG to Belize will remain uninterrupted."
The release goes unto say, quote, "there will be no immediate adjustment to the controlled price of LPG….(but) LPG prices are subject to seasonal adjustments, volatility of which is pegged to external market dynamics, specifically, the price of oil and climatic conditions."
So, that makes it clear that the price is volatile - but one factor they didn't add was political volatility. It is widely felt by seasoned observers that Government will not allow a price increase with two months to go before municipal elections.
COLA Activist Geovannie Brackett added to that. He said that he has specific information which says that the increase is being deliberately held off until after the election:
Geovannie Brackett, President - COLA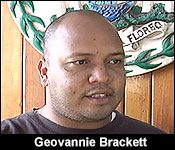 "We were told that your prices after the election cam go up as much as $14-$20 and that is to make up for the loss of the butane companies will take, because this increase that the government will have initiate before the municipal will not be reflected in your butane prices before the election, which means the company has to swallow that up. This is all because the government in my view and in our view at COLA is strapped for cash and so it could be a way of fund raising and so the butane companies is in a predicament and I know that the argument or butane imports massly comes from Guatemala and in our view it seem incestuous - all these companies, because it's like a dragon with multiple heads. We should not be having 100% or a large portion of our energy coming from a country that doesn't respect us."
The LPG importers were reportedly requesting an increase up to 120 dollars per hundred pound cylinder.
In the past, Belize had butane supply from Mexico and Central America - but the suppliers who imported from Mexico have been bought out by the Central American companies.
Before last week's increase, the price of butane or LPG had not increased for one year.

UB Says More Students Than Ever Can't Pay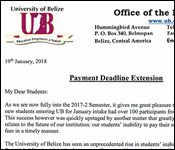 The University of Belize says it has seen, quote, "an unprecedented rise in students' inability to meet their financial obligations in a timely manner, end quote.
In response, President Clement Sankat has written a letter to students saying, quote, "if you haven't met your 40% payment that was due yesterday, let me set your heart at ease and tell you unequivocally, that we are not going to remove your registration at this time."
But, the university warns, it can only help so much. The President urges students to visit the accounts receivable office to set up a payment plan - because, quote, "the extent of what the University can offer is limited - UB can only be as flexible as our financial circumstances will permit. The students have until a March 30th deadline to meet their obligations.
And, on another subject that's been in the news - UB is moving to a once yearly graduation ceremony effective June of this year. And for those who were expecting a graduation ceremony next month - UB says it has established a process through which students can get their official certificate before the graduation date.
The venue for the single graduation hasn't been finalized - but a letter form the president says it will be at an air conditioned venue in Belize City.

Belize Deportations From US Much Lower Than Neighbors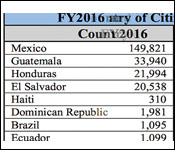 By now, we all know that - for the next year at least - Belizeans will not be eligible for US "H2" workers visas. And while much has been made of US President Donald Trump's closed immigration policies, since he was elected fewer Belizeans have been deported.
Statistics from the US Immigration and Customs Enforcement show, first, that our Central American neighbors lead the list for number of deportations. Positions one through four for the most deportees are held by our neighbors, Mexico, Guatemala, Honduras and El Salvador. Our other Central American neighbor, Nicaragua is at number 11.
And while those Central American Nations have hundreds of thousands of deportees - Belize is way down the list at #47 wth just 82 deportees in 2017 - which is down 30% from the previous year's total of 120.
And, there's another interesting statistic, this one from the US Border Patrol. It says that in financial year 2017, 56 Belizeans were intercepted at the US/Mexico border.
This is compared to 66 thousand Guatemalans, 47 thousand Hondurans and 50 thousand Salvadorians and 130 thousand Mexicans.
Interestingly, 35 of those 56 illegal border crossers were caught in this area the Rio Grande border crossing near Reynosa, Mexico.

A Conference On Counselling
Today marked the second day of a two day workshop that was organized in collaboration with the Ministry of Health and The New York Mount Sinai University.
The workshop was focused on Mental Health. We spoke Eleanor Bennett from the Ministry of Health who gave us more insight to the different mental Health topics that were discussed.
Eleanor Bennett, Ministry of Health - Mental Health Unit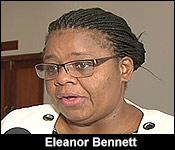 "It's really a workshop that is being done in collaboration with the Ministry of Health and the Mount Saini University in New York. We have 2 facilitators from that university who have come here to talk about various issues of mental health and the objective of their visit is to increase the knowledge and skills of the practicing professionals in the mental health field. Yesterday we covered topics such as trauma, in particular, post-traumatic stress disorder and how to recognize people who are traumatized and having psychiatric issues and how to manage some of the disorders in the clinic. Today we are focusing on the effects of various substances on the brain; nicotine, alcohol, marijuana and how to manage some of the issues in the outpatient setting. We are also going to cover suicide risk assessment. We're going to talk a little bit about dementia and attention deficit, hyperactivity disorder in the afternoon."
Reporter
"More workshops like this being held being the state of Belize's mental health, we're not that advanced in knowing things and being proactive."
Eleanor Bennett
"Yes absolutely, actually the Ministry of Health does this every year and it is in an effort to update the skills and knowledge of the people who are providing care. So every opportunity we get, we try to do that because we do realize that the resources are scarce here in Belize. We're very grateful to the Mount Saini University in New York because we have an ongoing relationship for 10 years. They have been here several times just doing conferences like this and holding workshops. This is the main source of getting new information and updated information of things that are happening in mental health."
The workshop was attended by UB students, drug council members, and Mental Health staff.

Fire Victims Still Out In The Cold, But Rebounding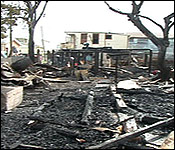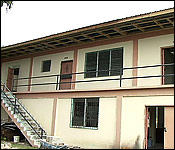 On Wednesday we told you about the fire on Glenn Street that destroyed three homes leaving 8 families homeless. The City Council and the Sports Council temporarily housed them in dorms at the MCC football facility.
This morning we stopped by and caught up with one of the victims Rutillo Villanueava. He and his family of 12 lost everything but they are grateful for the assistance they are receiving.
Rutillo Villanueva, Fire Victim
"I need a house I can't stay here for long they just gave us three days."
Sahar Vasquez, reporter
"So you have a time limit?"
Rutillo Villanueva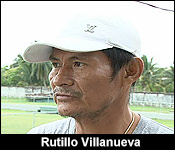 "Well they told me until Saturday but if I can't get by Saturday I think they have to try and extend it. I am around looking but it is hard. Apart from everything the people are looking after us. We have a good place. We have clean bathrooms and everything. Yes ma'am I can't complain. I am glad for the help and I appreciate it."
"We are trying to cope ma'am but the thing is we have to work we can't stay. We need the money so they go to work and try around looking."
Sahar Vasquez
"Have you been back to the site of your home?"
Rutillo Villanueva
"Yes I just went back and saw. The City Hall promised us that they will send someone to clean it up to see how the place is so I am just waiting for that."
Sahar Vasquez
"Are you going to rebuild on that?"
Rutillo Villanueva
"That is why I am asking anybody who can help me with a little bit of board, ply wood, zinc or something like that."
If you would like to help the Villanueva family in any way you can call them at 666-1574.

Caught With Contraband/Weed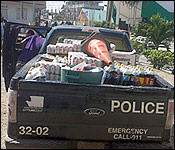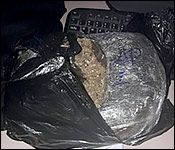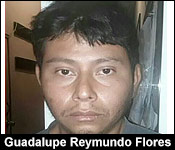 This morning Orange Walk police raided the home of 29 year old Guadalupe Reymundo Flores. They were looking for drugs, but found a whole lot more.
The search turned up over three pounds of weed in a knapsack along with 60 cases of assorted Mexican beers, various sodas, over 20 sacks of flour, as well as 1 sack of onions and a box of tomatoes. All the contraband was handed over to customs while Flores was charged for "Drug Trafficking."

Foreign Minister Defends Fugitive Brother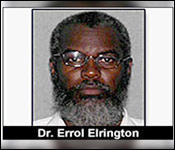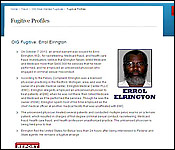 At the top of the news, we showed you our interview with Foreign Minister Wilfred Elrington on several newsmaking topics.
We also asked about - something that's kind of been on the back burner - and that's his brother Dr. Errol Elrington. He made headlines back in July of 2014. That's when the website of the Office of the US Inspector General in the Department of Health and Human Services listed him on its "fugitive profiles" page.
In October of 2013, an arrest warrant was issued for Elrington for racketeering, Medicaid fraud and health care fraud. Investigators believe that Elrington falsely billed Medicare and Medicaid more than $400,000 US for services that he never performed, and that he employed an unlicensed physician who allegedly engaged in criminal sexual misconduct.
The ongoing fugitive status of Dr. Elrington made the news this week, and from Elrington's perspective, it was resurrected because this is election season. Here's how he explained why:
Hon. Wilfred Elrington - Minister of Foreign Affairs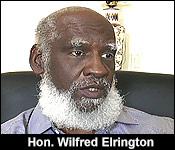 "I think that it is motivated by politics. This is political season. Politicians have not been able to find anything untoward to say about me. Although, they've tried very hard for the last 10 years. And so, they believe that by resurrecting this matter, it is somehow going to have a negative effect upon me. That is certainly not the case. I have been in the legal profession long enough to know that allegations are allegations. I do not carry them any further than that. I happen to know my brother though, and I know that he is a very honest person, and he's a very competent, capable person. And so, I give him the benefit of the doubt. I entertain no doubt that he is innocent of any imputation or allegation, unless and until I am proven wrong. I see no reason for me to feel in any way affected by any suggestion that is being made against him. If you publish libelous information, and you're taken to court for it, you have to prove the truth of what you're alleging. And, I can assure you, that none of the local newspapers can in fact prove that my brother has done anything that is criminal, unlawful, or illegal. The only reason why I would imagine he is not bothered to take legal action against those media houses, is to my mind, he understands that it is political season. It's politics, and it doesn't bother him. And it certainly doesn't bother me."
So, since the Foreign Minister is absolutely convinced that his brother, Dr. Errol Elrington, is innocent of all charges, why not go back and stand trial to acquittal? That's what we asked Elrington, and here's how he answered that one:
Daniel Ortiz
"Have you encouraged him, 'Okay, we take the position that you are innocent of all charges. Why not go back to the US, face trial and become exonerated, and get that albatross off your shoulders completely?"
Hon. Wilfred Elrington - Minister of Foreign Affairs
"Well, whereas I have no doubt as to his innocence, I have followed very clearly and closely legal proceedings all over, and there are very many people all over the world who have been hanged innocently, after been convicted by duly constituted courts, or who are languishing in prison innocently. So that, if I were in his position, I would not go back there, largely for that reason, that you can't rely on the fact that you're innocent to be absolved if you are faced with a trial. Anything can happen, and so, for that reason, I would not encourage him to go. And if I were in his position, I would not volunteer to go either."
So far, the US Government has not sent an extradition request for Dr. Elrington. But, if one were to come, how Elrington handle it? Well, he told us that he would step aside and allow another Foreign Affairs Ministry official to take over. Here's what he had to say:
Daniel Ortiz
"There is this suggestion by your opponents that it is a conflict of interest, and that you would be hard pressed to send your own family member to face trial. How do you respond to that criticism?"
Hon. Wilfred Elrington - Minister of Foreign Affairs
"Well, you don't have to - that is not a matter that should detain them really. I could always say to the Prime Minister, 'Look, this is not a matter that I want to deal with.' And I could ask to be relieved of the position, no big thing to me. But, I try to be professional in all that I do, but if I were to form the view that that would create a problem with me, I would simply move aside and have somebody else do it. You know, very often, during the course of any year, you have other people who act in the position of Foreign Minister. And, the people who act in the position of Foreign Minister, when the Foreign Minister is not in the country, has full authority and power to act, and to discharge the obligations."

Robber Made Off With Iphone X
A man was robbed of his latest Apple phone and watch at a local fast food joint. Yesterday at 6:50 28 year old Bunty Ponwani says he was at a fast food spot on the southside when a man walked into the restaurant and held him up with what looked like a gun. He handed over a black iPhone X cell phone, valued at $2,200 dollars, and an Apple watch valued at $1,000 dollars.
The man ran off with the high valued items and his wallet. Police have made no arrests.

Ras Indio Promises U.N.I.T.Y
Unity. That is the name of Queen Latifah's hit song released in 1993 and now Belizean artist Ras Indio along with Boss Lady have done what could be called a 25th anniversary remix. For them, the message of the song is what they want people to hear.
Today they stopped by our studios to share more on the song - whose relevance may be greater than ever:
The video for the song is available on youtube or at Das Indio's Facebook page.

The Wonders of Cedar Bark Celebrated
Cocono Bwai is another artist premiering a new video. Cecil Jenkins is committed to keeping the "Brokdong" Tradition alive. He told us how his new song, Cedar Bark builds on the tradition - by extolling the virtues of a roots remedy for all that ails you:…
And he's not only pushing the genre forward with new songs - Cocono bwai is also introducing a "Brokdong Band". He says he saw how essential this was when he recently went on a trade show tour to Russia:..
You can find Coconobwai's new song on his Facebook page.

Everyone For Ecumenical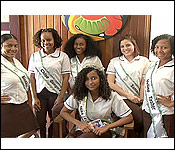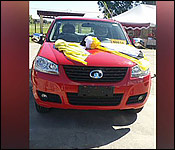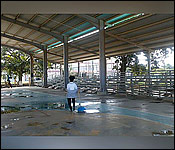 Stann Creek Ecumenical High School is hosting two fundraiser events to support their school initiatives. The first is a pageant where 5 girls will give all they have to get the Ms. Ecumenical title. The participants along with the Pageant coordinator told us more about the event and what the proceeds will be used for.
Christie Garbutt, Pageant Coordinator, Ecumenical High School
"We are promoting our Ms. Ecumenical pageant 2018-2019. It is going to be held under the theme Southern beauty. We have 5 delegates and each of them is going to be representing a Southern product."
Courtney Weatherburne, reporter
"What product are you representing?"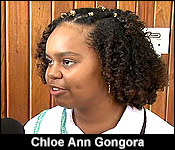 Chloe Ann Gongora, Pageant Participant
"I am the representing the Cocoa. All of us bring something unique to the table so everybody has a different talent so we all bring diversity and uniqueness."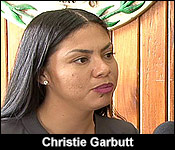 Courtney Weatherburne
"So just tell us about the importance of the event and where the proceeds will go."
Christie Garbutt
"So this event is going to give our contestants an opportunity to be more comfortable with public speaking. It is going to impact their character, to get a lot more confident, boost their self -esteem, it is also going to be beneficial to our school, as the proceeds from the pageant is going to fund our students assistance program as well as our sporting program at the College."
The pageant will be held on March 2nd at the School auditorium. The other fundraising special is a raffle. Business teacher Jonell Villafranco told us more about the grand prize.
Jonell Villafranco, Business Teacher, Ecumenical High School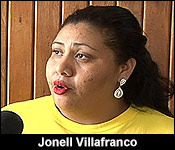 "This year the fundraising committee is venturing into a grand raffle, win a Wingle. We are raffling a brand new 2017 Wingle. The cost of that wingle is $35,000 dollars and we are selling raffle tickets at $10 per ticket. So it is like we are giving away this wingle because it is $10 per ticket."
"The proceeds from this raffle goes to our auditorium, maybe you guys already know that we have an auditorium and that auditorium is being used by the community, the community uses it for a lot of activities both private and public but we need phase 4 and that phase 4 is the platform along with the stage and we are fundraising towards that."
The raffle will be drawn on May 2nd for Mother's Day. For those living outside Dangriga, if you would like to purchase tickets you can deposit the money in any Heritage or Scotia bank account under the name Stann Creek Ecumenical High School. Or you can call the school at 522-2114. Again, it's $10 for one raffle ticket.

ESTM Expanding Rapidly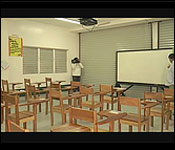 Escuela Secundaria Technica Mexico in San Roman village is a fast growing school in the Corozal District. The total enrollment has increased by 51% in the past 10 years.
And to accommodate their 200 third form students they've been using temporary structures for certain subject areas.
Now, they've gotten a brand new building from the Social Investment Fund - which was handed over today.
The Principal told us more:
Principal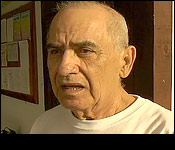 "Well we just inaugurated a building with 6 classrooms which we will be able to accommodate our entire 3rd form. That means we have freed up some space where we can double the space for the home economics, have an art gallery, a gymnasium, and a room for the student government to meet."
Hon. Angel Campos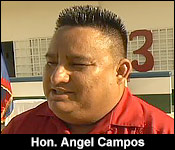 "The ministry of education has done a study where the classrooms are needed in Belize. Here in Escuela Mexico we have an ever expanding influx of student here from around the different communities here in Corozal southwest and Corozal with orange walk as a whole. The chairman of the board of management here even mentioned that he has a couple students from down south as well so Escuela Mexico is getting a fame where they are giving quality education in vocational technical areas and a lot of people are coming here to study."
Hon. Erwin Contreras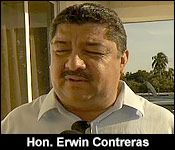 "The majority of funds are going to 2 districts, Corozal and Toledo. This is just one of projects we are doing today. I want to take this opportunity to congratulate Escuela Mexico whom have been doing a fantastic job. We will also have other schools to be inaugurated. Maybe I can also share that the orange walk technical will be habilitated, funds have been approved and also there will be new construction at Louisiana School in Orange Walk as well."
The school is celebrating its 35 anniversary AND RECENTLY TOPPED THE CARIBBEAN IN AGRICULTURE AND VOCATIONAL AND TECHNICAL STUDIES.

Home | Archives | Downloads/Podcasts | Advertise | Contact Us