21 Year Old Ian Adolphus Jr Dies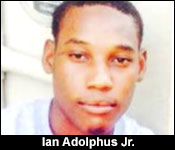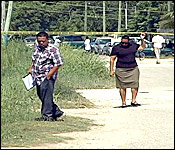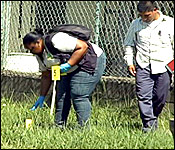 Last night police spoke about how they had been holding crime down in the city - after a month with no homicides in the murder capital. Well, they spoke too soon. Tonight, sadly, the news is about two men killed in separate shootings within 30 hours. First, yesterday's shooting victim, 21 year old Ian Adolphus Jr died early this morning. That's murder number one. And then this afternoon at 2:15 pm, 29 year old Hubert Bodden was shot dead on Cedar Street behind Habet and Habet.
We start with Adolphus. He was shot yesterday morning at 9:30 am on Freedom Street and died at the KHMH this morning at 4:30. The 21 year old was shot to the arm, chest and elbow. His father tells us that the shot to the chest was the fatal injury because it caused major internal bleeding and also damaged his heart. He said that after surgery Adolphus was listed as 50/50, and later in the night Doctors lowered his chances. He was then taken off life support.
He succumbed before dawn. Today we spoke to a friend who asked to appear off camera:..
Voice of: Friend of Ian Adolphus
"I was not a troublesome person. He wasn't affiliated with any gang. He wasn't a gang member as far as we know back here. He has his friends that he hang out with, my brother and his other friend - that's it. When a vehicle is there to fix, they fix it and thing and that's it. He has some little running with the law, over minor charge, maybe for drug trafficking for a puff of weed and maybe a little fight now and again. That was Uno, I didn't know him as a gang member. We don't really know."
"When we got the news yesterday, it shocked us, because he was not that type of person who looks for trouble. Normally in the yard, he would be with us. Once he was not here, he would take a ride by his grandpa house every now and again. But from out there, it's straight back at Jane Usher here at our house he would come back and that was it."
"He was trying to gather up some little youths to play a basketball tournament. He had already gotten the youths, but apparently, it looks like he went out there to get phone numbers from some of them to play the basketball tournament that is supposed to happen Friday in Ladyville, so that is why he ended up going out there that morning when he was shot."
"The amount of time he was here with us, I don't know him as a troublesome person. He would not walk on the street and troubles you. You could call Uno a hundred times to go to the shop for you, it doesn't matter how far, but Uno would go. He could just come back and you could send him again and he would go. That there is Ian Adolphus as far as we know. He wasn't a member of any gang, no leader of any gang, and not a troublesome person. The only time you would hear him get into trouble, is of trouble comes to him, the he would defend himself. Other than that, I don't have anything negative to say about my adopted brother. I have to call him adopted, because he is here almost a entire year with us, at this yard in Jane Usher."
Police are looking for a 16 year old suspect.
And while his friends nor police will say it, Adolphus is believed to have been a casualty of gang violence. On his facebook page, the 21 year old identifies with the Louise Bevans Crips, one of a cluster of gangs jostling for turf in southeastern Port Loyola.
He was shot just a few feet from his family home on Freedom Street.

Two Murders In 30 Hours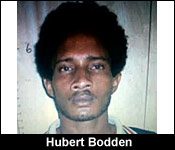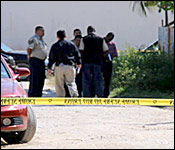 And then this afternoon at 2:15 pm, 29 year old Hubert Bodden was shot dead on Cedar Street behind Habet and Habet. He was in the area taking money for his young son - and he was reportedly caught by a bullet intended for another man who was fleeing.
7News was on the scene, and later we spoke to his stepfather.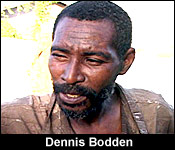 Dennis Bodden - Stepfather of Herbert Bodden
"I feel sad, because he was a respectable person and he is a kind person and we usually get along with each other, with the family. It really hurt when I got the message this morning. I didn't expect this to happen to him. He is not a piece of cloth and I don't feel like it is right. I don't think that will end like this, because he was too kind. He was just at the wrong spot and it hurts me. Anywhere he goes, he is well-known. You would always meet him pushing his cart."
No arrest has been made.

Hope for Harmonyville
In May of last year, the dispute between the Lands Department and the grassroots organization, BGYEA, first emerged in the press over the Harmonyville community housing project. You probably remember that the Lands Department ordered that certain tracts of land set aside for Harmonyville has to be left aside for road reserve.
But, BGYEA members and their supporters believed that the government was being unreasonable because the amount of land that the Lands Department wanted to leave untouched was significantly larger than in other communities. Secondly, they wanted to plant corn in this buffer area, and the proceeds would be used to construct proper roads and other infrastructure for the community. The Government refused to approve it, and when the grassroots organization agitated to move forward with its plans, Government got an injunction to stop them.
Since then, the case has been making its way through the court, and every time that the press asked for an update, BGYEA's attorney asserted that it had stalled because the mediation sessions were not being taken seriously by the Government side, which keep absenting itself. Well, after 9 months of this dispute, it was finally resolved via a mediation session. This afternoon, Audrey Matura-Shepherd, BGYEA's attorney, told us that every single thing that her clients were agitated for was conceded by the Government attorneys:
Audrey Matura-Shepherd, Attorney for BGYEA

"The objective was to try and settle the matter. I mean, it's rather petty what the government was doing, bringing a case of trespass against Mr. Petillo on behalf of BGYEA, when we know really the substantial issue is more than that, it's the unfair treatment where we have grassroots, black Belizeans, are being treated different than the immigrants who wants to squat on the land and also you have to look at the fact that BGYEA was acting in a positive way, where they want to help themselves to develop the community. However, clearly we saw the opportunity of the mediation on this case as an opportunity to deal with some key issues and I think that we successfully did that today. For example: government wants BGYEA to accept that they are the owners of the buffer. Well, any crown land that is not in the hand of a private person - that's like a moot point. They are the legal owners, but what BGYEA always had was an equitable interest because that's land in their community, for which they're told they were co-managers, on which they could not put permanent structures or permanent crops and they were not doing that. However, conceding to that is not a problem, because what we get in return is better. Now government is committing to keeping that buffer clean. That's a big burden off BGYEA. BGYEA was paying hundreds of thousands of dollars to keep that buffer clean, which is government that is supposed to do that. So, government is agreeing to keep it clean and cleaning it 3 times a year. Also, government is saying, well, since you all want to plant, we will allow you to plant in the reserve areas. Remember, there was the buffer at the top and then there are these big plots of reserves. Some of them 20 acres, some of them 15 acres - it's about 60 acres total. Government is saying, plant your corn there or anywhere else. I mean, that's a huge victory for BGYEA, because they get to plant their corn and they get to take the proceeds of that corn and put it back into the development of the community. The other thing that happen, was government said, well, we not only tell you, you could plant your corn, we are offering seeds and technical assistance from the Ministry of Agriculture. So, we accept that as well and they are also saying that after everything is said and done, when this matter is concluded, we, government commit to go move those squatters that are on the buffer that you keep complaining about. Because we are saying that it's a discriminatory practice for you to come after Nigel Petillo and BGYEA, saying that they are trespassing on the land, when you have some squatters who are more than trespassing - they are trying to squat and get a legal claim to crown land."
So, that should finally put the buffer zone issue to rest since all the agreements coming out of the mediation session will be turned into a court order, which makes them binding. Both sides will make submissions to the court for costs in this lawsuit.

Election May Cause Two Day Holiday In Some Areas
Next week Wednesday, March 4 is the date of the 2015 Municipal Elections, something which the mass parties, their candidates, and the independent candidates know only too well. But while that day is not a public and bank holiday, the Ministry of Education has decided that there will be no classes country wide.
Parents who have children going to schools which will be used as counting stations will have to monitor the progress of the elections in their town or city closely because if there some dispute over the results, and there is some form of a recount required, or if the counting takes extra time, classes for Thursday March fifth may also be called off.
Today, the Ministry of Education's Education Information Officer discussed with what will happen on Wednesday and possibly Thursday at the different schools:
Yma Casey Gordon - Education Information Officer, MOE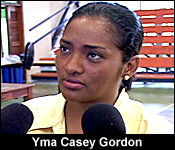 "We have through the chief education officers, sent out a memo a while back, to general managers and to principals, identifying March 4th as a non-school day. We've also inserted in that memo, the possibility of having a non-school day on March 5th and of course this is to accommodate certain circumstances if the needs be when we look at our school who will be used as counting stations as well as polling stations."
Daniel Ortiz
"So, as a parent, should I be preparing myself for a non-school day 2 days straight?"
Yma Casey Gordon - Education Information Officer, MOE
"Well, as I said a while ago, granted if the circumstances arise. At this point I really cannot say that in deed we are going to have 2 non-school days, but if the circumstances arise, then we will have to proceed."
A release from the Ministry of Education says that the schools which will be used as polling and counting stations will have to be available for the necessary preparation from next week Tuesday from as early as 1 p.m. That means that classes for these schools will only happen in the morning session.

The Tale Of The Tablet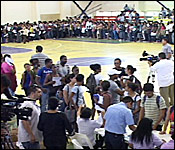 We caught up with Yma Casey Gordon at the UB Gynmasium in Belmopan while the Ministry of Education was continuing the distribution of the ASUS computer Tablets.
As we've reported, the giveaway to the tertiary students started on Tuesday - but since then we've seen at least one for sale online. We asked Casey about this and the question of whether the tablets should have been distributed strictly on a needs basis:
Yma Casey Gordon - Education Information Officer, MOE
"We had a total of about 1200 students and this is at the UB Belmopan Campus. Up to date we are on our second day. We have one more day left and we have about 400 tablets left to distribute."
Daniel Ortiz
"Ma'am, some have made issue of the fact that there are some students who qualify who don't particularly need the tablet. Was there any sort of screening done or is there any sort of policy on that, because you don't need the tablet, means you don't necessarily received it from the Ministry of Education?"
Yma Casey Gordon - Education Information Officer, MOE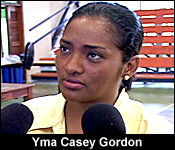 "Let's put it this way. I don't know anybody who has been given a gift - if you're been given a gift, if you have the right to say no - you don't want to receive the gift - it's a gift and the gift is being given in good faith. So, I wouldn't want to go into the details as to who deserves a tablet or who doesn't. It's a gift and we are very happy that our students are in a positive way, grateful and thankful for this gift."
Reporter
"What is the ministry's response to reports of people who are selling their tablets?"
Yma Casey Gordon - Education Information Officer, MOE
"There are times when whatever it is that you seem to do, there are always going to be some kickback - some negative feedbacks, but the overall feedback is resounding, its positive and we are looking forward to more healthy feedback."
And there's another angle on the story - this one related to politics. As we told you last night, political operators start pressing the panic button whenever it gets close to a major election. Today, a senior elected official in the opposition told the media that personnel from the Ministry of Education was passing on copies of the forms filled out by students receiving the tablets to the UDP Secretariat. The secretariat in turn was contacting the new tablet owners about the upcoming election - or, so the story went. We asked the Education Officer about it, and she told us that there is no way that this is happening:
Daniel Ortiz
"It's unconfirmed, but do you have any such information which suggests exactly what we are asking about?"
Yma Casey Gordon - Education Information Officer, MOE
"Well I want to say that this is the first time, as a matter of fact, this is breaking news to me. I want to take the opportunity to say that the Ministry of Education, Youth and Sports, continue to act in confidence and I am certain that, that is nothing but farfetched."
Daniel Ortiz
"But is that a breach of confidentiality if it has happened?"
Yma Casey Gordon - Education Information Officer, MOE
"Well, certainly it would be, but allow me to say again, that the Ministry of Education is acting in full confidence and that is something that would never occurred."
We also reached Education Minister Patrick Faber, and UDP Party Chairman Alberto August. They both categorically denied that anything like this has happened or will happen. August told us that this is only propaganda from the Opposition Party to try to discredit the UDP's hard work. Faber told us that the information is entered into the Ministry of Finance's Smart Stream system - and form there, his ministry's staff has no contact with it. We independently contacted various students who received tablets when we were there and they said no political party had contacted them.

Hol Chan Martine Reserve, Now 6x Bigger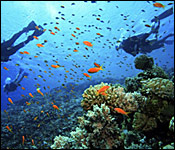 It's already one of the most famous marine reserves on earth and tonight, Hol Chan is even better than that because it's gotten 6 times bigger. Last week, Cabinet approved an expansion to include a 40 acre plot of lagoon and wetlands - called Sunset Cove. It was designated as Zone F of the reserve some time ago, but in September reports emerged that it was being surveyed for house lots. That raised howls of protest - and the good news is that it worked - and yesterday a ceremony was held to celebrate the accomplishment. We found out more from the park manager: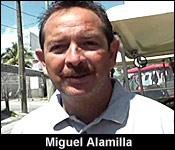 Miguel Alamilla, Hol Chan Marine Reserve
"Hol Chan Marine Reserve has a total coverage currently on 56sqkm. This expansion will greatly add to what it is Hol Chan right now. I think it's over 330sqkm of additional mangrove, sea grass beds and coral reef that we are adding to the Hol Chan Marine Reserve. So, in all we are multiplying what we have by more than 6 times."
Hon. Manuel Junior Heredia, Area Representative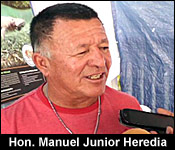 "As the Minister of Tourism, I am extremely proud, because any reserve that you create within the number one tourists destination will definitely enhanced the visiting experiencing of our tourists and I can guarantee you, that once its internationally known that this has been done, you will find that a lot more tourists will be wanting to come to this destination, to see what it's all about."
Miguel Alamilla, Hol Chan Marine Reserve
"We started with a little over 18sqkm. We have been adding. In 1999, we added Zone D and in 2008, we further increased from 18sqkm to over 50sqkm and now this is another expansion that is happening. When I started working here, it was myself plus 3 rangers. Now we are a staff of 18."
This expansion was first proposed in 2010.

The Shame Of Shafane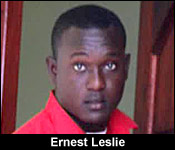 19 year old Ernest Leslie, today walked from a charge of grievous harm after he was accused of breaking the jaw of a female 18 year old Excelsior student, Shafane Flowers.
How did it happen? Well, the alleged victim, Shafane Flowers did not show up at court today for her own trial which forced the court to withdraw the very serious charge against Ernest Leslie.
When Leslie got the news, he was at court alone and unrepresented and wasted no time in dashing out of the court.
Both were in fourth form in May of 2013 when Leslie, allegedly as an extreme act of bullying punched his female classmate. The girl's mother alleged that her daughter was being bullied for almost a month and being called disrespectful names.

FFB: The New Face Of Football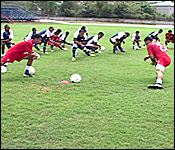 Viewers may remember vividly how the country's National A Football Team, the Jaguars, qualified for the Gold Cup in 2013. It was a first for Belize, and a triumph for the Ruperto Victente Administration of the Football Federation of Belize which was determined to show that they were managing football properly.
Since then, poor performances have killed the hype, and the hope in the Vicente administration has also ebbed. It hit rock bottom when the team came in last in the 2014 UNCAF Copa Centroamericana - or Nations Cup.
Well, the FFB is determined to get it right for the first round of the 2018 FIFA World Cup Qualifiers. Belize plays against the Cayman Islands on March 25, and this new National Team Selection has been practicing as a team since November of last year.
The full National Team has since been selected, and according to the FFB, it is a younger, more cohesive selection which will allow football at this level to develop. The Federation invited the media today for a meet and greet session with the new team, and 7News was there. We saw quite a number of new faces, but also some familiar ones. Here's what they had to tell us today.
Woodrow West - Member, National Team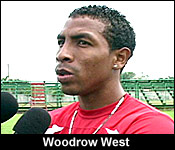 "We return from November last year and yes, it's just two time for the week, but we still work a lot, because it's what we were asking from years ago to try get prepared months before our tournaments. Its helping and the tournaments is going on as well, so the players are active both on the national team and the league as well. It's a good start for us and we are training hard and try pushing our best to get where we need to be in the World Cup elimination."
Daniel Ortiz
"Talk to us about the level of drills, the high intensity drills that you all do. What exactly is the focus of the team right now, in order to play at that high level?"
Woodrow West - Member, National Team
"We have our physical trainer who is well prepared. He's been studying in Cuba and he went and lately come from Germany, so he is up to date with all those physical training and he is trying to help us getting there. And playing in the league, we are still in condition. What we are trying to do is work a little bit of physical and get the system acquainted with all the player, so that we could do a good show home and score some goals, because as you know that's our problem here - scoring goals. That is one of the weakness we are working now to get offensive minded and try to get some goals home."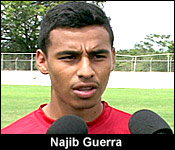 Najib Guerra - Member, National Team
"When I was called, I was happy. I can't say no. It's a great privilege to represent my country and better yet, it's a home game and so we have to represent. About the senior players and us the rookies, well, they are motivating us - always telling us to big up our game, do not get discourage if we don't get pick, but once you make it, just play and represent your country."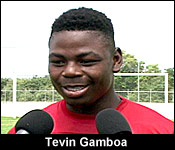 Tevin Gamboa - Member, National Team
"I feel so good, because this is my first time coming with the A selection team of Belize and working with Woodrow West and other people. It's like a dream come true, because I always dreamt of playing with the national team. But I have to wait my turn because Woodrow West is the number one goal keeper here and I just have to do my thing along with him."
The full 30 members of the team will be posted on our website, since it is quite a lot to list off at this time.
Corozal District
1. Rai West
2. Woodrow West
Belize District
3. Jerome James
4. Jarrett Davis
5. Ian Gaynair
Belmopan
6. Denmark Casey
7. Norman Anderson
8. Randy Padilla
Cayo District
9. Trevor Lennen
10. Marlon Meza
11. Jermain Jones
12. Najib Guerra
13. David Trapp
14. Andres Makin
15. Devon Makin
16. Amin August
17. Daniel Jimenez
Stann Creek District
18. Khalil Velasquez
19. Byron Chavez
20. Elroy Kuylen
21. Tyrone Pandy
22. Harrison Roches
23. Highking Roberts
24. Tevin Gamboa
Independence
25. Dalton Eiley
26. Marvin Centeno
27. Jordi Polanco
28. Delone Torres
29. Kyle Flowers
International Players:
30. Elroy Smith
31. Shane Orio

A Change Of Mood and Mind For National Team Coaches
And the man who will is leading the team as Head coach is Jorge Nunez, a native of Brazil who has been around Belizean football as a coach for over 25 years. He's has coached some of the biggest names in football, and today, he told us why he wants your support to lead the Jaguars into these World Cup qualifiers: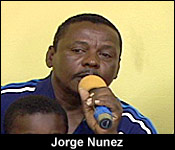 Jorge Nunez - Head Coach, National Team
"I played football with Juventus. I play football in Central America, I play football in my country, Brazil, professional. I have had training, I have received my certification from FIFA and I did my training in Guatemala, so I am certified to coach in any part of the world."
And as you may have noticed from our footage, Charlie Slusher is back at the FFB as the Assistant Head Coach of the National Team. Now, the last time we spoke with Slusher, which was about 2 years ago, it appeared that he and President Ruperto Vicente had major differenced of opinion about what's best for the National Team. Slusher exited on less than amiable terms, and so today, we asked both men how they were able to mend fences. Here's what they had to say:
Ruperto Vicente - President, FFB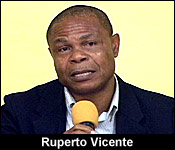 "Football is a dynamic sports and football is played on the football field, two teams playing against each other. Similar in an administration, there are going to be differences and I have always said to you the media, that yes, there was a difficulty between the federation and Charlie Slusher, but as the President of the federation, I would never close the door on a Belizean coach, because we want that our Belizean coach be developed and take full control of our national teams. We believe that we have coaches like Charlie Slusher and other players who have played the game, have great potential in leading our national teams and I believe that I have done all my best to bring Charlie Slusher back into our camp. He is a Belizean, he plays football, he has been trained as a coach and there is no way as the president of the federation, I will allow a Belizean coach who have played football to be left outside of the federation."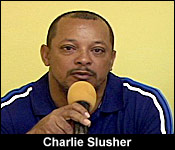 Charlie Slusher - Assistant Head Coach, National Team
"Myself and Mr. Vicente, the president, we want to achieve the same goal. So, as long as our intention is to make football become successful in the country, it was easy. It wasn't a difficult thing. I want to do my best. The president want to do his best, so it wasn't a difficult decision for anyone of us to make, because we want to make Belizean football successful. And the president has always said on the media that whenever Charlie Slusher is ready to come back, he will welcome me back and it shows today that he is a man of his word."
And the National Team Coordinator is Police Minister John Saldivar, who is also the owner of the Belmopan Bandits football Team. Now, if viewers can recall, Saldivar was instrumental in ending the Bertie Chimilio regime while he was Minister of Sports. Also, a portion of the National A Selection are players from his Belmopan Bandits Football Club, so we asked today, if he has any hidden self-interests to promote while holding such an important post within the FFB. Here's how he answered that question: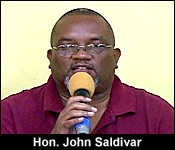 Hon. John Saldivar - National Team Coordinator
"A very loaded question, but first of all, I'd like to refer back to what both president and Charlie Slusher has said, I share their view that my interest in being here is so that my country can win and if you have that as your interest, there is no place for self-interest. There is no place for personality and personal interest and I can assure the Belizean public that in conducting my functions as the national team coordinator, there are no hidden agendas with respect to the Belmopan Bandits players. As has been alluded earlier by Mr. Kuylen, we opened training in November, we took deliberate steps to inform the public and players that training was open to all and all who attended got a fair chance from the coaching staff. Got the coaching staff to see them and can be attested to by both the coaching staff and players who were at training, I have never at any time try to intervene, interfere or put any personal biases into that selection process. The coaching staff has been entirely the group that has decided on the members of the national team. If it happens that a significant amount of Bandits' players are there, is because we are the 3-peat champions and we do have the majority of good players in this country."

A Field of Dreams, Deferred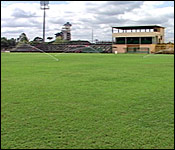 And the first match that the Jaguars will play for the FIFA World Cup Qualifiers will be a home game against the Cayman Island National Team. They will play that match at the FFB Stadium. Now, you may remember well the controversy which arose when the FFB promised last year that the football Pitch would be ready for the 2014 Champions League.
It was a big fail for the Administration because in the very last days coming up to the match, Belize, which would have been represented by the Belmopan Bandits was yanked from the competition because the field wasn't ready.
Well, the FFB has had months to make sure that the pitch is up to international standards. So, we asked about it today, and the President said that it has passed inspection with flying colors: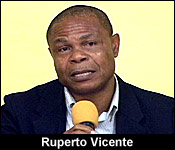 Ruperto Vicente - President, FFB
"Our field was inspected on the 26th and 27th of January of this year. And so, our field, our stadium and facility has passed the test and so we are ready to play football. I don't even have to speak on this today, you are here and so you will be able to take a look at the pitch. It's a beautiful pitch. It's an international pitch. Yes, we've spent a quite amount of money on it, to get it where it is now and I want to also applaud Mr. Anthony Chanona for all the work that he has put into this field. No field in the world is completely level. I was in Mexico on Tuesday, as the match commissioner for the champion's league game. They had a game on Tuesday night. That pitch is so wavy and so no field you get on is completely leveled and our field will never be completely leveled. What is required, is that the field completely covered with grass and green. That is the requirement and today we have a field that is more level that any other field in Central America."
That match against Cayman Islands National Team takes place on Wednesday, March 25 at 8 p.m. There are 3000 seats at the FFB stadium, and each is going for $50.

Civil Aviation Minister Iffy on Penalties For Air Traffic Controllers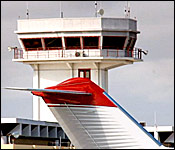 Yesterday in San Pedro, Minister with responsibility for civil aviation Manuel Junior Heredia addressed the issue of the air controllers sick out on Saturday. It shut down the airport's operations for five hours - and raised many public questions about the state of the equipment in the air control tower. Heredia today told the media that no one complained to him - but he does have his own complaints:..
Hon. Manuel Junior Heredia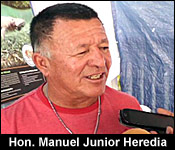 "These people should not have acted n that way. Probably they didn't get good advice, but we are hoping that this will not be repeated in the future and we are also working in additional support, which at this point I cannot reveal, when it happens you will know, but definitely from our own government department's we are looking into training other people. I have been very open. When I met with them before the Christmas holidays, I was very open, look, if you are not happy with what is happening over there and people are not listening to you, there is the minister who will entertain from the guy that sweep the area to the highest officer. There is no special for anyone. That is the way I have operated and that is the way I will continue to do so, but at the end of the day, if you do your investigation and you find out that there is mischief, then you have to deal with the issue. You cannot allow anyone..."
Geovannie Brackett, reporter
"The management said that they have not classified it as a sick out and that they are hearing the workers and nothing will be done to the workers, but from your ministerial point of view, are you still hoping that later on, you try to investigate and try to fire somebody?"
Hon. Manuel Junior Heredia
"I don't believe in firing. If people are doing their job well, fine. But if anybody, from any part of my department, I can find evidence, that there is negligence of that, most definitely I have to act upon that."
A follow up meeting to address issues between civil aviation department bosses and the air traffic controllers was held today.
As alluded to by Heredia - Government has a plan to train other government employees so that they can do the job if such an event occurs again. We gather that is more easily said than done, since the training is intensive, rigorous and specialized.

Be Your Own Boss!
Be your own Boss! That is the motto of the new Youth Apprenticeship's entrepreneurship program. A ceremony was held at the Youth for the Future building this afternoon to honor the 16 participants who will be benefiting from this program. Una May Gordon, the founder of the Institute of sustainable livelihood leadership and Exchange, told us that this program gives youth a chance to reinvent themselves.
This program which covers a year, is being sponsored by Australian Aid. The series of workshops and training for participants should start in March.

The Inevitability of Aeging
We're all gonna get old, but despite its inevitability, aging is not a topic freely discussed. And while we'd rather not talk about it, but the national council on ageing say that it is a timely and relevant discussion. They held a conference today at the Radisson under the theme "Policy Dialogue: Toward an effective Continuum of Care for Older Persons". The dialogue centered on how to improve services for older persons in order for them to live healthy and dignified lives. Judith Alpuche, CEO of the Human Development sector further discussed how this will impact the quality of life for older persons.
The National Policy focuses on persons ages 60 and older.

The Central Corridor's Comeback
The last time the Central Belize Corridor - also known as the jaguar corridor - made the news was in 2012 when the company Green Tropics raised an environmental red flag when they dug a 2 mile canal through it.
But, this corridor extends 750 kilometres - or approximately 466 miles - of the country, and a part of the Mesoamerican Biological Corridor, and this protected area is vital to the wildlife which calls it home. But among those 466 miles, there are private land owners, and different communities which make up parts of it, so the conservationists are trying to make sure that the human interaction with the corridor is beneficial, instead of the deforestation and shrinking of the wildlife habitat which happens whenever forests are cut down for agricultural or housing purposes.
The constant threat to the corridor is something that the University of Belize's Environmental Research Institute knows very well, and so a very involved, very exhaustive consultation process in which 15-member task force was put together. This taskforce comprised of representatives from governmental agencies and non-governmental organizations, and their objective was to put together a corridor Action Plan.
After months of consultation, the plan was completed and unveiled today by the UB Environmental Research Institute, 7News spoke with the leader of the taskforce about the major elements of the plan. Here's how she described it:
The plan is supposed to be implemented over the next 3 years.

Reef-Ready Kids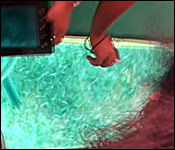 In December of last year, we told you about Grace Primary student Amber McKay. She won the art competition held by the Belize Coalition to Save our Natural Heritage. Well, yesterday it earned her and 34 of her fellow students a trip to the Hol Chan Marine Reserve in a glass bottom boat.
The city students left for San Pedro early in the morning and for the kids, it was a real eye opener - in the most literal sense of the word!

Whale Shark Sightings Underway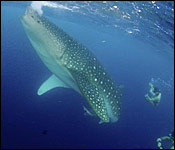 And they would have had to open their eyes even wider if they were in southern waters where whale sharks usually pass through close to the middle of the year. But this year, they've been spotted as early as January in Belize.
According to Director of Reef Conservation International in Sapodilla Caye, Polly Alford, this is not a rare occurrence - over the past 10 years she and her team have sighted them throughout the year. They spotted a whale shark last week and also saw one on New Year's Eve near Tom Owen's Caye and Sapodilla Caye.
So if you are looking to snap a picture of one of the whale sharks you can spot them in those areas.





Home | Archives | Downloads/Podcasts | Advertise | Contact Us