Bar Declares War On CJ For 29 Pending Judgements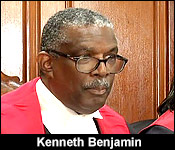 In the next half hour, the Bar Association of Belize will hold its second annual general meeting and it could be pivotal for the judiciary! That's because the Bar is fed up with a backlog of over two dozen judgments which are sitting on Chief Justice Kenneth Benjamin's desk.
And tonight, the Bar is considering the option of calling for, quote "(the) voluntary resignation of the Chief Justice on the basis of a lack of confidence in his ability to deliver outstanding decisions."
Failing that, another option is to, quote:
"Make a formal complaint to the appropriate body for the removal of the Chief Justice from office for misconduct, that is, the manifest failure to deliver timely decisions in breach of the constitutional right to a fair hearing within a reasonable time."
That's very heavy stuff, and - while we stress those are just proposed courses of action - if any of those options are adopted tonight, it's means no less than a full - on judicial crisis.
Jules Vasquez has obtained documents which show a Bar Association that has heard enough excuses:
The last item on tonight's agenda for the bar association meeting is the prickly issue of outstanding judgements.
In this 4 page background document, the Bar outlines a very troubling situation, where judgement is pending in 30 cases before the Supreme Court. The delay time is between two years and five years five months. The document notes, with gravity, "most of these cases are before the Honorable Chief Justice."
The matter was first raised with the Chief Justice in 2016, and he replied, in an apologetic email: "I have regrettably accumulated a number of reserved judgements over an extended period of time. It is embarrassing and I accept full responsibility."
At the time, June 2016, the CJ said he would reduce the current matters before him, and committed to deliver judgements on the average of two per week, so that he would be finished by Mid-September.
But that didn't happen. The bar notes that only 3 judgements were delivered - leaving 29 outstanding. Add to that one outstanding by retired judge Gonzalez and it's a nice round figure of 30.
So, the matter was raised again this year and the Chief Justice wrote back to the president of the Bar just yesterday. He says the matter has caused him "much anxiety and distress", and says he will use his vacation months to address the situation.
He says, quote, "the patience and understanding of the Bar is craved."
But, that craving may go unsatisfied. Citing the constitution and the authorities of all pre-eminent courts, the bar position concludes, "the delay is such that at the very least, there is a presumption of a breach of the constitutional right of the litigants to a fair hearing within a reasonable time."
They conclude, "The delay, therefore, needs to be justified by the Court. It would appear that the only explanation which could be provided would relate to administrative inefficiencies or a lack of resources; reasons which the courts have consistently considered insufficient to excuse such inordinate delay."
So, as we noted in the story, the Chief Justice did replay yesterday saying he would deal with the judgements while on vacation for the next two months.
So one proposal that will also be tabled tonight is to, quote, "Postpone taking any specific action until October 2017 in light of the letter from the Honourable Chief Justice."
Another option is to, quote, "Institute a Constitutional Motion for the benefit of aggrieved litigants seeking declaratory and injunctive relief against the Chief Justice. In particular, a declaration to the effect that the delays amount to a breach of the constitutional rights of the litigants."
Tonight the bar will decide which, if any, of those courses of action it will take. We'll update you on Monday.

Bail For US Couple Accused of Cruelty To Deceased Child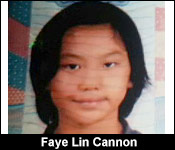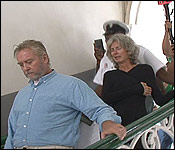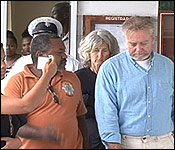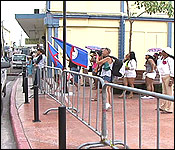 Last night, we told you how a group of San Pedro residents intended to stage a protest in front of the Supreme Court. They were there to demand that Americans David and Anke Doehm to remain in jail while the await a criminal trial related to the death of their 13 year-old adopted daughter Faye Lin Cannon.
A small group of protesters showed up to the Battlefield Park, and chanted loudly, making a peaceful but disruptive stance at the courthouse. But, though they disturbed the business of court, they still couldn't prevent the judge from ruling that the couple should be released, while they await trial for the offense of cruelty to a child.
Our news team was at court before hearings started, until the moment when the couple were freed. Daniel Ortiz reports:
Daniel Ortiz reporting
After successfully convincing Justice Hanomansingh to grant them bail, David and Anke Doehm were escorted out of the Supreme Court to be processed for their release. They had been incarcerated for 15 days, and as soon as they could leave, they jumped into a vehicle which moved off with haste.
The couple was definitely trying to avoid small but boisterous crowd of protesters in Battlefield Park. For the entire 2 and a half hours of the court hearing, this small but spirited crowd shouted at the top of their lungs.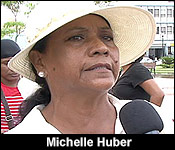 Michelle Huber - San Pedro Resident
"We are here for one thing: Justice for Faye and I pray to the Lord to lay his hands on this nation, because this has been too many murders."
Karen Banner - Orange Walk Resident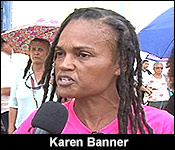 "I am tired of seeing my youths murdered on the streets of Belize City. I am tired of seeing mothers cry. I am tired of seeing single parents with no assistance. We are asking for justice. We will not be quite. I will not be quite. We are tired. All we are asking for is Justice for Faye, justice for Pastor Lucas and there are many more, there are many more murders that has not been solve and we want justice."
Jose UC Espat - Belize City Activist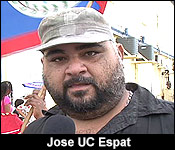 "It hurts to see people murdered. It hurts that no one comes and stands for the right thing. But when there are concerts there are people by the thousands. We need to focus on this entire nation and put a stop to this. Enough is enough. When will enough be enough Belize?"
Golda Swift - San Pedro Resident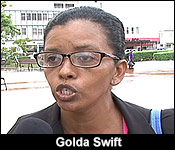 "There is dead child on our hands, there is blood on our hands. As a Belizean citizen and as an educator for over 20 years I have to say we need to stand up. We cannot let these things happen in our country, especially to children and let it go by."
Kera Garbutt - Ladyville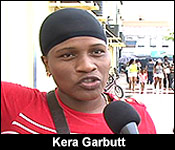 "I don't live in San Pedro, I am from Ladyville, but when I heard the news about what happened to baby Faye, it touches me deep, because I have a little girl that is 15 years old. If it was me and if I had a man and they (the police) came to my house to find my 13 year old daughter dead, we definitely would have gotten charge for murder the same day. We would have been spending our time in jail until our case comes up to prove that it's not us who kill the person. At the end of the day we don't want them to get bail."
The DPP's Office made a strong effort to object to the couple being released on bail, because from the prosecution's perspective, they are a flight risk. Crown Counsel Jacqueline Willoughby tried to convince the Justice Hanomansingh of this, but after considering the lengthy arguments from both sides, the judge did not agree.
Jacqueline Willoughby - Crown Counsel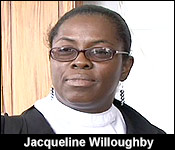 "It is the position our office that they have become a flight risks. One of the issues is you have to be able to take care of yourself in Belize. Their business is down. One of the petitioners have been release of his employment. They really have no other means here. They have no property. The issue of the children are in human services. There is matters before other courts that custody is being sought by the adopted father. It is our view in our office that there is really no reason for them to stay here. This charge will yield them prison time of up to 10 years. But at the end of the day, it is in the discretion of the judge to determine whether or not he would give bail."
Daniel Ortiz
"Are you satisfied with the positions you made trying to counter the arguments from the defense attorneys?"
Jacqueline Willoughby - Crown Counsel
"That is their right, they are defending their client and it is our right to defend what we defend for the state."
So, what considerations did the judge weigh, which led him to rule in the couple's favor?
Richard "Dickie" Bradley - Attorney for David Doehm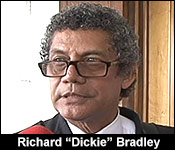 "It has been the law in this country before I went to law school, which is a long, long time ago, that bail is a right, it is not a privilege. Nobody is doing you any favor to give you your freedom which is guaranteed in the constitution of Belize section 5, subsection 5. The second thing is the law is and I really want to emphasize this, that bail is not to be use to punish a person before a trial is held. Those are two very fundamental legal principles."
"It is all too easy to be denying persons their liberty which as many judges have observed creates major problems."
"At the magistrate court, I was the first to concede that a charge of cruelty to a child is a very serious charge, because all of us as adults and I am a parent, we must look after our children and even hold ourselves responsible for our neighbor's children. That is not a ground to lock up somebody in prison until 2019 when the trial may take place. That can't be fair. I understand the persons who are protesting. We feel for whatever the child may have suffered at the hands of these persons and if one of the Doehms or both of the Doehms are guilty of the allegation against them, I am the first to say let me rot in prison, but we cannot go the route of that Clint Eastwood movie "Hang Em High" by punishing people when there is only an allegation."
"In the meantime we, all of us need to hold to the sacred principle that when you are accused and you are not a flight risk and you are not going to interfere with witnesses, then you have a right to your freedom, because your freedom is guaranteed in the constitution of Belize."
But, there have been defendants who have been granted bail, and even with very restrictive conditions to their release, those defendants still managed to flee the country and criminal prosecution. The concern is that the Doehms will add to that list of fugitives who skipped bail and ran.
Richard "Dickie" Bradley
"You can't punish if somebody didn't live up to their conditions. You can't look at all persons and bring up 'you remember that time they give a boy bail and he went and didn't come back' and then you will use that to punish me. That is not how the justice system work. Each case is on its own merits. If you do not turn up your fugitive from justice you have to hide the rest of your life until you are caught. In this particular case you will see that in fact the judge went extra steps to protect the system, in the sense that now the American Embassy, the mighty United States of America through their embassy is to make sure they don't go to America or Canada or anywhere through any facilitation from them. Where are they going to go? If they go to the States, they will bring them back. How will you reach the States if you don't have a passport? What sometimes happens I should say to you, because I do know, what does happens sometime an American citizen says nothing to his embassy, claims to have misplace or lost the passport and they give him a temporary travel document. The judge has covered up that loophole. No system is full proof, but remember the principle that the judge is there to uphold the liberty of a person."
While exiting from the hearings, media workers tried to put questions to the two accused.
Reporter
"And do you missed her (Faye)?"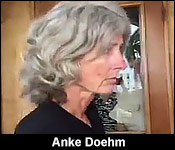 Anke Doehm
"Yes."
So, as we told you, the Justice Hanomansingh granted them bail of $10,000 each. He gave them a long list of conditions by which they must abide, or else bail will be revoked.
Most importantly, they are not allowed to leave the country until the criminal case against them is concluded.
There is also the specific conditions that they must hand over their travel documents to the US Embassy to be retained until the charge of cruelty to a child is concluded.
Also, they must report to the Queen Street Police Station every Monday, and they must attend every adjournment of the case against them.
While the judge was trying to find out which police station they must report to, the attorneys told the court that it is best that they report to the Queen Street Police Station, because the couple has moved out of San Pedro Town.
We are told that only Anke Doehm managed to meet bail through a bail bondsman this evening, and it is expected that her husband, David, will do so on Monday.

Baby Found In Canal Was Premature
Last night, we told you about the body of the baby which was found in the Canal at the corner of the South and East Canal Streets.
Well, tonight, police have more questions and answers, and have yet to release any official information on the case.
We have learned that no post-mortem has been conducted on the child's body. Investigators are still trying to find out who parents are, and and why the baby was stuffed in a plastic bag and abandoned.
But, while the cops are searching for those answers, the social media rumor mill is in overdrive. There is a picture a woman being circulated on Facebook saying she is the mother who abandoned the baby. The press has asked the police about that, but they remain tightlipped about the case.
Unofficial reports tell us that the baby was born at home earlier this week and the mother told her boyfriend to throw it away.
Earlier in the news we gave you the latest information we had on the baby found in the Canal near the South Street Bridge.
Well, the police press office released the information on the post-mortem, moments after our story aired tonight.
The Police report says that just before midday today, quote, "a doctor conducted a post mortem examination on the lifeless body of John Doe where no external injuries were observed. At the conclusion of the examination, [the] cause of death was certified as acute respiratory distress syndrome."
This is a death consistent with a premature birth. Our reports are that the baby was 7 months along when it was delivered.

GSU Got A Gun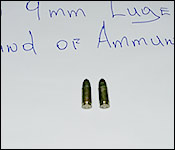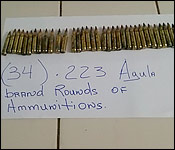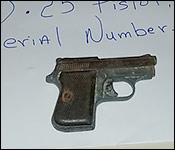 The GSU found a weapon and ammunition on Kelly Street this afternoon. Acting on information received, they conducted a operation in the area where they found a .25 pistol, two 9 mm Luger brand of ammo and thirty four .223 rounds of ammunition. They were all deposited as found property.


Top Shelf Liquor On the Down Low
Yesterday we told you about the contraband confrontation on Yo Creek Road. Well there was another contraband seizure this morning but there was no confrontation. Police found 10 bottles of contraband alcohol, including vodka, Jack Daniel's and Bailey's in a knapsack on the cargo of a Maya Island Air flight in San Pedro.

Police and Politicians Descend on Mayflower 'Hood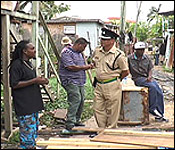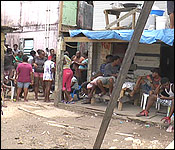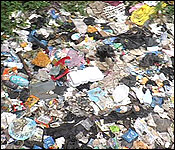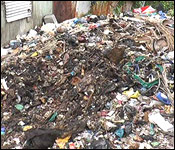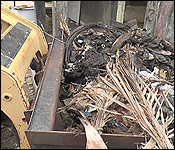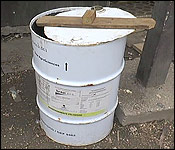 Today, City Councilor Phillip Willoughby called us out to the heart of the Mayflower Street neighborhood. Now, he's a municipal politician who's trying to be mayor - so for him to call out the media is not surprising. But when we got there we found that he also had the Southside commander Marco Vidal with him. Now we know that Vidal - as the former head of the GSU - is a feared figure in Mayflower - which is the heart of the Ghost Town Crips. But, today we found him in community policing mode - here's how it looked.
Jules Vasquez reporting
It wasn't meet and greet Wednesday, but Southside Commander Marco Vidal was in the Mayflower neighborhood - talking amiably to Kendis Flowers - who was charged for the attempted murder of two police officers 7 weeks ago.
But today, it wasn't about the past, it was about the future:
Kendis Flowers, Area Resident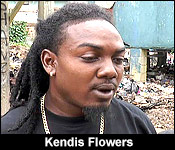 "Right now what we are trying to do is uplift the community, because it's been a while haven't gotten assistance through the areas and for the past we are trying to get this dirt out of this areas and nobody... finally a time come now that we are getting the chance to remove the dirt out of the area. We are thankful for the help from Mr. Willoughby, because nobody assisted us for all the years that we asked."
And that's where City Councillor and mayoral aspirant Phillip Willoughby comes in. He's overseeing the cleaning of a garbage heap that's been here for decades:
Jules Vasquez
"How long would you say that garbage pile is here accumulating?"
Kendis Flowers, Area Resident
"That garbage is there since I was a little boy. I am 25 years old and from I was a baby that garbage has been here."
Gloria Richards, "Mommy Blue" - Mayflower Resident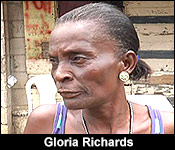 "I don't know how it get like that. We didn't have any outlet to throw away dirt. When we get dirt, we throw the dirt there to try and fill up the place and the more we put dirt the higher it got. It's over full."
Phillip Willoughby, City Councillor
"We had about 10 men from within the Mayflower area here to try and do it manually with forks, rakes, shovels and wheelbarrows. That did not work, out rightly it did not work. It wasn't as simple as we thought and so we went for backup. We say thanks to GENTRAC and Mr., Bevans for working along with us and we have procured this little Bobcat."
Jules Vasquez
"So a cynical interpretation would be that you are doing this for politics."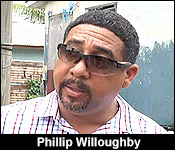 Phillip Willoughby, City Councillor
"Jules and I will say this loud: Pagins, Jamesy, I come ask any of you to vote for me or I tell any of you I am running for mayor? No [nodded]."
"Sir, my works speaks for itself."
Jules Vasquez
"Mr. Willoughby is fooling himself, because this is a PUP neighborhood. You all would never vote for him anyways."
Gloria Richards, "Mommy Blue" - Mayflower Resident
"He is not fooling himself. It doesn't matter blue, green or yellow. Its help we need. It doesn't matter. God didn't choose anyone."
And indeed, Willoughby is putting in work where many have promised but few have delivered. The alleys leading into Mayflower are neatly trimmed, and Willoughby has installed these garbage bins in front of every property:
Phillip Willoughby, City Councillor
"If you walk along Lakeview Street you will see drums along the corridor of the alleys."
Jules Vasquez
"Very neatly trimmed alleys."
Phillip Willoughby, City Councillor
"Sue is responsible to taking out the first 4 drums to the Lakeview side."
Missionaries from Georgia have been coming annually to put in a week's work in the neighborhood as well:
Bryan Nealey, First Baptist Church, Georgia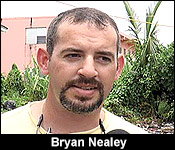 "We're down here just taking care of the basic necessities of doing like steps, repairing some stuff, to where any of these little children can be safe and have a lot more safety surrounding them and letting them know that we love them and Jesus loves them."
And while they're on a Christian mission, and Willoughby is on a political one, they challenged him to live up to his word:
Bryan Nealey, First Baptist Church, Georgia
"In our time coming down here, we never see anyone help this community. No one ever wants to help this community and that's what I challenge the councilor, that if he gets elected that he comes down here and takes care of this community."
Phillip Willoughby, City Councillor
"So it is all about improving the quality of life, not just by talking, but by action and through these action and what I've learn from the workshop I will now be focusing on working with these young kids from within the community."
And while this area needs a lot of work to be done, the problem is really a social one and that's what Flowers was talking to Vidal about:
Kendis Flowers, Area Resident
"Like what I was telling the man, Mr. Vidal what we would like to put in place - we don't have anything out here to do and these youths are out here running around and we don't want to get abused or anything, so we would want them to provide us with some work for the youths, because likewise these youths are here and doesn't have anything in their pockets. Many days these young men doesn't have anything to eat. Next thing, people look at it like they are getting money to go and buy guns. We don't want anyone looking at it like we are putting this for a front - this is what we want to deal with, jobs and thing. It doesn't work like that. We are being neglected out here."
Jules Vasquez
"Were you and him able to reach any understanding?"
Kendis Flowers, Area Resident
"The man say he (Vidal) understands what we are putting in place. He says he want us to keep our words and keep it up."
Vidal declined interviews.

Philloughby Wants Your Vote
And as you saw in the story, we did ask Councillor Willoughby whether he's positioning himself politically with this latest effort. As we told you a week ago, he's offering himself for UDP Mayor - which puts him in a contest with fellow councillor Dion Leslie. Today, we asked him if he intends to go all the way:...
Phillip Willoughby - UDP Mayoral Aspirant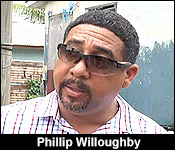 "God willing and the people support that they see my name, they recognize my tenure at City Hall since 2006, the work we have put in collectively with the media. you see me administrate over projects that cost excess of 10 million US dollars, the flood mitigation project, you have seen us work with the downtown project, you have seen us work with the transfer station project, administration, running hurricane, taking care of the disaster is my forte Jules. Its every morning 5am, getting on the ground around the city, looking at what needs to be done and doing that daily and that I have done."
Jules Vasquez
"Seems like you are campaigning."
Phillip Willoughby - UDP Mayoral Aspirant
"No Jules, but I am telling you what you only see. I am telling you what you see, what the entire country sees when they see me working on a project or an initiative. So it should come automatically, but I will still humbly ask that if it is you want the best choice that is available to you then you go with Phillip Willoughby."
Jules Vasquez
"Is it your understanding that only you and Mr. Leslie are putting your names for mayor and the current 2-term Mayor Bradley will not be offering himself as Mayor in a UDP Convention?"
Phillip Willoughby - UDP Mayoral Aspirant
"I can't answer any of those questions and I have not seen Mr. Leslie's application."
"If he seeks to return to office then there are some considerations that needs to be had, but ultimately the people will decide that fate."
Jules Vasquez
"So you are going all the way because you are known for an "electus interruptus" that a few times you have placed your name in and you pull out."
Phillip Willoughby - UDP Mayoral Aspirant
"I hope that for those who I have been "electus interruptus" or whatever you are talking about, I hope that they see it as a reciprocal relationship that I supported and worked tirelessly for the Hon. Minister Tracey Taegar-Panton and I am not saying that it is mandatory. I am not saying she should, but I humbly ask for her support."

Radisson Refund Guests Because Of Noisy Night Club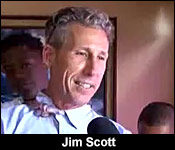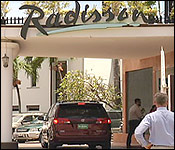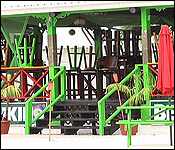 But, if he wants the support of residents in the Fort Street area - he'll have to solve their latest nightclub problem. The Jungle Restaurant and Bar opened across from the Fort Street Tourism Village a few weeks ago - and the management of the Radisson says it's become a nuisance to guests at the Villa Wing. We asked him about it:.
Jules Vasquez
"Mr. Jim Scott told me last week that he had to be refunding guests and relocating guests on the Villa side, because the noise from the Jungle Nightclub which you personally investigated was too much. Response?"
Phillip Willoughby, City Councillor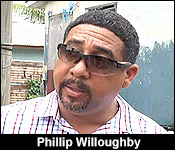 "Jim Scott and I have been communicating over the past few days via WhatsApp, so before the end of today I hope to catch up with Mr. Scott and have that discussion with him where his concerns are and including Jungle management or proprietors to say hey let's find that common ground and let's co-exist together and let's work together."
We'll keep following up on the story.

Juge Refuses Vera (Again)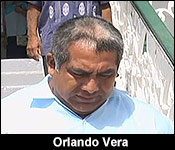 A week ago, we told you how the convicted police firearms examiner, Orlando Vera, made an application for Justice Herbert Lord to recuse himself from hearing his appeal. That's after refusing 3 applications for bail that Vera made.
Well, today, the judge had one more refusal: he refused his application. Court reports are that the judge said in his decision that he doesn't think Vera has established any legal basis to ask that he recuse himself.
From there, the judge announced dates for the start of the case, and he has scheduled the full hearing of the appeal, which is scheduled for August 15.
We spoke with DPP Cheryl-lynn Vidal who told us that she is of the opinion that Vera had no grounds to ask for the recusal. She told us that Vera is not allowed to ask that a new judge hears his case simply because he disagrees with the decisions of the judge. She told us that this amounts to forum shopping, and that is not allowed.

US Helping BDF Hospital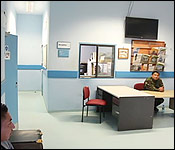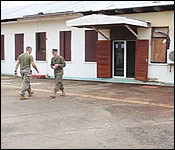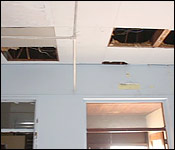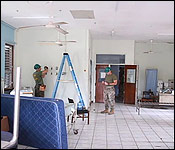 The BDF medical officers will be operating out of a new hospital in early October. That is when renovations on one portion of the hospital at the Price Barracks should be complete. That section is rundown and has needed serious work for some time. Well, the US Marine Corp will be doing all the repair work. We stopped by today to find out how important this upgrade is to BDF officers as well as surrounding communities.
Major Elfryn Reyes - Force Medical Officer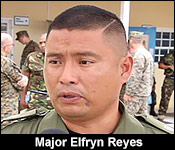 "The BDF Hospital is mainly an outpatient hospital. We are limited in services so what we do is try to cure what is within our means and whatever we cannot handle we referred to Karl Heusner Memorial Hospital. Due to the maintenance of the hospital over the years or the lack of maintenance I should say, the infrastructure has dilapidated and needed some urgent attention. We were urgently on that half side of the hospital, but moved to this side that the British had left. So it is not in use right now and that's the side the marines are going to work on."
Col. Michael Samarov - US Marine Corp.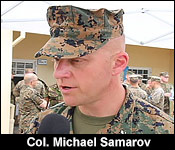 "We have actually started some site preparation already. We are going to be replacing the roof and put in some hurricane restraints on it as was mentioned to make sure that this place can serve as an extreme weather shelter. We are going to be working on the inside to replace the plumbing. Do a lot of electrical work, lights, air conditioning and then do painting and things like this."
Major Elfryn Reyes - Force Medical Officer
"As you all know soldiers are considered or should be physically and mentally fit, so we ensure that we do their daily or monthly check ups and whenever they are not feeling well they can report what we refer to as a sick call here at the Force Hospital. In the afternoons we see civilians from in the neighboring communities, so we would have from as far as Sand Hill to Ladyville, Lord's Bank that come here in the afternoons, between 25 to 30 people a day. When they leave with also free medication, we do not charge."
Courtney Weatherburne, reporter
"The BDF officers and surrounding communities will benefit from this upgrade."
Major Elfryn Reyes - Force Medical Officer
"Like I said in my speech the idea is to eventually become the first orthopedic center for the country of Belize, there's not an orthopedic center in Belize and the need arises because the soldiers would suffer a lot of sprains and fractures, because of the patrols they do in the jungle in day and night time. There is space for an operating theatre that we are partnering with another NGO to rehabilitate, so we would be able to offer surgeries and the recovery and physical therapy if needed."
Adrienne Galanek - Charge D'affaires, US Embassy

"This was not an easy project and as Col. Michael Samarov alluded to, to get that approved, getting different funding requirements and intense competition for these funds but the Major realized the importance of providing quality healthcare and facilities, not only for the BDF but for the community as well. This project, like everything that we do and touch at the US Embassy is about people."
The project costs over $240,000 US. There are 3 general practitioners, 2 nurses and 20 paramedics working at the BDF hospital. As you heard, they want to expand their services to Orthopedics.

Au Revoir, Ramsey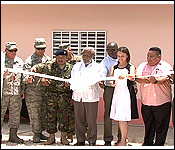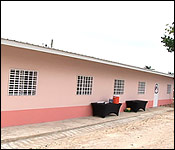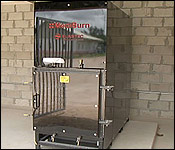 And the man behind most of these US Army initiatives is Lieutenant Colonel Robert Ramsey. It is his last day in Belize and today he gave us an overview of his involvement in some of the projects in Belize.
Lt. Col. Robert Ramsey - Senior Defense Official, US Embassy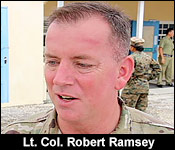 "I have been here for about almost 2 years serving as the defense attache. Some of the projects that stand out are obviously Beyond The Horizons here from April or June. We did 5 projects, but the one that really stand out for me was Western Regional Hospital, that's the one I felt like I was able to impact a little bit with some initiatives that I started and some that aren't complete yet for example the emergency room that was built. We have the funding and the personnel and we have the materials on order which actually connect the hospital to the emergency room. So that worked will begin sometime in mid-August. We are looking forward for that to be complete. I'm sorry I won't be here to see it but I'm so happy it's getting done."
Courtney Weatherburne, reporter
"You are moving on now to do these same initiatives in Africa right?"
Lt. Col. Robert Ramsey - Senior Defense Official, US Embassy
"I am, I'm moving unto that same position, I'll be Maputo, Mozambique working as senior defense, official defense attache."
As you heard funds have already been secured to join Western Regional's new emergency room to the hospital. Works should begin in mid-August.

New Bze Ambassador To US Meets Trump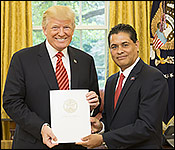 Belize has a new Ambassador to the USA. He is the former Ambassador to Caricom, Daniel Gutierez. Yesterday he presented his Letters of Credence to US President Donald Trump.
Gutierez becomes the tenth Ambassador of Belize to the USA and - according to an official release - in his remarks to President Trump, quote, "he expressed heartfelt greetings from the Prime Minister Dean Barrow and the Belizean people. He underscored the friendly, and long-standing bilateral relations existing between both countries." End quote.
The statement says he also applauded the "United States in the ….respect for Belize's borders given the unfounded Guatemalan claim.
In his remarks, President Trump underscored that a secure and stable Central America contributes to the safety and prosperity of the United States.
The release entrees that Ambassador Gutierez also mentioned the loss of correspondent banking.
Gutierez takes over from Pat Andrews - who only had a short sting before returning to Belize as the new CEO in the Ministry of Foreign Affairs.

PM On Personal Leave
Prime Minister Barrow also traveled to the US today. According to an official release, he is on personal leave, and during his absence, Foreign Minister Wilfred Elrington will be acting Prime minister.
The PM returns on Tuesday, July 25th.

Belize Girls Succumb to Fatigue
In the third day of the Under 20 Central American Female Volleyball Championship, Team Belize faced off against rival Guatemala. Coming off a tough match last night, where they lost to Costa Rica in 5 sets after beating El Salvador earlier that day, Team Belize was noticeably tired, and couldn't quite keep up with Guatemala's face paced play style, losing in three sets. We spoke to one of Team Belize's coaches and players about their performance, and how they will prepare going forward...
Belize will play two more games tomorrow to close out the tournament. The first will start at 12:30, and the second will take place later that evening at 7:30.

A Camp For Kids To Go To The Next Level
For the last two weeks, SMART has been hosting children from all over the city in its annual Youth Stars Summer Camp. Kids of all experience levels were invited to participate and learn the fundamentals of the game. The camp ended today and an award ceremony was held to recognize some the top performers. We went out to the ceremony and spoke with the camps organizers about its success...
Of the more than 100 kids that participated in the summer camp, a select few of them have been chosen to travel to Miami to participate in another, more advanced training camp. Here's what the SMART camp coordinators and instructors had to say about the opportunity...
The kids going to Miami will be participating in the prestigious FC Barcelona Soccer Camp.

Gunny Money Business At GSU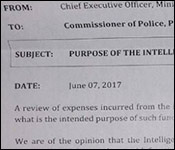 Police have launched an investigation to find out where sixty thousand dollars went - that was supposed to be used to GSU informants. These monies are in what's called an "intelligence gathering fund" and would be paid to persons who provide information to the GSU. When the intelligence officer gets the money, he would usually sign for it - thus proving some accountability. But it seems that was missing with thousands earmarked for the GSU in the past year. On June 7th, the CEO in the Ministry of Home Affairs wrote to Special Branch and the GSU expressed concerns about the use of the fund.
We understand that the case of unaccounted for sums is being investigated by the Professional Standards Branch and the Financial Intelligence Unit.
Police Minister of State Elodio Aragon could not be reached for comment.

Dianne Says It's About Peace
Last night we had a portion of mediator Dianne Finnegan's reposes to Southside Commander Marco Vidal. He told her and her co-mediators Chester Williams and Nuri Mohammed to join the CYDP, or quite mediating because they are pursuing personal agendas.
In part two of her response to Vidal, Finnegan says the only agenda is peace:...
Vidal declined to comment on her response today.

Police Minister Tours
This week Police Minister of State Elodio Aragon went on a tour of the Cayo substations. It is sort of like a meet and greet session but it's with police officers. Aragon told the media just how meaningful these tours are.
Aragon's countrywide tour began in May. He has visited Orange Walk and Corozal police formations as well.

COMEX Cares
International paint manufacturer Comex has partnered with the City Council to give back to the community. They will sponsor paint for a public structure and a school. We learned more about the alliance yesterday.

Home | Archives | Downloads/Podcasts | Advertise | Contact Us