ZIKA Cases Mounting, 21 Pregnant Women Diagnosed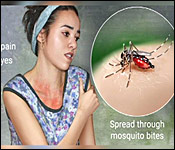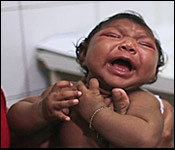 Belize could be facing a full blown Zika crisis. Five pregnant women have tested positive for ZIKA, and as many as 21 have been clinically diagnosed. That's what today's Amandala is reporting. The paper says that 341 cases of Zika have been reported in Belize and 42 cases have been confirmed by testing. The greatest number of cases have been reported in the Belize District, with the second most in Cayo and the fewest in the North. Detection of new cases has stepped up since Hurricane Earl.
The Ministry of Health didn't want to discuss the new numbers today and told us that a press conference will be held on Tuesday where the full Zika picture will be laid out.

Dodgy Drafting on BTL Settlement Opens Up Huge Hard Currency Dispute Between GOB and AA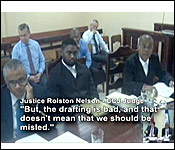 On Monday's news, we brought you coverage of the Caribbean Court of Justice's teleconference hearing trying to resolve the latest fight between the Barrow Government and the Ashcroft Alliance over BTL. They can't agree on whether the half a billion dollar settlement should be paid in US Dollars, or Belizean dollars.
Now, while a fight over currency may appear trivial, it is important because the currency determines who gets a bigger piece of the pie for the final settlement - and it also determines how easily government can pay it.
Now, to understand it all - we have to back to the infamous Accommodation Agreement, signed by the then Musa Administration, which ultimately triggered the nationalization of BTL, and that led to the prolonged legal battle between the Ashcroft Alliance and the Barrow administration. Well, to try to settle it, they both agreed to let the arbitrators at the Permanent Council on Arbitration determine the value of the shares that the Government took away from the Alliance. It was expected that the Accommodation Agreement would drive up the value of the final settlement figures, and so, the two sides agreed that there would be a separation of the value between the book value of the, and the additional value derived from the Accommodation Agreement.
The Government and the Alliance settled on the principle that whatever value was assessed for that infamous agreement, the real share price would be paid to the Alliance and the other enhanced value would go into a fund for projects benefiting the Belizean people.
Seems simple enough, but the problem is that nobody anticipated that the Accommodation Agreement portion of the settlement would take up the bulk of the BTL bill. The arbitrators assessed it at 60% of the final 500 million-dollar price tag. The problem was compounded because the drafting of the Settlement Agreement, as laid out in the 2015 Acquisition (Settlement) Act, was not written to account for that. On the Ashcroft side, the document is being interpreted with the commitment that the Government gave. Seen here in Subclause 4.1 (b.1) of the Act's Schedule, the Government agreed that the first partial payment that Dunkeld International, an Ashcroft-Allied company, would receive is 50% of the entire settlement in US dollars, 10 days after it is finalized. That amount goes directly to the Alliance.
The other part of the settlement, spelt out in Subclause 4.2, is the Government's pitch as to why the huge settlement isn't all that bad. It says that the Accommodation Agreement portion of the settlement should be designated as a "Dunkeld Restricted Amount". That amount, from the Barrow Government's perspective, should directly into the Hayward Charitable Trust, to be used for the benefit of the Belizean people.
So, why is all this important? Well, the Ashcroft Alliance says that they should have been paid 50%, or 75 Million dollars in US Currency. But, the arbitrators assessed that 60% of the award is due to the Accommodation Agreement. So, in principle, the Ashcroft Alliance should only get 40%, as the real share value. So, that's the big dispute?
Well, the Alliance wants their 50% upfront, while the Government says that they are only entitled to 40%. No one is sure who's right, since the Settlement Agreement allows for both interpretations. But with the wording as it is, each side is saying that they should get their share first.
Yesterday, we challenged the Prime Minister on the convoluted wording of the agreement, which now causes this problem, and on the fact that his brother was unable to successfully convince the CCJ judges of the Government's position. He told us that his reports say otherwise, and so, we've put together excerpts of the hearing for you to decide how it went. The CCJ's video recording had some audio issues, and so we've assisted you with subtitles; here's that exchange between the attorneys and the CCJ judges:
Eamon Courtenay, SC - Attorney for Ashcroft Alliance
"The parties agreed that the Arbitrators would determine the compensation amount, but also will attribute a value to the shares, and a value to the Accommodation Agreement. There is no dispute about that. What the applicants did was to make very clear, and to make an express term of the agreement that whatever amount the arbitrators reach as to the value, and whatever amount they attribute to the Accommodation Agreement, and to the shares, 50% of the total award is to be paid to them in US dollars. Both parties took a risk as to the attribution of the amount to the Accommodation Agreement. There is no provision in this agreement that says all of enhanced value is to go to the trust."
Denys Barrow, SC - Attorney for GOB
"The parties agreed that out of that 175 million US, that portion representing the value attributed to the Accommodation Agreement is to be held by the owners for the benefit of the people of Belize."
Justice Rolston Nelson - CCJ Judge
"But, the drafting is bad, and that doesn't mean that we should be misled."
Denys Barrow
"It is 40-60."
Justice Rolston Nelson - CCJ Judge
"It doesn't say that in the agreement."
Denys Barrow
"No, well exactly, and it doesn't either that you are entitled to any of the 60% for your benefit. Payment in installments does not alter - notwithstanding that it is a bit convoluted - does not alter that proposition, which I think remains as the meat - as the central thrust of this clause 4."
Justice Rolston Nelson - CCJ Judge
"Mr. Barrow... I would take a lot of persuasion..."
Daniel Ortiz, 7News
"The Government is on very thin footing when it comes to demanding that."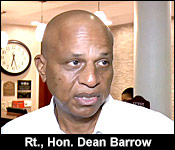 Rt. Hon. Dean Barrow - Prime Minister
"Listen, I wasn't there, so I didn't hear what the court said, but that's not the way I got the report. So, I am afraid I am not in a position to comment on your understanding, since it doesn't accord with I was told. I would only say this, that we clearly take the position that there is no doubt at all about the agreement making clear that the Accommodation Agreement portion of the award is to come back to Belize for the benefit of the Belizean people."
As we told you, the CCJ judges have suggested that they make their best attempts to settle this outside of court. They have until next week Thursday, and if they cannot agree on a resolution, the Court will decide on which interpretation is the correct one based on the wording of the settlement agreement.

Second Payment, A Pecuniary Pain For GOB
The PM spoke to us after a nearly five hour meeting with the Teachers Union, which went late into the evening. That's why he was only willing to take a few questions. We did use the opportunity to ask about how the Government intends to make the second payment to the Ashcroft Alliance.
Coming out of Tuesday's CCJ hearing, Financial Secretary Joseph Waight told us that the Government will have to borrow 150 million dollars to make the second payment.
We asked the Prime Minister to explain:
Daniel Ortiz, 7news
"Was this in the works from the time this settlement was on the horizon?"
Rt. Hon. Dean Barrow - Prime Minister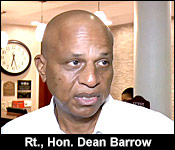 "We didn't know what the arbitration award would be, but from the time the award came down, we knew that we would be paying in two tranches. The first tranches in year one and the second tranche in year two so we borrowed enough to meet the first payment and it is clear that we will have to borrow to meet the second payment. This is all domestic borrowing by way of the treasury bills and notes. So we are perfectly prepared to do that next year when we will need to make that second and final payment."
"This is domestic paper that government is well able to service. it serves the purpose as well of trying to mop up some of the excess liquidity in the system and it gives the banks and financial institutions another vehicle for investing in the sorts of…complying with their requirements in terms of the holdings of assets that they must have in their portfolio."
We also asked him if he is concerned about any political backlash when the time comes to start making those loans, and here's how he put it:
Daniel Ortiz, 7News
"Are you worried that the once hundred and fifty million dollars that - it seems to be a huge burden that the Belizean public may turn on you, given when they start to feel the pain of that?"
Rt. Hon. Dean Barrow - Prime Minister
"Bottom-line, we are now free and clear in terms of our ownership of BTL. I repeat that that is a company that will more than be able to pay this bill, this debt that we have to incur for its ownership and over the long haul we are going to come out ahead. Generations to come, the ownership of BTL is forever. The earnings from BTL will not just pay for what we have to borrow now, but will see us coming out indubitably and resoundingly on top. This is a good deal, this is not like the super bond where you owe 1.1 billion dollars and you get nothing for it and you have nothing to show for it. This is an asset that even now is worth well over half a billion dollars and as I said in terms of the prospects for the profits that the company will make, we are well ahead of the game, we are well clear in terms of coming out resoundingly overwhelmingly on the plus side of the equation."

One Year Later, "ET" Gets Off Sodomy Charge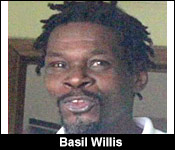 In October of 2015, Basil Willis, known as "ET", of Black Orchid Street in Belize City, was charged for raping a 23 year old man behind the Marion Jones Sports Complex. Following Willis's imprisonment without plea, the DPP ordered a written mental evaluation of the victim so that a decision could be made about how to charge Willis. She did this after the victim seemed unstable in a meeting with the DPP's office.
That was last year, but today in the Magistrate's Court, no written evaluation was produced, which allowed Willis to walk away a free man - after 11 months in jail.

McAfee and The Money Order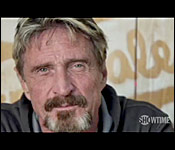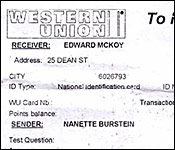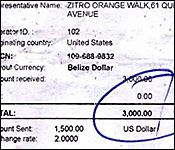 John McAfee today stepped up his vigorous campaign against the documentary about his turbulent time in Belize. The documentary premieres tomorrow night on Showtime, but McAfee's going all out to discredit it before it goes to air. He's coordinating no less than an international smear campaign in Belize, the USA, and the world, via the internet. So far, McAfee has gotten testimonials from a handful of interview subjects, and posted interviews or sworn statements from others disclaiming their involvement in the documentary or questioning its conclusions.
But today McAfee dropped what he calls "the hammer," which is a Western Union receipt for 1,500 US dollars from the film's producer Nanette Burstein to Edward McKoy - a former McAfee security guard and one of the Belizeans interviewed for the documentary. The receipt doesn't say what the payment is for, but in his social media postings, McAfee says it leaves no doubt that the producers paid for interviews.
And that's just what the man who says he is not McAfee's attorney is claiming here in Belize. Bryan Neal sent out a release today reproducing that same Western Union receipt, and quote, "renewing" his demand that Showtime refrain from airing the interviews done with his clients, who appeared in a press conference yesterday. All four of those persons told the media that they lied to the producers for money and then went ahead signed waivers, which they claim they couldn't or didn't read.
Showtime has said that it does not pay subjects for interviews.

Morales Makes Mischief At UN
Right now, Belizean patriots are fuming after Guatemalan President Jimmy Morales took yet another swipe at Belize. Morales spoke on the world Stage at the United Nation's 71st General Assembly in New York, and made it clear that his country just won't let up on the fatal shooting of 14 year-old Julio Ruano, even though Belize's law enforcement team was vindicated in an Independent OAS Investigation. And yesterday, making his debut his amongst world leaders at the UN, Morales used a small section of his first address to continue his country's international campaign against Belize.
Here's that moment at the UN Assembly when he suggested that this shooting and other Guatemalan fatalities in the Chiquibul, has hurt bilateral relations:
Jimmy Morales, President - Guatemala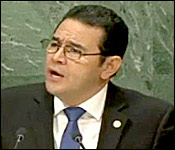 "Belize, a country with which we aspire to have a privilege relationship and a permanent dialogue for the solution of common problems. However, in recent months we no longer encounter such a reciprocal attitude on the part of the Belizean authorities. Since 1999, the situation has claimed 10 Guatemalan civilian victims in the adjacency zone administered by Belize. On the 20th of April this year, a 14 year old boy was a fatal victim of an attack by armed groups under the command army patrol from that country. According to forensic report by Belize, the child died from multiple gun wounds from a high powered riffle. The Guatemalan forensic service confirmed that there were 9 bullet wounds; 6 of which were in his back; 2 were in the back of the neck and one in the front. These grave acts directly harm the bilateral relationship and hinder progress towards building trust. I wish to reaffirm the will of the state of Guatemala is to find within the framework of international law, a definitive solution to the dispute with Belize, while also drawing the attention to the international community to the risks to international security while maintaining the impasse on dispute and consequently the geographical delimitation. Because it's no secret that partial transnational criminal organizations thrive on the differences between states and are capable of occupying pockets within undefined territories that lack effective control."
Well, Belize's third party, the BPP isn't letting it go, and today, they fired off a release basically demanding that the Belize Government set the record straight.
A party release says, quote, "...Guatemalan President, Jimmy Morales proceeded to blatantly spread untruths…the Guatemalans shall go to any lengths to seek to demonize Belize and Belizeans." End Quote.
Foreign Affairs Minister Wilfred Elrington is scheduled to make Belize's presentation at this UN General Assembly on Sunday.

Kadeem Took The Rap For Revolver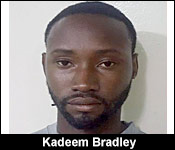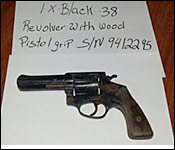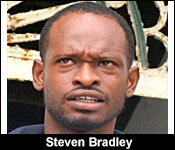 On Thursday, the GSU searched the home of Steven and Kadeem Bradley on Sitee Street in Belize City. They found one unloaded .38 revolver pistol. Both brothers had no license for the gun so they were arrested and charged with keeping an unlicensed firearm. They were taken to court, where Steven, who pled guilty, said that he was holding the gun for a friend. He was sentenced to 5 years in prison with eligibility for parole after serving the first half of his sentence. Kadeem, who was charged with his brother, was allowed to go free after Stevens guilty plea was accepted.

Police Minister's Son Kryston Carjacked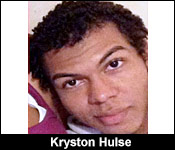 The son of police minister Godwin Hulse was carjacked last night in Belize City - and the thieves made off with a vehicle belonging to the Minister's wife.
24 year old Kryston Hulse reported to police that last night he was on Marine Parade with his girlfriend in his mother's Four Runner. That's when three men rolled up in a car, and one of them pulled a gun on him and demanded the keys. Fearing for his life, he handed over the keys and two of them drove off in the Four Runner, while the other left in a Mazda car. Police have made no arrests and have not recovered the SUV.

7 Weeks after Earl, Sanker Street "Sufferahs"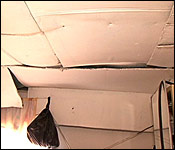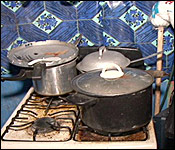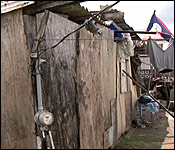 7 weeks after the storm, a Sanker Street family in the Port Loyola Area is still contending with the aftermath of Hurricane Earl. Sheryl Murrillo and her 4 kids have been living at her boyfriend's house for 14 years. It has always been a challenge because they all sleep in one bedroom. But Hurricane Earl wrecked the little they had. Their roof and siding were ripped off in the storm and they have been trying to restore their lives. Although The Belize Red Cross and NEMO have helped them, they still need a lot more help. Murrillo told us more about their living situation today.
Courtney Weatherburne, 7News
"After the hurricane came, what did you find?"
Sheryl Murrillo, "Earl Destroyed My Home"
"Well, I found the roof off, the chair wet, bed wet, the speaker wet, and that's about it. My fence was blown down."
Courtney Weatherburne, 7News
"So you lost a lot, how much would you say you lost in cost value?"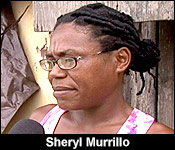 Sheryl Murrillo, "Earl Destroyed My Home"
"I would say about over a thousand dollars."
Courtney Weatherburne, 7News
"Furniture and household items?"
Sheryl Murrillo, "Earl Destroyed My Home"
"For my stove yes, my stove got wet and it cannot light. It does light but its low because of the burners that got wet."
Courtney Weatherburne
"So how are you getting by right now? I noticed that you've put cardboard and there's plastic as your roof."
Sheryl Murrillo, "Earl Destroyed My Home"
"Yes, well my boyfriend put up some tarp that we got from Red Cross and that's up there right now. After the hurricane when he came, he just threw on back the zinc. We had to do that because if we left off the zinc we'd get wet in the place. These zincs are just thrown on and a lot of rocks and blocks are there to just keep the breeze from blowing them off. That's just the situation right now. I would like the city council to just come check the house and we just want a little help, we need to repair our roof, the siding of the house and inside of it."
If you would like to help Murrillo you can call her at 628 4704.

After The Storm, "Dignity Kits" For Girls and Ladies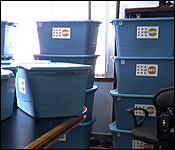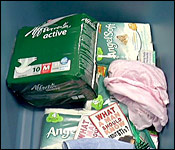 And while that family needs urgent restorative help, other storm-affected families have needs of a more personal nature. Today, the United Nations Population Fund handed over 100 pieces of what are called "Dignity Kits" to the Ministry of Human Development. Now if you're wondering what a "Dignity Kit" is - that's what we asked today:
Lliani Arthurs, Ministry of Human Development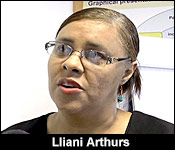 "The Ministry of Human Development is the Chair for the relief and supply committee of NEMO. So we are the first responders for people affected by the recent hurricane Earl. We had teams in the affected areas of the different communities and we identified different needs of those communities. One of those needs were basic hygiene needs for women and children - for women and girls and also some of our elderly populations. So we made a request to UNFPA for partnership and support in terms of their dignity kits, and so they positively responded, and now today they are handing over the 100 dignity kits."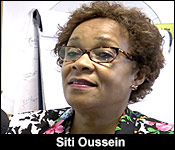 Siti Oussein, UNFPA Sub-regional Office for the English and Dutch Speaking Caribbean
"The Dignity Kits is one of the items that the UNFPA provides in response to emergency situations. And it is targeting women and girls, I was saying. The contents are mainly hygienic and sanitary items that are key for women to preserve her dignity and health."
These one hundred Dignity kits will be distributed to Belizean women and girls who, based on the Ministry's assessment, are most in need of assistance.

Pres. Morales' Brother, Son In Corruption Probe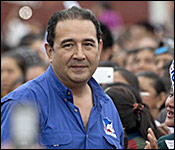 In our last segment, you saw Guatemalan President Jimmy Morales using the UN's global platform to "throw shade" at Belize. On one level, patriots may find it infuriating, but on another level, you've got to understand that the man needs a distraction, and the BDF bogeyman is one of the best he has. One of the main things he needs a distraction from is the fact that, his brother and his son are being scrutinized by their country's Attorney General's Office for suspicious payments, which those authorities want to make sure isn't corruption.
News reports out of Guatemala say that Samuel "Sammy" Morales, President' Jimmy Morales' older brother, and a close advisor, and Jose Manuel Morales, one of the President's 4 sons, were barred by a judge from leaving the country, pending an investigation into whether or not they were involved in irregular payments. The president is under added pressure, because he was elected on a strict anti-corruption platform. His predecessor is currently in jail on corruption charges.
The President gave a brief comment saying, quote, "My wife and I fully support our son and believe that my brother is an honorable man,".

Deceased Constable Hall Had It Hard At The End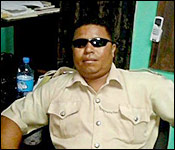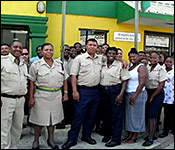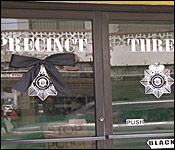 Last night we told you about Police Constable Jason Hall, who passed away Tuesday. He's the officer from Precinct 3 in Belize City who made the news in July 2015 after he was viciously beaten by a man who pretended to be a good Samaritan. That man offered to help him fix a blowout, but instead, he attacked Hall, stole his car, and left him unconscious on the side of the road.
Hall was left in a coma due to head injuries, and a few months later, almost as though, he couldn't catch a break, he was diagnosed with cancer. We got a chance to speak to his close friend and colleague, Fitzroy Yearwood, who told us how they got devastating news of his passing on the eve of Independence Day:
Insp. Fitzroy Yearwood, Fellow Officer/Superior
"PC Hall, after recovering from that unfortunate incident that you guys helped me with that fundraising for, he began complaining about pain to the back. I worked with him from his day of recovery which was the 1st of October 2015 until I was transferred the end of January 2016. I remained as his supervisor and he explained to me that he had severe back pain. I kept advising him to go and see the doctor to get himself checked up and find out what's wrong, maybe its injury related or maybe not. He finally contacted me sometime in May and told me that he was diagnosed with kidney stones. I told him 'boy that serious, you need to get that checked out'. He said that the doctor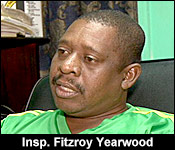 recommended a surgery so all in all, he was down for his surgery, made several attempts and finally sometime in July he was to have this surgery. I then heard from his common law, when she contacted me and told me, that he had been diagnosed with cancer. At first he didn't accept it as no one would accept the news that you have cancer. I could remember when I was diagnosed with diabetes, it was a hard pill to swallow, and I was in denial. Likewise, Hall was in denial, but because we are close outside of the job and in the job, I spoke to him and finally he began seeking the necessary treatment. Unfortunately on the 20th of September I was contacted by my colleague, Superintendent Suzeth Anderson, where she told me that he took a turn for the worst that was early in the morning. By 7 o'clock that evening, we were all grieving. He was very ambitious and he used to always sit in this very chair when I would be standing over there and on my breaks. He would say 'boss when you're not here I'm the boss, so I want to feel how it feels to be the boss'. He always aspired to be his best, whenever you give him a task there was no task too large for him."
Hall is from Corozal, and he leaves behind a common-law wife and 6 children.

Hawkesworth Shook Today, Urgent Repairs Activated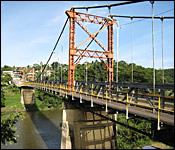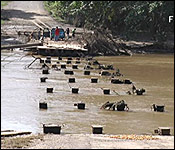 Last month, Hurricane Earl washed away the temporary low-lying bridge in San Ignacio, and today the Hawkesworth Bridge had to be shut down when it started shaking. The Ministry of Works Engineer called for urgent and immediate repairs after a shaky portion was identified. Experts from Mexico were rushed in, and the bridge was shut down this afternoon at ten-minute intervals so that repairs could be done without interrupting regular traffic - since there's now only one bridge. The bridge was checked again after repairs were completed and deemed ready for public use. Mayor Earl Trapp tells us that the temporary bridge - which was destroyed by Hurricane Earl will be re-opened in the next two weeks.

Regional Volleyball Tournament Starts in Belize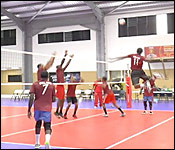 Today is the last day of practice for the Belize National Men's Volleyball Team, and the seven other teams from Central America and the Caribbean who are here for the FBVI Men's World Championship Qualification Tournament. We stopped by during practice and asked them if they're ready:
Delio Arruebarrena, Head Coach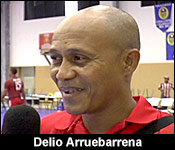 "We'll have to take it a game at a time, a set at a time, because with the preparation that the team has they have the ability and the capacity to do good. So they just have to take it in stride as it comes. We know it's not easy, but the guys can do it because they have the training and preparation."
Alex Courtenay, reporter
"And if there are one or two things to keep in mind while playing these teams, that will help you actually do better what you those be?"
Karym Coleman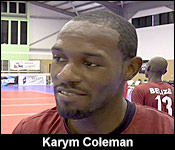 "Well the first thing that we need to do is to stay focused. You know, we can't just be distracted especially at home. We have the fans that are going to be with us and you know our fans are pretty much critics, so if you're trying to fight back up they're there with you, but if you're down they're going to be right there telling you to get back up same. And the second is just you know, play as one, be cohesive."
The tournament starts this Saturday, and continues on to next week Friday. The top two teams in this tournament will go on to represent their countries in the NORCECA Continental Championship.

Home | Archives | Downloads/Podcasts | Advertise | Contact Us