PMís Wifeís Driver And Security Guard Remanded For Murder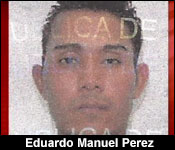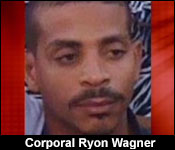 Up to last week, he was the personal security for the Prime Minister's wife - but tonight police Corporal Ryon Wagner is in jail, remanded for the murder of Nicaraguan Eduardo Manuel Perez Sanchez. The Corporal was arraigned in the Belmopan Magistrate's Court this morning. It's super rare for a police officer to be charged for murder - and super embarrassing when that police officer was one of only three officers handpicked to look after the security of the Prime Minister and his family. And if that weren't enough to cast shame on the department, there is the additional report that Wagner and another police officer - who has not been charged - went to the police station on Friday more or less broadcasting that one of them had killed a man. At that time, we are told, police did not take Wagner's gun.
And so all that may be why, police have been very guarded in their remarks about the case. Inspector Stephanie Grinage, the Deputy Commander of the Belmopan Police Station was brief with our colleagues from Plus TV in an interview this morning:
Insp. Stephanie Grinage - Deputy Commissioner, Belmopan Division
"Mr. Wagner who was charged for the murder, was taken to the Magistrate's court and he has since been remanded to the Hattieville prison."
Reporter
"No charges?"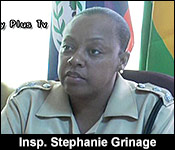 Insp. Stephanie Grinage
"He was read the charge of murder."
Wagner was escorted from the Belmopan police holding cell to the be arraigned before the sitting magistrate who read him the single charge of murder. Due to the nature of the offence, he was not eligible for bail, and no plea was taken. He has been remanded into custody until November 2, when he will be brought back to court.
On Saturday morning, a resident of the area came upon Perez Sanchez's body in a feeder road 2 miles from the junction of the George Price Highway and Young Gial Road in Teakettle Village. Perez Sanchez, was a labourer employed by Santander Farms.
Wagner was Kim Barrow's personal security guard and driver.

Police Have No Clues In Russell Killing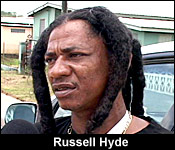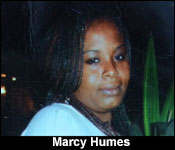 Police have not detained anyone for the murder of Russell Hyde and Marcy Humes. They were both shot and killed at Hyde's house in Camalote on Friday night. Hyde, Humes and another man had just arrived at Hyde's home when they saw flashlights coming towards them. Hyde told Humes to quickly open the door to the house but 3 men emerged and shot her twice - once to the chest and leg. Then as Hyde was trying to dash away, the gunmen shot him 4 times at close range. The other man escaped unharmed. Police are still trying to find him and following up on other leads.

Jaguars Go Looking to Make History In Canada
Right now, the Belize Jaguars are on their way to Toronto, Canada for a World Cup Qualifier on Friday. It's the first time Belize has reached the third round of qualifying - and this will be their toughest matchup yet, against the team that is ranked 101 by FIFA. Belize is ranked 123rd but has a lot to prove, after Canada beat us 8 to nil on aggregate goals, back in 2004 - which is the last time the two countries met in world cup qualifiers.
So, Friday's game at the BMO Stadium in Toronto will be a time for the ascendant Belize team to prove itself against first world competition.
High stakes, and our 7News team was at the airport this morning when they checked in to fly out, and we spoke with a few of the players about the game: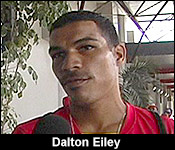 Dalton Eiley - Member, Belize National Team
"The feeling is great. The team is together. We are happy with everything. We've worked out all the details. Now it's just to go over there and get the job done. Get a draw if possible. A win would be better, but just a draw would be fine enough - come home and seal it."
Danny Jimenez - Member, Belize National Team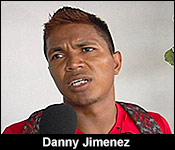 "The team is focused. The team is together right now and a lot of love is about and everybody is worked hard and the objective is to go out there and do good and come back with a victory and advance to the next stage. Because we reached far, yes, but this is not where we want to reach. We want to reach to the end. I know Belize on a whole and the fans, the football family is expecting the team to reach as far as we could go and that i what we will do for them."
Woodrow West - Member, Belize National Team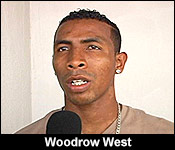 "The team is doing well. I trained with them last night and the spirit is there to move ahead and that's what we want them to understand that the team want to go as far as we could and we are just on game away from the 4th round. That's the aim right now to reach the 4th round and I think it's going to be another history for Belize and that's in the mind of all players - that we want to win against Canada. We know it's going to be a difficult game and it's not easy because Canada is a very good team as well. But we know how we could play ball and with heart and love and unity I think we could pull it off."
Daniel Ortiz
"Their roster is filled with all professional players and where we are we have mostly semi-professionals and a few guys like yourself who has gone out and played with professional teams, but the odds would be in their favor."
Evan Mariano - Member, Belize National Team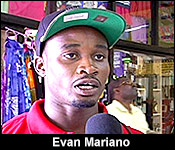 "At the end of the day that is true and we can't take that away from them and then on the football its 11 vs 11 and one ball. So the more we could contain the ball, the more position we could keep on the ball and then we keep our formation and the way we've been working out for the last couple of months, I guess we could come out with a victory. I means its 11 vs 11 and we are all men on the field."
Shane Moody Orio - Member, Belize National Team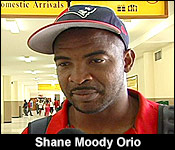 "We need to know that the level of play we are facing is much different than the last series and the development. What we do, we do respect the Canadian team and I know they respect the Belizean national team. So hopefully we would be able to move forward from there, move forward in the aspects of knowing our strengths, knowing our weakness, knowing when to capitalize and know when to take advantage of specific situations during the series. But again, like I said the most important things is for us to stick to our game plan come Friday and be safe at all times and that's the most important thing."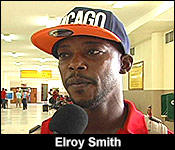 Elroy Smith - Member, Belize National Team
"We already know it's going to be a hard game. We know that the players from Canada are professional. I think our main key is to go out there focused, well concentrated and try stop any attack that they bring. It will be hard, but I know the team is ready for it. I feel that the defenders worked hard for the last 3 months and so I feel that we could do it."
Deon McCaulay - Member, Belize National Team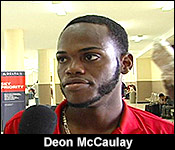 "Going to Canada, playing in front of all those fans, there will be pressure. But you have to know how to deal with the pressure."
The team arrives in Toronto late tonight.
Friday's game in Canada will be played at 5:30 Belize time - and you can see it here on Channel 7. The return match will be played at the FFB Stadium in Belmopan on Next week Tuesday, September 8.

PUP Finds Fault With Fortis Compensation
Yesterday we showed you the Prime Minister and the CEO of Fortis Barry Perry after they agreed to a compensation package for government's BEL takeover back in 2011. According to the math we did, government saved itself a few hundred million dollars and it did so without having to pay any interest or damages. But, the PUP issued a statement today blasting the settlement, saying it comes at, quote, "a high cost and a heavy price." While conceding that, quote, "we are glad that a settlement has been arrived" the PUP adds that , quote, "The Prime Minister owes it to Belizeans to immediately and fully disclose the real cost of the seizure of BEL…in real terms - including all the legal costs.. and in particular (those to) Barrow & Co." They conclude, grimly, quote, "History will judge whether Barrow will in fact be absolved, or held culpable." The Opposition will have its say in the house tomorrow when the settlement goes to the house for approval.

Not Much Ado In Sarstoon Today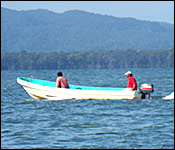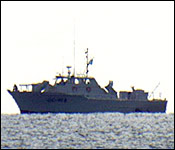 Wil Maheia, the border activist and independent politician, went back to the mouth of the Sarstoon River today. And what did he find? Nothing much, but, that's because it was just another day at the Sarstoon Delta.
Maheia reports that they observed a Guatemalan gun boat sitting in Guatemalan waters, which is standard. He and his team also noticed several small Guatemalan fishing vessels poaching in the Belizean waters, which, as we've shown you, is also standard since there is no heavy civilian or law enforcement presence in that area.
Finally, Maheia notes that they were at the Sarstoon River mouth from before 6 a.m. this morning, and there was no BDF change-over today. Change-overs, as we told you, usually happens on Tuesdays, so that is some importance. However, as General David Jones explained in the Prime Minister's Press Conference 2 weeks ago, the BDF has been changing up their Tuesday routines so as to not be so predictable to observers - such as the Guatemalan Navy - who watch their movements to try and predict their activities. The General said that the change-overs may take place every other Tuesday, and the routine is changed constantly.
So, all things considered, today's trip was uneventful.

Guatemalan President Perez Molina Stripped Of Immunity From Prosecution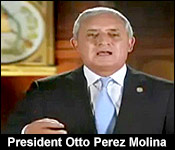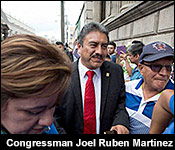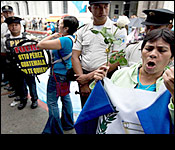 And south of the Sarstoon, things have gotten that much more tenuous in Guatemala after that country's congress voted to withdraw President Otto Perez Molina's immunity from prosecution.
It was quite a scene outside the congress building in Guatemala City where Guatemalan civilians who want Perez Molina out, formed a wall of bodies to let lawmakers get into Congress. They formed that wall to protect the lawmakers from presidential loyalists trying to block a vote on withdrawing the President's immunity from prosecution.
105 votes or two thirds of the congress was need, but, in the end, the vote was unanimous, all 132 lawmakers who attended the session voted to strip him.
The 64 year old Pérez Molina becomes the first president to have his immunity revoked in the Guatemala's history. The vote clears the way for prosecutors to charge him with masterminding a customs fraud scheme that allowed businesses to reduce their duty by paying bribes to corrupt officials.
All this is unfolding while Guatemalan elections are set for Sunday September sixth. It is an election where the ICJ question will not be on the ballot.
Still, Perez Molina has 5 months left in office and if the prosecution succeeds, he could be removed as president. His Vice President was the first to resign as a result of the scandal.

Remains Found In Belmopan
Human remains were found in Belmopan on Sunday afternoon. Guatemalan farmer Trinidad De Jesus Taltiqu went to cut some sticks near Costa Rica road in Salvapan when he found the skeletal remains behind some bushes. Belmopan police gave us the information they have so far.
Insp. Stephanie Grinage - Deputy Commissioner, Belmopan Division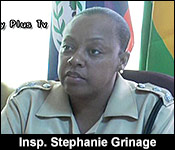 "On 30th August, about 4:20pm, based on information received, police visited an area at the end of Costa Rica Street, Salvapan area, Belmopan City where police observed what is believe to be skeletal remains. The skeletal remains were taken to the Western Regional Hospital Morgue and it is now awaiting analysis by doctors."
The examination on the remains have been completed and it shows that these remains belong to a female older than 18. The female died 3 months ago. Now police are revisiting missing persons reports filed during this time to try and determine, whose remains these might be.

SSB Chairman Says Fund Pensioners Come Before Staffers
As we told you two weeks ago, the Social Security Board staff is in negotiations for a new collective bargaining agreement, and they are asking for a package of salary increases and benefits. But, the Board of Directors was very un responsive to the initial proposal. In fact, their counter proposal conceded almost nothing. On Sunday we asked Doug Singh who chairs the board of Social security about it and he explained that the Board's position is tied to pensions - not for the workers, but for contributors:
Doug Singh, Chairman - Social Security Board
"I will tell you something that and they last said at the last negotiating time, that the board must consider and look positively at the ability of the organization to increase pension to pensioners. Ultimately, the Social Security fund are for the people who contribute."
Jules Vasquez
"Not for administrative bloat."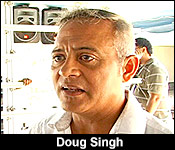 Doug Singh, Chairman - Social Security Board
"Not for administration bloats. And so whatever the staff get, will be a function of what the board can recommend for pensioners out there. So we are looking at the possibility of recommending a pension increase for pensioners this year hopefully. And I'll tell you, I have said this to the negotiating party and for management that really we are serious about this. Ultimately the board of directors is here to safeguard the fund and to look after the interest of the beneficiaries. The staff is there at the mercy of structure and ultimately we have to set priority where priority is supposed to be and we are going to look at pension benefits for pensioners and we are going to give that priority above any increases under the collective bargaining agreement. I will say here now and I think I am doing so in the best interest of negotiations, the board was presented at its last meeting with a proposal for an increase in pension or pension benefits under the employee pension program and it's substantial. My calculation it's about 16%. The board had set a signal clearly at the end of that meeting that it won't even consider that until it is first able to consider pension increase to pensioners. Secondly, it certainly would not be in those numbers. But there has not been any pension increases for pensioners. We are talking about people who have been in the system since 2002. That's the last time there has been an increase in pension. You know inflation has occurred during that period. It is unconscionable for us to not look at pension increases for pensioners at this point in time. I think what we need to look at is balance and fairness. Many of the benefits enjoyed by Social Security employees are benefits enjoyed under the public system, such as 4-5 weeks' vacation, vacation grants and things like that - that are enjoyed in the public system where salaries are generally lower. In Social Security, the salaries are generally higher than in the public system. Yet they enjoy the same benefits."
As Singh noted there have been no increase in pensions since 2002. The proposed increases in pensions for contributors does not include non contributory pensioners; there is no increase planned for them.
The current collective bargaining agreement ended at the beginning of 2014.

Singh Says No To SIB Stats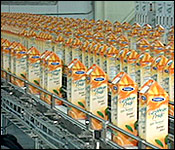 We also asked Singh to switch back to his other hat - the one as Chairman of Citrus Products of Belize Limited. Last week the Statistical Institute of Belize put out GDP figures for the first half of the year. And the second quarter had a sharp downturn because citrus deliveries for that period when compared to 2014 were down sharply. Singh says that is an incomplete picture:...
Jules Vasquez
"The primary downturn that attributed to the negative growth in GDP is citrus; 49% less concentrate for the secondary sector and in the primary sector 53% fewer oranges. Explain to me?"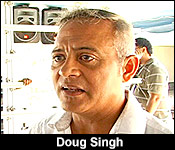 Doug Singh, Chairman - CPBL
"Well we contacted the Statistical Institute to report to them that the information or the primary focus on the information was misinterpreted and I think that perhaps they need to look at the larger period. When they pointed that out, they were comparing the month of June with the previous year June. Citrus, it's not about what I sell this month, it's about what I sold for the period. So, if they took the entire 9 months and compared it with the previous 8 months, you would have seen very minimal change. But if you compare June last year to June this year and look at the revenue in that period, of course it would be different. Because it's a timing of sales. So what we may do, is we may stockpile some of the juice to our benefit, so that when the prices go up, we can sell it at a better price and farmers get more money. But we did that because we were trying to keep the inventory when the price was down at $1.09-$1.10, to see if we can get the price up and be able to sell it for their benefit. I am happy to report that the price is now at $1.30 and that as a percentage is a significant increase which will help towards that one million dollars that we are currently making. So a lot of it is the dynamics of timing, so the reporting did not reflect timing elements in the industry. I am here to report to you that that significant drop has not occurred in the industry. In fact, we have the same level of production. We have a higher pound solids in 2015 versus 2014. There is a lower price but they should just neutralize each other. So we should be on par revenue wise, foreign currency earning wise as we did in 2013/2014."
Reduced crude oil production at Spanish Lookout also drove down the GDP.

It Ainít Easy For Glen After Fire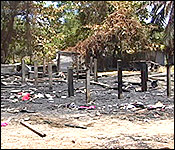 Well known street operator Goldburn "Easy Glen" Adolphus… he made our newscast last month after being charged with assaulting a police officer. His woes worsened this weekend when the house he was renting burnt down.
Adolphus took us to the location of the rubble and scorch marks where his home used to be and told us why he's hoping that you will help him and his family to get back on their feet:
Goldburn "Easy Glen" Adolphus, Fire Victim
"First thing of all the house is not mine. I am renting. This happened Friday night, I would say at around 9:30 - 10:00. When I came home I saw smoke coming from the top. But I wasn't paying it any attention. I just went and look underneath the cement block and pick up my key and open the padlock. When I pull open the door there was fire coming on me and when I look the entire hall was full of fire. Then I look towards the front room, because you could see the front room, but the amount of fire and heat that was coming from there - I made an attempt to go in there and so forth, because I have a stash under the marley that I saved. I couldn't get in there and so I yelled for my neighbor and thing and try help with one-one bucket of water. That couldn't work. All our appliances for my wife and I, all of that got destroyed."
Daniel Ortiz
"How much would you estimate the damage?"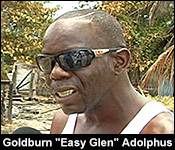 Goldburn "Easy Glen" Adolphus, Fire Victim
"I don't know the cost of the house and so forth, but our appliances and things that we had, I would say at least to about $13,000 - $15,000."
Daniel Ortiz
"So where are you and your wife staying right now?"
Goldburn "Easy Glen" Adolphus, Fire Victim
"Well right now, she is at her mother and I am by a family member as well. All that I am trying to do is get back myself on track, in terms of my clothes and my personal stuff like my social security card and stuff."
Daniel Ortiz
"Are you appealing to those in the public to assist you if they can?"
Goldburn "Easy Glen" Adolphus, Fire Victim
"Like LOVE FM and I am asking anyone if they can help me."
But, as with anything related to Easy Glen, we had to make sure that he isn't involved in trying to pull a fast one for a quick "come up". We asked him straight up if he is in anyway connected with his own house burning down. Here's how he responded:
Goldburn "Easy Glen" Adolphus, Fire Victim
"Just like the other day, if you could recall I had lately got into something even with a police. Therefore they had paid an amount of money for me when I got arrested because of owing the court. Now I, Easy Glenn you would say is crazy man, who I know you are a sergeant or a corporal and they just paid court for me, because of owing the court - and I am going to look for you the next day and assault you. I am just showing you that I am not a crazy man and things like these - that I work for and saved for - I would not destroy my own things. Let me tell you something, to start with, I am not a beggar to say that I want people to be sorry for me. I don't need money or so forth. All I want to do is get back my things that I had and wife things. I don't need to pull stunts."
If you would like to assist Easy Glen, you can reach him at telephone number 662-5128.

Gang Rape In Toledo Village
There was a disturbing gang rape case in Indian Creek in the Toledo District on Sunday evening. A 21 year old woman was walking alone near the Nim Li Punit junction at around 4:30 when 4 women grabbed her, beat her and pushed her in some bushes nearby where a man held her down while another man raped her. We spoke to Punta Gorda Police this evening and they told us that the woman knows one of the women who attacked her: she is also from Indian Creek. The police are still trying to figure out if it was a planned attack specifically targeting the 21 year old. The woman was walking with 3 other friends but they left her along the way. Police have no one detained so far.

BBOC, Bang!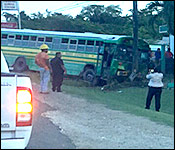 No one was seriously hurt when a BBOC bus ran into a lamp-post this evening in Belmopan on the hummingbird Highway. According to reports, the Bus was loaded with passengers - and headed out of Belmopan on the Hummingbird highway, but had to dodge an SUV which was reportedly turning into Shanghai gas station. The bus barreled off the road and into a lamp-post while the SUV ended up in a yard. Only minor injuries are reported for the passengers on the bus.

Where The Streets Have No Name (Yet)
Edmond Castro's public image has been battered in the media and in the courts, but in Belize Rural North, he's still undefeated. And he hopes to cement his lead by paving streets in Maskall, the biggest village on the old northern highway. Castro has already seen to the paving of a good many miles of the old northern road - and now 1.5 million dollars in Petrocaribe funds are seeing to the construction of new roads in the old village. Today 7news travelled to Maskall to check out the news streets.
The project is expected to be completed in the next month, and then continues on to Sandhill Village.

Water Woes In Maskall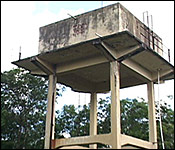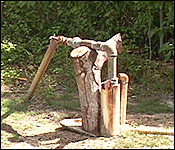 It is extremely rare to experience a complete loss of pressure to your water main. However- if this happens at your home, there are a number of possible causes - for example- trapped air- a burst main or service discontinuation…due to non-payment. And that is exactly what villagers in Maskall are experiencing after many refused to pay the 9 dollar flat rate for water supply. It's now two weeks since the entire village has been without of water. The village water system which is operated on electricity was cut off due to the fact that they cannot afford to pay the electricity bill. We found out more from the Water Board Chairman:
Ilda Swift - Chairperson, Maskall Water Board
"Simply because the villagers don't want to pay. The fee is $9 per month, but the majority refused to pay. That ran up the bill to $1,200 to BEL. Is it going on for roughly 2-3 years, but this is the worst it has ever been."
Monica Bodden
"How many villagers household is hooked up to the water pump?"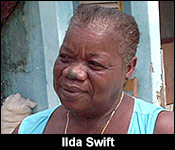 Ilda Swift - Chairperson, Maskall Water Board
"Roughly like 100 families."
Monica Bodden
"So every month that should be 100 x $9. But instead roughly how many families would come in and pay?"
Ilda Swift - Chairperson, Maskall Water Board
"Sometimes 12, 17, the most would be 25 for the month."
Monica Bodden
"And so you cannot maintain the water system."
Ilda Swift - Chairperson, Maskall Water Board
"Cannot maintain the water system, because roughly we need like $750 per month to maintain the water system. Because we pay like $400 plus to BEL, $200 for the maintenance man and $100 for the billing clerk and we are not collecting that money. Some say we are not getting water. Some say they are getting a little bit. Some getting from their neighbors. But as I explained if you are getting from the neighbor, you are still using the system, because it's the same system."
Monica Bodden
"And then you can't just cut them out."
Ilda Swift - Chairperson, Maskall Water Board
"No, because we don't have any meters and after the past years we cannot find the line to do the disconnection. Because if any standing pipes in the yard, you cut that off, the household still have water. So that wouldn't do the person anything."
Monica Bodden
"So that leads to cutting off the entire system."
Ilda Swift - Chairperson, Maskall Water Board
"To see if people would come in and pay that we can pay BEL, pay the maintenance and the clerk."
Monica Bodden
"And how long now has that system been cut off?"
Ilda Swift - Chairperson, Maskall Water Board
"The system been cut off for 10 days."
Monica Bodden
"And no improvement?"
Ilda Swift - Chairperson, Maskall Water Board
"About 17 families came in to pay. For roughly we collect 60 bills which is $540. The maintenance man got $200, $150 went to the Social Security Board."
Monica Bodden
"I understand you are also summons to court."
Ilda Swift - Chairperson, Maskall Water Board
"I went to court to pay Social Security for the maintenance man. Because sometimes I put in my money to help pay the electricity until I could get back my money then to keep the system going, but it's a waste of time, because I don't have money. The people are depending that the minister pays and I won't do that because you are using the system - you should pay. $9.00 is the least bill and most important bill here in Maskall. Because they find money for cable $45. They find to pay internet bill. They have to pay light bill - that is more than $9.00. So they just don't want to pay."
Monica Bodden
"I understand there is another water system that SIF is about to set up in the village."
Ilda Swift - Chairperson, Maskall Water Board
"Oh yes."
Monica Bodden
"So how will that work out?"
Ilda Swift - Chairperson, Maskall Water Board
"Well that will have meter, so it will be better. We won't have that problem again and roughly it will start at $15 and per 3,000 gallons, then pay more after that."
The new water system is expected to be set up by the end of the year.

Perfectly Pink In Cayo
It's not every day that a boutique makes the news, but on a business level, Pink Boutique is doing something interesting: they're establishing a brand and trying to become the first chain of clothing stores in Belize. And they're using major square footage to do it. They've got outlets in Belize City and San Pedro, and recently expanded their store in San Ignacio. 7News was at the re-opening on Saturday:..
The new store is 1,600 square feet.

Home | Archives | Downloads/Podcasts | Advertise | Contact Us