Social Security Workers Protest Countrywide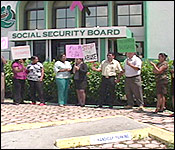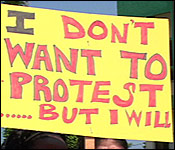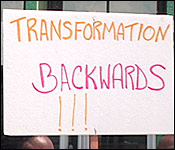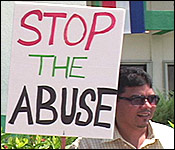 Social Security employees staged protests all over the country today. The workers are demanding financial compensation because they haven't gotten their new uniforms - those have been delayed for 10 months.
Now, the agreement says that the workers should receive their uniforms every 18 months but that period expired last year December and now the workers say they want compensation for all those months without the uniforms. Today when we went to the Social Security office in the city, the employees had nothing to say but President of the Christian Workers Union Audrey Matura Shepherd spoke on their behalf. She says they are all entitled to compensation.
Audrey Matura Shephard, President, CWU
"What happened, they took their lunch time and for half hour in protest and disapproval of management's decision not to pay them their clothing allowance. They united and came out together to show management that they are not satisfied with their decision. Now don't think that they didn't just decide to get up and say we are not satisfied. There has been a process and there have been attempts and discussion and negotiation to get management to come around to accepting that let the present CBA, the protocols and procedures already established if you do not give the employees their uniform every 18 months as you should, then you need to give them a clothing allowance. This is an agreement. It's not like they are fighting for something new. This is already a right and entitlement that they have. It is something that they expect to be implemented. Unfortunately, for whatever reason management has been playing hard ball and they decided that they would not. You have to put that in context of the fact that also they are not only thinking about their uniforms, they are also thinking about what has been the environment in which they been negotiating the different issues."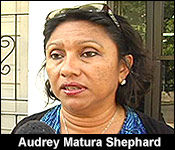 "They are entitled to $450 annually when they don't get uniform. If for the entire 12 months you didn't get your uniform, you get the $450. If it's only for half of the 12 months, then it's only half of that. So the prorate it. That's how it works and if it's beyond the 12 months, then they get whatever amount of monies. But it's every 18 months that they are entitled to get new uniforms. The policy of the institution is that you must go to work in uniform."
Now if the workers had an issue with the current uniform and were unhappy for 11 months, why just now are they protesting and voicing their discontent? Is it just an act to force the finalization of the Collective Bargaining Agreement since elections are next month? Here is what Shepherd had to say about that.
Audrey Matura Shephard, President, CWU
"There is a lot of internal things that are happening and the staff has remained quiet for a long while, but now they are acting out - they are speaking out. They are mandating the union to do certain things and to say certain things on their behalf and that's their right. They are operating within their rights as workers and within the law to do what they do. For example today's protest is not illegal. Its heir lunch time. You can do anything you want during your lunch time."
Courtney Weatherburne
"Nothing with elections coming up?"
Audrey Matura Shephard, President, CWU
"Well remember we don't have any control as to when elections are called. All these CBA's that we are negotiating were already on the table before elections were called. So there is more to anything elections are called to damage us rather than us having to damage election."

Uniforms? It's About Uniforms?
So now what is the Social Security Board's management saying on this issue? Well, they definitely aren't taking all the blame for the delayed uniforms. When we spoke to Chairman of the SSB Doug Singh he told us that the committee responsible for confirming the style and other details of the uniforms comprises of 3 union members and 2 members of management. But apart from that, the management says the workers are NOT entitled to any financial compensation because according to their understanding of the agreement - it does not say anything about compensation. Singh told us today that it has to with a difference in interpretation.
Doug Singh, Chairman, Social Security Board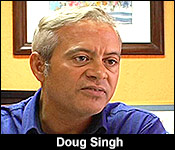 "It is my understanding, I mean t wasn't clarified until today when I asked the CEO to meet with the chief of steward of the union, Ms. Flowers and ask exactly what the action was based on. Other than that we would been guessing. And they indicated that it was on the uniform issue and when I saw uniform issue, is they wrote a letter to Social Security asking for compensation for a clothing allowance payment in accordance with their interpretation of their collective bargaining agreement. We responded to that letter indicating, the CEO responded that we did not interpret the clause in the collective bargaining agreement as they did and that there was not a financial entitlement. They responded indicated that precedence was set because in the past when the uniforms was late on delivery, there was a payment made during that period and that precedence has been set and there is not only an expectation in their mind as an obligation and so they are not pleased with the board's position. I must say that subsequent to that we wrote them a letter and said that we are prepared to consider a payment of an ex-gratia as a result of the delay in the delivery. If they are prepared to consider our proposal in the collective bargaining agreement that moves the timeframe for delivery of the uniforms from 18 months to 24 months."
As to the proposal Singh refers to concerning the extension from every 18 months to 24 months - he says the workers gave a very insolent response and outright rejected it.
Now apart from deflecting all the blame for the uniform delay, Singh also went further by saying that it is unreasonable and simply unconscionable of the workers to ask for compensation when management is already spending a handsome sum for quality uniforms. Singh explained that there needs to be a shift in priority.
Doug Singh, Chairman, Social Security Board
"There cannot be a responsibility placed solely on the institution for any further delays. But I'll go beyond that. The uniforms that were procured from Trinidad this year cost a total of $277,000 for 273 employees. That in excess of $1,000 per employee on average. That is for 5 sets of uniforms to be worn by the staff for that 18 months period and it is my understanding that most Fridays, if not all Fridays are casual days. Now the board is challenged to come up with a recommendation to the Prime Minister for an increase in pension. And the board doesn't view increase to employees for clothing allowance, especially in light of the fact that the uniforms they had had held up very well. Because they pick good quality and they've had it sewn where they wanted it to and now to come back and asked for allowance because uniforms didn't meet the 18 months schedule? When they'd be wearing it the entire time. They are burdening the fund. The fund is not there for uniforms. The fund is there to pay beneficiaries benefit."
"How can you explain to an elderly lady or gentleman out here who hadn't had pension increase since 2002? That's some of their funds that should go towards pension increases is going to go to the employees, because the employees believe that they didn't get their uniforms on time. When the uniforms they got costs $277,000. In excess of $1,000 per person. There are some pensioners out there that are not even getting that for 6 months. I just think that priorities needs to be put in place."
Singh told us that the uniforms are here already and that only a handful of workers are left to get their uniforms. They should have gotten them today. Singh told us that the management is considering reducing the budget set for workers uniforms because in his view $277,000 is simply too much. Singh also explained that in the past when the workers were compensated it was because the material was probably low quality.

Worker Says It's About More Than Uniforms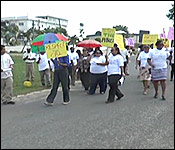 So as we told you SSB employees protested all over the country during their lunch break. We have an interview with SSB member from Belmopan courtesy our colleagues at PLUS TV. They told Plus TV it's more than the uniforms:
Employee - SSB
"We had our first protest this morning, the first sign that members are unhappy and the CEO called us in and basically dismissed us with nothing. Our members will not have it, we have sat by quietly and be good for too long. We need to pay attention to us."
Reporter
"What sort of intimidation are you talking about?"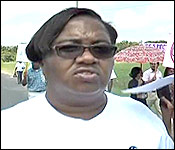 Employee - SSB
"Intimidation, telling us that because we are working for the people and it's the people's money, that people will not be on our side - we don't have the support of the public. We are begging for anything. We come to Social Security every day and we give our hard work and we expect to be treated with respect and dignity that is due to workers."
Management says there is a timeline for collective bargaining negotiations which both sides have agreed to.

Former PUP Mayoral Candidate Chacon Defects To UDP, Disses The Blue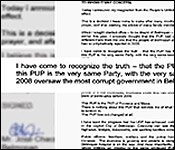 Tonight there is a high profile defection from the PUP - and one that is making the UDP giddy with excitement. He is Jose Chacon - who ran as the PUP's Mayoral candidate in Belmopan 7 months ago. But now, Chacon says he is through with the PUP; he's resigned from the party and has thrown his support behind the UDP's John Saldivar. And for maximum effect - Chacon - who is also a reggaeton artist - was made to record a statement underscoring the reasons he left. He pointed to disillusionment with the party which he formerly embraced with such zeal:...
Jose Chacon, Former PUP Mayoral Candidate - Belmopan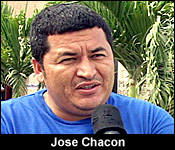 "When I sought elected office to be the mayor of Belmopan under the PUP banner earlier this year, I sincerely thought that the PUP had changed. I have come to recognize the truth, that the PUP has not changed and that this PUP is the very same party with the very same leaders whom from 1998 to 2008, over saw the most corrupt government in Belize's history. But the more I saw of this PUP, the more I was exposed to its leaders, the quicker I came to realize that the PUP was only a vehicle for the enrichment and power of a few individuals. This PUP is the PUP of Fonseca and Musa. There is nothing about this PUP that reminds of what George Price was said to believe in. This PUP has not changed at all. And so I have decided to endorse and to support the Hon. John Saldivar and the UDP as they seek re-election in the upcoming general elections. I will campaign for Minister Saldivar and asked those who support me to support John in Belmopan."
For the PUP in Belmopan, it is a body blow - since the PUP Candidate in Belmopan Patrick Andrews fought for Chacon to win the contested mayoral convention. As a former village chairman of Las Flores, his influence with the immigrant communities was considered to be significant. Today Andrews' executive sent out a press release saying they regret Chacon's decision and attribute it to quote, "desperation and anxiety of the UDP area representative...to infiltrate and take advantage of those who are in dire financial need," end quote.
It continues, quote, "we hold no malice towards Chacon for this mercenary act," and then, concludes, bitterly, "the fate of political defectors is not easy; spurned and distrusted by their own communities and in turn treated with disrespect, contempt and disdain by those to whom they pledge sudden loyalty...we wish him well." END QUOTE.

What Wilfred Said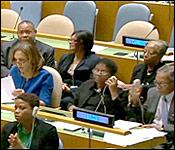 On Friday night we played you a small portion of Foreign Minister Wilfred Elrington's speech at the United Nations - where he spoke about climate change. And indeed, in his 18 and a half minute address that's mostly what he spoke about. But his critics say that instead of talking about that - he should have been talking about the Belize - Guatemala issue - and telling the UN about Guatemala's acts of aggression on the Sarstoon. But, in fact, those critics say, he only glossed over the amendment to the special agreement with Guatemala. Here's what Elrington said.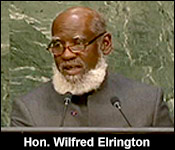 Hon. Wilfred Elrington, Minister of Foreign Affairs
"Earlier this year, we signed a protocol the special agreement between Belize and Guatemala to submit Guatemala's territorial insular and maritime claim to our country to the International Court of Justice. We expect that this will facilitate and speed up the process to finally and definitively put an end to the unfounded claims that have plaque us and our region for far too long."

PUP's Former Foreign Ministers Inveigh Against Elrington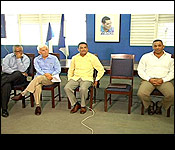 Today the PUP pounced on that very brief reference. Not satisfied with a press release which they sent out on Friday evening - today the party brought together four of its former Foreign Ministers: Said Musa, Eamon Courtenay, Godfrey Smith and Lisa Shoman to put Elrington on mass blast. The 40 minutes press briefing was held at party headquarters where Shoman led the assault on Elrington:..
Lisa Shoman, Former Foreign Minister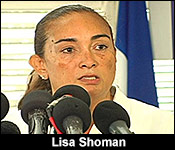 "The People's United Party is deeply concerned, not only by what is contained in that delivery of that speech at the United Nations by Foreign Minister Elrington. But more importantly we are concerned by what it does not contained. We know that climate change is critical and important, but right now Guatemala and the unfounded claim is a bigger existential threat to Belize than is climate change right now. We are doing our work on climate change. The climate change center of the Caribbean is here. We did not need only one minute and nine seconds of addressing Belize and eighteen minutes of climate change. The foreign minister goes to the biggest world stage that there is, the biggest annual world stage and delivers one minute and nine seconds of basic inconsequentialities."
Hon. Francis Fonseca, Leader of the Opposition
"The People's United Party rejects Minister Elrington's stating on the world stage as our representative that the protocol he signed with Guatemala will facilitate and speed the process of going to the ICJ. At no point during his speech did Elrington ever say, that there must first be a referenda in Belize and Guatemala in order to approve any such submission. The People's United Party therefore on behalf of the Belizean people demands an immediate and public clarification of the record by the Prime Minister of the statements made by his foreign minister Elrington."
Reporter
"Is it not implicit in that statement? You say he did not say implicitly, but it is well known in both countries and I imagine in the international community that a referendum is necessary. Is it not implicit in the statement that....?"
Lisa Shoman, Former Foreign Minister
"Whether it is implicit or not, the speech which is given on behalf of each nation at the opening of the United Nations General Assembly, is the speech in which to make your views or your goals definitive and explicit. Particularly because of the diplomatic note that Guatemala slap up in the face with to which there has never been as far as I know any public response or indeed any response at all. You don't leave that to being implicit."
And with only 30 days to go before the general election, the PUP had to throw in an election promise - and that is to re-think, and basically re-boot the entire Belize Guatemala territorial dispute mechanism - thus embracing the likelihood that the entire OAS process which the PUP started - would be abandoned under a new PUP government:..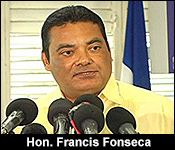 Hon. Francis Fonseca, Leader of the Opposition
"In the first year, that a People's United Party government is in office after November 4th, we will undertake massive and comprehensive public consultations with the Belizean nation and people, leading to a vote for Belizeans to decide for themselves how we are to deal with this claim."
Lisa Shoman, Former Foreign Minister
"I think it is time to go back to the Belizeans, so that organically we can explain what has been done so far, where it took a turn for the wrong and where we think are possibilities for it to go and to have Belizeans give their input as to what it is they want to see."
So, then with political promises being given out, was today's event strictly electioneering? Opposition Leader Fonseca says it's not politics as usual - but, yeah, it kinda is:...
Hon. Francis Fonseca, Leader of the Opposition
"Yes we are in campaign season and election is some 30 days away, but this is not politicking for us. This is an issue of vital concern to the Belizean people and of absolute importance to the future of this country."
Jules Vasquez
"The boogeyman of Guatemala was raised very effectively. In 1993, it turn the tide against the PUP in a snap election. Are you all hoping that this issue of national security or the intuition of insecurity may tip the scales in this election Mr. Leader?"
Hon. Francis Fonseca, Leader of the Opposition
"The first duty and obligation of any government is the preservation of the nation state. The protection and defense of our territorial integrity, our national sovereignty. So we have an absolute obligation to raise this matter. But I certainly will make no apologies for saying to the Belizean people that on November 4th, this is an absolutely important consideration for each and every citizen of this country when you go into the voting booth to mark your X. You must understand and appreciate fully the consequences of that vote as it relates to this very important issue."
As we noted, the PUP seems to be moving further away from an OAS-mediated solution - which Eamon Courtenay said is a reflection of the UDP's mismanagement of that process:..
Hon. Francis Fonseca, Leader of the Opposition
"Our People's United Party is convinced that for the territorial integrity and the security of Belize, we can no longer placed our trust, permit or allow the current United Democratic Party administration to continue to deal with and managed the territorial differendum with Guatemala in the present reckless and high handed manner without any consultation with or input from the Belizean people. The People's United Party reiterates that it will encourage Belizeans to vote no if a referendum is held, to ask Belizeans if they support the taking of the matter of the unfounded Guatemalan claim to Belize to the International Court of Justice."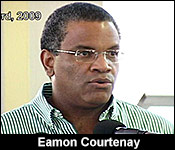 But, it was also Courtney who in 2009 at a public forum said that going to the ICJ was the only certain way to get a resolution to the dispute. Here are those comments from 2009 - and how he now explains that in light of today's anti-ICJ position:..
FILE: Feb. 23rd, 2009
Eamon Courtenay, Former Foreign Minister
"If we want a resolution, the only option at this stage is to go to the court."
Eamon Courtenay, Former Foreign Minister
"There is no point going to the ICJ, winning the case, having our borders declare and then Guatemala say we will not join you in implementing in clearing the border in recognizing the markers on the Sarstoon and on the maritime areas. And so Jules, we say without apology that our position has matured and our position continues to be refined on day to day basis meeting the realities on the ground and on the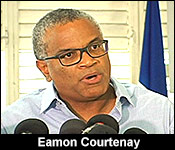 international stage. The ICJ can only resolved where the borders are and we say that Guatemala must start behaving itself like a good neighbor and if it doesn't do that then we have to respond appropriately on each occasion."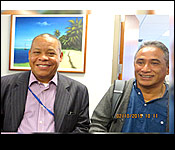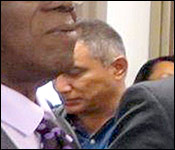 We could not get comment from Foreign Minister Elrington today. But one PUP personality who does not seem to be on the same page with the former PUP foreign ministers - is their party colleague John Briceno. We are reliably informed that he was in New York at the UN for the speech - as seen here in this photo - with his friend and Foreign Affairs employee Stuart Leslie. Briceno was reportedly at the Belize mission for the post speech party, or as it is called, fête, for Elrington.

A Trio Of Weekend City Shootings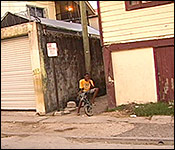 There were several shootings in the city over the weekend. The first happened on Saturday night on Antelope Street - where police saw 24 year old Devon Bailey suffering from 2 gunshot wounds- one to his left calf and one to his right thigh. According to police Bailey was standing beside a fence inside a yard at #10 Antelope Street when shots were fired from a black car travelling from the direction of Central America Boulevard. Bailey remains at the K.H.M.H in a stable condition. Police have since detained one person and are seeking another.
The other shooting happened last night on Supal Street around 9:30.19 year old Travis Williams was shot to the right leg. Williams told police he was standing on the street side when a lone gunman on a bicycle fired about four shots in his direction. Williams has been released from the KHMH. No one has been detained for the shooting.
And on Thursday of last week police responded to gunshots being fired through an alley on New Road.18-year-old Stephan Goff of Pickstock was grazed by bullets during the shooting. According to police, Goff and a friend were sitting under a wooden house through the alley when they heard 3 loud bangs that sounded like gunshots. Goff then felt a burning sensation to his left elbow and the left side of the hip. No one has been detained so far.

OW Police Ask: Do You Know This Man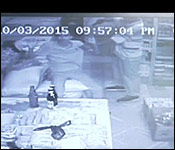 Orange Walk police need your help to find a gunman who held up a Chinese store in sugar city. It happened on Saturday night - and it was all caught on security camera. Police say they have the gunman's face but no ID. Second in command Nicholas Palomo explains:...
Inspector Nicholas Palomo, Deputy Officer Commanding Orange Walk
"A Chinese establishment Yen Store that is located on Belize/Corozal Road also in Trial Farm Village was robbed and stolen was $2,000. At this point the Chinese grocer has not come to make a report but the police have visited the scene and there is a footage that shows the two robbers. They went in barefaced with a 9mm pistol and the footage shows them very good and we would like to ask the assistance of the media to show the faces so that we could identify these culprits."
Reporter
"Nobody was hurt?"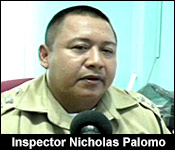 Inspector Nicholas Palomo, Deputy Officer Commanding Orange Walk
"Nobody was hurt in the incident."
Anyone who recognizes the gunman can call Orange Walk police or 0-800-922-tips.

Looking For "Paraquat's" Killers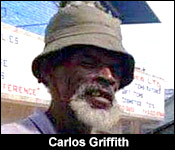 Keeping it in Orange Walk, last week we told you about the vicious beating of Carlos Griffith. He was brutalized on the 28th September by two men who were fighting him for a stool he was sitting on. They fractured his skull and smashed his face. He died on Friday night at 8:15. Orange Walk police say they have one person detained - and he is from the city.
Inspector Nicholas Palomo, Deputy Officer Commanding Orange Walk
"Since then, police investigation commence and we have one person detained where we are awaiting the conclusion of the identification parade, we will know if we will arrest and charged the persons or release the persons we have detained at this time."
Reporter
"The persons detained, I understand they are Belize City men."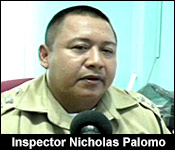 Inspector Nicholas Palomo, Deputy Officer Commanding Orange Walk
"Yes, they are Belize City people and investigation and assistance from the public lead to the detention of these persons."
We'll keep following this story to see if anyone is charged.

Another OW Home Invasion
Belize City suspects are also wanted for the home invasion of DJ Gaby's home and business on the Belize Orange Walk Road which happened last week. Police say the suspects are two men from Jump Street, or Wagner's Lane in Belize City. And there was another home invasion on Saturday at 1:00 pm in the san Lazaro Area of Orange Walk. Police told us more:..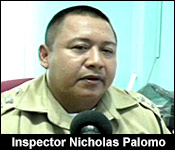 Inspector Nicholas Palomo, Deputy Officer Commanding Orange Walk
"Mrs. Vangeline Chan, a Belize business woman of 9 Dolphin Street, San Lorenzo Housing Site visited the police station and reported that about 1pm, she was at a residence when two male persons came in. One of the male persons held her down and pointed a 9mm at her and started to search the house. They stole $900 and jewelries and a cell phone. All amounting to a total of $4,600. She managed to take off one of the assailants mask, because two of them wore mask and now we are looking for two persons. We have one person detained right now pending investigation."

Human Remains Found
Human remains were found in Cayo's remote Spring Field Community on Thursday morning - and Belmopan police suspect foul play. The remains were found in a sack 6 miles south of the community between 2 large rocks. Inside the sack police also found a long grey jeans and a brown shirt. Now, police believe that it may be the remains of 75 year old Francisco Reyes Ruiz who went missing in that area on September 22nd but when we spoke to them a couple minutes ago, no report has been sent to them as yet, so no details or identity have been confirmed as yet.

Convicted Sex Offender Gets Free
28 year-old Artie Myers, a resident of Gales Point Manatee who was in jail serving 12 years for a carnal knowledge conviction, is at home tonight. That's after the Court of Appeal handed down a significant ruling in his favor. His conviction was quashed, his sentenced was set aside, a retrial was ordered, and he was granted bail.
Myers was convicted on March 21 of last year in the Belmopan Supreme Court, in a trial conducted by Justice Antoinette Moore. He was accused of having sexual intercourse with a 12 year-old girl in Punta Gorda Town on November 6, 2012.
In that criminal trial back in March, Myers was unrepresented. The complainant, who was 13 years-old at the time, took the stand and told the court at that time that the statement she gave to police accusing Myers was a total and complete lie. The prosecutor on the case treated her as a hostile witness, and her original witness statement was admitted into evidence. At the end of the trial, the jury found him guilty, and Justice Moore sentenced him to 12 years.
For this particular appeal today, he was represented by attorney Hubert Elrington, who told the Appeal Court Panel of Judge that Justice Moore failed to give the jury special directions as to the written statement from the complainant, given the fact that the child tried to recant her accusations.
After consideration, the panel, headed by President Justice Manuel Sosa, set aside the conviction and sentence, and ordered a retrial. The court also granted him bail of $8,000.

Harvest Caye Cometh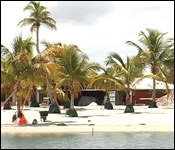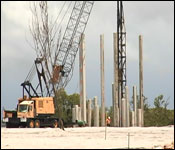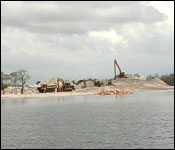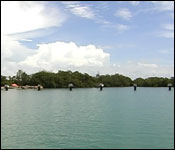 10 Days ago, we gave you a look - albeit from a distance - at the ongoing development on Harvest Caye. That's where Norwegian Cruise Line is building its 100 million-dollar cruise port and docking facility. That project will bring mass cruise tourism to Southern Belize, and the official deadline for its opening is February 2016. So, is NCL still on schedule with that timeline? This weekend we asked BTB's Destination and Cruise Tourism Director about it - here's what he said:
Daniel Ortiz
"Are we still on schedule for February 2016 opening of Harvest Caye?"
Valdemar Andrade - Director, Destination Planning & Cruise, BTB
"Yes. As far as the last conversation I had with the director of port operations Mr. Colin Murphy from NCL, yes. We are still on target for February of 2016. I think all the aspects on the island are on target. We are also working with the tour operation side of it. We are now having the detailed discussions as to what kind of tours they will be having there and being able to get those on target as well. So from our side and in terms of the cruise calls we have secured from that port, yes, everything is set for February 2016."
Daniel Ortiz
"We know that the conservationist community is always vigilant and they want to make sure that NCL is environmentally conscious and careful. Are there any sort of oversight mechanisms to make sure that no damage is done to the patch reef systems around Harvest Caye?"
Valdemar Andrade - Director, Destination Planning & Cruise, BTB
"Basically that is one of the reasons why BTB also looks at which tours will be going out, what will be the details of those tours. We work with the other agencies who are from the natural resource management standpoint like the Department of the Environment, Fisheries, Forestry to be able to ensure that those areas and also our stakeholders in the Placencia area, to ensure that the tour guides operate from a sustainable management and development point of view."
Daniel Ortiz
"Is there any sort of oversight in terms of their construction to make sure, because just from our observation, the beach that they are building is a few hundred yards or so away from patch reef systems. Is there like on site oversight from the government to make sure that those reef systems are protected?"
Valdemar Andrade - Director, Destination Planning & Cruise, BTB
"We have an ad-hoc ports committee where all the agencies are represented and from the reports that have been tabled at those, yes. The Department of Environment has by month oversight of that area to ensure that there are no major issues in terms of the management of the natural resources. Because it is an area close to the marine ecosystems. We have to ensure that all of those systems are protected."
While the different tourism interests wait until the facility is completed, the attorneys for the Government, NCL, and the Belize Tourism Industry Association are awaiting Justice Courtney Abel's decision. He will decide whether or not the Department of Environment fast-tracked the project by taking shortcuts to the environmental laws.

Life After Third Degree Burns For Three Year Old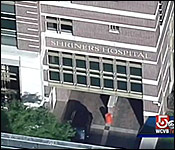 For the past 3 months, 3 year-old Dylan Pop, and his mother, who live in Big Falls, Toledo, have been in Boston, Massachusetts in the USA. He was receiving specialized medical care at the Shriners Hospital for Children. He arrived there with 3rd degree burns to 40% of his body, injuries he suffered in late June, when he accidentally fell into a pot of boiling water that his mother was preparing lunch with.
The burns he suffered were already life-threatening, but in Dylan's case, he was born with multiple cardiac complications. The burns made his case far more complicated because they were putting stress on his already compromised heart.
So, the Burn Victim Mercy Fund and the Gift of Life, Belize teamed up to get him and his mother from the KHMH to Shriners Hospital in Boston where he arrived in a frail and fragile state. The doctors gave him a 50% chance of survival, but with their expertise, and a stroke of great fortune, he received care for the burns, and life-saving surgery for his congenital heart defect.
On Saturday, he arrived home with his mother at the PGIA after months of worry. We spoke with his mother who could finally breathe a sigh of relief. Here's how she explained his near-miraculous recovery:
Daniel Ortiz
"Seeing your son suffering, seeing the difficulty he was going through, and knowing that his life was in danger. As a parent what is that like?"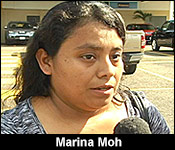 Marina Moh, Dylan's Mother
"Well it was very serious when he got burned from home. From home he got burned and they sent us to Punta Gorda hospital and from there we spent so much time and they sent us to Belize City hospital and we stayed there for 4 days and then they sent us to Shriners Hospital in Boston. So he was really sick. He could not talk, he could not cry, he could not open his eyes. He was really swollen due to that burn that he got from home. When he got to Shriners Hospital, the doctors they tried their best, but they also told me that they were not really sure if he was going to make it. It's 50/50. He had 30 degrees burn and due to his heart he could not make it, but still they were waiting. First they told me that he was going to get skin surgery. On the second day that we were there they could not do it, due to his heart. They waited until a week until everything got healed. They still say that they will have the skin surgery for him, but he did not get it done. It healed on its own and the nurses and the doctors say that he had like a miracle. From just waiting for not going for any surgery, it took like a month to get healed and then after that they work on his heart."
Daniel Ortiz
"The last you saw your son, his health was fast deteriorating. The doctors gave him a 50/50 percent chance of survival. What was it like seeing him arrived back in Ladyville at the PGIA in full health like almost nothing has happened to him?"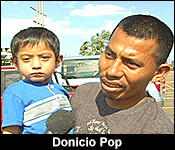 Donicio Pop - Dylan's Father
"It's excited and without the help of Mrs. Burke, we wouldn't have gotten him back. If he would have stayed in Belize, I think we would have lost him."
Dylan's treatment was made possible through Gift of Life Belize, the Burn Victim Fund, the Ray Tye Foundation, and the medical staff at Shriners Hospital.

Darren Banks, Schizophrenic
On March 26th 2012, the Notorious Darren Banks, said to be the leader of the PIV gang back then, was sentenced to 3 years imprisonment for 26 and a half pounds of marijuana which was found on top of the roof of his Oleander Street home. At the time of the search at Bank's home, police say they found an AR-15 rifle, twenty nine 5.56 live rounds of ammunition, and thirteen .223 live rounds of ammunition. Banks was charged with kept prohibited firearm, kept prohibited ammunition and drug trafficking. It's been over 3 years now since Darren Banks has been locked up and things have only gotten worse for him and his family. Banks was diagnosed with Schizophrenia - a long-term mental health condition that causes a range of different psychological symptoms. According to his family, his rights are being violated at the prison due to his mental condition.
According to CEO of the prison Virgilio Murillo, Banks was not denied a family day. He told us that Darren Banks did not write down his name on the list of those who wanted to spend the day with their family. Tonight Darren Banks's mother says she has bigger problems: she can't afford to put his son through school.
IN 2008 Banks went to court and panicked; he told the judge he saw snakes slithering on the courtroom floor.

Capital Cops Catch Timroy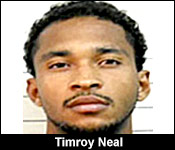 Police finally caught Timroy Neal. Neal was caught on Saturday in Belmopan after eluding police since September of last year. He is wanted in connection with a number of murders over the past months. He also faces other charges from robbery to attempted murder. Viewers may remember that Neal along with another suspect were wanted in connection with June's gruesome double murder in Teakettle. The victims were Americans Julian Christopher Jones, and Paul David Signorino.

A Marketplace Of The Unique
On Saturday over 100 artisans from all 6 districts gathered at BTL Park in Belize City, for the BTB's 4th Annual Arts and Craft Expo.
It's an opportunity to see all the neat stuff that Belizean craftsmen and women produce from jewelry to jams, purses to pepper sauce. But more than just a showcase, it's also a chance to get their products seen by potential new customers:
Andrade told us this afternoon that this year's expo performed about the same at the BTL Park as it did at the other locations where it had been hosted in the past.

Home | Archives | Downloads/Podcasts | Advertise | Contact Us