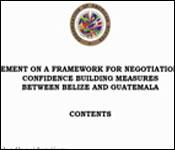 Since last week, we've been closely following the spike in tensions between Belize and Guatemala. That happened shortly after the BDF shot and killed 13 year-old Guatemalan Julio Alvarado Ruano in the Chiquibul on last Wednesday evening.
The BDF soldiers say that they came under fire in the darkness, half a kilometre inside Belize; they were forced to return fire to defend themselves. Guatemala has condemned the fatal shooting as "murder" – and suggested that it was somehow a calculated act. Now, so the OAS will have to investigate and determine who is at fault.
But, one element of the tensions, which we've not explored, yet is the strong language that the Guatemalan leaders have used in their comments to their Guatemalan press. It's the strongest language we've seen in a long time, but did they go too far? Today, Daniel Ortiz took a closer look at the rules of the Confidence Building Measures which Guatemala's officials appear to have violated with their emotive language:
The Confidence Building Measures, it's the much referred to OAS protocol signed in September of 2005 – the one that substituted the word "adjacency zone" for border. It's the playbook for improving relations and keeping tensions at a minimum between Belize and Guatemala.
The crafters of the CBM's, including Ambassador Assad Shoman, were careful when wording the guidelines for handling incidents like the Cebada fatal shooting from last week Wednesday.
It contains passages like this one which says, quote,
"The Parties agree to exercise caution and restraint in the treatment of all issues related to the Territorial Differendum…" End Quote.
and this one
"Neither Party shall use force, or the threat of force, to pursue their positions with respect to the Territorial Differendum…"
Foreign Affairs Minister Elrington told teachers earlier this month that's why he's so careful
FILE: (April 15, 2016)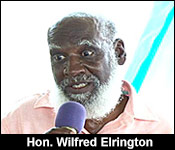 Hon. Wilfred Elrington, Minister of Foreign Affairs
"…The party shall specifically recognized that not only incidents on the ground, but statements in the media or elsewhere can also be disruptive of confidence between the parties and inimical to the process of conflict resolution." So even what we say in the media can bring harm to a nation."
And there are other important agreements from Annex C which say, quote
1. Each Government must observe a self-denying ordinance in avoiding public accusations and attribution of hostile motives to the other.
4. The Governments shall moderate the language and tone of their written communications and public pronouncements of their officials.
and
6. Whenever a State receives a report of an "incident" allegedly caused by the other, the State receiving the report, before it denounces the other State or publicly comments on the "incident," should immediately communicate with the allegedly offending State to determine what occurred and the explanation for it, and make every attempt to verify the facts before making the issue public.
Foreign Minister Elrington has certainly had to weather his fair share of criticism as being weak-kneed in his strict observance of the CBM's.
Take for instance his comments back in September of 2014 when Special Constable Danny Conorquie was killed in the Caracol Archaeological Reserve.

File: September 24, 2014
Daniel Ortiz
"There will be those in the public who will be outraged that a Belizean was killed on Belizean soil by some persons believed to be Guatemalans?"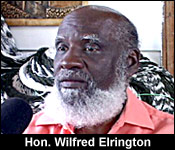 Hon. Wilfred Elrington, Minister of Foreign Affairs
"Well I can't take that further than that. It is his belief, but we have no evidence that in fact it is Guatemalans. We don't know who has done it. I am told that the police are looking for the people who supposed to have done it, but not even the police knows who have done it; who are responsible. So that it would not be to my mind proper to ascribe it to any particular nationality - we don't know."
But, last week, the Guatemala Leaders and Diplomats threw the CBMs out of the window when they publicly called out the BDF for the fatal shooting of 13 year-old Julio Alvarado Ruano.
The Guatemalan President was the first. His Ambassador to Belize followed, and then his Foreign Affairs Minister.
File: April 21, 2016
Jimmy Morales - Guatemalan President
"Yesterday members of the Belize Defense force killed another Guatemalan. To our dismay, this time the victim is a 13-year-old boy. The cowardly and excessive attack was against 13 year old Julio Rene Alvarado Ruano, whose body is still in the hands of the Belizean authorities."
"I ask the Belizean authorities, what threat to your sovereignty do these two children pose? One 13 and the other of 11? This act provokes severe indignation and repudiation. I want to express my strong condemnation of this cowardly act of aggression and use of excessive force against minors on the part of the Belize Defense Force."
File: April 26, 2016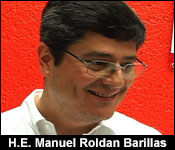 Manuel Roldan Barillas
"This is an unspeakable act. It is something completely disgraceful for which Belize will have to explain the circumstances....Unfortunately, as you know, since 1999 there have been 10 killings of Guatemalans at the hands of the BDF and we view this with concern. Unfortunately, we recognize that although there may be a lack of discretion by the armed forces of Belize in contrast to that of Guatemala, a professional army, which although they have been trained for war, that would be the last resort... I see the bilateral relation with Belize damaged at this time by a completely condemnable act." End quote.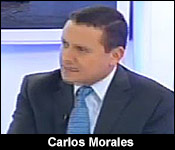 H.E. Carlos Raul Morales - Guatemalan Foreign Minister
"We could be very angry about what occurred with the death of this child but we won't react like them. We won't go and hunt down a Belizean, like they have hunted down Guatemalan farmers before. Sorry for the strong expression but that is literally what they have done. But we will not act in the same manner."
Even the OAS, which is supposed to be neutral and impartial said it "Repudiates the death of a minor."
File: April 25, 2016


Rt. Hon. Dean Barrow, Prime Minister
"That word stuck out like a sore thumb and I have to believe that there may have been some difficulty. I first I thought it was originally in Spanish and something may have been lost in translation."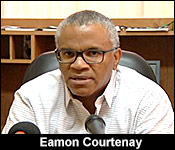 Eamon Courtenay, PUP Rep., BZ, Guatemala Relations
"I took a look at that statement and I was struck by the language that was used by the OAS. I am surprised that the OAS would issue a statement like that particularly at this time. The secretary general just left Belize and he is well aware that Belize is not looking for any military confrontation with Guatemala. He is well aware of the raping of the Chiquibul and the areas along the western border by Guatemalans. The Secretary General and the OAS is well aware that the Government of Guatemala is in breach of its obligation to take effective steps to dissuade its people from coming across. Everybody is saddened by the loss of life, but to suggest or to imply that the BDF was somehow at fault, I think is a matter of concern for me. It is a matter of concern that the OAS would begin to think that way."
But it's not the first time The OAS made a verbal mis-step. In 2012 when the BDF shot and killed an illegal logger, the OAS called it reprehensible:

File: July 20, 2012
Jules Vasquez
"Words have meaning Ambassador, the language quoted to the secretary general is reprehensible. Reprehensible means deserving condemnation. Again, if there is an armed engagement between outlaws and the armed forces of a sovereign nation and it results in a fatality, that is regrettable but it is not reprehensible in so far as deserving condemnation."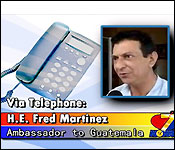 H.E. Fred Martinez
"I certainly agree with you and therefore I do mention that I do not like his choice of words"
In stark contrast, the Belize side has stuck strictly to the guidelines for public speaking, and Foreign Minister Elrington has had to shrug off harsh public condemnation for it.

File: October 3, 2014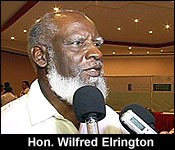 Hon. Wilfred Elrington - Minister of Foreign Affairs
"As a foreign minister I have the responsibility not only to Belize and the government of Belize and the people of Belize - that's where I have my first responsibility, but we are now part of an interconnected world and so I've got to think in terms of the impact of what I say on the world at large.
File (April 15, 2016)
Hon. Wilfred Elrington, Minister of Foreign Affairs
"…In the Conorquie issue there were members in my government, head of the police and other, even ministers were saying 'I am certain that it is the Guatemalans that killed Conorquie'. My position was if you bring me the evidence I will say that."
And looking briefly to Guatemalan Foreign Minister Carlos Raul Morales's disparaging remarks about the supposed lack of professionalism in the Belizean military, that's one heck of a claim, from an official in a country where the military killed two hundred thousand of its own people, in a genocidal civil war which went from 1960 to 1996. Here is how one of the relatives of the victims put it in a documentary that we found on YouTube:…
And, while you might think that the military would, by now, be purged of those persons, in fact, former President Otto Perez Molina was a commander in those genocidal assaults, and President Jimmy Morales's party, the FCN was founded by former Generals.
Loggerhead Goes Long Distance For Turtle Telephone Directory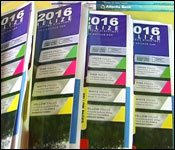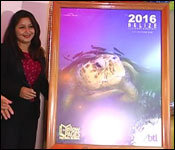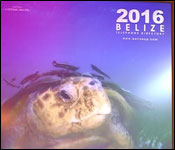 BTL's 2016 telephone directory was released today – and this year Oceana snagged the cover page for an endangered turtle species, in this case, a logger head turtle.
The media was invited for the big reveal at the BTL Office on Church Street today: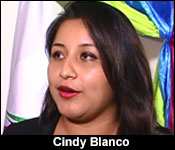 Cindy Blanco - Senior PR, BTL
"This new directory is very exciting; it's one like never before. We've joined OCEANA this year in raising awareness of Belize's endangered species."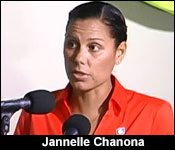 Jannelle Chanona - VP, OCEANA Belize
"As we all know these books will be used in about every home, office, hotel room and schools in Belize; possibly some cars and boats along the way too. Our hope is that when you see the image about to be unveiled, you'll be inspired to do whatever you can; ask questions, get informed. OCEANA is especially grateful that this year's book includes additional material about Belize's endangered species in the all about Belize section. Speak up for those species, speak up for yourself."
Cindy Blanco - Senior PR, BTL
"This year the newest exciting features are the augmented reality feature. So you need an app, Layar and then you can make your cover come to life which is something we've never seen before, something we're very excited but also the book itself is filled with many features. More information, we have the directory online, we have the app for it, we have the Belize Yellow Pages app; so we're trying to make information as accessible for our customers as easiest as we can."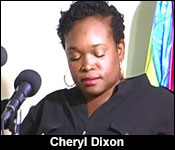 Cheryl Dixon - Global Directions
"AR is cutting edge technology which utilises sound, video, graphics and data to put an amazing spin on what would otherwise be just an ordinary print ad. Simply put it allows users to hold their smartphones or tablet in front of a printed page and access extra content about a product or service."
Some of the businesses in the BTL yellow pages that have embraced the new AR technology include Atlantic Insurance, Marie Sharp, Home Protector Insurance, UB, and RF&G.

Belize's Role In The Commonwealth
Earlier in the news, we showed you the press conference hosted by the Commonwealth Secretary General, Baroness Patricia Scotland. As we told you, she's in Belize until next week Monday, and during that that time, she has a packed schedule of activities.
So, what's the importance of her visit? That's what we asked, and she told us what role she sees for Belize in the Commonwealth at this time: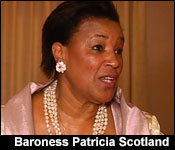 Baroness Patricia Scotland - Secretary General, Commonwealth
"As you know Belize is a very valued member of the Commonwealth and I promised myself that as soon as I became Secretary General, Belize would be one of the first places that I would come. Belize has a proud history of in support of the Commonwealth and has been a very active member; and of course I'm very grateful for all the support that Belize has given both the Commonwealth and myself. And I've come here to hear what the interlockers here in Belize really want to work with the Commonwealth on. We know there are huge issues in relation to climate change that's an existential threat to all of us. There are also issues in terms of how we put the wealth back into Commonwealth and the common back into wealth. As you know Belize host CARICOM climate change centre and one of the things we've been looking at is how we can enhance the ability particularly of the small island states to get access to the 900 and million dollars that there are in terms of help to mitigate and to adapt our environment to meet the new climatic challenges. And what we're hoping is to create hub and spoken relation to financial access and have specialists. We are going to create a hub in Malaysia, we've been very gracious but of course Belize has the climate change centre here already on behalf of CARICOM. So what we're hoping is we will be able to enhance that service which is provided for the whole region by putting in financial service advisors to help us here in the Caribbean to better understand how we access the money that is being made available to help mitigate and adaptation for climate change. And I think that Belize is doing the whole of the Caribbean region a great service by hosting the Caribbean climate change centre right here and I'm very grateful.
Baroness Scotland is a distinguished attorney and public official, and stateswoman. She holds dual citizenship from the United Kingdom and the Caribbean Nation of Dominica, where she was born. She has also made history becoming the first woman hold the posts of the Attorney General of England and Wales, and the Secretary General of the Commonwealth.

The Jazzfest Jones Continues
So you saw all the engaging and exciting performances from our Belizean musicians at the New Orleans Jazz and Heritage Festival, last night you also saw the cultural demonstrators and their art displays. But what is happening back stage? What's the first time experience in New Orleans like for these bands? That's what we captured last weekend – here's the story:…
And tune in next week to see the final parts of the New Orleans feature series.

Mayflower Colors Belize In a Riot Of Pink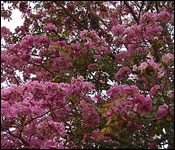 And in our last newscast for April, we celebrate the riot of pink that the Mayflower gives us at this time of year. Yes, the tree scientifically known as Tabebuia Rosea, and its wonderfully intense flowering period in April and May colours the Belizean landscape in varying tones from pink to purple, even fuschia sometimes. And it's hard not to notice in the city where the otherwise dreary urban landscape is punctuated by this proliferation of pink. And part of the beauty, is that it'll all be gone in a few weeks, and that evanescence makes Mayflower-power even more special to behold.
So to indulge a little more in our Friday muse, we sought the professional view of Lascelle Tillett. He owns one of the longest established tour operating companies in Belize and he has learnt a lot about the majestic and surprisingly mysterious May-flower.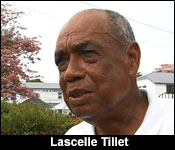 Lascelle Tillet - Owner, S&L Tours
"The genus name is Bignoniaceae and the Tabebuia rosea commonly called Mayflower. It originated in South America but now it's very common in Central America and the West Indies. Its grows a lot for shade and the rare thing about it is most of the hardwood trees they drop all their leaves to save water so it can germinate and in the rainy season when its ready but this guy drops it leaves and put flowers out which is very rare because it should be de-seeding but it has flowers. It has a first blooming around February which is like a falls bloom and then end of April and May that's the highest bloom it has."
Emanuel Pech
"Why is it blooming such a short time?"
Lascelle Tillet - Owner, S&L Tours
"The blooming come at a time when the tree is de-seeding because it does not have much water in the ground so it doesn't have the strength to hold on to it petals so that's the reason why it goes so fast and this will happen all through the month of May. Last year the weather was so undetermined, sometimes it was hot, rainy when it was supposed to be dry so the trees got confused and they were blooming different time of the year but this year they are right on target."
The plant will bloom again in June but not as intensely as it is now.
7 News for Friday, April 29th, 2016 from 7News Belize on Vimeo.

Home | Archives | Downloads/Podcasts | Advertise | Contact Us