Could Cable Operators Be Forced to Pull The Plug On Your HBO?
(posted on Thu Feb 15, 2018)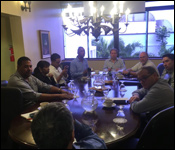 Cable television as you know it might be coming to an end - and that's because - after years of avoidance - copyright compliance could be imposed upon Belize soon. Today executives from HBO Latin America were in Belize to have what we are told was a stiff meeting with the Belize Cable TV Operators Association. According to a two sentence release from the BCTVOA, their Board of Directors, quote, "held a meeting today…to outline a road map to copyright compliance." End quote. We are told the meeting was led by Phil Welcome - who is the Director of anti-piracy for HBO Latin America.
It's the first time an executive with such seniority and specialization has come to Belize to discuss anti-piracy - and it denotes a change in tone on this long lingering issue. That change in tone is also apparent at the state level where the office of the United States Trade Representative is pressuring Belize to become copyright compliant.
So what does "the road to copyright compliance" mean for you? Well, probably anywhere between 75% and 90% of those 225 cable channels you get on your TV are pirated. And that includes all those premium channels such as HBO, STARZ, SHOWTIME, CINEMAX, ENCORE, SCI-FI…and the list goes on and on…
But, once cable operators are forced to be copyright compliant, they may have to pull those channels - or pay for it, and offer them as a premium package which you would have to pay more to see.
HBO is the first premium channel owner to arrive and they could be demanding as much as five dollars per subscriber from cable operators. Both sides are expected to meet again in a few weeks.
Rampant piracy has persisted in Belize since the advent of television - and it has made for the cheapest channel for channel cable package - probably in the world. Today's meeting suggests that the free ride could finally be coming to an end.
We'll keep following the story.

Serve Staff Ripped Off "Rain"?
(posted on Thu Feb 15, 2018)
They work at one of the most upscale restaurants on San Pedro - but three service staff are accused of theft from that restaurant tonight. They were allegedly pinching cash from the day's sales.
Victoria Meyers from Rain Restaurant at Grand Caribe Resort on San Pedro found that on January 24th, 21 year old bartender Brandon Moralez made sales valued at over five thousand dollars during his shift, but only handed over $4,754 dollars, leaving $470 dollars unaccounted for. On the 28th, he did much the same, except this time, he was off by almost 800 dollars.
Similarly, on the first of February, 20 year old bartender Wilson Perez was short by almost 600 dollars dollars. The next day Brandon Moralez was 580 dollars short when he handed over the sales from his shift.
Two days later, Wilson Perez was three hundred dollars short. And on the fifth, Perez and waiter Cristian Novelo were $447.00. dollars short when they handed over the sales from their shift.
As a result, Police arrested and charged Brandon Moralez for (3) counts of Theft , Wilson Perez for (2) counts of Theft, and, additionally, Wilson was charged jointly with, Cristian Novelo for (1) count of Theft.
But that wasn't the end of their funny money business. On the ninth February, Moralez tried to settle a 74 dollar bar tab at San Pedro's Jaguar Night Club with someone else's credit card. For that, he was also arrested and charged for Obtaining Property by Deception.

The Push To Referendum Will Be Without Senior Diplomat
(posted on Thu Feb 15, 2018)
Shifting now to international affairs, Belize's Foreign Minister Wilfred Elrington spoke at the OAS Permanent Council two weeks ago. He and his Guatemalan counterpart Sandra Jovel both made a pitch to the international community that they were serious about taking the Belize Guatemala dispute to the ICJ.
The first concrete proof of this is Guatemala's decision to hold a referendum in mid - April. Belize has committed to do the same later this year - but it will have to do so without Ambassador Stuart Leslie. He is the coordinator of the International Boundaries Unit - which is in charge of public education on the ICJ effort - leading to a referendum.
But even as the referendum effort is gathering steam - Leslie is leaving the Ministry. Today Elrington discussed the parallel developments starting with the Guatemalan effort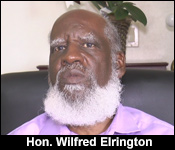 Hon. Wilfred Elrington - Minister of Foreign Affairs, Belize
"And so yes the entire intention is very serious. Guatemala seems to be resolved to deal with this issue of the claim at the ICJ and they have been putting their money where their mouth is. They have been spending lots of money to get the referendum done and they are doing all the right things in that regard it's only now for us to do the same and we are working on it assiduously."
Reporter
"We are told that Mr. Stewart Leslie is no longer a part of the referendum unit can you confirm or speak to that?"
Hon. Wilfred Elrington
"Yeah I can speak to that. Actually Stewart had come to me maybe 3 weeks to a month ago and said to me he was being pressured actually by people in his own party as to were... disengage, so he had to make a decision as to what he would do - whether he would stay with is or go with the leader of the opposition. Stewart is first and foremost a general of the People's United Party, we knew that all the time but Prime Minister and myself have very great regard for him. You don't often find people who are honest and competent and really nationalistic and I think Stewart is one of them."

Friends of Belize and Guatemala Coming Through With Funds For Referendum
(posted on Thu Feb 15, 2018)
And while Ambassador Leslie is now full time with the PUP, he will be replaced and the public education effort is expected to be stepped up with funding from the Group of Friends of Belize And Guatemala. Elrington said money is already coming through
Jules Vasquez
"Will Belize be receiving funding for its effort for its education and referendum?"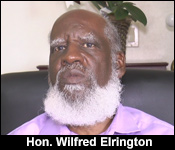 Hon. Wilfred Elrington - Minister of Foreign Affairs, Belize
"We have already been receiving funding for that. As a matter of fact the Europeans, the Americans have already made contributions and will continue to make contributions and we are going to be seeking funding further a field as well. We have been getting contributions continuously from the international community for this process. Unlike Belize and Belizeans really there is no doubt in the minds of the international community, the 193, 194 members of the United Nations, there is no doubt in their minds that the ICJ is the proper place to have this matter resolved. We have a border dispute, we're resolving it in a mature, peaceful, positive way. That is something that the national community is really impressed with and they are in fact doing their best to help us to move the process forward."


Elrington: Guats "Shot" The Messenger
(posted on Thu Feb 15, 2018)
But it's moving forward without Magdalena Talamàs. She was the coordinator of the OAS Adjacency Zone office - and as we first reported on January 16th, she's been removed from that post at the insistence of the Guatemalans. They were firmly opposed to her holding that office because she presented the investigative report on the April 2016 incident in the Cebada area of the Chiquibul. That report found that the BDF had no blame or wrongdoing in the death of a 13 year old Guatemalan who was encroaching in Belizean territory - along with his father.
The Guatemalans rejected that conclusion, the report, and the person who presented it - leading to one and a half years of icy relations with the OAS. And that's why she was removed - Elrington explains: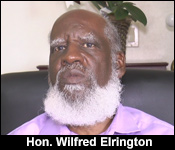 Hon. Wilfred Elrington - Minister of Foreign Affairs, Belize
"When the truth was disclosed to them, when the report of the commission was made public they were very peeved by that and they decided to attack the messenger not the message. Unfortunately Magdalena Tamalas was in fact the messenger. Many times the messenger gets shot and this one case where she was in fact shot. They refuse to want to have to do anything with her and was not as cooperative with the OAS as we would have liked and that is necessary given the delicate task they have to undertake. We can't afford to have the Guatemalans not cooperating fully with the OAS and the Office of the OAS and they saw Magdalena as an obstacle to that so she had to be sacrificed."

Senior US Diplomat's Retirement Could Have Effect on Belize - Guat Relations
(posted on Thu Feb 15, 2018)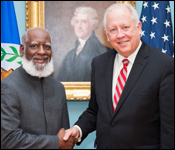 Another notable departure from the Belize - Guatemala picture is senior US diplomat Tom Shannon. He announced his retirement on the first of February retired at the end of January - literally the day after he had met with the Belize contingent. Those with knowledge of the territorial dispute will know that in his 35 year diplomatic career Shannon has long bene Belize's man in Washington.
Today, Elrington said he will be missed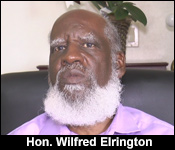 Hon. Wilfred Elrington - Minister of Foreign Affairs, Belize
"If you notice a number of high ranking officials in the administration of President Trump have been retiring for one reason or the other."
Jules Vasquez
"Tom Shannon."
Hon. Wilfred Elrington
"Yeah Tom Shannon, he's a very nice person, he was very helpful to us over the years that we have been involved with the Belize Guatemala issue. Whenever we had difficult times when the relationship got a little thorny and we were force to resort to them for their assistance and he was always the consummate gentleman and diplomat in helping to resolve it. The last meeting we have with him he gave us the assurance to the extent that he would have been able so to do, he would assist us. As a matter of fact you know we still have the matter of the Sarstoon protocol, that's a matter which is outstanding, that is a matter which they have worked with us on and he gave us an assurance that he would continue to work with us on that and try to see whether that could be concluded."

UNIBAM Brings Senior Advocacy Experience To Bze-Guat Education Campaign
(posted on Thu Feb 15, 2018)
So, familiar faces like , Shannon, Talamas and Ambassador Stuart Leslie are now out of the picture - to be replaced by new ones, including, possibly, Caleb Orozco. He has been a part of international LGBTI Advocacy for years, and Elrington says his expertise in this area is being called upon: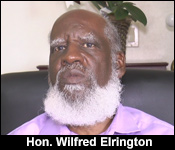 Hon. Wilfred Elrington - Minister of Foreign Affairs, Belize
"LGBTI has come onboard, they will be working with us. We have been having meetings with Caleb and they have presented a wonderful proposal to help us. They have a lot of experience and knowledge in advocacy and I've been asking him maybe for the last 2, 3 years to come onboard to help us. They put forward a very lovely proposal and I know that he met with Alexis last week so we are trying to spread a very wide net, bring in everybody who has the ability to help us, to help us."

Hon. Wilfred Welcomes New Ambassador
(posted on Thu Feb 15, 2018)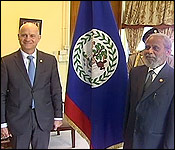 Another new face is recently appointed Guatemalan Ambassador, Georges De La Roche. He presented his credentials two days ago - and his appointment represents a sort of "reset" for Belize Guatemala relations. Elrington says the new Ambassador has strong ties to Belize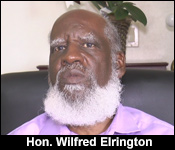 Hon. Wilfred Elrington - Minister of Foreign Affairs, Belize
"He's not stranger to Belize, as a matter of fact he has been visiting Belize from his childhood days. They have relatives in St. George's Caye; childhood days, he use to spend his holidays there also he told me that his grandfather if not his great grandfather actually started Brodies store. So they have a lot of... he personal has a lot of connections with Belize."
Jules Vasquez
"Is it an indication now that things are normalizing?"
Hon. Wilfred Elrington
"Back to normal, I want to think so. As a matter of fact we have been getting some good signals for some time now and those signals have been getting better and better. The foreign minister as well is very desirable of coming to Belize, she want to see what the adjacency zone looks like, the OAS office."

Hon. Wilfred and Hon. Eamon Warmed Up In Washington
(posted on Thu Feb 15, 2018)
There's also been a reset with the PUP in the bi-partisan negotiations on the Belize Guatemala issue. Two PUP Representatives, Senator Eamon Courtenay and Area Rep. Oscar Requeña accompanied the Belize delegation on their recent trip to the OAS in Washington DC.
Now, Minister Elrington and Senator Courtney have had very public and private disagreements in court, and, here, in the court of public opinion. So, how did they get along in DC? Elrington said it was civil
Jules Vasquez
"Were you all cordial in Washington DC. I know he and Oscar Requena travelled along with the Belize contingent. I know you and Mr. Courtenay have a number of public and private issued in the court and in the court of public opinion."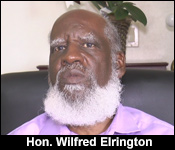 Hon. Wilfred Elrington - Minister of Foreign Affairs, Belize
"You know we have a reputation for being the consummate diplomat and gentlemen so we don't have a problem with that. We know how to behave civil so we were, I would like to think were consummate host to both Mr. Courtenay and Mr. Requena and I think that they might have been sorry to have had to part ways with us to have to come back early because of course. Now on a serious note we are always very cordial, very pleasant, very mature in dealing with the business of the people of this nation."

Corporal Charged for Losing Gun That Ended Up In Criminal Hands
(posted on Thu Feb 15, 2018)
A police corporal in the Cayo formation has been brought up on disciplinary charges for "losing" a gun that ended up in Orange Walk - in the hands of a man now wanted by police.
We told you about the gun on Monday. On Saturday morning at 3:30, Orange Walk police saw a man acting suspiciously and went to search him. He threw a 38 revolver away, and then escaped from police.
When police checked the serial number it turns out to have been a revolver assigned to the Cayo formation. The corporal who it was assigned to has been charged internally for prejudice to good order and losing the weapon.
Orange Walk Police have the weapon but still have not found the man who was carrying it after he escaped from them.

Taiwan Gives A Million For Police, Compol Calls It "Historic"
(posted on Thu Feb 15, 2018)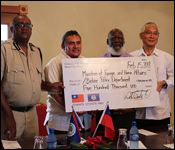 What would you do with a million dollars? Well, if you were the Commissioner of Police you would buy a whole bunch of handcuffs, motorbikes, and aerial drones. That's what the commissioner will do with half a million US dollars handed over by the Taiwanese Ambassador today. Now, one million dollars is a nice chunk of change - but the American have given much more. Except when they give, it's always equipment which matches their strategic objectives. This time, the Taiwanese gave the Commissioner funds to spend on whatever he thinks the Department most needs. At the handing over today at the Ministry of Foreign Affairs Belize City Office, Whylie said its historic
Allen Whylie - Commissioner of Police
"Today is an unprecedented day in the history of the Belize Police Department. Never in my 31 years I can recall the department ever receiving such a humungous gift in terms of 1 million Belize dollars to aid us in our crime fighting and acquisition of resources. We intend to purchase a number of different equipment, we'll have additional motorcycles which will be deployed across the entire country of Belize and we should be seeing also where cycles are deployed to each police substation. That should increase our visibility as well as well as our response time as well as our ability to respond for call of assistance. We also intend to put a number of those cycles in all the districts at the prosecution branch where that will allow the process servers to serve the different processes, warrants, etc execution to ensure that in terms of the prosecution side they are less cases being struck out because witnesses are not being summoned. We are also going to acquire a number of drones which will again be deployed during anti-crime operations because drones as part of the department embracing technology drones can provide us wide coverage in terms of when we operating. It will give us an eye from the air that we are able to see targets or suspicious persons or movements. We are also looking at acquiring a number of handcuffs where each police officer will be able to assign first time in their career perhaps a personal handcuff."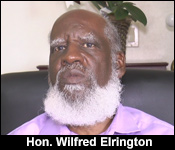 Hon. Wilfred Elrington - Minister of Home Affairs
"We decided to seek source of funding and of course the immediate response came from the Taiwanese, it is good to have an ambassador who was a former police officer. This was entirely driven by our own senior police officers. The commissioner met with his people to determine what they needed, they informed us and then we made the request. They actually complied the list of what they needed, we submitted it to Taiwanese and then they decided to fund it. So they gave us as much as a million dollars which was more than what we had hoped for to be able to buy all that we need to take care of the immediate need of the police."

Hon. Wilfred Says Whylie Won't Go
(posted on Thu Feb 15, 2018)
As you just heard - Elrington is pleased with the funding package - and he's also pleased with Commissioner Whylie. Even coming off one of the most murderous years on record, and a January that saw 15 murders - Elrington said it can't be blamed on the COMPOL
Jules Vasquez
"Is Mr. Whylie's job being under review or is it a matter that the cabinet or Prime Minister is looking at because of the poor results we've had in controlling the number of homicides or violent deaths as you may wish to call them?"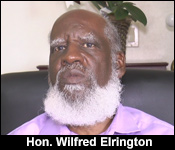 Hon. Wilfred Elrington - Minister of Home Affairs
"In relation to Mr. Whylie I can tell you that as far as I am concerned I have no second guessing about Mr. Whylie. I reiterate the position I make that police is team work. I have found Mr. Whylie to be quite intelligent as I've said, he seems to be a man of integrity, I have gotten no negatives from him, I have heard no negatives of him. I know we have a serious social problem where you have people are killing more than we would like to see happen. I know that he and his team are trying their best to contain it, I know also too that there is an increase in homicides all over the region and I expect that it will get worst."
Jules Vasquez
"It's down in Salvador, its down in Honduras, its down in Guatemala."
Hon. Wilfred Elrington
"If it is down it is only minimally down and the kind of resources that they are putting in there is humongous as oppose to us. Then remember now we are getting all kind of criminals back into the country. I think only this week the Americans were dropping off 7 deportees and I imagine that number is going to increase. So it's a tall order, it's going to take time but I don't think that it is wise to be moving people like you're playing dominoes or checkers, that's not how it works. You have to build a team, a good strong team for the police and you also have to enhance in my view the condition, the socio-economic conditions of our people."

Cops Detain Female Who Lured Gibson
(posted on Thu Feb 15, 2018)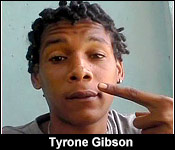 After those 15 murders in January - Belize City had a 13 day respite from killings. That is until Tyrone Gibson was murdered last week Friday. He was shot and killed on West Collet canal – a rival gang's turf he knew well to avoid. Police have detained the women who is said to have lured him to that area
The head of CIB shed more light on this case.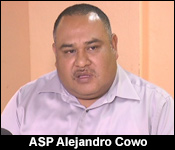 ASP Alejandro Cowo, OC - CIB Belize City
"Reference the murder of Tyrone Gibson which occurred last week police is following that investigation they were able to retrieve surveillance footage from within the Area. At this moment we are looking for a vehicle and also a female was detained and she is presently being questioned to see what information we can gather from her and what that can lead us into the investigation."
Reporter
"Does this female have any affiliation with any of the gangs?"
ASP Alejandro Cowo
"She lives at one of the neighborhoods but I can't tell you if she is an affiliate of that gang."
Reporter
"Were you all able to track her through cell phone number or just through word of mouth?"
ASP Alejandro Cowo
"It is based on the investigation we have carried out interviewing persons and the footage that we had retrieved. We followed certain information that led us to that female there. The investigation is pointing out that it was feud between two of the gangs here in Belize City."
Police are still looking for 2 persons in this case.

No Complaint By Shooting Victim
(posted on Thu Feb 15, 2018)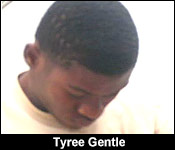 Police are also still working on closing the Tyrone Guy shooting case. Guy was shot on Monday night. He was hanging out at a residence at the corner of Waight and Fairweather Streets when two men rode up on a motorbike and fired several shots at him. Guy was shot to the calf - and taken to the hospital. Police chased down the alleged shooter on a motorbike. That suspect is Tyree Gentle and he was charged with gun offenses but nothing more for shooting Guy. Today told us what the complications are in this case.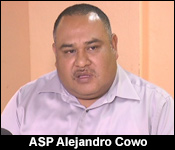 ASP Alejandro Cowo, OC - CIB Belize City
"Police just arrested and charged a male person that was found with the firearm Tyree Gentle."
Jules Vasquez
"Yes Tyree Gentle this is the guy on the motorbike?"
ASP Alejandro Cowo
"Yes this is the guy."
Jules Vasquez
"But were two people on the motorbike?"
ASP Alejandro Cowo
"Yes it was persons on the motorcycle however at the time of the apprehension police only saw one of them on the motorcycle disposing of the said firearm that was found."
Jules Vasquez
"Okay."
ASP Alejandro Cowo
"As a result that he was the only person that was charged."
Jules Vasquez
"I noticed he was only charged for firearm but he was not charged for attempted murder or anything like that."
ASP Alejandro Cowo
"He was only charged for the firearm at this moment. We are still trying to convince the victim to come forward to give a formal report to the police. Up to now he has not given any statement to the police so that we could continue with the investigation."
As you heard, Guy hasn't made an official police report.

No Arrow for This Cupid, Female Used Knife On Valentine's Night
(posted on Thu Feb 15, 2018)
And, in other crime news, what might have been a star-crossed valentine's outing turned bloody when a woman stabbed a man last night. It happened in Belize City outside an upscale eatery. Police gave us what they have so far.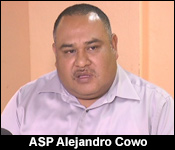 ASP Alejandro Cowo, OC-CIB Belize City
"Police responded to that stabbing on Princess Margret Drive. It was a domestic dispute however the persons involved are not really requesting any police assistance to deal with the situation. I know that police went and dealt with the gentleman that was involved, he was taken to the hospital to receive treatment for his injuries and he up to this moment he has not given a formal complaint as to exactly what happened last night."
Jules Vasquez
"Okay, he was attacked while leaving eatery, a restaurant?"
ASP Alejandro Cowo
"They were on the side of an establishment where apparently an argument ensued between the male person and the female and as a result he received a stab wound but as I mentioned he was not made any official report to the police. The police responded there and they took him to the hospital and they issued his with the lego form which is the formal police process."
Again in this case the victim hasn't made a police report - meaning that most likely no charges will be brought.

Family Says Police Abuse Systematic
(posted on Thu Feb 15, 2018)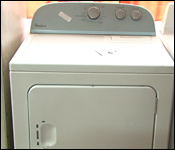 In September of 2014, the police picked up 19-year-old Armani Bailey and instead of taking the young man to the station they drove him to Belizean Beach and nearly drowned him. Bailey survived, but the family reported the officers, and all three were charged.
Almost five years have gone by since the incident and the family thought they had recovered from the incident until yesterday. Police officers randomly came in and searched his house where both Bailey and his mother reside. They did not find anything but they did manage to break his mother's brand new dryer during the search.
Voice of Marie Garbutt - Complainant
"I have this dryer. Police came to search me and his crowd. I am not happy right now because as you can see I am sick and tired of this. The last time they came to my house they broke open my window and came in. Now this time they have my brand new dryer broken and dismantled. I have problems with the SAT crowd because of incidents with my son. They wanted to kill him the last time because we had gone and won it through the tribunal thing that the police have they targeted us for no reason. I am sick and tired of this with the police."
Garbutt says she is going to file a complaint against the officers for the damage to her property.

Remembering Antonio Soberanis
(posted on Thu Feb 15, 2018)
You may know the name Antonio Soberanis. He's remembered in Belizean History as one of the first Belizean nationalists whose love of country led him to become Belize's first and fiercest labour activist. His labor movement which started in the mid 1930's paved the way to self-government and Independence in Belize.
But, Soberanis isn't lionized the same way that the leaders like George Price are. In fact, his legacy is often overlooked, and if you aren't studying local history, or aren't a historian, you may know very little about his contributions.
So today, after weeks of preparation, NICH and the Institute of Social and Cultural Research invited the press and his family to his resting place in his home village of Santana, on the Old Northern Highway. It's being given recognition as a cultural heritage site by NICH, and our news team was there when it was rededicated.
Daniel Ortiz has that story:
Here at this grave site in Santana Village lies the remains of Antonio Soberanis, one of the great labour leaders in the 1930's. But, if you didn't know that, or somebody didn't point it out to you, you'd probably drive past this part of the Old Northern Highway without giving it a second thought.
So, to ensure that historical significance of such an icon could be pinpointed, NICH and the Institute of Social and Cultural Research rededicated his resting place today with a ceremony.
It's been restored, and a sign summarizing his importance to Belize's history, was officially unveiled today.
The NICH authorities made sure to invite his descendants to the ceremony, so that they could witness the state's commitment to reminding the next generation of the life and legacy of a man they read about in the history books.
The ISCR says that this is part of their effort to identify places of cultural and historical importance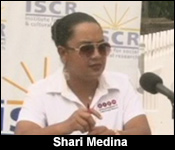 Shari Medina - NICH
"Our institution believes in embracing community Heritage by raising awareness and conducting research on people and places of historical importance in Belize."
And nobody knows how important Soberanis is, as much the historians, and his family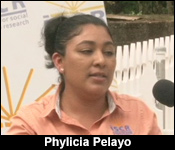 Phylicia Pelayo - Researcher, ISCR
"Who was Antonio Soberanis, and why should his story matter to you? Really to understand who he was and where his actions stem from, you have to understand the environment that he came out from in the 1930. So, in the 1930's the Great Depression had shattered the Belizean economy. So, out of these conditions emerged Antonio Soberanis Gomez, who became the voice of the unemployed."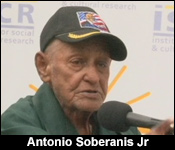 Antonio Soberanis Jr - Son of Antonio Soberanis
"My father, Antonio Soberanis G. was the first hero of this country, and he was a sincere hero. I would like to tell somebody a part of my father's history, and a part of his family history before I die."
A part of that history emerged today at the ceremony when the Director of ISCR presented a never before seen photograph of Soberanis back in his heyday.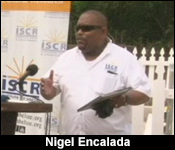 Nigel Encalada - Director, ISCR
"Just as recently as Monday, I was looking for a Catholic priest to dedicate the site, and I eventually found Fr. Mumba who graciously agreed to do it, but in talking to his secretary, I just went there, and I introduced myself, and I told the young lady what we were doing. And, the young lady said, 'But Mr., I've been waiting a long time for somebody from NICH come to this place because I have a picture at home from my grandfather of Antonio Soberanis. What kind of coincidence is that? And so, when she - I picked up the picture this morning, and you see here something that was hidden all these many years in someone's home. And he's the person on your right, and you'll see that he's not a very tall man at all. As a matter of act, when I saw his son coming, I said, but wait, that looks like this man. So, you know, genetics are strong. So, this man was the labour leader that the Colonial authorities was afraid of. Size doesn't matter, so to speak. It's what is in your heart, and in your head. We now have this in our possession, and it will now find its way into our archives. It'll be sent in a copy to the Belize Archives, to NICH, and t the National Heritage Library. So, it is there permanently for future Belizeans to see."
But, while the Historians want to preserve this snapshot, the natural forest around this nation builder's resting place have been slowly encroaching and covering the monument. You could say that it's been forgotten except by a chosen few, similar to how Soberanis' name and legacy isn't as big a brand name in today's society like George Price or Philip Goldson.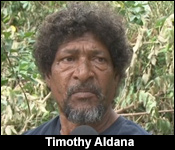 Timothy Aldana - Grandson of Antonio Soberanis
"These things have not been taken care of to the best. But, every so often, we come out here, me personally, I come out here to clean it up, do some chopping around it, and see. But it's only like to keep the mark. Like you guys think, you know, it's just a mark you want to keep remembrance of this person."
So, that's where the students of Kings College come in. They will be the caretakers who will maintain its upkeep.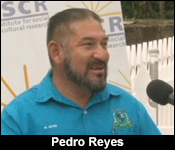 Pedro Reyes - Principal, Kings College
"Absolutely, as a school, Kings College is committed to be able to upkeep this heritage site, to be able to somehow instill a certain level of ownership of this site, and we promise to be able to create pride in our students, and the community members along this road."
Soberanis, who was a barber by trade, emerged as one of the early 20th century leaders to challenge the colonial government and agitate for the improvement of wages and working conditions of the laborers in that era. Back then, trade unions, which are now an accepted part of mainstream culture, did not exist at that time.

Can Jordan Bacchus Be Sent Back?
(posted on Thu Feb 15, 2018)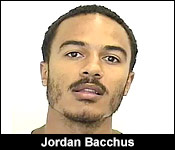 He's wanted for murder in Belize, but can Canadian Jordan Bacchus be extradited to face charges here?
Bacchus is the main suspect in the murder of 31 year old San Pedro resident Melvin Almendarez - which happened in May of 2016.
Bacchus fled Belize and was recently arrested in his home country of Canada, where he was wanted for a number of firearm charges. He was recently arrested during a drug search - but the question now is whether he can be extradited to face trial in Belize. The Minister says he thinks an extradition agreement is in place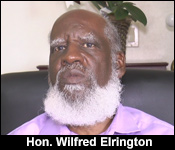 Hon. Wilfred Elrington - Minister of Home Affairs
"If we don't have an expedition treaty with Canada there will be way in which we could apply for them to send him back but I would want to think that we do have one, I want to think so."
Jules Vasquez
"Is it realistically a likelihood that we could get a fugitive from Belize law returned. I've never seen it happened."
Hon. Wilfred Elrington
"No but it is not usual for us to find ourselves in that position where we have people who commit infractions here go to abroad in the United States, I think this is kind of new but I don't think it's something that is beyond our capacity."

Sedi Says Soldiers Sojourn Was Harmless
(posted on Thu Feb 15, 2018)
Elrington also said today that his Ministry of Foreign Affairs has sent a diplomatic note protesting the actions of three Guatemalan soldiers. In mid-January, they casually walked over to the Belize side of the border - and waltzed into the immigration hall with no regard for protocol.
Elrington said that it was a harmless mission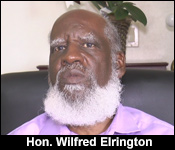 Hon. Wilfred Elrington
"I have seen notes that we have sent and I have seen Guatemala's response to it, it's the usual thing you know and we are required to do that, we need to do that because we need to make it clear that we will not countenance in any act which constitute in our view a violation of our sovereignty and territorial integrity but it is not my understanding that what transpired was anything more than officials coming across, some people from the military came across to ask what had happened with the media. Apparently the Guatemalans because they are involved in their own education process, the media I am told and I don't know how truthful it is but the media in Guatemala have volunteered their services, they are not charging the Guatemalan government or anything, they have volunteered their services to help educate their country on the issues."

Monkey River Villagers Did A Sting On Guate. Fishermen
(posted on Thu Feb 15, 2018)
Keeping it on territorial issues, very early this morning, about 30 residents of Monkey River Village went on a sort of sting operation to Rocky Point, a well-known fishing stop in the waters just north of the village. The residents claim that it is a camp for Guatemalan fishermen, who, they say, have been engaging in illegal gill net fishing.
Our colleagues from PGTV spoke with some of the outraged fishermen about what they saw:
The fishermen say they found a dozen barrels of fish and more than 10 sacks of what they believe is contraband salt. These Monkey River fishermen do concede that most of the fishermen at this location had proper fishing documents. They say they found 20 gillnets, but there were only licensed for 12, and most of the gill nets had to tags.
In tandem with this, the Ministry of Fisheries, Forestry, the Environment and Sustainable Development announced today that it will commission a Taskforce to recommend measures to minimize the harmful effects of gill net use on marine creatures.
Gill nets are good at catching fish, but the problem is that they are too good, and they often ensnare and kill all marine life caught up in the net.
The use of gill nets is regulated by the Fisheries Department, but the problem is that it opens to door for illegal fishers who overfish whenever they can get away with it.
As you just saw, in the South, the fisherfolks there know all to well the chronic problem of illegal fishing with the use of gill nets.
The Government's press release says that the task force will consider the uses of gill nets in Belize, including the option of a total ban.
BEL Linesmen Back to BVI
In November 2017 we told you about a team of linemen from Belize Electricity Limited that went up to Dominica and the British Virgin Islands. They assisted the countries with power restoration after the devastating hurricanes.
On Monday the company deployed a third team back to the Virgin Islands to assist. The team comprises five members will be stationed on the Island of Tortola for four weeks. They will be joining other linemen from Caribbean Electric Utility Services.

Home | Archives | Downloads/Podcasts | Advertise | Contact Us