The Gathering Storm At The Center of The PUP
(posted on Fri Jul 24, 2015)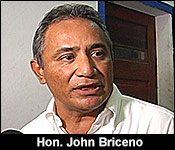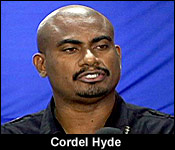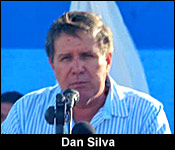 There is a gathering storm in the PUP - and it seems headed for party headquarters on Queen Street. On Tuesday, we told you about the apparent boycott of a meeting held for the party's national executive and standard bearers. 13 Area representatives were absent from the meeting - in what we are told was a boycott. Party Leader Francis Fonseca dismissed it, saying that there was nothing remarkable about the absences. Well, 7News has learned that a group of more than a dozen standard bearers who are unhappy with the party's leadership are forming an alliance. Meetings are being held and they include senior party personalities such as John Briceno, Cordel Hyde and Dan Silva. The group of dissenters is expected to make formal demands of the party leadership next week. We'll keep following it closely.

Caracolís Own Conservation Post Opened
(posted on Fri Jul 24, 2015)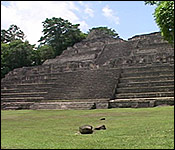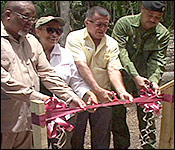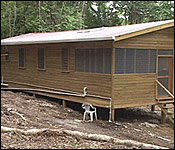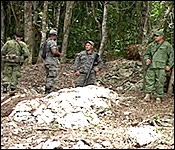 When Special Constable Danny Conorquie was killed by Guatemalan border bandits at the Caracol Mayan Site in late 2014 - it left a wound on the national psyche: the first lawman in decades to be killed by Guatemalans while on duty.
A few weeks later, Government commenced construction of the Caracol Conservation Post inside the Caracol Archaeological Reserve, a facility where a regiment of BDF Soldiers could be posted as a rapid response to defend the site.
And now, today, almost 10 months after Danny's murder, the Government officially opened the frontier conservation post for operations. 7News was there for that ceremony, and we got the chance to see it for the first time. Daniel Ortiz has the story:
Daniel Ortiz reporting
The Caracol Conservation Post, it's a new facility that now makes up a part of the Caracol National Park.
It was built with the intention of increasing the security of the Tourism site, and to address the concerns raised by the Tourism Police Unit about the dangers posed by cross-border bandits.
The finished facility is as a result of a collaboration between government agencies under the Ministries of National Security and Tourism & Culture.
Hon. Manuel Heredia Jr. - Minister of Tourism and Culture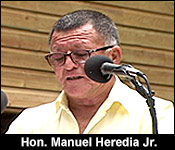 "The successful opening of this project is the result of a year of hard work and cooperation between partners, the Ministry of Tourism, Culture and Civil Aviation, the Ministry of National Security, NICH, the Ministry of Finance and the Forestry Department."
"It is hope that we placed more infrastructure and presence in this area that louting, pillaging and exploitation of national forest and heritage will seized. It is also very important to address the tourism aspect of this particular initiative. Safety of our visitors is also of utmost concern and this conservation post will go a long way in making our guest, our tour operators, our tours guides and our valued partners to feel much safer, knowing that our security forces are nearby to assist in any way possible."
Hon. John Saldivar - Minister of National Security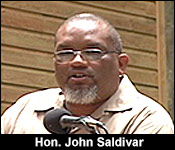 "It's in deed a pleasure for me to be here this morning, joining with the Ministry of Tourism, Culture and Civil Aviation and NICH in the opening of this very important conservation post."
"The Ministry of National Security is happy to be a part of this collaborative effort, that will see us provide more security for the Caracol site, its visitors and staff and employees."
But, while it will better secure the Caracol Park, slain Lawman Danny Conorquie will not enjoy that benefit. The Government freely acknowledges that, and the fact that his murder fast tracked this facility.
Hon. Manuel Heredia Jr. - Minister of Tourism and Culture
"It is very difficult to not mention the unfortunate loss of one of our own Tourism Police Special Constable Danny Conorquie last year. I would like to humbly ask all of us to stand and take a moment of silence to honor and pay respect to the life of Mr. Danny Conorquie and to all those men and women whom have served and continue to serve our country with honor."
Hon. John Saldivar - Minister of National Security
"It is timely and perhaps certainly a little too late, in terms of what the Minister had said earlier about the death of Danny Conorquie. But it is a step in the right direction to protect those that now come to this facility."
So, What are the capabilities of the building?
Hon. Manuel Heredia Jr. - Minister of Tourism and Culture
"The facility includes sleeping quarters, showers, bathrooms, radio and other amenities."
Dr. John Morris - Director, Institute of Archaeology

"It is design to house the members of the Belize Defence Force, so that they can patrol the Caracol Archaeological Reserve, the site core and also the surrounding areas, because remember that we are very close to the Guatemalan border and we have always had people coming across interfering with our operations here at the reserve or looting and damaging some of the sites in the reserve. And so with the BDF out here and with the Tourism Police and other Police constables, we have beefed up the security measures here to prevent all of those kinds of things and we have seen a very sizeable decreased in movement of people from across the border within this area."
"It's a living quarters, but it also have a radio room and so the BDF are able to communicate back and forth with their base and also too for us, to be able to communicate with our rangers via radio and telephone. So it's designed for that. You can see the antenna on top of the building there."
36 soldiers will make tours out at this conservation post. They will be able to make an immediate and rapid response to any incidents of national security. Back up can be quickly called in, if that is necessary
Lt. Col. Luis Sutherland - Acting Deputy Commander, BDF
"We've forecasted the amount of personnel, the amount of soldiers that will be used to man this. So, it shouldn't be a problem, because currently we have enough man power to provide three proper rotations."
Daniel Ortiz
"In each rotation, how many soldiers at one time?"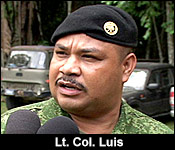 Lt. Col. Luis Sutherland - Acting Deputy Commander, BDF
"At any one time we will have 12 soldiers and these 12 soldiers will be complimented with 4 personnel from the special patrol unit of the police department, as well as one person from the tourism police unit."
Daniel Ortiz
"Sir, talk to us about the abilities to respond when situations arises if they ever do?"
Lt. Col. Luis Sutherland - Acting Deputy Commander, BDF
"We again, a part from the personnel who will be manning this CP, we have personnel on standby at 30 minutes to move and also at 1 hour notice to move."
That will be important because Caracol gets an average of 15,000 to 20,000 visitors annually.
Dr. Allan Moore - Associate Director, Institute of Archaeology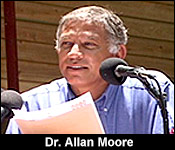 "Statistics has it that in 2014 we had approximately 10,787 visitors - paying visitors. Belizeans alike foreigners. Of those 7,731 were foreign visitors, paying visitors."
NICH staff built the conservation post for a total cost of 100 thousand dollars.
Apart from providing security for the Caracol National Park, this facility serves another strategic purpose. It will assist the police, soldiers and the Friends for Conservation and Development to protect the larger Caracol area.
Here's how that will work:
Lt. Col. Luis - Acting Deputy Commander, BDF
"This CP, it will enhanced our operational capabilities. As the Minister stated, it will provide comfort to the soldier and I use the word comfort very cautiously, because not too comfort to be relaxed. We will be comfortable. The physical structure, the building will provide protection from the elements, it will give the soldier the environment to have adequate rest. We all can appreciate if we don't have enough rest, you will be unable to performed effectively, so certainly this building that we received earlier, it will enhanced our operational capability. It will provide an atmosphere for the soldiers and an environment that they can rest and in so doing, they will be able to react much better as we have done in the past."

Whatís Happening With The Investigation Into Dannyís Murder?
(posted on Fri Jul 24, 2015)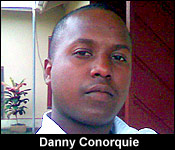 And while border security has been beefed up, what about the investigation into who killed lawman Danny Conorquie? As noted earlier, it was suspected but never confirmed that Guatemalan cross-border bandits were his killers.
We asked police minister John Saldivar for an update into who did it:
Hon. John Saldivar - Minister of National Security
"I know that in the immediate aftermath of the killing, we got the Guatemalan authorities to agree that they would do their best to try to assist us in this investigation. But unfortunately, that has not brought any results and because we believe that the perpetrators have fled back into Guatemala and we don't have any jurisdiction there, we basically have to rely on the authorities over there to do the investigation and unfortunately like I said, it has not result in any further information with respect to that."
Daniel Ortiz
"Is there any sort of like urgency your ministry has detected? What kind of importance are they putting in this case?"
Hon. John Saldivar - Minister of National Security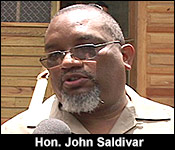 "I wouldn't want to get into a guessing game as to whether they are giving much input to it or not. Expect to say that they have not come forward with any more information. It's anybody's guess whether they are dealing with it, with the sort of urgency that we would want them to. Unfortunately we do not have any control over that."
Daniel Ortiz
"Has the government made any kind of attempts or formalize any kind of compensation to the family of Mr. Conorquie sir. We understand there were discussion about providing them with certain monetary assistance."
Hon. John Saldivar - Minister of National Security
"The last I heard a proposal was made by the government and as far as I understand it was rejected by the family, who has I believe (I stand to be corrected) that they would prefer to pursue the matter in the courts. But the offer was made by the Prime Minister."
Conorquie was known as a promising law enforcement officer. His dream was to enter the police Department as a regular officer as soon as he had a chance.

The National Security Ministerís Take On The Sarstoon Dispute
(posted on Fri Jul 24, 2015)
Staying on the subject of border security, last week, the Government finally revealed after prodding from the press that the Guatemalan Government is opposed to government building a Coast Guard forward operating base at Sarstoon Island. This was communicated through diplomatic channels following a confrontation between the Belize Coast Guard and the Guatemalan Navy on the island two months ago.
Since then, Foreign Minister Wilfred Elrington has come under fire for his disclosure that government is slowing down on the plans to build the base. He said that the Government will be discussing it with Guatemala at a meeting in the near future with the OAS mediating.
So, exactly when is this meeting, and has the National Security Ministry reconsidered the Foreign Minister's position? That's what the press asked the Minister of National Security today:
Hon. John Saldivar - Minister of National Security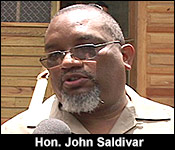 "As far as I am concern when I was debrief it was a matter of asking us to discuss the matter. And as far as I am aware, we decided that the Minister of Foreign Affairs would discuss the matter in margins of the meetings that was held with the OAS. I believe that may have taken place a couple days ago. I have not been briefed yet on the results of that consultation. But as far as I am aware, the Guatemalans ask us to talk about it."
Reporter
"Despite that, the government is going full steam ahead with the plan?"
Hon. John Saldivar - Minister of National Security
"I said we will talk. We are talking and when that is done, the government will chat its way forward and certainly it will be with a view to keep in obligations to protect the sovereignty and integrity of our country."
Daniel Ortiz
"How would you answer to the criticism that we have delayed too long on this forward operating base and to have to stop and consult with Guatemala on this operation is ludicrous, that we should move forward with our plans that the national security ministry has identified as important."
Hon. John Saldivar - Minister of National Security
"I don't believe that when you have problems with a neighbor, that the way forward is to simply ignore their concerns. I believe that the way forward is always to listen. But that after a point when you are not able to work your diplomacy, then you do what you need to do to protect the sovereignty and integrity of our country and that is where we are. The Guatemalans asked us to talk about it, we are talking about it and at some point we are going to decide whether we need to change or whether we need to move forward and as far as I am concerned , what will be key in all of this is always protecting our sovereignty and integrity."
"The confidence building measures requires that as long as there is something to take place within the adjacency zone, that there has to be consultations including the OAS. The problem with the Sarstoon issue is that previous to this, it has never been considered as a part of the adjacency zone and that is why we need to talk about it and work out a way forward."

Dr. Morris Confirms That Myles Damaged Uxbenka
(posted on Fri Jul 24, 2015)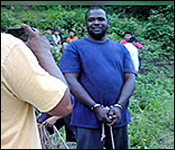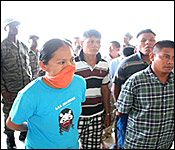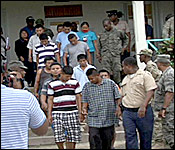 And one more hot button issue is the case of Rupert Myles, the Creole man who was detained by 13 Mayan Villagers in the Village of Santa Cruz, Toledo one month ago. They were trying to eject him from the village because they said that he violated their customary laws. More importantly, they wanted him out because he allegedly destroyed a portion of their sacred Mayan archaeological site. That has led to the Mayans being criminally charged by police for unlawful imprisonment.
Since this allegation emerged weeks ago that Myles destroyed a portion of the Uxbenka Mayan Site for road access to his house that he constructed in the village, we've been trying to reach the Director of Archaeology for comment and confirmation.
That opportunity finally presented itself today in Cayo where we asked Dr. John Morris about the case. Here's what he had to say:
Dr. John Morris, Director, Institute of Archeology
"For the last 5-6 years we've been having discussions with the village of Santa Cruz, because the archaeological of Uxbenka encompasses about 5 sq. Kilometers. That means that the village itself actually sits within the proposed archaeological reserve and so over the last couple of years we've been having discussions with the village to demarcate a boundary, so that we can create an archaeological reserve via the statutory instrument that we normally do."
"Now, you have a gentleman who comes in. I believe that he is married or has a common-law-wife in the village and he decided that he will build a house, a wooden structure on top of one of the mounds within the area that we had proposed as the boundary for the archeological reserve. The village wrote us, we made some attempts to get in touch with Mr. Myles. He was never there, we were only able to get in touch with his father-in-law and the woman and we expressed that you should not build in these areas here; that you need to move your structures from here. Then he proceeded to bulldoze a road up the side of a platform."
Daniel Ortiz
"Is it established that he destroyed this monument and that he should not have been there?"
Dr. John Morris
"Yes, it is established. Within the laws of Belize, especially the National Institute of Culture and History Act, you cannot build on top of a Maya mound. Sometimes these things happen inadvertently, but when we come out there, you have to move the structure. I don't know what possessed the gentleman to keep on building and to bulldoze the road. I recently came from a NICH board meeting yesterday and I was given the instruction to proceed with the notice of eviction."
Daniel Ortiz
"Is there any criminal sanctions that can be brought against Mr. Myles? Because we were picking sentiment from the Mayans that they've been criminal sanctioned with the unlawful imprisonment charge, but nothing has been done to Mr. Myles. Will any action be taken?"
Dr. John Morris
"Definitely, just like the case with the Noh Mul, the destruction of the mound…it is in court right now. Mr. Denny Grijalva has had to attend several court sessions. The same way, we have all intentions. We will give him a letter of eviction from the area and then we are finishing up our assessment of the damage that he has done to the platform of the ancient Maya building and when we are finished with that we are going to serve him with court papers for the destruction of a monument based on the laws of Belize."
Daniel Ortiz
"One of the things that the Mayans have brought to the attention of the press is that they made repeated attempts to deal with the state, try to get them to intervene at the best possible time. Their sentiment is that they were neglected. Do you agree or do you concede that the National Institute of Archaeology and History did not do enough to intervene in this particular situation?"
Dr. John Morris
"No, I don't agree. We've had discussions with them, we've had consultations. In fact the bulk of the villagers work for the Institute of Archaeology on a project we have there which was on going at the time. I think what transpired in this particular case is that, there are other issues that are involved, that has really nothing to do with whether or not you build on a Maya mound. And if you build on a Maya mound, it takes a while for us to prepare the damage report. It takes a while for us to draft up the eviction notices. These are not things that you do overnight, because it's going to be a legal matter, so you have to make sure that you craft these things in the right way."
This evening, the Toledo Alcalde's Association released a statement reminding that the Santa Cruz 13 will be going back to the Punta Gorda Magistrate's Court on next week Tuesday. The association is asking that everyone is treated equally under the law, including the Maya.
The statement say's quote: "Once more, the Alcaldes from the Maya villages and the Maya people remain resolute in their position to stand with the women, men and children of Santa Cruz in calling upon the Prime Minister and government authorities to offer all Belizeans, including the Maya people, full protection of their rights and to be treated with justice and respect." End Quote.
As you heard in our interview, Dr. Morris says that the Institute of Archaeology has already established the fact that Rupert Myles did destroy a portion of Uxbenka. Well, it turns out that this Mayan monument is a big deal, and NICH had grand plans to turn it into another reserve like Caracol, Altun Ha and others that are national treasures. Tune in on next week Monday's newscast, where we'll reveal the intensive planning that they had for Uxbenka.

Gapi Vs Monchie Day 2: The Slander Lawsuit
(posted on Fri Jul 24, 2015)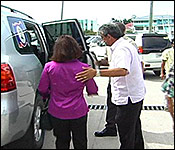 They're political rivals in Orange Walk North - and now Gaspar Vega and Munchie Cervantez are duking it out in the Supreme Court. Vega says Cervantez slandered him by accusing him of setting up the criminal conspiracy to kill his father. He also alleges that FIESTA FM - which is owned by John Briceno's family also broadcast the slander.
The case is cut right along political lines: Vega is defended by the Prime Minister's Law partner, Rodwell Williams, while Cervantez is defended by former Prime Minister Said Musa, and the Briceno's are defended by long time political ally Eamon Courtenay.
The case started yesterday - and continued today with Rodwell Williams trying to get the actual recording of the allegations put into evidence. But it's complicated - because the recording of the phone call with the alleged killer is in Spanish and the language of the court is English. Williams tried to introduce a translation he got done, but that didn't work. And so at the end of arguments today - with the tape of the allegations still not played in court, attorneys for Cervantez and FIESTA FM were feeling confident. Here's what they told the press:..
Hon. Said Musa, SC - Attorney for the Cervantes Family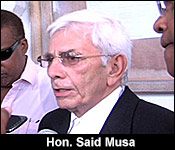 "The fundamentals of this case is the allegation that my client published or re-published a libelous article against Minister Vega and I am yet to hear any evidence of that and as far as I am aware the case for the claimant is about to conclude and we are still waiting for that kind of evidence, because there is none. There will be none."
Eamon Courtenay, SC - Attorney for Fiesta FM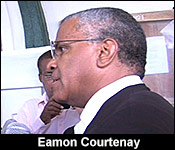 "It is our position that the claimant will not be allowed to play the recording in court. Mr. Williams say that he is going to make such an application. I will only describe it as a novel application and we look forward to seeing the law that will support that. I am not sure where he is going to find it."
Hon. Said Musa, SC - Attorney for the Cervantes Family
"Clearly, they won't be able to prove any broadcast by Fiesta FM. They are only relying on a tape from Love FM, which is not really evidence."
And while they feel that they have Williams and his client Vega on the ropes, Williams says he has a workaround: the official court interpreter will have to listen to the tape in open court and translate it in real time:..
Rodwell Williams, SC - Attorney for Gaspar Vega
"So it seems now that we will now have to go through the process and have the tape recording which is in evidence, except that the language of the court is English and that matter is in Spanish. So, it has to be played and interpreted by the official court interpreter."
Mike Rudon, CH5
"A case in libel and slander as they have told us hinges on this recording, the words in this recording. It is the second day of the trial...."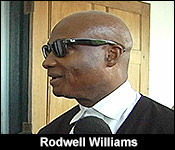 Rodwell Williams
"As I have said, there is a Spanish transcription of the recorded conversation and an English translation of that Spanish transcript already in evidence. Just that it is our version. But it is in evidence and there is no other version before the court than the one we have there."
The case has been adjourned to September 18th. And keeping up appearances in the court of public opinion Deputy Prime Minister Gaspar Vega again had a throng of supporters waiting for him outside the courthouse.

The End of 2015 Sugar Crop Is Bittersweet
(posted on Fri Jul 24, 2015)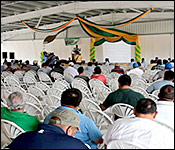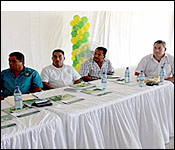 La Zafra - the 2015 sugar cane crop was a challenging one - but at the end it was also a record breaking one. Today, ASR/BSI invited its partners - the cane farmers to review the year that was. We were there in Orange Walk for the final verdict and Jules Vasquez has the story:..
Jules Vasquez reporting
This morning at the Sugar Industry Crop in Review - it wasn't exactly a full house at the Muffles College Auditorium. But all the key players were there, the presidents of what are now three associations, sitting together with ASR/BSI- vested partners in a 7 year commercial agreement.
Elvis Canul, President - CSCPA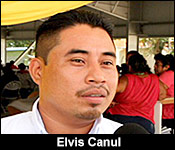 "I can report that our association accomplished a little above 80% of the total production that we had estimated. We can also complement our cane farmers that we were 3rd in quality out of 19 test groups. So we have an association which is working with the quality program and that means more money for our cane farmers."
Abisur Loza- president PCPA

"We are really glad and happy at the end of this sugar crop. Because we targeted and aimed in quality, in delivery we lost but we are still getting up there."
Jules Vasquez
"Looking back at the season, it started out with all this division and it amounted in losses. But at the same time, that division is what gave birth to your association. How do you feel at the end of it? Is it a curse or a blessing?"
Elvis Canul, President - CSCPA
"Well I see it as a plus. It has been gradually improving the competition level at the cane farming level. The team that heads the table is dynamic. We have different heads at the head table representing cane farmers."
Mac McLachlan, V.P. int'l relations - ASR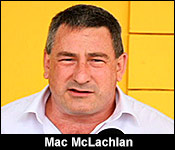 "We've ended up producing not only more sugar but a lot more sugar than ever before in the history of the mill, so we've produced 142 thousand tonnes of sugar. The last record was 125 thousand and a lot of things worked out in the end. We had great quality cane coming in, there was no stop in delivery of that cane, brilliant factory efficiency."
Efficient BUT bittersweet for the sugar industry: sugar production was up to a record high, but deliveries were down - leaving many carners with cane in the fields:
Ezequiel Cano, President - BSCFA
"It is a bit difficult to accept that a lot of cane stayed behind, and that is where our profits was."
Jules Vasquez
"How many farmers were left out in the cold?"
Ezequiel Cano
"The cane farmers who stayed at zero in the site of BSCFA is very small. There is not a huge number with zeros, but yes below 50% of them are deliveries. Yes there are many cane farmers."
Jules Vasquez
"Is there any chance that some of these farmers will go underwater? Because they have their banking obligations, and family commitments, that some of them might have to say 'Mein I sold my field and cut my losses'."
Ezequiel Cano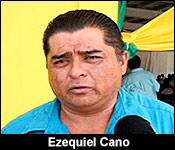 "Well that's the most difficult part that we are saying that maybe yes there will be cane farmers who will be in serious financial trouble. And up to now there is no help available for those cane farmers. That's the most difficult time for this part."
Jules Vasquez
"Will any of the farmers have to go out of business or have to sell some of their assets maybe in order to keep up? Because we know they have obligations at the bank or credit union."
Abisur Loza- president PCPA
"The truth for this year, I don't see the necessity of doing that because we are trying to get involved with other organizations to get some grants or try to help our farmers to survive."
Jules Vasquez
"Some guys got left with cane in the fields."
Elvis Canul
"Yes we do have a bit concern at this time, there is a process of reporting the stand-over that has been left in the field. And it's quite significant."
Jules Vasquez
"Will some of your farmers be suffering losses?"
Elvis Canul
"No, definitely the stand-over represents that there will be next weight for the next crop because it loses weight and sucrose contents. So we will see a decrease in quality for the first weeks in the crop for the next period."
Mac McLachlan, V.P. int'l relations - ASR
"We were supposed to finish this crop on the 28th of June. The factory needs to be repaired, it's not built to be grinding wet Cain. We conceded to extend that by a week first of all and then following interventions by farmers and then the government, we agreed to a further five day extension, so I think we tried to do our very best to accommodate those who hadn't managed to deliver cane. I really think we need to look at the harvesting and delivery system."
And while the shortened season created losses, all parties have eyes on a challenging future:
Mac McLachlan
"Rapidly falling world and EU sugar prices, which will have an impact on all industries in the world."
Abisur Loza- president PCPA
"The queries that I have is for the next crop season, because we are being told that we will have a reduction of 30% in the price estimate. That is something that we all have to confront."
But, it will be confronted in partnership rather than as adversaries:
Jules Vasquez
"Now I see you welcoming your various partners. Now these same people, these directors whom you are so cordial with at the start of the season, you all were at daggers drawn. They didn't trust you."
Mac McLachlan, V.P. int'l relations - ASR
"We have a lot of things to discuss, we have a lot of issues to overcome. I think I would say one thing about this year is that we have a new focus which is our strategic development plan."

IDB Will Help The Sugar Industry
(posted on Fri Jul 24, 2015)
And the strategic development plan will be getting a major boost from the IDB. The development bank has agreed to assist this industry when it is most needed. Mac McLachlan explains:...
Jules Vasquez
"You all have worked out an agreement with the IDB to support this industry?"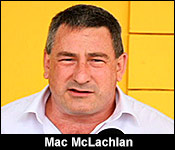 Mac McLachlan, V.P. Int'l Relations - ASR
"I'm delighted this week being that the IDB board approved a technical support project to the industry which is fantastic news. And this is to provide a dedicated extension service for farmers to help provide technical assistance and support for farmers. And that'll be supporting CIRDI's efforts to do that. So we are really pleased about that, it now remains that we need to put all the implementation details in place but it was really excellent news for the industry. It demonstrates not only to us, as industry stakeholders have faith in this industry, but other people too."

BSI CEO Joey Montalvo Leaves Under What Circumstances?
(posted on Fri Jul 24, 2015)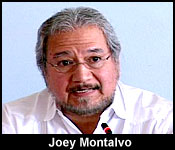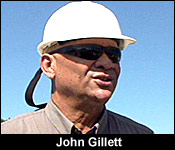 And BSI ends this season without two key staffers. Long time CEO Joey Montalvo has retired after almost two decades in the top spot - and about 4 decades with the company. And, earlier in the year, John Gillett quit after he was placed on administrative leave. And while each departure has its own narrative, we asked if it was part of an ASR purge:..
Mac McLachlan, V.P. Int'l Relations - ASR
"Mr. Montalvo, after over 40 years in the industry is taking his retirement and we'll be wishing him very well in that."
Jules Vasquez
"We see that between him and Mr. Gillet, who left earlier in the year in far less agreeable terms, cumulative institutional knowledge that BSI's lost is almost a century. Is this a part of ASR's plan to populate BSI with foreign executives like yourself or is it a profound loss in terms of the institutional memory?"
Mac McLachlan, V.P. Int'l Relations - ASR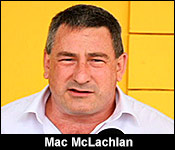 "I think with any sugar industry, everyone deserves a rest after 40 years of work and you need a good stream of people coming through. Our aim is, yes we have some international expertise coming in. the engineering side and on the cane site but equally we need excellent performance from our Belizeans staff. It's like any industry there's a movement of people but basically we need to keep improving the efficiency."
The new cane season is set to start on December 14, 2015.

The Art of Catching Crocs
(posted on Fri Jul 24, 2015)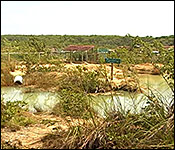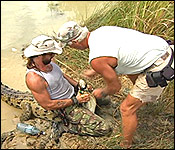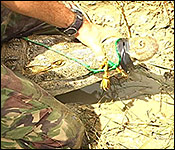 We reported on several Croc attacks last year alone including the fatal attack in Lords Bank in April that took the life of 47 year old Carl Diaz. While that 12 foot long Morelet Crocodile was put down, the others that were captured were taken to the American Crocodile Education Sanctuary in Ladyville. But that facility simply can't hold all those crocodiles so today we met up with croc experts as they recaptured the Morelet crocs to transport them to a bigger facility. I found out that it is no easy feat moving a 300 pound croc:
Courtney Weatherburne reporting
One snap is all it takes for this crocodile to catch its prey. A crocs bite is the strongest in the world and once locked between those powerful jaws - it can rip its prey apart in seconds.
This is just one of the fresh water Morlet's Crocodiles found at this facility.
They were all captured and brought here where they are monitored and fed.
These crocs had to be removed from the wild because of their heightened aggression towards humans. But that is creating a problem for Croc conservationists at the facility.
Vince Rose, American Crocodile Education Sanctuary, ACES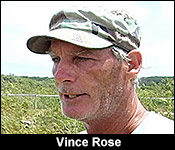 "This is ACES main facility where we house problematic or nuisance crocodiles that cannot be re-released back into the wild due to, mostly, direct feedings. What we have here is our main facility and I'm in the process of trying to capture all the Marlette Crocodiles that are in these ponds. And we are expanding and moving all these Marlette's to another location. We've run out of room basically."
And making room isn't an easy task.
Vince Rose
"In order to capture all these crocs, the easiest thing to do is, we don't use any hooks because I don't want to hurt the animal, but what we'll do is we take a water bottle and tie a string to it with a piece of chicken. Hopefully the crocodile will come eat that piece of chicken and now at least I can follow the water bottle and see where the croc is. And then if it goes well I can pull that crocodile to me and get a proper restraint on him."
That's how they caught this one. When Rose tugged at the rope this 300 pound, 8 foot long male croc emerged. But the remarkable thing about this croc isn't its size or weight.
Vince Rose
"There are some scientists out there that are studying the fact that there may be cross breeding going on with certain species of crocodiles throughout the world. And one particular one is Belize, where the fresh water Marlette may be interbreeding with the salt water American. It's not scientifically proven yet, this particular croc we just caught shows signs of both species. so I took my little microchip reader and I found he's been chipped before, so I'll have to get to my computer and pull him up to see what his record is. Where he came from, what we thought he was years ago, all the details will help me decide exactly what species that croc is. I'm pretty sure it's a fresh water Marlette but it has some extreme distinct American crocodile features on it and that's rare. This one shows a fat head like a Marletty, it has a little bit of a hump on its nose and it should not. On its tail it has both inter mitten scales and symmetrical."
This rare croc is only one of the 6 that still have to be taken from this pond
And moved to these Emergency holding pens until they can all be transported to their new homes. It all seems like a tedious and dangerous task but according to these croc lovers - it is all worth it.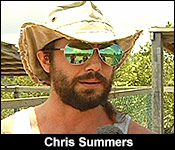 Chris Summers, Crocodile Conservationist
"They are incredibly intelligent animals. People look at crocs and just see them as these mindless eating machines. They see it, they want it, and they just snap it and take it. That's really not the case at all, crocodilians, crocodiles, alligators, they are the only reptiles to have a developed cerebral cortex. So that is the thinking part of the brain, they plot, plan, calculate and remember. Very intelligent creatures, I'm not going to lie, like we said earlier, the adrenaline catching them is fun, but the more your around them, the more you study and watch their behavior and interact with them in the way that we do, they never cease to surprise you just how smart they are. They all have their own characteristics, every single croc has their own different personality. Like some are just real cool and chill just like people and some are just big mean bodies, just big, aggressive and everything in between. And you can never know what you're going to come across until you get to that croc yourself."
There were 23 fresh water Morelet crocodiles in the pond at the facility and they will be taken to the Rain forest river camp on the Northern highway. The 3 Salt water American crocs will remain there. The Brigitte Bardot Foundation was the main organization funding this croc move.

LICU Member Pressures Management With Petition
(posted on Fri Jul 24, 2015)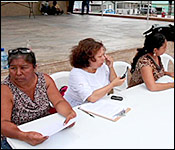 For months now, the La Immaculada Credit Union has been under pressure from its membership who are demanding disclosure after their General Manager was suspended in May. Now, a group of members, who are also shareholders want a general meeting to be held and a divided to be declared. To do that, they need the signature of one thousand members. Today they held a signature drive in the Orange Walk Central Park - and Estella Torres told us why they are doing it:..
Estella Torres, MEMBER - LICU
"I think the credit union is not answering to the members because every year we have our AGM but this time they cancelled the AGM in June. After that they have not called it again so it should be from the last week of April or the first week of May, but right now it's July going to august and we can't get any answer."
Jules Vasquez
"Are you concerned about your savings?"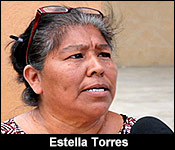 Estella Torres, MEMBER - LICU
"Well we are concerned of our savings, but we are not concerned in our dividends."
Jules Vasquez
"Okay and you need your dividends."
Estella Torres, MEMBER - LICU
"We need our dividends."
Jules Vasquez
"And previously you used to get it all the time?"
Estella Torres, MEMBER - LICU
"Every year, when the AGM finished, they give the dividends to the members. That's why we are taking the signatures because we will send a letter to the board with the signatures and the letter. To make them see that not only the five of us are asking for it, but that the people are asking for it."
Jules Vasquez
"Are you convinced that by the end of the day you will have a thousand?"
Estella Torres, MEMBER - LICU
"Yes, because we have people going around the villages and taking signatures. So when we bring it whole, we will try to get it today."
Torres told us that at the end of the day, they got 600 signatures at the park - but have to tally other sheets from the villages to know the exact number. The credit union has over twenty thousand members.

The BDFís Helicopters Soon Come
(posted on Fri Jul 24, 2015)
3 months ago, we showed you our interview with Prime Minister Dean Barrow in which he revealed that the Belize Government has turned to the Taiwanese Government for the BDF'S first ever helicopters. That's after they realized that the vendor from Miami didn't have a very sound business offer to make.
Well, we asked the Acting Deputy Commander of the BDF today for an update on the Taiwanese connection for the 2 helicopters that Belize is looking to own. He told us that steps have been taken just last week to finalize the arrangements, and those helicopters should arrive in a few months time:
Lt. Col. Luis Sutherland - Acting Deputy Commander, BDF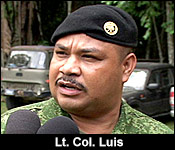 "Last week we had a delegation from the Taiwanese Government and the Taiwanese army and they did some reconnaissance and I can assure without going into much detail, come end of this year, we will see some physical evidence of the presence of these helicopters."
Reporter
"How many?"
Lt. Col. Luis Sutherland - Acting Deputy Commander, BDF
"Two."
Reporter
"And so where would you acquire those from?"
Lt. Col. Luis Sutherland - Acting Deputy Commander, BDF
"From Taiwan."
The BDF's mobility and timeliness to respond across difficult terrain will be greatly enhanced by helicopter use.

Discussing The Mid-Year Review For 2015
(posted on Fri Jul 24, 2015)
Police Minister John Saldivar met 3 days ago with 6 of the most senior police officers for a mid-year review of a what has been a very deadly year.
The police are changing tactics to deal with the spike in violence, and murders. They are also decentralizing policing in Cayo South and communities around Dangriga.
We asked the Minister to discuss that meeting with us:
As we also told you on Tuesday, the police command has decided with their minister that Cayo South will become a new police jurisdiction, and it will be separated from the Belmopan Police area of responsibility. Also, the villages of Hopkins, Sittee River, Kendal, and Silk Grass will no longer be policed by the Dangriga Formation.
We asked Saldivar why these changes have become a priority:
The new Cayo South area will get a Police Inspector as the officer which commands that jurisdiction, and he will answer to the Commander of the Western Police Zone. That's the same thing which will happen with the southern villages which will separate from Dangriga. The Inspector who will take command of that area will answer to the Southern Regional Commander.

Caye Caulker Police Complain About Barracks
(posted on Fri Jul 24, 2015)
Turning to other police matters, for some time now, we've been receiving reports that the police officers posted on Caye Caulker are unhappy with their barracks.
Our information is that the police barracks are not very hospitable, and that the recently graduated constables are having a hard time adjusting to the living conditions of the decrepit building. Here's what the minister told us:
Hon. John Saldivar, Minister of National Security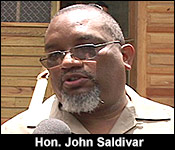 "There is a lot of our infrastructure throughout the country that especially as it relates to police stations and residential quarters that need attention. As you may be aware, we are benefitting very shortly from the first disbursement of a 30 million dollar loan from CABEI, that will seek to address a lot of these infrastructure deficiencies that we have."
When the financing is finalized for the infrastructure upgrades within the police department, we'll tell you about it.

Have You Seen Jacqueline Calderon?
(posted on Fri Jul 24, 2015)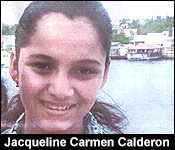 It's been over 72 hours now since 13 year old Jacqueline Carmen Calderon went missing. According to a cousin of the minor, she was last seen at around 5:30 on Tuesday when she left her home on the Foreshore to purchase a phone card at a restaurant on Albert Street. She hasn't returned home and that's when her family became concerned. They are asking for the public's assistance in locating the young girl. She is of Hispanic decent, slim built and weighs about 120 pounds. She was last seen wearing long blue leggings, a blue strap blouse and a pair of black sandals. If anyone has information on Calderon's whereabouts, you can contact the nearest police station. Reports to the family suggest that she may have been seen where at a water taxi terminal.

The Grand City Summer Camp For Youths
(posted on Fri Jul 24, 2015)
Summer camps are a dime a dozen at this time of year, but the police always try to one-up everyone else with their grand themes. This year, it's a project called Youth and Community Transformation. Over the last two weeks it catered for children between the ages of 8 and 16 from the Yabra community where Lectures, computer classes, sports and expressive arts were conducted. We found out more when we visited today:
The department plans on making the camp an annual event.

The New Red Cross App
(posted on Fri Jul 24, 2015)
What should you do when confronted by a first aid emergency? That's a situation that confronts many of us whether at home or in public - and we are often left clueless. Well, no more, because a new app by the Belize Red Cross is designed to guide you through the steps to take in any medical emergency. And they have prepared a video to promote it: We found out how it works from Communication Officer at the Belize Red Cross Rodel Beltran Perera:
There are actually two apps: First Aid by Belize Red Cross and Muilti Hazards Belize.
The apps are easy to download and you can get more information on the Belize Red Cross Facebook page.

Minister Mena Discusses His New Post
(posted on Fri Jul 24, 2015)
Two weeks ago, newly elected Dangriga Area Rep., Frank "Pawpa" Mena was sworn in as Minister of State in the Ministry of National Security. That puts him on the frontline of the ministry which has to deal with crime - certainly not a glamour posting. So how has he been getting up to speed?
That's what we asked him today at the opening of the Caracol Conservation Post at the extreme Western Border:





Home | Archives | Downloads/Podcasts | Advertise | Contact Us