Pastors To Protest In 'Pan
(posted on Mon Aug 22, 2016)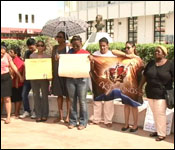 There's a House Meeting in Belmopan on Friday - but the National Evangelical Association isn't waiting around - they're planning a protest for tomorrow! The group sent out a release today saying they'll be protesting on the steps of the National Assembly Building. They say that Pastors, Leaders and Evangelical Churches from all over the country will be making the trip to show how strongly they disapprove of the section 53 judgment, and government's refusal to appeal it.
This evening, the Pastor Scott Stirm, Vice President of NEAB, released a statement saying quote, "The ramifications of this controversial decision will bring horrendous results upon our nation and MUST be appealed for [the] full... legal judicial process." End quote.
Now, you might ask, why protest on a Tuesday? Well, we are told it was planned to coincide with the regular Cabinet meeting, but it turns out that the Prime Minister isn't even in country - so there won't be any cabinet meeting.

Government Goes On PR Offensive For Section 53 Judgment
(posted on Mon Aug 22, 2016)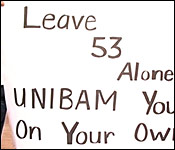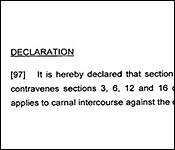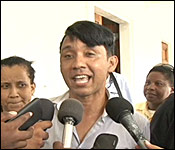 So, NEAB continues to be the most vocal church group to oppose the gay sex judgement, but the Government is trying to make sure that they aren't moving crowds based on misinformation and misunderstanding.
So government has gone on a media offensive - to get its message out. The Barrow Administration wants to make it clear why government isn't appealing and why it does not believe that the judgment paves the way for same sex marriages.
So, the Attorney General Vanessa Retreage and Human Development CEO Judith Alpuche were deployed today to the Love FM Morning Show. They were there to again outline what the Government's position is on the Section 53 judgement, and when they came off the air, the Attorney General granted us a brief interview:
Hon. Vanessa Retreage, Attorney General
"I think it's important because people need to have a basic understanding of what the judgement is and thereafter they are free to form whatever opinion they choose to have in relation to that judgement. But it's just to ensure that the actual facts of what the judgement is, disseminated to the public and they aware of what the judgement does and does not do from a government perspective. I think people should understand that section 53 was amended to ensure that persons engaging in consensual sexual acts - adults engaging in consensual sexual acts in private is not a crime."
Daniel Ortiz
"Now ma'am, have you all received as the defendants any orders from the court or any notification from the court that the judgement has been perfected?"
Hon. Vanessa Retreage, Attorney General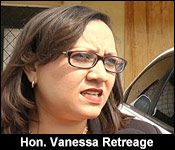 "No, we have not and that is usually a participatory process in that both the claimant and the defendants engage in a process of perfecting the order to ensure that the terms contained in that perfected order as stated by the judgement. So we would know, we would participate in that process."
Daniel Ortiz
"Have any of the interested parties made any indications formally that they would try to take up the government's suggestion to appeal on their own?"
Hon. Vanessa Retreage, Attorney General
"What do you mean by formally, in terms of a letter written? No. We received no formal indication."
Daniel Ortiz
"Now ma'am we've seen differing views on this particular issue in that the suggestion is from the government that any person can appeal as long as they can prove to the court that the judgement affects them. But we also heard attorneys state clearly that only the claimant and the defendants can appeal."
Hon. Vanessa Retreage, Attorney General
"I think it's important to understand the question that was posed to the Prime Minister and the answer that he gave. What was asked is by virtue of the fact that there are interested parties, does that fact alone preclude them from appealing and the answer is no. There have been instances in our courts where interested parties have been allowed to appeal. Now they will have to satisfy a sufficient interest test and that test would be determine base on the evidence that they produce to the court. So it is for them to put that evidence before the court for the court to analyze that evidence."
Daniel Ortiz
"Now ma'am, would you agree that while the judgement has its narrow focus, that this victory for Caleb Orozco sort of gives a peg for gay rights in Belize in that a precedence has been established?"
Hon. Vanessa Retreage, Attorney General
"No. I would confine what the judgement actually does to what it actually does, in that it says that consensual private acts between adults are no longer criminalized and that is the extent of the judgement."

Mental Health Assoc. Says No Referendum, on A Minority's Rights
(posted on Mon Aug 22, 2016)
And so while the Evangelists will protest against the judgement and government's reaction to it, while at the same time government is making its case in the media - as to why it has no choice but to accept the judgment. And now - to add one more voice to the fray, the Mental Health Association is applauding the judgement.
The Association sent out a press release saying that any move to reduce decriminalization and stigma against LGBT people will have positive mental health consequences. The Association agrees with the Chief Justice that the fact of the law's existence was enough to give implied permission for continued stigma and discrimination against the LGBT persons in Belize.
And the Association also addressed the idea of a referendum which the Evangelical community and the Belize Progressive Party has been pushing.
The Mental Health Association says that this is a very bad idea because the will of the popular majority could definitely disenfranchise a minority, in this case the LGBT community.
The release says, quote, "Any campaign on this issue would undoubtedly increase hate speech and lead to greater stigma and discrimination with severe mental health implications for the LGBT community. There is also, in any democracy, a moral dilemma about allowing a majority to enforce its will on a minority." End Quote.
The release ends by saying, quote, "The ruling in no way imposes a new morality on those who have religious or other objections to homosexuality; (they) remain free to retain their own views and to base their own lifestyles on these views." End Quote.

OAS Report On Shooting of 13 Year Old Done, Only Awaiting Delivery Now
(posted on Mon Aug 22, 2016)
On last week Friday's newscast, we showed you our interview with US Ambassador Carlos Moreno, who revealed that the OAS investigation into the fatal Chiquibul shooting has been completed by the Independent investigating team.
Well the Government sent out a statement less than 10 minutes ago confirming it. That late evening statement says, quote, "(GOB) has received confirmation from Secretary-General of the OAS. Luis Almagro, that the formal investigation into the incident in which the Guatemalan minor, Julio Rene Alvarado Ruano, has been concluded." End quote.
The Government press release continues to explain that Secretary General Almagro wrote to Foreign Affairs Minister Wilfred Elrington saying, quote, "the forensic experts that the Governments of the United States of America and Mexico put at their disposal to carry out this investigation have completed their duties and prepared a joint exhaustive report on the matter…" End quote.
Almagro is expected to make a formal comment tomorrow, and in the meantime, a meeting with the Group of Friends of Belize and Guatemala has been convened by the OAS Sec. Gen. for tomorrow morning at the OAS Headquarters in Washington D.C.
The Government statement says that Ambassadors Pat Andrews and Alexis Rosado will represent Belize at that meeting. Its purpose, according to the Government, is to quote, "...share with the Group of Friends, the most recent advances in the Belize-Guatemala process directed at finding a peaceful and permanent solution to the centuries-old dispute. It is expected that at this meeting the OAS and the Belizean and Guatemalan Governments will be reaching out to the donor community to request financial support for the maintenance of the OAS office in the Adjacency Zone." End quote.

Fatal Accident When Vehicle Shut Down
(posted on Mon Aug 22, 2016)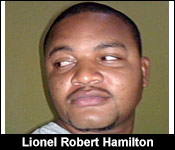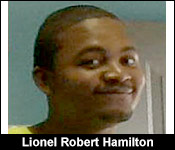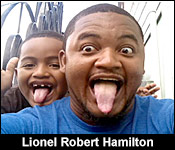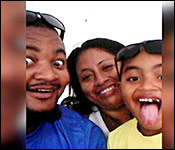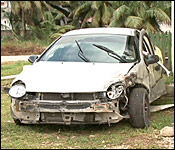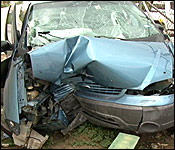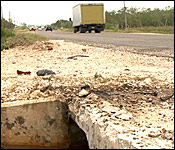 Over the weekend, there were 2 accidents in Belize City; one of them resulted in a fatality, and the other put a woman in the hospital with serious injuries.
We start tonight with the accident which killed 28 year-old Belize City resident Lionel Robert Hamilton, who also went by the name Lionel Villanueva.
That accident happened between Miles 4 and 5 on the Phillip Goldson Highway. It appears that Hamilton was struck by a driver who did not see that his vehicle was in the road. Today our news team went looking for answers, and we found out that Hamilton couldn't get out of the way because the vehicle was having mechanical problems. Daniel Ortiz has that story:
Daniel Ortiz reporting
This grey Dodge Car showed visible signs of the impact which killed its driver, Lionel Robert Hamilton - also known as Lionel Villanueva.
That car was hit by this Green van, being driven at that time by 52 year-old Godwin Pantin. Police got the call during the early morning hours of Saturday.
Sr. Supt. Linden Flowers, OC, Police Precinct 4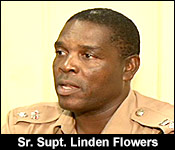 "On Saturday 20 August, 2016 around 3:05am, a personell from Precinct 4 was dispatch to mile 4.5 on te Phillip Goldson Highway where officers discovered the lifeless body of Lionel Robert Hamilton who was lying face up on the side of the road - that would be on the right-hand side when travelling from Haulover to Belize City."
Though police don't know yet how the accident happened, they think that Hamilton's car was having engine failure, and he was trying to get it off the road. The van struck him while he was doing that,. The impact catapulted his body a short distance away, and the injuries he suffered claimed his life.
Sr. Supt. Linden Flowers, OC, Police Precinct 4
"Investigation thereafter by the police revealed that a green van taxi with license plates BC-D8546 was being driven from Ladyville direction into Belize City when it collided with a Dodge Neon car bearing license plates BC-C3770 which was at the time on the road driven by Mr. Lionel Robert Hamilton of a Simon Lamb Street address. We know that the 2 vehicles collided and as a result from that the investigation is revealing that Mr. Hamilton's vehicle that he was driving, was experiencing some mechanical problems and he was in the process of maneuvering the vehicle off the side of the road and then doing so, along with his companion, they saw this van coming and all their efforts to get off the road did not succeed."
For his common-law wife, she told us today that she was stunned to hear of his death, because she was waiting for him to come home like usually did.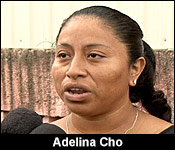 Adelina Cho - Common-law Wife of Deceased
"I was sleeping, because I was waiting for him, because when he goes out sometimes and party, he would usually come home and hurry rush and bath and get ready for work, because he starts work at 8am. So I was just waiting for him when I heard the knock I thought it was him and then when I heard that it was the police looking for me. I thought he did something wrong. Then when I got the message I couldn't believe it."
Pantin has been served with a notice of intended prosecution:
Sr. Supt. Linden Flowers, OC, Police Precinct 4
"We have served Mr. Godwin Pantin, 52 years old with a notice of intended prosecution. He has since been detained and has been taken to the Karl Heusner Hospital for medical attention."
Daniel Ortiz
"Is there anything to suggest that the driver of the next vehicle Mr. Pantin was in the wrong?"
Sr. Supt. Linden Flowers, OC, Police Precinct 4
"The investigation is still ongoing. The wreckage on the scene has revealed some direction that the police is following up. Currently officers are at the Karl Heusner Hospital witnessing the post mortem that is ongoing and that we hope will assist us further in the investigation. Also we've gotten the motor vehicle inspectors to look at the vehicle keenly to see what has caused the accident. I believe that speeding was a factor in the collision."
All indications are at this time that the speeding may not have been from Villanueva's end. The car he was driving was having engine troubles.
Though, his wife also concede to us that he did have a penchant for going fast on motorcycles.
Adelina Cho - Common-law Wife of Deceased
"He loves speed, yes he does loves speed on motorcycle. I know he likes to do wheelie a lot, but when I talk to him about speed, he said he knows where to speed and he knows where not to speed. That's what he always tells me, because I tell him not to speed because we have a child and we need you around for him. That's what I always tell him."
Daniel Ortiz
"How old is your child and have you all been able to explain to him that daddy won't come home?"
Adelina Cho - Common-law Wife of Deceased
"Well it was hard, but I had to do it. He is just 6 years old. I just want find who knocked him down. I just want him to help me with his burial or with his son in any way they could. Because I haven't gotten the person's name and I don't know who he is. But if he could come forward I will greatly appreciate it."
Hamilton leaves behind a 6 year-old son along with his common-law, his parents, and other relatives.
The weekend's other accident in the city happened on Newtown Barracks near the Princess Ramada Hotel and Casino. A motorbike with a male driving it and the woman as his passenger slammed into the MCC fence. The female - a 42 year old - took the worse of it. She received spine and skull injuries, and was discharged from the KHMH.

Slippery Road Causes Car To Crash Into Bus
(posted on Mon Aug 22, 2016)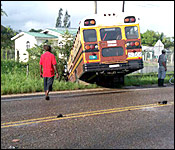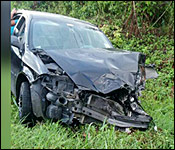 And there was another accident, but this time near St. Mattews Village on the Western Highway. It happened this morning around 7:10. 32 year old Latoyah Meighan was driving her black Chevy car to Belize City when she lost control of the vehicle and rammed into an oncoming Baiza Bus that was heading to Belmopan. Meighan reported that the road was slippery and that is why she slid into the bus's lane. Luckily nobody was killed. Meighan complained of pain to the left side of her head, while the bus conductor along with one other passenger received minor injuries.

Waters Rising In South
(posted on Mon Aug 22, 2016)
While Central Belize is just recovering from Hurricane Earl, now there's flooding in the south.
NEMO reports that a few flood prone areas in the western Toledo District are underwater. Aguacate village is inaccessible and water is 15ft above the bridge. Jacintoville is also experiencing flood conditions. This is due to the Moho River and other villages along the River are advised to closely monitor river levels. NEMO also advises, quote, "People who live along rivers, creeks, water ways and low-lying areas and whose home is likely to flood are cautioned to move to a high and safe building with friends, family or in the community shelter before nightfall."

Clive Arnold Shot Again
(posted on Mon Aug 22, 2016)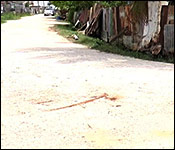 There was a shooting in Belize City over the weekend which put a man in the hospital. He's 35 year-old Clive Arnold who has been shot before.
According to police, Arnold, who is a waterfront worker from Rivero Street, was walking home on Saturday evening before 7 o'clock. That's when a man he reportedly did not see fired a number of shots at him, injuring him in the upper abdomen and the hand.
Today, the one of the lead investigators briefed the press on the details they have so far:
Sgt. Isai Sanchez, OC - CIB Precinct 1
"36 year old Clive Arnold, a Belizean stevedore of 19 Rivero Street is recovering now at the Karl Heusner Memorial Hospital after he was shot to the abdomen and right hand. The incident happened on Saturday 20th August, 2016 about 6:45pm. Clive Arnold was walking on Rivero Street heading home from the direction of Kraal Road when he heard several gunshots. He managed to run away after which he realized that he had sustained the gunshot wounds. He was in deed the target in this incident. Clive Arnold had a previous misunderstanding. He was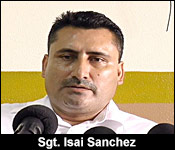 previously shot on the 22nd November, 2015 on Faber's Road where Trevor Guy was charged with the crime and the matter is still at court. Clive Arnold is no stranger to the police. He had been involved in different cases as a victim, as a suspect. He is an associate of the George Street gang and we believe it is a gang related. We are working on it. The investigation at this time is premature and we believe that with the assistance of the public we could probably get somewhere. Clive Arnold did not have an opportunity to look at the direction of the gunshots coming from. So his testimony is not good at this time."
That other shooting that Sergeant Sanchez was referring to happened on the evening of November 22, 2015. At that time, Arnold and another man were socializing on Faber Road when a man known to them opened fire and injuring both. Police thought then, as they once again, that Arnold was targeted due to a personal feud.

AG: Mason Matter With Police
(posted on Mon Aug 22, 2016)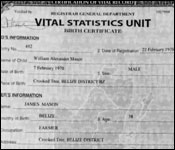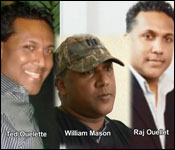 Earlier in the news we showed you our interview with Attorney General Vanessa Retreage. We also asked her for an update into the investigation into the issuance of a fraudulent birth certificate to accused murderer William Danny Mason.
You'll remember it as that fake document which claims that Mason was born in Crooked Tree Village to parents James Mason, a farmer from Cooked Tree, and his common-law wife, Sharon Tillett. The last time we asked the Prime Minister about it, 21 days ago, he told confirmed that the Investigation from the Attorney General's Ministry reveals that 4 public officers from the Vital Statistics Unit was implicated in the document's origin.
Today, when we asked the Attorney General, she told us that the report has been passed on to the police, and it is up to them to take criminal action against 4 named persons:
Daniel Ortiz
"Your ministry was to be the lead government agency to deal this particular issue."
Hon. Vanessa Retreage, Attorney General
"The Vital Statistics Unit falls under the purview of my ministry and within that portfolio and as such the registrar embarked on an investigation and based on that investigation she has briefed me that she has made a report to the police. Whether or not charges will be brought against persons signaled in that report, is a matter for the police and the DPP at this stage. So we have concluded our investigation and have provided information to the police as a result of that investigation."
Daniel Ortiz
"Is it from the perspective of the investigators that something irregular took place with that issuing of that birth certificate?"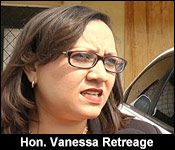 Hon. Vanessa Retreage, Attorney General
"It is the understanding from the registrar that that is the case, yes."
Daniel Ortiz
"Was there collusion or participation from persons within the ministry to get this done? Or was this just a fraudulent transaction?"
Hon. Vanessa Retreage, Attorney General
"The specifics of that investigation you would have to ask the registrar in relation to that. She would have that information more readily than I do."
And in other news related to William Mason, the Belize National Trade Union Congress released their position on the beheading of the man he's accused of beheading, Pastor Llewelyn Lucas.
The Congress says that Lucas was an active member of the General Council's table, and he was a representative of the Southern Worker's Union. The NTUCB is also calling for an independent investigation into the gruesome death which they continue to view "with disgust.
Explaining their prolonged day to make a comment, the NTUCB says, quote, ".While...the Congress has been silent on many issues, which have been plaguing our nation, rest assured that this silence does not mean that the National Trade Union Congress is content with the way these national issues are being managed. The NTUCB is in earnest working on strengthening its internal operational mechanism…" End quote.

Gun Misfired at Point Blank Range
(posted on Mon Aug 22, 2016)
A fisherman is in prison tonight after he barged into another man's house and assaulted him. The incident happened last night at around 11:00. 50 year old Adolfo Mckoy was at his Antelope Street home when he got up to open the door for someone he knew. McKoy reported that when he went back to bed 28 year old Linsford Acosta came in, grabbed him by his neck, put a gun to his head and pulled the trigger. But luckily for Mckoy, the gun misfired. McKoy then kicked Acosta and there was a struggle. Acosta then ran out of the house and jumped on a motorcycle . Acosta was later arrested and charged. He is remanded to prison until October 21st.

Portillo Packed A Pistol In His Pocket
(posted on Mon Aug 22, 2016)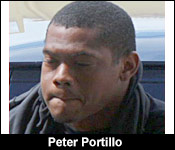 Peter Portillo is in jail tonight, because the 28 year old had a gun in his pocket when he jumped into a police pickup.
On Sunday at midday, 72 year old Lincoln Sunders reported that his friend Portillo had become a drunken nuisance and he wanted the cops to get him out of his house.
The police went to Saunders' home on Morter's Alley and offered to take Portillo home. But before he got into the vehicle the cops wanted to search him. Instead, Portillo jumped into the passenger side of the pickup and the police heard something fall to the ground. When they checked, the cops found a silver .38 pistol with 5 rounds of ammunition in its chambers. Portillo was unable to produce a license for the firearm and as a result, he was arrested and charged.
When he appeared today before Magistrate Carlon Mendoza Portillo pled not guilty to the charges. He was remanded into custody until next month.

PM In Houston
(posted on Mon Aug 22, 2016)
Prime Minister Dean Barrow is in Houston tonight. A government press release reports that he left on Saturday to accompany his wife, Kim for a medical checkup in Houston. He returns on Thursday, August 25th, and until he does Deputy Patrick Faber is holding over as PM.

Loose Rice Illegal
(posted on Mon Aug 22, 2016)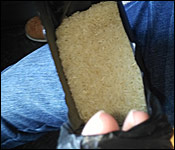 We haven't heard about rice for a while now - but when importer Jack Charles shook up the industry months ago with the threat of imported rice, it forced meaningful change. The effect is that all local rice producers have been forced to bag their rice in one pound bags to protect consumers and avoid price gouging. The one pound bags have clear markings, and that means no grocery store or vendor should still be selling loose rice in bags. But yet today when we went shopping at our neighborhood store "Lucky Long," on West Canal we found the same old tactics. WE checked with the Belize Bureau of Standards, which confirms that this is illegal and has promised that it will be visiting Lucky Long. Now, of this is still happening in your neighborhood, the Bureau wants you to call them at 822-0446 or email them at BBS@btl.net.

Converting Public Service From Paper To Digital Records Mgm't
(posted on Mon Aug 22, 2016)
The Belize Archives and Records Service is trying to get government to move from Paper based records to an Electronic Records Management System.
Now that's no small feat considering the amount of paperwork that is built into the culture of the public service - they just love paper! But, the longest journey begins with one step and today that first step was taken with a workshop at the CITO office in Belmopan.
We found out what the participants learned about:
At the end of the workshop, participants should be able to adopt a standardized approach to the management of electronic records.

Tropigas With Back To School Money
(posted on Mon Aug 22, 2016)
Last week we told you about the 25 kids who got a full high school scholarship from BTL. Well, in that same vein - even if not on quite the same scale - Tropigas today gave away grants of $150 to 35 students. It's not quite a King's Ransom, but it will help needy families with foot the bills for a key back to school supplies. We spoke to the General Manager Maleek Singh about the donation. A parent and a couple other recipients also detailed how this gift will be put to good use.
Each of the 35 kids got $150 grant.

Yu' Numba Play!
(posted on Mon Aug 22, 2016)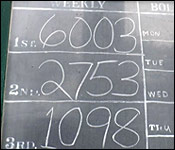 Ought-three" that was the winning single number for Sunday. Now you might ask, why did this Sunday lottery make it in the news? Well, those of you who follow and study the science of numbers will know that it has been a while since 03 has played, almost two years to be precise. The last time 03 played in the lottery is on October 5th, 2014 and the last time it played in boledo is on February 25th, 2014.
Many boledo specialists were chattering about 03 this weekend and those who know how to play the averages or just have the luck, won big yesterday when it finally came through.

Home | Archives | Downloads/Podcasts | Advertise | Contact Us