Belize Rural Executive Demonstrates Against Their Own Party For Arthur
(posted on Fri Aug 29, 2014)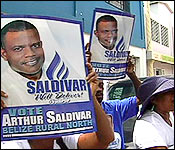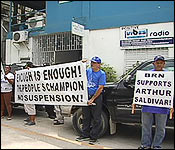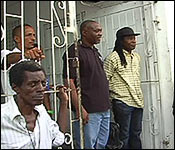 The suspended PUP Standard Bearer Arthur Saldivar may be on the ropes but he's not going down without a fight. Last night his Belize Rural North Executive Committee met and issued a defiant press release saying, quote, "we completely and wholeheartedly DENOUNCE this illegal and unconstitutional decision taken by the PUP National Executive on Wednesday, August 27, 2014 to place our Candidate and ELECTED Standard Bearer on two (2) weeks' suspension pending a so-called 'investigation'. "
The release adds, quote, "the decision...only serves the selfish agenda of a few members of the National Executive who are undermining the Party under the guise of 'love for Party'."
They say defiantly that, quote, "We will NOT allow any hand-picked 'replacement' to come into our division and benefit from our years of hard work which was accomplished with much blood, sweat and tears."
That was last night, and this morning, they sought to take that message to the Party Leader himself in a hurriedly staged protest in front of PUP Headquarters. Now, PUP's protesting against their own party? That doesn't happen every day so you know 7News had to be there from before it started. Jules Vasquez reports:..
Jules Vasquez reporting
This morning Belize Rural North Committee members filed into Independence Hall.
Linsford Castillo, Saldivar Advisor

"We are here to ask for a meeting with the party leader and when I say we, I am talking about the executive committee of the Belize Rural North."
But no one was in the office upstairs, not the leader, not the Secretary General, so the crowd did a little thing in the waiting area, and then took it to the sidewalk - where the conduct of the event quickly went from subdued to spirit with the help of a bullhorn:
Wendy Castillo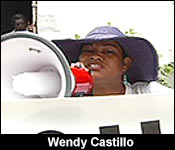 "From 1989 under the leadership of Maxwell Samuels we are here today to fight on our own for the People's United Party - for the people of Belize Rural North. We will not move from here, if night comes we will stand here, but somebody will give us an answer today. Today we come in peace to ask them to have a meeting with us. We will no longer standby and just be a rubber stamp for anybody, we have a voice and we were born to speak when injustice takes place. Today injustice by our own."
Crowd Chanting
"The people's champion no suspension."
They say the party constitution only gives the committee the power to suspend - and that they've been overlooked, bypassed and disrespected. But they didn't get a chance to talk to Leader Fonseca we only saw his driver and his close advisor Albert Vaughan who took some strong words from the crowd. And then a direct frontal assault of the verbal variety
Saldivar wasn't there either, only his image while police stood by and didn't make any move to arrest them for an illegal assembly or loitering.
They continued holding the line for hours - but no one came, they got no audience with their party leader or any other party official.
This afternoon they relented. We learned that the Leader had called the Chairman - who would only give a statement: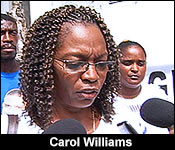 Carol Williams, Chairman - PUP, Belize Rural North
"Our intention today was to make it clear that we do not recognize or acknowledge the suspension. In a telephone conversation to me a few minutes ago the Party Leader informed me that he will not meet with the executive committee. In light of the Party Leader's reluctance to meet with us today, our committee is left with no other choice but to reconvene and determine our next move."
No word on what that move might be and with that they packed up their signs and rolled out taking the option to fight another day - but with the September 17th Deadline approaching that day had better be soon.
The protest started at 10:00 in the morning and the committee members, 15 of them went home at 2:00 in the afternoon. The PUP's Executive's investigation of Saldivar is led by party Chairman Henry Usher.
Later on you'll hear what the Prime Minister has to say about the suspension in the opposition.

Two Men Critical After Evening Robbery Attempt
(posted on Fri Aug 29, 2014)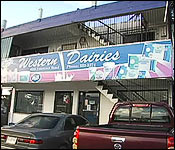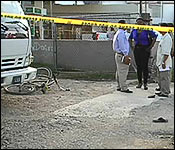 Two suspected armed robbers are in critical condition at the KHMH after they were shot during an armed robbery this evening in Belize City. It happened at around 4:15 at the Western Dairy Ice Cream Parlour where four men rode up on bicycles, stormed in and tried to rob the place at gunpoint.
Details are sketchy as to what happened next, but two of the men ended up getting shot - and two others made a dash out of the back of Western Dairies for Saint Thomas Street. Police were in the area and responded immediately - they set chase after the two suspects, following one of them all the way to Meighan Avenue.
They did not catch them, but they did recover a weapon - a small silver handgun - behind Western Dairies. They also recovered one of their caps and a pair of sunglasses.
No one inside Western Dairies was hurt, but we note that the robbers tried to do this at the height of the evening rush when traffic on Freetown Road is bumper to bumper.

PM Says Fair Trade Problems Were Expected
(posted on Fri Aug 29, 2014)
Last night, we told you about the latest controversy in the Sugar Industry between the Cane Farmers Association and Tate and Lyle, the British company which buys their sugar overseas.
They've written to the Cane Farmers saying that they will sharply reduce the volume of sugar bought for the Fair Trade premium price. That figure is going down from fifty or sixty thousand tonnes to ten thousand tonnes.
But, that's only a reduction in the fair trade quota. But we must clarify, the company will still buy the same amount of sugar as it has done in the past - only this year, instead of paying the premium price, under the Fairtrade Agreement, on fifty thousand tonnes or more, they will only pay the premium on ten thousand tonnes.
That's a decrease of $5.7 million dollars in revenue for the cane farmers association.
And it's all because the BSCFA's Fairtrade Certification came into jeopardy after the revelation that its employees fleeced the association of $78,000 dollars. This, as we told you, was revealed in a FLO-Cert Audit a few months ago. The Association was placed on probation, and it has been decertified in the past due to child labour violations and other non-compliances.
Prime Minister Dean Barrow told the media today that he hopes that the Association will act to get back in good standing with the Fairtrade regulations:
Prime Minister Dean Barrow

"I believe that there was a suspension of the fair trade premium as a consequence of irregularities that the monitors discovered. I don't know that the Belize Sugar Cane Farmers Association has yet remedied the defects. It appears that what is happening is…number one, there is a need for that to be sorted out because if that is not sorted out there will be no fair-trade premium at all. But it seems even if that issue is squared away, there is the possibility, perhaps the likelihood that the amount of sugar to attract the fair-trade premium will be less. I will hope that the two things that need to happen will happen - that is the BSCFA will get squared away with their issues so that the suspension can be lifted and infsct it will turn out that the amount of sugar to attract the fair trade premium will not be as sharply reduced as at this moment appears to be possible."
In their letter to the Management of the BSCFA, Tate and Lyle notes that if there is a higher demand for Fairtrade sugar than the current forecasts predict, they will increase the volume of sugar that they are willing to pay the premium Fairtrade price.
The Fairtrade Agreement is a development program where European companies pay extra for products from developing countries that are responsibly harvested. Those additional monies are intended for development of the industry and for poverty alleviation for farmers.

Garifunas Protest Against First Caribbean
(posted on Fri Aug 29, 2014)
The Garifuna community took to the streets of Dangriga this morning to protest against First Caribbean International Bank and all other businesses which have allegedly prohibited their Garifuna employees from speaking their language while on the worksite.
They were out in numbers carrying signs, marching from in front of the Drums of Our Fathers Monument, through the principal streets, finishing in front of First Caribbean Bank Branch in Dangriga. It was a strong message sent by those protesters that they would not tolerate such violation of their indigenous rights.
As we've told you, First Caribbean strongly denies that any such restriction was issued in their Dangriga Branch, but both the National Garifuna Council and the United Garifuna Association say that they have confirmed that it did happen.
The protest this morning prompted the Bank to organize an impromptu press briefing 45 minutes before news time to respond to the allegations directly. Here's what the company rep said:
Shaeleen Castillo, Manager - Retail Banking and Operations

"We have been in Belize since 1949. We were the first bank to extend to the districts and we started off with Dangriga and we started there in 1953 and so we are also proud to highlight that our staff base it comprise people of all ethnicities including the Garifuna people and at least 10% of our staff comprise Garifuna employees. We at CIBC First Caribbean embrace all ethnicities and cultures within the communities in which we operate. Never has there been any attempt on our part to stifle the use of any native language of our employees and so we confirm that we CIBC First Caribbean, our staff, our management did not issue any written directive to the staff regarding not using Garifuna in the branch and there is no policy within CIBC First Caribbean that prohibits the use of Garifuna or any other native language within the bank. Our employees are free to use whatever language they are comfortable with in their private conversations."
"We operate across the Caribbean and in the territories in which we operate there are other native languages that are use and staff are free to use those languages. We encourage diversity in all its forms and within all sectors with our community especially within the Garifuna community - you know the culture is rich and we have supported that in so many ways. We have contributed to the National Garifuna Council; we have contributed to the Gulisi Museum. Our renowned Unsung Heroes Program, we've had two persons of Garifuna heritage who have been finalists and even when there are Settlement Day activities, the bank has given full support to staff to participate in those activities. We have participated in the Settlement Day parade; we have brought in the drummers and the dancers in the branch; we've showcased the culture in terms of the food and even the dress. I recall fondly one year where the staff across all ethnicities wore their cultural outfits. So we are very much in support of the culture."
"I was in Dangriga today and I had privilege to meet with Mayor Suazo and we are hoping then that through his leadership, we will be able to have further communication with the Garifuna community and so bring a smooth and fast resolution to this matter. So again we just want to extend apologies for any misunderstanding and we are in full support of diversity and in full support of our Garifuna culture here in Belize."
Reporter
"Why was there the delay in terms of getting out the responds, before ot got to this particular point?"
Shaeleen Castillo, Manager - Retail Banking and Operations
"For us it was a matter of investigating and trying to understand what was the source of this situation and unfortunately we've not been able to progress the investigation as we would have wanted to, but it became necessary then for us to make a public statement."
Reporter
"Just to clarify something. You said that your employees are free to use whatever language in your private conversations. Can you clarify then what is the policy in terms of conversations with clients over the counter or at cubicles where they are doing transactions with customers?"
Shaeleen Castillo, Manager - Retail Banking and Operations
"Communication is more important and so to relate to your customers you want to be able to relate to them in a language that is comfortable for them. So as we've said before we have absolutely no restrictions n terms of speaking Garifuna or any other language. So as you are there relating to your customers whatever language is comfortable for that customers, that is the language that is encourage that you use to speak with that customer."
Reporter
"For clarity sake as well you mentioned that you would not be speaking on HR and IR matters. Does this then include the employment status of Ms. Martinez?"
Shaeleen Castillo, Manager - Retail Banking and Operations
"No conversation on HR/IR matters."
The bank representative refused to comment on any human resources and industrial relations matters and say they are still undergoing their investigation.

20k Strong: Women and Girl Financial Health
(posted on Fri Aug 29, 2014)
The Special Envoy for Women and Children held a conference on women and girl's financial health today at the Radisson. This conference is part of the 20,000 STRONG Women's Empowerment campaign that strives to celebrate the crucial role women play as well as to educate and uplift women in all sectors of society. Courtney Weatherburne has the story.
Training sessions focused on financial management and marketing were held in the afternoon for the women entrepreneurial groups.

Police Find Gun And Drugs
(posted on Fri Aug 29, 2014)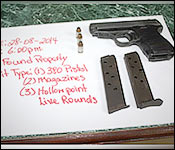 Police are reporting tonight that they've taken a weapon and over a pound of weed off the street.
Officers acted on intelligence and searched an empty lot on Jane Usher Boulevard Extension, yesterday afternoon at around 2:30. They found a garbage bag, which contained 5 smaller parcels of marijuana to a total amount of 602 grams - or 1.3 pounds. Because nobody was in the area, it was deposited as found property.
45 minutes later, police searched an abandoned lot on Elston Kerr Street. They found a plastic bag which contained a .380 caliber pistol and 2 empty magazines. They also found a separate bag containing 3 live rounds of .380 ammunition. Again, no one was around, so it was deposited as found property.

PM Says PUP Should Have Acted Sooner
(posted on Fri Aug 29, 2014)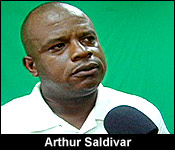 At the top of the news, you saw the uproar created by the executive committee for Belize Rural North in front of the PUP Headquarters. They railed for hours, demanding that the party leader come and meet with them, but he didn't. But, they were not completely ignored. The party chairman Henry Usher just called us and said he met with Chairman Carol Williams at 1:00 pm to assure her that as part of his investigation, he plans to meet with the Committee.
But, when we spoke to the Prime Minister today, he said the opposition is moving too slow. Just during the last five years Barrow has expelled Zenaida Moya - who was later re-instated, and, in a first, accepted as resignation from Marcel Cardona even though he had not resigned, and also sent Elvin Penner to the far end of the backbench. So he knows a thing or two about icing politicians. Here's his view on the Saldivar suspension:..
Jules Vasquez
"You sort of wrote the book in recent times on how to expel or remove or constructively resign standard bearers. Do you think that in this case the PUP should have moved in a more decisive manner simply expel Mr. Saldivar or do you think that the measured approach is more advisable?"
Prime Minister Dean Barrow
"I don't know that I ought to be giving the P.U.P. any kind of advice. I will say though that on the basis of their pronouncements during the course of events that unfolded surrounding Penner on the basis of stands they took indeed they ought to have moved far more quickly and far more forcefully with respect of Arthur Saldivar."

PM: CBA Is Closed
(posted on Fri Aug 29, 2014)
At the end of that interview, the Prime Minister referred to hypocrisy in the PUP. It didn't make the cut because it seemed gratuitous, but we mention it because it factors into our next story - when we asked the Prime Minister about the collective bargaining negotiation process with the unions. The unions have refused to sign off on the negotiation as concluded, while the Prime Minister insists it must be at an end. The unions have called his insistence rude and we asked him about it today:..
Jules Vasquez
"They had indicated that you were curt, rude and they didn't wish to sign off."
Prime Minister Dean Barrow

"These people who say all that they say in this shrill and strident way accused me of being rude? My goodness, I won't compare them to the earlier scenario that was outlined in terms of the PUP and hypocrisy, I will not do that. I will say merely that as far as I am concern the CBA process is at an end, they have gotten their 6% salary increase together with the 3%. remember that next year especially with the economy roaring along they stand to get more because every year for 3 years any increase in revenue over the year before gives them a 50% cut of that revenue, so I think they have been extremely well-served by the CBA process. Apart from the actual salary increases there are all these increases in the various allowances. I don't consider anything outstanding. I have a meeting with them next week Thursday I believe and I will see what formal position they take but I repeat that with the exception of health insurance scheme, I believe there were two other areas they were particularly concerned about, I don't see that we can go beyond where we have already gone since we have already gone is unprecedentedly far and I believe the public is very much with the government when we say that we have been not just reasonable but generous."

Itís An Unfounded Claim, Not A Disputed Border
(posted on Fri Aug 29, 2014)
We also asked the Prime Minister about recent comments made by the US Ambassador Carlos Moreno. In a media round table two weeks ago, he was asked about the Belize Guatemala relations, and he referred to Belize's quote, "disputed border." Now, ask any Belizean and they will tell you that the border is fixed and firm - and internationally indisputable. But how does the Prime Minister feel about it? He said he finds the language of a disputed border objectionable..
Prime Minister Dean Barrow

"I don't understand how the whole issue with Guatemala is indeed called a dispute. When I was growing up; when I became a young man during the early days this was the unfounded Guatemalan claim. All of a sudden it's become indeed a border dispute. I will continue to say though that as far as I am concern it is not a border dispute. There is no question as to where the border is subject to the actual exercise of demarcation. This is a matter of an unfounded territorial claim on the part of Guatemala."

Belize Committed to Uruguay For OAS Sec Gen Elections
(posted on Fri Aug 29, 2014)
And keeping it on diplomacy, the Prime Minister also discussed the candidacy of Belize's Ambassador Nestor Mendez for the post of OAS Deputy Secretary General. It's news because earlier this week Mendez explained to us that Belize is supporting the Uruguayan candidate for Secretary General largely because his opponent is a Guatemalan. To hear Mendez's characterization, having a Guatemalan elevated to the post of Secretary General would have a chilling effect on the confidence building process between Belize and Guatemala which is being facilitated by the OAS. The Prime Minister, though, was more circumspect in his assessment. Here's how he put it today:..
Jules Vasquez
"Obviously if they take that over then, the whole confidence building, everything is at a standstill."
Prime Minister Dean Barrow

"No, not necessarily. Their candidate won hopes would be able to act professionally as secretary general of the OAS, it doesn't become Guatemala's secretary general of the OAS. He is a Guatemalan national. If he wins, we have asked for and received assurances of the support of Central America for Belize's candidacy for deputy secretary general."
Jules Vasquez
"Guatemala included?"
Prime Minister Dean Barrow
"Yes, at the last SICA meeting. We were ask whether in turn we could support Guatemala's candidacy for the number one spot and I was obliged to say quite candidly that events had already overtaken that because we had made a deal with Uruguay I think it is to support their candidate and in turn they would support candidate. My colleagues, the Central American heads ask if I could give some thought to the possibility of changing our position and I indicated that I am man of honor and a man of my word and so that would be extremely difficult and there is where it was left off. So I don't know that we will go out there and campaign against the Guatemalan candidacy, in fact I can tell you we won't, but we are busily working to secure our own candidacy and to support the Uruguayan candidate."
And turning now to domestic issues, for the first time in a while, the Government got to do some chest beating about the performance of the economy. As we told you earlier this week GDP growth in the second quarter was an impressive 8.7%. That's after negative growth in the first quarter, and a measly 1.5% growth last year. Today the Prime Minister said he'll take that 8.7% for this quarter even if it can't hold up all year round:..
Prime Minister Dean Barrow
"In terms of the here and now, that second quarter growth is phenomenal and so I am very pleased indeed."
Jules Vasquez
"We won't have 8.7 for the remaining two quarters."
Prime Minister Dean Barrow
"But how do you know that? This is it, you are getting into speculation now and you may well be right, but again you may not. I think when you look at the nature historically of the performance of the economy during the course of a particular year the 3rd quarter can I think be expected not to be as strong as the 2nd quarter. But then the last quarter can certainly be expected to be stronger than the 3rd quarter, so in the end I am hopeful that it will all even out and we will finish with growth that is certainly in excess of the projections."

Hon. Barrow Says Awich Judgment Is Wrong
(posted on Fri Aug 29, 2014)
On Monday, we told you about the decision from Justice Courtney Abel that the Judicial and Legal Services Commission ought not to have dismissed the complaints against Samuel Awich's appointment as a Judge of the Court of Appeal.
As we told you, the Ashcroft Alliance challenged the decision from Services Commission in which the body dismissed the complaint against Justice Awich for his alleged "misbehaviour" as a Supreme Court Judge, which included not delivering judgements in a timely manner.
The Services Commission found the complaint to be "misconceived" and without enough merit to justify passing it along to the Belize Advisory Council.
After hearing the case brought by the Alliance, Justice Abel found that the Service Commission acted unlawfully when it dismissed the complaint against Justice Awich, without sufficient consideration. Today, Prime Minister Barrow - who recently elevated Awich on a tenured basis - said he believes the judgment is wrong:
Daniel Ortiz
"What's your reaction to that judgment?"
Prime Minister Dean Barrow

"I think it's quite wrong. My understanding is the Ashcroft alliance was urging this allege misbehavior on the part of Justice Awich as a basis for seeking his removal as a Judge of the Court of Appeal, but the allege misbehavior was according to them something that occurred while he was a judge of the Supreme Court. I don't see how on earth you can say when you were a judge of the Supreme Court you misbehave and that is a ground for removing you as judge of the Court of Appeal. You would have to urge that as a judge of the Court of Appeal there is misbehavior otherwise its illogical, it's absurd. I haven't read Justice Abel judgment, but I certainly know that my understanding of the facts obliges me to say that that is a wrongheaded decision."
"All this is spinning wheels. As I said I don't know what sort of psychological effect it has on the good Justice, but I know that practically these people will get nowhere. Mr. Justice Awich has now been reappointed. This time they complain about short term appointments, well he is appointed for 7 years, so they can take that, put it in their pipe and smoke it - careful what you ask for. They don't want short term appointments - he has a 7 year appointment that as far as I can tell was done in a fashion that is absolutely in consonance with the requirements of the law. I think he is there God willing health and strength allow him to stay for the length of that 7 year period."
As we've told you, it is unclear as to the effect of Justice Abel's ruling because he did not hand down any administrative orders to compel Services Commission to rehear the complaint.

Vasquez Acquitted of Kilos Of Hydro
(posted on Fri Aug 29, 2014)
32 year-old Clarissa Vasquez, who was facing drug trafficking charges for over 50 pounds of high-grade marijuana, is at home free tonight after she was acquitted in Magistrate's Court today.
As we reported, officers from the Gang Suppression Unit were on mobile patrol on West Collet Canal on February 17, 2014. They spotted 40 year-old Raynard Grinage in a 4-door Taurus car. They searched him and the vehicle, but they didn't find anything incriminating. The officers did find a bunch of keys, and they decided to follow up. They searched the house on Bachelor Avenue, to which the keys belong, and they ended up finding 24.4 kilos - or 53 pounds - of "hydro" type weed.
Grinage was charged with drug trafficking because of the seizure. His girlfriend, Clarissa Vasquez, was picked up and arrested later for the same charge because she was the tenant who was renting the property.
At the arraignment, Grinage pleaded guilty to the charge, and he was sentenced to 3 years in prison, plus a fine of $10,000. Vasquez pleaded not guilty, and she was tried for the charge. After the Prosecution closed their case, her attorney, Ellis Arnold, made a no-case submission on the grounds that she wasn't present at the time of the search, and that there is no evidence to connect her to the drugs. Magistrate Herbert Panton agreed with his submissions and acquitted her of the charge today.

The Back-To-School Expenses
(posted on Fri Aug 29, 2014)
It's the end of a long summer and classes resume on Monday. While students are recovering from the summer hang over, their parents have more pressing issues to address such as the financial strain they endure as they prepare their children for another school year. Where will the money come from? How are they managing with all the expenses? Courtney Weatherburne found out from a few parents earlier this week:..
Courtney Weatherburne reporting
Nancy Ulloa is here at A&R purchasing the few items left on her list of back to school expenses for her only son attending All Saints Primary School. She says her son is pretty much set for school on Monday but although she is fortunate to have only one child to cater to, it is still a substantial cost to bear.
Nancy Ulloa, Parent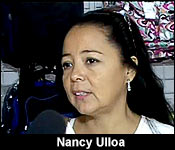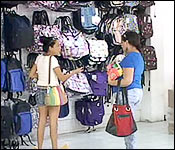 "It's very costly for one kid because then I tried to get at least 3 uniforms for him - that's an expense by itself, you need to get boxers, undershirts, socks, tennis - all kinds of stuff. It is probably like I could say the least like $500. I have other friends that have like 5-6 kids and it's really difficult for them. As a matter of fact I have a friend right now that he doesn't even have uniforms for the kids, he can't pay the tuition fees and it's very expensive for them, so like I said for me I am fortunate I only have one kid."
We got similar responses from other parents at A&R who are managing the expenses.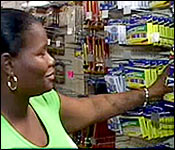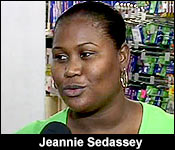 Jeannie Sedassey, Parent
"I only have two girls going to school. They will be going to St. John's Vianney and it's not too hard because I have the help from their father. It's still a lot of money like $600."
Shana Williams, Parent
"It's okay, the dad helped."
Courtney Weatherburne
"In terms of the budget how much would you say you spend buying all these supplies for your child?"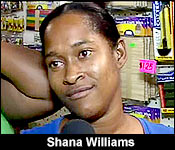 Shana Williams, Parent
"Not a lot.like $30."
Courtney Weatherburne
"Since it's only one child right?"
Shana Williams, Parent
"Yes ma'am."
Most parents shop at A&R, Stationary House and Angelus Press for school supplies but we also found parents looking for Deals at Simon Quan.
Bernadette Armstrong, Parent
"I have two kids and how I do it every year I take one week at a time; like one week I buy certain stuff, like every pay day I buy certain stuff, so when school opens I am set. With uniforms and everything it's like roughly $500 between the two of them."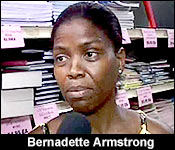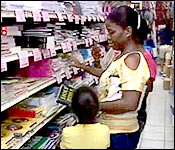 While parents seem to be handling the expenses relatively well at A&R and Simon Quan, the expenses are times 7 for Tanya Aldana leaving her with a budget of over $1,000. She shared her experience so far shopping for her kids at Angelus Press and the sacrifice she must make for the benefit of her children.
Tanya Aldana
"It's very stressful because to get them into high school is the big problem and to get their uniforms, their books, registration and everything its very expensive."
Courtney Weatherburne
"So how are you so far?Do you have everything for all your 7 kids? How is it so far?"
Tanya Aldana
"I haven't got everything yet, but I am getting there. I came to buy half the things for my child in primary school and I already get stuff for the two in high school, so I am halfway."
Courtney Weatherburne
"Do you think that you will be able to get all thier supplies for Monday? "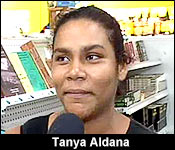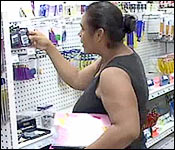 Tanya Aldana
"No, I won't be able to get all. We have to try for them because they need their education, so you have to try. You can't say that they will not be going to school. You have to try make every effort to send them to school."
There are just a few days left before the big day on Monday and soon the children will be sporting their newly pressed uniforms, shoes and school bags but what they must not forget is the sacrifice that parents make to ensure that the youths are prepared for school.

Barber Offering Free Haircuts
(posted on Fri Aug 29, 2014)
Now what goes better with newly pressed uniforms, new school shoes and bags than a clean haircut right? Well, you can get your child's hair done for school this weekend at the Back to School Trimming Initiative. It caters to boys and girls from the primary school level. Brian Dena, the coordinator of the event told us more about it
The trimming initiative takes place tomorrow and Sunday from 9 in the morning to 4 at 40 Fabers Road. Along with a free hair cut or braid, the youths get a few back to school supplies. Dena says if you have more than 20 youths in your area you can call him at 637-5728 and he will provide transportation.

Why Hasnít Petrocaribe Loan Been Scrutinized By Natíl Assembly Yet?
(posted on Fri Aug 29, 2014)
The Finance and Audit Act of 2005 is designed to regulate public revenue, spending and contracts - and provide parliamentary transparency in all manner of government business.
One of those provision is that any loan which the government makes for more than ten million dollars has to go to the National Assembly for approval.
But, we wondered, what about Petrocaribe initiative? Every month when fuel is shipped from Venezuela to Belize, millions of dollars are added to the fund - as a low interest- long term loan, but it's never gone to the National Assembly. Now, it's not the regular kind of a loan, but the country is indebted and does have to pay it back. So why hasn't it gone to the Parliament for approval? We asked the PM who wasn't quite convinced:..
Jules Vasquez
"At what point do you take it to the National Assembly as is required I believe because its a loan right and the finance act requires that you take loans to the National Assembly."
Prime Minister Dean Barrow

"That's how you see it and that's how will treat it?"
Jules Vasquez
"It's a loan."
Prime Minister Dean Barrow
"I won't argue with you. The question of whether this is something that needs to go to the national Assembly in a particular way is an issue to be looked at. Ultimately I don't think it much matters except perhaps just to ensure that we are in strict and faithful compliance with our regulatory requirements. The thing is that these monies go into the government's account at Central Bank and are spent in a way that is extremely transparent with records to in fact account for every last penny of expenditure. More to the point, the people of this country are seeing the effects of the spending, are feeling the benefits of the tremendous infrastructure drive that is being financed by Petrocaribe. So I think we are all good."
Jules Vasquez
"But again, rules exist for a reason and the Finance and Audit Act..."
Prime Minister Dean Barrow
"Yeah man, but that's a matter of how you interpret the rules. I might interpret them differently, but I am giving you this much. You have raised an issue that I will look at. Perhaps I have simply not paid enough attention to what you would suggest is required in the circumstances to be a scrupulous regard for the letter of the law. I will have a look at it."

PM Says Heís Optimistic About CCJ Case On UHS Loan
(posted on Fri Aug 29, 2014)
Another highly technical matter confronting the government is a case that's coming to court next month. In September, the Ashcroft Alliance and government are going to court to argue about the enforcement of the arbitral award for the Universal Healthcare Loan. Remember that one? It's the government guarantee to the Belize Bank for the private hospital which was given during the Musa administration. When the private owners couldn't pay, government had to - and they did! Still, they never got back the asset and the creditor sold the hospital to Belize Healthcare Partners.
But government is still on the hook - which was upheld in international arbitration! And the matter is going to court now for local enforcement. But because of the circumstances, the Prime Minister believes it does not have much prospect for success:..
Prime Minister Dean Barrow

"I don't see how here can be enforcement in the particular circumstances. What I am talking about? Clearly 40 million dollars was paid to the Belize Bank and that cleared off the UHS indebtedness; the Indebtedness of government as guarantor for the UHS loan. A problem arose later on when 20 million of the 40 was called back. But before that took place there was the sale of the hospital after the indebtedness was cleared off. Why on earth did the asset which was collateral for the indebtedness revert to government and when it was sold how come government received not a penny? Is there some sort of double dipping/double collection on the part of the bank? If you look at the first partial award made by the tribunal, you will see that they found as a fact that the Belize Bank collected 39 million dollars by way of that sale of the asset. If that is a fact, and we know that they had earlier collected 40 million dollars, how come you on the face of it end up with 79 million dollars for a 40 million dollar debt?"

Whatís Happening With Gun Law Amendments?
(posted on Fri Aug 29, 2014)
And in one final bit of news from the media's impromptu 32 minute interview with the prime minister today, we asked about the much discussed Gun law amendments. The government committed months ago to revising them - during which time the PUP proposed but never tabled its own version of the laws. Critics say the gun laws are too oppressive, and the Prime Minister says that the new draft legislation had to be careful to balance competing interests of citizen safety and the presumption of innocence:..
Prime Minister Dean Barrow

"I've said to the minister in Cabinet we cant wait on no study on the part of the police. We know what has to be done. It's not easy to cure whatever sees as a mischief without perhaps making the law too loose and allowing people to get away, so it will have to be a very deaf drafting exercise, but there is a House meeting next Friday and I hope and believe that the amendments will be presented for first reading at that meeting next Friday."
That bill will go to the House next Friday.

INCAP; Obesity, And The Media
(posted on Fri Aug 29, 2014)
The Obesity epidemic - we often hear about it in the states, but medical professionals says it's happening right here at home too! The Institute of Nutrition of Central America and Panama - known as INPAC, says that in Belize, obesity, which is linked to non-communicable diseases such as hypertension, heart disease, stroke, and diabetes, is becoming a very real danger to the population. In response, the Ministry of Health is trying to design an over-weight and obesity Operational plan.
Part of that plan is to get the media to watch the way it promotes or advertises unhealthy foods. 7News attended the discussion, and we found out how INCAP plans to intervene on the obesity disease:
Dr. Jorge Polanco
"Obesity is compared to something like tobacco that you smoke for 10 -15-20 years and you have direct effects such as cancer. You are obese for 10-15 years you will have similar direct effects such as cardio vascular diseases, cancer, kidney problems, hypertension, diabetes - its well know that obesity is a direct cause for diabetes."
Dr. Manuel Ramirez
"Our goal is to make awareness about the big issue that we have in this country and in all Central America region on this obesity is a disease, obesity is something that is happening not when you are old, but since you are a child. There are many children already with obesity and the numbers are growing. This is an issue that we need to take very seriously because obesity is related with many diseases including diabetes, cancer and heart attack, strokes etc. Children under 5 there are 7% of the population in Belize - that's like 3,000 children already with obesity and if we go to adults right now its 60% of men and 75% of women who are already overweight and obese. This is something that is one of the most prevalent risks factors for chronic diseases as diabetes, cancer and heart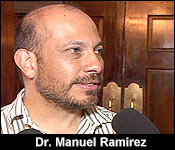 attacks. The problem is that there is lots of high caloric food that is very cheap that people who cannot select healthy food are eating because the only thing that they can buy, so then there is some policies that needs to be done. The healthy food needs to be cheaper and the bad food or junk food needs to be more expensive because if you don't do changes at that level then people will continue eating whatever they can have with the money that they have."
Dr. Jorge Polanco
"Our neighboring country Mexico last month manage to pass a federal law that the promotion through television, the advertisement of junk food, food that is ultra process and drinks that have a very high content of sugar is ban during the time when the children are at home and they were specifically referring to from Monday to Friday between 2:30 and 7:00 at night. During the weekends its ban from 7 in the morning to 7 at night - that's when the children are at home."
The medical professionals are recommending that overweight and obese persons should add exercise routines to their daily lives.

16th Day Of Healing
(posted on Fri Aug 29, 2014)
The event called the 16th Day of Healing is scheduled for tomorrow in the PIV area. This community healing initiative tries to spread peace and positivity in the community. And while it may not fix all of society's ills, organizer of the event Perry "STIKZ" Smith says that at least it is a start.
The Day of Peace is set for tomorrow at 9 in the morning to 6 on Flamboyant Street. This initiative started last year as a result of the quadruple murders on Dean Street. Two of the first Days of Peace were held on Dean Street and the other 13 were held in communities across Belize City.





Home | Archives | Downloads/Podcasts | Advertise | Contact Us