Baby Janeeka, Post Mortem Inconclusive, She Didnít Die From Natural Causes
(posted on Thu Dec 8, 2016)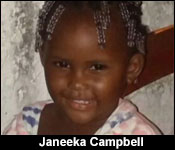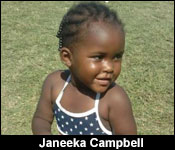 What caused Baby Janeeka's death? The one year old toddler was just days away from her second birthday when she died at her St. Matthews village home on Tuesday. The police said she had bruises to various parts of her body.

Tonight, the news is that a post mortem which finished just an hour ago is inconclusive. It only confirms that she did not die of natural causes. But the post mortem does not say what did cause her death. Police and the police pathologist will meet tomorrow to try and piece together the clues from the post mortem and the police investigation. They will use physical and forensic evidence, plus information from the mother and father who have both been questioned – to try to form a clearer picture of what caused her death.
So, tonight there are more questions than answers. I went looking for some at her home, and at the hospital today. Here's what our news team found out about the life and premature death of Janeeka Campbell:…
This soaked diaper and this safety gate are the last traces of little Janeeka's life here.
She lived with her parents at this house in St. Matthews and according to a neighbour, they were happy there.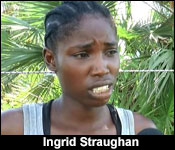 Ingrid Straughan - Neighbour
"Both parents usually do their part as in pull their part 50/50 right and every time if the lady needs to go out the man pull ih part and watch and vice-versa. Something when two of them go out they actually -- I no see nothing wrong."
Courtney Weatherburne
"They seemed like a normal family?"
Ingrid Straughan - Neighbour
"Like a happy couple actually."

But something went terribly wrong on Tuesday night when the police were called out to find Baby Janeeka unresponsive. Janeeka was with her father that day while her mother was out. Reports are that the father told Janeeka's mother that he was bathing the baby when she just suddenly stopped breathing.
But that is just one report, Straughan says Janeeka might have fallen off the veranda.

Ingrid Straughan - Neighbour
"They usually are inside right and then like now and again when I da look stuff okay and then one time I da look the baby mi deh outside on the veranda and look like they in laws mi did tell them about it. So I said that is only thing that could have happened, dropped off the veranda or something."

But how do you explain the bruises on Janeeka's body? Another neighbour we spoke to off camera says it was neglect and sustained abuse that finally killed the baby.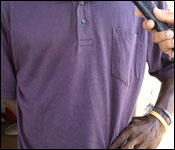 Voice of Resident
"All I can say for myself from my personal investigation and my experience otherwise with the family that the child was suffering to me simple neglect, like total responsibility on behalf of both parents. To me it was like a dire situation where the whole family probably know what was going but didn't have probably in them to say that mien something was wrong or it would finally reach this point noh."
I asked one of the uncles to the relative that what was his experience knowing the family and the situation they were going through. He said well he experience a time when he was visiting the house that the mother beat the child for just throwing a remote control in the air and she probably spanked her so hard that the baby spin like a top."

For the family, by all outward appearances, Janeeka had a loving mother but they can't say with certainty what happened at the house.

Sheila Guisseppi - Grandaunt
"I know her mom loved her contrary to what people might say or think she really loved her baby. They are up there and I am down here I don't know what happens up there or takes place but down here I know for sure there is no abuse, there is only love."

And that love will live on for baby Janeeka – who will always be remembered for her strong, lively spirit.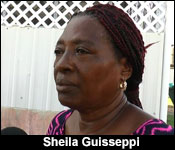 Sheila Guisseppi - Grandaunt
"Oh you don't understand, that was my life, I no know what I'm going to do right now, right now I'm on the down low but I'll get up back because she was only loaned to us by God. She was one year and 11 months but she was 16 going on 17, she bossed up everybody, she forced you to like her and everybody loved her."
As we noted at the top, the post mortem can only say that she did not die from natural causes. Beyond that, it is inconclusive.
The National Committee for Families and Children issued a statement today saying, quote, "every citizen has a moral obligation to act when we see warning signs of violence against children and report all suspected cases of child abuse to the relevant authorities." It concludes, "violence against children should never be tolerated….Let us all work together to ensure that as parents and guardians we strive towards non-violence and avoid these kinds of incidents from reoccurring…."
We'll have more news on what police know tomorrow.

Freedom Street Savagery Leaves Stepmom Critical
(posted on Thu Dec 8, 2016)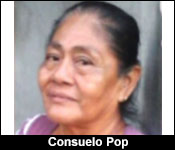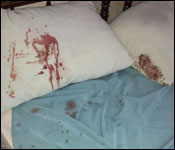 At around 10:00 this morning, police responded to a violent and bloody scene on Freedom Street in Belize City. Nineteen year old Linsdale Flowers was found chopping his own stepmother, Consuelo Pop and his neighbour Diangelo Figueroa with a machete. Police immediately arrested Flowers, and the badly injured Pop was rushed to the hospital in an ambulance. Senior Superintendent Alden Dawson briefed us on what the police know about the grisly crime…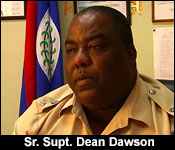 Sr. Supt. Dean Dawson - Deputy OC, ED South
"Sometime after 10 AM this morning police responded to a chopping incident on Lewis Bevans street. Upon the arrival they conducted an investigation into the incident which reveals that 19 year old Dinsdale Flowers had inflicted chop wound to his step mother 52 year old Consuelo Pop and a neighbour Diangelo Figueroa. Consuelo received chop to her hands and her forehead whilst Diangelo received chop wounds to his back. At this Consuelo is listed as critical and the motive for this recent incident is unknown at this time however the accused is in police custody."
Duane Moody
"Now sir we understand that police officers from the nearby patrol on Freedom Street were the ones that responded to screams of help and arrived and saw the young man chopping his step mother. Can you confirm this?"
Sr. Supt. Dean Dawson - Deputy OC, ED South
"Well police was in the area, the patrol was in the area as we do have a patrol in the Lewis Bevans area and they quickly responded and intervened."
The victims were taken to the KHMH. Figueroa was treated for chop wounds to his back and forearms and released. Pop wasn't so lucky; she is in critical condition due to massive head injuries. Her daughter Gloria gave us her account of what happened, and says that she was not satisfied with the police's response…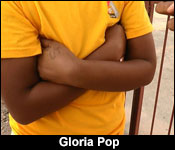 Gloria Pop - Daughter of Victim
"I mi the bathe and I hear like somebody fall down and I get the towel to go cross and I hear my ma shout my name before I reach the door and when I run they so and I reach inna the room he done in the room the chop my ma and I start struggle with he for the machete and me and he the struggle inside and my ma end up the run outside but she mi done get chop in her head and her hand and she run up the street to try get help and mean time me and he the struggle inside but he da a man so he eventually get the machete back and chase after my ma but I run because he mi want chop me too. So I run out of the way and he chase after my ma and continue chop my ma on the street and no stop and I just have to the shout for help for somebody to help and I no see nobody, no police, nothing and like 15-20 minutes he there so the chop my ma then the two police they reach. The see this bwai the chop my ma and the holla put down the machete, put down the machete we will shoot; come on if you see somebody the chop up somebody I think the police job is to shoot ah no tell ah you will shoot ah you understand me. My ma practically the bleed to death on the street (crying...) and they will talk about put down the machete... they could have at least do something, seriously. You know then ambulance take like forever fi reach, it just crazy..."
Alex Courtney
"Do you have any idea what his motives were, what was the reason he was so angry with your mother?"
Gloria Pop - Daughter of Victim
"I no have no idea, from last night he came home and look like he mi deh pan drugs or something and he come home and just start acting crazy and then his pa mi deh home last night and his dad see what mi di happen with he you know and it just so happen that he gone this morning, come back. He come ask my mom for money, my mom give ah, we never think he mi wa come down and do that you know. I'm surprises, I'm surprised myself because I never expect that to happen any at all."
Alex Courtney
"Can you give us an update on your mother's condition currently?"
Gloria Pop - Daughter of Victim
"Well... the doctor say she is stable but she's still under observation because maybe swelling could occur in the brain because she get fractured in the head and her hands they are fractured. She got multiple chop wounds on her hand, head, the back so we honestly don't really know what could be the outcome, we just have to hope for the best and pray."
At this point, no one can say for sure why Flowers's did it and he is being held pending charges. The case is currently being investigated by the Domestic Violence Unit, but as the case progresses and depending on Pop's condition, the CIB may take over.

Corozal Murder Victim Was Chopped/Shot
(posted on Thu Dec 8, 2016)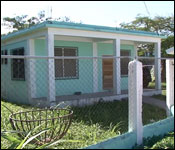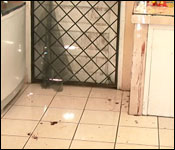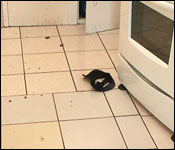 Tonight, Corozal police continue to investigate an early morning murder which has some very puzzling aspects. This morning before 3 a.m., the cops happened upon 36 year-old Corozal Town Resident Armando Pelayo Jr. He was right next door to his G Street home, and he was suffering from 2 gunshot wounds and several chop wounds to the face and the forearms.
They rushed him to the Hospital but he succumbed to his injuries. Before he died, police did try to learn from him the identity of his attackers, but he refused to cooperate.
Now, how the cops happened to be in the area at the time is a coincidence that may have some connection to the crime. A night patrol spotted a suspicious, heavily tinted car and followed it. That vehicle led them to the house belonging to Pelayo, who is very well-known to them. That's when they happened upon Pelayo in distress. He had fled his home begging for someone to help get to the hospital because had just been shot and chopped.
In the commotion of rushing him off for treatment, they abandoned the suspicious car – which could have some connection to the murder.
Today, the officer Commanding Corozal Police briefed the press on what police know so far about this perplexing case: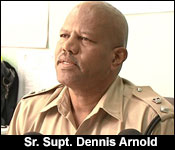 Sr. Supt. Dennis Arnold - OC, Corozal
"We had a burglary patrol team out around Corozal where about that time they saw a white tinted glass car and they decided to follow that car. They followed that car to G Street, that car stopped in front of Mr. Armando Pelayo's house. Two person alighted that said vehicle, a male and a female. The police officers alighted their patrol mobile where they saw a female person coming from Mr. Pelayo's house. At that same time the neighbour were yelling to the police officers for help, the officers went to the neighbour's house where they saw Mr. Armando Pelayo, 36 years -- he was bleeding profously with what appears to be chop wounds to the head, to the back and the hand. He was transported to the Corozal Community Hospital where upon arrival the doctor pronounced him dead. Closer investigation revealed that he had a gunshot wound to the right side of the back. We had processed the scene; it was his house at G Street South Corozal Town where we found a knife, a machete, 3 live 9mm rounds, one expended shell and one slug."
Reporter
"And Mr. Pelayo lives by himself?"
Sr. Supt. Dennis Arnold - OC, Corozal
"I am not sure; I believe he has his common law there. We are looking for the female that was coming out of Mr. Pelayo's house and the male and the female who stopped in front of Mr. Pelayo's house in that tinted white car. We don't want to frighten anyone we just need them to come in so we can ask the necessary questions."
This afternoon, we visited a few of his neighbours, and they told us that he had been shot to the back of the neck and the lower back, along with chop wounds to his forearms and face. He was frantic, trying to get help him, and he ran into a neighbour's house.
As you heard police say a woman was seen leaving the house when they rushed Pelayo off for medical attention. Well, the neighbours tell us that she is his 20-year-old common-law wife, with whom he has two children. One of the persons in the suspicious vehicle that police was following, was allegedly her mother. Apparently, they had come to the house to pick her up. She was seen sobbing when she left.
Residents also tell us that the two had a very abusive relationship, and that Pelayo's common-law wife often had visible bruises. Also, as you saw in our story, the house was somewhat overturned, as if someone was rushing to get out. Police say that there were no signs of forced entry.
As for Pelayo, he is well known to police, and as a matter of fact, he was in police custody less than 5 days ago. That was for disorderly conduct, in which he got into a fight with another man. Police often had to detain him for cases such as this. The police tell us that they received a report from a business place that he was behaving disorderly only hours before he died. They showed up to take him into custody, but he was nowhere to be found.

Hon. Julius Not Ready to Duke It Out After All
(posted on Thu Dec 8, 2016)
Tomorrow will be deputy Prime Minister Patrick Faber's first time in the chair where the Prime Minister usually sits. That's because the PM is in New York seeking specialist's advice on a persistent case of gastro-enteritis.
But the PM won't be the only one missing tomorrow's house meeting; so will PUP Cayo South Representative Julius Espat,. Tomorrow's meeting is the first since he was suspended on August 26th.
He went to the Supreme Court claiming that Speaker Michael Peyrefitte had abridged his rights. But on Tuesday, the Chief Justice sent him right back to the Speaker saying that they have to work it out under the House Standing Orders. That's when Espat told the media that he will still go to the House, and he was quote, "ready to box" if necessary.
Well, today, at a press conference at his Cayo South office, Espat backed down from that hard line to say, that they are trying to work things out. Here's how he explained it:…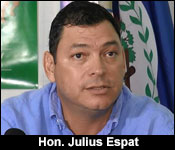 Hon. Julius Espat, PUP Cayo South Representative
"Since I was ejected from the house there has been communication between leaders or government and leaders on our side to see if there was a way in which this could have been settled. It has not been settled as yet but since the speaker made his commentary I think a couple days ago we pursued it even further and we are waiting to see if we can hold him to his word which is to find an amicable way or a civil way of going back into the house. The Hon. Said Musa wrote a letter to the speaker of the house and it's under the Fort George's division letter head and it says notice of a privilege motion, first one to standing orders 29 and 44:7. It says to the Hon. Speaker of the House of Representative take notice that the Rt. Hon. Member for Fort George wish to raise on a matter affecting the privilege of the House and to move the following resolution at the sitting of the House on Friday, December 9, 2016. Be it resolved that this Honourable House hereby terminate the suspension of the Hon. Member of Cayo South forthwith and that he be permitted to resume his duties in the House on behalf of the people of Cayo South at this sitting dated the 7th day of December 2016 signed Rt. Hon. Said Musa representative from Fort George. This is a formal letter that was sent, I am not aware if a response has been received by the Rt. Hon. Said Musa but we did this in good faith. With that said also the Rt. Hon. Said Musa along with other advisers from the party told me that it would be best that I don't go personally to the house because we have also received information from special branch and other aspects of the police department that they have an order to arrest not even going to the house but even the street that circulates the house. So with that said and my executive also came up with a resolution that they agreed with the proposal made and they agreed that I should remain close to the house of representative if this happens and I am permitted back in that I can just go over and go in. With that said I am not going to the house of representative as I previously stated, I still believe that I should be there, we believe that I was wrong, everybody say it on the television -- we don't need to be an attorney to be able to analyse that situation but everybody believe that somehow we have to give due process a chance."
Jules Vasquez
"An argument it can be made that it is you because you want to go to court because you want the chief justice to put the speaker in his place; it is you who derailed a process between Mr. Finnegan and Mr. Musa that was underway that might have resulted in an amicable resolution within the parliament, within the house, rules within the standing order. But you mi want run da Supreme Court to put Peyrefitte inna ih place and you lose."
Hon. Julius Espat, PUP Cayo South Representative
"I didn't lose. Let me be clear with that Jules, what I am doing here is not to go back into the house to go into that same ruckus scenario."
Jules Vasquez
"You never answer mi question, you derailed the process."
Hon. Julius Espat, PUP Cayo South Representative
"I didn't derail it, I'm explaining to you that we are using the avenues that are available to us and there is nothing wrong with that."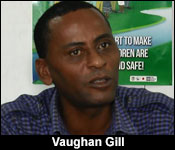 Vaughan Gill - Cayo South Executive
"The speaker did suggest that he felt kind of funny that Cayo South didn't have his representative in the house and hopefully something could have been worked out by Friday. This attempt by the Rt. Hon Said Musa with Mr. Espat attempted that so I believe the Cayo South voters believe that it is not in the UDP's interest for Julius Espat to be back in the house at this time with all the issues on the table right now he was ejected we believe because of speaking out against the government. The point today we are here where there is no answer to that letter and the information from the security forces that the instructions and the strategy has been put in place to detain him and restrain him from even being around the house on Friday."
Jules Vasquez
"Is it that you want them to move the earth, the moon and the sun because now you didn't have the success you wished for at the Supreme Court and you still want to go back into the house? And so now your problem becomes their emergency and Mr. Finnegan is saying well…"
Hon. Julius Espat, PUP Cayo South Representative
"It's not my problem Jules; it's the problem of the people of Belize. I am one of 31 but they have urgency when it's political spending and they do supplementary appropriation and its done immediately when they have urgency they want pass a law they call and read it three times in a house meeting for insignificant things. If they have urgency to do those things then they should have an urgency to have a duly elected member of the House of Representative representing their people."
Reporter
"Basically when the house meeting starts tomorrow you'll be sitting in your office here awaiting a call?"
Hon. Julius Espat, PUP Cayo South Representative
"Dressed up inna mi guayabera (laugh)...."
As you heard in the question and answer, the PUP's most senior member Said Musa did reach out to UDP Party Whip Michael Finnegan earlier this week after the Supreme Court decision was handed down. But Finnegan told us that he didn't foresee anything happening in time for this Friday's House Meeting. He told us he remains ready to assist.
Whatever the case, Espat says he will be at his office tomorrow in his white guayabera ready to be called back to the House.

BSCFA Fights Phantom Farmers to Keep Fair Trade Monies
(posted on Thu Dec 8, 2016)
Since Friday, we've been telling you all about the suspension that the Belize Sugar Cane Farmers Association is trying to reverse. Fair Trade has audited the organization, and found that one of its members committed a major act of non-compliance. As a result, 1.2 million dollars in Fair Trade premiums is at risk of being withheld from over 3,000 farmers.
That farmer is Eloy Escalante and he entered into a business relationship with the son of Cabinet Minister Edmond Castro. You saw how Castro explained in detail that his son bought out Escalante's quota of sugar. Castro became Escalante's administrator, which means that he can farm his land, and deliver cane in his name. The problem is that Escalante admitted to a Fair Trade Auditor that he was not producing cane for the past 3 years.
So, it immediately called into question whether the Castro family was practicing what is referred to as phantom farming. That's where a person licensed as a cane farmer, is not producing cane, but he or she either buys cane from unlicensed farmers, or sells his rights to deliver cane to the mill.
That got the BSCFA suspended, and Castro mauled them in our interview, saying, that it is their own fault that they are in this position. Well, today, their broke the silence and held an hour and a half long press conference to discuss what is happening.
Today, the CEO of the BSCFA stressed that they are not in charge of regulating cane farmers. They say that it is the Sugar Cane Production Committee, and it is that organization that needs to fix this;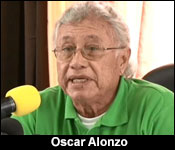 Oscar Alonzo - CEO, BSCFA
"Production, cultivation and delivery of cane is regulated under the act okay and the acts clearly specify okay who is it that determines that a cane farmer appears on the cane farmer registry. Section 2 of the act defines a cane farmer as a person or entity who is engaged in production of sugar cane for the purpose of being manufactured into sugar or any other derivate and registered by the Sugar Cane Production Committee. This definition of the cane farmer in the act clearly puts the onus on the SPCP and not on the associations for registering a person or entity as a cane farmer. We can't register a cane farmer it is the SPCP that does that. He does there applies to be registered as a cane farmer, he fills out all the forms that are required right and once the SPCP does what it's supposed to do then it can include that cane farmer in the registry. Now Section 2 now of that act also defines the estimated cane production as each sugar cane farmer estimated production of sugar cane per crop expressed in tons as determined by the SPCP. We can't determine what will be the production estimate of the came farmer in the cane farmer register. It is the SPCP that does that. Also Section 17 1E of the act specifies that the SPCP and not the association shall establish a cane farmer's register for the registration of cane farmers. We cannot establish this register it is the SPCP that does that. Section 17 1B of the act also stipulates that the SPCP and not the association shall conduct yearly field survey to ascertain registered cane farmers actual in production, their acreage under production and the estimated deeds. Each year gentlemen and ladies it is the SPCP that goes out in the fields."
The BSFCA will conduct its own field surveys of the cane farms which their over 3,000 members own. They want to introduce their own system of accountability. That will take them a few months and a whole lot of money, but they say they will make the sacrifice. So, what does the suspension exactly mean? Here's how the CEO explained it:
Oscar Alonzo - CEO, BSCFA
"We have requested the membership to approve one that the cane farmer that was found not complying with this criteria to be excluded as a member of our association and so that will affect the other 3,772 cane farmers. And we have informed the SPCP accordingly because we notice that in the list that they have produced this year once more, the name again reappears and we have asked then, we told them about the decision of our membership to exclude the name from the list of names that appears under San Estevan branch together with the corresponding production estimate and also to remove it from the BSCFA total production estimate. We did not say to remove it from the official list. The suspension seemed to have been too much of a harsh decision on their part. Since it is a situation that is out of our control, it is under the purview of the SPCP. When you decertify, you're out and once you're out you don't get anything. When you're suspended whatever contract you have signed before that suspension remains in place so whatever premium you were entitled to before that suspension you have to get that. But at the same time you can also be eligible for signing a contract of 50% of the volume that you had traded before and once the suspension is lifted then you can move to the 100%. In a meeting we had in October they had indicated that they're going to purchase the same amount of sugar under the fair trade that they did this for this last crop. So in that case what we're looking at in terms of the BSCFA is another 10 thousand tons that is at stake. Now it means if the suspension is not lifted right and we are decertified it means that the sugar that is produced by 3,772 farmers will not fair trade eligible."

Where Do The Phantom Farmers Lurk?
(posted on Thu Dec 8, 2016)
So, what about those phantom farmers we've been telling you about? No one knows for sure how many persons are registered as farmers, who don't actually farm cane. Insiders say that it is a widespread practice.
This week, we got a chance to speak to leaders within all 3 cane farming associations.
We asked if there might be undetected ghost farmers within the 3 organizations. Here's how those conversations went:
Daniel Ortiz
"Is there any information that the BSCFA management team has to lend credibility that there be other members within your association or outside who are engaging in this same sort of activity?"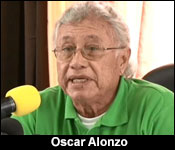 Oscar Alonzo - CEO, BSCFA
"Well as far as you know this same situation with this farmer in San Estevan we are not aware of any other than that."
Daniel Ortiz
"Is it a concern that they may be others who you haven't detected?"
Oscar Alonzo - CEO, BSCFA
"Well it's possible right and this is why we are setting up these procedures okay to sort of support what the SPCP is doing and to ensure that the farmer that appears there is given the due service and attention that they SPCP should give them to try to make sure that this sort of thing doesn't occur."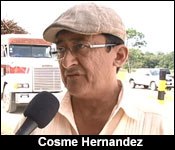 Cosme Hernandez - Representative, PSPA
"We got certified last year and under fair trade we have a certain criteria to follow and sincerely the criteria of fair trade ask for is for the benefit of the farmers at the end of the day. Of course we have our challenges, we've been listening to about those farmers but we're dealing with it internally and we're making sure that each farmer delivers cane in their name. We've heard about certain farmers that buy cane but we're dealing with that right now."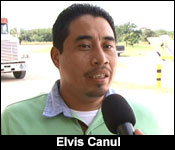 Elvis Canul - Chairman, CSCPA
"As an association and responsible for 619 members we do some internal policies that we need to see whatever arrangement that other farmers may have because they do exist administration of grant. However the implications that would have if an added would come will depend individually on the arrangements that each individual cane farmer has taken. As an association we are prepared to do internal policies to address this issues."
"Our association has an open door policy to membership however we do some screening when you want to enter our association; we do some screening as a board to allow us to ensure that indeed it is a registered cane farmer."
Alonzo stressed to us today that it's too costly to monitor their own farmers to verify if their cane fields are active. He says this is a responsibility of the Sugar Cane Production Committee. He says that the SCPC ought to be doing these field surveys very frequently, but now their association will start doing it.

GSU Busts 40 Pounds Of Weed
(posted on Thu Dec 8, 2016)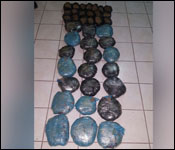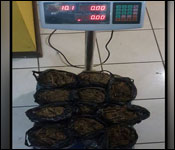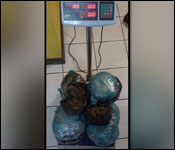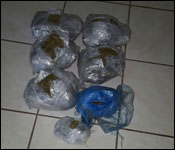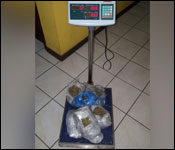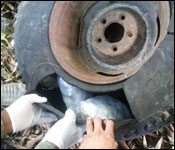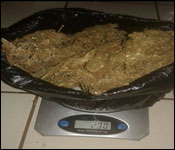 The GSU made two large drug busts in two days. Late last night, acting off intelligence, the GSU searched a bushy lot behind a house on Caesar Ridge Road. They found three crocus bags each containing several parcels of cannabis. The first bag had sixteen parcels weighing just over ten pounds. The second had twelve parcels that together weighed almost 19 pounds. The final parcel also contained 12 parcels that came up to sixteen and a half pounds.
Altogether, the GSU came up on forty parcels of cannabis, weighing a total of 45 and a half pounds. They believe that the drugs belong to key members of the South Side Gang, but no suspects were around the scene so the parcels were entered as found property.
The GSU conducted another search this morning, this time at an abandoned lot on the Faber's Road Extension. Two parcels of cannabis were found in an empty tire, and after a more thorough search, another five were found in the area. The seven parcels amounted to just over seven pounds. No one was in the area, so the cannabis was labelled as found property.

Three Years For Career Criminal
(posted on Thu Dec 8, 2016)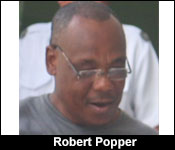 He's a career criminal and 43 year old Robert Popper is tonight starting to serve a three-year jail sentence. Chief Magistrate, Anne Marie Smith sentenced him after he pled guilty to theft of a security guard's tote bag. At 3:00 pm on October 15th, Dwayne Michael Crawford was walking on Princess Margaret Drive, near Nazarene High School, when Popper snatched his bag and dashed down an alley. None of the items valuing hundreds of dollars were recovered but police did catch Popper.
The Chief Magistrate sentenced him to 3 years because he has a long criminal history.

Rosewood Found At Benque Woodshop
(posted on Thu Dec 8, 2016)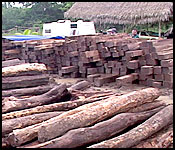 The great Rosewood rush of 2013 should have mostly decimated Rosewood stocks. After all those trees were felled and shipped off to China there probably wasn't much rosewood left to root out anyway… And then Belize signed unto a CITES convention which made Rosewood export illegal. That should have been the end of an ugly episode in logging, but apparently not. The highly prised hardwood continues to appear. The forestry Department says their officers found 30,000 board feet in the form of flitches at a wood works factory in Benque Viejo Town. The wood had no official marking and documentation and was illegally harvested. Forestry confiscated it.
The owner of the wood workshop will also face charges.

Lunch Sponsored By Red Kettle Bells
(posted on Thu Dec 8, 2016)
Every year the Salvation Army's red kettle bells remind us that Christmas is about giving as much as it is about getting. And the centerpiece of their fundraising drive is the children's luncheon and parties. This year's version was held at the Holy Redeemer Parish Hall and Salvation Army Commander, Joliker Leandre, gave us the details…
Leandre told us that the Salvation Army is planning more events in Belize City as well as in San Ignacio and Georgeville.

Dorothy Bradley And Senate Duel It Out
(posted on Thu Dec 8, 2016)
Yesterday, we showed you how Auditor General Dorothy Bradley had a very tough afternoon in the Senate Hearings. The senators are trying to get to the bottom of the mass irregularities in the Immigration and Nationality that her audit has revealed.
First though, they're examining the work that she and her audit team did, and they are trying to ensure that it accurately reflects what had been happening at Immigration between 2011 and 2013. In last night's newscast, we showed you how under persistent questioning, she had to abandon her assertion that it is "illegal" for ministers of Government to intervene in the Visa application process.
She instead amended to say that she now asserts that it is "irregular" for those ministers to have sent letters of recommendation asking for special consideration for certain applicants.
But, even then, the Senate Members did not let the matter lie. The Senate Committee Chairman, Aldo Salazar, then challenged her on her position that it is irregular for these letters to have been sent. Here's how that back and forth went yesterday:
Aldo Salazar - Chairman, Senate Select Committee
"Why is it irregular for someone to write a letter of introduction or consideration for the issuance of a visa? Why is that irregular?"
Dorothy Bradley - Auditor General
"It is irregular because when you look at the file and you look at the individual application form we noted that ministers made recommendations and in those instances recommendations were further facilitated with nationality and passport. So we based on our examination felt that it was irregular that in all instances..."
Aldo Salazar - Chairman, Senate Select Committee
"So it's not the fact that a minister wrote that is irregular? Just follow me for a minute, what you saying what is irregular are that nationality or passports were provided without the relevant documentation, the required documentation?"
Dorothy Bradley - Auditor General
"It is irregular because..."
Aldo Salazar - Chairman, Senate Select Committee
"What regulation does it contravene?"
Dorothy Bradley - Auditor General
"It is irregular because when you look at the regulations and whatever administrative notes they have there as guidance it makes no provisions for a minister to make a recommendation."
Aldo Salazar - Chairman, Senate Select Committee
"But what regulation does it contravene?"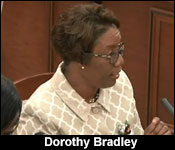 Dorothy Bradley - Auditor General
"Which one it doesn't, it's not on anyone we looked at. We don't see any provisions that say that a minister may send or make a recommendation on an applicant's behalf."
Aldo Salazar - Chairman, Senate Select Committee
"My concern with the use of the word irregular suggests that there is a regulation. It seems that there is a regulation which is contravened when you say it was irregular. But following up on another answer which you have, you also said that the fact of the minister's letter operated in the mind of the officer to issue whatever it was. How do you know this?"
Dorothy Bradley - Auditor General
"I never said that."
Aldo Salazar - Chairman, Senate Select Committee
"I believe you said that in answer to Senator Courtenay's question..."
Dorothy Bradley - Auditor General
"How it operated in the mind of the officers..."
Aldo Salazar - Chairman, Senate Select Committee
"So you didn't say that?"
Dorothy Bradley - Auditor General
"I did not."
Aldo Salazar - Chairman, Senate Select Committee
"In your view let's say I have a friend in China. I'm an attorney, I'm a Senator, my friend is applying for a visa. I feel that I can lend to the process what is irregular about me writing and saying I know him? He's an outstanding person and ask for consideration, any courtesy extended to him would appreciated. Is that irregular?"
Dorothy Bradley - Auditor General
"I don't know that I would have to examine what you wrote against what is there, comparing what but for you to just say that I wouldn't..."
Aldo Salazar - Chairman, Senate Select Committee
"But you see the problem I'm having; you are the person who has said that this is irregular."
Dorothy Bradley - Auditor General
"But I did that based on what I found."
Aldo Salazar - Chairman, Senate Select Committee
"So what is it that you found?"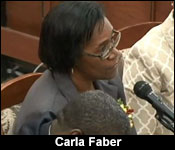 Carla Faber - Senior Auditor
"The ministers don't know these people that they are recommending or requesting visas for, that sort of thing."
Aldo Salazar - Chairman, Senate Select Committee
"How do you determine that?"
Carla Faber - Senior Auditor
"Because these people live in other countries, they are foreigners that was our belief."
Aldo Salazar - Chairman, Senate Select Committee
"But if the minister says that they know the person very well?"
Dorothy Bradley - Auditor General
"We don't know we didn't ask the minister."
Aldo Salazar - Chairman, Senate Select Committee
"So that is the point that I feel that it is very important to separate things. If you're saying that I don't think what you're saying is that the writing of a letter is irregular or was illegal. What you're saying is that in instances where some because you're not in a positon from the testimony you have given you are not in a positon to say that there is any scientific relationship between a minister giving a recommendation and the application being approved because you haven't said in these cases where the minister gave a recommendation it was approved."
"What was irregular is that officers of the immigration department approved certain things without the requisite documentation, is that what was irregular or is that the letter was irregular?"
Dorothy Bradley - Auditor General
"The letter you are doing it from that angle, I am saying that when I looked at it, when it was brought to my attention those letters are letters of recommendation by the minister. It ask for sponsorship, those letters aren't sponsoring so they are two different and I think maybe the Senator was asking; two different a recommendation and sponsorship, it asked for sponsorship."
The Senate Hearings continue next week Wednesday, and we'll be there to show you what happens
7 News for Thursday, 8th December, 2016 from 7News Belize on Vimeo.

Home | Archives | Downloads/Podcasts | Advertise | Contact Us