Who Shot Zimbab? "Gaza" General Survives Shot To Cheek
(posted on Thu Nov 20, 2014)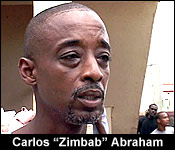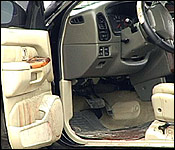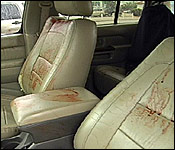 Tonight, Belize City police are trying to pre-empt any act of retaliation after a senior figure from the George Street Gang was shot this morning. Carlos "Zimbab" Abraham survived as many as four shots to the head neck and chest. 7News was on the scene shortly after:..
Jules Vasquez reporting
At 10:00 this morning, Carlos Abraham known as "Zimbab" was at this tyre shop on Lakeview Street - which is in the territory of the Ghost Town Crips.
The 43 year old had been parked there for a while where was reportedly there to find out about the tyre business. It is near to where his brother lives and he was reportedly talking to his nephew when a gunman pulled up and shot him as he sat in his SUV, an Infinity QX4.
Abraham was shot in the cheek, twice in the neck, and in the chest. One of the men from the tyre shop took the driver's seat and rushed him to the KHMH. This morning police processed the vehicle, and found that one of the bullets which entered his chest, penetrated his body, the seat, and ended up shattering this back window.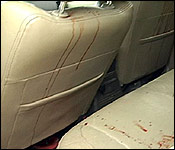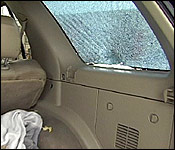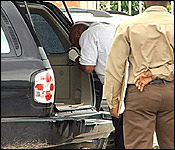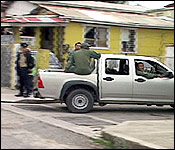 Police were in the area when the shooting occurred and managed to apprehend the shooter who was reportedly using a 9mm pistol.
And while he is detained pending charges, Police are bracing for retaliation.
That person remains detained and is expected to be charged for attempted murder.
As for Abraham, reports tell us that the father of two is conscious, alert and talking - but remains under very close observation at the KHMH.
Abraham, or "Zimbab" as he is known is considered a General in the George Street Gang - even though he no longer lives on George Street and claims to have moved on from that life.

Chamber Supports ASR/BSI (Sort of)
(posted on Thu Nov 20, 2014)
This evening the Chamber of Commerce and Industry issued a release on the ongoing impasse in the sugar industry. It sort of sounds like they're on the side of the factory owners - and not the BSCFA, but, truly, it's hard to tell.
The statement notes that quote, "each and every cane farmer has a constitutional right to negotiate on his own behalf." Ok. So that sounds like it favors ASR, right? After all they're the ones inviting farmers to sign an independent agreement.
The next bullet point on the release talks about Foreign Direct Investment to, quote, "finance economic growth with investors' money." Ok, that's two points for ASR.
Bullet point number #3 talks about the social and economic perils of a failed foreign investment. Another one for ASR. But then, instead of bringing it to a neat conclusion endorsing ASR's position, the fourth point goes completely off track saying quote, "Direct stakeholders in the Sugar Industry must be responsible in their decision making…" And if that wasn't vague enough, the release goes unto make some oblique reference to the PUDP, saying, quote, "The BCCI calls upon both political parties to dialogue in a responsible and bipartisan manner..."
No idea what that's referring to since the political parties are observers on this one, and the release ends clumsily by saying, quote, "Calm and reason must prevail throughout if this Industry is to survive."

7 Homeless After Apartment Blaze
(posted on Thu Nov 20, 2014)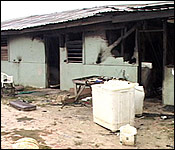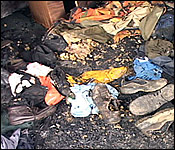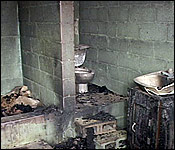 Tonight, the 7 persons, including 3 children, remain homeless after a fire destroyed the Ramos Apartment building in the Lords Bank Village.
Bert Ramos is the owner of the well-known Ramos Bus Service, but he's also a landlord. His business interests went up flames yesterday morning at around 10, and the 7 people living in his rooms lost all their belongings.
He told us this morning how the flames quickly destroyed his $115,000 investment in the apartment:
Bert Ramos
"Yesterday about 10:15 my neighbor shouted and tell me fire, fire, but I had felt like as the vice chairman they would just call me to say that something is happening, but when he said it was at the back of the building and I ran back here, I conscious that it is my building on fire. There was nothing I could have done, I just looked at it because it was already engulf in flames. Nobody wasn't at home. My little brother who work at Medical, he was out probably at his girlfriend's house, so everything for him got destroyed. The next tenant who was at the front is a workman who works with me and everything for him got destroyed. He can't even got clothes to work with morning. My daughter wasn't at home either, so everything for her got burnt up and like I said my father is in Dangriga, so all his things are also burnt up."
Daniel Ortiz
"Now sir, what's the value you would place on the total loss?"
Bert Ramos
"For the things in the rooms that have the 4 tenants, I couldn't tell you because I don't know what all they had, but for the building itself, I spend over $115,000 - $120,000 on just getting the building together, in rent condition because each one of the rooms have its own sewage and bath and bed and mattress, so all that got destroyed."
Daniel Ortiz
"Sir, how are you going to recover from this?"
Bert Ramos
"Well, all I have to say is I just have to hope and pray that something might come my way because it was never insured, so I can't depend on anything. I just have to say maybe something will happen from somewhere."
Those who would like to help Ramos or the 7 homeless persons can reach him at telephone number 660-1883.

Rain Felt Like Feet In The City, MET Office Reports Inches In Ladyville
(posted on Thu Nov 20, 2014)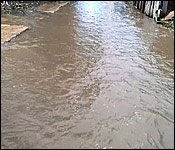 The 19th of November is known for drum-beats and dancing, but yesterday, all across Belize, the only beating most of us heard was of the steady rain drumming on our roofs - and the only dancing we saw were the raindrops in flooded yards and streets. The 7 hour downpour caused considerable flooding in Belize City and around the country.
We called the Met office today to find out the extent of flooding. They didn't have countrywide statistics but they say 3 inches of rain fell at the Philip Goldson Airport while in Orange Walk, residents had to deal with as many as 4 inches of rain. They have not received reports out of Belize City or Dangriga as yet but in the city we did see streets like rivers with knee high waters. But, most of that ran off by this morning when the rain let up.
The MET office says that tomorrow the weather should clear up. Here's more in tonight's weather report.

"The Juice" Is Loose; Darrell Carter Gets Free
(posted on Thu Nov 20, 2014)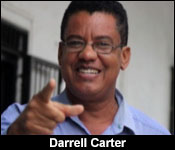 In January, we told you about how the well-known former politician and businessman, Darrell Carter, ended up in police lockdown and then court after his wife Natalia Carter, the acting director of the family court, accused him of breaching a protection order. Well, tonight, he's free and clear of that charge.
Now, protection orders are in the jurisdiction of the Family Court, and Natalia Carter is Acting Director, of that court. This meant all the Magistrates who would have heard the case ultimately answer to her as their boss. Carter's attorney, Anthony Sylvestre, argued in court that this creates an appearance of bias, putting his client's right to a fair hearing in jeopardy. The judiciary took note of that argument, and removed the family court case from under the purview of the Family Court, and placed it in the jurisdiction of Senior Magistrate Sharon Frazer.
That's an important victory for Carter, and the case continued in his favour when the court found out that the Family Court Magistrate who previously handled the case was granting ex-party adjournments without Darrell Carter being present, or being informed. Carter's fate ultimately turned on a no-case submission from his attorney.
Senior Magistrate Frazer reviewed the prosecution's case and agreed with Anthony Sylvestre that Carter had no case to answer for the breech, and she struck it out of court. Carter told us this evening that he is of course very relieved to be free, and he is particularly upset that he was arrested and locked up on his birthday due to his wife's allegation.

What 19th Was Like In Dangriga
(posted on Thu Nov 20, 2014)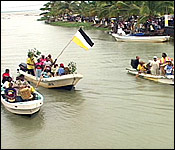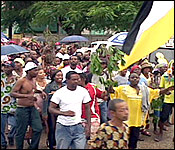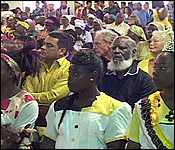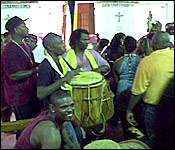 November 19th is a day that Garinagu living in Belize and abroad revere - it marks their arrival in Belize - and is a national holiday - a distinction which only the Garifuna of Belize enjoy - you won't find that in Guatemala, Honduras or Nicaragua.
This year though you might have thought that the celebratory spirit would be dampened by the relentless rain.
Indeed, It was a wet Garifuna Settlement Day but that did not dilute the significance of the event nor the sense of community and pride among participants and on lookers. Courtney Weatherburne was in Dangriga.
Courtney Weatherburne reporting

The history of the Garifuna tells us that they arrived in Belize on November 19th, 1823. 91 years later the re-enactment of the arrival of the ancestors still continues.
With the Garifuna flag hoisted proudly, swaying in the early morning wind, the participants of the YURUMEIN paddled in. Their chants and songs reverberating like the infectious beat of the drums.
Alice Sabal, Onlooker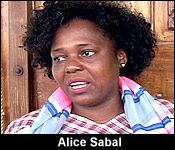 "We are celebrating our heritage. We are celebrating our music. We are celebrating our language. We are celebrating the way we dress - that's what we are celebrating today and that is what we should be depicting as Garifuna youths today."
It is a grand celebration indeed and the YURUMEIN is only the beginning. As the participants dock, a special communal performance welcomes their arrival. Then there is the procession to the Sacred Heart church for mass.
It has every appearance of a vibrant and flourishing ceremony but there is a nagging undertone: what is the level of youth involvement and more importantly, whether they will carry forward this national celebration.
Indeed, youths flooded the bridge, streets and riversides but are they really out here to embrace their heritage?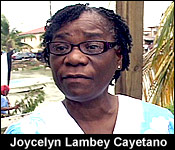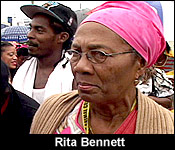 Joycelyn Lambey Cayetano. Onlooker
"That's the scary part because yes they are all here in abundance, but nevertheless it's more for a party setting because the youth really need to galvanize to carry the legacy because the Garinagu people have a rich culture that has been suppress lately for whatever reason. I don't know why the kids are not engaging."
Rita Bennett, Onlooker
"Sometimes I think it's going to diminish getting dress with the culture."
And there are some youths who are interested in connecting with their culture and heritage. That appreciation was sparked from a very early age.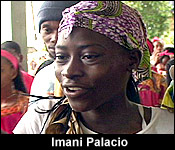 Imani Palacio, Participant
"Well I fir sure enjoy it and every year I go, so from primary school enjoy doing it. Every year we do tis just to show love for our ancestors."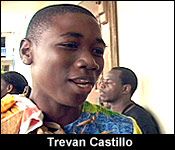 Trevan Castillo, Participant
"I choose to be a part of Yurumei because my ancestors did it and so I just want to take up that habit of doing it because I don't want my culture to be lost. I want to uplift my culture and be in it."
That outlook on their identity was inspired by their parents.
Alice Sabal, Imani's Mother
"It's been easy because we listen to a lot of Garifuna music at home and what the children do is practice the songs. So it becomes much easy for them when they grow older that they can participate in whatever event leading up to the celebration."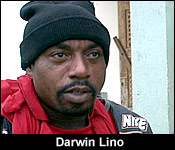 Darwin Lino, Drummer
"Keep the culture alive. Spread the culture and do more towards the culture and not wait for 19th November to come and spread the culture. They have to spread it and do it the right way."
So this event is both retrospective and prospective. It is a strong tie to the past but also a link to the future, to instill a lesson of history and perseverance into coming generations. Reporting for 7news, I'm Courtney Weatherburne.
Leader of the Opposition Francis Fonseca and Foreign Minister Wilfred Elrington were present for the mass.

Just Say SICA For Culture
(posted on Thu Nov 20, 2014)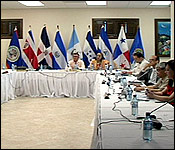 Culture remains the topic of discussion among members of the Central American Integration System, SICA. On Tuesday we reported on the Food security program launched for Garinagu communities in Central America including Belize. Today discussions continued at another meeting held on San Pedro. The Central American Integration for Culture Policy was reviewed as well as programs that will give momentum to this initiative.
Minister of Tourism Manuel Heredia Jr. discussed the importance of this meeting to the preservation of the diverse cultures in Belize and in Central America.
Hon. Manuel Heredia Jr., Minister of Tourism
"It's a very important occasion for Central America and the Dominican Republic since we believe that culture is an integral part not only for our countries, but also for the tourism industry."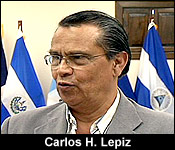 Carlos H. Lepiz, Secretary General - CECC/SICA
"We are talking about identifying areas of common interest that will reflect the priorities of other countries as a region, in order to design projects that will meet those needs and priorities in the area."
There will be another meeting tomorrow focusing on Culture and education.

Seine Byte Man Claims Cops Harassed Him
(posted on Thu Nov 20, 2014)
There is case of alleged police victimization surfacing from Seine Bight. 44 year old Floyd Palacio, the former Chairman of Seine Bight came to our studios claiming that Placencia police are abusing their authority and withholding his property for malicious reasons. He told us that he was wrongfully arrested and charged for theft and damage to property in February after an American realtor Bradely Rhineheart reported that Palacio broke into his vehicle and stole $350 dollars. Palacio - who has a colorful reputation - says he spent almost 2 weeks in jail based on that. Now the story does not end there, he claims that Placencia police took his $5,000 dollar sound system and now refuse to return it. Palacio says he is being targeted for his outspoken behavior.
Floyd Palacio, Siene Bight Resident

"I am one of the individuals in the community who speaks out. I am one of the individuals in the community who participate and I always try to be at the forefront of the burning issues. I want back my equipment. I believe that the police they victimized me. I believe the police are abusing their authority okay. That is what I believe and I need my equipment now. I use my equipment to supplement my income."
Palacio claims this is not the first time that they have taken his property. We spoke with Placencia police and they told us that his property was taken away from him because he breeched a court order banning him from playing music at his residence after hours. He will be charged next week for this offense. Floyd Palacio has had run-ins with the law before.

LPG Prices Going Down
(posted on Thu Nov 20, 2014)
The controlled price of liquid petroleum gas, or what most of us call "butane" is going down. A release from the Bureau of Standards says that effective tomorrow, November 21st the price of a hundred pound cylinder of Mexican butane bought from Belize Gas and Western Gas will go down by six dollars, from 115 dollars to 109 dollars in Belize City.
The butane imported form Central America and sold by BWEL, Southern Choice Butane, Zeta Gas and Gas Tomza is also going down by six dollars from 112 dollars to 106 for a hundred pound cylinder in the city.
And butane from Belize Natural Energy is fixed at 99 dollars.

Hunting Caye Base "Come-Down" Complicated
(posted on Thu Nov 20, 2014)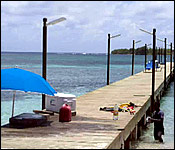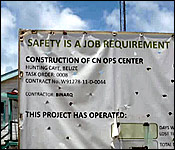 The last time we reported on the Hunting Caye Forward Operating Base, it was with the news that the US Embassy had told the Government of Belize that if it doesn't allow the Guatemalan company, BINARQ to build the facility, then Government must do so itself.
That left only one choice - because with the public uproar over a Guatemalan company building a security facility for Belize - there's no way government would go there. '
So, the Government of Belize will take on the project and finish the Hunting Caye base. It will cost the public purse about 1.6 million dollars to complete the works, and it also puts the Coast Guard's plans for that base on an extended delay.
The Commandant of the Coast Guard discussed it with us today:
Admiral John Borland - Commandant, Belize Coast Guard

"We can't tell you who will take over the construction, but as you heard the CEO speak I think on Tuesday following Cabinet meeting that the Government of Belize has decided that we will take on the responsibility of completing the project and he went to term to explain the process on how this project will continue. It has to be advertised; the tendering process has to take place, contract has to be awarded and that takes a little bit of time considering the amount of protocol that has to go in it. But yes I can't give you a timeline, but the government of Belize has committed to completing this project as a government funded project."
Daniel Ortiz
"Sir, doesn't that push back your plans as commander for the usage of that base? Wouldn't you have wanted it to complete a quicker time?"
Admiral John Borland - Commandant, Belize Coast Guard
"You know what I want and what the reality is are two different things. I have my strategy, I have my plans. When policy doesn't match strategy, this is what happens. I will not miss a step in conducting operations out in Hunting Caye in that area of responsibility. We are currently conducting operations. We have a facility there, it not may be state of the art as we want to be, but we can survive. Survivability is there and we will continue to work and when this project does come online, we will be a little delayed, but it will welcomed."
This evening, we contacted George Lovell, the CEO of the Ministry of National Security, and he told us that way Hunting Caye project played out could have negative effects future projects that the US Government has planned for Belize. He notes as per oversight procedures that the US employs, whenever a project is incomplete and the Government has spent the kind of money it has done in the case of Hunting Caye, it is considered a failed project. That then triggers an intensive review about the circumstances surrounding its failure.

Who Is The Hardest Warrior?
(posted on Thu Nov 20, 2014)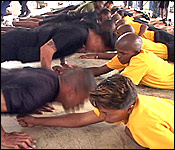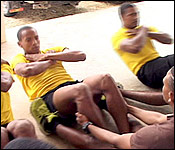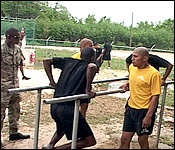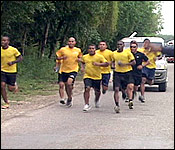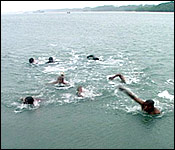 Right now, 40 law enforcement officers are recovering and preparing for day two of a grueling competition known as the Best Warrior Competition.
It's a 3-day event organized by the Belize National Coast Guard where the participants take on some of the most physically demanding elements of combat training to determine who is the roughest, readiest soldier.
How tough are these challenges? Our news team was out with the competitors today, and Daniel Ortiz has the story of their torture and travails:
Daniel Ortiz reporting
5 teams, 4 from the Coast Guard and 1 from the Belize Defence Force all lined up this morning ready to take each other on in a test of fitness, endurance, skill and most importantly teamwork.
The teams are made up of the Coast Guard elements: the officers, the fleet members - the operational officers, SEALS, the recruit squad #5, and BDF's Special Assignment Group.
Ordinarily, each officer has to respect the rigid chain of command, but on this and for the next 2 days, each man is equal to the other. They would therefore win or lose based on their contribution to their team's collective strength.
Admiral John Borland - Commandant, Belize Coast Guard
"It's a 3 day competition. It's called the "Coast Guard Best Warrior Competition" and we are just into the second year of this competition. Previously to this we use to do an iron man competition every year, but the iron man is an individual effort. The Best Warrior Competition is a team effort."
Each team consists of 8 members, and they all must complete the challenges or else their entire team's effort is nullified.
Admiral John Borland - Commandant, Belize Coast Guard
"The first thing we are doing here this morning is the Coast Guard physical fitness test which includes; a 2 minutes push-up; 2 minutes sit-up; a maximum pull-up effort on the pull up bar and a maximum dip effort on the dip bar followed by a 2 mile run in the best individual time."
They are all strenuous physical activities, but it wasn't until the 2 mile run that the true tests of will started playing out for day one. The physical fitness test was a bit too close to call, but the officers' team had quite a difficulty finishing.
In the afternoon, all 5 teams took to sea for a 2 mile swim; not easily undertaken without a high level of physical fitness. This event especially belonged to 4 Coast Guard teams, but the recruits outswam all the other squads by a huge margin.
Admiral John Borland - Commandant, Belize Coast Guard
"These teams are going to push each other. All of them want to win the competition. Most of them are prepared, are trained in their best, so they are going to push each other and it's going to be fierce competition and basically it's going to be fair play of course and at the end of the day the best team will come out on top."
Lt. Zenon Ciego - Team BSAG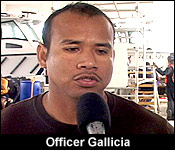 "We came here with an open-mindedness willing to accept whatever they threw at us. At this point we are still sort of strategizing as to how we are going to overcome all the other challenges that they have before us. The swimming is not one of our strong points, so at the end of the day, the game changer was just to ensure that the whole team finishes it in a good enough time. Coming on to the other competition tomorrow, then they are getting into our territory which is a more ground work, field work."
Officer Gallicia - Team Seals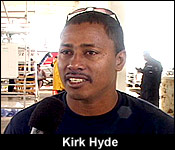 "It's a competition, you are strongest at the weakness link in this particular type of competition. We tried and we did what we had to do. Fortunately, by the looks of it other teams are better than us, but then again it's just day one."
Kirk Hyde - Team Leader, Fleet Squad
"Three weeks ago we started to work out for this exercise, so we came into this training very mentally and physically prepared."
Kenrick Thomas - Officers Squad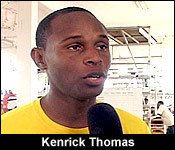 "We are as fast as the slowest man and strong as the weakest man, so what we are basing on is team work and that's what the officers corps is all about - team work, best effort."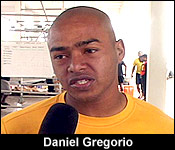 Daniel Gregorio - Recruit Intake #5
"The first day was a pretty good day, a little bit of rain never stops us because nothing stops intake #5 - always on the top. First thing, congrats to my teammates, they did a pretty good job."
So, that's Day 1 to completion with 2 more to come, in which the intensity and physical demands will increase. But, apart from bragging rights for a whole year, why would any officer put themselves through this?
Admiral John Borland - Commandant, Belize Coast Guard
"In peace time we have to prepare for war. We have to stimulate the most arduous and stressful conditions that we can imagine, so that when it get time to do combat, we are combat ready."
Tomorrow the 5 teams take on a 6 mile run, and an obstacle course designed to Coast Guard Seals specifications. We'll tell how you about it in tomorrow's newscast.

Cricel Comes Home In Glory
(posted on Thu Nov 20, 2014)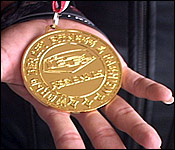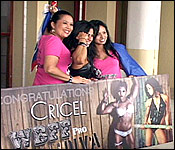 On Monday, we told you how professional bodybuilder Cricel Castillo competed and won in her first ever World Beauty Fitness and Fashion competition in Miami.
That event was held last week Saturday, and as part of her validation for winning the Fitness Diva category, she was given her pro-card, signed by WBFF President Paul Dillett.
So, she's well on her way to establishing herself in an international federation, but all that happened as a consequence of her dispute with the local federation, the Belize Bodybuilding and Fitness Federation. She remains suspended, but even without their backing, Castillo placed first in her weight class in an international competition.
She landed at the PGIA this afternoon, and when we spoke to her outside, she told us that because of her win at the WBFF Competition, she's been invited to join a world-class bodybuilding team. Here's how she explained the implications for her career:
Cricel Castillo, WBFF Pro Athelete
"It was something that I have worked for, for so long. April will make 4 years in bodybuilding itself. Prior to that I have been training gosh, from I was like 14 years old - weights and it's been a long dream of mine and honestly up until now its surreal - like I am still kind of taking it in. I can't believe that it happen and I got one of the best, biggest opportunities yesterday also to be a part like one of the biggest teams in America for a fitness goddess. Her name is Bella Falconi and they want me to be a part of the body flex team. So I mean opportunities just keep rolling in and I just feel like wow, little me, like I can't believe it. I just really went out there, I gave my heart and my soul - I trained so hard. Right up to the competition I was training 3-4 times a day, eating the meals so clean. It was really challenging, but obviously it was worth it and it was enough. And we put Belize on the map and Belize is now invited to the world in August at Las Vegas, which is like the Olympics of bodybuilding."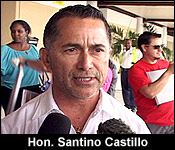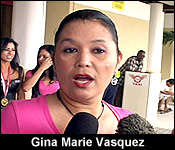 Hon. Santino Castillo, Cricel's father
"If you notice guys I didn't get involved none at all when all the drama was taking place simply because the last thing I wanted them to say is because I am a minister of government, so I Iet it play out and all I can say is that I am so happy for Cricel, she's been vindicated and at the same time she's made all of us and Belize proud and we are extremely delighted for her because she has put in as you can tell, a lot of time and work into this."
Gina Marie Vasquez, Cricel's mom
"It was very hard, but we all supported her as usual. I guess she has all her fans, she has a lot of supporters. She is a fighter, so she fight her way up to the top."
Cricel Castillo, WBFF Pro Athelete
"Every single thing in life happens for a reason; whether you are 5 minutes late and you are mad because you are late to work, perhaps it's because you would have had an accident. This happened for a reason. If it weren't for this entire episode that happened, then there is no way that I would be standing before you today as a WBFF Pro, I can't believe it. I mean it's not something easily accomplish. I think I'm the first Belizean to turn WBFF PRO and so I mean wow. Staine, so thank you for all the drama, really, I mean thank you."
Even with the rain today, her family and her sponsor, BTL still made sure to hold a go-fast motorcade in her honor.

Pro Footballer Deon Mc Is Back Home To Rest & Recover
(posted on Thu Nov 20, 2014)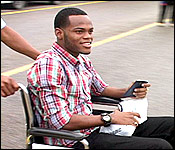 But she wasn't the only internationally competitive Belizean athlete on today's flight.
We also met up with football star Deon McCauley, who arrived home today.
He's been playing professionally for the Atlanta Silverbacks, a big-time opportunity him as a professional athlete. He's returned home today to rest up, and he told us that he needs to recover from an injury before he can return to professional football:
Deon McCauley
"As you can see it's a little slow right about now because I have been injures like 6 months now from in May, but when I did my exit physicals about two weeks ago, we found that I had a slight problem that I needed to fix, so I am just trying to recover the best I could."
Daniel Ortiz
"What's next for you in terms of your aspirations as a pro football player?"
Deon McCauley
"I have a lot of options right now pending when I get back healthy. I already have people that approach me offering me contracts. It's not nothing that I am worried about. The nest best thing for me is to get healthy. It's a pity that I didn't find I had this injury from a long time ago and correct it, so I could have had a better season, but all in all the experience was great. I scored goals, so I think everything is going good."

Third Eye Not Blind
(posted on Thu Nov 20, 2014)
It's called the third eye - an art exhibit that puts three female artists in a creative collaboration, which sometimes works out like a collision course - and we mean that in the best way possible.
The artists eLise Arelie (Craig), Alyssa Craig and Briheda Haylock threw convention and formalism out the door and embraced works based on ideas, concepts and multimedia challenges.
It opens tomorrow at the Image Factory - but today we got an advance look.
The exhibit opens tomorrow at 7pm and will remain on display for the next two weeks.





Home | Archives | Downloads/Podcasts | Advertise | Contact Us