GOB Forced to Shutdown Seismic Survey, Pronto!
(posted on Thu Oct 20, 2016)
For the past 2 days, you've been hearing a lot about the multibeam and seismic surveys that the Department of Environment gave the greenlight to without an environmental impact assessment. Oceana Belize and the other conservation organizations had been resisting the Government's decision to participate in the regional survey, and with the help of the tour guide community, they successfully forced the Government to backpedal almost as fast as they approved it.
Now, the public learned of this survey only 3 weeks ago. The planned area was in the marine territory of Belize, east of the barrier reef inside the Exclusive Economic Zone, but excluding all marine protected areas, and well away from tourist activity, and fish spawning sites.
It caught most of the general public off-guard, and with the pressure that the conservationists brought on, the Department of Environment was forced to conduct public consultations. The problem with that plan however, is that the vessel Northern Explorer, which belongs to the global seismic survey company, Seabird Exploration, was already in Belize. This picture and video footage of the vessel inside Belizean waters, was taken by conservationists in a fly-over yesterday. At around 1 this afternoon, when we checked the vessel's location, on vesselfinder.com, it was located off the coast of Caye Caulker, and they had already started surveying.
So, everything, except public information release on the project, was moving in fast-forward. That particularly incensed the members of the Belize Tourism Industry Association, and the residents of San Pedro, who attended the DOE's consultation session today. It quickly turned into a public lynching of the Government's technocrats who were trying to explain their rationale for allowing the project. They made it plain to the officials, seismic testing is not welcome in Belize. Our colleagues from the Ambergris Today newspaper were there for the entire public consultation, and with their assistance, we provide you with excerpts from the 2 hour-long session:
Participant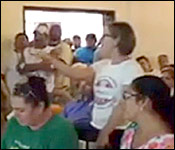 "Said there's no exploitation license so why do you want to do this test if there is no offshore drilling. What's in the future? If I remember well I think it's 2012, I signed so my signature is in that which Oceana was gathering over 30,000 signatures that we don't want any of this. So why do you want to test if you don't have anything planned for the future?"
Government Representative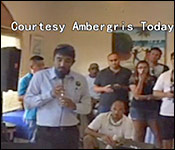 "The purpose of the survey is to collect data in an area which we don't have data. If the government wants to take a positive decision and in the future ban offshore exploration, they have to be doing it from the basis of something so they will help come to us. We are like I said, these are our business partners and how it works is that they pay for the survey, they provide the funding and in the future..."
Participant
"Now last night exactly what it is 1.8 million dollars was spent on doing this testing and we have to pay them back before any money in drilling will be paid to Belize, but before that have we all forgotten that nobody wants the drilling? And yes it does affect the dolphins, sharks and every mammal life. My father is an oil and gas geologist, yes it does, and it hurts animals."
Government Representative
"As I was explaining like I said, the government is not paying for this survey from its budget, the way these surveys work is they are called multi-client surveys I think as I have researched them. How it works is TGS pays for the survey and what they do is in the future, if the government makes a positive decision to want to do offshore exploration and drilling, they sent the data to interested companies who would apply to the country for a license and get back the revenues. They get back the cost from the surveys as they cost 1.8 million US. So that's how they make their money in the future. The country gets data."
Participant
"So why would they spend that money if they knew they weren't going to get it back? The government is saying they have no plans to drill so why would this company partnered with them if they knew they weren't going to get their money back?"
Government Representative
"Because they have a revenue cost from surveys like this and they may have in the future which can be years. They have a budget for these sorts of surveys."
Participant
"They have a budget to jus sell it off in the future."
Government Representative
"-- this is not an expression how they don't apply for licenses. The companies that are interested."
Government Representative
"It's important we can hear what you're asking but it's also important to give us a chance to respond whether you are satisfied with the response that's another issue, but the point is that we respond. Our job is to provide information."
Participant
"Why does the consultation now after the fact, because we got into an uproar and we decided to attack. Oceana and everybody got together like 'what the hell are you all doing?' this is wrong, we had the right to know that this was going to happen way before it was supposed to happen. and there is no way that you can tell me this wasn't planned way ahead of time because cabinet just passed it and the boat has been here since last week, so everybody in the tourism industry had a right to have this consultation months before that boat got here and months before it got to cabinet."
Participant
"-- if they're going to find it, I don't really care and I don't think the people of Belize care either. We just want to know how to move forward and how we're going to stop it because I know Mr. Manuel Heredia did not sign and let them do that because he would not do that to San Pedro."
As you saw, Manuel Heredia Jr., was sitting in the session as the Government's representative. That put him in a precarious situation because he is the Area Representative for San Pedro and Caye Caulker, and the Ministry of Tourism, one of the ministries which be directly affected by this. Those who attended today instructed him to direct the Prime Minister to shutdown Northern Explorer's seismic survey - like yesterday. Here's that portion of the consultation, followed by his sheepish return to report that Government had given the suspension order: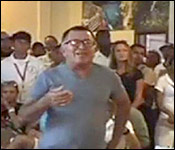 Hon. Manuel Heredia, Minister of Tourism
"Without facts it's very hard to make decisions, but anything that will be done that will affect our barrier reef or the lively hood of our stakeholders, I will be the first one to jump I can guarantee it."
Participant
"Everybody in this room right now, what to stand up for us, in your community, your people...?"
Hon. Manuel Heredia, Minister of Tourism
"I said it before that whatever the outcome of this consultation is, I will forward that to the Prime Minister. If nobody wants it then that is what I will tell him. What else can I do...?"
Participant
"You didn't consult the community that elected you, the number one island in San Pedro and in Belize."
Participant
"Honorable Heredia just mentioned that he's going to make a call to the higher heads. Give us a time or a deadline because we need to know today because we also have actions that we can do. Around 2 o'clock we will have an answer."
Participant
"You have that position to take."
Hon. Manuel Heredia, Minister of Tourism
"We have said that we will put this thing on hold."
This evening, after the uproar on San Pedro, the Government released a statement which says, quote, "Based on multiple concerns raised by concerned citizens regarding the seismic survey currently being conducted in the deep offshore of Belize as well as the fact that extensive consultation with a wider group of stakeholders did not occur prior the commencement of the survey, the Government of Belize (GOB) has decided that it will suspend seismic operations until such consultations can be conducted."
We checked vesselfinder.com about half hour before the start of news, and it shows that the Northern Explorer has shutdown all operations, and it is making its way out of Belizean waters.
And while the government has announced a suspension of the seismic surveys, it's still in hot water. Even before the announcement of the suspension, the Belize Coalition to Save Our Natural Heritage sent a press release calling on government to release essential information about the seismic survey research in order to have a more meaningful dialogue. In the release, the Coalition asks that both ships conducting the seismic surveys immediately return to port. And that the government must better define the moratorium on offshore oil exploration and activity, as well as the permanent ban around Belize's World Heritage Sites and Protected Areas. The Coalition also reiterates the importance of public consultation and advocates for a national referendum to decide the future of oil exploration in Belize.

Coalition Ecstatic About Victory, But Not Satisfied To Leave It At That
(posted on Thu Oct 20, 2016)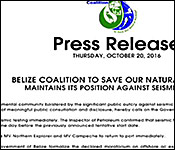 And after a decisive victory today in San Pedro, the Coalition returned to the mainland to tell us what happened, and what the future looks like in the fight against offshore oil exploration.
Amanda Acosta - Belize Audubon Society
"Well today was a great show of the power of the people and the reality is that from the beginning of the week we've been getting out the information to everybody nationwide, coastal communities, tourism sector, across the country truthfully and what we have seen is that they are rallying and their voices were actually heard. And what we got today was a positive response in that there has been a press release of the ceasing of the seismic activity that had already commenced."
Ingrid Ferlo, LOVE FM
"At this point we don't really know for how much time it's halted, how important is it to be vigilant?"
Amanda Acosta - Belize Audubon Society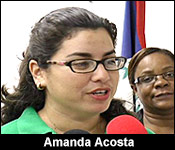 "It's exceedingly important to stay vigilant, the reality of this is that it is a suspension, so we need to have an open dialogue, we need to speak our voices still, to be heard and the reality of what's happening next. We need to be on top of it and when there is calls for consultation that we can continue to actively participate in that dialogue."
Janelle Chanona - OCEANA Belize
"At today's announcement, Minister Heredia did mention that at its next sitting, Cabinet will be discussing the finalization of the moratorium. So in terms of vigilance it will also be key because unfortunately we've gotten press releases before, we've heard statements before, we had in good faith accepted those for what it was worth, but at this point and especially as Amanda highlighted that after 5 years of talking about this, we need something in black and white. We need the moratorium to be formalized. OCEANA in June 2015 had submitted a proposed legislation and in that it set out conditions under which the moratorium would be lifted, and I can tell you the 8th condition was a national referendum. Because as we have all been reiterating for the last five years and especially over the last two weeks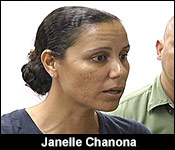 ever since we heard about this, this is about national, shared resources. Every Belizean deserves to be able to take an official position on how they feel about offshore oil. So whether you wanna vote yes or no, we Belize that they should be an official referendum and at this point, I would hazard a guess as to say that if their immediate response came back and said no it's too expensive, I'm pretty sure we can get some crowd funding, some GoFunding, some pool resources and we can make that happen, because for better or for worse, you know this study was able, the seismic survey was able to start yesterday because a company fronted the money to GOB, we're pretty sure that this is a serious enough issue that we could get some people to front us the money so that we could have our own referendum and one and for all take an official poll of where Belizeans stand as it relates to offshore oil."
John Burgos, BTIA
"With regards to what the government has honored in response what we proposed from yesterday, we're very pleased and we hope that this is gonna be a very good step forward where we're gonna be experiencing good governance, whereby they're gonna listen to what the people, the stakeholders, the ones that are gonna be effected directly, in terms of moving forward. And of course, as Janelle mentioned, we look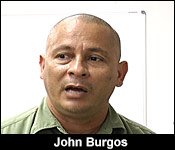 forward to having closer negotiations per say. We look forward to what they're gonna discuss next week Tuesday at the Cabinet, and of course we stay positive."
And though it seems that the battle has been won, does that mean the war is over? The ships may have been told to dock, but for how long? It should be noted that the government said that the seismic surveys will only be suspended, which means that it may take more public pressure to put the matter resolutely to rest.

Education Minister Faber Offers Palacio To Pay Some Teachers' Salaries
(posted on Thu Oct 20, 2016)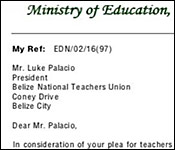 The teachers' strike has ended, but the teachers are angry because government has said it will not pay the strike teachers for the days of work that they missed. The union calls it "bad faith", and warns that it has only put the strike "on hold".
Up to yesterday government was holding the line, but tonight there is some suggestion of softening that hardline. A letter sent today from the Minister of Education Patrick Faber to Teachers Union President Luke Palacio makes two proposals. First, that the BNTU uses its strike fund to pay the teachers, and second, at the point when that fund is insufficient, quote, "the Ministry of Education is willing to subsidize the payment to teachers."
The ministry also proposes to make up teaching time lost to students as a result of the strike. The minister asks Palacio t a meeting tomorrow to discuss this and adds, quote, "if we find agreement then the Ministry will proceed with paying full salaries for the teachers on strike on the condition that the BNTU will repay the government form its strike fund the agreed portion that BNTU would be responsible to meet for the teachers who are on strike," End quote.
It's an olive branch, but it's left to be seen if it will be considered agreeable to the Teachers Union. We are told the president replied to the Minister a short while ago saying the notice is too short and so he is unable to attend tomorrow's meeting. Faber his since offered to meet on the weekend, or as soon as possible.

9 Years Later, PM Signs Commencement Order for 13th Senator
(posted on Thu Oct 20, 2016)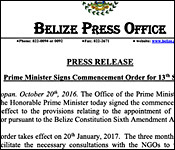 So, while the Minister of Education may just have to gift wrap that olive branch, the Prime Minister wasted no time in fulfilling the commitments he made in those heated strike negotiations. Today, he signed the commencement order for the 13th senator.
A press release from the Government says, quote, "This order takes effect on 20th January, 2017. The three months will be used to facilitate the necessary consultations with the NGOs to work out the mechanism for selection of the thirteenth senator. End Quote.
A week ago, the Prime Minister explained why the 3-month delay is necessary to ensure that the 13th Senator will be properly identified:
Rt. Hon. Dean Barrow - Prime Minister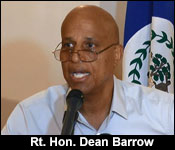 "Appointment of the 13th Senator I will sign the commencement order bringing that into force by next Thursday but while the instrument fixing a date for it to come into force will be done not later than next Thursday it won't actually come into force for 3 months. And the reason for this is that the constitutional provision providing for the appointment of the 13th Senator is extremely open ended, it merely says the NGO community is to do the selection. We believe and the BNTU seemed to agree that we will have to meet with all 20 odd registered NGOs that are in good standing to discuss putting something in the NGO act that will describe the mechanism by which the NGO community can make the selection. Who would qualify, who would then advise the Governor General to say the NGO community will advise doesn't make too much sense that can get you into trouble. If you look at the provision in the constitution for the appointment of the business senator for example it says the Chamber of Commerce and the Belize Business Bureau; for the labour senator that the NTUCB and so and so. There is nothing for the NGO community which is far too much and at large designation. So the 3 months should give us enough time to work out those mechanics and by the time that 3 months would have expired hopefully all will be in place for the NGO community to be able to advise the Governor General through whatever mechanism we agree on as to who that 13th Senator is."
The BNTU said earlier in this week, that they will be take a watchdog-role to ensure that the Prime Minister follows through on all the commitments he made to the teachers on their good governance demands.
The constitutional amendment for the 13th. Senator was passed 9 years ago.

Man Freed Of Charge For Causing Wife's Death In Accident
(posted on Thu Oct 20, 2016)
Traffic Officer Calvin Cumberbatch was behind the wheel when his wife, famed money lender Pamela Bennett-Cumberbatch was killed in an accident on New Year's Day, 2016. Cumberbatch - who himself was badly injured - had to recover from his own injuries, and then contend with grieving for his wife, while facing charges for causing her death, and that of the man in the other vehicle, 80 year old Alfredo Navaratte.
But today, the 35 year old Cumberbatch's load was lightened when he was freed of all charges in an appearance before Senior Magistrate Sharon Fraser. The withdrawal was based on a directive from the DPP's office because quote, "the counsel advising on the file saw no evidence supporting the charges laid". Cumberbatch was charged with 2 counts of manslaughter by negligence and other traffic related offences.
The accident occurred between miles 5 and mile 6 on the Phillip Goldson Highway. Pamela "Ms Pam" Cumberbatch and 80 year old Navarette, died on the spot when Calvin Cumberbatch's white Toyota Tundra pick-up truck, collided head on with a Dodge Caravan, driven by Navarette.

Regularizing Daily Movement Of Hundreds of Guatemalan Students
(posted on Thu Oct 20, 2016)
Exactly two years ago, we told you all about the hundreds of Guatemalan children who cross the western border from Melchor every day to attend primary and high schools in Belize. It's a decades old practice where the Guatemalans send their kids to Belize to learn English, and to benefit from an education system that's better than their one. But, officially, it just passed under the radar, most of the kids would just cross daily without even being processed through the immigration point because they were regulars. No record would be made of their crossing.
Well, finally, that has changed. The Department of Immigration has activated a long dormant provision for student permits. It regularizes the movement of these students - about 650 of them daily - and it provides revenue for government, since each card costs 70.00 dollars for a Guatemalan citizen. Surprisingly, there was no great resistance from the Guatemalan parents who seemed eager to formalize their children's movements. Reports tell us that lines formed at the Immigration office on the Belize side and at the end of it, over 650 student passes were issued.
Director of Immigration Diana Locke told us that her department got full cooperation from the ministry of education, the schools, parents and the Guatemalan consul.
The department's next plan is to launch border cards at the northern border.

Financial Advisor Urges GOB To Lower Rates on T-Notes & Bills
(posted on Thu Oct 20, 2016)
With the Belize economy in recession, and US currency as scarce as a ham leg on Christmas Eve, the chamber of commerce today looked to financial advisor Ervin Perez for advice. He holds quarterly sessions with private sector stakeholders and today the subject was government's financing of domestic debt with treasury bills and notes. Now, to the layperson that may sound about as exciting as watching grass grow, but Perez says it could translate into lower interest rates on lending from commercial banks, and lower interest expense for taxpayers:...
Ervin Perez, Managing Director - Lagacy Fund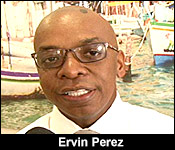 "It's important for us especially in this current economic time that government's financing of debt is the more efficient. This also translates to the private sector because government debt and the cost of government paste is kind of like the bench mark on what private sector has to pay. Simply put, the private sector always have to pay a risk premium over government debt rate. So if government pays 5% on some treasury note, private sector will normally have to pay 5 plus a premium of 3-4% more on a same instrument of a same maturity."
Daniel Ortiz, 7News
"Is the government right on target on their recommended amounts of treasury notes and treasury bills it has issued or currently issued? Or is there any dangers in your mind that we should be aware of?"
Ervin Perez, Managing Director - Lagacy Fund
"Well I would say that the government has been very conservative as how they should be but I think there is more room and more need for a greater allocation of domestic security. So right now the maximum T bill and treasury notes is about 850 million dollars. I think to steer our economy out of this mild recession and to stimulate economic growth and all the things that needs to be done, we have to have that ceiling go to about 2 billion dollars' worth of both T bills and T notes that can be issued by the government. So we're talking about 3x where we are."
Reporter
"How receptive has the government been in considering what you have been saying regarding the interest rate on the T bills and the T notes?"
Ervin Perez, Managing Director - Lagacy Fund
"Well we have seen that the treasury notes, the rates have fallen so there has been significant savings. Previously before the lobbying effort started, you had interest expense upwards of 24 million dollars a year. That's down now to about 19 million dollars so you're talking about 5 or 6 million dollars in savings. so interest rate on the treasury notes have fallen about 3 percent to 2 percent but what we are saying is that those risks need to go much lower than they are right now to stimulate economic growth and you are talking another 2 or 3 percent on the treasury notes. that also translates to allow private sector to borrow more and that has to take place because as we say in this current point in time, government is being conservative and is slowing down on public spending so that has to be replaced by private sector making the investment."
Perez estimates that government could save 13 to 15 million dollars a year less in interest expense if it would put its treasury notes out to auction.

MOE Counting The Ways To Deduct Salaries
(posted on Thu Oct 20, 2016)
Earlier in the news, we told you about the compromise that the Minister of Education proposed to the BNTU to ensure that the teachers who went on strike will still be paid for their 11 strike days. Well, defusing those tensions is important because if things come to a head again, the teachers could end up going back on strike.
So right now, the teachers have the Deputy Prime Minister's proposal, which was delivered this evening, but they also have to consider that if they can't reach an agreement their pay will be docked. Earlier in the day, the Chief Education Officer, Dr. Carol Babb, sent out another memorandum to the managing authorities of the schools. In it, she gives step by step guidelines on how they should go about docking the pay for the teachers who went on strike. They are advised to take the entire month's salary for a teacher, divide it by 31 days, and that amount is what that teacher earns for one day. Since the teachers were on strike for 11 days, the amount for 1 day should be multiplied by 11. Dr. Babb's memo says quote, "Please note that the entire (amount) should be deducted in one payment" End quote. That means that the Ministry is expecting that the teachers would not get any financial ease with partial deductions.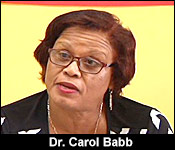 Yesterday, She and CEO David Leacock held a press briefing on the ministry's stance to dock the teacher's salary:
Dr. Carol Babb, Chief Education Officer
"The government is basing this decision on the fact that we give salaries based on services rendered. The teachers were warned that if they choose to strike, there would be consequences and we are withholding salaries because services were not delivered by those teachers who choose to strike."
David Leacock, CEO - Ministry of Education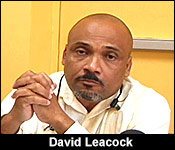 "The decision of the government of Belize is that we withhold our contributions in those instances where the teachers were on strike. So it's the teachers who were on strike that would be affected ultimately, unless of course managing authorities have it within their wherewithal to pay. But from our perspective, we are paying for a service and the government is paying for a service and if a service is not rendered, then you have the right to not pay for it. I think that would establish in the ruling on claim number 85 in 2005 where this issue arose before."
Reporter
"But I don't believe people were expecting that their salaries would actually be docked."
Dr. Carol Babb, Chief Education Officer
"Well I believe the contrary, because a number of teachers were saying that they were willing to make the sacrifice for their salary to be docked and we have been informing them and reminding them of rule 102 which says that if you take industrial action, meaning if you go on a strike, there is the possibility that your pay may be docked and they say that they are willing to do that."

Teachers Were Warned About Strike Pay Deduction
(posted on Thu Oct 20, 2016)
We stress that was yesterday, before the Minister offered a compromise. But, nonetheless, the pay cut is on the minds of all the teachers who went on strike - who were warned that it could be the penalty for striking.
We dug into our coverage of the 11-day strike, to find a few choice comments which show clearly that the teachers knew that there could be dire dollar consequences for their participation
Here's that story: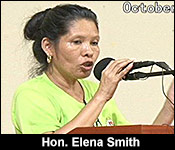 Hon. Elena Smith, Labour/Civil Society Senator
"Don't let the BNTU say come out again and you get those calls from those persons within the ministry to tell you that you must go to school and if you don't go to school you lose a day pay. If you don't go to school you might not have a job, you might be transferred. So what if we tell them that if they can't govern this country properly we will get them out of office? Ah, that should be what we are doing. What is good for the goose is good for the gander."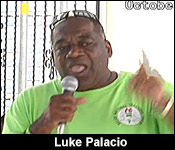 Luke Palacio, National President - BNTU
"Enjoy the rest of you day, enjoy the strike, take care of yourselves and remember this is a peaceful protest."
Kathleen Flowers, Belize City Branch Rep., - BNTU
"Strike action continues. We shall not be moved. Despite what will come, because it will come, despite what will come at us with that announcement, we will stand our ground."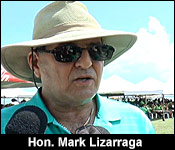 Hon. Mark Lizarraga - Business Senator
"I would personally like to thank the teachers for making this sacrifice. what they are doing is valiant and bold to be respected and admired that they are will to take pay cut and it's a substantial pay cut. I heard some big numbers being discussed on some talk show this morning."
Kathleen Flowers, Belize City Branch Rep., - BNTU
"it's going to be varied because we have a range of pay scales on which teachers get paid, but averagely it's going to range from anywhere from $38 or so to $102-$110. Each branch is being asked per day to do an exercise with their teachers as well. I know today Belize branch is doing that exercise with teachers so we show them realistically what they are looking at."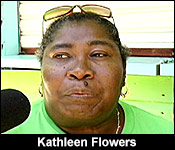 Back in 2005, the Supreme Court ruled on the payment for teachers and public officers who go on strike.
The Chief Justice, Abdulai Conteh ruled that managing authorities have a discretion on whether or not to withhold pay for teachers who went on strike. In that rule, he also said, quote, "The right to strike, which members of the applicant union undoubtedly have, does not, however, confer as well the right to be paid their salaries for any period they absent themselves from the classroom in exercise of their right to strike."
We note today's development which is that government is willing to pay some of the teachers' salaries, once BNTU dips into its strike fund to pay others.

Cargo Truck Accident Cayuses Nationwide Power Outage
(posted on Thu Oct 20, 2016)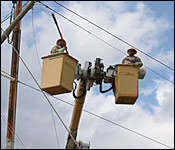 If you woke up at around 1:30 am because the fan went off, you weren't alone - the entire country experienced the same thing - and it was all because an errant cargo truck caused a lamp-post to snap.
It happened at mile 8 on the Western Highway where the truck hit one of the guy cables which holds the lamp - post in place, and that caused two transmission lines to break.
Some folks got power back within minutes, but the bulk of the consumer sin Belize, Cayo, Stann Creek and Toledo Districts went three hours without power.
BEL workers went into action to normalize everything, and works to replace the two transmission poles were scheduled for completion by 6:00 p.m. today.

Doctors Delivered Baby In Blackout
(posted on Thu Oct 20, 2016)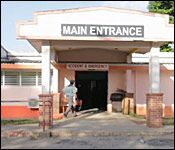 So while BEL workers were trying to restore power to most of the country, a team of Western Health Region doctors and nurses were trying to deliver a baby… in the dark! An 18 year old woman was in labor when the power went out. But instead of buckling in that very nerve-wracking situation, the doctors did the best they could and turned on their flashlights on their phones and delivered a baby. It is a miracle that the mother and her baby survived. Director of Health Services Dr. Marin Manzanero told us more about this case and explained that there is nothing they could do because the last time they checked, the 2 generators were working just fine.
Dr. Marvin Manzanero - Director of Health Services
"The female was in labor when the blackout occurred. As we understand, it was minutes before she actually delivered. The delivery was documented at 1:51am this morning. The delivery was uneventful, that means that the baby and the mom and doing okay which is I think an important issue that needs to be highlighted. What I think needs to be clarified is the concern that we don't have a generator. I think we need to remind everybody that we do have a generator, 2 generators at the western region. Those generators are the same ones that kept the hospital running through hurricane earl, in the aftermath and in the long hours where the country was without electricity. Those generators were fully functional. As we understand it now, because you could go back and review it, a fuse was blown when the transfer was supposed to have happened from the power system to the generator. The engineer that is available for the western regional which is our in house engineer, was on site in minutes. He couldn't get the generator to function so the maintenance crew, for that generator from outside of the hospital, was contacted at 2am, 10 minutes after the lights went off. They responded, they were inspecting the generator to see what had happened when the electricity came back. That generator has been repaired today, it was the fuse that was burnt out. The other generator which is the backup generator also was not functional and again I guess we wouldn't be able to know until it was tested. When they were tested last week, no fault was found in them. this would be I guess like I can run my car today and tomorrow the battery just shuts down when I want to turn it on. You would not be able to know until it was tested. When they were tested last week, they were functional. They were tested 10 minutes to 5 this evening and the generator kicked in, I cannot tell you that there will be another blackout tonight and another fuse breaks, what will happen. They were tested an hour ago and they were functional."
Courtney Weatherburne, 7News
"How old are these generators?"
Dr. Marvin Manzanero - Director of Health Services
"Some of them were actually procured earlier this year, particularly the portable ones, I don't have the exact date of these ones. The company that imports these generators and have service teams, they were alerted that this generator was not functioning and they did arrive on the scene. My understanding was that they were not in the Belmopan area when that happened."
Courtney Weatherburne
"What can be done at this point to ensure that this doesn't happen again? Because maybe in the next situation another blackout another woman is pregnant or a doctor is performing a surgery on somebody, they might not be lucky the next time. The flashlights might not be enough."
Dr. Marvin Manzanero - Director of Health Services
"I guess the maintenance team will have to go back and do their checklist to see if there was anything that was amiss. Things like this can happen, just like accidents. You try to cover all your basis, I believe there's nothing that we could have done that could have told us that this was going to happen. We are trying to see how we are up and running."
As you heard, the hospital has 2 generators but a fuse burnt out and they couldn't start up during the blackout. Thanks to the competence and resourcefulness of the medical staff, the 18 year old mother had a healthy baby girl.

Men Make Allegations Against GSU
(posted on Thu Oct 20, 2016)
The GSU have managed to stay out of the news recently, but, this morning we received reports of an incident involving a Belize City fisherman and the GSU. According to Joshua Gillet, who is from the Conch Shell Bay Area, the GSU jumped him this morning a little before 9am. Gillet claims he wasn't doing anything wrong, but that the GSU has been targeting and abusing him and others in the area. He came to our studio this morning, just after the incident to tell us what happened.
Joshua Gillet - Fisherman
"Well sir, I was in the area of Conch Shell Bay, taking piss, and I went in an abandoned spot and GSU pulled up. They ask me to go on the ground for them, so I went on the ground. Then when I was on the ground another one asked me to get up, so I got up and then they put me in the mud. They put me down in the mud, shoved me in the mud. Then when I was in the mud they started to stamp me, you get the sense. And when I turned around to ask why they were beating me, one of them asked the big man who was running the crowd, Mr. Fergeson, to step one side, and Mr. Fergerson stepped on side and they shot me, boss. With a rubber bullet. I didn't do anything. We don't kill anybody at Conch Shell Bay, boss. Why are they coming to beat us, boss? The day before the same crowd came to be boss, and this is what they did to me, they put up gun signs at me, you get the sense, boss?"
Alex Courtenay, 7News
"So is there a reason why they would be targeting you at all?"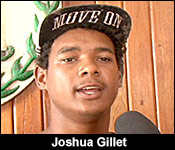 Joshua Gillet
"No reason, boss. I haven't killed anyone, boss. I'm a licensed fisherman, boss. When I go to sea, I scrape fish, boss. I don't know why these men target me, boss. And it's not the first time, boss. They always do this to me, boss."
We spoke with GSU Commander, Inspector Glen Caliz about the incident. He confirmed that an encounter did occur between GSU officers and Gillet, however he says it wasn't a random stop. According to Caliz, Gillet is a known marijuana dealer in the Conch Shell Bay area, and GSU stopped him to search him. He went on to say that Gillet was only forced unto the ground after he resisted and challenged the officers. The inspector also denied that any shots were fired at Gillet, stating that the wound would be more significant if fired at such close range.

Scotiabank Gives
(posted on Thu Oct 20, 2016)
Today Scotia Bank donated $100,000 for hurricane relief efforts. Now we know, it has been 2 months since Earl hit Belize, but there are many families still in need of help. At a short afternoon ceremony, Scotia Bank handed over $60,000 to Hand in Hand Ministries, $35,000 to the Belize Red Cross and also gave scholarships to the Deborah Humes' 2 daughters. As you will remember, Humes, the Soca Moca band member was crushed beneath a house on Dolphin Street. We spoke to the Managing Director of Scotia bank about the donation , as well as the recipients.
Humes' daughters got $2,500 each. Alesha Hylton is in Standard 6 and the scholarship will pay for her 1st form tuition, fees and books. For Primelie Humes, her share will go to paying for her 2nd form tuition and fees.

The Face Of Winston
(posted on Thu Oct 20, 2016)
Earlier this week we had a phone interview with Winston Thompson from the Toledo District. He was one of 6 Belizeans held by the Guatemalan Navy after they were found fishing in the Gulf of Honduras. And while we got to hear his voice, we didn't get to see him. Here he is now telling PG TV's Wil Maheia about his threat assessment when the Guatemalan Navy had the group held:...
Thompson says he believes the Guatemalan Navy Vessel coming out of the Port Honduras Marine Reserve in Belize territory.





Home | Archives | Downloads/Podcasts | Advertise | Contact Us