House Meets, No Vote on the 90 Million - Not Yet
(posted on Fri Dec 8, 2017)
There was a House Meeting in Belmopan today - but for all those of you who expected a drastic showdown on the vote for and against the 90.6 million owed to the Belize Bank - it didn't happen.
That's because this house meeting had been scheduled from before the CCJ judgement was handed down on November 22nd. So today's sitting was the regular final house meeting of the calendar year. To vote on the 90 million - the Prime Minister will have to call a Special Sitting. But he will only do that after the Bank has formally served him with a certificate for the amount that is due on the award. That must be done within 21 days of the judgement, and we are at day 16.
The PM today told the press that the dramatic meeting featuring the vote on the 90.6 million dollar award will probably come in the first week of January:...
Jules Vasquez- Reporter
"This is usually the last House meeting before Christmas but will we have another because the Special Sitting for the $90 million needs to also be held eventually."
Rt. Hon. Dean Barrow - Prime Minister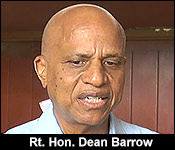 "Quite possible but I'm not sure. We clearly are waiting until we get the certificate which can only be issued 21 days after the judgment but once that certificate comes, I think, we will want to have a special meeting as quickly as is practical."
Jules Vasquez
"But is there a timestamp? Once you get the certificate is there a timestamp or risk imprisonment?"
Rt. Hon. Dean Barrow
"I don't think so. We are quite clear that the monies have to be voted by parliament, there are all sorts of arguments for the other side as to whether Parliament's vote in a certain way is obligatory. We've announced to you and to the world that once we get the certificate we will come to parliament with the supplementary allocation. I don't see that there is any risk that if we take a couple of weeks before we, in fact, summon a meeting that that could be misinterpreted as a desire or determination on our part not to call the meeting at all. The meeting will be called."
Jules Vasquez
"So, probably early in the new year?"
Rt. Hon. Dean Barrow
"Not later than, I would say, the first assuming that the certificate comes as early as it can come; certainly, not later than the middle of January, I would think perhaps the first week in January."
And while the Prime Minister has his own timeframe, the Belize Bank is pushing for immediate payment. The Bank's Attorney Eamon Courtney has sent the Attorney General Mike Peyreffite a letter saying that a soon as government gets the certificate, the Bank expects payment. The PM says the Bank can want all it wants, he must go to the House:
Reporter
"I believe the Attorney General is in possession of a letter where he is asked to make it clear that this is going to be dealt with when they are ready to issue the notice, one, and two they've raised concerns where your statement on the 29th of November and the statements from other members of your party could be seen as contempt of court."
Rt. Hon. Dean Barrow- Prime Minister
"Well, first of all, that's not his business. And in terms of my statement or my statements, I am very much aware of what I said and I was aware when I was saying what I said. So, I dismiss that out of hand, certainly, with respect to myself. In terms of his saying to the Attorney General that he wants matters dealt with as soon as he comes up with the certificate, I am repeating, matters will be dealt with but not in the way he wants. There is clearly not going to be any payment unless and until the House votes to appropriate the money. He and, Allen and Overy can hauler until the cows come home. I am satisfied that the state of the law, the state of our constitutional and statutory arrangements is such that that money cannot be paid, cannot be extracted from the consolidated revenue fund unless and until parliament votes to so appropriate it. There is no doubt in my mind that depending on how parliament goes, we clearly will be back in court and I would say nothing about that."

PM Has "No Quarrel" With NTUCB Position to Pay In Installments
(posted on Fri Dec 8, 2017)
Back to court - but what the Prime Minister seems to want is something like what the NUTCB proposed, a Special Investigating Body to find out why Belize got stuck with the debt, and nothing to show for it.
The Prime Minister said that - unlike the Chamber of Commerce - he has no quarrel with the NTUCB's resolution - even though they concluded that the 90.6 million dollars must be paid - in installments:...
Jules Vasquez - Reporter
"The NTUCB put out a resolution..."
Rt. Hon. Dean Barrow - Prime Minister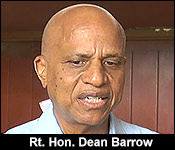 "Completely different from the Chamber. That is my quarrel with the Chamber. The NTUCB said the monies should be paid in installments, whether in fact, that is possible by way of the vote of parliament is another matter; but I have, as I made clear to the Chamber of Commerce, I do not quarrel with those people who hold their opinion that monies should be paid. How can I quarrel with them? The fact is that in the normal course a judgment of the court ought to be paid, so that is not an issue. But the NTUCB went on to say, while it is there view that the monies should be paid, pay the money in installments but pay it, but there ought to be some sort of inquiry as to how we got here. I thought their statement, their resolution could not be quarreled with in the least."

Auditor General In Trouble With Staff, PM Exploring Options
(posted on Fri Dec 8, 2017)
And speaking of quarrels - it seems the staff of the Auditor General's office has a big one with their boss, the Auditor General Dorothy Bradley. The staff staged a sickout in protest today. This is after they circulated a letter to the media saying, quote, "we are unable to function properly due to the EXTREME lack of knowledge of the appointed Auditor General." They warn, quote, "something has to be done because frustration and aggravation (are) approaching critical levels." End quote.
Now, this is the same Auditor General responsible for those three damning reports detailing countless acts of corruption at the Immigration Department. She's a kind of sacred cow for anti-corruption crusaders but her staff is saying they are in quote, "full desperation mode," end quote.
Notably, this very strong and public attack comes right after the Senate hearings on immigration finished.
Today, the Prime Minister told the press he has been aware of the situation - but did not want to touch it while the hearings were underway:...
Rt. Hon. Dean Barrow - Prime Minister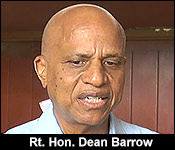 "I'm not too sure what can be done from my point of view. I will have to look carefully at the situation but I was reluctant to even to do that for as long as the Senate inquiry was continuing. I did not want for anybody to suggest that any review of the complaints made by the audit staff against the Auditor General was being conducted by the executive as a way of trying to either influence her or punish her. She is constitutionally protected as, I believe, the DPP is but that can't mean that, with respect to her administrative remit and the discharge of her administrative duties, that she can't be questioned. And it is obvious that, to try to put it as neutrally as possible, she does not get along with her staff or her staff does not get along with her, there is no love lost between them. And there have been various efforts over the past year or so by the Public Service Union to try to get in there and see if there can be any way of pouring oil on troubled waters. That clearly has not worked. For a while the bulk of the staff there is up in arms, I had understood that they would be protesting or picketing this morning; sicked out. And so now, certainly with the commission's work having come to an end, I believe that we in the executive, and perhaps I, in particular, must now seek some sort of legal advice as to the options."
Jules Vasquez - Reporter
"Perhaps it can be interpreted as politically orchestrated that, you know, you push a few buttons with a few key people in the office and the next you know your bête noire is forced to be ejected."
Rt. Hon. Dean Barrow
"No, Jules. If you and the other media people talk to the public officers you will know that it is completely organic. These people from all that I gather are really really exercised about the issue. So, if there are still those who would want to try to make that charge well there is not going to be any help for it. As I've said, I have stayed my hand for a year. Now, it is time to not have the public officers feel that we just will forever give them a deaf ear."

PM On The Franze Parke Exit
(posted on Fri Dec 8, 2017)
And while the Auditor General is in a delicate position and faces an uncertain future, Justice of Appeal Franz Parke has already headed for the exit. Today, the Prime Minister discussed the unceremonious departure of his old college buddy - which came after the attorney for the leader of the opposition sent the government a letter detailing nine times Parke was brought under scrutiny for professional misconduct while working as a legal professional in the US. The PM says Parke could have defended his reputation, but figured it wasn't worth the trouble or the embarrassment to the judiciary:...
Rt. Hon. Dean Barrow - Prime Minister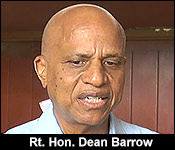 "Mr. Parke insists that whatever they are alleging or charging he can very easily debunk, rebut, dismiss, but clearly their raising allegations means that he will have to, not just compile evidence to rubbish the allegations, he would himself have to swear an affidavit and subject himself to cross-examination. He tells me that he consulted with the president of the Court of Appeal and that they agreed that this would really expose the Judiciary in a way that is unattainable and uncountenanceable. And he is saying that for him it's not a problem simply to resign. He doesn't live here, he has his practice in the US and so it is in those circumstances that he decided to call it quits."


Marilyn Williams, Former UDP Candidate To Be High Court Judge
(posted on Fri Dec 8, 2017)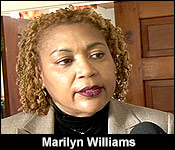 And while Parke has returned to Florida under a cloud, now, one of the Prime Minister's ardent supporters is about to ascend to the Supreme Court bench. Former UDP candidate and current chair of the Integrity Commission Marilyn Williams is expected to be sworn in as a Justice of the Supreme Court tin January. Today the PM said he agrees with the choice - but he didn't make it:
Jules Vasquez - Reporter
"The ascension of Marilyn Williams, we are told she will be named to the Supreme Court. We know she is a quite ardent supporter of yourself and of your administration and a former candidate."
Rt. Hon. Dean Barrow - Prime Minister
"But please, let us be very clear as to how her appointment came about. In terms of the judges of the Court of Appeal, I am the decider, I am the decision maker. In terms of justices of the Supreme Court, I am not and in this case, it was the Judicial and Legal Services Commission that saw the need for two additional judges. As I understand it, by the time it got to me and as I saw the history, the JLSC chaired by the Chief Justice, advertised the vacancies, not just in Belize, apparently, perhaps, Caribbean wide. They received applications, they sat and went through those applications, came up with a short list, interviewed those that were on the shortlist and thereafter they came to their choice. This does not originate with me this was not initiated by me. And so, the question of Marilyn's political activities, or certainly, her political candidacy, long ago and far away, I don't know if that was a consideration in terms of the Judicial and Legal Services Commission but if it was, clearly they are convinced that that will not interfere with her ability to deliver justice."
Jules Vasquez
"Who will take over the chairmanship of the Integrity Commission?"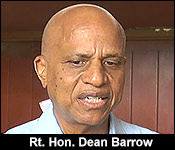 Rt. Hon. Dean Barrow
"Well, I haven't looked at that yet."
Jules Vasquez
"But she will ascend shortly and we don't want there to be a..."
Rt. Hon. Dean Barrow
"There should not be any long hiatus but..."
Jules Vasquez
"The last one was about five years."
Rt. Hon. Dean Barrow
"Well, you can be assured it will not be as long as that sir."

Rasheed Charged For Trying To Kill Cousin Russell Juniour
(posted on Fri Dec 8, 2017)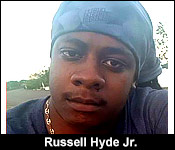 When we left you yesterday, it was with the news that 26 year old wanted man, Rasheed Hyde had just turned himself in to Cayo Police. He was wanted for for the attempted murder of his own cousin, 24 year old Russell Hyde Jr. Russell was shot at a meat shop in Santa Elena by someone who lured him there from his Belmopan home.
Well, police say it's Rasheed who pulled the trigger while 48 year old Michael Mendoza helped him out.
Today Hyde - who is from Georgeville - was charged with Attempted Murder, Dangerous Harm and Use of deadly means of Harm. Michael Mendoza a Taxi driver from Santa Elena Town was Charged for the crime of Abetment to Commit Murder.

Flames Engulf Old Wooden Home On Southside
(posted on Fri Dec 8, 2017)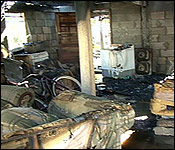 Another city home was destroyed by fire at midday - this time it was on Allenby Street - about a half mile from our studio in the Queen Square area. The owner, 61 year old Marie Ariola was inside the house cooking when the fire started in an upstairs bedroom. Fortunately Ariola got out just in time before the flames engulfed the entire wooden structure. A neighbor gave us an account of what she saw off camera.
Voice of - Area Resident
"I was almost at the corner and I saw the smoke but it wasn't that big, so I went by the window and I told the guys in the barber shop to come out because a little kid just told me a lady upstairs is screaming and I saw smoke but it wasn't big. So afterwards I ran and told the guys to come. It appeared that the lady in the house and it was on fire but it wasn't big and after I called the lady and screaming for help."
Reporter
"She didn't tell you when she was coming out what might have started it?"
Voice of - Area Resident
"I asked her what happened and she said it's in her daughter room it started but didn't know how. I feel sorry for her. I hope she got help."
According to the fire department, it was an accidental fire that started in an upstairs bedroom. Ariola is well known in the community as a bread and bun baker. She is usually seen selling at the terminal.

18 Wheeler Tumbles Off One Of Those Hummingbird Hills
(posted on Fri Dec 8, 2017)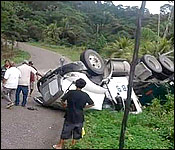 There was an accident this morning on the Hummingbird Highway in which a Bowen & Bowen truck overturned on one of those deep rolling hills. Fortunately, no one was killed, but the driver and his side-man are now recovering from the injuries they suffered.
It happened sometime between 10:30 and 11:00, between miles 28 and 29. 25 year-old Roy Bonnel was driving the 18-wheeler along with 35 year-old Mark Westby.
They were heading towards Dangriga. While they were climbing up a hill on a curve, Bonnel reportedly lost control of the truck. It ran off the road, and flipped over on its driver's side. The accident caused Bonnel to be trapped behind the steering wheel, and he suffered a broken lower left foot. Westby, who was seated in the passenger side, complained about pain to the left side of his body.

Oil Moratorium Legislation Passes With Bi-partisan Support
(posted on Fri Dec 8, 2017)
We've already shown you a whole lot from Belmopan tonight - but we haven't even touched any of the House business. And that's because there wasn't much. The only bill of serious mention is the Moratorium on Offshore Oil Exploration known as the Petroleum Operations Bill, 2017. In a rare show of bi-partisanship, this one had PUP support. Opposition Leader John Briceno called it a people's victory :...
Hon. John Briceno, Leader of the Opposition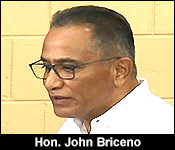 "This is a victory of the people Madam Speaker, because it of what they say "people power" that today we are working on this bill that we hope will soon become an act and law of the land."
"Look at the Spanish Lookout oil field. What did we get? We got a little over 600 million dollars Madam Speaker. Oil done. Money done. And what do we have to show for it? Poverty didn't go down. We didn't say we give thousands of students scholarships out of the oil money, but the money gone, the money finished, the oil finished. The point I'm trying to make, we can't risk for a little bit of oil to do oil exploration into our waters, because when you look at the Belize Barrier Reef, in my mind, the Belize Barrier Reef gives us more than 600 million dollars every year."
And while the opposition leader showed general support, he also said the bill could go further in ensuring the broadest protection possible for the reef. And that's where the spirit of bi-partisanship walked out the door, and the good old name-calling stepped in:..
Rt. Hon. Dean Barrow, Prime Minister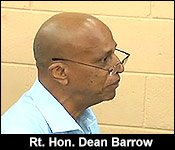 "He did a nice piece of grandstanding just now, expect his slip is showing. If you want to get up and pontificate and crown yourself with all sorts of laurel wreaths and you do so by asserting that you are in fact more Catholic than the Pope. You should check and inform yourself before you shoot off your mouth. The whole idea of your presentation is to put yourself on the side of the angels, by saying first of all this has nothing in effect to do with the UDP, it's a people's victory. Good enough. But then to show how much you are a paladin of the people and therefore what has been achieve is not enough and more must be done. You talk about amendments that need to be made and almost every single amendment that you are urging on us has been made in the committee that consider the bill."
"It's here, it's among your papers sir."
Hon. John Briceno, Leader of the Opposition
"I just got these papers right now, so how on earth, I just got it right now on my table. How can you expect me Madam Speaker to make the....."
Rt. Hon. Dean Barrow, Prime Minister
"I don't buy that for a minute. I'll have to check with the clerk."
Hon. John Briceno, Leader of the Opposition
"See it right here."
Rt. Hon. Dean Barrow, Prime Minister
"In any event, you are the leader of the party. If you weren't there, your members were there. According to you, you are so centrally preoccupied with this matter. You mean they didn't voluntarily report to you, or you didn't seek to find out what has happened. I am sorry sir. Bottom line you look bad, you look terrible."

Cayo South Rep. Speaks Up For Slain Villager
(posted on Fri Dec 8, 2017)
But those were pretty much the only sparks that flew the whole day. Even when the often pugnacious Julius Espat stood up to speak on the killing of 20 year old Teakettle Villager Edwin Antonio Baires Hernandez - he tried to be constructive, not combative.
Espat says it happened din his division where he claims villagers fear police:...
Hon. Julius Espat, Cayo South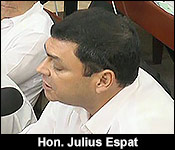 "This person was not charged for anything that was killed. This person had no criminal activity, but yet the security forces went in and as a consequence of the person being shot, Madam Speaker, he died. Well people well he choked to death, but why did he choked to death? Well it could be 1) because the shot created something in his body for solids to be able to stuck in his throat. That is a possibility. But it doesn't really matter Madam Speaker, the police officers are there to protect our citizens and I believe the police officers should also be trained in first aid and therefore I do not see anybody that can give me an excuse when somebody that has been shot in the foot that is bleeding and they are saying now that he was choking. Why the security forces could not have given first aid to this young man so that he could be alive today?"
"Because the villagers were unhappy. Because the villagers were seeking out justice, they went back to old ages again and they decided that smoke signal is the only signal that they can use to have the authorities come to their village. So you know who were arrested? 3 people from the village were arrested because they were there by the fires and they were arrested for I think it's called "Illegal gathering" and the police officers were taking away phones from individuals and they were taking away the videos that they were taping. Having your phone being use to record an event is not illegal in this country. So the security forces have no reason to be doing that."
"Why am I saying all of this? We have a serious problem in our police force as I see it. This is the second tyre fire that happened in Teakettle for a short period of time. There was one in the main village of Teakettle in the main highway a couple months ago. There is this one. We have still the killing of the Thimbrel and Lopez boys from Camalote that has not been solved."
"In the eyes of the Cayo South constituency the police officers are lacking in their ability to protect them."
Hon. Elodio Aragon, UDP OW East, Home Affairs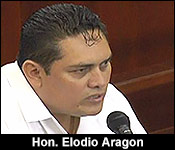 "Yes, we have instances of abuse. There is no two ways about that. We are dealing with a police department that interacts with the public on a day to day basis and at times these interactions are not with the best of people, so there are always will be instances of allegations of abuse, instances of allege misconduct and I won't say that some of these aren't true. Of course some of these are. This is a police department we are dealing with and dealing with the worse of the worst at times in our communities."
"In regards to the investigations in Cayo that has resulted in the death of someone, that file has been sent to the DPP, so the DPP can give directives in that matter. This is a police investigation in terms of the professional standard branch looking into the matter, doing the investigation that needs to be done and be sent to the DPP for her to give directives."
"If you have seen what we have done with the professional standard branch within the last year, we have put at the helm the assistant commissioner of police Mr. Chester Williams and we did that not because we wanted Chester Williams out of Belize City, but we put him there because for the police department it is important that we strengthen the professional standard branch of the Belize Police Department and I want to assure the general public that if you have seen through the news of lately, since we have put Chester Williams there, we have seen an increase of these instances being reported to the police department. We have seen an increase where police officers have been dealt with disciplinary, been placed on interdiction."
Though Baires Hernandez died from choking Police could still be implicated for causing his death.

DPM Faber With Raul Castro At CARICOM Cuba Summit.
(posted on Fri Dec 8, 2017)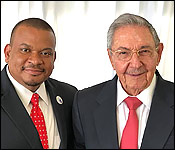 We didn't see Deputy Prime Minister Patrick Faber at today's House Meeting in Belmopan. That's because he was representing Belize today in Antigua And Barbuda for the 6th CARICOM Cuba Summit.
It is held every 3 years, and at today's summit, the representatives of the CARICOM Nations took stock of the cooperation agreement between CARICOM and Cuba, particularly in 2 areas. Those were the Caribbean Regional School of Arts Project, and the Regional Centre for the Stimulation of the Development in Children, Adolescence and Young People in Jamaica, and the Special Educational Needs Associated with Disabilities in Guyana.
They also discussed ways to boost trade and investment between CARICOM and Cuba. A press release from the Government says that Deputy PM Faber called for the redoubling of efforts overcome the challenges to trade, in areas of logistics, transportation and banking facilities, which impede trade and investment between CARICOM and Cuba.
Faber signed the Memorandum of Understanding on Multi-Destination Tourism between CARICOM Member States and the Government of Cuba.
Another MOU was signed between the Caribbean Disaster and Emergency Management Agency (CDEMA) and the National General Staff of the Civil Defense of the Republic of Cuba. It will allow them to cooperate in areas such as disaster risk reduction, so that CARICOM countries can learn more about Cuba's vaunted disaster response mechanism.

Civil Aviation Dept. Celebrates Their Day With Style
(posted on Fri Dec 8, 2017)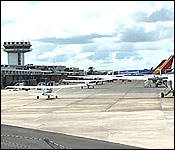 Yesterday, all over the world, those who work in the civil aviation industry celebrated International Civil Aviation Day.
In Belize, the Civil Aviation Department postponed their observance until today when they inaugurated the newly built and equipped second floor of their headquarters at the Philip Goldson International Airport. 7News was there, and Daniel Ortiz got to see a few of the new toys that the Air Traffic Controllers got just in time for Christmas. Here's his story:
Daniel Ortiz reporting
The Minister of Civil Aviation and the President of COCESNA were the VIP's who cut the ribbon and officially opened the 2nd Floor of the Civil Aviation Department's Headquarters. It was the highlight of today's celebration of International Civil Aviation Day.
And why not? This building houses the state of the art equipment for the Air Traffic Controllers, newly purchased and installed.
In fact, just to access the building, one has to scan his or her thumbprint.
But, the shiniest of all the bells and whistles is this piece of equipment, a multi-million dollar radar system that the air traffic controllers are now making use of.
In here, they manage Belize's skies to ensure that all the local and international flights move around in our airspace without any mishaps.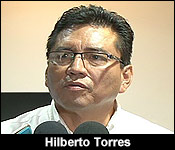 Hilberto Torres - Deputy Director, Civil Aviation
"Today we inaugurate the second floor of the department of civil aviation additional complex. What we housed here is the state of the art modern radar control center."
Lindsay Garbutt - Director, Civil Aviation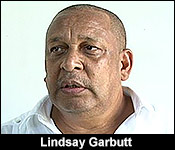 "Its around 13 million Belize dollars. About 11 million of that being the equipment and the rest being in infrastructure."
So, how does it work?
Daniel Ortiz, reporter
"Let's say for example a flight is coming in somewhere from the US per say. They enter Belizean air space. How does the air traffic controller assist in getting that airplane to safely land at the PGIA?"
Marsha Hinkson - Chief Air Traffic Control Officer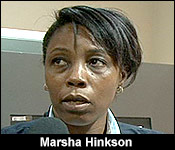 "What the controllers do, first to get in contact with that aircraft. Prior to it entering Belizean air space we would have the coordination. We have direct communication with Merida and that is our adjacent unit going towards United States. Therefore Merida would call us and give us that information. Even prior to that before the aircraft departs they would file what we called a flight plan. That is sent well ahead of time. Even when the aircraft departs we would get that information, so we can plan even 2 hours before the aircraft departs. Thereafter once the controller gets the information they would input some information in our system so that it would correlate what is given to us. So then when that aircraft is presented on the radar screen, when it comes within the range, it would then have the details of that flight with it. When it is transferred from Merida to Belize the controller would then accept control of it and he would then be given decent and if necessary speed restrictions to the aircraft."
"Later in when it gets closer he would be doing what we called vectoring. Given the aircraft specific degrees to turn in order to bring him in line with the runway so that he could execute a safe landing."
Daniel Ortiz, reporter
"Is there any room for error any at all?"
Marsha Hinkson
"No room for error. We do a lot of training. It takes years to become an air traffic controller and the set of skills required as well. We have several people on duty and you tend to have to look out for each other. So if I make a mistake when I am controlling, then my colleague would catch up on that mistake. I could also do an immediate playback to say what I had said to this pilot or what this pilot has said to me and to catch up and then go back and make a correction. You cannot be afraid to make a correction. If you make a mistake, that's not a problem, but go back and make a correction."
And, the Director of Civil Aviation says that this piece of technology updates Belize's air traffic control to the same standards of the most developed countries in the world.
Lindsay Garbutt - Director, Civil Aviation
"Like aviation like most other technologies keep advancing. What this equipment has done for us - the equipment you find here you would find in any first world country. So it puts us on a level with them. We have been spending over the last 3 years around $400,000 a year just in capacity building for our staff and particularly for air traffic controllers."
"Now that we have well-trained staff and first class equipment, obviously that means a safer air space and better air space management."
Daniel Ortiz, reporter
"I've heard you say that Belize's air space is very busy."
Lindsay Garbutt - Director, Civil Aviation
"We have the busiest air space in Central America. Not the busiest as far as international flights is concern, but we have well over 100,000 local flights a year and I mean anyone who sits at the municipal or San Pedro or international airport see those planes leaving almost every 5 minutes and we are responsible for managing that. So these new equipment helps us to do that in a much secure and safe way."
There's only one caveat. It cannot assist Belize's authorities to track illegal planes, such as those carrying drug cargo, that enter Belize's airspace. This system depends on the honesty of the aircraft operators, to activate a piece of equipment that can communicate directly with this radar system.
Marsha Hinkson
"The aircraft need to be equip with what we called a transponder. It is a secondary surveillance radar, therefore it has to have that equipment on board. Apart from that they have to turn on the equipment. If they do not turn on the equipment, then they would not be able to be detected by the radar. We would be able to pick up aircraft which are first equip and secondly, the equipment is turn on."
The equipment upgrade was paid for by COCESSNA
Lindsay Garbutt - Director, Civil Aviation
"COCESNA is company that is owned by 6 countries, as if though it has 6 shareholders. Many year ago, I think it was in 1958, 5 Central American countries decided to put the air space together and manage it as one. In 1996 Belize joined them making it 6 countries. So all 6 countries of Central America with the exception of Panama, has a common air space and it is managed by the company called COCESNA. we always say there is not COCESNA and Belize, Belize is COCESNA, COCESNA is Belize and because we manage it that way, it means that the resources that COCESNA gets from the management of our space is shared in a very equitable manner between all countries. That is why they could have made this significant investment."
An investment like this one, will be present in all 6 member countries of COCESNA.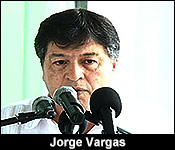 Jorge Vargas - President, COCESNA
"COCESNA has initiate an integral investment plan that cover all the areas of air navigation such as communication, surveillance, atomization, meteorology for all the COCESNA member states. Just a few months ago I has the opportunity to be in an event similar like this opening the new air traffic control in Costa Rica. Today I have the opportunity to be in this moment in the inauguration of the air traffic control center for Belize and pretty soon in Tegucigalpa in San Pedro Sula."
The theme for international Civil Aviation day is, "Working together to ensure No Country is Left Behind".

The Craft Of Coconut Production
(posted on Fri Dec 8, 2017)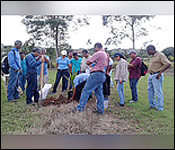 For most, especially coconut connoisseurs, cutting and peeling a coconut is simple, second nature. Well, a lot more goes into the production of coconuts. And to ensure that coconut growers have a full grasp of that process, the Ministry of Agriculture hosted a 5 day training on the production and uses of coconuts. Some of the areas covered include: The types of coconuts used for planting and consumption of coconut water, diseases impacting the industry, measures and methods on how to make the coconut farms more resistant to the diseases and best harvesting practices among other topics. 30 coconut growers participated. The training concluded today.

Rowan Returns, Triumphant
(posted on Fri Dec 8, 2017)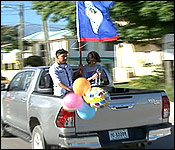 Rowan Garel is in Belize to celebrate his big win as this year's Caribbean Adventure Ambassador. He bested 4 other competitors with the most votes. To welcome this regional champ home, his supporters organized a motorcade which started from the PGIA and moved into Belize City at the BCVI parking lot. Garel told us he was surprised to find out he would be the star of the parade.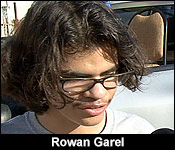 Rowan Garel - Caribbean Adventure Ambassador
"It's really an honor being in this motorcaded, didn't expect anything like this when I got back."
Reporter
"Tell us about the award you won and how prestigious that title is."
Rowan Garel - Caribbean Adventure Ambassador
"Honestly I had no idea that it even happened. I heard about it from a from to this is very unexpected and I feel very privilege that I've won. I would just like to say thank you so much to everyone who has supported me, if you have voted or if you have just been following what I do and spreading the word to other people that you so much."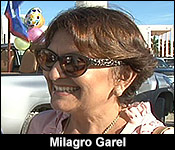 Milagro Garel - Mother
"We are very excited to have everyone home of course as you can imagine and its very rewarding to have the support of so many people that voted. We didn't expect when we first heard about the competition. We really didn't expect Rowan to win at all but so we must say thank you to everyone who supported and pushed and has been here for Rowan all along because it's definitely a team effort."
Rowan stays in Belize for 5 weeks and then returns to Drew University in New Jersey.

Hon. "Reemo" Raves About Rowan
(posted on Fri Dec 8, 2017)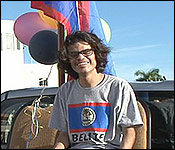 And from the streets of the city to the seat of power in Belmopan, Rowan's area representative sang his praises at the National Assembly Building:...
Hon. Kareem Musa - Caribbean Shores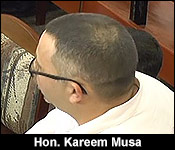 "I wish to recognize, honour and congratulate a young community leader and if I dare say a national hero in my opinion and that is young Rowan Garel. Just 2 days ago Rowan made history again and this time across our region by being named this year's Caribbean Adventure Ambassador. At just 19 years old Rowan is a great example of dedication, energy and greatness of youth. On behalf of the residence of Caribbean Shores Madam Speaker and the people of Belize I offer big respect and congratulations to Rowan for showing us how the active citizen should participate."

A GOB Gift For Every Blue Boy
(posted on Fri Dec 8, 2017)
And that was a rare feel-good moment for the Caribbean Shores Representative who is often on the political attack. And, mostly, that was the mood that prevailed at today's three hour house meeting. In fact it ended with bouquets of Christmas cheer, both in cash and in kind, being volleyed across the house floor:...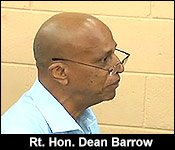 Rt. Hon. Dean Barrow - Prime Minister
"May I just say to colleagues on the other side that plantain noh di eat like rice but there is a little $12,500 for each of you for Christmas cheer so that your constituents would be able to [buy turkey], right…"
"No man, we go through Ministry of Human Development, you just put in your order and they will do. Merry Christmas Madam Speaker, Merry Christmas to you."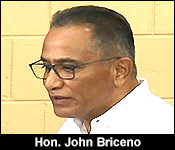 Hon. John Briceño - Opposition Leader
"I take the opportunity Madam Speaker to wish you and your family, the Prime Minister and his family, all the Ministers and all my colleagues here and their families, the people of Orange Walk Central and all Belizeans to wish them a blessed Christmas a Happy one, and for us to take this opportunity or this season, to, at least during this time, set aside what divides us and to look at what unites us as a people."

UDP Doubled Up On Cheer
(posted on Fri Dec 8, 2017)
And while the PUP representatives were grateful for the $12,500 in Christmas cheer for their constituents - the press had to look that political gift horse all the way down its mouth - to find out that their UDP counterparts got twice that:...
Reporter
"Its $12,500 for the opposition so I would ask you how much are the government's side getting?"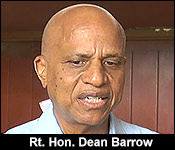 Rt. Hon. Dean Barrow
"You are a hell of a fellow, not even the opposition asked that and you want to know that. Nothing is secret sir and you know we never try to conceal anything. We will get double sir."
Reporter
"Ok, so $25,000."
Rt. Hon. Dean Barrow
"Only double."

Hon. Oscar, The "Gargon" of Independence Hill
(posted on Fri Dec 8, 2017)
And in one more humorous touch from today's meeting, Toledo West Representative Oscar Requena stood up to ask for urgent intervention on behalf of the Santa Cruz villagers who live near the Yok Balum Cave. He says they cannot access the cave for tourism purposes because NICH won't let them. The PM said he doesn't have to impress them with his advocacy :..

A Different Kind of Police Drama
(posted on Fri Dec 8, 2017)
We know about the GSU, SPU, Southside Strike Team and K-9 Unit but we don't hear too much from the police drama club. Yes, there are some talented and funny actors in the police department who can put on a good show. Today, they went around to different city schools to perform a skit. We dropped by to see them in action at the Nazarene High School and one of the lead actors told us more about their message.
There are 16 members in the Police Drama Club. The club was formed several years ago and they perform every year during the 16 Days of Activism. This year they took their show on the road starting off in Corozal and Orange Walk then to Benque and Belize City.

Belizean Athletes To CA Games
(posted on Fri Dec 8, 2017)
Yesterday we showed the track and field athletes who left for the Central American Games in Nicaragua.
Well today the Belize male and female National Volleyball Teams had their turn. Before their flight, we got a chance to speak with them.
Here's what they told us about their expectations:
This year's Central American Games end on Sunday, December 17.



A First Bronze For Belize
So far, Belize has only earned one medal and that's a bronze in basketball.
We leave you tonight with the medal ceremony for that event - which was held last night in Managua. The video is courtesy William Ysaguirre.
Enjoy...and have a great night and a super weekend. Join us back here on Monday.

Home | Archives | Downloads/Podcasts | Advertise | Contact Us