People Get Ready….For Election!
(posted on Tue Mar 3, 2015)
Tomorrow 105 thousand 634 voters across the country will go to the polls in nine cities and towns. They will select 67 municipal leaders from a field of 163 candidates. And while the politicians are tonight oiling up their machinery - the election is really run by a government department backed up by a little over two thousand public officers. They will be deployed from early tomorrow morning to set things up, ensuring that the balloting and counting process runs smoothly - and that it results in a free and fair election.
This evening, the media spoke with the chief elections officer who told us that everything is in its right place for the voter to have a glitch free experience:..
Josephine Tamai, Chief Elections Officer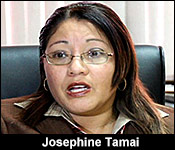 "In terms of logistics, tomorrow is the 4th March and tomorrow we have 9 municipalities going into municipal elections. I can say that the Election and Boundaries Department - we are ready for elections. All elections material has been distributed countrywide. Actually, we are just waiting for tomorrow. For tomorrow, we have the 9 municipalities; we have 2 cities and 7 towns going into the elections. The total number of registered voters for the entire country of Belize in terms of municipality is 105,634 registered voters."
"I want to encourage all persons who are registered to come out and vote on election day. Come out and cast your ballots very early, so that you don't get into the rush. I also want to advise the public that it's not mandatory that you take your voters ID card for you to vote. We take other forms of identification card as well, but the process will take a little bit longer if you don't take your voters identification card. Because at that point the presiding officer will need to ask you questions or establish that you are indeed that person who is there."
And so while that is what's going to happen for the election day - what most of us want to know is when we'll hear the first results. Typically, smaller towns like Punta Gorda come in first, but Belize City, with its ten divisions being counted individually could be even faster than that! Tamai was conservative in her projection of when you can expect to hear the first out-turns:..
Josephine Tamai, Chief Elections Officer
"It will vary according to municipality, because we have like I mentioned in terms of Belize City, which is the largest in comparison to Punta Gorda, which is the smallest. For the smaller ones, the results should be out pretty quickly, but again, in terms of the number of candidates, because like I said, in terms of the splits, things have changed from over the past."
And while politicians and the public will be waiting eagerly for those results - tomorrow, the voters will have to navigate a political minefield. Both mass parties intend to smother every inch of available surface area with political signage. But what does this mean for that hundred yard barrier - the area within which the voter should be free from harassment, and political messaging? Well, in recent elections, it seems that it's becoming harder to govern what should be an inviolable space. Today Tamai said that the returning officers and police should make sure no political mischief occurs - but there's only so much they can do:..
Josephine Tamai, Chief Elections Officer
"In terms of the 100 yards line, the law requires that we maintain the 100 yards line. And we know that no campaigning or anything of that sort within that 100 yards line. So, what I will say is that the returning officers are the persons who are responsible to ensure that that 100 yards line is maintained. Anything outside of that 100 yards line is the responsibility of the police officers, to ensure that they deal with whatever situation that may arise outside of the 100 yards line. In some instances, yes the law states about 100 yards. But in some instances because of the location of the 100 yards line, it might fall within somebody's private property, so you are limited in certain areas depending on where the 100 yards line lies."
And, finally, the Chief addressed the issue raised by the Opposition PUP. They objected to the way the count for the Belize City council will be managed. In the past all the ballot boxes would be taken to the ITVET building where there would be a mass count. But, this year, as in 2009, the boxes will be counted at the polling station - making for a quicker count. But the PUP says it is illegal because the returning officer Hugo Miranda should personally unseal the boxes and directly oversee the counting. Today the Chief elections officer said the PUP never made any objection when her office sent out the notice in mid-February.
Josephine Tamai, Chief Elections Officer
"I have responded to a letter written by the People's United Party on the 9th February, raising some of the same concerns that I believe you are referring to, where those issues were addressed, in addition to other issues. So, before anybody to say that we did not consult, we just went ahead and made the decision and I will also go further and tell you that on the 17th February to the parties, we submitted the list of polling and counting stations and nobody gave any feedback, gave any comment to say I do not agree with this or agree with that. By law, we have to publish our stations. So, not hearing from them, we have to take it as if though they are in agreement. Because like I said, we have deadlines in terms of meeting newspapers, in terms of doing anything."
Presently, the UDP controls six out of 9 municipalities. The last time an opposition faced a two-term government in 2006 - they swept the municipals.

Captain Makes His Case
(posted on Tue Mar 3, 2015)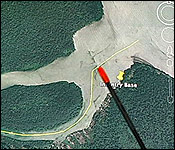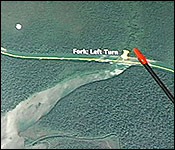 Last night, we gave you extensive coverage of the 37 Belizeans who were taken into custody by the Guatemalan marines and then taken to the port town of Livingston. That action could have become an international incident - for the obvious reasons, and because there was a foreign ambassador on board. Fortunately, it was resolved within 15 hours.
It all unfolded at the end of an expedition by the Northern Territorial Volunteers who went up the Sarstoon River which runs along the southernmost parts of the country from East to West, all the way to the border marker at Gracias A Dios for a mission to install a Belizean plaque on it.
The man who has deal directly with the consequence of the encounter is boat captain, Guillermo "Memo" Avila. He had to sign a document prepared by the Guatemalan Harbour Master which says that he committed the maritime offence of crossing into Guatemalan territorial waters for about 100 yards, and about 5 to 10 minutes. He didn't have to face any penalties for it, because the Guatemalan authorities only gave him a warning for it.
Avila says however, that he traverses these areas daily for his business, "Memo's Boat Services", which runs a shuttle from Punta Gorda to Livingston and back. So, today, he decided that he wanted to address the media himself. He told the press this evening, that at the time when the vessel and the 37 Belizeans ventured into Guatemalan markers while they were traveling up the Sarstoon River, it was not his decision. He says that expedition leader, Giovanni De La Fuente, instructed him to take that route, since he claimed to have visited the border marker before:
Guillermo "Memo" Avila, Boat captain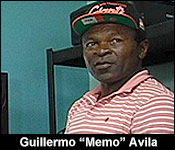 "Coming to the Sarstoon is always in the middle, whosoever is watching or anybody who is familiar with Sarstoon, you will always come through the middle because there is shoal there and then we came this way... all the way up and right here. When I got to the Sarstoon bar, I told the leader of the expedition who is Mr. De La Fuente, that I've come as far as here and he said that he knows the way anyways. I just want to clear that point one time, because it wasn't my decision to make this left turn, because he said that he knew where they were going, so that's why I took this turn here by his order, because I told him that I only know as far as the bar, but further up I didn't know. We came up this way and about right here we should have gone this way to Gracias A Dios, and I made a left turn here instead of going straight or staying on my right. Immediately, I went about 100 yards and I spin right back."
Also, in our coverage yesterday, you heard a few of the interviewees describe the period of the journey when they were taken over by the Guatemalan military as being scary and dangerous. Well, Avila explained exactly why, in his professional opinion as boat caption, the Guatemalan marines endangered the lives of the 37 Belizeans:
Guillermo "Memo" Avila, Boat captain
"I started to slow down because they wanted us to from our boat to the coast guard and they were going to have our boat towed to Livingston. Since they were insisting, because they were armed and the guy was telling me lets go to the coast guard, because everybody got to come off. I attempted closely once and the wave almost tipped the end of the coast guard boat which is a big iron boat on our boat. I reverse the boat and I said I am not going to attempt that again. If you guys want us to go to Livingston, then we will drive our way to Livingston and when we get to Livingston, we are going to need fuel, because I only have fuel to get from here to Punta Gorda. I don't have enough fuel to go to Livingston then Punta Gorda."
And while this plays out, the focus of the nation right now is on municipal elections tomorrow. But his attorney says that the country has its priorities mixed up. Audrey Matura-Shepherd scolded the public, saying everyone shouldn't be focused on the elections, rather, they should be voicing their outrage that Belizeans were "taken hostage" in their own country: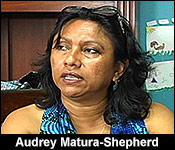 Audrey Matura-Shepherd - Attorney for Boat Captain
"I really think that sometimes in Belize we sit back and think we can't pressure our government to do the right thing. I don't know if you all have such short memory, but just the other day, Guatemalans came to Belize and killed Danny. How could we forget they came here and they killed our guy? Have you seen the human outcry with positive results? I don't know if the family has been compensated. Months later what do they do? They come out to our waters and dragged away 37 of our own and what are we concerned about - municipal election tomorrow? I am sorry, where are our priorities?"
"This document helps to prove that the Guatemalan authorities knew that they did wrong and they were looking for their propaganda and they are covering their asses with this and they put our guy under duress to do it. It was most unfortunate that our diplomat did not wait for the ambassador to reach, because the embassy had given strict instructions - sign nothing."
As we've told you, the Captain says that he signed this document accepting fault under duress because it was communicated to him in no uncertain terms that if he didn't sign, then the 37 Belizeans would not be allowed to leave.

The Narrative of The Capture, Revisited
(posted on Tue Mar 3, 2015)
So what did really happen that led to the capture of the boat? Last night with footage form PGTV we traced the slightly strange events that transpired on that Saturday evening. Tonight, now that we have the Captain's input we repeat that story: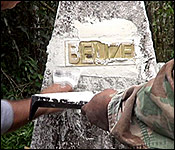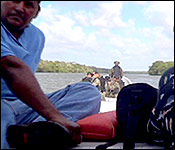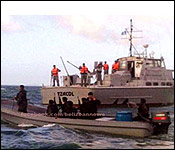 Daniel Ortiz reporting
A group of 40 persons, which included Boat Captain, Guillermo Avila; his 2 crew members; a camera man from PGTV, and the remaining being men and women from the Orange Walk Districts, got into the vessel "Dore".
After everyone and their belongings were inside, the vessel left the PG Pier. Out on the Sarstoon River appeared calm, and few miles more toward inland, the Belizeans encountered the Guatemalan military who were on a river patrol.
Some of the group socialized with the military, who appeared friendly, and very much at ease around the Belizeans and their cellphone cameras. Even though they had weapons drawn, they appeared non-threatening. A few of the Belizeans boarded their boats, and got closer in proximity.
Eventually, these 2 Guatemalan military boats allowed the Belizean vessel to continue making its way. All the while that Captain Avila piloted his boat, the Guatemalans kept a watchful eye. The Belizean vessel traveled further inland on the river for an undetermined amount of time afterwards, and eventually, the expedition arrives at the desired location, were they could no longer travel by boat.
Everyone made their way off the boat, while the ever watchful Guatemalan military kept an eye on the proceedings. With their flags at the ride, the team of 40 made their way over to the border marker on foot. After what appeared to be a short walk, the group arrived at the Gracias A Dios marker.
The Volunteers started their cleaning efforts, and shortly after, a bit of masonry was done to prepare the border marker so that the "Belize" plaque could have been placed on it.
Giovanni De La Fuente - Leader, Northern Territorial Volunteers
"As you can see we are here today to commemorate the installation of a Belize plaque on this monument and we have a group of brave Belizeans here that brave the weather, the route and thank God we have arrived safely and we are currently in the process of installing this bronze plaque that will forever let people know that this is the initiation of Belize southernmost point. So, once again, February 28th, 2015 - plaque installation ceremony, Gracias A Dios."
Robert Clinton - Participant, Northern Territorial Volunteers
"I am here to represent all the Belizeans in the diaspora who were unable to make it to the ceremony of the installation of this plaque, which will represent the southernmost point of Belize."
Another amount of time passed, and the men finally finished with the preparations on the marker, The adhesive was finally placed to stick the plaque in.
Finally, the plaque was installed, and the Volunteers made sure to note its significance with the ceremonial singing of the National Anthem.
All the time, the Guatemalan military was ever watchful, and according to reports from the volunteers, the boat captain even shared refreshments with the soldiers, to further reiterate that they all came in friendship. Eventually, the Volunteers then board their vessel, and made their way back to the mouth of the Sarstoon River, with the military following them, the same way they had come in.
Little did they know that this time, instead of being careful guardians, they had switched roles to become enforcers, who were given orders to escort them Livingston, Guatemala.

Territorial Volunteers Reject Government & OAS Account
(posted on Tue Mar 3, 2015)
We also showed you last night how the Government had a stern putdown for the Belize Territorial Volunteers.
For accuracy, a press release addressing the "detention" of the 37 Belizeans said, quote,
"Official reports furnished to the Ministry of Foreign Affairs by the OAS reveal that the same group which organized this weekend's excursion had exactly one year ago planted palms on the wrong side of the border."
They are referring to the trip that the northern Volunteers, led by Orlando De La Fuente, organized to visit the Aguas Turbias Border marker. At that time, part of the cleaning efforts by the volunteers was to plant coconut palms to note that part of the clearing was for Belize.
In response today, the founder of the Territorial Volunteers, Wil Maheia, sent out a scathing press release. It says quote, "The Belize Territorial Volunteers completely denies the lie told in the recent Government ...Press Release..."
Instead of defending Belizeans going about their lawful business, they declared that the BTV had on an earlier visit planted palms on the Guatemalan side of the border. This is completely untrue. During this exercise the BTV had the services of experienced surveyors equipped with state of the art GPS.
In the unlikely event that any of the leaders of this country could actually be bothered to travel to the borders to see for themselves, they would realise that this is a falsehood put about by the Organisation of American States. The OAS yet again shows itself to be no friend to Belizeans." End Quote
In the press release Maheia is quoted as saying, "The BTV would also like to point out that had Belizeans by accident planted palms in Guatemala, Guatemala should be thankful, as their country is like a wasteland in comparison to Belize - which is why they have ambitions to steal this land away from those to whom it will always belong - the people of Belize."

Oscar Williams, Beaten Down For His Daughter
(posted on Tue Mar 3, 2015)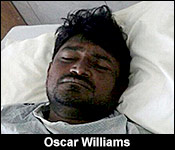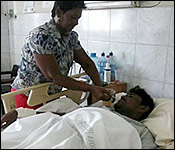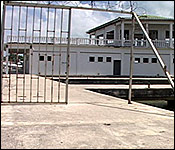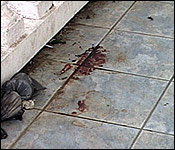 Last night we told you about 42 year old Oscar Williams - the father of 5 who was viciously beaten up on Saturday afternoon by 6 men. As we mentioned, Williams was walking on Southern Foreshore along with his 13-year-old daughter when the group of men in front of an abandoned building started shouting vulgarities at the young girl. Oscar Williams approached the six men and that's when they put a vicious beat down on him, knocking him unconscious. Today 7news spoke to his13 year old daughter off camera and his wife. They gave us an account of the incident - and of his condition.
Yolanda Williams - Wife
"At this moment he is doing a little bit better. He is calmer and he is remembering one and two people."
Monica Bodden
"Can you tell me what you remember happened? I understand you were at home when your daughter came to get you."
Yolanda Williams - Wife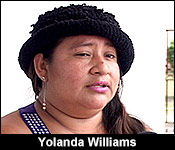 "What I could recall is that my daughter and her dad went out to pick up some money and while coming back home, they met these young men who were hanging out at this white abandoned house on Foreshore and the young men started yelling obscene language and telling my daughter that he was her ex-boyfriend which she threw away the baby for. I mean she is a 13 year old child and my husband really got upset and he went to confront them and asked them why they were talking like that. So, at that moment my daughter ran home and she came and let us know what was happening, but when we got there and met him, he was lying on the ground unconscious and we called the police which they quickly responded and we brought him to the KHMH. She said about 6 of them and they are all young men."
Monica Bodden
"Tell me how is he doing at this time?"
Yolanda Williams - Wife
"At this moment he is doing better. He is trying to remember some people that he didn't remember. The doctor say that it will take a while for him to recover fully, which we don't know if he will fully recover, but at least he will gain some memory. The doctor say that because of the swelling of the brain and that little bloodstains that are in his brain, he keep remembering what had happened that night, so he gets really aggressive when he woke up and remembering."
Voice of 13 year old Daughter
"My dad and I went to collect some money from our pastor and when we were coming back, there were 6-7 guys together at the top of a white building. He was taking me to my house and well they were telling me stuff and my dad didn't like it and he got vex and then went to confront them to see what was the problem and then I don't know what happened next, because I went home to see my mom and told them what was happening."
Monica Bodden
"What kind of stuff were these guys saying to you?"
Voice of 13 year old Daughter
"I had a pink blouse and a short pants and they were saying the girl with the pink blouse and one of them told me that I am your ex that you threw the baby away from."
Monica Bodden
"When you went home and you got your sister and your mom, by the time you got out there, they had already beaten you dad?"
Voice of 13 year old Daughter
"Yes ma'am. He was on the floor bleeding unconscious and he didn't recognized anyone of us."
Williams is in a stable condition at the KHMH. Police haven't arrested anyone yet.

When The Western Fiber Went Dark
(posted on Tue Mar 3, 2015)
Last night tens of thousands of Belizeans across some areas of the south and all of the west couldn't see 7News - or any news for that matter. That's because Central Cable Vision which carries signals to Belmopan, Santa Elena/San Ignacio, Benque Viejo, Dangriga, Placencia and Independence had a break it the fiber optic cable it leases from BTL. IT was BTL's problem to fix, but it hit home for the thousands who kept waiting for their local news and waited in vain. Some of you all thought we had gone off the air or something: we assure you we did not - we had a two hour newscast. Sad that you missed it - but glad that the problem has been resolved. Today we went to BTL Headquarters to find out what went wrong:..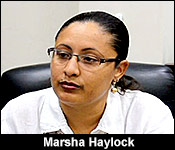 Marsha Haylock, Acting Chief Customer Service Officer
"We had customers that couldn't view local channels. We had one cable company that was affected, that feeds the south and the west of the country and so as you mentioned, they couldn't view local channels. We had our technicians dispatched to the area as soon as we got the news and they began working to rectify and to bring the service back up. We had service up back for the 2G service by 1:34pm yesterday afternoon and the cable company had service by midday this afternoon. So all our services are up back. We are functioning and we have resolved the issue for right now."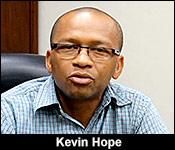 Kevin Hope, Chief Technology Officer
"What we did, we rerouted a number of the circuits, the traffic that we had on those cables onto other cables and as a result we were able to restore those services. We continue to work on the cable that was damaged and so the work on that is ongoing. At some point within the next week or two, once we restore or repair that cable, we will then revert those services back."
BTL assures the public that they are repairing the faulty fiber cable but have a backup service that has restored the cable feed. So those you worrying about not seeing our LIVE election coverage tomorrow, can be assured that you will.

Man Died Of TB in Prison. Why Not At Hospital?
(posted on Tue Mar 3, 2015)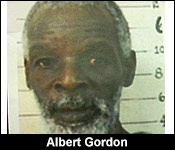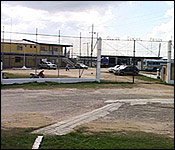 At around 7:20 last night, prison officers found 61 year old Albert Gordon lying dead inside his cell. According to the Belize Central Prison medical doctor, the elderly inmate has suffered with nutrition issues in the past and was being treated for tuberculosis. Before his death, he was vomiting and that later led to asphyxia. His family says, he shouldn't have been left to die in jail; if he was so sick, he should have been at a hospital. The prison doctor gave Monica Bodden his opinion:..
Javier Novel - Medical Doctor of the Prison
"The inmate Albert Gordon, he is a 61 year old elderly guy who have had nutrition issues in the past and was being treated for a positive TB. Eventually he had some vomiting that later lead to an asphyxia that lead to his death. He was found by an officer first reported at 7:20PM. It is not a concern. You should be aware that whenever anyone both the inmates and the public enter the prison, they are exposed to the TB infection that they can attain. The Ministry of Health works hand in hand with us. They came and they evaluated the situation. We have patients that received treatment. He was one of the patient that has received treatment and was in a very stable condition. However, his age played more a role that lead to his death."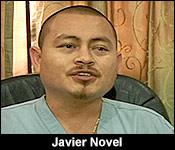 "We focused on the patients that have chronic diseases or are elderly. We monitor them more closely. We have a medic centre that we can treat and we can even admit and we can even refer to KHMH in case any medical emergencies and we had no complaints. He was relatively stable and he was doing okay. People should not be scared of TB - families that have their relatives here, should not be scared. The Ministry of Health works hand in hand with KOLBE. We have protocols that we follow. KOLBE has been cleared. The patients are receiving treatments and everything is under control."
Gordon who is known as "Zeke" was serving a three year sentence for drug trafficking.

Jury Deliberates The Fate Of Brothers Accused of Rape
(posted on Tue Mar 3, 2015)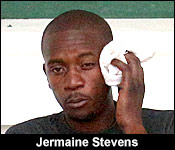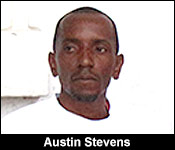 Right now, a jury of 5 women and 4 men is deliberating the fate of 2 brothers, Jermaine Stevens and Austin Stevens who are charged with rape and abetment to rape.
The men stood trial before Adolph Lucas, in which the complainant, a young woman who was 18 years-old at the time, testified against them. She told the court that it happened around noon in March of 2012 at a residence on Jane Usher Boulevard. She said that she went to Austin's house and when she was coming out of the bathroom the two defendants and a red skinned man forced her unto a bed and Jermaine raped her.
Jermaine testified and denied that he committed the offence. He said that he was at his brother's house smoking weed and watching television with Austin when the female arrived. He said he left shortly afterwards and that was the end of it.
Both men are being represented by attorney Hubert Elrington, if the verdict is in before the end of our newscast tonight, we'll share it with you.

.45 Ammunition Found In City
(posted on Tue Mar 3, 2015)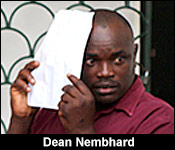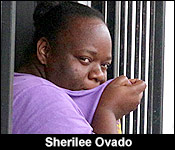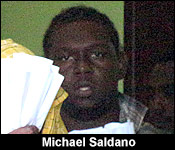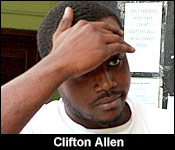 Eight persons, two of them minors, were charged with kept ammunition without a gun license and possession of controlled drugs when they appeared today before the Chief Magistrate, Anne Marie Smith. The adults are Dean Nembhard, Sherilee Ovado, Michael Saldano, Clifton Allen, Malik Ovado and Dowren Stuart. The pled not guilty to the charges and they were remanded into custody until April 9. The incident occurred yesterday. The police reported that they went to a yard in which there are three houses and when they searched an abandoned house and found 9 rounds of .45 calibre ammunition and 35 grams of cannabis. As results, they arrested and charged the eight persons.

Leon's Long Wait Is Over
(posted on Tue Mar 3, 2015)
22 year-old Leon Gomez, who was charged with murder but was found guilty of manslaughter, was yesterday finally handed his sentence after almost 11 months of waiting.
Justice Adolph Lucas, after considering the all the elements in this case, heard mitigation please from 5 character witnesses, including his attorney, Alifa Elrington-Hyde. In the end, Justice Lucas sentenced him to 15 years in jail, but he subtracted 5 years for time spent on remand, and 1 year for his previous good character. So, that means he will only have to serve 9 more years in jail.
Gomez was convicted for the fatal stabbing of 27 year old Salvador Martinez, which occurred January 18, 2010, at MCC Grounds. A football match was being played between Ladyville Technical High School and Sadie Vernon High School when a brawl broke out in the stands. Martinez tried to part a fight and while he was doing so he was stabbed in his chest and abdomen. Gomez was convicted from April last year but he was not sentenced until today because Justice Lucas had fallen ill.

Lord Ashcroft Leaves (Nothing Behind For PUP)
(posted on Tue Mar 3, 2015)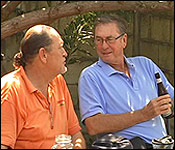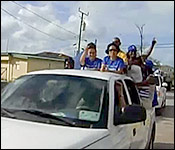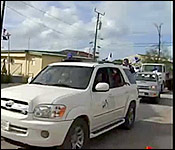 Today the PUP Belize City slate held a motorcade through the city. The crowd was pumped up - and the 23 vehicles were riding low with supporters falling out the windows. It was a good enough show - and it probably didn't cost more than a few gallon of gas. And that's the way it has to be for the PUP because credible sources confirm that Lord Ashcroft left the country today and didn't leave anything behind for the PUP. Last week he stopped in at Spoonaz café to sip a beer and told us that he would be very surprised if he ended up making a campaign contribution to the opposition. Well, we are told he didn't - and the PUP is expected to be significantly outmatched in funding by the UDP tomorrow. Two city bosses for two separate southside UDP divisions have told us that they expect to employ as many as 500 election day workers in each division. For those not familiar with the lingo, election day workers are those paid to show up early on election day, put on a short, go to vote, and then, most likely, disappear…

The Street As Art Space
(posted on Tue Mar 3, 2015)
The city's two main streets, Albert and Regent were blocked off this weekend for the 5th Annual Street Art festival. There were about 28 artists at the festival showcasing their works at booths and literally 'on the streets'. Here a look at some of the displays of creativity in a public space:
Courtney Weatherburne reporting
At first glance, this might seem like a group of kids on an afternoon out at the Battlefield Park - engrossed in drawing and coloring their favorite fairy tale or cartoon characters.
But it's more than just sketching or coloring on the pavement for fun. It's about celebrating art in all its dynamic forms.
And these young artists got to tap into and unleash their creativity at the Street Art Festival. There was face painting, handmade fashion jewelry on sale and paintings.
Over 1,000 people attended the festival on Saturday and according to one of the organizers, that is a great success.
Karen Vernon, Coordinator, Street Art Festival
"I think Street Art Festival was a huge success judging from the amount if people that came out, the amount of vendors that came out to showcase their art, so I think it was a huge success. There was a youth stage which was quite popular. I think the rains close that down just as they were about to finish the play that they had and we had the steel pan, Gwen Liz Marching Band gave us a little treat. It was always something happening, it was very entertaining."
The coordinators are considering hosting the event more than once a year.

Returning To Normal At La Immaculada
(posted on Tue Mar 3, 2015)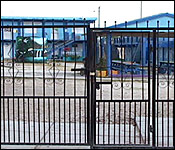 Last week Friday, hundreds of families were caught off guard when La Immaculada Primary School in Orange Walk could not open for classes because all the teachers called in sick.
The reports were that they were unhappy with the local Catholic Management over the reinstatement of a student who was suspended. The administration refused to confirm that report, and refused to make any comments as to the reasons behind the dispute, but school returned to normal yesterday. Principal Manuel Polanco spoke with the press in Orange Walk to discuss the resumption of classes. Again, he refused to discuss the dispute when our colleague from CTV 3 News pressed for an answer:
Manuel Polanco, principal - Immaculada Primary School
"We had a very fruitful meeting. A very successful meeting. Sister Barbara, our general manager came in and she intervene, mediated between administration and management and yes we have found a way forward and there is no longer any friction, any disagreement between administration and management."
Reporter
"I must ask, can you say what is this way forward? We understand that this was about a child who had been expelled, wanting to be reinstated into the school, but teachers protested. I am sure you guys have your reasons. What can you say at this point what is the way forward?"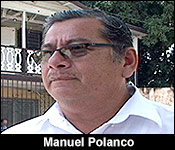 Manuel Polanco, principal - Immaculada Primary School
"I am afraid no. I am not at liberty to disclose anything, except that there is no longer any disagreement and we are hand in hand with management."
Reporter
"So the child is not going to be reinstated?"
Manuel Polanco, principal - Immaculada Primary School
"Well I never spoke anything about a child, so that's it. We don't have any friction, any disagreement. We have reached a solution and that is between administration and management."
The issue at Trial Farm Government school which also staged a sick out on Friday was resolved as well.

Get Eena It on WWW!
(posted on Tue Mar 3, 2015)
And that's 7News for tonight - thanks for watching with your news I am Indira Craig.
Now, we won't have any regular newscast tomorrow on election day, but we will be on form early in the morning at 6:00 am when you can join me and Mose Hyde live with Daedra Haylock and India Camiel as we begin our "Eena it" election watch coverage.
I'll be back here at channel 7 studios at 6:00 pm for the evening portion of the cover - so stay with channel 7 KREM TV and radio all day for all the updates you need to know what's happening in the election.
It will also be streamed live and you can find a link to that at 7news belize.com. http://www.ustream.tv/channel/eena-it





Home | Archives | Downloads/Podcasts | Advertise | Contact Us