Police Investigate Story of Abducted Schoolchildren
(posted on Thu Jan 29, 2015)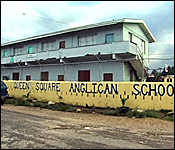 Tonight, Belize City precinct one police have put out an all points bulletin for a white van which reportedly abducted four primary school students today: three females and one male - all from Queen Square Anglican school. Police have confirmed that they received the report from one female student who managed to get away. She is giving the police a statement right now.
The report says the alleged abduction happened right in front of Queen Square Anglican after school this evening. Police received the report around 4:30 pm but could not say precisely when it happened and neither did they have any identity of the children. But, they are taking it seriously.
Still, there are lots of holes in the story - mainly that no parent has come forward either to the school or police to report their child missing. So, a very sketchy story at this time, but, still a very troubling one - and we're following it closely at this hour. We note that there was a report of a failed abduction in Orange Walk town earlier this week - and it also involved a white van.
Anyone with information can call Eastern Division police at 207-2222.

Outlaws in Griga! Carjacking, Rape, and Police Shootout
(posted on Thu Jan 29, 2015)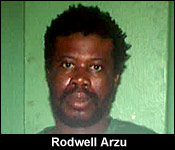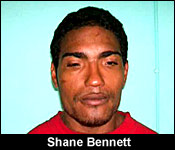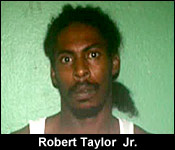 Tonight Dangriga Police have one man in custody and are looking for another after a ruthless carjacking and rape in that southern town. It happened on Sunday night at 8:00 pm when a man and his female passenger were in a car turning into the Benguche area and someone stoned the vehicle. He got out to see what had happened and that's when two men: one carrying a knife, the other, a gun - walked up to the vehicle, ordered the driver back inside, and ordered him to drive to the Cemetery area. When they got there, the men tied them both up and then both of them anally raped the 25-year-old female.
The men then robbed them of their valuables, and drove off in the car, leaving the two victims there.
Since then Dangriga police have been intensively searching for the culprits and have arrested 22-year-old Robert Taylor of Monument Site Area Dangriga. He has been charged with Rape, Aggravated Assault, Theft of Motor Vehicle, Abduction and Robbery. They are also seeking Shane Bennett of Dangriga who is also wanted for "Jewellery Theft".
Police say the men appeared to have been in the area planning an armed robbery of a Chinese grocery and needed a car to pull it off with. That car happened to pull up at the same time - and that's what led to the carjacking robbery and rape.
Police saw the car on Sunday night in a school compound. They set up to conduct surveillance on the area and then saw a Blue Isuzu Trooper pull up and Robert Taylor Jr., Shane Bennett and another man got out. Police then pulled up on them and allege that another man, identified as Rodwell Arzu pulled out a black firearm and fired a single shot at them, after which all three them ran back into the trooper and drove off. Police set chase and when they caught up with the Trooper Shane Bennett got out and pointed a pistol at the police, firing several shots, one of which caught the emergency light of the Police Vehicle. Robert Taylor also pulled out a handgun and pointed it at the police. The driver, Arzu was was arrested and charged for "Aggravated Assault." Bennet escaped while Taylor was captured.

Desho Gabourel Convicted of Grievous Harm, Fined But Not Confined
(posted on Thu Jan 29, 2015)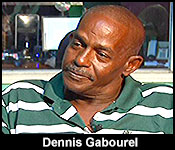 57 year-old Dennis "Desho" Gabourel, who had to go public to dispel rumors that he was somehow responsible for the fire which killed his mother, 82 year Erceline Gabourel, is steering down a hefty fine after he was sentenced to pay $10,000 for a conviction of grievous harm in the Supreme Court. He was accused raping a woman and then coming back and beating her.
The incidents happened more than 10 years ago, on September 19, 2003. The victim testified that at around 12:30 a.m., she finished her work at the KHMH and asked Gabourel for a ride home. But she claims that instead of taking her home, Gabourel drove her to the "hangar" area near to the Belize City Municipal Airport where he raped her.
He took her home afterwards, and a few hours later when she went to the backdoor, she was surprised to see Gabourel there. She says that he forced his way in, knocked her unconscious and she woke up bleeding from the nose, with a swollen eye.
Because of her report to police Gabourel was charged with rape and grievous harm. In his defence, he gave an unchallenged statement from the dock. He admitted that he had sex with her, but he claims it was consensual. He also admitted to going back to the house, but he claims that the woman attacked him. He claims that he moved out of the way, and she fell and hit her face while going down.
Yesterday, after deliberating for 2 hours, a jury of 9 convicted him of grievous harm, but acquitted him of rape.
After his mitigation plea today, Justice Troadio Gonzalez decided not to hand him a custodial sentence. Instead, the judge sentenced him to a fine of $10,000 by May 31, and if he defaults, he'll spend 3 years in Jail. Additionally, he must pay $3,000 compensation to the complainant by July 30. Crown Counsel Kileru Awich prosecuted the case, and Senior Counsel Simeon Sampson represented Gabourel in the case.

Accused of Making Off With Melonie's Money, Saldivar Settles With Coye
(posted on Thu Jan 29, 2015)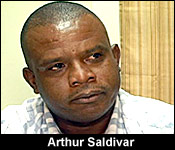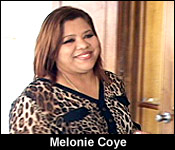 His political career and personal integrity was placed in jeopardy, but tonight embattled attorney and politician, Arthur Saldivar is in the clear after his former client Melonie Coye stopped pressing a civil case against him. The claim was that he pocketed a little over 900 thousand dollars of her family's money, after it was returned by the Financial Intelligence Unit.
Viewers may remember this was money which the Court of Appeal ordered the FIU to return to the Coyes after they successfully appealed their money laundering conviction.
This allegation formed the basis by which the People's United Party dismissed Saldivar as Standard Bearer for Belize Rural North. And as we told you at the end of November when the case went to court, it took a very strange and unexplained twist.
Melonie Coye's attorneys filed the claim on her behalf and provided supporting documents and affidavits. This was more than enough for the Supreme Court to require Saldivar to make an adequate defence. That didn't happen and so Justice Shona Griffith ruled against Saldivar in default, and by effect, that vindicated Coye's position.
But here's where the case took an unexpected turn, Coye's attorneys went back to the court and applied to have that judgment be vacated, and the case went from being resolved in their favor to being live once again. The unanswered question at the time was, why would Coye do that? Keep in mind that almost a million dollars were on the line, and she had just won the case.
Once again at today's adjournment, Coye's attorneys very promptly applied for a discontinuance of the claim before Justice Griffith, taking full advantage of the privacy, and the lack of media presence at case management conference.
When Saldivar's attorney, Hubert Elrington, exited court today, he obliged us with an interview and said that the case had been settled out of court with a non-disclosure agreement:
Daniel Ortiz
"Can you give us an update as to how far the case between Melonie Coye and Arthur Saldivar has progressed after today's adjournment?"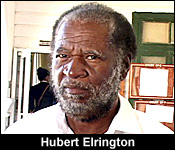 Hubert Elrington, SC - Attorney for Arthur Saldivar
"Yes. It's finished."
Daniel Ortiz
"Can you tell us what has happened?"
Hubert Elrington, SC - Attorney for Arthur Saldivar
"The parties have kiss and made up."
Daniel Ortiz
"Does that include monies being returned..?"
Hubert Elrington, SC - Attorney for Arthur Saldivar
"All I can say is that they are on good a term as they ever been."
Reporter
"That would be like prior to the legal rang-lings...?"
Hubert Elrington, SC - Attorney for Arthur Saldivar
"I don't know there were legal rang-lings. I supposed once they understood the nature of the claim and the position that both parties were in, the sensible thing was use their legal skills to settle the matter."
Daniel Ortiz
"Is there some sort of non-disclosure agreement reached today as well?"
Hubert Elrington, SC - Attorney for Arthur Saldivar
"That is what my understanding is. I don't even know what the agreement is."
Daniel Ortiz
"Are you able to tell us if Mr. Arthur Saldivar owes the Coye family anything?"
Hubert Elrington, SC - Attorney for Arthur Saldivar
"Nothing. After the settlement, nothing. That's what I understand. I haven't seen the settlement. Nobody had told me what the contents of the settlement is. The matter is the court has been told and the discontinuance order has been filed, which says that the matter is over. Amen."
Daniel Ortiz
"Can you tell us, does Mr. Saldivar have any money?"
Hubert Elrington, SC - Attorney for Arthur Saldivar
"I can't tell you anything, except that the thing is over. Over means over."
But there are gaping holes in the story. Where is the 904 thousand dollars? Did Saldivar take it as Coye claims? If yes, has it been returned, or is he being allowed to keep all or a portion of it as part of the settlement? We tried to get comment from Melonie Coye today as she exited the court room, but she told us that she was not allowed to.
So, where does this leave Arthur Saldivar? Well, we contacted him today, and he told us that he is out of the City.

ATM Shakedown Cops Get Off
(posted on Thu Jan 29, 2015)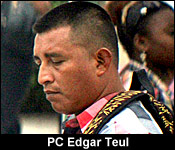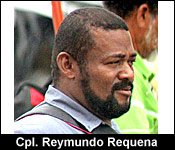 They were accused in the famous ATM shakedown, but today three police officers walked out of court free and clear of theft charges. 22 year old businessman Thyrell Hyde reported that in September of 2013, the officers arrested him, took him to the ATM -forced him to surrender his PIN number and then withdrew money from his account.
It was all caught on camera - and so you might be asking how come they got off? Well, it seems Hyde and the officers reached an understanding because today the magistrate received instructions that he wanted no further action against the officers.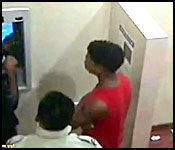 With that, Magistrate Dale Cayetano struck out the case against 43 year old Corporal Reymundo Requena, 31 year old Special Constable, Joslyn Gill and 31 year old PC Edgar Teul and they were free to go. Reports say that one month ago in December of 2014, the cops and Hyde were at the negotiating table working on a settlement.
The officers had been on interdiction for more than a year.

NTUCB Protests: Blocks SSB Board Meeting
(posted on Thu Jan 29, 2015)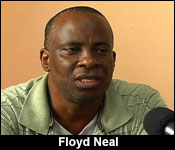 The Social Security Board of directors was supposed to meet today - and they were supposed to welcome two new board members, but the meeting had to be aborted because they couldn't get a quorum. And that's because the two union representatives did not show up in protest - and a board meeting cannot be held without at least one board member present.
The National Trade Union Congress is protesting because one of its new designates to the board, CWU General Secretary Floyd Neal had his appointment rejected by government. SSB says it would be a conflict of interest because as Secretary General of the Christian Workers Union, Neal also represents and is a principal negotiator on behalf of the Social Security workers. And because of that the Board asked the NTUCB to submit another name. But the NTUCB held its ground and advised SSB that their appointed directors will not be attending board meetings until Neal has been formally appointed.
A statement from the board this evening said, quote, "This position by the Union is unfortunate because the board was scheduled to review the proposals for a new collective agreement…Additionally the Board must also shortly meet to decide on the KPI bonus for the staff, and the Union's refusal to send their appointees to the meeting can only further delay the award and payment of bonus to the very staff that they represent." It continues, quote "Under the circumstances, the scheduled KPI bonus payments and the collective bargaining negotiations may have to be delayed."
The other union designate to the Board, BTL's Emily Turner has been approved and formally appointed.
We note that former CWU President Antonio Gonzalez served on the SSB board from 1999 to 2003.

Help For Hostel
(posted on Thu Jan 29, 2015)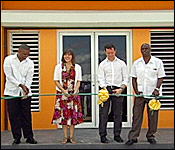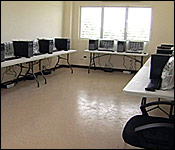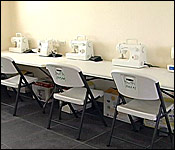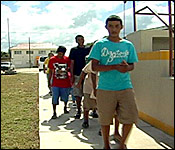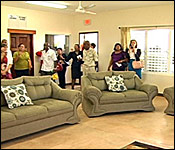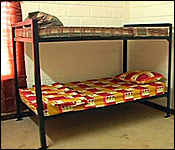 On this newscast, we often report in passing on the youth hostel - to say that troubled children have been sent there. Now, they'll have a new dormitory and resource center which were officially opened at this morning. These new facilities are supposed to create an environment for at-risk youth to develop into positive and productive citizens. That's the objective, but based on anecdotal evidence -many of these children end up back in the hostel after they are released, back in the same toxic settings they were taken from or... in prison. Director of the Community Rehabilitation Department says she is aware of this reality but that it only inspires her and her team to work harder with these kids. I found out more when I visited today:..
Anneke Jessen, IDB Country Representative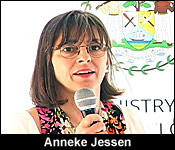 "I think it's very important to underline that what we are trying to accomplish here is important, not only for the young people who reside here, but also for the impact we can have on the communities where they come from and other communities into which they go when they leave these facilities."
Courtney Weatherburne reporting
That is the transformation that the coordinators hope to achieve with these kids at the youth hostel.
And the programs they will offer at these new facilities are designed to do just that.
Starla Bradley- Acosta, Director, Community Rehabilitation Department
"We have the basic remedial in Math, Language Arts, Science, Social Studies and we also have a computer aided literacy program and I can tell you that most of the children, we have seen tremendous improvements. Some children weren't able to write at all and now they are writing us letters. And when they are able to make those achievements, it boosts their self-esteem as well."
While these improvements are being made, their social backgrounds create a higher risk for recidivism.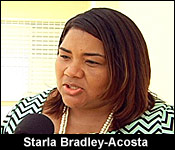 Starla Bradley- Acosta, Director, Community Rehabilitation Department
"The reality is that we have these children in our care and they come to us fo4r varying reasons and when you look at their backgrounds, majority of them come from extremely difficult circumstances and are victims of various forms of abuse and neglect and so they end up on what we call this end of the Child Protection System and by virtue of the fact that they are under 18. They are still children, they still need special protection and the focus is always rehabilitation and trying our best to give them another chance. The population is large and we have a mix population. We have males and females. We have status offenders, who come to the facility for what we call uncontrollable behavior and then you have those who come for criminal matters and then you consider that its one facility - these persons are mixed together - criminal offenders and status offenders. Status offenders are the ones who are deemed to be, they would run away, or the parents can't manage them. So, quite often what you have when you mix populations like that, given age as well, younger children with older children - it's really a breeding ground and unfortunately, we saw a lot of recidivism."
So what is being done to make sure they don't end up right back here?
Starla Bradley- Acosta, Director, Community Rehabilitation Department
"We have community rehabilitation officers stationed in all the districts and so, they work together along with the counseling team and before that child leaves any of the facilities, they already have an appointment to see their counselor or their social worker and there is a continuous flow, because the same counseling team that they work with within their institutions, when they are released, they can still see that same counselor in Belize City at the counseling center. So, there is no break. There is continuity of services. We try to move them into a family setting. If their parents aren't available, do they have relatives or just family friends who might be able to take them under their wing and where that's not possible, then we need to look at independent living - transitional facilities for them."
But for now, this modern styled living room, new lockers rooms and bunk beds will be their living facilities.
Although these refurbished quarters and study rooms won't guarantee a complete change for these youths, hope must be kept alive.
Starla Bradley- Acosta, Director, Community Rehabilitation Department
"We remain hopeful. It's always challenging, but we always remain hopeful."
There are currently 20 females and 33 males at the Youth Hostel.

Mother Wants Her Teenaged Daughter To Come Home
(posted on Thu Jan 29, 2015)
15 year old Amanda Usher is missing tonight. Her mother reported to police that the third form Maud Williams High student left home last Thursday and has not returned since. According to her mother this is the second time Usher has left home and she is concerned because she has not been able to reach her nor has Usher been in contact with any family member. She told Monica Bodden more today:..
Elizabeth Welch, Mother of missing girl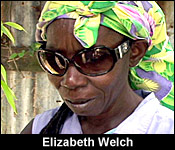 "I would like anybody who knows where she is to call me or go to the police station, because she is not going to school and she is a smart girl, she is in 3rd form. I don't know what to say, but I am pleading to public to please, if they know where Amanda Usher is, my daughter. Please contact me at 667-6397 or call the police. She is a smart girl. I don't know what is the problem. She doesn't need anything, so I don't know what is the problem why she did this to me. Her brother Lyndon Myers, die 4 months ago. After that I have a son that got sick, then now Amanda. I am pleading to the public, if they know where Amanda is to please contact me. About a couple hours ago, one of my co-worker told me that they saw her about 3 days ago, back of Jane Usher Boulevard and I went back there and I tried to get information, but I didn't any. I had already call the police and told them the information that I got."
Amanda Usher was last spotted in the Jane Usher Boulevard area. If anyone knows anything about the whereabouts of the teenage girl they are asked to call her mother at telephone number 6-6-7-6-3-9-7 or contact the nearest police station.

Clinic Workers accused of Sexual Harassment
(posted on Thu Jan 29, 2015)
47 year-old Albert Jennity is out on bail tonight after he was taken to court after being accused of sexual harassment in the workplace.
A woman he works with reported to police that last week Friday, January 23, she went to her workplace at Matron Roberts polyclinic where she met Jennity. She alleged that Jennity touched her inappropriately.
Police investigated the report and charged him with 1 count of sexual assault. He was arraigned today before Magistrate Dale Cayetano, where he pleaded not guilty. The prosecutor objected to bail, but after listening to the submissions of his defence attorney, Magistrate Cayetano granted him bail of $5,000.
He must return to court on April 1.

PUP Leader Picks Chebat For Cayo North
(posted on Thu Jan 29, 2015)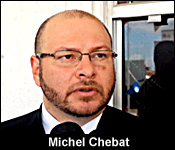 Michel Chebat has been installed as the new PUP standard bearer for Cayo North. The PUP's National Party Council chose not to bother with a costly and possibly contentious convention and entrusted the party leader Francis Fonseca with the power to make an appointment. We are told he did so after consultation with other leaders in the west. A ceremony to officially endorse him was held this afternoon at the party's divisional headquarters on the Bullett Tree Road in san Ignacio.
The move for the PUP is a no-brainer after Richard Harrison was wiped out in the bye-election earlier this month. Chebat had briefly expressed an active interest in that seat but pulled out before the bye-election to make way for Harrison.
We understand that the National Party Council has also empowered the party leader to name a new standard bearer in Belize rural North where there has not been one since September 2014 when Arthur Saldivar was dismissed.

Belize Scores Big In Trip Advisor Awards
(posted on Thu Jan 29, 2015)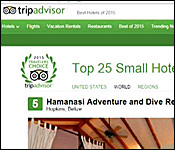 Today, Trip Advisor released its list of winners for the 2015 Travelers' Choice Award.
On this year's list, there are about 32 Belizean hotels and resorts which have been chosen by guests who left with a very good impression.
Of course, this kind positive publicity is always welcomed by the Belize Tourism Board, and today, the Acting Director of Public Relations and Marketing told us that a prestigious award such as this helps the overall tourism product of the country:
Karen Pike, Acting Director of Marketing and Industry Relations
"The BTB would like to congratulate our hotels who have won the awards on the Trip Advisors 2015 Travelers Choice Awards. We have properties that have ranked in the top 25 small hotels in Central America. Top 25 hotels for romance in Central America, as well as top 25 hotels for service in Central America, amongst other categories. We are pleased that they have been recognized because we realize that it's so hard for them, its hard work to be ranked and to the ranked in the world as well as the region."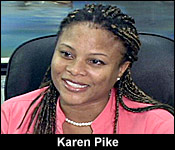 "I believe that Trip Advisor has their listing of hotels that they get ranked by their travelers and then they use this information to compile statistics to then develop rankings."
Reporter
"What does this mean for Belize?"
Karen Pike, Acting Director of Marketing and Industry Relations
"What this means is that we can increase our visitor arrival figures which we had record figures for last year and so we are hoping that with awards such as these and recognition that other travelers will hear of our hotels and the make plans to come to Belize and increase our numbers even further."
There are multiple categories that these 32 or so hotels have been honored in, and a list will be posted on our website.

AA From LA, Red Eye Style
(posted on Thu Jan 29, 2015)
And, now, visitors will have one more way to get to Belize. American Airlines has announced a direct weekend flight to and from Los Angeles.
The new flight starts on June 6, 2015, on Saturdays and Sundays when the flight leaves Belize at 8:55 am and arrives in Los Angeles at 1:10 pm local time. The Los Angeles flight is a red-eye: it leaves at 12:30 am and arrives in Belize at 6:10 am local time.

When A House Is A Home
(posted on Thu Jan 29, 2015)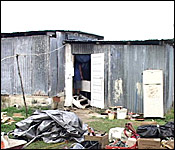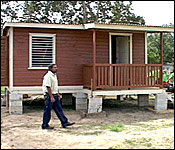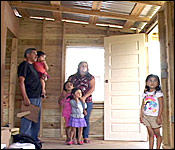 Today, The Hand in Hand Ministries handed over their two hundred and fiftieth house to a well-deserving and needy family living in Lords Bank Village.
The Garcia family was living in a plywood and zinc house which was rotting, unstable, and prone to leaks. Worse than that, the flooring of their house was bare mud, which made the rainy season very difficult for the family which has 3 young girls.
This afternoon, they received the key to their brand new house, and 7News was there. Daniel Ortiz reports:
Daniel Ortiz reporting
Meet Luis Garcia, his wife, Jessica and his 3 daughters. This new family lived in the grey house to the right for the past 3 years.
Luis Chan calls it a dry weather home.
Luis Garcia - Receiving a New Home

"It's a dry weather home. In the dry weather it is good, but when it rains, although I try to put something...I still get wet. Probably because I built the roof high, I had water coming in the house. I am just thankful to Hand in Hand Ministries for this. Many times I went on the roof, like 5-6 times I bought the "never leak" tar to put in the holes and finally when the rains came, I couldn't go on the roof, so I put some buckets to receive the water. It was very uncomfortable."
Jessica Garcia - Receiving a New Home
"Even if the house was leaking and everything, I really didn't really care about that. It's the love that we have in each other and the love for our kids."
That close family unity was one of the qualities which caused the Board of Hand in Hand Ministries to look favorably on their case, and to provide them with this new home.
Daniel Ortiz
"What was the impression of the builders?"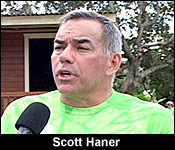 Scott Haner - Volunteer/Board Member, Hand in Hand Ministries
"I think first impression was what a wonderful family and they wanted to come in and see that and certainly we wanted to build a house that would be an enhancement to their lifestyle and they met the criteria. When we got here on Monday morning, they had just laid the foundation with stones. We built the foundation and the deck the first day, the built the walls on the second day, we put the roof on the third day and we did the finish work on a half a day. So, it takes three and a half days from start to finish."
That 3 and a half days of work has become priceless to the Garcia family.
Luis Garcia - Receiving a New Home
"Something like this, we don't have words to say. You can see here the difference."
Their 3 daughters are especially happy to see their new home.
Luis Garcia - Receiving a New Home
"They are really excited. They love the house. That's the dream house for all of us."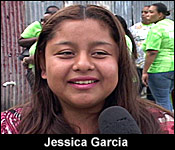 Jessica Garcia - Receiving a New Home
"We all feel very happy and when they raised the walls, the kids start jumping saying my new house mommy. They wanted to sleep the same night in there, but there were no doors, so we couldn't."
The house certainly has doors now, and the family should be able to sleep in it tonight.
Hand in Hand Ministries has been helping needy families in Belize for the past 12 years.

BNE Breaks The Bank For Health
(posted on Thu Jan 29, 2015)
Health clinics will be given an upgrade with about four hundred thousand dollars in funds from the BELIZE Natural Energy Charitable Trust. On Tuesday, they signed two Agreements to construct an annex to the Independence Poly Clinic and to renovate the existing structure that houses the San Narciso Health Center located in the Corozal District. The Independence Poly Clinic got grant funding of $250,000.000 and $82,000.00 will got to san Narciso.





Home | Archives | Downloads/Podcasts | Advertise | Contact Us