Businessman Killed During Armed Attack
(posted on Thu Nov 26, 2015)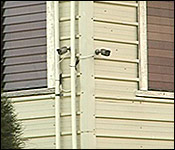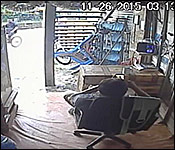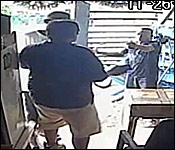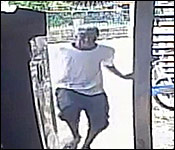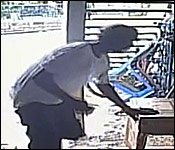 Businessman Ruben Perez was killed this afternoon in Belize City. 47 year old Perez owned an aggregates business at the end of Vernon Street near the George Price Highway - where he sold sand and gravel and cement blocks.
Surveillance video obtained by 7News shows him sitting calmly behind his desk at 3:14 pm playing with his cell phone. Perez seems to detect a disturbance and stands up. Suddenly, two men - one of them with a gun - come running into the frame. There is a brief standoff - and then Perez pushes the one without a gun. And that's where the very jumpy gunman then shoots Perez in the neck at close range - we won't show that part of the video.
After that, with Perez on the ground, the gunman comes back to collect something - what it is we don't know. Police say they need your help in identifying those two men - and we'll tell you how you can help with that later on.
But first, we spoke to a neighbor and police at the scene:
VOICE OF: Neighbor
"And about 5-6 minutes after 3pm, we heard bang! And that bang - I said eh. I told my grandkids it didn't sound like an acid bomb. That sounded like some sort of gun. A few minutes later we saw the police come."
Reporter
"So police came and took the body. Was he dead already?"
VOICE OF: Neighbor
"Well it appears he was not. According to those who knows a little more that he got shot somewhere in the region of the head and he was rushed to the hospital by the police. Then we realize that it was Mr. Primo, who is our good neighbor. He is in the aggregate business and helps us in little donations wherever we were in problems and so on. He is a "buen vecino" - best said in Spanish."
Insp. Alejandro Cowo, CIB Prct. 1 & 2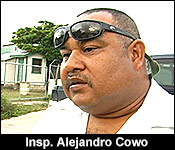 "Some time after 3pm today, police received information of a shooting at #338 Vernon Street, which is Perez Hardware. Upon arrival, police met a male person with an apparent gunshot to the neck. This person was transported to the KHMH where he was pronounced dead shortly afterwards. At this time police are following several leads in regards to establish a motive as there are lots of things that we are dealing with that we cannot tell you directly what is the motive at this time."
Reporter
"Was he alone there?"
Insp. Alejandro Cowo, CIB Prct. 1 & 2
"Yes, he was inside his small office and another person was outside that deals with the selling and loading of construction materials."
Reporter
"I notice that there are surveillance cameras. Are those functioning?"
Insp. Alejandro Cowo, CIB Prct. 1 & 2
"Yes. We are looking at them to see how they can assist us in this investigation at this time."
Reporter
"So, for now you can't say whether its hit, a murder, an attempted - nothing like that?"
Insp. Alejandro Cowo, CIB Prct. 1 & 2
"No. We cannot give you that information as yet until we get other information, then we can probably share exactly and say what is the motive behind this shooting murder."
Reporter
"Could you tell us what was the scene that you've found? He was in his office, was he sitting? Did it seem that there was a struggle or anything like that?"
Insp. Alejandro Cowo, CIB Prct. 1 & 2
"He was actually laying down on his back. Yes, we found some coins at the scene thrown away and thats all that we found there and one expended shell."
Reporter
"Does it seem as though there was a struggle?"
Insp. Alejandro Cowo, CIB Prct. 1 & 2
"Apparently yes, it looks like there was a struggle. But as I tell you at this time we cannot assert exactly what was the motive."
Police say they found Perez lying on his back with a single expended shell beside him. The gunman used a 9 millimeter pistol. Notably, Perez had money on him but was not robbed. When the gunman came back and snatched up something - he does not appear to have taken money.
Now, back to the surveillance video - police cannot identify the attackers and are asking the public to assist. Crime stoppers is offering a $500 dollar reward for any information which leads to their arrest - not conviction, but arrest. To give that information, you should call 0-800-922 TIPS.

Flood Relief For Flowers Bank
(posted on Thu Nov 26, 2015)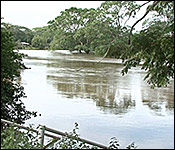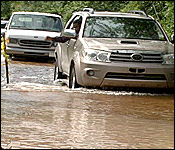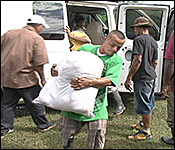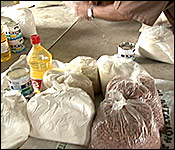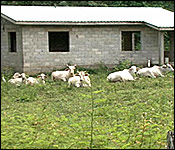 Last week, we took you on the Belize River to show you how the Valley Community in Belize Rural North was being affected. The heavy rains of the weekend before had inundated the entire country, and all the floods from the Cayo District rolled into the Belize River Valley.
Well during the course of the last 48 hours, those flood waters rolled past Flowers bank Village. It caused major flooding of the main road into the village, and the only bridge in and out was under water. To add to that, there have been intermittent rains all across the country over the last 24 hours.
Flowers Bank does not have grocery shops, and so the 36 families who live there are forced leave out of the village to get food supplies. But, since they are cut off due to the flood, NEMO went in with rations today to distribute and provide them with assistance.
NEMO Minister Edmond Castro, who is their Area Representative, spoke with us today. He told us that the Ministry is trying to be pro-active avoid any incidents or loss of life or property because the villagers would be forced to leave to get their groceries:
Hon. Edmund Castro, Minister of State - NEMO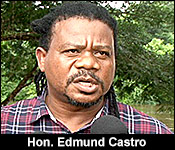 "Flowers Bank and the River Valley communities are normally the last sets of villages to get affected by the flood, especially when the water leaves from out of the Cayo District - have to pass down this way. So what we are experiencing now is the last set of back water that are coming down the river that is now affecting Flowers Bank. And if you notice on the road coming to Flowers Bank, the bridge was covered with over a foot of water and still is it seems like to me. And so now to prevent the villagers from going out which they normally do their shopping day on Friday - we decide to come in and assist the villagers as flood victims, with some groceries to eliminate that situation of all the villagers going out and try to make the situation worse. The worst thing that could happen for us as NEMO is to see something - an accident waiting to happen and do nothing."
Calbert Budd, NEMO Coordinator - Belize Rural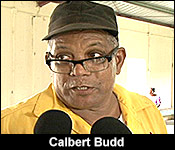 "As you can see we have beans, rice, flour, milk, cooking oil - that's all."
Daniel Ortiz
"How long will it last them if they are stranded here for an extended period of time?"
Calbert Budd, NEMO Coordinator - Belize Rural
"Well hopefully that will not last them too long. But it's a little help to save them from have to walk through that water every day to go out to look for a shop. Because if you notice you don't have shops back here, so everybody who lives here have to go either Burrell Boom, Belize City or Bermudan Landing or somewhere to pick up whatever they need."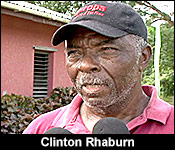 Clinton Rhaburn, Chairman - Flowers Bank
"I look upon it this way that everyone in the community are affected somewhere or the other. Because they can't get out, they can't get in. They can't even get to their farm and some of their farms are under water. So I made it clear that I believe that if we give one, it's better to give all. Because everybody is affected by this flood."
Daniel Ortiz
"What if critics take the point that they are enjoying extra attention from you because they are your voters?"
Hon. Edmund Castro, Minister of State - NEMO
"But that is rightly so. I love them and they love me and even when I was not the person responsible for NEMO, I was the person in charge of the NEMO Belize District. If you notice the way we work, we don't shy from work. If the thing was in PG, we would be there. If it is Corozal, we would be there. If it's at the cayes, we would be there - wherever. As the minister responsible for NEMO, I don't wait for anyone to come and tell me "this is the situation or this is happening" - I go and see for myself."
Of important note is that yesterday, hundreds of school children could not go to school in San Jose, Toledo because the bus owners would not risk their buses on the bad road. So, the students had to stay home.
As you may remember, this is the same bad road that our news team encountered when we went to the village looking for the family of baby Suzette Caac, who almost drown.

US Blacklists Belize Offshore Company
(posted on Thu Nov 26, 2015)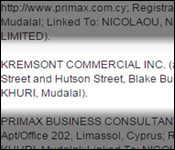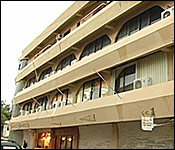 What does Belize have to do with Syria and ISIS? You might think, nothing at all…but today the Obama Administration blacklisted an offshore company registered in Belize because it is allegedly involved in backing Syrian President Bashar al-Assad. The U.S. Department of the Treasury's Office of Foreign Assets Control today designated four individuals and six entities for providing support to the Government of Syria.
According to international news reports, the state department has gathered information which says that a Syrian businessman described as a "middleman" facilitated oil purchases by the Syrian regime from the "Islamic State" terror group.
Now, bringing it back to Belize, one fo the six "the blacklisted entities" is an offshore company called KREMSONT COMMERCIAL INC. which is linked to Russian Mudalal KHURI. Kremsont is registered at suite 302 of the Blake Building at the corner of Eyre Street and Hutson Street, in Belize City. We called that office today but were told that no one could speak on behalf of Kremsont.
The Treasury Department says Khuri represents Syrian government interests in Russia.
Now, experts say the damage to Belize generally should be minimal since it is well known that these are only shell companies and the registered owners of these companies probably never set foot in Belize. As for the Belize Offshore Sector, that's already on life support - and this might only be pulling the plug.

17 Year Old Says He Needs Gun to Protect Himself
(posted on Thu Nov 26, 2015)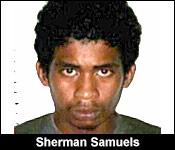 Yesterday we told you about the trio the GSU busted for firearm, ammunition and marijuana at the mile 8 community. They are 18 year old Sherman Samuels, 20 year old Shakedi Baizar and a 17 year old minor.
Well today the 17 year old pleaded guilty, and told Magistrate Carlon Mendoza that the gun is his that he got from a friend who went away to the states and left him with it. He said he has been using it for protection for his life because someone wants to kill him. The Magistrate inquired further into the minor's story and found that he is not sure of his age because both his parents died 10 years ago and they gave him away to foster parents without first registering his birth.
Still, his guilty plea was accepted, but that doesn't mean that the other two got off. Samuels and Baizar who pleaded not guilty to the firearm and ammunition offenses were all remanded into custody until December 10, 2015.
The trio all pleaded guilty to possession of 51 grams of weed but the Magistrate deferred sentencing for that offense to December 10th when the minor will also be sentence on the guilty plea for keeping a firearm and ammunition.

The Rules Of The Road, Reinforced
(posted on Thu Nov 26, 2015)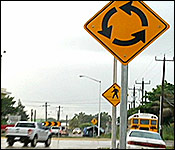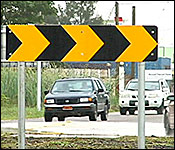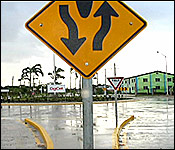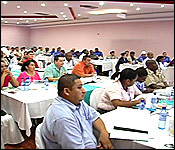 Don't drink and drive, wear a seatbelt, don't speed: those are just a few of the road safety rules that are constantly being repeated on TV commercials and through programs. One of those programs is the Belize Road Safety Demonstration Corridor Project. Today the program coordinators hosted a course for drivers from all sectors of society. International Road Safety Consultant for Belize Mavis Johnson told us that this project is more than just upgrading roads, it' about reducing traffic accidents through responsible driving.
Mavis Johnson, International Road Safety Consultant
"It's many things. It isn't just one thing and that's the thing about road safety and improving the conditions on the road. We have to look at the roads themselves; the infrastructure, the signs and markings and I don't know if you've driven between Belize City and Belmopan at night, but it's so impressive now. You can actually see where the road goes, instead of just being in blackness. So some of those things; the shoulders on the sides have been improved. Again, one of the great things in development right now is the new round-about at the entrance in Belmopan. It's going to spectacular and then the Belmopan ring road which will provide plenty of opportunities for cyclists and pedestrians and car drivers to actually share the road together in a safe manner. So that's the infrastructure side, then of course you probably seen the two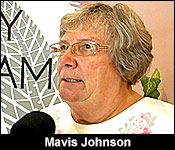 highway patrol vehicles out there and the two ambulances that are there to help people who have been involved in crashes. We also had work done in the schools, so we are bringing up children with a healthy attitude about traffic. It's often hard to change the attitudes of people when they are already mature. But when we can take them at 5-6 years old when they are still impressionable - that's when we want to influence their minds about the importance of being courteous to each other and what their role is as road user. They start as pedestrians, they become cyclists and then if they are fortunate, they don't take motor bikes, but they go into cars and so our future drivers will be so much better we believe."
"We are presenting right from the start to finish on this course information about traffic collisions, how they occur, how we can prevent them from happening and then giving them different pieces of information about the importance of medical system, about the effective enforcement, about the education program in schools and we are talking about the long term plan for road safety in Belize."
Johnson told us that Belize has made significant improvements along the demonstration corridor which runs from Belmopan to Belize City. But how about the Northern Highway? There have been a number of accidents resulting in fatalities on that highway this year - especially near Ladyville. Johnson told us that they are well aware of how dangerous that stretch of road is and that there are plans to extend the project.
Mavis Johnson, International Road Safety Consultant
"The corridor that was selected was selected based on many factors. It was the highest corridor for fatalities and injuries across the country. The benefit being that the projects and the programs are working well. And so having seen success there is a plan now to look at extending the next series of projects on the Northern Highway out from Belize City. So that we do start to pick up, because the collisions haven't reduced and so there is already plan in motion that there will be continued. So there will be improvements to the road, focused enforcement, awareness campaigns. The school work that started on the corridor, that could be shared with all school in Belize."
CD's with tutorials and information on road safety have been distributed to over 500 schools. Yesterday at the opening of the course, the CEO in the Ministry of Works discussed the success of the programme in reduced fatalities:..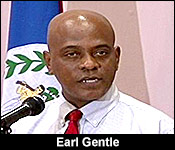 Earl Gentle, CEO - Ministry of Works
"This project has been underway for almost 3 years and progress has been detected in lives saves from road traffic crashes and prevention of serious injuries. The road fatality figures of 2015 is showing the lowest number of road deaths on our demonstration corridor. From January 2015 to present, along the corridor, only 6 persons have died. Which represents approximately 9% of total road fatalities in Belize during this year."
The programs ran for two days and finished today.

Surveillance Video Frees Men From Murder Charge
(posted on Thu Nov 26, 2015)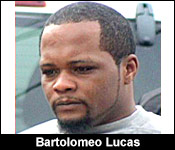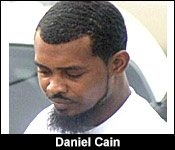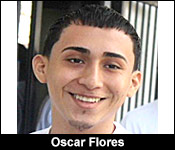 Tonight, 28 year-old Bartolomeo Lucas, 28 year-old Daniel Cain, and 20 year-old Oscar Flores, all residents of Pinks Alley, are at home after spending a year in prison. They were on remand awaiting trial for the murder 33 year-old Harrison Smith which happened a year and 2 months ago. Today, the Magistrate sent them home because the police could not provide any evidence linking them to the murder. Moreover, police had surveillance footage which proved that they were innocent and sat on it for the entire time that the men were languishing in jail.
On Friday, October 3, of last year, 32 year-old Harrison Smith, and 23 year-old Eustace Lewis were both gunned down on North Front Street, where 3 men targeted them while they were riding past. Both men were shot, but Smith's injuries took his life. Well, a few days later, police were swift in bringing a murder charge against Bartolomeo Lucas, Daniel Caine and Oscar Flores, and since then, they've been in jail waiting their case to move forward.
At every adjournment, their attorney, Oscar Selgado, pressed the Chief Magistrate Ann Marie Smith, to consider throwing the case out because the police had not brought any evidence forward for the court to consider. But, dismissing a murder charge is not something that a judge or magistrate does lightly, and so, the Chief Magistrate kept granting the prosecution adjournments to allow for police to get the time they needed to gather the evidence to prosecute the accused.
Today, after 14 months, Selgado, the attorney for the defendants asked the court once again to throw the charge out and set the men free because the prosecution had not made any disclosure of evidence. This time, the Chief Magistrate agreed, and threw the case out. This allowed all 3 men to leave court freely.
But, 7News has learnt that had the police acted in a timely manner, these men would have been able to go home a few months sooner. That's because they came upon surveillance footage from Chon Sing Restaurant which showed that all 3 men were inside at the time of the shooting. So, they couldn't have been two places at once. The only reason that they had been charged was because an eyewitness gave police a statement pointing fingers at the 3 defendants as the shooters. The investigators had also gotten additional accounts from others which questioned the credibility of the supposed eyewitness, and that along with the surveillance should have set the men free.
Our information is that the Director of Public Prosecutions advised the investigators that discontinuing the case would be the most appropriate decision, but they didn't act on it. She then contacted Head of National Criminal Investigation's Branch, but this lead officer did not respond to her. We've since received a copy of a leaked internal memo sent from NCIB to all investigators ordering them to disregard the advice of the DPP whenever she advises that cases must be withdrawn. The memo mandated them to get permission from the NCIB in order to drop all charges.
That memo most likely caused these 3 defendants to spend a few months longer in jail that they needed to.

Cops Got A-K
(posted on Thu Nov 26, 2015)
Police have taken a dangerous assault rifle off the streets. This evening around 5:15 the Southside Strike Team searched an empty lot on Allan Pitts Crescent in the Port Loyola area and found this Ak47. No one was found in the area so the gun was labeled as found property.

Ambassadors For Children
(posted on Thu Nov 26, 2015)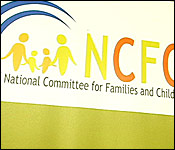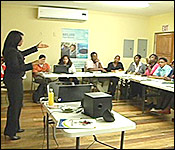 15 young men and women from across the country are being trained as Child Right's Ambassadors. The training started yesterday and it focuses on the rights of a child and number of issues affecting kids in Belize. The Information Coordinator for NCFC, Lindburgh Smith, told us that it is all about protecting children and giving them a voice.
Lindburgh Smith, Information Coordinator, NCFC
"NCFC had a plan a long time ago to spread their wings to reach more children about educating them about their rights and responsibilities. And so we thought that putting together a program would be very key and we came up with the Ambassador's Program which represents child rights ambassadors and we have representatives countrywide. These representatives are being trained since yesterday and that training will be completed on Friday and then they're back to their respective local communities where they will be doing community sensitization with both students, teachers and the community at large."
Courtney Weatherburne
"What does the training entails?"
Lindburgh Smith, Information Coordinator, NCFC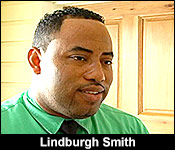 "It's quite comprehensive. We have training on human trafficking, training on child abuse, the penal and juvenile act. We have on the children and family act. We also have facilitations skills which will be for tomorrow and we also have presentation on different topics which will also include training modules on how to go about presenting what they have been learning over the next 3 days."
Courtney Weatherburne
"Describe to me more about the roles and responsibilities that these ambassadors will have in their various communities."
Lindburgh Smith, Information Coordinator, NCFC
"The intent for these ambassadors is basically to have scheduled presentations every month and be on standby for any other call from time to time. And so when these ambassadors go to do their presentation, then they will have to do some kind of report writing where they will send back into NCFC office to let us know how the presentation gone, their challenges, if they need more training and of they need more training in which areas. So that's basically what the ambassadors should be doing and that will be on a monthly basis. It's about reaching quite a large number of people. Through the efforts of the ambassadors, they will be basically our backbone in educating children and sensitizing the general public at large about the importance of children rights and adhering to children rights as well."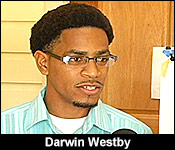 Darwin Westby, Child Rights Ambassador
"It's an intense and overwhelming training which will give voice to the voiceless out there and to bring greater public awareness on the importance of our young people who are the future of Belize. So it's a very significant and historic movement towards developing children and young people."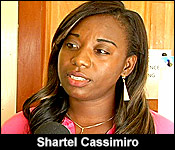 Shartel Cassimiro, Child Rights Ambassador
"I must say it's an overwhelming experience. One of the reasons why is that we have to keep in mind what is the reality and a lot of kids don't know what are their rights and like what my colleague say, they infringe of their right and I am here because I want to assist them to stand up, stop the silence and let us stand up and have that voice. Because I know they are capable of doing it. They are just not educated based on what are their rights and I believe it start from home. We need to even educate the parents' base on what are the right of their child. Because I believe we are the ones who are molding these kids; the kids are our future - our greatest treasure. Imagine for molding - them knowing their rights and what they should stand for, believing in themselves, their identity, their freedom. I believe that is one of the most beautiful thing and we should embrace it."
Tomorrow the participants will be getting their certificates and will start their work in their respective communities.

Police Need Your Help
(posted on Thu Nov 26, 2015)
As we told you at the top of the news, two men are being sought by police tonight for killing businessman Ruben Perez. As this surveillance footage shows, Perez was sitting behind his desk on his phone, when the men stormed into the compound at the corner of Vernon Street. He stood up to confront them, pushed away one of the men, and the gunman then shot him in the neck. It was a fatal injury.
Police cannot identify the attackers and are asking the public to assist. Crime stoppers is offering a $500 dollar reward for any information which leads to their arrest - not conviction, but arrest. To give that information, you should call 0-800-922 TIPS.

Churches Unified, But Groups Divided
(posted on Thu Nov 26, 2015)
2 weeks ago, we told you about the controversy surrounding the appointment Reverend Ashley Rocke, the Senator representing the Churches. 200 plus churches nationwide, minus the Belize City Churches, have complained that the Belize City chapter of the Belize Evangelical Association of Churches excluded them from the decision and hijacked the appointment.
Since then, that disagreement has caused a rift which appears to be widening within the Christian Community.
Today, representatives of these 200 plus aggrieved churches announced today that they've gone off on their own and formed a new organization called the National Evangelical Association of Belize. Today, we reached out to the new association, and their President, Pastor Lance Lewis, was unable to give an interview. He did authorize Pastor Scott Stirm, the Vice President, to grant us comments, and he explained to us via phone what this new association means to the Church Community outside of Belize City:
Scott Stirm, VP - National Evangelical Association of Belize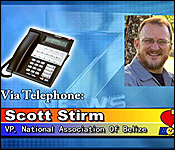 "Well as we stated in our press release, there have been some difficulties with the (BAEC) Belize Association of Evangelical Churches which resulted in them sending a letter of suspension all national leaders. We pursued meeting together for two months - requesting a meeting and we were not able to get a meeting with them and so all of us have been working together on a new national plan for BAEC - all the nationwide chapters, all the nationwide leaders and what we have done is we've taken that plan and we've taken that constitution and that is our constitution. That's what we are stepping forward with. Nothing has changed for us. We had 36 different national executives in the BAEC and so 30 of us were suspended and so it's those 30 executives plus the 200 churches that we represent that have formed this new association and so again, we are staying positive and proactive. We want to do what God had called us to do in the nation and to be able to do that with a heard and spirit of unity and togetherness."
"The sudden situation is a done deal. The senator for the churches is supposed to represent all of the church and so it's not just representing the BAEC. Part of the difficulty that we had was that in the last nomination of senator from the Evangelical Association, that nomination took place with about 50 or 60 leaders coming together from all over the nation. This last nomination took place from 5 or 6 Belize City leaders and so that right there is the nature of the difficulty. The senator for the church represent the church as a whole and so we obviously will be pursuing relationship with that senator as representing the church. But can churches from Belize City push out 200 churches nationwide?"
Daniel Ortiz
"What if persons outside the church take the view that because this new association has been formed, there is a continuous rift that keep expanding and so there isn't total unity as you would want from all the churches within the Evangelical society?"
Scott Stirm, VP - National Evangelical Association of Belize
"Well obviously we pursue that. Again, we pursue a meeting to be able to sit down with the BAEC Belize City chapter for 2 months and they ignored us and so we felt that we were left with no other option."
Stirm made the point that the executive members of this new association will try to mend fences with the Belize Association of Evangelical Churches - which is basically now only the Belize City Chapter of the former membership. He told us that they await a meeting to try to find common ground once again.

The Short Term Plan For 4gLTE
(posted on Thu Nov 26, 2015)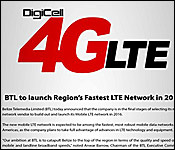 BTL mobile users know well enough about 4g frustration with BTL's overloaded data service. But the company says that in 2016 it's upgrading the 4gLTE - that's short for long term evolution which is the global standard in mobile internet.
A release issued today says the company expects to finalize the selection of its LTE vendor in matter of weeks and to begin deployment of the new network shortly thereafter.
is in the final stage sof selecting its mobile network vendor to build and launch its mobile LTE network in 2016. A press release says, quote, "the new…network is expected to be among the fastest, most robust…in the Americas."
In the meantime, the existing 4g system is being upgraded before the end of the year, the boost the system which is currently overwhelmed.

BEL Helps St. Mary's
(posted on Thu Nov 26, 2015)
Yesterday you saw BEL partner with Hand in Hands Ministries to gift a new house to a deserving family, and today the utility company was sponsoring a feeding programme. The St. Mary's program started in 1994 and has become a mainstay for the hundreds of children who attend the Fort George Primary School. We found out how it works and how BEL will help with a 5,100 dollar cash donation:..
The program serves 850 meals per week.

Dance X is Next
(posted on Thu Nov 26, 2015)
If there's one thing that brings people together - it's music and dance: and that's just what Dance X Belize hopes to accomplish. The 7th edition of the dance extravaganza was launched last night with a welcome reception at the Bliss. Today we got a chance to speak with one of our own senior dancers - Jaimie Thompson and he told us that Dance X Belize is not all about sharp choreography,- it's also about promoting unity and culture through dance.
The show continues tonight with performances from the Yucatan Classical Dance Company "Vao". It starts at 8 at the Bliss. The other performances through to Sunday will also be held at the Bliss at 8.

Guate Farmers Flattening Chiquibul
(posted on Thu Nov 26, 2015)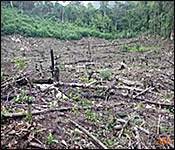 The Friends for Conservation and Development, FCD, are reporting tonight that they have caught 3 Guatemalans farming inside the Chiquibul National Park, very near the Belize/Guatemala Border.
Yesterday, a joint forces patrol, comprised of the BDF, Police, and FCD Rangers, were on patrol in the Chiquibul near an area known as El Retiro, which is about 1.4 kilometres away from the border.
There they found 27 year-old Jorge Felipe Gudiel Garcia, along with a 7 year-old and a 9 year-old minor. They had cut down the forest in this area, and planted a 2.5 acre farm of black beans.
Jorge Garcia informed authorities that he had planted pumpkin earlier in the cleared area that was approximately 2.5 acres in size, and that he knew of other farmers further north of his location also doing farming.
Garcia was charged for illegal entry and cultivating in a protected area. The two minors were released promptly to Guatemalan authorities.

Home | Archives | Downloads/Podcasts | Advertise | Contact Us