Teenager Murdered In Lord's Bank
(posted on Thu Apr 27, 2017)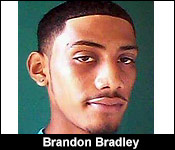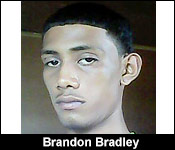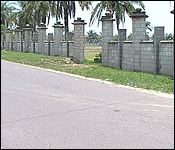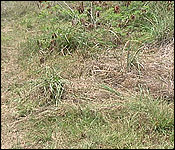 There is the murder of a teenager to report tonight, but this one didn't happen in Belize City which is now on day 18 of its sustained state of peace. This killing happened in Lords Bank Village last night, sometime after 10 p.m.
The victim, 17 year-old Brandon Bradley, was only a short distance away from home but, he never made it because he was ambushed and shot by an unknown assailant or assailants. His family found his lifeless body in the bushes, where he had run for cover from the gunfire.
So, why was this hard-working student killed? That's the answer that our news team went looking for in Lords Bank:
Daniel Ortiz reporting
17 year-old Brandon Bradley's body was found here on the side of the main road into Lords Bank Village. He was only a stone's throw away from his house when he was gunned down. His mother heard the gunshots and instinctively knew that it was her child who had been shot.
Voice of: Joshlyn Bradley - Sister of Deceased
"He was riding to go home. He called my mom before he reached and when my mom heard the shot, my mom told my sister that Brandon got shot and then my mom ran out and she just saw his slippers and then she started to look for him."
Voice of: Neighbor - Heard the gunshots
"When they went in the bushes, they found him there. After that they brought him out to the street."
Voice of: Joshlyn Bradley - Sister of Deceased
"It was my mom that found him there. My mom and my brother tried to carry him out and then put him down on the ground."
Reporter
"Was he alive at the time when they found him?"
Voice of: Joshlyn Bradley - Sister of Deceased
"Nope."
Today, Ladyville police were unable to share much information on the case because according to them, the investigation is in its early stages.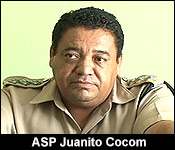 ASP Juanito Cocom - OC, Ladyville Police
"Ladyville detectives responded to an area on the Lord's Bank Road by the entrance of Green Garden Estate. On the side of the road the detectives observed the motionless body of a brown-skinned Hispanic decent slim-built male person laying face up with appeared to be gunshot wounds to his chest. The body was identified as that of Brandon Randy Bradley, 17 year old Belizean student of ITVETT who resides in Lord's Bank Village."
"The scene was processed, 2 expended round were found on the road. The body was taken to the Karl Huesner Memorial Hospital where it awaits a postmortem at the morgue. The investigations continues."
Residents tell us that shortly before he was gunned down, he was hanging out at this unnamed shop, which is less than half a mile away from his house. He was with his brother, and he decided to head home. He was riding home when a gunman shot him right here on the road. It is believed that he ran into this open space in the fence to get away from his attacker, and that's where he took his last breath. That's a cruel end to his life, and his family thinks that the gunman disliked him simply because of his personality.
Voice of: Joshlyn Bradley - Sister of Deceased
"I think it's because of jealousy, the way that he kept to himself and he is a person who saves his money and he get what he wants. He works hard for his money. I think it's just that the person who dealt with him didn't like how he behaves. He just kept to himself. He doesn't have too much company. We are just grieving right now, but we know that he is a good person. He changed his life to be an electrician and he was studying to be just that. Just the other day, he was talking to my other brother that he wanted to build his house. He is not bad influence."
Daniel Ortiz, 7News
"What is one of the things you will remember about him the most as your brother?"
Voice of: Joshlyn Bradley - Sister of Deceased
"His smile and he always looked out for me. He is a nice good person and you could have spoken to him whenever you have problems."
But, under that quiet and reserved demeanor, was a young man with big dreams.
Daniel Ortiz, 7News
"We understand that he recently graduated from TUBAL and he enrolled over at ITVETT. Tell us about that?"
Voice of: Joshlyn Bradley - Sister of Deceased
"He graduated first and they gave him a scholarship, but he didn't accept, because he wanted to go to ITVETT to finish his electrical. He told me when he finishes that. When he went to ITVETT, he came in first and he told me that he wanted to study more and I told him why don't he become a pilot and he its true, that he should do that."
Of note is that Bradley had a bag on him when he left the shop. Neither the bag nor his bicycle could be found last night after he was killed.
He recently graduated from the Tubal Trade & Vocational Institute, and according to his family, he came in first in his class. At the time of his death, he was enrolled at the ITVET.

Brazen Gas Station Robbery In Ladyville
(posted on Thu Apr 27, 2017)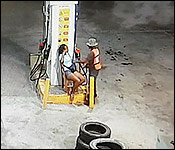 Less than an hour before Brandon Bradley was murdered in Lords Bank, there was an armed robbery at the "24/7 Gas Station" right at the Lords Bank Junction.
7News has obtained surveillance video of the entire robbery caught on tape. Seen here, a female gas pump attendant was on her night shift, and the video shows her waiting to serve any customer who approaches to buy fuel. Here, at around 9:39 p.m., you clearly see a man dressed, in what looks to be work clothing and a safety vest, entering the frame. He approaches the female gas station employee appearing to be a customer wanting to buy fuel.
He then quickly pulls out a handgun, points it at the female employee, and it appears that he either orders her to hand over the money bag, or he points to her indicating his intention. You clearly see where he struggles to remove it from around her neck, and just as he is about to run off, he grabs her 2 gold chains and yanks them off her neck.
As he retreats, the camera spots a second man, who appears to be his accomplice. Both men escape, and the footage shows that the female employee is clearly in distress, having just been robbed at gunpoint. She appears to be pleading with the Chinese businessmen running the store area of the gas station. They briefly lift up the shutters, but it appears that the rethink that decision and then put them back down.
There is concern from the community that the gas pump attendants, who are predominantly women employees, are exposed to danger because there is no security guard on duty to help watch over the place. The service station is but one of the enterprises owned by the mega businessman Ming Pei Chen.

Report: Cops Went To Barton's Home
(posted on Thu Apr 27, 2017)
Immigration middleman Barton Middleton has emerged as a kind of folk figure, like a post modern Anansi, with an endless bag of tricks so that he never gets caught. But, police may want to put an end to that. Reliable reports say they searched Middleton's home in Orange Walk Town early this morning. No arrests were made, but there are persistent reports that police found a questionable stamp which they are looking at.
Yesterday, the chairman of the Senate Inquiry warned Middleton that any witness who lies under oath, committing perjury, or if they violate the National Assembly's Powers and Privileges Act, will be prosecuted.

Canadian Woman, American Man Missing In Corozal
(posted on Thu Apr 27, 2017)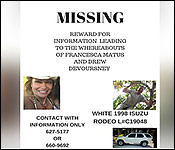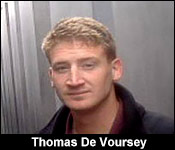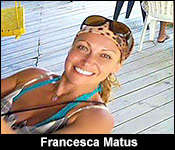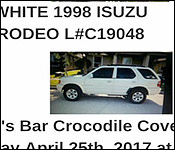 A North American couple is missing in the Corozal District and their friends are very concerned about their safety. 52 year old Canadian Francesca Matus and 36 year old American Thomas De Voursey were last seen on Tuesday night leaving Scotty's Bar in Corozal Town in a White Isuzu Rodeo. They were headed for Francesca's home on the Consejo Road about 7 miles away. That's where a friend was supposed to pick up Francesca the next morning to take her to the airport - because she was scheduled to fly to Canada. But when that friend Joseph Milholen showed up to her house at 8:30 in the morning she wasn't there. He couldn't get any answer on her cell phone, and neither could he reach Drew De Voursey - whose motorbike was parked in her driveway.
Since then friends have searched both their homes and found their passports and their suitcases - suggesting that they haven't gone anywhere. So where could they be? That's what CTV-3 asked Joseph Milholen today.
Joe Milhoen, Friend of Francesca
"The whole thing is a mystery. We showed up and drove his vehicle which is a motorcycle was in Francesca driveway when I arrived at 8:30 on Wednesday morning and her car was gone. Her luggage was in her house. They got missing sometime between 10:45 the night before when they left the bar and 8:30 when I picked them up and there were obviously together, because the only vehicle he was is parked in her driveway and they were seen leaving Scotty's Bar and Grill together the night before."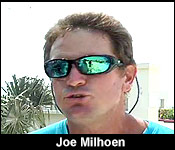 "They both have cell phones, but as of 8:30 yesterday morning both phones were going straight to voicemail when you dial their numbers and neither one is responded to any social media. Their families have been contacted, both Drew's and Francesca's. They have not responded to any communication from their families also."
"We have spent countless hours since yesterday morning going down all the roads in the areas, trying to find if they ran off the road at night on the way home or just anything, any trace of the vehicle. We are working closely with the police department in trying to organized search. We are doing a lot of the search ourselves. We have people out searching and we are out riding the roads."
"We have rented a plane and we're fixing to do a flyover of the area to see if we can spot the vehicle. What we are asking the public to do is be on lookout for this vehicle. It's a white 1998 Isuzu Rodeo with a Corozal tag number."
"There is a reward being offered for information leading to their whereabouts."
Reporter
"Is there any reason you guys might be concerned that something might have happened to them?"
Joe Milhoen, Friend of Francesca
"Of course. Anytime somebody takes missing, we are very concern that something might have happened. So yes we are not taking anything off the table. We are praying and everybody is praying that they are found safe and sound, both of them."
Anyone with information is asked to call Corozal police, or the couple's friends at 627-5177, or 660-9692. Both Matus and De Voursey have been living a part of the year in Belize for a number of years. They both own property here.


Free Zone Sick Out, Staffers Want CEO Out
(posted on Thu Apr 27, 2017)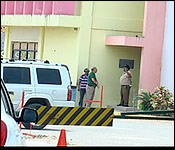 The administrative staff at the Corozal Free Zone staged a sick out today and simply did not show up to work. Reports say they are protesting against their boss, the recently appointed CEO Valentino Blanco. Apparently, they want him gone - and they're not alone. The Corozal Free Zone Chamber of Commerce is also pushing for Blanco's ouster. As we understand it, the issue is the perception of malfeasance, and ineptitude. Blanco has only been in the job for two and half months, but it seems he hasn't made many friends.
In fact the only major ally he has, tried to come to his rescue today. That's UDP Corozal Southwest Representative, Dr. Angel Campos, pulled into the zone this morning - and remained there for much of the day. It's notable because the Free Zone is not in his constituency and he is the Minister of State for Heath, with zero responsibility for free Zones. We're told however that Campos and Blanco are related by marriage.
But, while Campos was there to keep the office warm, the staff was not - and because they had been on go slow from earlier in the week, we understand a number of customs entries are backlogged. Things could come to a showdown tomorrow when the Free Zone Board of Directors meets. This Board has representation from the Zone's private sector, who aren't happy with Campos. We'll keep following it.

Cops Claims False Culprit in Crash
(posted on Thu Apr 27, 2017)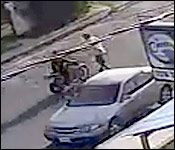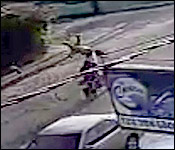 Police said she knocked down two men, causing serious injury, but today 21 year old Rashawn Castillo proved that she's been falsely accused.
The cops sent the media a release yesterday saying that Castillo was driving the SUV which hit a motorbike and a pedestrian on Mahogany Street on Tuesday evening. Well, Castillo was outraged to hear her name called as the culprit in an accident where she was only a witness. Today she told us what she saw:..
Rashawn Castillo, Wrongly accused of causing accident
"I saw an age able man wearing white - he was crossing the street at the same time, when a motorcycle driven by the young man Cuthkelvin was heading down Mahogany Street and while the young man was crossing the street. (When crossing street, people tend to think that can beat the traffic) The man dashed across the street and the cycle hot him at the same time, causing him to fly up in the air and crashing down headway. So while that happened, I was like 10 seconds away from this whole scene, so I literally brake the car a little and then went into the parking area where I normally park. Upon that I came out the vehicle. I was literally in shocked, because first time I saw and experience something like that in my whole life."
And that security video you saw is what Castillo dug up after she heard us read the police report on TV. She says the whole misunderstanding started with people who didn't see the accident claiming that they did see it: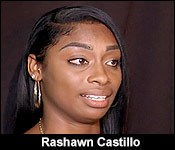 Rashawn Castillo, Wrongly accused of causing accident
"I couldn't believe that the people who are spreading these rumors, the police would have taken it that far and cast the blame on me when I was literally innocent in this whole accident while it was taking place. I was the witness, I am supposed to be the one to explain to the police what had happened and unfortunately my name was the one that got called on the news hitting the man on the cycle. I literally cried because I thought about how people could be so heartless when I actually found out that there is actually a video that shows this exact thing how it happened. I was the most relief person and I was literally happy. I don't think anyone could have felt the way I felt when you heard you name and you know you didn't do anything - you know you were innocent, but to the public it look like I was the person who was wrong and I thank God that everybody knows that I didn't do it."
"And to the police who didn't do their investigations properly and took my name to the media without confronting me about anything, I would really want them to take a good look at this news and realize that sometimes you need to take step by step rather than just jump to conclusion."
Castillo added that the police at no time ask for her identification, so she was doubly shocked to hear them wrongly identify her as the culprit.

Twelve Years For Brutal Rape
(posted on Thu Apr 27, 2017)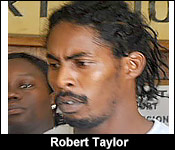 A man accused of a grisly rape and abduction will spend 12 years in jail. 36 year old Robert Taylor raped a 25 year old woman in Dangriga in January of 2015 and after a jury unanimously found him guilty of abduction and rape, Justice Denis Hanomansingh yesterday sentenced him to two 12 year prison terms - which are to run concurrently, which means he will only spend 12 years.
In January of 2015, he tied up and raped a woman at knifepoint in the Dangriga Cemetery - after carjacking the vehicle she was in with a man. The man escaped, but she couldn't and she endured multiple rapes.
After the rape, he drove off in the stolen vehicle and left his victim tied up.
In his defence, Taylor gave a dock statement and told the court that on the day of the incident he was at home all day and night and did not go anywhere. He called his mother, Elenita Logan as alibi witness.

Mexicans On A Mission
(posted on Thu Apr 27, 2017)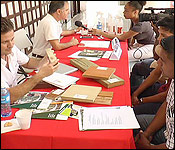 Today the Mexican Embassy along with trade and investment agency, ProMexico, held a commercial mission to Belize. Seven Mexican companies representing various industries set up displays and shared information, ideas and business opportunities with visitors. Sergio Riveroll, a representative of ProMexico, explained to us why events like this are important for trade in both countries...
Sergio Riveroll, Quintana Roo Rep., - ProMexico
"It's a trust fund of the Mexican government. It is equivalent to the ministry of economy, but in a easy term, let's say that Mexico is the agency in charge of promoting international trade and investment. In this occasion we are here on a commercial mission. We are here with 7 Mexican companies who are selling products from different sectors; building materials, IT services, fashion sector and also wood and lumber."
Alex Courtenay, 7News
"Talk to us a little bit about the importance of you being able to develop these trade relationships between Belize and Mexico."
Sergio Riveroll, Quintana Roo Rep., - ProMexico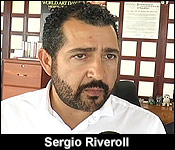 "It is quite important. First of all we have to consider that we are neighbor countries and we have a border that has been improved. We have a very good infrastructure, we have a new bridge that can make the logistics easier for both countries. We have a trade that is around 116 million US a year in both sides, that we are pretty sure that if we go and take the right direction, it could be double in the next years."
The Mexican companies showed off innovative products that could help prevent lumber from catching fire, to technologies that can help to sanitize water.

The Peace Process Continues Heading Into Labour Day Weekend
(posted on Thu Apr 27, 2017)
You all remember that sigh of relief that you took after the long murder-free Easter weekend? Well, another long weekend is here: it's the Labor day weekend and we are sure you would want to hold on to that hope and peace of mind, especially for those of you heading out to the Agriculture and Trade Show. And to make sure it remains calm and civil among rival city gangs, there was another mediation session today.
We have been following these breakthrough meetings for some time now and mediator Dianne Finnegan discussed how critical these sessions are to keeping the harmony and to helping these men heal. American intervention specialist Deshawn Morris also discussed how impactful his work has been since being here.
Dianne Finnegan, Mediator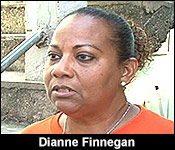 "Representatives from Taylors Alley, PIV, Back a land, Mayflower, George Street, Antelope street , I guess that's it about, the meeting was really to talk about this weekend , it is a long weekend a hot weekend and actually sharing with them some of the challenges they face if they choose to go to the agricultural show, not that we are saying don't go but to prepare themselves that this is a time that the police security will be high so they need to be cautious and if they go , to go with responsible individuals who will be able to steer them in the right path instead of individuals who would create more drama for them and they end of getting locked down. It was a good meeting, as per usual we normally just start off the meeting and they end it with conversation and how they feel about what is happening and the fact that they really spoke about how effective Jiwe is in their lives right now and how he was able to reach them at a level where they are able to control their anger and their hurt."
Courtney Weatherburne, 7News
"Just the idea for me of being in a room with somebody or a gang member who has maybe attacked your family, or shot your brother or took away your father and hurt you in that manner, how is that healing process, what is the approach to shedding all that hurt and pain?"
Dianne Finnegan, Mediator
"Well the first step is for them to understand that they have each done things to each other, you have killed one of mines, I have killed one of yours."
"Whatsoever you do that cannot bring back these individuals but we can make sure that there is not another body that is going to go in a casket in our hands so that is the first step, when they can internalize that and see the essence of the message then the process starts, it starts with a buck, with a nod of the head, a shake hand and then the embrace and we have seen it step by step by step happening."
Dashaun "Jiwe" Morris, Mediator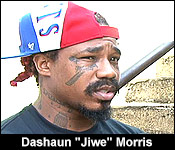 "Every day is still a struggle, coming to a place that was kinda like really out of control but I kind of just try to reinforce to them the progress that has been made and just try to keep that on their minds and just remind them of what is at stake. I always let them know, even I tell myself not everybody is rooting for them, us, me, they not rooting for us there is a lot of people waiting for something to happen so I just kinda always try to keep that on the forefront of their minds to let them know that their actions and the things that you do don't only affect you, they affect a lot of people who are invested in you."
And while Jiwe has nothing but good intentions, some are questioning a video he shot in December in Belize. It shows him "making it rain" Belizean and American dollars. Looking at the video, it might seem that he is insulting Belizeans as he says "this country is so dumbed down" while he is throwing Belizean dollars. But see for yourself, here is the video and his response. We warn you that if you have sensitive ears, you might want to change the channel:
Dashaun "Jiwe" Morris, Mediator
"For those Belizeans that feel that way, they need to go back watch the video again because I wasn't talking about Belizeans, the first shot I was talking about was America and I was stating that I had to go out of the country to get my value to be recognized so that is the first thing so they need to look at that video again. Second of all, the message, the whole point in that video was to let people know to put your money to good use and in American it is a big thing throwing your money."
"You know back home these rappers and these entertainers spend all their money, they use all their money on diamonds, jewelry, cars, clubs, partying, liquor, alcohol and I said the purpose of that video was and if you listen to what I am saying, that I came out here and done worked hard and not a dime of that money going to no strip club , not a dime of this money going to no jury , not a dime of this is going to no cars, this is going home to my babies and my family."
So just to clarify Morris was referring to the US as "dumbed down" not Belize. Morris says he has always taken an anti-American stance because of how the US has treated him and you can see evidence of that when he says, quote, "I had to go out the country to get paid" - meaning he has Belize to thank for welcoming him and paying him for the work he does here, that is why he had Belizean dollars. Morris says he is committed to continue helping the gang members in Belize keep the peace and as you heard Finnegan say, he has been instrumental in this shift in gang violence.

Senate, Wheel And Come Again
(posted on Thu Apr 27, 2017)
Yesterday, we brought you in-depth coverage of yesterday's Senate Hearings on Immigration. One of the witnesses who appeared before the Senate Select Committee was the retired immigration officer Therese Chavarria, who served 30 years at the Department.
Now, viewers will remember that since these hearings started, and indeed after the release of the Auditor General's report, public confidence this department is at an all-time low. You've heard the department being described as the "belly of the beast" which has "an entrenched culture of corruption and hustling".
The Audit report catalogues exploitation and abuse to the system where persons got visas, nationality certificates and passports that they should not have been given. In some instances, persons got their visas to visit Belize after they got nationality or permanent residency. In a matter of days, weeks or months, they were given passports that they didn't qualify for.
So, as part of their usual inquiry on how to fix the very broken immigration system, the Senate Committee sought to tap into to Chavarria's years of experience for suggestions to make it better. Once again, she was another witness to bring up political interference, and how it has affected the integrity of the department's work. Here's how she made the point to the Senators yesterday:
Therese Chavarria - Retired Immigration officer
"Definitely, we need to stop the political interference."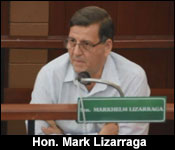 Hon. Mark Lizarraga - Senator, Business Sector
"When you say "stop political interference" can you say a little more about what you mean?"
Therese Chavarria - Retired Immigration officer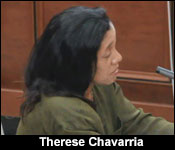 "For example, we see the most recent one with the passport where the minister was involved. We hear of other ministers coming in and requesting visas and we hear of ministers having passports and we hear of ministers being back and forth at the office and we see it sometimes. I don't know if officers believe that they have to or they must comply, but as far as I could recall, a minister is not the one who employs. A minister is not the one who hires and fires, so the officer needs to be reminded that you do your job, send the minister to the director if needs be."
Another recommendation that Chavarria made to the Senate Committee was that there needs to be tighter oversight and constant training of the staff. Here's how she explained why those would help, and how the Department became lax over the years:
Therese Chavarria - Retired Immigration officer
"Years ago we use to have monitoring whereby we would have the FO visiting districts all over ensuring that proper check and balance and monitoring is being done. I don't see that being done recently. So I think we need to have maybe it could be senior officers or maybe retired officers or somebody from the government service who could do monitoring - visiting different officers, we check the receipts, we check the visas - we do a check and balance, we check the passports if possible, we check permits and this needs to be constantly."
"From my observation it is not being done. So we need to implement proper monitoring. Another thing, training. I always stress training, training. I think the department would do good with a training unit. I could recall in the 90's myself and some officers use to come to the police academy for training. That is no longer done. We need to have a training unit where we can do training and include training such as honesty, force, court procedures, integrity and ethics, anti-corruption. These are some training that must be included."
At one point in her career, Chavarria was the head of the passport office in Belize City.

A GREAT Program For Salvador And Belize
(posted on Thu Apr 27, 2017)
Earlier this month police officers from El Salvador joined the Belize Police Department to participate in the Gang Resistance Education And Training, also known as the GREAT program. The officers underwent training to help them engage with their communities and teach them life skills that would help to keep them out of gang life. Today, after almost two weeks of training, this session's cohort graduated. We spoke to the officer in charge of community policing and the GREAT program in Belize, Inspector Elroy Carcamo, about the progress these officers have made...
Belize is only country in the region that offers GREAT training in both English and Spanish, making it a prime contender for collaborative workshops with its neighbors.

Changing The News About Climate Change
(posted on Thu Apr 27, 2017)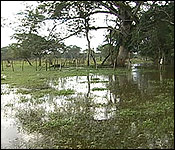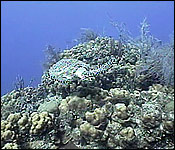 Last night we told you about the Regional Climate Change workshop. The focus is to get media professionals to report more Climate Change stories. In turn, you the public will get a better understanding of how Climate Change affects our daily lives and as an extension of that - the economy. Now, last night, we listed a few tips you can follow that can help reduce strains on the environment. But Senior Project Development Specialist Keith Nichols admits that these environmentally friendly approaches won't stop Climate Change but that doesn't mean we shouldn't do anything. Nichols gave us more context on this point.
Keith Nichols, Senior Project Development Specialist, CCCCC
"Normally when we speak about Climate Change we refer to things like sea level rise, ocean acidification, and global warming yeah, we are not going to see that change tomorrow or next year."
"It is the daily, what we call the extreme weather events as a consequence of climate vulnerability these are the issues we have got to deal with so when we speak of flooding in the farms during the wet season and you can't harvest cane because it is just too wet for months or we have lost cattle because they are stuck in flooded fields and end up with ox or hoof related disease because they can't get out of the water and the bacteria sets in and creates problems , when we talk crop cycles are changing the seasons are changing so how can we plan for our economies if we don't take those factors into consideration and plan for those under the research that is necessary. So in Belize we have seen the change, we have experienced the changes, we know about coral bleaching, but there is a lot they can do because we ourselves are contributing to the impact on, that are felt by the natural physical environment."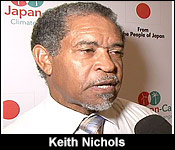 "If we were to stop emissions, cease emissions today, at this very moment no more carbon dioxide, no more nitrous oxide, no more methane gas in the atmosphere, we curtail those emissions to zero emissions today, the world will keep warming for a long while, for decades before it stabilizes and comes back down to normal so we already locked ourselves in a pattern of warming and changing that we can't reverse."
Courtney Weatherburne, 7News
"So there is no cure, there is no quick fix, so it is just about managing the effects."
Keith Nichols, Senior Project Development Specialist, CCCCC
"Absolutely, there is no quick fix and because we are on the receiving end of all this, ours is a bigger challenge, we have to find the resources to adapt."
The workshop ended today. 9 Caribbean countries were represented at this workshop.

Gone With Money From Go Wireless
(posted on Thu Apr 27, 2017)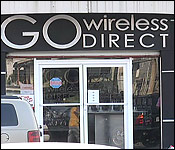 Two men on motorbike robbed GoWireless on East Collet Canal in Belize City today. Someone snapped this picture of the alleged suspects escaping on motorbike. Police haven't given much details only to say that undisclosed items were stolen.

Getting To Kids Earlier
(posted on Thu Apr 27, 2017)
UNICEF is leading a two week program for early childhood development trainers. The idea is that these trainers will then impart their knowledge to families with young children who don't have ready access to preschool. Facilitator Denise Robateau explained when we spoke to her at the Princess Ramada yesterday:..
It's a two week training program, and next week the group of 15 will expand to 30 as international and lead experts on early childhood development take over the facilitation.

Concepcion Confusion
(posted on Thu Apr 27, 2017)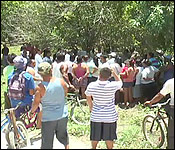 There's an ongoing land dispute in Concepcion Village in the Corozal district - and it's getting ugly. Villagers say that they are being moved off parcels of land, to make way for those favored by the UDP area representative. Now, they don't dispute that they are squatting, but they insist that they are being treated unfairly.
The fact is that the lands in question have been at the Lands Department awaiting the assignment of parcel numbers, but during that time someone illegally sold them to villagers - who went and used them as their own. They now feel that they have rights to those lands, and that puts them into a dispute with the Lands Department which maintains they have no rights at all to those lands.
On Monday, Village Councillor Rodolfo Lainez and a few dozen other villagers gathered to demand answers from the Lands Department and their own Chairman. Emotions were very high: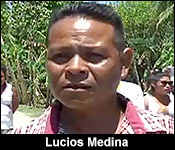 Lucios Medina, Aggrieved Villager
"If this land is mine this land is mine, if you have worked for it they cannot just come and take you off the land. And for me it's unfair. "
"If the people take away the land which others have been working on previously, they won't leave the land. If you do a violation like that here, they will start to kill people, you understand? And I don't think something like that should happen in this village, like how it has happened in Salvador, Guatemala, and all those countries. We don't want to reach to that point."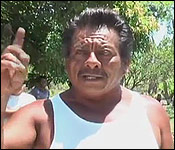 Villager
"We want to make it known that the Chairman cannot give away land without the consent of the 7 councilors. 7 members make up the village council. It's invalid, it's invalid. Only he and Campos, we want he and Campos to come tomorrow to talk to all of us."
Rodolfo Lainez, Member, Village Council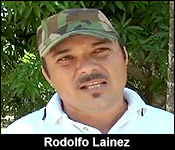 "The people heard what the lady from the lands department had to say and they are taking her advice, like how she's saying she's not promising nothing, she just came with information and instructions. And I think the people are satisfied with what she said, lands that are applied for cannot be applied for again because the system does not allow it. Now the problem will be in Belmopan the minister of natural resources is the one that has the final say."
Police were there with no less than three pickups accompanying lands officers who made no commitments, other than agreeing to look into specific cases. UDP Area Representative Dr. Angel Campos told us that there's a lot of duplicity and games being played with the land which he has been work for over two years to get regularized. He says some villagers have told him they own three parcels - but he has told them they can only have one and he has to distribute the other parcels to those who have genuine need.
7News for Thursday, April 27th, 2017 from 7News Belize on Vimeo.

Home | Archives | Downloads/Podcasts | Advertise | Contact Us