History! Mahmud Resigns House of Rep's, Triggers Bi-Election
(posted on Mon Nov 24, 2014)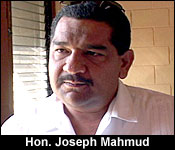 Tonight, political players in both mass parties are preparing for a surprise bi-election in Cayo North. That's after a most unexpected thing happened: the PUP's Cayo North Representative Joseph Mahmud abruptly resigned as a member of parliament. Now, he had already indicated he would not run again - but that was a month ago - and the understanding was that he would serve out his term. But all that changed today when he up and resigned.
That immediately puts his seat into a play and a bye-election must be held within 90 days to fill the vacant post. The UDP is rearing to go with its standard bearer Omar Figueroa who was elected in February. The PUP on the other hand has not found a new standard bearer since Mahmud indicated he would not run again.
Attorney Michel Chebat and businessman Richard Harrison have declared an interest in the division - but the party will now have to move swiftly to have a convention and elect or endorse someone.
Indeed, the opposition has been caught off guard because in mid-October Mahmud said that he would serve out his term and not seek re-election. But something happened between then and this morning at 11:00 am, when he resigned with immediate effect.
A release from the Clerk of the National Assembly says that the Speaker has accepted his resignation - and so now the countdown to a bye-election starts. 90 days from today would put us at Monday February 23, 2015 - and so the bye - election must be held by then. But it can be held before. In fact, it can be held within just 15 days. The trigger is that a writ of election will be issued by the Governor General - and after that an election must be held within 15 to 21 days.
So now we must all wait and see when that writ will be issued; it can happen immediately or it could happen in February.
But whatever the date, a voluntary resignation by a sitting member of the House is a huge, historic deal. We say that because there have only been two previous bye-elections in the post-independence era; and both were forced. The first was to replace Derek Aikman in Freetown was forced by him being declared a bankrupt; the second, in Cayo South was forced by the death of Agripino Cawich. Again, both forced by circumstance, but this one is voluntary and it is a resignation - suggesting that Mahmud has no goodwill for his party - which we are reliably informed was not told of his decision - and found out about it second hand.
So, overall, the timing would seem to put the UDP at an advantage in an area that has been historically red - and which Mahmud only won with a 51% majority in the 2012 general election.
But the PUP sent out a statement today saying that it will fast-track the process of selecting a new standard bearer and is confident that it can retain the seat.
For the UDP - information to us suggests that the party is eager for the opportunity to get a heat check before the municipal elections in March of next year.
Whatever the case, it would seem to be a win-win for the people of Cayo North who get to replace a lame duck representative and get to enjoy a sort of political festival for the weeks to come as both parties compete for their votes.

Panamanian Diplomat Slain In Bze; Police Have Suspect; Recover Vehicle
(posted on Mon Nov 24, 2014)
And while an elected representative stepping down is a first - so is our other top story tonight: the murder of a diplomat. The Panamanian Charge d' Affairs was found murdered in the greater Belmopan area on Sunday afternoon. There is major breaking news concerning that killing tonight, but we start at the murder scene today:..
Jules Vasquez reporting
This is the road off the Hummingbird Highway across from La Cabana where Jose Rodriga De la Rosa's body was found. It is known as West Belmopan - and the road is called La Choza after the Bar that used to be a popular watering hole - it has now closed down.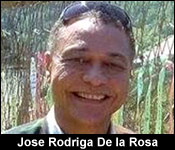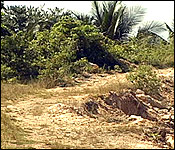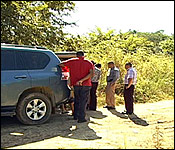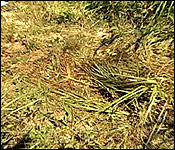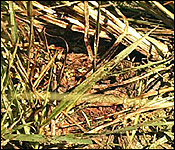 This is what the police came down yesterday afternoon - after receiving a call from a man who lives in the area - and found the body here - dumped down a hole in the bush. The grass looks like it was freshly mashed down.
Bloodstains are everywhere and somewhere likely left by the killer or killers.
The diplomat appeared to have had his neck slit; he also had cut wounds to his head.
Additionally, his white Nissan SUV with diplomatic plates had been stolen.
This morning police combed the area for the third time - an indication of the level of seriousness with which they are treating the investigation.
So far, police believe that De La Rosa was killed and then dumped here.
The area is about a mile from the Hummingbird Highway near a quarry.
But police suspect that the killer may have been familiar with the area.
The rutted road is not for novices, and assuming it was dumped here at night when it is pitch dark - it would be a challenge to navigate.
Because it is a diplomat, the murder is considered super sensitive and neither police nor the Ministry of Foreign Affairs wanted to comment today.
But as we said there is major breaking news: first 7News has learned that a single key suspect is in the custody of Belmopan police. The two important things about him is that, first: he is from the Belmopan area and two, he was not a stranger to the diplomat.
The second point is important because the murder has concerned other embassies in Belize - who are concerned that diplomats are being targeted. Police are hoping to establish that it was an isolated event - and one based on familiarity.
And now the very latest reports say that police have recovered the diplomat's vehicle which was stolen.
More on this tomorrow.

Ellis Jr. Charged For Shooting Zimbab
(posted on Mon Nov 24, 2014)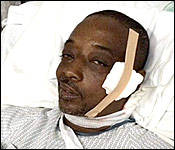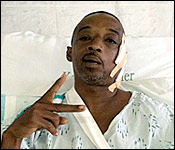 Tonight, the well-know Ellis Meighan Jr. and another 17 year-old minor are prison after being accused by police of shooting Carlos "Zimbab" Abraham, a ranking member of George Street who was targeted in a broad daylight shooting on last week Thursday.
Meighan, who lives around the corner from where the shooting happened, and the minor were both arraigned today before Chief Magistrate Ann Marie Smith on the charges of attempted murder, dangerous harm, and use of deadly means of harm. Due to the nature of the offences, they couldn't be granted bail, and they have been remanded into custody until January 30, 2015.
As we told you last week, Abraham was on Lakeview Street at around 10 a.m. He was talking business with his Uncle. But, as we've reported, that's Ghost Town Territory, and even though Abraham grew up around there, he is still considered by his enemies to be an affiliate of George Street which has an ongoing rivalry with Ghost Town.
He told us that he was in his SUV when a gunman ambushed him and shot him from 6-8 feet away. He was injured in face and neck, and it was his quick thinking to stem the loss of blood, that allowed him to get to the KHMH, where the doctors managed to save his life.
Police continue to closely monitor the situation to try to deter any retaliation.

Coro Cops: Corporal Andrews Had Compressed Cannabis
(posted on Mon Nov 24, 2014)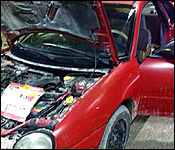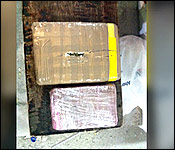 On Friday night we had breaking news about a police corporal who was busted for marijuana trafficking at the northern border. Well tonight we can tell you that his name is Shaun Andrews, a 30 year old from Corozal attached to the Precinct 2 strike team. He was driving and his passengers were 25 year old Brandon Casey of Camalote and 26 year old Dwayne Zuniga also of Corozal Town.
As we told you, his red Geo PRizm had mechanical difficulties right at he northern border customs checkpoint. Andrews lifted the bonnet and that's when alert customs officers saw two parcels wrapped in transparent plastic. Both were retrieved and found to contain 1.5 kilos or about 3.2 pounds of compressed cannabis. All three were handed over to Corozal police and charged for Drug Trafficking. They were arraigned today and bailed for three thousand dollars and scheduled to return to court n January.
They were not charged for importing drugs because it turns out that a Mexican drove the vehicle up to a Chinese restaurant near the Belize Mexico bridge and they took it from there.

Drunk Corporal Discharged His Weapon Negligently?
(posted on Mon Nov 24, 2014)
And it didn't make news last week but another Corporal was criminally charged. Details are somewhat sketchy but a corporal Cobarubia attached to the Belmopan police station. According to reports he was intoxicated and refused to pay a taxi-driver who he had hired to give him a ride home on Thursday night. When the police man told him he owed him 7 dollars for the ride - and instead the Corporal let loose with 7 shots from his service weapon.
He was charged disciplinarily and criminally for Common assault damage to property discharging a firearm in public obtaining property by deception.
He was arraigned on Friday - but surprisingly he got bail of one thousand dollars - even thought discharging a firearm is an offence that usually dictates mandatory remand. While we investigate that - we note that the Corporal is a court orderly.

MOE Working Out CXC Subsidy
(posted on Mon Nov 24, 2014)
Right now, a little over 4,000 students countywide are currently in 4th Form, and they're only a few months away from taking their CSEC Exams - better known as CXC's.
Now, these exams aren't cheap, and at the beginning of the year, Prime Minister Dean Barrow promised in his 2014 New Year's Message that the Government of Belize would cover the costs for 6 of the exams for needy students. The requirement is that the parents of these students needed to have applied to the Ministry of Education for the subsidy on or before last week Friday.
To ensure that the needy families are the ones who are receiving this financial assistance, the Department of Human Services went out to survey and assess the families who applied for it.
The Survey was completed by the Department of Human Services, several months ago, and the Government of Belize set aside a budget to accommodate around 1,600 of the students. The parents of approximately 640 students applied, and just over half of them were accepted. The rest were rejected, and upon further consideration, the Ministry decided that instead of forcing those families to go through a complicated and tedious appeal process, they will pay for all students, whose families applied early.
Education Minister Patrick Faber explained it in a press briefing today:
Hon. Patrick Faber, Minister of Education

"There have been some glitches in terms of rolling this initiative out and so because the funds are there and because we want to help the maximum amount of people, what we decided to do is to assist all of those who applied. Now, clearly, there are those who did not apply and that is an issue for us. We want to make sure that we don't favor those person who think they can pay. That is a major criticism that came for the free tuition issue, remember back in the Esquivel administration - that there were many people who could pay and of course if they can pay they should pay their way, so we toiled with the idea of paying for all those who signed up for CXC up to 6, but decided in the end just to go with those who apply. Now, what I want to be cautious of is that we don't set a bad precedence - I want to be clear to people that in fact the way we had gone about trying to get information so that we could pay for these CSEC examinations, is exactly what the ministry and this administration believes in. It's just a matter of ease on this first leg that we are doing it in this manner to pay for all those who apply."
Faber explained that the Ministry previously extended the deadline up until last week Friday, and even though there may be families who are in dire need of this subsidy to pay for the exams, the cut-off remains because the payments would be too late in getting to the CXC Examination's Unit, which routes it to the Caribbean Examinations Council.
For those families who have already paid, but have applied for the subsidy, whenever the Ministry makes the payment, the Minister hopes that the schools will reimburse them, or route the payment over to other outstanding fees for that student.

Hon. Faber Discusses Petrocaribe Rally
(posted on Mon Nov 24, 2014)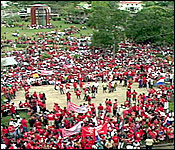 And while we had the chance, asked Faber about the Petrocaribe Rally that the UDP held last week at Tuesday's House meeting.
As we've told you, it's the first time that a ruling party has protested the Opposition Party, and as we told you, an element of that demonstration was to test the machinery in preparation for the municipal elections, which are a little over 4 months away.
Faber claimed that he brought out 12 busloads of supporters from Collet to take part in last week's rally. We asked him about a few of the criticisms which emerged in its wake. Here's how that conversation went:
Hon. Patrick Faber, Minister of Education
"The people in my area especially came out. Some of them decided not to go to their jobs on that day because some of the very same work that they do in the constituency rely on the Petrocaribe funds, but we didn't pay anybody. We did not use any government funds or any Petrocaribe funds especially for that initiative - absolutely none at all, so it is purely out of support for the Prime Minister and for me it's a testing of the mettle, we are gearing up for the municipal elections. In those elections Collet, like the other constituencies in Belize City are going to have to deliver. The voting for the City Council election is going to be held constituency by constituency as far as I understand it - it's been so for the last few city council elections. So if the people in Collet are not with Patrick Faber and not with the UDP, you will see that plainly. So it is a testing of the mobilization efforts, that saw us work so hard to get those 12 bus loads of people."
Daniel Ortiz
"How do you make of those who interpreted the rally as a protest of the Opposition by the ruling party which hasn't been done before?"
Hon. Patrick Faber, Minister of Education
"Well I think it is not necessarily the case, it is a show of support for an initiative that clearly, because of the court challenge, we needed to show that this is an initiative that is supported by the people of this country."
Daniel Ortiz
"Has your party discussed whether or not they would be able to allay the fears that Petrocaribe fund and the UDP fanatic funds are separate and that there is no overlap or blurring of those two financial entities?"
Hon. Patrick Faber, Minister of Education
"Well as I said the evidence is there. In that House meeting on Friday, we put forward two supplementary appropriation bills: one for the last financial year and one for this current financial year up to the end of October. Every dollar that has been spent was itemized in the appendix to those bills. So it's not like no accounting has been done. This is why we can't understand for the life of us how the claim can be made that there are blaring monies that UDP is using it for their own slush fund."

How The Best Warriors Do Battle
(posted on Mon Nov 24, 2014)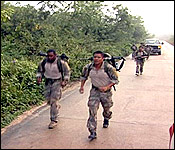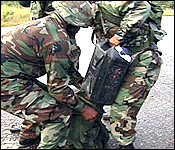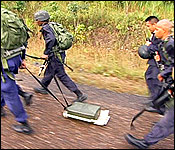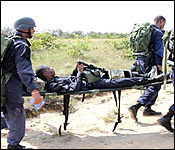 Last week Thursday and Friday we took you deep inside the Coast Guard's Best Warrior Competition. The events were punishing tests of physical and mental endurance that pitted the coast guard against other elite law enforcement units. But what we saw on Thursday and Friday was no match for the merciless obstacles of Saturday. 7News was out there all day getting our own workout and Daniel Ortiz reports:..
Daniel Ortiz reporting
When we arrived, the first 4 teams were already on the Hattieville Boom Road; we met up first with the favorites of the competition, the BSAG team. The squad was moving along, full gear in hand, weapons at the ready, and a 40 pound Bergan each to carry on their backs.
They were in Second place up until this point, and this was the event they were expected to dominate in. A little further up were the Seals, some members, walking some trotting, the first 2 days of exertion clearly having taken its toll.
About 15 minutes later, the Seals had to pick up their first extra burden, a jerry can filled with water - about 75 extra pounds of weight which they had to lug.
They chose to load it into a rucksack, a simple fix, but a huge burden for the bearer along the 8 mile March. It took 2 men to hoist it up unto the Seal member's back. Still up ahead, Recruit intake #5 was grinding along, 2 men balancing the Jerry can in the middle with a strap to support it.
One other comrade carried the bearer's rifle in relief, and there were also intervals where other team members took up the jerry can to give each bearer a rest.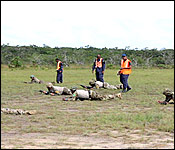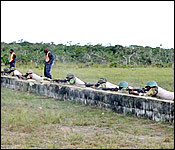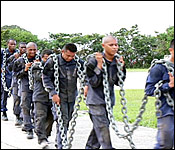 Up the road, the Officers team showed the most ingenuity. They found an old plastic cover for an AC vent, into which they placed the jerry can and dragged it along. It seemed the most efficient way to transport it on the road that day.
Lt. Monima, who had the most difficult of the 3 days, was leading his team way out in front, still showing strong. Back with the intake 5's squad, they had their ever faithful fellow recruits cheering them on, lending moral support, while some of the members struggled on the road.
The recruits were using ingenuity of their own. The burden bearers, were relieved of their weapons, which were all tied together and carried on a piece of stick between 2 members.
By that time, they had picked up yet another burden, a sack filled with sand, which this recruit hoisted on his shoulder. For the weapons, the recruits came up with yet a different strategy, tying about 4 or 5 weapons with a shirt and handing it to one team member to transport.
BSAG also carried the jerry can on a stick, and when we caught up with them again, the men were all walking, none were employing the brisk trot from earlier.
The Fleet team, the team leading the overall competition at this point, decided to allow one man to carry the jerry can on his back. But, the officials had yet another burden planned for them; they had to carry 2 cans of ammunition, to be used at the end of the challenge.
At different intervals when our camera caught up with them, the strain of the march was starting to tell on the 5 teams.
Coming close to the end of the march, the very exhausted squads then had to hoist one of their team members on a stretcher for a few hundred meters, all the way until the finishing line. The quickest team to the finish was Recruit Intake 5, with a time of 2 hours and 47 minutes, closely followed by BSAG reaching 5 minutes later.
Immediately after that 3 hours of non-stop marching, tired or not, they had to complete the final stage of the challenge.
Each team had to crawl 250 metres forward, to a firing point, and immediately try to shoot down 10 targets before 2 minutes was up. Depleted as they were, they were expected to engage and shoot with accuracy.
Of the 5 teams, BSAG Won hitting 9 out of 10 targets, besting the recruits who shot down 7 out of 10 to place second. After 3 hours of running - and two and a half days of being pushed to the edge physical limits, you might think that the team members were down for the count.
But, not these soldiers, they were still craving for more torment, jumping at the opportunity to take on the final obstacle course. They had to maneuver a tire-run, climb up onto a scaffolding type obstacle, low-crawl under barbed wires, get over 3 Parallel beams, scramble over a Retaining wall, swing through Monkey bars and get over a cargo net.
That first part then transitions to an open area where the competitors had to roll, run two laps while carrying a 250 pound log, run another lap with a 20-foot length of a thick, heavy chain, and finish off with a 18-20 foot Rope Climb.
The Fleet, which was ahead this morning, recovered from the march and shoot performance, and won the overall competition.
Lt. Gregory Soberanis - Commanding Officer, Fleet Squad
"As we conduct our physical training on a daily basis, we instill in them that sense of pride, integrity, intestinal fortitude, even though you are tired, even though you are fatigue, even though you are mentally and physically weak, you will dig deep and you push on and you accomplish the mission and task at hand."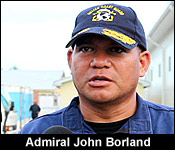 Admiral John Borland - Commandant, Belize Coast Guard
"What the competition did reveal to me though that if any elite unit does not maintain their standards in a strict regime and have parameters and rules and routines for them to test themselves routinely, even more than a monthly, weekly basis - they are going to lose their edge in the game and we saw that result here over the last couple of days. We saw a recruit squad that came very strong, but they are very young and they have to be develop physically for a couple more years. We saw a seal team that is not to its full strength because they have members training in the United States and they are down to the bare skeletal remains. They pushed hard, but I believe they could have pushed harder. We saw a fleet team, which is actually a team that is training now to become the first Coast Guard Infantry Marine Unit emerge and came out as the victors and they absolutely deserve it."
As noted in the interview, the fleet officers are training to become part of the first coast guard infantry marine unit.

WE TAXIíS HATE CITY HALL...
(posted on Mon Nov 24, 2014)
Does Belize City need more taxi's? Ask any average driver and they'll tell you, "heck no!". And the city council agreed with that when it was first elected two and a half years and ago and put in place a moratorium on new taxi licenses. But now the council is revisiting its
policy based on a revised plan for the transport industry. The council this afternoon called all stakeholders to a meeting at BTL Park where it got a lot of feedback. Here are a few clips:..
Alifah Elrington, Councilor With Responsibility for Traffic
"We knew and we understood that we must therefore actually have a discussion in relation to this particular moratorium. I believe that there were no such consultation when we the moratorium was actually put in place and I believe that that need has now arise seeing that we are changing the direction in which we want to take the city and the transport issues in the city whereby we want to regulate the taxi system; we want to regulate the bus system; we want to regulate the dollar van system. We are hoping that this consultation will assist us in actually coming to an understanding between operators and the council with a way forward if it is that there is the need for the lift for the moratorium or if it is that the moratorium should remain, but we must be able to look at different aspects at which point we are going to allow a license plate here, a license plate there."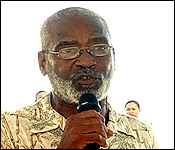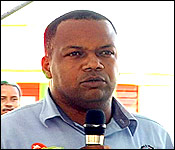 Taxi Operator #1
"Why consult with us now as to what we want to be done with this moratorium when we were even consulted before when it was strong man on us."
Taxi Operator #2
"I've heard that it was brought in to help the taxi operators, but in my opinion as a taxi operator, it actually punishes the taxi operator."
Taxi Operator #3
"For the moratorium, I am for that. But I am also for Belizeans; if you are a Belizean and you want to get into this taxi business, give them a license. You have men out here with 25 different taxi licenses, some that have 14 taxi licenses - and you have this one man here who just want a taxi to live. I think it's time for you all to apologize because you all plot this market too because you all gave certain people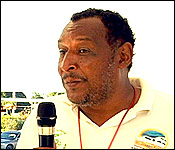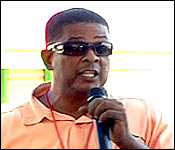 rights over other people and that shouldn't be. It shouldn't be money talks - it should never be money talks - it's under the table licenses are buying. We are realistic about this."
Taxi Operator #4
"I went through the process of trying to get this taxi license the right way of which was prescribed by you guys; first of all when I went to the office, they said okay you need certain vehicle and when I got that vehicle I came to Mr. Jeffries and I said I got the vehicle and I need a license. I had an Astro Van and Mr. Jeffries said we are not licensing Astro Vans as taxi. I went the extra mile and I bought a Lincoln Town Car and I bring it back to Mr. Jeffries and I said I have a Town Car now, Mr. Jeffries look at me and said that we are not licensing you because you are to go to town. Now I have already made my investment and I have the car. Anyway, that didn't work out, but I notice one of my colleagues have a license for taxi, he just got a car from the States and I want to know what went on because you and I are the same - what's the preference? What do you need to have to make yourself appears different or get treated differently?"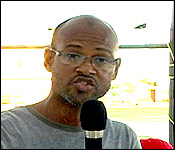 Taxi Operator #5
"I heard my Belizeans brothers complaining because every Haitian comes in the country get a taxi license. Some of them 3.4.5 taxi license and then the Belizeans here are complaining. My thing is not against the taxi association because I know them - if they have 20 members. Of course they could control that because anybody else who wants to join their association, they could say no or if they yes, that pie that they are eating off of - it gets smaller because you add more people. So I am talking about the grassroots taxi man who lives in Martin's. Jane Usher Boulevard who can't go on their taxi stand because he doesn't belongs there."
Alifah Elrington, Councilor With Responsibility for Traffic
"If it is that you took in your plates before the 6 months expiration, we will hold it for you and when you get your vehicle back up, we will give you back your plates. This is the policy now, if your vehicle goes down, go to Mr. Jenkins, go to Ms. Myles, go to whom are here today, hand them your license plates and say that your vehicle is down and you don't know if it will be down for two weeks or two years and if they don't give you back your license plates when you go back for it, then you go to Ms. Burke and say remember, on the 24th November when Councilor Alifah Elrington-Hyde said ABC - this is the situation, Ms. Myles do this and Mr. Jenkins do that..."
This is just the first of many meetings that the council hopes to have with stakeholders.

Stephen Daviesí Traffic Arraignment
(posted on Mon Nov 24, 2014)
On Friday's Newscast, we reported on the case of 33 year-old Stephen Davies, a resident of Lords Bank, who is facing 4 traffic offenses after knocking down a BDF Soldier.
He told Senior Magistrate Sharon Frazer that even though he does not have a driver's license, his took over the wheel from his wife because of the glare which prevented her from seeing the road well. He explained that his vision was also impaired by that glare and it contributed to the accident.
All that is accurate, but in Friday's story, we reported erroneously that at the arraignment, Stephen Davies admitted in open court that he was texting while driving. That was wrong; Stephen Davies did not make any such admission. He said he was texting while in the passenger seat - not while driving. We apologize for the error.

Increasing The Number of School Hours?
(posted on Mon Nov 24, 2014)
Education minister Patrick Faber was also the chair of SICA's 20th Ordinary meeting Of Education Ministers of Central America, which was held on Ambergris Caye last week Friday and Saturday
Faber oversaw a progressive discussion into the Central American Education Policy.
It's a document which seeks to address the similar challenges that all the SICA member countries face.
He told us today that there was an intensive discussion at that meeting about how the countries might lengthen the school days. This means more hours in each school day, and more days in the school year, but Faber says that the Education Ministers agree that the quality of education should improve accordingly:
Hon. Patrick Faber, Minister of Education

"One of the main topics in that meeting on Saturday morning was the amount of contact hours that happen in our classrooms over the region and I'll tell people that Belize has one of the lowest number of contact hours, I think we have 180, while you have other countries in the region that have up to 225 I think. There was mention of Japan, but Japan is of course not in our region, with 240 contact days. I am saying this because it is now incumbent on us to do better. 180 contact days is by far too small, you see our struggles in mathematics and so on and I have to agree with the move in the region to improve on contact hours. It's not going to happen overnight and of course we will have to dialogue with our partners, but this is something we want to look at lengthening the numbers of hours that our children get in the classroom and our teachers have contact with our children."
Faber says that the initiatives of the Central Education Policy are very much in line with the goals of the Ministry of Education.
Those include improving teacher education and training, expansion of opportunities at the early childhood level of education, and the increased focus on the teaching of languages, specifically Spanish for Belize so that students can be bi-lingual.





Home | Archives | Downloads/Podcasts | Advertise | Contact Us