PM Presents Petrocaribe Loans Bill; Opposition Bristles
(posted on Thu Mar 26, 2015)
Last night we told you about the Petrocaribe Loans Bill - which had the opposition in an uproar. Well, it was tabled in the House of Representatives today and set to go through all its stages in one sitting. The PUP Chairman of the Public Accounts Committee was outspoken in his criticism, calling it a dangerous price of legislation and a sign that the Prime Minister has gone mad. But today in the National Assembly, the Prime Minister didn't shy away from the legislation, he said it gave him great pleasure to introduce it. But he took no pleasure in addressing Espat:...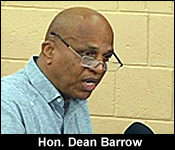 Hon. Dean Barrow, Prime Minister
"Those on the other side - you know, let me try to restrain myself. Said that under this bill, if were to be passed, I would be able to write a Petrocaribe cheque to my family. How ridiculous? How absolutely outrageous? Mr. Speaker, if this bill is passed, all it does is to put beyond question our ability - the authority, the jurisdiction to continue to borrow from Apbel - to continue to make use of the Petrocaribe funds. All the monies will still be a part of the consolidated revenue fund of this country. The central bank will continue to keep the monies in the special account. Every time there is any withdrawal to continue to fund the transformation of this country. It goes through the Ministry of Finance under the complete supervision oversight of the Financial Secretary and all the officials in the Ministry of Finance. Periodically again, as we spend, we will come to the House with the supplementary bills to in fact indicate where the spending has reached, at a particular point in time - allow a debate on the spending that has taken place and then try to pass the supplementary appropriation. In fact, I am undertaking that we will do that half yearly. I've already signaled that we will come back with a mid-year budget, or if they want we can do it every 3 months. There is nothing to hide. We want the Belizean people to know the details. We want them to continue to be impressed by how very much we are spending on the transformation of their lives."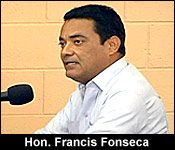 Hon. Francis Fonseca, Leader of the Opposition
"I want to place on the record that we object to the passage of this bill through all its stages today Mr. Speaker. This is not only a scandalous piece of legislation, it is unconstitutional and the Belizean people should have an opportunity to read this bill, to understand this bill and to express their views on this bill before it is passed through this House."
Hon. Dean Barrow, Prime Minister
"It does not surprise me that he said that while we intend to pass the bill through all its stages - I had not so indicated. He doesn't even know the standing orders. He doesn't even know the order - it is now that I say it sir. You've been here too long to be so absolutely ignorant."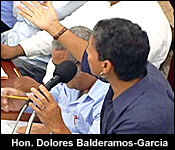 Hon. Dolores Balderamos-Garcia
"It is disgraceful that the Prime Minister of this country is using that kind of unparliamentarily language in this House."
Michael Peyrefitte, Speaker of the House
"What was the language member? Say it. What did he say?"
Hon. Dolores Balderamos-Garcia
"Calling people ignorant."
Hon. Dean Barrow, Prime Minister
"Mr. Speaker I moved and again, this is the appropriate time for those who are ignorant, which means lack of knowledge. When you are ignorant, it means, you lack knowledge."
And the back and forth continued in the house with both sides throwing words at each other. This is expected to intensify tomorrow when the bill is debated.
Outside the house, one protestor joined the cause. Ya-Ya Marin Coleman does her one woman protest every week - and this week she says she heard about the Petrocaribe bill and knew it was all wrong:..
Hon. Julius Espat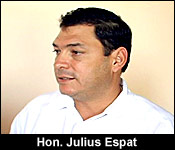 "He borrowed the money illegally. He spent the money illegally. He put the money in a special account at the central bank illegally. He came to the House, to try to confirm and validate retrospectively though a motion illegally and now his attorney, who is his brother, has informed him that the submissions that we have made in court is so strong, that he has to go in the direction of a bill and since yesterday we got information that's just what he did and today we were proven right. So, history is showing where he has gone wrong. But even this bill. This bill will give him the right to spend the money from here onwards, but it doesn't retroactively fix the errors that he has done in the past. No legislative bill can do that. So, he will still have to face those actions in court. The Prime Minister speaks to us as if we are ignorant. But he is trying to assume that the Belizean people are ignorant, when financial auditing and accountability will show if he is right or if we are wrong. We will not stop until at the end of the day it is proven that the Prime Minister has been lying to the people of this nation and we prove that he has been acting unlawful and we will continue. If we have to go to the CCJ we will."
Yaya-Marin Coleman - Activist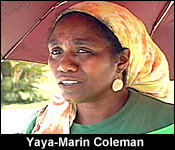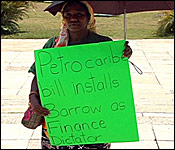 "I don't even know the details, but the essence that I got made me know this is not good for us and the way things happens around here, whether we agree or agree not, they will ram it down anyways - you see me. So, we will have to pay for it. This is a loan that we will have to pay for. So, let the record show this is how I choose to show my discontent that I am not with it. I am not with it under this administration, under the former administration - I know that I am not the only person who is not with it."
Marin Coleman was out there from morning into the afternoon.

House Debate Occasionally Humorous But Not Wholesome
(posted on Thu Mar 26, 2015)
The Petrocaribe Loan Bill was the first piece of business at today's house meeting - and the second was the budget debate. As is customary, Leader of the Opposition Francis Fonseca opened the debate with his response to the budget. He criticized the UDP for what he characterized as a hollow budget.
Hon. Francis Fonseca, Leader of the Opposition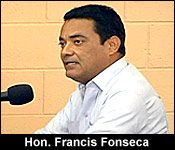 "The Prime Minister, apart from his usual political rhetoric and grandstanding, has nothing to say and the budget speech has nothing to offer the Belizean people. We lay bare for all to see the essence of this budget - empty political rhetoric, rounded in petty, vindictive UDP first governance. Well sir, where is your plan for the country? Your obsession with power? Your obsession with a third terms? Render you rudderless and clueless as to Belize's future."
"Mr. Speaker, the 2015/16 budget is a borrow and spend budget. It is a budget founded upon no consultation as usual and grounded in no economic development plan. It offers no new investments in the Belizean economy, no new tourism projects, no new agricultural investments, no manufacturing projects, no new investments in housing development, no investment in arts and culture, youth and sports, no tax reform, no governance reform. The budget for fiscal year 2015/2016 is not only short in length. It is short on vision. It is short on substance. It is short on ideas. It is short on purpose and direction. It is short, Mr. Speaker on solutions to the serious social and economic challenges confronting our beautiful Belize."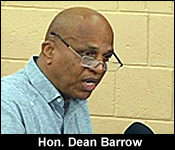 "Mr. Speaker, this is a budget delivered by a Prime Minister and a UDP government full of themselves, as I said earlier - intoxicated by power and consumed with their so-called history destiny of a UDP third term. Well, I say to you today and to the Belizean nation, it will not be, it shall not be. Let it be very clear, whenever the Prime Minister calls the elections, we will be ready."
Hon. Dean Barrow, Prime Minister
"In an effort to be fair, you are not going to give the member a chance to correct the fact that he garbled a portion of his speech? Shouldn't it have been call the elections now?"
Hon. John Saldivar, Belmopan
"The member speaks about tax, borrow and spend. Like I said, I don't know where he gets the strength to come up here with that type of rhetoric. That described what prevailed between 1998 and 2008. That is what has landed them in the opposition where they will remain for a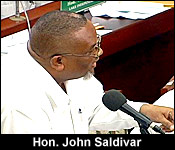 very long time. Talk about tax. I can't remember that this UDP administration has raised tax. It must have been sometime early in the first administration, when we were trying to fix the problems that they created for this nation. But, certainly if my memory recall for at least the last three budget presentations, we have not had a raise of tax."
Rt. Hon. Said Musa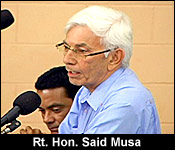 "When the Prime Minister can boast of his government's muscularity in spending millions of borrowed money, he makes no apology, for running up a huge budget deficit of 141 million dollars. Over 4% of GDP. And even more disturbing trend, to anybody who has any basic knowledge of economics is, that while he professed that he would have a primary surplus of over 37 million dollars in 2014 - it is now showing that there would be a primary deficit of 50 million dollars. When he is telling us that he is coming back in 6 months' time with another budget. Why is there a need for another budget in 6 months' time, Is this one here is not pappy show? If this one, government budget means absolutely nothing and they are just wasting people's time."
The debate wrapped at 6:00 pm today - and continues tomorrow at 9:00 am. IT should got for a while, as there are about 20 persons still left to speak on the budget. And added to that, there's the debate on the Petrocaribe Loans bill - so it's going to be a loooong day.
But we'll have more from today's debate later on in this newscast.

Rice Producers Say High Prices Aren't Their Fault – Check Your Corner Grocery for Gouging
(posted on Thu Mar 26, 2015)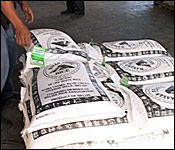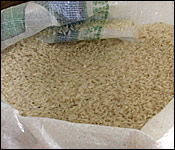 Will the price of the rice you buy from the store go down? Importer Jack Charles says that he can import Guyanese rice that can be retailed for as little as 69 cents per pound, 50 cents cheaper than the current price. But Government isn't prepared to give him the green light to import because of the effect it will have on the local rice producing industry.
Charles says those producers are gouging customers with a high mark up because they have a monopoly on the Belizean market. He says that if he is allowed to bring in cheap Guyanese rice, it would drive down the price you pay for a pound of rice.
Well, the local rice producers decided to go public today to tell the customers that Charles has it all wrong. They say they're not the ones taking advantage of consumers, it's the retailers - your neighborhood grocer - who is price gouging. They held a press conference today where Dr. Henry Canton, the president of the Agro-Productive Sector explained that position today:
Dr. Henry Canton - Chair, Belize Agro-productive Sector
"Rice has a price control of 90 cents, whether it's wholesale or retail - it's still debatable. By word of mouth, we understand its 90 cents per pound is a wholesale price. Most of the rice coming out or the hands of these gentlemen is price controlled and right now as we speak, rice is being sold below the 90 cents, which is the price control and in fact rice is being offered right now currently I think out of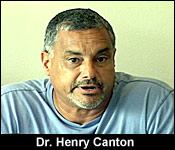 Spanish Lookout community as low as 84 cents. There is a surplus of rice even in our country. So, it's not that we are "gouging." The word "gouging" is being used and I want to be very clear in removing that word "gouging." What happens to us with rice, is that when we sell it in a hundred pound bag and most of our bags are labeled from where it is coming. That rice is then taken into the retailers' house and repackaged. We don't know - plastic bags - you go and you buy it. They tell you 9 pounds, it might be 8 pounds - nobody ever checks it and it is sold at $1.20 - $1.25. So what is happening with our rice, is that we are selling it within the confines of the price control, but then we have a mark-up for public transportation etc. and then a further mark-up going into the retail market and that's where, if you really look at it, that's where the discrepancy in who gets the lion share of the mark that comes out."
"We feel that we are being scrutinized on price control and how much we are producing it for. But nobody is really scrutinizing - once they buy it from us - how the mark-up structure is put in place."
Arturo "Tux" Vasquez - President, Belize Chamber of Commerce Industry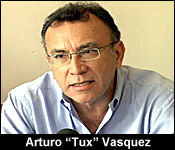 "While they may not be able to stop the importation of rice, I think we need to look at the long term and I think government do have a responsibility of protecting the producers. I know that they have been working together to see how best they can produce at a cheaper price, but I think that negotiations continues. However, the Chamber really is lobbies for its members, but it keeps of course, consideration on the consumer as well and I think the bottom line here really is as Dr. Canton has mentioned also is, there is a price control on the productive side of the thing, but not on the retail side and I think that's really where the problem is. You can sell rice for whatever price you want, I understand."
Dr. Henry Canton - Chair, Belize Agro-productive Sector
"Agro-productive Sector is visited more than you believe. We live with BAHA and we live with everybody else, because we are the easiest people for them to come to. It's more difficult for them to go to every little shop and check the change. So, the first person they come to, is the biggest person...let me audit."
Government has refused to issue a permit to importer Jack Charles - who has half a million pounds of rice waiting to be shipped from Guyana.
He finds that position puzzling since the Government allowed the local producers to import just over 3 million pounds from Guyana last year.
Today, the rice producers explained that what happened last year was an emergency situation because of a drought affecting the Blue Creek rice farmers. And so they had to import from Guyana to avoid a local shortage:
Dr. Henry Canton - Chair, Belize Agro-productive Sector
"A year ago, somewhere in early 2014 and I can speak to it because I was an integral part of it - the rice community realized that there was going to be a shortage of rice, because in that year, Spanish Lookout had a good crop of rice, but Blue Creek had a drought and in fact their rice crop failed. So, we realized that somewhere going into off-season rice that we may have had a problem with supplying the country of Belize consistently with rice. That rice when it came in, came in as bulk rice, not bagged rice. So, it had to be off loaded in bulk. It was then taken to Blue Creek, transportation cost from the ship to Blue Creek. It had to be reprocessed and Stanley can share with you pictures of what that rice looked like when it came and what he found in it; fortified iron, in screws and nails."
Daniel Ortiz
"The invoice says Guyana White Rice, which means that it's already processed - all the work has been done on it and it was supposedly ready to be consumed. Why is it that you are saying that it had to be reprocessed and it had to be repackaged?"
Dr. Henry Canton - Chair, Belize Agro-productive Sector
"Everybody that buys rice, don't like to buy in sacks. They want to sell you bulk, because it's cheaper on shipping and everything else. When that rice is loaded into the ship, even rats and everything else can go into that ship and that's why it had to be reprocessed."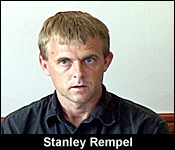 Stanley Rempel - General Manager, Circle R Products
"Yes. That rice was imported as bulk white rice. We could have put that rice on the market, but we have to keep in mind that we would like to guarantee a product that the consumer accepts. We can't just put whatever product on the shelf and expect the consumer to buy it. We have pictures, if you want to see it of what all came out of that rice. First of all, there was a lot of shells in the rice, which had to be taken out. We have buckets of screws and nails and rocks and dirt and filth that came out, that I am sure no consumer would like to see in their bag of rice."
Jerry Friezen - Rice Farmer, Spanish Lookout
"The local is a very premium rice and so, there was a huge expense in processing that to the standards that we have in place. So, yes, if you are satisfied with the grade that it is brought in, imported it could make money if they would sell it for the same premium price that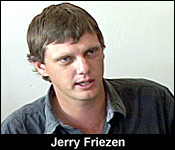 our rice is."
And while it's interesting to know that what we thought was local rice was really from Guyana - none of this discussion or disclosure would be happening if Jack Charles didn't decide to go public with his plan to drive down prices by importing from Guyana.
That rice was imported by the Belize Marketing And Development Corporation, for a price of 63 cents per pound. Then to get the rice, the local importers had to purchase it from the BMDC for an additional 6 cents per pound. They then packaged that rice in local bags such as the Circle R Products packaging, and sold it for the control price of 90 cents per pound. That means they made an average profit of about 21 cents per bag. Still you paid their price, giving the local producers 21 cents in profit, and an additional 30 cents to the shops. Bottom line? The consumers still didn't benefit from the cheap imported rice, which they didn't even know about, so today we asked the local producers why they didn't disclose this information to the public before now. Here's how they answered:
Dr. Henry Canton - Chair, Belize Agro-productive Sector
"So, yes the Guyanese rice was repackage, but it was reprocessed, repackaged and sent into the market. Guyanese rice was brought in through the Marketing Board (BMDC). We bought from BMDC. We paid $6.00 for 100 pounds to bring it in. Yes, maybe in hindsight now we should have made a statement on it, but I think if we are to be guilty on that, then BMDC also should have been guilty in not declaring that we had to import to meet a shortfall."
"The rice we brought in was rice that we had to bring in that fitted within the category of the price that we were selling rice for at that point in time and that's why you didn't see any dance within the price of rice. But if you say we didn't labeled it Guyanese, mea culpa, but I think that point in time BMDC should have said also that we had this stipulation or regulation that we should have been informed. Next time that won't happen. Next time guarantee us that if we ever have to bring back in again, I will be the first person to sit in front of you and say this is what we are experiencing and this is how we are going to handle it."
So, what does all of this mean for you the consumer? Well, the producers say that the retailers are the culprits. They are calling on the government agencies responsible for consumer protection and price control to rein in the price gouging by the shop owners:
Dr. Henry Canton - Chair, Belize Agro-productive Sector
"We are not the retailers. We are the producers. We are not the ones that are creaming. It's the retailers; the people that buy at 90 cents and are selling at $1.25 that are creaming. For some reason out there is this image that it's the gentlemen that are growing that are making all the money. The people who are making the money are the same people who do the importation trick. What we are asking is look at us when it comes to price control from the productive side, but start looking at the man that's selling it. Is it 10, 9 or 8 pounds in that plastic bag that you are buying? Is he buying at 90 cents and selling at $1.25 - that's a hell of a mark-up, when we are only making 5 or 10 cents on our pound of rice. It's not us that are gouging."
Daniel Ortiz
"If I understand clearly what you guys mentioned today, it appears to be regulation issue for the local retailers, where whichever government entity is responsible for consumer protection and price regulation - they haven't been doing their jobs. It seems that you said that without saying that you aren't responsible."
Dr. Henry Canton - Chair, Belize Agro-productive Sector
"I will say that openly. I say, the same way you check, check the market place."
This evening, importer Jack Charles sent a press release saying quote, "I am convinced...that competition results in a stronger and sustainable national industry. This can be achieved by allowing a small percentage of the total rice consumed in Belize, to be imported as an act of good faith and in respect to our obligations under the CARICOM Single Market and Economy (CSME) and continue to serve as a check and balance for our rice producers, not to abuse the Price Control mechanisms."
He ends by going into full Robin Hood mode, saying, "Finally, I would like to apologize to the public for having overlooked the rice prices earlier last year and in previous years, which could have resulted in savings of several millions of dollars to Belizean rice consumers."

Home Invasion in Downtown; Men Posed As BTL Technicians
(posted on Thu Mar 26, 2015)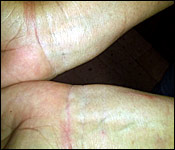 There was a home invasion this morning right here on Albert Street. Around 10:30 two men dressed in BTL uniforms arrived at the Budhrani residence at the upper flat of Rakhis Hair Salon. 46 year old house keeper Vilma Rauda who was at the house at the time along with the cook, let the men in because they told her they were there to check the phone lines. Vilma led them to the phone in the kitchen but the men told her they needed to check the other phone lines and the modem. She then guided them to one of the bedrooms where the modem was located and that's when one of the men grabbed her from behind, tied her arms with tie straps, taped her mouth and threatened that if she made any noise, they would kill her. Vilma who was too shaken up to give us an interview, told us that she managed to set herself free but when she ran out of the room, the men were already gone. She then called her boss Tara Budhrani and the police. Budhrani told us that the men didn't tamper with the safe she had in one of the rooms but that they went into her room, broke into her drawer and stole 2 bags with $7-$8,000 dollars, jewelry and her son's firearm. Budhrani says it seemed like they knew exactly what they wanted and where to go to find it. Vilma just started to work as the house keeper 3 weeks ago.
In response to this incident BTL sent out a release this evening stressing that all BTL technicians are supposed to call the customer to notify them of a date and time they will visit the premise. Then, they should present their BTL identification card when they arrive at the premise. Customers have the right to request the technicians ID number and name and make a call to the office to confirm that he is a BTL employee.

Shooting Victim Needs Surgery Abroad – Says Police Lost His Passport
(posted on Thu Mar 26, 2015)
Earlier this month we reported on a shooting that happened on West Canal between Berkley Street and Rocky Road. It involved 26-year-old Jamie Chavarria - who was shot while exiting his vehicle. Chavarria survived the attack but was shot twice - once on his left arm and another to the left side of his chest. Today Chavarria told 7news he is trying to leave the country for surgery but his plans have been put on hold because police lost his passport:
Voice of: Jamie Chavarria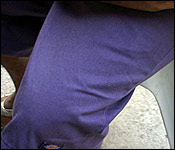 "I came to complain, because of the past 3 weeks I got shot and my girlfriend went back and forth to the police station to get my passport, because that was the only identification that she got for me when I got shot. But now for the past 3 weeks, the police have my girlfriend back and back to get the passport. Yesterday, she went to the station and asked for my passport and they called the officer who had the passport and he told the police that he already have my girlfriend the passport, but she never got the passport from him. So they told her to come back this morning at 6am. When she arrived there the officer had already went home. I want to know what is going on with the police department is they are holding my passport and don't want to give me, because that is something that I need. I need to go take a surgery in my back from the shot that I got. The police have my clothes that I got shot in and they haven't given it back. I would want the police explain to me what is going on, because it's like they are trying to play a game or something with me. A passport is a very important document."
No one has been charged for the shooting for Jamie Chavarria that happened on the 28th of February.

Smuggled Weed Into Jail, May End Up In Jail
(posted on Thu Mar 26, 2015)
50 year-old Primrose Hendricks tried to smuggle a small quantity of marijuana into the Belize Central Prison. She was caught in the act, and so tonight, she has to start thinking about how she will come up with 10 thousand dollars to pay her court fine.
The incident happened on December 22, 2013, and according to police, she went to the prison to take food for her son who was serving a 3 year sentence. The prison officer on duty searched her and the food, and found that she was trying to smuggle 63 grams, or 2.2 ounces of marijuana under the food in one of the foam plates she was carrying.
She was charged with drug trafficking, an offence which she pleaded guilty to in Magistrate's Court today. Senior Magistrate Sharon Frazer was forced to sentence her to pay a fine of 10 thousand dollars. She has until June 30 to pay, or she will spend 3 years in jail in default.

Castellanos Gets Called Up To Headquarters
(posted on Thu Mar 26, 2015)
Commanding officer of the Coastal Executive area on San Pedro, Luis Castellanos has been reposted and is currently holding over the Staff Officer Desk in Belize City. Unofficial reports say he will be transferred to Belmopan to replace retiring Commander Administration Joaquin Sabal. When we spoke to Castellanos this evening he said the commissioner only told him of this plan but again it is not official as yet.
Now, there has been a spike in crime on San Pedro recently and some may speculate that perhaps Castellanos's removal is attributable to this. Today Senior Superintendent ånd Deputy Commander Eastern Division Edward Broaster dispelled that notion.
Castellanos has served as Commanding officer on San Pedro for about 2 years and says it has been a rewarding experience. He says one of his greatest accomplishments on the island is building an 8 room wooden structure each with its own bathroom for the officers.

The Dispute Over National Debt
(posted on Thu Mar 26, 2015)
The national debt always factors heavily into the budget debate - and this year more so than usual because the Barrow Administration is using Petrocaribe loans to drive their spending programs. But how much is the national debt, and who is responsible for it. Well there were multiple, differing answers to that question today depending on which side of the house it came from:..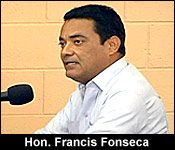 Hon. Francis Fonseca, Leader of the Opposition
"With an overall public debt of some 2.7 billion dollars, at more than two and a half times that of our revenue. Even with the so-called concessionary terms of our borrowing, our debt servicing is projecting at 180 million dollars for the upcoming fiscal year and begins to spike significantly thereafter. As our debt profile matures and the grim reapers come knocking at our doors."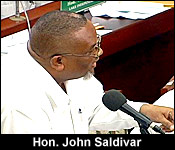 Hon. John Saldivar, Belmopan
"In 1998, our national debt was just a little above 500 million dollars I recall. In the 10 years that they were the government, they took that figure up to 2.2 billion dollars with a B. In the 7 years that we have been government, we have not even borrowed half a billion dollars yet."
Rt. Hon. Said Musa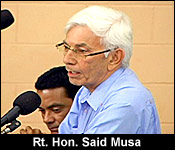 "When the UDP came in to office in 2008, the total external debt of the country was 1.7 billion. That's right. Not what the member for Belmopan said a while ago. Its 1.7, the figures are right there. You only have to look at the budget of the very same Prime Minister Dean Barrow in 2008-2009 - 1.7 billion. Today, after 7 years of UDP reckless and unaccountable spending and mis-management of the debt, it is now 2.7 billion dollars. Unless something is terribly wrong with my addition - that is one billion dollars more of debt accumulated by this UDP government. One billion with a B."
AS we told you earlier, the debate begins at 9:00 tomorrow morning and is expected to go into the evening.

Parolee Jailed For Wounding Ex
(posted on Thu Mar 26, 2015)
46 year-old Nathan Pratt, who was recently released from prison on parole after serving over 2 years, is back behind bars tonight because he assaulted his common-law wife, Eldi Landero.
She reported to police that on Tuesday, Pratt when to her house and started to behave in a jealous manner. She says that he started to demand who her new boyfriend is, and his accusations escalated to violence. She says that he then grabbed her by the neck, choked her, and dragged her on the ground into the yard, where he started to punch her in the face.
He was charged with wounding, and when he was arraigned today before the Chief Magistrate, he pleaded guilty. He was sentenced to serve 2 more years, and that's where he is tonight.

DOE Confirms Norwegian Cruise Line Damages Reef
(posted on Thu Mar 26, 2015)
Norwegian Cruise Lines is under scrutiny tonight for damaging a reef structure at its Harvest Caye cruise terminal site - two miles south of Placencia village. Pictures show that they have dumped rocks on live corals - reportedly in their effort to lay the groundwork for an artificial beach. Placencia based Marine biologist Lisa Carne reports that huge chunks of natural boulders and concrete were dumped on top of live coral. It damaged the coral structures which is illegal and alarming. Responding to public pressure, the Department of environment today sent out a tepid and terse release saying that on February 18th 2015, DOE personnel saw a structure being built near a patch reef in the vicinity of Harvest Caye. They issued a verbal stop order immediately and returned to conduct a coral damage assessment of the patch reef.
Investigations have revealed that there were impacts to the patch reef as a direct result of the construction. The damage assessment has also determined the extent of impact to the reef, for which the DOE and the Ministry of Forestry, Fisheries & Sustainable Development have been quote, "working with the responsible party for a closure on this matter."
So, is that a major fine? Well, the DOE says further release of details about this case has been withheld due to legal implications.

Police ask City Residents To "Black" Up
(posted on Thu Mar 26, 2015)
The officers at the Eastern Division want city residents to BLACK. If you're wondering what that means, BLACK stands for "Be Loving and Cease Killing". And the Eastern Division wants you to start by participating in the BLACK march against crime in the city tomorrow. Officers are inviting the public to register for the custom made t-shirts or wear black or white for the march. Senior Superintendent Edward Broaster told us today how this initiative along with other policing programs will bring the community closer.
Sr. Supt. Edward Broaster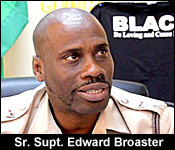 "The initiative is basically to bring together our communities and our young people in particular to stop the killing and the violence and we want the entire community to participate in this march for which we will be passing from Yabra through most of the gang neighborhoods doing the march ad trying to appeal and bring the different groups together for which most of them will be participating in the march as well for tomorrow. BLACK will be a sustain campaign just as "not in my city." As a matter of fact BLACK is a directive from "not in my city" and these campaigns we know we have to continue push in the community to ensure that we have the desired result that we hope to achieved."
The march is set for tomorrow morning at 6:30. It begins at Yabra Green and the group will be stopping at major hot spots in the city like Jump Street, Pink's Alley and George Street to pray. The march will end off at the cemetery.

Inside Belize's Newest Sporting Complex
(posted on Thu Mar 26, 2015)
As we told you last night, the long delayed Marion Jones sporting complex is mostly finished - enough for a soft opening for the media yesterday. We gave you the broad outline yesterday - and tonight we look at some of the finer points for the much anticipated stadium that has had Belizeans sports on hold for years. You be the judge of whether it was worth the wait:..

PROFILE..
(posted on Thu Mar 26, 2015)
Tonight, the I am Belize profile series is back. After a few months of re-tooling, this year's profile will focus on mentoring and mediation services provided by Restore Belize. Now, that may sound about as exciting as watching grass grow - but there are interesting stories in there. The first is of two EP Yorke students who had gotten into a deep feud. Now this sort of thing happens a lot in schools and it can often escalate into violence. They told the profile how they avoided that:

Why Belize Drew In A World Cup Qualifier
(posted on Thu Mar 26, 2015)
Just two days ago on this newscast - football, Belize's world cup qualifier against Cayman was headline news. And tonight - it's at the end of the newscast. And there can only be one reason for that, right?: last night's game was a major disappointment. FFB bosses were predicting a 6 - nil trouncing and the game ended up in a nil-nil draw.
The game was carried live from the FFB stadium in Belmopan right here on Channel 7. When it was done, we spoke with both sides to get their perspective. Depending on who you spoke to, it was because of a superior Cayman Islands defence, or a lack of finishing by the Belizean strikers:
Shortly after the game, the social media lit up with harsh criticism that if the FFB had made moves to get Belize's premier Striker, Deon McCauley on the team, the outcome would have been different. We asked Assistant Head Coach Charlie Slusher if McCauley being on the pitch could have changed the outcome of the game:
The Jaguars leave for Cayman tomorrow on a charter flight to play the return match on their home turf. That game takes place on Sunday at 6 p.m. at the Truman Bodden Sports Complex in George Town, Grand Cayman. Belize must win to advance.





Home | Archives | Downloads/Podcasts | Advertise | Contact Us