Another City Murder, This Time Itís a Man Found Chopped Up On The Coast
(posted on Thu Jan 12, 2017)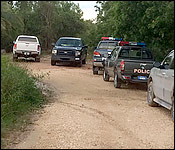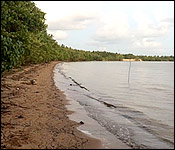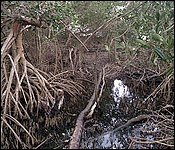 There has been another murder in Belize City - the sixth for 2017. This time it appears to be an older hispanic male who was chopped to death. His body was found this evening close to mile three on the western Highway, but way off the highway, close to the coast behind the city dump. Police Press Officer Fitzroy Yearwood just told us the little that they know so far:...
Insp. Fitzroy Yearwood - Public Relation Officer
"It's really early into an investigation. We do expect foul play. We know that a hispanic male was found not too far from here near the beach side. He had injuries to the head - chop wounds to the left arm. We believe that he has been out here for a while because the body has been swollen a little. The investigators are still here trying to gather evidence from the scene. As soon as we have more information we will share that with you. We know that this person is well-known in the neighborhood, because speaking to the residents of this are, they say that they see him quite often in this area doing fishing."
Reporter
"A part from him being regular in this neighborhood, has anyone filed a missing person report pertaining to his not been seen for the past few hours or so?"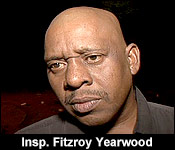 Insp. Fitzroy Yearwood - Public Relation Officer
"Well actually I know that his relatives have been informed of his discovery. I know that the police got knowledge of this sometime before 5 this evening. I was immediately contacted by our control room and I have been out here since then. We know that there was no formal missing person report, but we can only say what we know. It's a difficult scene to get to and our officers are trying their best in adverse conditions for us to get out of here and see our investigation can begin."
Right now, the police have engaged the coast Guard to get to the location because it is too remote to reach on foot and night has fallen. So far, information suggests that the elderly genetleman was known to fish in that area. No one knows why he would have been killed, and his wounds appear to be defensive - especially a chop across the hand. There is an apparent chop to the head. His body appears to have been there for some time and it is already in an advanced state of decomposition. A post mortem will have to be conducted on site.

Integrity Commission Re-Activated, Sworn In
(posted on Thu Jan 12, 2017)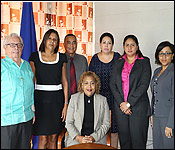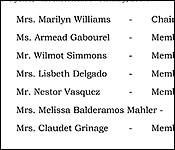 It's been a week of teacher-led reform. Earlier this week, we saw the election of the 13th. Senator, and today, we witnessed the swearing-in of the Integrity Commission. These are both initiatives that the teachers unyieldingly pushed for in their October 2016 strike.
And, so, today in Belmopan, this important body, dormant for the past 8 years, was re-activated. It's important because it exists to prevent corruption in public life, and to examine the assets and earnings of politicians - to make sure that they are not unjustly enriching themselves.
Today , the 7 members -five appointed by the Prime Minister and two by the Leader of the Opposition were sworn at the National Assembly Building in Belmopan - which is where the office is located.
Chairman Marilyn Williams, the Chairman, discussed the focus of the commission and its first order of business.
Marilyn Williams, Chairperson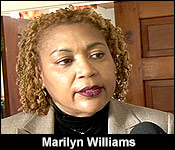 "The importance of this now is that we now have a body that is charged with overseeing the behavior, activity of the people that are in public office. I want to be mindful to let you know that there was always an integrity commission office that had a secretary seated in there looking at the declaration that had been filed by some people. Now you have an integrity commission who is empowered by the act to take certain actions to do a more in-depth analysis than what the secretary was doing and to reach certain conclusions and then issue a certificate to say that this person's declaration was in compliance. It's more of an intense oversight now that there is a commission formed. One of the first things that is dealt with in the act is that fact of financial declarations that have to be filed. There is a deadline, I believe it is march however, the integrity commission does have the right under the act to grant extensions if it is necessary. The commission itself will look into the declarations that are filed. It's almost like a financial analysis of a financial statement to see whether what has been submitted makes cohesive sense meaning if you put something on line one does it concur with line ten or does it make sense for line ten? We will look at it as a whole. Then if we feel it is okay and it is compliant and then there is a certificate that is issued and that will be published in the gazette. The other task has to do with corruption, there are certain acts that I will not be able to define it all right at this point but there is certain behavior that the act defines as corruption and if a complaint is made with respect to someone behaving in violation of those sections, then the integrity commission has the authority to look into it, to investigate it, to call witnesses and to look into the issue as to whether yes indeed the person did violate the act or not. If we feel that they have then we prepare a package, we write it up and then we will forward it to the office of the director of public prosecutions."
So while the activation of this commission represents progress, will all these members really carry out their roles without political bias? We know that a few commission members are passionate supporters of their political parties or have close ties through relatives. Williams assured us that it does not play a role in decision making within the commission and that this membership setup works just fine.
Marilyn Williams, Chairperson
"The Prime Minister didn't appoint the other people, he appointed the members that are UDP, but then you have members from the opposition that was appointed by their party. So one cannot then turn around and scream unfairness if you have membership on the commission."
Courtney Weatherburne, 7News
"In terms of partisan connection, maybe members, they're not directly connected to a political party but maybe have spouses or close relatives that are a part, or that doesn't factor anything?"
Marilyn Williams, Chairperson
"It doesn't factor into anything. After all the decision is going to be made by those who are a member of the commission. If that person is swayed by their familial relationships, then that's on them. I would hope that both the Prime Minister and the Leader of the Opposition in appointing the individuals that they appointed, would have taken into consideration what that individual will bring to the table and offer to the process."

Integrity Commission, Whose Victory?
(posted on Thu Jan 12, 2017)
And so while this important good governance body is now finally re-activated, should the kudos go to the Government, or the Teachers' Union which pushed so steadfastly for it? Here's how Chairman Williams put it.
Courtney Weatherburne, 7News
"The Integrity Commission is one of the teacher's demands during their strike. How do you all separate the pressure that was put from the teachers in moving forward to this process and also the importance of actually creating a committee or a body in terms of this entire process, not separating the 2?"
Marilyn Williams, Chairperson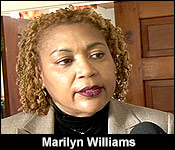 "For this I have to be fair to the Prime Minister because I said to you before when we won the election before this last November, he had in fact tried his best and it was at that point that I was to chair the commission. I wouldn't want anyone to run away with the idea that he never had any intention to do it. yes, I will accept that given what came out of the union and the discussions with the Prime Minister, perhaps what it did was propelled a wider interest because I would want to think that when people at large heard, the reason why commission wasn't formed was because we couldn't find anyone who was willing to commit to being a member, maybe it gave them the impetus as to say 'ok then yeah I will,' but I would not want us to walk away with the impression that the only reason why the Prime Minister did it is because the union demanded it because I would flatly rebuke that."
As we told you there are 7 members of the commission. Marilyn Williams is the Chairman, and the members include Armead Gabourel, Wilmot Simmons, Lisbeth Delgado, Nestor Vasquez, Melissa Balderamos Mahler and Claudet Grinage. As you heard, the financial obligations are to submitted in March. The commission held its first meeting today; it was a closed door session, and we'll keep following up on their work.

Referendum Act Going Through Changes, Is It To Appease The Guats?
(posted on Thu Jan 12, 2017)
Tomorrow, the House of Representatives will be meeting to debate and vote on a change to the Referendum Act. The change would reduce the percentage of voters needed to validate a referendum from 60% to 50%. This change means that national issues that go to referendum, such as taking the Belize and Guatemala border dispute to the CCJ, would require a lower threshold of voter participation to pass.
The government has been criticized for the change, with some saying that it is a move to appease Guatemala, which has the same threshold. We spoke to the Minister of Foreign Affairs, Wilfred Elrington, who told us the government's reason for the change...
Alex Courtenay, 7News
"Minister, tomorrow the house will be meeting to pass the new referendum act that will reduce the threshold needed for a referendum to be able to be passed. Is that something that has come as maybe as a show of faith or good faith towards the Guatemalans that we are lowering our threshold to almost match theirs and other international standards?"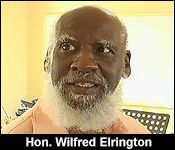 Hon. Wilfred Elrington, Minister of Foreign Affairs
"No, actually the decision to go referendum was made from the time we were under the colonial rule. The British, the Americans, the Australians, the Canadians, all have a 50 percent plus 1 as the threshold. We have changed that when we got into power in 2008, not having the Guatemala issuing the contemplation at all. That was not the best decision that we made and we are seeking to reverse it. But every country in the world who our type of system and government have the 50 percent plus 1, Guatemalans as well so it's no different. It was not done for them, but it was done for them because we recognize that it is the international best practice and we want to comport with what is the international best practice. I heard a fellow was suggesting today on the radio that they intervene, in extent so that in fact that we have 2 thresholds; 1 for the Guatemalans this year and 1 for other issues, that is not so. When we amend it, it's going to be 1 threshold for whatever issue that is raised at the level of a referendum."
Reporter
"The Belize territorial volunteers will be staging a protest outside the house tomorrow and its first meeting for 2017. Do you believe that that process is justifiable?"
Hon. Wilfred Elrington, Minister of Foreign Affairs
"No, I wouldn't say that it is not justifiable. We have a free country, people are free to protest and greatly and truly the fact that they have an interest in the country and expressing that interest, it's healthy. So I have no difficulty with them protesting at all."
Reporter
"Giving that this referendum act, the amendment is heating up recently, has the education campaign began? If not when will it begin?"
Hon. Wilfred Elrington, Minister of Foreign Affairs
"I think when we finish our activities tomorrow will be a better position to start the deal with the education campaign in a more robust way, but we have never stop doing the education campaign in a matter of fact, last month and a month before I personally conducted at least 3 sessions within a short period of about 3 weeks. I hoped the comments in doing so almost immediately now and all over the country, while I have done so myself, the referendum unit have gone north, south, east and west but we can enhance that and we plan to do that right after the house meeting tomorrow when the amendment passes."
The legislation was introduced at the last house sitting in December and will be debated and voted on tomorrow when it goes for it's second and third readings. We'll show you how that went in tomorrow night's news.

Wilfred Says No Deal On Sarstoon Island
(posted on Thu Jan 12, 2017)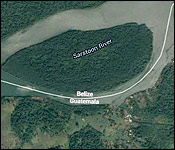 And keeping it on Foreign Affairs, in the last week reports surfaced alleging that Guatemala's Foreign Minister Carlos Raul Morales states that Belize had agreed to keep hands off the Sarstoon Island until after the territorial dispute goes to the ICJ. We asked Elrington whether there was any truth to the allegation...
Reporter
"I think it was last week a document was circulated in which its stated that you along with the Guatemalan minister agreed that there will be a non-occupation of the Sarstoon until the ICJ rules to whom it belongs to. What that the case? Did you agree to that?"
Hon. Wilfred Elrington, Minister of Foreign Affairs
"No, I didn't agree to that at all, but I will tell you this: the Sarstoon River has been unoccupied; the Sarstoon island has been unoccupied as far as I know from 1859 up to this point in time. Nobody else tries to go to it. Its abandoned island, small very marshy island. I don't know if you could do anything much on it. So neither the Guatemalans nor the British nor Belizeans have been in fact sought to do anything on it from as far back as I can find historical records for. It's not anything that I would interfere with nor the Guatemalans."
Alex Courtenay, 7News
"With an island that is so important, in terms of the border for Belize, is it wise to have it unoccupied for so long especially in the tense times with this border dispute?"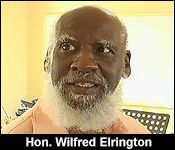 Hon. Wilfred Elrington, Minister of Foreign Affairs
"I don't think it has this great importance in relation to our borders. It is well within Belize's territory. It is Belizean territory. It is just we have so many islands all over the country, but because this one is so marshy and so soft, nobody has sought to go on it, except a few people who have their own agendas and you have to understand that not everything that is done in the name of the country is really for the country. But as I'm saying to you from 1859 until now, it has never been occupied."
Reporter
"There is agreement with the Guatemalan foreign minister to leave the island intact or as it is?"
Hon. Wilfred Elrington, Minister of Foreign Affairs
"Ministers can't make agreements, our ministers take instructions from the cabinet and our cabinet has not even discuss that. It's just malicious rumor that people spread. With social media now people say anything and everything. Much of it have no real basis in truth."
The Sarstoon Island is the Southern most island in Belizean territory, and while it is un-inhabited and hardly ever used by locals or the BDF, it is an integral part of Belize's territory - which, like half the country - is claimed by Guatemala.

Belize Assumed Chairmanship of OAS Permanent Council
(posted on Thu Jan 12, 2017)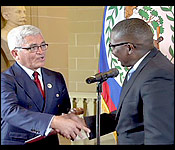 And in other Foreign Affairs news, Belize's Ambassador to the OAS, Patrick Andrews, today assumed the Chair of the Permanent Council of the OAS. It's a rotating chairmanship of an influential body which he will hold for three months. Here's a look at the ceremony at OAS headquarters in Washington, DC courtesy the OAS media department:..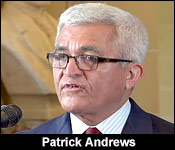 Patrick Andrews, Belize Ambassador to the OAS
"It is undeniable an incredible opportunity for each member states that assumes chairmanship to leave his or her mark in elevating the institution's history and in contributing to its betterment and that of the hemisphere and of our countries."
Today, Foreign Minister Wilfred Elrington commented on the importance of Belize taking its turn at the helm of the powerful OAS Permanent Council:.
Hon. Wilfred Elrington, Minister of Foreign Affairs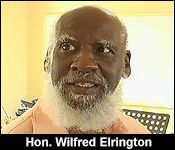 "Well as far as I am aware the permanent council is where all the major decisions are made in relation to the OAS. The internal workings of the OAS is really the center of the organization and the presidency rotates every six months. So we will have it for 6 months. Whenever there is any need for meetings, emergency meetings, discussion and the like, our ambassador, Ambassador Andrews will be the person to convene the meetings. This is very important for us, because that's the organization that looks after the affairs in the Latin America and the Caribbean areas."
Belize will chair the Council until March 31, while Honduras occupies the Vice Chair.

Social Security Wants To Talk About Increasing Benefits And Contributions
(posted on Thu Jan 12, 2017)
The Social Security Board is embarking on a round of public consultations across the country to talk about increasing benefits - which also means increasing contributions. But don't get too alarmed, this is only very preliminary discussions. The fact is, Belize's Social Security Fund is one of the most stagnant in the region; in three decades, the contribution structure has only changed once - and that was in 2001. The effect of this is that those who make more than $320 dollars per week - which is almost half the working population - don't have adequate coverage. And that means that when they retire, they won't get a pension commensurate with what they had been earning.
And that's why Social Security has set up 14 consultations in cities, towns and villages to ask workers - and employers - if they are willing to give more, to get more, especially those earning larger salaries.
But, before they got started with the rest of the country, they met the media today, to put the word out that they want to talk, but more than that, they want to listen:...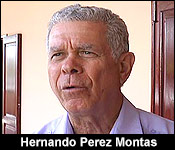 Hernando Perez Montas - Actuary, BSSB
"The scheme starting in 1981, the first set of amendments took place 20 years later in 2001 and now we are in 2017 and no substantial amendments have taken place. So the ceiling has remained stagnant at 320 and the analysis showed that a large proportion of it insured persons are making already more than 320 dollars a week."
Jules Vasquez, 7News
"Is this out of step with the region of the world?"
Hernando Perez Montas - Actuary, BSSB
"It is certainly out of state. Most schemes not only all over the world in the CARICOM area in Central America no more than every 3 or 4 years there are legal amendments."
Chandra Nisbet Cansino - Mgr., Policy & Planning, BSSB
"if we will be raising the ceiling of contributions from 300 to 500 let's say, well more than likely the persons who will be affected are the persons in that wage band in that group and they will be the ones who would more than likely be paying for the increase in their benefit. So it's basically equated to the persons that will be receiving the benefits and I just to go back..."
Jules Vasquez
"Employers are also affected in that, because it would mean that the more highly paid persons within a business, a greater contribution would have to be made."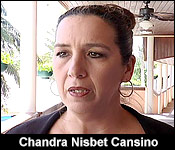 Chandra Nisbet Cansino - Mgr., Policy & Planning, BSSB
"Yes and the discussion with the employers is extremely important to us. At this point we are engaging the public on a whole. However, as soon as we gather a general consensus from the public, we will be narrowing down our consultations to the employer groups as well as the worker groups which will also be the unions. It's definitely open ended. No discussions have been taken or made. The board is asking that we conduct he consultations to be able to hear from the stakeholders to be able to get an input from the persons that will be affected most. I can categorically state that no decision has been made that this is simply and introduction of the concept of reform."
Jules Vasquez
"But still it's a consultation where people would have to pay more out of their pocket. Are you anticipation bracing for a blowback?"
Chandra Nisbet Cansino - Mgr., Policy & Planning, BSSB
"Well like I said the objective of the consultation is simply to introduce the concept. So we are not giving the public any information on any decisions that have been made, which I think is a different approach. We are telling you this has to be done, the fund is mature. We have come to a point where we need to increase the contributions and we want to hear from you, what do you think is the best way going forward? We don't have details to provide, because we are really seeking input from the public. It's a genuine effort to seek input from the public."
Jules Vasquez
"Yes, advice is good, consultations are good but at the end of the day the population is getting older and the government has to take the bull by the horns, because people have to be provided by for."
Hernando Perez Montas - Actuary, BSSB
"I think now it's the political will, the board has taken the decision to go ahead with public consultation and then we will meet with the representative of stakeholders, the chamber of commerce, the unions, to fine tune the legal amendment that we are going to propose to the government."
Community Consultations begin tomorrow morning in Independence and continue up until January 21st in Placencia. After that, the social security team will meet with Unions and employers.

Tourist Dies At Cave Tubing Site, Cops Say Heart Attack
(posted on Thu Jan 12, 2017)
There is news out of Franks Eddy, Cayo tonight that a female tourist from Mississippi died while on vacation in Belize.
Reports to 7News are that she arrived on a cruise ship yesterday, and was at the Cave tubing site. We are told that she was in one of the bathrooms, where she slipped and had a nasty fall.
We had received reports that she died due hitting her head on the floor, but police reports are that that her death was due to a heart attack.
The police press officer has released very little details on this case, and a BTB official told us that they are waiting on the police report.

Hon. Hulse Gets Hon. Francis To Apologize
(posted on Thu Jan 12, 2017)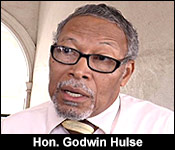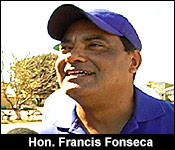 Two months ago, we told you about the lawsuit which Senator Godwin Hulse brought against former Opposition Leader Francis Fonseca. Hulse sued Fonseca for defamation of character because he believes that Fonseca injured his personal reputation for some comments made during a press conference from October 2013. That was the time when the Citizen Kim passport scandal was raging. The PUP Leader painted new Minister Godwin Hulse with the very same, very dirty brush he used on Elvin Penner - who had facilitated a fraudulent nationality certificate and a fraudulent passport for Kim.
Hulse sued him for it, and today was supposed to have been their first day of trial before Chief Justice Kenneth Benjamin. But, instead of getting into legal arguments, the attorneys for both men, informed the court that they have arrived at an out-of-court settlement. Fonseca will apologize for the comments, and it will be published in 3 major newspapers, but he won't have to pay damages to Hulse. He will only have to pay Hulse's court costs of $3,000.
So, what changed between November and today? Well, that's what we asked Fonseca's attorney, Kareem Musa, who told us on the last occasion his client's defense against the defamation claim is fair comment, and that Fonseca's words were true. Musa told us today, that Fonseca weighed the litigation risk, and decided that an apology is better route. He described why:
Hon. Kareem Musa, Attorney for Francis Fonseca
"The parties have been in discussions for quite some time regarding a possible out of court settlement. This is a defamation case brought by Mr. Hulse in relation to a statement made by the Hon. Francis Fonseca in October of 2013. The matter, like I said has been under discussion for quite some time now and we were able to arrive at a settlement that I believe all parties can walk away feeling a bit satisfied."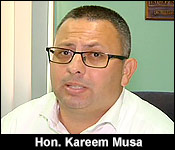 "As you know there is give and take when it comes to a settlement agreement and judgement and awards being what they are today when it comes to defamation lawsuits. I think the damages ranges anywhere between $20,000-$60,000. I think one case in Belize actually went as high as $60,000 for damages and so there has to be a give and take whenever you are having a settlement on a defamation lawsuit and so the outcome of today was that the Hon. Francis Fonseca will not have to pay any damages for the comments that he made, but he has agreed to issue a public retraction and apology to Senator Hulse. It is an instance I think it could have gone either way and I think, like I said, that is why you have some give and take and the Hon. Francis Fonseca has no issue apologizing for a matter that may have offended Mr. Hulse."
"That is what will take place. He will issue a public retraction and apology. He does not have to pay any damages for the comments made, but he will pay the legal cost of $3,000 to Mr. Hulse's attorney."
So, is the public apology enough for Godwin Hulse? That's what we asked him today via telephone, and he said that all he wanted is for Fonseca to publicly take back what he said:
Hon. Godwin Hulse, Former Minister of Immigration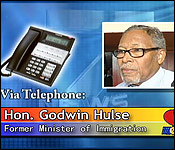 "I have work throughout my life to maintain my dignity and my reputation and I have never, will never and ever participate in any on the hand illegal or illicit activity whatsoever. It's just not me and I am not driven by the dollar bill, so to speak. So those statements I really found terribly disturbing and downright wrong and downright improper and that is why I took the action to have them corrected."
Daniel Ortiz, 7News
"Why did you decide to settle as compared to pressing the court?"
Hon. Godwin Hulse, Former Minister of Immigration
"I am not one of those ones that are driven by huge compensations for whatever. I needed the Hon. Francis Fonseca to retract those statements in a firm definitive and clear way to the public of Belize and to the people. That was really my goal. You have to go through a legal process to get that done and I did not intend of course to have it cost me to go that legal process. So I am good with that."
"I am not the kind of person who holds any kind of malice or animosity to anyone. Statements are uttered every time on Facebook and you can't pick at every statements that's issued or uttered and there are people who will believe and not believe and not everybody is privy to their own view. But when it comes to my reaction and relationship with people at that level, I have no animosity or malice at all. So we continue to be amicable and to have normal discussion in the course of matters that concerns the country."

The Senate Select And Citizen Kim
(posted on Thu Jan 12, 2017)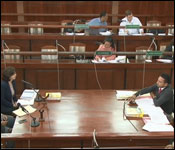 So, while Hulse is cleared of any suggestion that he had a hand in any illicit issuance of passports to suspect figures, yesterday, the Senate Select Committee was interrogating Maria Marin on the most famous illicit passport of them all: Citizen Kim's. There is a portion of the Auditor General's Reports on the Immigration Department that focuses specifically on her audit team's investigation of that scandal. She has published an interview in her reports that her team conducted with a Senior Immigration official, whose comments implicates the Former Acting Director of Immigration.
Here's the Senate's intense inquiry into that part of the report, and the opportunities they gave Marin to respond:
Hon. Aldo Salazar, Chair., Senate Select Committee
"Moving on to paragraph 7.9 on the report. This is being said about you by Mr. Gordon Wade. This is in relation to the Won Hong Kim issue. At this paragraph, the comment is made that Mr. Penner brought in the application without original documentation for Won Hong Kim. Mr. Wade was being interviewed here and he said that the minister indicated that he would take the Won Hong Kim file to you as director. Did you assist Minister Penner in processing the Won Hong Kim application?"
Maria Marin, Former. Acting Dir, of Immigration
"No in fact if I could enlighten as I have maintained, the records will show that I was on vacation leave form the 6th of September to the 11th of September. This certificate and the fine.."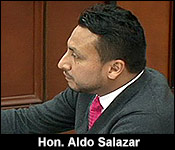 Hon. Aldo Salazar, Chair., Senate Select Committee
"You were on vacation from the 6th of September?"
Maria Marin, Former. Acting Dir, of Immigration
"2013 to the 11th of September 2013. From the report that I did I was able to ascertain that the Minister was given that file on the 9Th of September. The minister never came to me with that file."
Hon. Aldo Salazar, Chair., Senate Select Committee
"This is Minister Penner?"
Maria Marin, Former. Acting Dir, of Immigration
"Minister Penner."
Hon. Aldo Salazar, Chair., Senate Select Committee
"Were you afforded an opportunity to look at the things that were said about you in this interview with Mr. Wade by the audit team?"
Maria Marin, Former. Acting Dir, of Immigration
"Except for what I saw in the preliminary report?"
Hon. Aldo Salazar, Chair., Senate Select Committee
"No before the production of any report."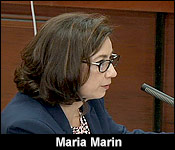 Maria Marin, Former. Acting Dir, of Immigration
"No."
Hon. Mark Lizarraga - Business Senator
"In an interview with Mr. Gordon wade, the officer in command of the nationality section, he was not paying much attention to the date as it was not out of the norm for any minister to bring in incomplete applications and these will go through on the strength of their promise to bring in the missing documents. This was to the knowledge of the director Mrs. Maria Marin. He informed us that ministers are still bringing in applications for individuals even after what has happened in September of 2013."
Maria Marin, Former. Acting Dir, of Immigration
"No."
Hon. Mark Lizarraga - Business Senator
"You did not have any such knowledge?"
Maria Marin, Former. Acting Dir, of Immigration
"I did not support that and whenever I was aware of any minister bringing applications or documents especially in the form of first time application, officers knew that they were to advise the minister that the applicant must present himself or herself personally."
Hon. Mark Lizarraga - Business Senator
"So you had knowledge or you didn't have knowledge? That's what this is saying. This was done with knowledge of director Miss Maria Marin."
Maria Marin, Former. Acting Dir, of Immigration
"I was aware of instances yes, but when I became aware of those instances I would reiterate to the officers that the applicants must present themselves personally. We needed to ascertain that those persons are or were in Belize."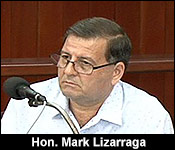 Hon. Mark Lizarraga - Business Senator
"Mr. Wade also alleges that this file was with you, along with a register which reports the acceptance of nationality applications on page 67.9. Were you at any time in position of the citizen Kim file?"
Maria Marin, Former. Acting Dir, of Immigration
"Never in position of that file. That word file is referring to the Won Hong Kim file, it is false because I never saw that file in my report. It would have been the counter supervisor in the nationality section Miss Addy Pacheco. The officer in charge Mr. Gordon Wade and Minister Penner who accepted the file on the 9th of September from Miss Pacheco as per that letter. Subsequent to that his signature being on the nationality certificate."
Hon. Mark Lizarraga - Business Senator
"According to your report, Miss Jones was responsible to ensure that the director had approved the file for further submission to the minister. You're saying you never saw this file, you never approved it and you're claiming that Miss Jones, before sending to the minister, should have verified certain thing? is that correct?"
Maria Marin, Former. Acting Dir, of Immigration
"Yes."
Hon. Mark Lizarraga - Business Senator
"And that she further facilitated irregularities in this case."
Maria Marin, Former. Acting Dir, of Immigration
"Yes."
Hon. Mark Lizarraga - Business Senator
"Would you say that those are illegalities or irregularities?"
Maria Marin, Former. Acting Dir, of Immigration
"It's irregular because..."
Hon. Mark Lizarraga - Business Senator
"Not illegal?"
Maria Marin, Former. Acting Dir, of Immigration
"No I don't believe it's illegal."
Hon. Mark Lizarraga - Business Senator
"Well there's a clear process established on the law for the processing and issuing of these documents, am I correct?"
Maria Marin, Former. Acting Dir, of Immigration
"Yes there is."
Hon. Mark Lizarraga - Business Senator
"A process which these senior officers should have all known."
Maria Marin, Former. Acting Dir, of Immigration
"Miss Pacheco and Mr. Wade yes. Miss Jones was a junior officer and that was a part of the process of the steps in preparing the files to be forwarded. That directive or in the norm that instruction would come from the officer in charge of the nationality section. But in my mind this was different because from what I understand, the minister had brought the file to her. I think that was the case."
Hon. Mark Lizarraga - Business Senator
"So you're saying she may not have known that this was illegal? But certainly the senior officials would have known?"
Maria Marin, Former. Acting Dir, of Immigration
"They would have known that they would have needed the directives recommendation before it went to minister, yes."
Hon. Mark Lizarraga - Business Senator
"Is it that we do not have sanctions on the law for people who breach these laws? That people are not being.."
Maria Marin, Former. Acting Dir, of Immigration
"In my view and in my experience at the department, few if any case of where sanctions would have been recommended or needed actually finalize the process."
As you heard Maria Marin expressed her frustration there were no sanctions or penalties for the Immigration Officers who helped to produce Won-Hong Kim's fraudulent immigration documents. We do note, however, that in March 2014, their attorney wrote a letter to Marin while she was still the Immigration boss. He said, quote, "my clients say that any such misprocedure - as all of Belize knows - was conceived and engineered by Minister of state Elvin Penner acting either personally or through instructions directed at public officers." End quote.

Did Hon. Hulse Know About Ministers In And Out Of Immigration?
(posted on Thu Jan 12, 2017)
While we had the opportunity, we asked Godwin Hulse in our phone interview about that list of Ministers that Maria Marin has provided to the Senate Committee. As we told you, she started documenting the number of recommendations she was receiving from Ministers as the head of the Immigration Department at that time.
The frequency with which these recommendations were coming in from these Ministers, on behalf of their favored applicants, was a red-flag for Marin, and she started collecting that information to pass along to the Minister of Immigration.
It is the first time we've heard of such a list, and we attempted to get a copy yesterday, but we were told that it is not for public consumption at this time. Hulse was the Minister, and so we asked him about it today, and here's what he had to say:
Daniel Ortiz, 7News
"He disclosed to the committee that the reason for doing this was to advise her ministry and her minister of the frequency of these particular ministers of government, because it was a red flag for her. Have you seen the list sir?"
Hon. Godwin Hulse, Former Minister of Immigration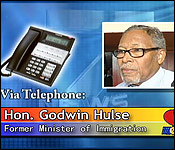 "No I haven't seen the list she has provided, but what I do know is that during the time when all this was occurring, I made it very clear to director Marin as I made it clear to everyone and I make clear continuously, that nobody, no minister and I made the point not even the Prime Minister should have pressured her or anybody in the immigration department to do anything that is wrong. If anybody did, all they had to do was call me and I would deal with the matter. That was a statement I made then and it's a statement I continue to make. The matter of recommendations, I don't have to hand the list of who all made recommendations, but I think that we have to be very careful when we talk about recommendations because you have to remember that in the system that we are governed, representatives have that responsibility and a role to play. People will come to you all the time to ask for support, recommendations, etc. So you have to be careful what recommendation you are giving. There's nothing wrong in recommending. What is wrong is if you force or coerce or put pressure for something to do that is wrong. We always have to remember that. People come to me and say 'Minister can you try facilitate this, I've within 6 months, 1 year, etc.' There's nothing wrong in calling the director and saying 'X has an application for a year and what's happening?'. There's nothing wrong with that at all."
The Senate hearings continue next week Wednesday.

Bad Business At Bocawina
(posted on Thu Jan 12, 2017)
The Mayflower Bocawina National Park is a popular tourist and adventure destination. It is also a popular location for illegal loggers and hunters. Yesterday park rangers came across over 90 pieces of cut lumber, and several other chopped trees. The trees are believed to have been cut by criminals looking to sell the hardwood to nearby sawmills. Jose Perez, Executive Director of the Association of Protected Areas Management Organizations, spoke to us about the dangers this illegal activity poses to the protected area...
Jose Perez, Executive Director, APAMO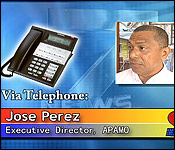 "What happened is that the rangers have always had information that there's evidence that there's cutting of trees within the park. There are various hardwood timber trees. It seems as though it's these operators who do not have licenses. It's a well-established business it seems. Fortunately, on Tuesday they encountered the lumber, but the guys got away and they were able to salvage the lumber. The rangers of course with limited resources have been trying their best. But we have to see how we can support the group in enhancing their ability to do more but more timely patrols. I think also we need to see how we can work closer with the police and forest department to ensure that we have more boots on the ground."
Alex Courtenay, 7News
"This is not necessarily something that maybe illegal immigrants or just people from the Guatemalans side who are trying to make profit off Belizean forest. This is Belizean people illegally..."
Jose Perez, Executive Director, APAMO
"Actually last year 2 persons were caught by the police rangers. One of them was a Salvadorian but these are people who reside in Belize. I assume you know the Mayflower Bocawina National Park, the entrance lies just a couple miles off the southern highway. It is understood that some of these people are from nearby villages; the Silkgrass village which is nearby. We understand that there's people who come all the way from Hope Creek Village. These people actually have a livelihood that they have going to supply the local Saw Mills. That is why in our press release, we are asking those Saw Mill owners to please support the effort to stop these illegal logging by not buying from these people who don't have proper licenses to be cutting timber."
Alex Courtenay, 7News
"What sort of strategies can be employed in the future apart from you needing a boost in ranger personnel, but how can people help to ensure that this sort of stuff doesn't continue happening especially in these national parks?"
Jose Perez, Executive Director, APAMO
"I think the community plays a big role. I think the few rangers that exist can patrol as best as it can, but if there's no demand for this lumber, then of course the suppliers won't have anybody to sell it to. So the community plays a very big role in this, that's one. No matter if the demand decreases, these people will continue. So we have to see how we can increase the patrols and hopefully eventually cut down the instances of these illegal logging."
While these illegal loggers and poachers prey on the Bocawina wildlife, tourists shouldn't be afraid. Perez told us that security is tightest near the most popular hiking and zip line locations.

Central America Braces For Trump
(posted on Thu Jan 12, 2017)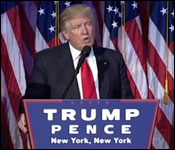 In just 8 days, Donald Trump will be inaugurated as the President of the United States. Trump had a controversial campaign, and has made promises, and issued tweets that have left world leaders very concerned. Minister Elrington told us how the Barrow Administration plans to deal with the new President, and whether Belize will be joining forces with other countries to stand up to him...
Reporter
"I read in regional news that Honduras, Guatemala and El Salvador have agreed to join forces and seek support from Mexico in dealing with what they called this Donald Trump "threat". Have you heard that or is Belize willing to participate to join?"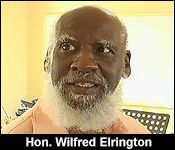 Hon. Wilfred Elrington, Minister of Foreign Affairs
"I think all countries in the region are worried because of the pronouncement that the president-elect has been making and our strength is in numbers. The strength of small countries like ours is in numbers and in unity. None of us are able to deal with the United States on our own, not even Mexico. Mexico is the 11th largest economy, but even they are reeling from what is now happening in the United States. They are very worried and concern. So it would not surprise me that in fact those initiatives are being taken. We of course are looking at our own options and we maintain our relationship with all these countries and to the extent that we need to collaborate to ensure the well-being of our societies."
President Barack Obama signed the US-Caribbean Strategic Engagement Act of 2016. on December 16th., and two days ago, the CARICOM Council of Ministers met in Guyana and issued a statement saying it is appreciative of the Caribbean's good working relationship with past US administrations and was looking forward to working with the Donald Trump administration.

Why Was Honorary Consul In Chet Dumped?
(posted on Thu Jan 12, 2017)
And while the government is bracing for Trump, the search for a new Honorary Consul to the State of Quintana Roo has started. Jorge Valencia, who held the position for the last six years was terminated last December. Minister Elrington told us more about Valencia's termination...
Reporter
"What is the status of the Mexican consul? I believe he was fired or let go. We previously talked to Miss Gomez on his position. What's the position of his office?"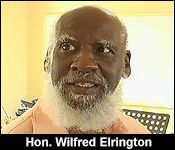 Hon. Wilfred Elrington, Minister of Foreign Affairs
"I think the decision has been taken to appoint a new consul to represent us. I think we have thanked him for his service and we are in the process of having a new person."
"Especially in this day and age, Belizeans who need the services of the consuls across the world are very exact and demanding and when they complained, they've got to heed their cry and see how we could enhance the service that we offer to our people abroad. So that explains why from time to time move people and when we change them, there are times when there are negative fallouts; they will get upset and they do things and say things that are not very complimentary to country. But we have to live with. That's part of life."
Reporter
"Any idea as to when someone will fill his position?"
Hon. Wilfred Elrington, Minister of Foreign Affairs
"I think that is being contemplated as we speak. It should be anytime now."
As Elrington mentioned, no one has been chosen to replace Valencia at this time.

Worries Deepen For Missing Girls In North
(posted on Thu Jan 12, 2017)
We have reported on countless cases of missing young girls. The mothers or other relatives come to our studio pleading for them to come home and in most cases, they do return safe and sound after visiting with friends. But it's not always that simple, certainly not in the cases of 13 year old's Ideline Adelia Romero or Anaseily Gonzalez. Romero went missing on 10th January, 2017. She had left home to attend classes at La Inmaculada school in Orange Walk. Gonzalez on the other hand, went missing on January 6th in Corozal. She was to take the bus in the afternoon back to her Chunox village home but she never showed up. Her case is very serious because the investigation suggests that her father, who is believed to have a questionable background, kidnapped her and took her to Mexico. An alert has now been issued for her in Mexico as well. Our colleagues at CTV 3 spoke to the founder of the Jasmine Alert Patrick Menzies about these reports. Menzies says the police need to do a better job in handling these cases and that they should have reached out to him for assistance.
Menzies also went into more details about Gonzalez's the troubling case. He told us what he knows so far.
Menzies says that based on his information, Gonzalez's father was accused of a sex offence,. Again , if you see or know any information as to the whereabout of any of these girls please contact the police.

NGO Senator Wonít Be In Senate For NGO Amendment
(posted on Thu Jan 12, 2017)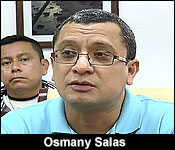 The 13th. Senator Legislation will come into force a week from tomorrow, on January 20th. And that may be one day too late to debate legislation to amend their very own NGO Act. That's going to the house for its second reading tomorrow and the Senate will see it at its sitting next week Thursday, the 19th - one day before the NGO Senator is activated. It's what you might call "wah real bunnah", but it appears government isn't about to move the date of the senate meeting to Friday.
The new Senator Osmany Salas will take his seat in the Upper House at the next sitting which comes at the end of January or early February.

Selgado Slammed Into Cargo Truck
(posted on Thu Jan 12, 2017)
Attorney Oscar Selgado is very much a man about the courthouse - he can often be seen cutting about the Supreme Court, the Magistrate's Court and the Court of Appeals. But we saw him today on a city sidewalk, after he'd spun off the road in his Toyota Four-Runner after a collision with a cargo truck. It happened at the three-way intersection of Fairweather Street, Neal's Pen Road and Rivero Street. It's a dangerous and unusual intersection and the two drivers who crashed had a different account of who was to blame:..
We only saw stop signs on Rivero Street and Neal's Pen Road indicating that the cargo truck which was on Fairweather Street had the right of way.

Western Pile Up
(posted on Thu Jan 12, 2017)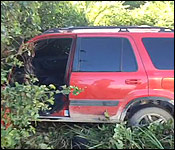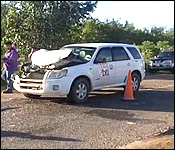 And there was also an accident this morning on the western highway. It ended up with two vehicles receiving front-end damage, and another being run off the road. It happened in Front of CISCO where the vehicles were heading into the city when they had a pile up. Apparently, the red Honda CR-V which was run off the road was followed by the Navarra, and then the BTL's Mercury Mountaineer. Traffic was held up for a short time, but no one was seriously hurt. The driver for the CR-V was taken to the hospital in an ambulance.

Shyne Takes A Stand, Ten Of Them
(posted on Thu Jan 12, 2017)
Belize's Music Ambassador, Shyne Barrow, donated ten music stands to the Samuel Haynes Institute today. He handed them over to the driving force behind the institute, Foreign Minister Wilfred Elrington. Barrow told us why the stands were necessary, and how he plans to continue bringing music into the lives of Belizean children...
The stands cost a total of $1000, and Minister Elrington, a lifelong musician himself, told us that he was impressed with the quality.

City Killing Revisited
(posted on Thu Jan 12, 2017)
And we end tonight with a follow up on the breaking story we had at the top of the newscast. There's been another apparent murder in the city - and in this case an older hispanic male appears to have been chopped to death. He was found near the sea, behind the city dump off the mile three are on the western Highway. Reports say he had defensive wounds, and a major chop to the head. We'll have more on this, plus his identity in tomorrow's newscast.

Home | Archives | Downloads/Podcasts | Advertise | Contact Us