Teakettle Family Gets Closure After Loved One Found Dead, Now They want Justice
(posted on Tue Jun 27, 2017)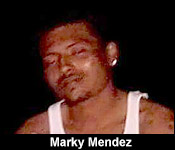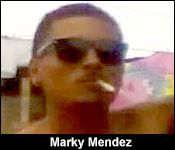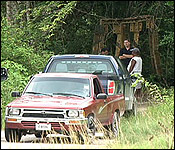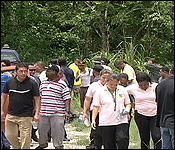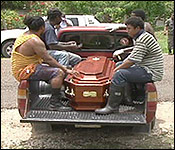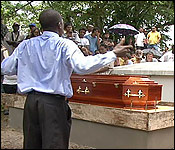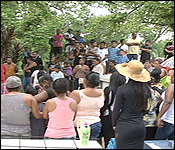 Teakettle Resident Markey Mendez had been missing for 5 days - but his family knew he was dead, and finally tonight, they have closure after a search team found the 24 year old's body yesterday evening around 6:00.
It was found not too far from his home - near the old Warrie Head Bridge. An on-site post mortem revealed that Mendez had been shot to the head. Although the family is relieved that they found their loved one's body, they are very much broken by his murder and want police to find the man who did it. I was at the scene when they carried Mendez's body out.
Verna Mendez sat patiently on her verandah waiting for her son's body to be brought out for burial. She couldn't bear seeing her son's corpse.
Verna Mendez, Mother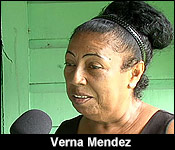 "I don't want to see him that way, I want to picture him like the way when he left here that Wednesday, he was smiling and the person that I knew."
But that jovial person she knew is gone.
Mendez's body was found yesterday evening in a creek about a 45 minutes' walk beyond the old Warrie Head Bridge. His body was stuck on a large tree branch that had collapsed in the creek. Mendez's father was with the search team when they found his son.
Pablo Mendez, Father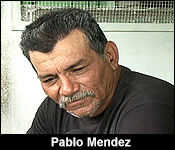 "The only thing that I saw when I see the body is his little black Nike tennis and his tattoo of his mom and mines in the next foot and that is the only thing I see from my son."
And today Family and friends huddled by the roadside as the police and forensics team did an on-site post mortem. And around midday, the team finally emerged with Mendez's body.
They placed his body in the coffin and drove off to the cemetery - where his family and friends were waiting to bury him.
Verna Mendez, Mother
"I was happy, I was glad that they found him and sad in a way that yes I know he is dead but glad that I have a body to bury."
Pablo Mendez, Father
"I was not going to stop looking for him until I find my son because I was praying and asking God to lead me where my son is and I thank him because I got my son. Now it is not how I want it but I am still going to bury his body at the burying ground and then I can always go sit down on that tomb and talk to my son because I was very close to my son, I love my son a lot." (CRYING)
It's a bitter sweet end for the Mendez family and Teakettle villagers. But the bitterness still overcomes because although they have laid their loved one to rest, they want the murderer to pay.
Alicia Reyes, Cousin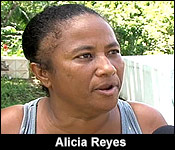 "We are here suffering and then they are happy and I don't think it should be that way, we need justice."
Courtney Weatherburne
"If you have anything to say to those people who actually did this to your son what would you say to them?"
Verna Mendez, Mother
"I don't have words for them right now, I just hope that they stop that killing and that hateful heart that they have because that is satanic."
Police are not sure if they took Mendez to the old bridge to kill him or if they went to dump his body there after killing him somewhere else. We will get more details from police tomorrow. As you heard in our story yesterday the family and the police know who the alleged killer is and we will keep you updated as to when he is caught. Again Mendez died as a result of a bullet to the head.

Penner Criminally Charged, Asks Forgiveness From Victim's Family
(posted on Tue Jun 27, 2017)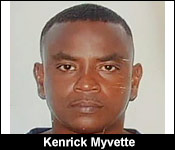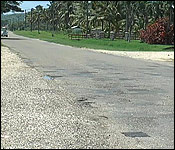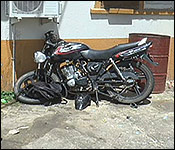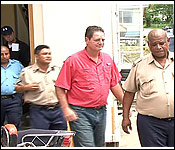 On Friday night, Elvin Penner knocked down and killed 41 year-old Unitedville resident Kenrick Myvett, while trying to overtake another vehicle on the George Price Highway.
Well, this afternoon, he was arraigned at the San Ignacio Magistrate's Court on the criminal charges of manslaughter by negligence, causing death by careless conduct, and driving a motor vehicle without due care and attention.
After his arraignment, Penner granted the entire press an interview, something which he certainly hasn't done after his tumble from grace in 2013. Daniel Ortiz takes a look at his day in court:
Daniel Ortiz reporting
This afternoon, after being back and forth to the Police Station this morning, Elvin Penner was taken before the Magistrate sitting in the San Ignacio Court.
He's now facing 3 traffic offenses for the death Kenrick Myvette, the most serious of which is Manslaughter by negligence. On last Friday night, he was trying to overtake a minivan, but he instead, he slammed head-on into Myvette, who was heading home on a motorcycle.
Unlike his arraignment in March of 2014, when COLA charged him for Immigration Offenses, Penner wasn't flanked by an army of supporters. Another key difference today was that he was far more indulgent with the press, choosing to comment, instead of dodging:
Reporter
"Sir, but, any comments on what happened?"
Elvin Penner - Charged with Manslaughter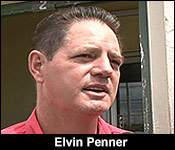 "I'll make a statement when I come back out."
And after signing his bail documents, Penner kept his word, starting by apologizing publicly to the Myvette family who is grieving back in Uniteville.
Elvin Penner - Charged with Manslaughter
"I would like to express my very sincere condolences to the family of the deceased. I could not be more saddened by the fact that a person has died, a family has lost their loved one, a beautiful young girl is left without a father, a common-law wife is left without a husband and I can only imagine what they are going through. It's been a tough time for me and my family as well. It's something I would have never ever dreamt of could have happened to me, but only God knows why things happen."
"Like I told them before if I could get my hands on a million dollars today and bring back the life of their loved one, I would do that. But unfortunately that's what how life goes. I know they are preparing to bury their loved one. I've been there whenever I am able to assist with them with whatever I am able to assist them with."
So, to the incident itself. Here's how it happened from his perspective
Elvin Penner - Charged with Manslaughter
"I remember coming from work Friday late. I was working late that day. Again, I normally don't work that late and my wife would tell me well if you had come home earlier it wouldn't have happened. But perhaps if I had come home earlier something else would have happen. It could have been worse. So you never know, so we don't try to understand at this point in time. But I came home from work Friday late, I check my time and exactly at 6:56 is when I called 911. It was on a straight stretch in front on Running W where you can see clearly all the way to Esperanza and the vehicle in front of me was traveling fairly slowly, so I remember looking ahead, didn't see anything coming and proceeded to overtake and I did not see the cycle coming from the front until it was just feet in front of me and the only instinct I had at the time was to do whatever I could to miss the cycle and I swerve the vehicle immediately to the right hitting the vehicle beside me, because we all know that someone in a vehicle is much safer than someone on a bike. So the idea was to hit the other vehicle in the process trying to avoid the cycle. But unfortunately there was not enough space and the cycle still clip in front of the vehicle and hence the incident happened."
"Like I said a lot of people believe what they want to believe. They might not want to believe me, but I honestly did not see the cycle coming. I've spoken to the 2 witnesses in the other vehicle that I hit in the process, both of them didn't see the cycle coming either."
Reporter
"The lights were on?"
Elvin Penner - Charged with Manslaughter
"I cannot say there was no lights on, all I can say is that we didn't see the cycle. Because I don't want to speculate at this point in time, because like I said the family needs to be taken care of and at this point in time all indications are that being that I overtook, it's my responsibility and it will stay that way for now. But really and truly I still don't know why I didn't see the cycle coming."
Reporter
"So you are accepting guilt that you did? I'm sorry sir, because you are saying that you accept responsibility because the fact that you were overtaking that vehicle and the cyclist basically came into you because you couldn't avoid hitting him. So you're saying it happened that way and yes your vehicle colliding into the cycle caused the death of this guy."
Elvin Penner - Charged with Manslaughter
"In terms of the legal charges they normally give you are based on traffic laws…so based on the traffic laws, yes indeed the guilt will be on my part. But in terms of the negligence or purposefully doing something or overseeing something or doing something wrong, I don't see how because I really did not see the cycle coming."
The court will decide if indeed he should face any penalties for the accident, but Penner says he is hoping that the Myvette family will recover from the pain of loss.
Elvin Penner - Charged with Manslaughter
"At the point of the accident instinct kicked in right away, the first thing was call 911 which I did hoping that the ambulance would come together with the police. Realizing after a while the San Ignacio ambulance wouldn't come, I then quickly call the Spanish Lookout ambulance, and they did come in fairly short time. Of course at that time being shocked but at the same time optimistic, the young man Mr. Myvette was responding well to questions and conversations that we had with him while he was on the ground, so I was very optimistic that he was going to make it, but like I said only the good Lord above knows why he allows things to happen the way they happen and I just have to have faith in God that he will provide the family with strength."
No plea was taken from him, and he was released on bail of $5,000.
The case was adjourned until October 27.

Castro Company Gian Espadas To Court
(posted on Tue Jun 27, 2017)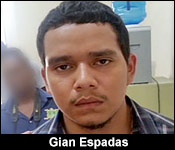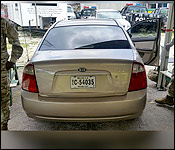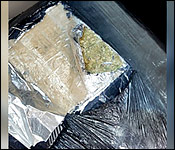 Yesterday we told you about Gian Espadas. A week and a half ago he was caught alongside Wasani and Jafari Castro transporting 89 cases of contraband beer. While that matter was settled out of court, Espadas made an appearance in the Magistrate's Court today after being charged with drug trafficking. Police arrested the 22 year old on Sunday after intercepting him in a vehicle with about 12 pounds of marijuana. He pled not guilty to the charges, and was released on $8000 bail. Espadas also had to hand over his passport and agree not to leave the country without the court's permission. The case was adjourned until September 1st.

Wanted For Killing 90 year Old Shopkeeper
(posted on Tue Jun 27, 2017)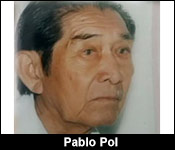 12 days ago, Pedro Pol, a 90 year old shopkeeper from August Pine Ridge was robbed and beaten by two Hispanic men. When his family found him tied up on the floor of his small shop, Pol was severely injured, and by the time he got to the hospital, less that two hours after the incident, he was dead.
Police have identified at least one of the men responsible for the heinous crime, and are asking for the public's assistance in locating him. They are looking for 26-year-old Guinea Grass resident Amin Ricardo Cho. Cho is a Belizean of Hispanic descent and stands at about 5' 5''. If anyone has seen him or has any information about his whereabouts, they are asked to contact the Orange Walk Police at 322-2022, call 911, or inform your nearest police department.
As we understand it, he was with a minor when the crime was committed - and residents caught that minor. His identity provided clues which led police to the identity of Amin Ricardo Cho - who is now the key suspect.
The minor has not been charged because the police are waiting for legal advice on his status.


Cop Caught KO'd On Camera
(posted on Tue Jun 27, 2017)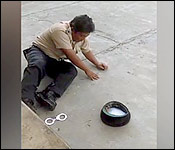 A police constable is feeling the full wrath of social media after a most unfortunate scene caught on camera.
PC 1319 Florencio Rash attached to Precinct One in Belize City was caught apparently knocked out on the pavement at what looks to be the Belmopan bus station - his police regulation hat and handcuffs strewn on the ground. He is in front of a food stand - and appears that he may have been sitting before he passed out. Rash is seen quickly regaining consciousness, and then trying - with little success - to pick up the cuffs - which he then nonchalantly tosses into the police hat. Rash then struggles to his feet, where he starts to walk forward, and the cell phone video grapher cuts it there.
Now, we don't know when the video was taken, but we do know police got paid yesterday - and many who live out district - started their spree the minute they cashed their cheque.
Whatever the circumstances, it's caused howls of outrage at the uniformed officer - who, at best - was doing an impression of a sleeping policeman. Most viewers have concluded that he looks drunk, but a ministry spokesperson was quick to point out, quote, "we don't know if it is the effects of alcohol or drugs or medication or sickness. Let's not judge until we can confirm what caused him to be in this situation. If it was as a result of alcohol or drugs there will be no question as to his fate."
Later on, Assistant Commissioner Chester Williams told the media, quote, "since none of us can determine the situation from the 40 seconds video clip and it appears as if it's not a criminal matter, then it's an internal matter for the Police Department."
Williams later posted on Facebook, "In light of the recent video circulating with a police officer apparently under the influence in uniform and lying on the street, the commissioner of police has directed that the matter be fully investigated and appropriate disciplinary action taken against the officer. He also warned that police officers must respect their uniform at all time and are expected to display the highest lever of professionalism especially when in uniform and in public so as not to cause any unnecessary negative attention to the department."

GSU Gets Weed, Man Pleads
(posted on Tue Jun 27, 2017)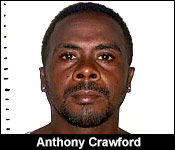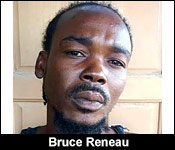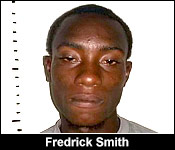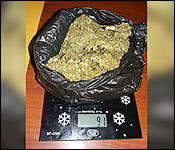 Yesterday on Raccoon Street, a GSU patrol saw a man dash through the back door of a house and throw a bag over the fence. The officers stopped and apprehended the man, along with two others in the house. They retrieved the bag which contained about 3 ounces of marijuana from the neighboring yard.
The three men, identified as Anthony Crawford, Bruce Reneau and Fredrick Smith were arrested and charged with drug trafficking. The trio appeared in the Magistrate's Court today, where Smith took the blame and pled guilty to the charge. According to reports, Smith initially intended to plea guilty for the lesser charge of possession, which the prosecution had already agreed to accept. However, when Smith was read the original charge of trafficking, he mistakenly said that he was guilty. The plea was recorded, and Smith was fined $10,000, which he has until December to pay or spend three years in prison.
Because Smith pled guilty, the charges against Crawford and Reneau were withdrawn.

Putting A Target On Cyberbullying
(posted on Tue Jun 27, 2017)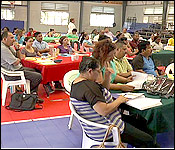 As technology and the internet continue to play larger roles in our daily lives, ensuring the safety of everyone online is becoming a higher priority. Already cyber bullying has presented itself as a huge threat to the well being of students, as well as adults using social media. So far, Belize, does not have any concrete legislation to protect people from cyber crime, but as need grows, different organizations and governmental entities are working to change that. Today the Ministry of Education hosted a workshop to develop and implement a Regional Cyberbullying Manual. We spoke Sylvester Cadet, one of the consultants of the project, about why it is so needed...
Sylvester Cadet - Program Officer, Int'l Telecomms Union, Barbados
"Fundamentally the ITU's critical mandate is to ensure that we have communications throughout the world, but in ensuring that there is there right to information and to communication is also the mandate to ensure a certain level of security among all users and specifically when it comes to the youth. In that regard we have been looking very closely at the whole issue of cybercrime, cyber bullying, as a key element in the security of young persons. And in that regard the ITU have set up an initiative referred to as the Child Online Protection Initiative in partnership with the many partners around the world, global partners, including some of the UN agencies, industry players, academia as well as sector members, and by sector members we are referring to the members of the ITU who are in industry."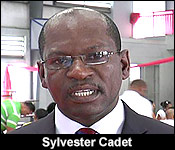 "This is critical especially when one considers what is happening around the world now with young persons. And the impact that cyberbullying has on their social life, their mental wellbeing as well as their outlook generally. In fact, cyberbullying has led to very grave circumstances including suicide, including of course lashing out in violent ways. And other areas in which it has impacted not just the victim, but also the perpetrators themselves, as well as their family circle, their school circles. It has impacted on the way in which they lead their everyday lives in such ways that has called grave concern."
"This is the essence of the workshop here in Belize."
This initiative is being implemented throughout the Caribbean, where Cadet told us the needs are on the same level as Belize in terms of cybercrime legislature.

Hon. Briceno Says Even Without Increased GST, Belizean Still Paying More
(posted on Tue Jun 27, 2017)
On this newscast you've heard the Prime Minister and the Deputy Prime Minister say an emphatic "no" the the IMF's recommendation that the rate of GST be increased to 15%.
And while that may be consoling, the Leader of the Opposition says don't be fooled - you are still paying increased taxes in other ways. He had these remarks at a Corozal municipal convention:...
Hon. John Briceno, Leader of the Opposition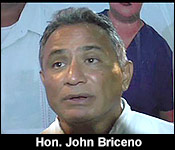 "The Prime Minister had not raised GST. He raise environmental tax, the cost to buy US. These things have a direct impact on any and everything that you buy. There is no zero rating on these issues and we know what the Prime Minister response will always be, that is the problem - he knows everything and because of that attitude that he has, we are in such a bad state, such dire state, because the Prime Minister acts as he knows everything and I am not surprised by the Prime Minister's response. He will tell you we are not going to raise GST, but look at fuel. We have probably the third highest cost of fuel in the entire North and Central and South America."

Hon. Briceno Says We Live In A Country of Two Sets Of Laws
(posted on Tue Jun 27, 2017)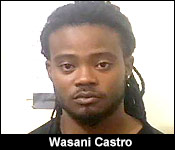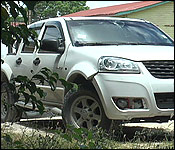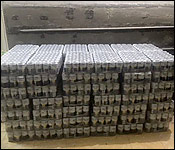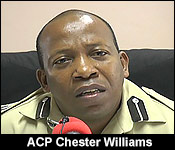 The Opposition Leader also commented on the recent case involving the sons of Minister Edmond Castro. He says that it appears we live in a country of two sets of laws:
Hon. John Briceno, Leader of the Opposition
"People believe that there is almost two types of justice in this country; one for the UDP ministers, their families and their cronies and one for the rest of us."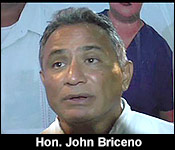 "Look at the recent developments - we have the Castro brothers. Their vehicle has no license plates, they have no permits to show that have the permission to drive this vehicle. The following day, they have no other than the Assistant Commissioner of Police Chester Williams go in front of the television and the media and pretty much take his 2 officers and threw them under the bus. Instead of him saying that they are going to charge the Castro brothers because of their unruly behavior, he goes after his own. What's going on here? The Prime Minister has allowed his ministers and his cronies and family members of the UDP to be able to behave lawless as though they are above the law."

BDF's Chopper Pilots Ready
(posted on Tue Jun 27, 2017)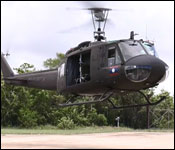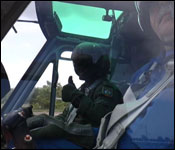 Last year in September, we showed you how the BDF's Pilots were getting training to fly the 3 Helicopters that they currently own. They are preparing to provide the Belize military with their own air support, and the BDF announced today that the trainees are now graduates.
On this coming Friday, The Ministry of Defense will hold a graduation ceremony to recognize 4 BDF pilots and 13 technicians who have completed the helicopter conversion training.
At that ceremony, the pilots and the technicians will demonstrate the lessons they've learned in the 3-million-dollar helicopter course that the Belize Aviation Company has been providing to them. These graduates will make up the Airwing's Helicopter crew, which will allow the BDF to rapidly deploy troops to remote parts of the country that would normally take them days to travel to by foot.

Car Their Caught, But Stolen Car Still Missing
(posted on Tue Jun 27, 2017)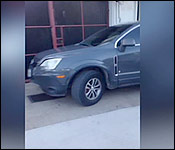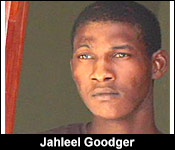 Tonight a desperate Belize City car owner is asking for your help to recover her 2008 Saturn Vue. Here's how it was stolen: the owner Linda Turner was at the Sit and Sip bar on Saturday morning. Now, according to court reports, she didn't have a key for the vehicle so she took out the battery when she went to Sit and Sip. But a resourceful car thief came along, slapped his own battery in and zoomed off.
Police have caught the alleged car thief, 21 year old Jahleel Goodger a Belize City Car Washer who is in jail tonight, spending his first night on remand after being denied bail for stealing the SUV valued at $17,000.
The car owner alleges that she saw Goodger taking a battery to her vehicle and placing it inside then driving away with it onto Marine Parade Boulevard.
In court today, before Senior Magistrate, Sharon Fraser, Goodger was unrepresented where he pleaded not guilty to the charge. Police objected to bail since they say they have a strong case and the Magistrate agreed.
But, while the alleged culprit has been found, the vehicle is still missing. The owner is offering one thousand dollars for its return. It has preortedly been seen in the Roaring Creek area and in Dangriga.
So, if you have seen it, please call the police or 622-7157 or 624-6725.

Belikin, One More Beer Being Brewed
(posted on Tue Jun 27, 2017)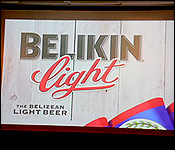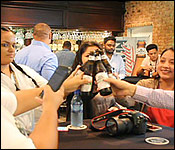 Ask anyone sober or drunk and they'll tell you there's no shortage of beer offerings at the corner store or at bars and nightclub's. But the folks at the Belikin Brewery - who already bottle 6 beers - think there's a market niche that hasn't been filled. It's for a light beer, targeting the health conscious market who are watching their calorie intake. And, so, enter Belikin Light beer, which is being introduced to the market at the beginning of July.
Makes marketing sense, but for the folks who already produce regular Belikin Beer, Belikin Stout, Belikin Premium, Guinness Stout, Landshark Lager, Lighthouse Beer, Chocolate Stout and Sorrel Stout, while also importing Amstel Brite, Heineken, and Redstripe - do they really need another beer? Or are they seeking complete domination of the beer market? That's what we asked the brew master at the official launch of the Belikin Light today. Here's what he had to say about this new beer, and why adults may want to try it:
Daniel Ortiz
"Why would I want to switch over to the light or try out the light?"
Nolan Michael - Brewmaster, Belize Brewing Company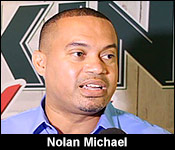 "Well if you are a regular beer drinker and that's what you enjoy we advise you please continue to enjoy that. I enjoy all brand categories. What we found is that there was a gap, there was a certain segment in our Belizean community and throughout worldwide that there is a conscious movement towards a choice lifestyle and active life style but those people, they still enjoy a beer. However, they are also conscious about the calorie intake that they are taking in with that consumption. so in order for us to fill that market gap we decided that we would produce Belikin light which in Belikin light you still get the same great flavor profile of a Belikin beer but with a reduce calorie intake."
"It will be available country wide at the beginning of July. Our sales people and our distribution system it is moving through our distribution system as we speak so it will be available in stores country wide at the beginning of July in fresh on time delivery for our customers and consumers to have their choice."
Daniel Ortiz
"Is it a situation where Belize Brewing Company is trying to control the entire market share or access in Belize for beer drinkers?"
Nolan Michael - Brewmaster, Belize Brewing Company
"Our strategy has absolutely nothing to do with control of the beer market. Our entire strategy is offering customers and consumers a choice. We would like to have a beer offering, or a product offering in every single category and every single beer style, that's my ambition, if I know I am a beer drinker, I would like to have a beer to consume in any type of beer style depending on what I am feeling every day. This is about service, this is about delivery of quality products to our customers and consumers and we want the ability in our portfolio to offer that to our customers and consumers. That is our strategy. I can assure you we are not stopping at this one product offering, there will be more. We are going to develop more and offer in as many product categories as we possibly can."
Counting the seasonal brews, this is the company's 12th beverage brand. We stress beer - including this light beer - is for adults, not children.

Belize Fails Trafficking In Persons Test, Again
(posted on Tue Jun 27, 2017)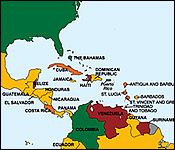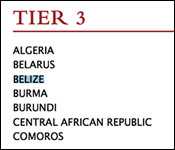 The US State Department has issued its 2017 Trafficking in Persons Report - and just like the last two years, the Americans say Belize is the worst trafficking offender in Central America, and comparable only to Haiti and Suriname in the Caribbean.
According to the report - which was released yesterday - "Belize is a source, transit, and destination country for men, women, and children subjected to sex trafficking and forced labor."
It adds that in tourist areas, mainly US tourists seeking child sex "exploit child sex trafficking victims." It adds that "Sex trafficking and forced labor of Belizean and foreign women and girls, primarily from Central America, occur in bars, nightclubs, brothels, and domestic service."
And, for the US, the main thing is that government is not doing anything about the problem - and more than that, the report refers 5 times to, quote, "Trafficking-related complicity by government officials, including those at high levels." And, because of all that, for the second year in a row Belize is listed in the lowest tier, that's Tier 3. The report states, quote, "The Government of Belize does not fully meet the minimum standards for the elimination of trafficking and is not making significant efforts to do so."
Belize is the only Central American Country with this dismal ranking, and joins Haiti and Suriname as the only three Caribbean countries in Tier three.
The Report says that to get out of tier three, Belize would have to implement a number of measures, including identifying victims of sex and labor trafficking, and ensuring that trafficking victims are not "re-victimized for crimes committed as a direct result of trafficking."
The report notes that law enforcement that begin any new trafficking prosecutions in 2016, and only identified 6 persons suspected of being involved in trafficking. The report calls the effort in prosecution, "inadequate." The report notes with displeasure that quote, "government did not investigate or prosecute any public officials for alleged complicity in human trafficking-related offenses, despite reports of a significant level of official complicity."
The report adds that off-duty police officers often provide security for sex trade establishments, "which may have inhibited victims from coming forward and officers from investigating allegations of trafficking in the sex trade- particularly if made against their employers." It laments, quote, "Many women and girls, potentially including trafficking victims, were arrested, jailed, or deported for immigration violations."

European Union Helps ITVETS
(posted on Tue Jun 27, 2017)
The Ministry of Education is hoping to increase enrollment and interest in ITVET'S and the European Union is helping. Along with the the Ministry of Economic Development, they today signed a $2.6 million contract for a T-VET Capacity Building and Professional Development Training Programme.
It is funded by the European Union under the Banana Accompanying Measures 2013 - and the German firm called GFA Consulting Group will carry out the 18-month contract. We found out at the contract signing in Belmopan that it's about finding a match for the marketplace:
The stated contract objective is to "increase the capacity of TVET Management and Instructors in the northern Toledo and Stann Creek Districts to deliver quality training to students."

Football Strategic Plan On Hold
(posted on Tue Jun 27, 2017)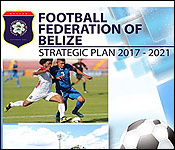 As we showed you last night, the Football Federation of Belize is again in disarray after they had to abort their congress on Sunday. That Congress was supposed to elect a new president and it failed - the second congress in a row where that has happened.
It was also supposed to approve a new budget which it did not. A look at that budget leaked on Facebook shows a top heavy FFB spending 63% of its money on administration, $593,000 of that going to salaries.
President Marlon Kuylen defends the works he has done pointing to a strategic plan which cannot be implemented now because the FFB is basically in a frozen state:...
Marlon Kuylen, Acting President - FFB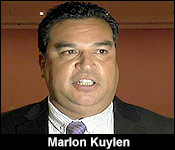 "We spent the better part of this last year working on our strategic plan and we have a document, a 4-yera plan that I think is a good one. I will share it with you. It basically focuses on the youth and female and we can access once it is approved, we can access US$750,000 per year from FIFA for these projects. But now with all this happening, it just puts a black eye on us and it's upsetting really."
The FFB is expected to have an extraordinary congress in the next few months.

Home | Archives | Downloads/Podcasts | Advertise | Contact Us