Taking Down Titan
(posted on Fri Sep 12, 2014)
For the past two days, we've been telling you about the US led crackdown on Offshore companies in Belize, mainly Titan International Securities. Well tonight, two of the Titan owners, Bahamians Kelvin Leach and Rohn Knowles are in police custody after they were intercepted trying to fly out of the country today.
Both men have been named with 4 other defendants, including Belizean Andrew Godfrey, in a federal indictment accusing them of participating in a scheme which defrauded the US Government of 1 billion Belize dollars in taxes.
Local law enforcement has been going to great lengths to facilitate the US authorities, even though no crime was committed on Belizean soil. As we showed you last night, the US funded Anti Drug Unit, took eight hours to clean out the offices of the 3 men on the 4th floor of the Matalon Building on Coney Drive. At the end of the raid, truckloads of documents, records, computers, and personal items were confiscated and delivered to the Financial Intelligence Unit.
US authorities say they will seek to extradite Knowles, Leach, and Godfrey to face trial in that country, but at this time, no official request has been made to the Foreign Affairs Ministry. As we told you, the men were allowed to leave the building after Tuesday night's seizure, and they weren't officially detained for anything. So, they were out free and unaware of any impediment to their movement, up until today when police picked them up at the Airport just after midday. 7News understands that they were trying to board a chartered flight to Cancun.
We stress that officially, these men aren't wanted in Belize, so they have been allowed to move as they please. But all that came to an end, when they tried to check in for that flight; law enforcement in Belize were immediately called in. We understand that they were trying to reach the Bahamas, the home country of the Leach and Knowles, and that the reasoning is that since they have no business to conduct here for the foreseeable future - and since the police took every single item out of their office down to the last staple and garbage bin, they should probably return home with their families.
But that plan was foiled when police arrived, detained them and escorted them along with a sizable quantity of luggage to the Ladyville Police Station. The officials from that station wouldn't confirm, but we understand that personnel from the FIU took over the investigation and started to question them about their intentions. Up until about an hour and a half before news time, the officials from the FIU were still going through all of their belongings, and counting whatever cash they had on them. We also met one of their local attorneys, Godfrey Smith, at the police station, doing as much as he could to get the men released.
We tried to confirm our information with the Officer Commanding Ladyville Police, but we were referred to the new Public Relations Unit at Eastern Division. PR Officer, Douglas Hyde told us by phone that the police couldn't comment on the detention of the men because they are only providing a support role to the FIU in this matter.
No charges have been forthcoming so far, but well-informed observers have told us that this is a delaying tactic to give the US Government time to get a formal extradition request prepared.
We also understand that the FIU intends to the charge them with failing to declare funds over $20,000 Bze to the authorities. Both men reportedly had a substantial amount of cash on them, but we're unsure of the actual amount they had in their possession. We're told that a possible defence against that, should the FIU take that route, is that they were not even given the opportunity to declare because as soon as the authorities at the airport positively identified them, they were pulled out and taken to the station. Around 5:30 pm, they were transferred to the Queen Street Police Station - where they are still being held.
So, that's where it is right now. The decision, we're told, has already been made to charge the men with that financial offense, but the actual paperwork to prepare it is in process.

Customs Catch Contraband Beer Buried Underground
(posted on Fri Sep 12, 2014)
Tonight, the Customs Department is reporting a major contraband bust on in Western Belize. 7News has confirmed that Customs from the Benque Viejo border working along with San Ignacio police went to Bullet Tree Village this evening where they found 83 cases of assorted contraband beer buried four feet underground.
And that's not all of it! An additional 64 cases were found stowed in an adjacent lot. So, that's a total of 147 cases of contraband - and so far a man and woman who live in the area are being questioned.
They are still on the scene, so at this time information is scarce. But we'll definitely have more details of this major bust in Monday's newscast. We should note that Bullett Tree Village, being near to the Western Border is considered one of the main points of illegal cross border trade.

34 Cuban-Trained Belizean Doctors Return Home
(posted on Fri Sep 12, 2014)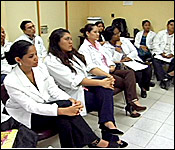 Tonight, we have some positive news coming out of the Ministry of health after the bad publicity of multiple vehicle thefts. 34 Belizean doctors have returned from Cuba after 6 years of study. It was a challenging course, but these 34 aspiring medical professionals pushed through - and made it back home with their diplomas. Now, they are getting ready for an internship at the KHMH. Courtney Weatherburne spoke to them today:..
Mr. John Waight, Coordinator, Medical Internship Program
"It is designed primarily to help reestablish and relocate Belizeans who have been trained in Cuba through the good offices of the Cuba/Belize agreement to relocate and train these young doctors for work in our settings given that there are differences in practice between practices in Cuba and practice here in Belize. It consists of year of in hospital practice and supervision. There are 4 rotations through the 4 major specialties and there are clinical skills that have to be acquired during that time and a fairly robust and intensive continuing medical education which is what I supervise."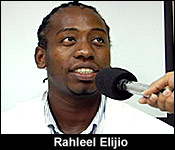 Rahleel Elijio, Practicing Medical Doctor
"My experience being in Cuba for the past six and a half years ago was really a fruitful one. I give thanks for everything that I have learnt in Cuba. Cuba is unlike many other countries, we have been through a lot like the medical system in Cuba is very well organize and it's different in comparison to our system here in Belize. There are two different programs. I was based in the ILAM project which is located in Havana, Cuba and we were actually there for 2 years 4 months where we did our pre-med course where we had to learn Spanish for a period of 4 months and we had courses like basic biochemistry, physiology, histology, embryology and of course Cuban history."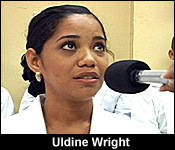 Uldine Wright, Practicing Medical Doctor
"I must say that it was a great experience. I don't think I could have gotten what I got in Cuba anywhere else. The experience that I got is remarkable. I had a lot of clinical experience. We were given a lot of responsibilities. Ever since the third year we were dealing with patients, we were responsible for patients conduct, management and everything and we were under supervised training, but it was really good. Whatever you put into it that's what you get out of it. I am for the development for the medical services here in Belize because we came from Cuba in which there is a medical office in almost every block and so we are used to having the doctors available for every patient and that's something that Belize needs because there are lots of remote areas that don't have access to medical healthcare as easy as is in Cuba."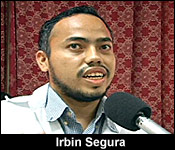 Irbin Segura, Practicing Medical Doctor
"On a whole I think that the whole experience has changed me a lot. I think it has changed all my peers because for one instance Cuba is a very different country to live in and we had to learn to adapt and we had to learn how to cope, how to work as a group and one of the most important things we learnt to me was we learn how to treat patients and not their disease. We learnt to see a person as a whole and to try to help that person to instill in the community and to help the community. That's why I like Cuba, it was a social way at looking at medicine."
They will now fulfill 1 year internship at the KHMH.

Guild Says Not Guilty
(posted on Fri Sep 12, 2014)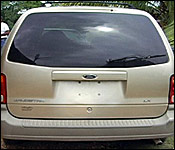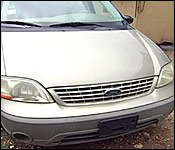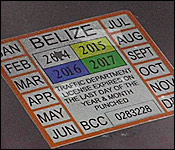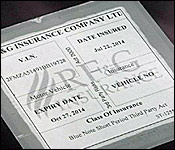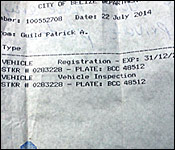 Last night, we told you about the arraignment of Patrick Guild, the man who police accused of behaving lawlessly at a traffic stop on Mahogany Street on The 10th Celebration.
He was charged with assaulting a police officer, using insulting words, obstruction, and resisting arrest. According to the officers who asked him for his license and other documents for the vehicle, he handed it over, and then because they were taking too long, he got angry and tried to leave. They say that he grabbed his documents back from the officer, arrogantly asked them if they didn't know who he was, and tried to drive away. Allegedly, in the process, he brushed one of the officers, and that's why he was charged with assaulting a police officer.
Well today, Guild, who is out on bail, called us out to say that the entire police version is fictional and untrue, made up to try and ruin his reputation.
Today, he spoke with us to give us his version of the events. He said that on that day, he was on his way to the Airport in his van, which is licensed, but the Belize City Council is currently out of licence plates. He said that he was driving with the vehicle which had no plates, but with the receipts and other important travel documents to show that he is obeying the traffic laws. According to Guild, on that morning, he passed by the Mahogany Street Precinct, and a woman officer stepped out and flagged him down, and that's when he encountered the officers. He explained what happened next:
Patrick Guild - Claims Police Harassment
"I stopped. License, I went in my wallet and gave her the license and she says that the vehicle doesn't have on any plates. I said yes the vehicle doesn't have any plates, but the vehicle is licensed and everything is straight on the vehicle - just like that. She proceeded on to the back of the vehicle with my license and the receipt in her hands because at this time I had already gave her the receipt too for the license. She came from the back and went to the front, buy while going to the back I did said to her "ma'am, you don't have to go at the back, no plates on this vehicle," she came back up front, she said nothing up to that point. She went across the street back to the other officer and that's when I said to her "ma'am, you have everything in your hands right there. You have everything that you need, its right in your hands.""
Daniel Ortiz
"Why didn't you have plates?"
Patrick Guild - Claims Police Harassment
"I didn't have plates. Up to this morning I went to City Council again and they said that they have a problem even with my plates. I was supposed to have gotten my plates already. They said they have an error, but the young lady at the office told me to come back next week Monday and check back with her."
Daniel Ortiz
"But your vehicle is licensed?"
Patrick Guild - Claims Police Harassment
"My vehicle is has been licensed for over two months and I don't have any plates. City Council doesn't have any plates, but I have the receipt with the signature on the back saying that the vehicle is license and insured."
Daniel Ortiz
"But then the officer wasn't listening to you."
Patrick Guild - Claims Police Harassment
"No. Because of my mouth and the way that I talk, because I am very loud. When she responded to me saying 'you don't tell me how to do my job,' I said I am not telling you how to do your job, I am just late and I need to get to the airport basically. But I was a little loud too - straight talk. The officer said 'in fact pull over the vehicle,' I said "pull over the vehicle for what?" Then another female officer was coming and I notice she has two stripes, she came out of the office and came across the street and when I was about to move the vehicle, because the officer said pull over. The next officer said 'out of the vehicle,' I said "get out the vehicle for what?" - Straight, just like that and that's when she reached in and try to shut down my vehicle to get out my keys above me. So my two hands are under her on the steering wheel. I look at her and I said "babes, you are looking to hurt yourself and hurt me." At this time the vehicle did roll about 1 foot or two. The vehicle did roll and I catch it back with the brakes, but it's because of her action that made the vehicle roll a bit. If I wanted to hurt somebody or do somebody something that would have been the time to just let go the vehicle and let the vehicle do whatever it want. It would have been because of her."
Daniel Ortiz
"Sir, the officers said that you assaulted a female officer. Did that happened?"
Patrick Guild - Claims Police Harassment
"That did not happen. There was a male officer on the passenger side with a gun."
Daniel Ortiz
"Pointing at you?"
Patrick Guild - Claims Police Harassment
"I could see his gun on his side. He has a gun at the passenger window for my vehicle. There is another male officer right beside the "W" - am I stupid to assault or to do any of the "W" - touch any of the "W" any wrong way with two men with guns right there? Am I stupid? It's the way that the officers approach civilians or Belizeans. Their approach is always wrong. They take away your rights the way that came. If they tell you this pencil is green and you see it as blue - it doesn't make a difference, it is green and that is that. They are the officer and they have on their uniforms and we are supposed to respect, but they are not respecting their uniform."
Guild says that the officers threatened to bring as many charges as they possibly could against him out of malice simply because he was telling them that they were violating his rights. He said that he mentioned that will report them another high ranking officer, and that's when the officers became enraged, accusing him of trying to use his connections of that officer to try to intimidate them into releasing him without any charges. Finally, he told us that he did not, at any time, try to do intimidate those officers in the manner that they are accusing him of doing.
Still, even though that's Guild's version of events in the court of public opinion, he now has to win his case in Magistrate's Court, which has been adjourned until November 6.

Cop Beats Extortion Charge
(posted on Fri Sep 12, 2014)
In December of last year, Forty-one year old Police Constable Dayton Sacassa was accused of an ugly case of extortion - he allegedly shook down two men who were in the holding cell, offering them freedom in exchange for what might be called "a few pieces of silver."
He was charged with 2 counts of extortion but was freed of both charges today by the Chief Magistrate, Anne Marie Smith when she dismissed the charges after the prosecution offered no further evidence because the complainants failed to appear.
The case was cute because Sacassa allegedly offered two detainees freedom for fifty dollars each, but when the detainees found out that they would have been freed anyway they made a report to the Professional Standard branch.

Security Guard Salgado Sent To Jail for Gun
(posted on Fri Sep 12, 2014)
Security Guards carry guns all the time, but tonight, the news is about one who is in jail tonight because police say the gun he carried didn't have a license. Forty year old Leroy Salgado, a security guard employed by Anchor Security was charged with kept firearm and ammunition without a gun license when he appeared today before Magistrate Dale Cayetano. Salgado pled not guilty to the charges but because it is a firearm offence, no bail is offered, so he was remanded into custody until September 30th.
The incident occurred on September 9. The police reported that they went to Garden Building on Coney Drive where they saw Salgado with a 9 millimeter pistol. The police say that when they asked Salgado to produce a license for the firearm, he couldn't. As a result, Salgado was charged with the offences. The firearm has a magazine that contained 8 rounds of ammunition. Salgado said that he was on duty at the time and the firearm he was issued with has a company license.

SICA Foreign Affairs Summit San Pedro
(posted on Fri Sep 12, 2014)
As we've reported, Belize is currently holding the pro-tem presidency of SICA, the Central American Integration System. So far that has meant high level meetings of the Ministers of Forestry and Fisheries, Energy and Science, Agriculture, and now, today in San Pedro, the Council of Foreign Ministers met. This meeting, like two of the others was held in San Pedro Town, and Foreign Minister Wilfred Elrington told us what's on the agenda:..
Hon. Wilfred Elrington, Minister of Foreign Affairs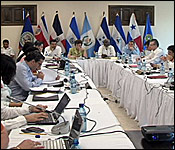 "The important areas which we are going to continue to emphasize are the 5 pillars identified and prioritized by the heads of government. In our last meeting at Punta Cana in Dominican Republic and these are areas including climate change, disastrous management, democratic security, economic integration, social inclusion, poverty alleviation and institutional strengthening. They are all excited by the prospect of working more closely with Caricom in matter of climate change with which Caricom has some expertise with the area of energy. We are working together dealing with security and crime and we are also very much concerned with the economic development of the region. Perhaps one of the most exciting things is that it has been agreed that we are going to host the very first meeting of government officials in Belize in October, regional government officials to look at the trade situation in Belize - Obstacles to trade and what needs to be done to facilitate the removal of those obstacles."
The meeting was a one-day event and it was held at the Grand Caribe resort.

Hon. Hulse Sour About Sugar "She Seh Seh"
(posted on Fri Sep 12, 2014)
At the top of the newscast we told you about almost 150 cases of contraband beer that Customs found in Bullett Tree Village. As we told you that area is a hot zone for cross border smuggling with Guatemala. On a good night, you can see anything from cattle to rice and cigarettes being smuggled over to Guatemala, and anything from beer to chemical precursors being brought into Belize.
And, our next story is about something like that: namely, sugar. The report is that on Monday 8th September at around 8:00 in the night, alert Cayo police came across 2 trucks loaded with 160 sacks of sugar in the area of the Calla Creek road - which is the major smuggling corridor from Belize into Guatemala.
Police detained 7 men and escorted them to the Benque Viejo border where they were handed over to Customs. Now, Customs told us that indeed they received the men and the cargo, but because it is not an offence to have local sugar in Belize, they could not charge them. Of course, customs, like everyone else, knows that the sugar was likely destined for Guatemala through the back, but they couldn't bring any charges because, as one official told us, quote, "you can't charge someone for what's in their mind." End quote. The men were advised that if they wanted to export the sugar, they would need a permit to do so.
With that they were released. But, here's where the story takes a turn. It turns out that one of the men used to co-manage the Commodities Store, a business in Belmopan, which is owned and operated by Minister Godwin Hulse's family. The man involved is actually Hulse's former son in law, so the allegation emerged that Hulse had somehow intervened to facilitate his release.
Well, when we spoke to him today, Hulse told us our call was the first he was hearing of the incident. He added that his former son in law has had nothing to do with the business ever since he split up with Hulse's daughter last year. Hulse said that if the man was found smuggling, he wishes they would lock him up. And for good measure, he added his now famous line that even if his mother, father, son or daughter were caught doing something illegal, he would not intervene on their behalf.
Customs told us that they did not get any calls urging them to release the men - but simply had no grounds to hold them.

Man Tells Court Cop Shot Him For Weed Sale
(posted on Fri Sep 12, 2014)
37 year-old Owen Parham, the man who was shot by a special constable who he allegedly attempted to rob, dodged major jail time being added to his 5 year sentence today after he was acquitted of 4 out of 5 charges brought against him by that officer.
Special Constable James Stewart testified in his trial that on October 12, 2012, he was on patrol in the Lake Garden area of Ladyville. He says that he was surveying the area when he caught Parham attempting to break into one of the houses. The officer caught him peeping inside of one of the windows, and when he questioned Stewart, he said that he was looking for a nearby house.
When the officer searched him, he found a crowbar, and that's when the officer decided to detain him. Stewart said that while he was escorting Parham, the suspect suddenly turned around, punched him in his face, and tried to take away his gun. The officer says that in the struggle, he had to take that gun and shoot Parham in the leg 3 times.
In his defence, Parham testified that he wasn't trying to break into any house. He said that he was there in Lake Garden to sell weed to the Special Constable James Stewart, 9 pounds, to be exact. Parham told the court that when he went to collect the rest of his money, Stewart refused, and that's why they got into a scuffle. He says that's why Stewart shot him in the leg, not because he was resisting arrest.
It's an incredible story, and after considering all the evidence, Magistrate Herbert Panton told Stewart that his version of events is not credible. Nevertheless, he found Parham not guilty of all the offences, except resisting lawful arrested. He sentenced Parham to pay a fine of $500.

Give Blood, It's Needed
(posted on Fri Sep 12, 2014)
Blood donations are an essential part of our healthcare system. Without volunteers giving blood, many medical procedures we take for granted could not take place. And while doctors and surgeons rely on blood donations to carry out life-saving procedures every day- the Belize Blood Donors Service say they need more volunteers. The organization is encouraging Belizeans to become volunteers for the worthy cause. It is quite a simple procedure and today we were invited inside the office to see how it is done.
Ronald Stuart - Treasurer, Belize Voluntary Blood Donor's Association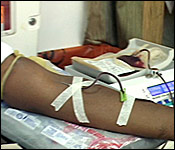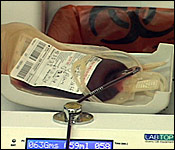 "I am giving my quarterly donation. It's something that I look forward to because I know it is needed and one of the reasons were highlighting the need for the public to be aware and to be sensitize about blood donations is because we don't really want for there to be a situation where persons would try to be scrambling to try to find donors and if it's particularly a blood type that is among the smaller groups in the populations. So be aware how you could help and be willing to give or if you cannot give - to recruit persons who could give donations to help others when they are in need."
"First and foremost you should know what your blood type is, that's the base and then you would fill in a questionnaire to find out if you are able to give. To know your health status and at that point in time the sample is taken and prick your finger to find out what's the haemoglobin level - how rich it is, so to speak. If you are able to give at that point then the unit is taken and from there it goes through all its tests for various diseases or infections to then it is declared safe for use for others."
Monica Bodden
"Is it a painful procedure?"
Ronald Stuart
"I know a lot of people are afraid of needles, but it might be just a little bit uncomfortable, but doing what I am doing now is nothing. I've been doing for so long that I look forward to it actually because I know blood is medicine and as a slogan that was used a couple of years ago it says "safe blood begins with me." I am giving as a volunteer donor and it is for anybody who needs, so when I give I know somebody is receiving good medicine basically."
Monica Bodden
"What first got you involved in it? You told me 20 years now you've been a donor."
Ronald Stuart
"I was first invited to the AGM back then in 1995, my colleagues of mine and after hearing a family member of a blood recipient tell their family story - I said there could never be another day that could pass without me giving blood, so I've been doing it since and for the past few years based on the records that the nurse has told me I have the most voluntary blood donations in the country and I keep it up every quarter - so four times for the year is the maximum I could give and I would like to encourage others to do the same because you cannot find any substitute for blood and you don't want to be looking for it when it is a necessity."
If you would like more information on how you can become a blood donor you can call 2-2-3-5-4-4-2 or visit the office at the old nursing school building corner Saint Joseph and St Thomas streets.

Belize's UN Vote For Security Council Sought After
(posted on Fri Sep 12, 2014)
On Tuesday, we told you about a Minister from Spain who was visiting to get Belize's support for that country's bid to be on the UN Security Council.
Well, the delegate from New Zealand beat him to it. Sir Donald McKinnon, the former Deputy Prime Minister of New Zealand and Secretary General of the Commonwealth of Nations told us last Friday that he visited the Prime Minister and the Foreign Minister asking for their support:..
Sir Donald Charles "Don" McKinnon, Special Envoy - New Zealand Prime Minister
"I am here to hopefully get the support of Belize and I had a very good discussion with the Prime Minister, I had a very discussion with the Foreign Minister and I can only say that we hope they will support us. It's really important that smaller states like New Zealand, like Belize, like Trinidad get an opportunity to sit on the Security Council. Yes there is the P5; China, Russia, US, Britain and France do have a dominant role, but it's important that the other 11 nations on the council play an active part."
There are 192 countries with votes in the UN.
And while we had McKinnon, we asked him to dip into his vast trove of experience to discuss New Zealand's indigenous peoples. They are the Maori's - and they've been on the island from at least 1200 BC. But Europeans arrived there in the 1700's and the two sides signed a treaty in 1840. But over a century later, it's still not settled. Mackinnon explained.
Sir Donald Charles "Don" McKinnon, Special Envoy - New Zealand Prime Minister
"Signing a treaty is one thing, implementing a treaty is another and we've been wrestling with the implementation of this treaty for more than 100 years and we continue to do so because as long as we see elements within our indigenous community that are more proportionally represented in the poorest areas we still have to do something. So yes we pursue it with an education, but more recently we have been dealing with a tremendous amount of compensation; compensation that is due to those people as a result of the acquisition of land and fishing rights and other rights over a hundred years."

Patriots Honoured
(posted on Fri Sep 12, 2014)
The Tribute to Belizean Patriots and the National Honours & Awards Ceremony was held last night at the Bliss Center in Belize City. Here are the honourees:..

Home | Archives | Downloads/Podcasts | Advertise | Contact Us