The Drama With Denfield Bowen's Body
(posted on Fri May 22, 2015)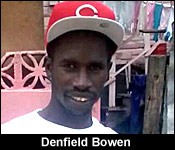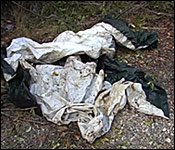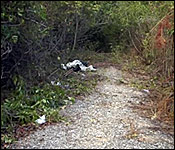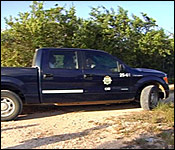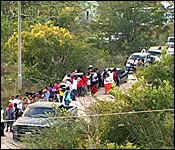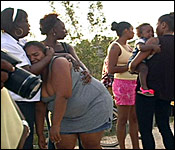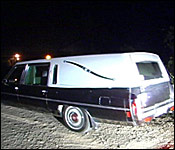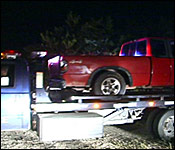 When we left you last night, the family and friends of Denfield Bowen were waiting for police to release his decomposed remains so that they could take him for burial in Manatee. It was an emotional moment - after three weeks of searching - and with so many misgivings about the circumstances of his murder - that it had supposedly been done by one of his George Street Gang allies….all that made for a volatile scene at mile 8 on the Western Highway. Monica Bodden was there and here's what she saw:..
Monica Bodden reporting
The news quickly spread like wildfire - when word got out that a decomposed body had been found at a mile 8 community off the Western Highway.
Family members and friends of 26 year old Denfield Bowen arrived on the scene one by one - All anxiously waiting to see if it was indeed the body of the missing Plues Street resident.
But it took a while before police allowed Bowen's father into the scene to identify his belongings. Shortly after he returned to the crowd to break the news that it was the missing man.
Claudine Dawson - Common-Law-Wife of Denfield Bowen
"When we came out here we couldn't go at the back there. It's his mother and his father said that it's his body. I don't know what to say, because it really hurts badly."
Monica Bodden
"You haven't had a chance to see the scene as yet right?"
Claudine Dawson - Common-Law-Wife of Denfield Bowen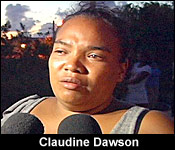 "No. They don't want us to go back there yet, until they are finish."
Monica Bodden
"How long has "LL" been missing?"
Claudine Dawson - Common-Law-Wife of Denfield Bowen
"From the 30th April. Today, makes three weeks since he's been missing."
Monica Bodden
"And since then the family has been searches I understand on your own."
Claudine Dawson - Common-Law-Wife of Denfield Bowen
"Yes. We stop searching about last week Wednesday, because we go everywhere and can't find this red pick-up, this body. So, we just gave us a little while. We asked the police who always comes and harass us on Plues Street, to come and help us and no one assisted us."
The decomposed body of Bowen was found in the back of his red pick-up truck- wrapped up in a tarp - The truck was parked in the yard of an abandon house - located through a picado road.
My cameraman managed to get an overhead view of the crime scene - which was roughly about 400 yards away from where we were allowed.
On the scene, Claudine Dawson was one of the first to arrive. She is Bowen's common-law-wife and the mother of his 5 children.
According to Dawson her husband went missing exactly 3 weeks ago after he left home to go visit a friend - a friend known to be a notorious street figure.
Monica Bodden
"That day if you could remember when he left, you knew where he was going? Did he say anything when he left home? Did you communicate after that?"
Claudine Dawson - Common-Law-Wife of Denfield Bowen
"Him and I were in the shop on Thursday about 5:05 pm and he made a call and he said 'B, are you about? I am coming' and he stand up at the shop door and he watched me and when he went to the pick-up, he told the babies to come out. He watched me and he shook his head. From he went - he took off and I watched my watch and it was 20 pass 5pm and so I went upstairs about going to 7pm, because I ask how he hasn't come yet? That is not him. I went to take a bath and I ask his friend about his other phone that he had. He thought that he (the friend) called him. After 7pm I got mad and I called him from his father phone and no answer. Only voicemail I got. After 10pm we got a call saying that he went to Brown house - right at "Fawda" house and he didn't come back. So went we got the call, we went at all the police station, check and no one was there. We call the hospital and they told us that they might have him there in Intensive Care. When we went there on the Friday, there was no one there such as that name. When we went to "Fawda" he says that my husband didn't reach there. But we know that he had reached at his yard."
And as the sunset yesterday evening, the body of 26 year old Denfield Bowen was handed over to his family by police -so that he could be laid to rest immediately after.
It was placed in the back of a hearse - and driven through the emotional crowd. His red pickup truck was towed away by police for investigation purposes. For Bowen's family, this is the closure they have been hoping for.
Claudine Dawson - Common-Law-Wife of Denfield Bowen
"It's a closure because every day my babies and I wanted to know how he hasn't come home, but we already knew what had happened. But we really wanted him to come home alive, but we have to accept that in life, that he is dead. So, really now, we found his body, so the babies could really see and know that their father will not be coming home again."
Monica Bodden
"How many kids has he left behind?"
Claudine Dawson - Common-Law-Wife of Denfield Bowen
"He have 4 babies and one on the way."
No cause of death could be determined due to the advanced state of decomposition.
Bowen was the father of four. And while police aren't talking about suspects, on the streets, the prevailing narrative is that he was killed by one of his own.

Rider Ran For Cover From Shooters
(posted on Fri May 22, 2015)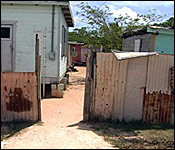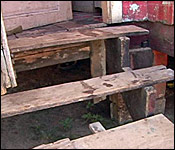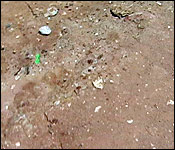 And while police were still processing that scene, a man was shot in the Jane Usher Boulevard Area of Belize City. At around 7:45 32-year-old Luis Dominguez of St. Thomas Street was riding his bicycle on J.R. Street, when a man emerged from a yard and shot at him.
He might've gotten killed but he scrambled into a friends yard for shelter. We spoke to one of his friends today who told us how she ran out to try and save him.
Courtney Weatherburne reporting
Luis Dominguez was shot near this wooden green house last night. Trying to hold on to life and escape from his shooter he managed to run to this yard where his friends live.
With blood-stains trailing behind him, he entered the yard and frantically called out for help.
Voice of Witness
"More or less I would say about 7:50pm this happened. I was inside attending to my kids when we heard the gunshots."
Courtney Weatherburne
"How many gunshots you heard?"
Voice of Witness
"I heard about 2 gunshots."
Courtney Weatherburne
"In the yard or at the front?"
Voice of Witness
"Out in the street we heard it."
Courtney Weatherburne
"What happened after that?"
Voice of Witness
"When those gunshots shoots off, as that happened we heard the person run come in the yard and say that he got shot. When he came in the yard and said that he got shot, everybody pulled open their doors. By the time I pulled open my door I had already saw him on my step and I ask him where he has gotten shot. He said that a young man shot him 2 times. When I came out, I yelled for the neighbors to call the police. They call the police more than one time. I don't know if the police took it for a prank call or something like that before they came. They took about 15 minutes or so before they arrive here. I look at the guy and saw blood coming out of his mouth and his nose and he told me that he got shot in his neck. He showed me his neck and I saw a hole in his neck. Blood was draining from his neck too and so I ran upstairs in my house and I came in here for a t-shirt. I told the guy to put the t-shirt around his neck to apply pressure on it to make the bleeding slow down a little bit so it doesn't bleed out a lot. He ran to everybody house. After he left by my step, he ran over by the other house and it was so that everyone came out."
And with everybody helping, Dominguez held on until the police arrived.
Voice of Witness
"He was starting to get weak. He said that he was getting weak and by the time he said that, the police was just arriving down the lane."
Courtney Weatherburne
"The ambulance came?"
Voice of Witness
"Not even they reach back here."
While that was happening back there, Dominguez's friend of 4 years who lives in King's Park received a frightening call about the shooting.
Voice of Witness
"Like minutes to 9pm, we got a call. He called one of his friend and say that he just got shot and the phone cut off and the friend call back his phone and we just heard siren and we went to the hospital and we heard he got shot in his face and in his shoulder."
Police have one person detained. When we spoke with the witness this afternoon after she visited him in the hospital, she told us that Dominguez knows who shot him.

San Pedro Cabbie Murdered Because Of Inappropriate Relationship With Minor
(posted on Fri May 22, 2015)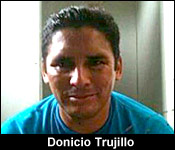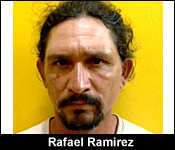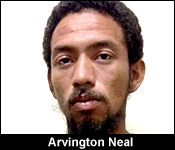 3 weeks ago, two San Pedro taxi men were killed in a 5 day span. Police made four arrests for the murder of Jose Beltran. And, now, they they've arrested and charged 2 men for the murder of the second taxi victim, Donicio Trujillo.
Those men are 40 year-old Rafael Ramirez, a Guatemalan laborer of San Pedro, and 25 year-old Arvington Neal, a Belizean laborer of San Ignacio. Police believe that Rafael Ramirez may have been settling a personal score with Donicio Trujillo - over an inappropriate relationship he had with a minor. So, it was not drug related. The break in the case when police found the Trujillo's cell phone in Cayo with Arvington Neal. To make this happen San Pedro police networked effectively with cops in Cayo.
Yesterday, they were charged jointly with the offence of murder, and it is expected that they will be arraigned and remanded to the Belize Central Prison at the earliest convenience.
Trujillo's body was found near his taxi van early on Sunday, May 3, in the secluded area known as the Marina. He had been stabbed several times, his throat was slashed, and according to his niece, it appeared that his assailants struck him over the head with a rock.

GOB "Tek" Tzec Land
(posted on Fri May 22, 2015)
Agronomist Angel Tzec was in the Supreme Court today, trying to get back land that he says Government swiped from him. The lease for Tzec's 250 acres in the Cayo District expired in 2011. Before that happened, he tried to renew it, but he claims that the Lands Department and the Minister gave him the run around, allegedly with the promise that it would be taken care of. But, it wasn't and then, the 2012 General Elections happened, and that's when the Lands Department began sharing up the land to new leaseholders, without Tzec's knowledge.
When he found out, he tried his very best to get the Lands Department to reverse what he thought was a mistake. But that didn't work, so now he's suing the Government for it.
That case got its day in court today, and after almost 3 hours of arguments, it came to a close. We spoke with his attorney, Said Musa, outside of court about the reliefs that Tzec is trying to get so that he can get back the rights to the land:
Rt. Hon. Said Musa, Attorney for Tzec
"Before it expired, he applied. Under the lease, there is clause there for him to renew. He applied for that and they put him through all kinds of changes. He had to first of all bring all his rents up to date. He had to get the approval of the then area representative and he did and he had to get the lands properly surveyed at his own expense. He went through all that only to be told at the very end to discover even while the survey was going on that the government was giving out leases of the same land to other people. 4 parcels of close to 100 acres given out, even though they had lead him to believe that his lease would have been at least renewed."
Angel Tzec, suing government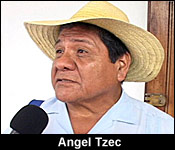 "Unfortunately for the by-elections of 2012, they had to find ways and means of coursing people to vote. So what they did is they just arbitrary went into all over the place and cut up people land and just give it away. The surveyor, who went into my place, went without permission and without doing his due diligence. Because although my land was not surveyed, there was a map in the system and it showed that there was somebody there with 250 acres. They didn't regard that. They were so in a hurry to divide, that they didn't even consult anybody."
Rt. Hon. Said Musa, Attorney for Tzec
"What is important here is that these ministers, particularly the Minister of Natural Resources/Minister of Lands - he can't act on his whim and fancy as to who get land or who doesn't get land. That's not the basis of his duty under the law. His duty is to provide national land to those deserving people. People might need it to housing, for instance or to farmers who are genuine farmers and so on. In this case it's for ecological reasons."
Angel Tzec, suing government
"My rent is paid. It's true the lease expired, but it expired because the process of getting any transaction done in the department of lands is so slow and actually there are so many bottlenecks, that it's almost impossible unless you give incentives."
Justice Shona Griffith has reserved judgment, to be delivered in late June.

Caleb The Celeb
(posted on Fri May 22, 2015)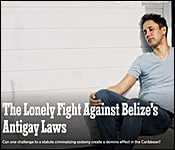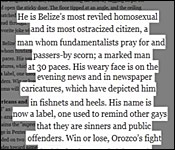 Caleb Orozco may be taunted and routinely ridiculed in Belize, but tonight he's gone stratospheric as the cover boy for the prestigious and widely circulated New York Times Magazine. Orozco is profiled in the May 22nd edition of the magazine, in a five thousand word article called, "The Lonely Fight Against Belize's Anti-Gay Laws."
In the article, writer Julia Scott visits with Orozco around Christmas of 2014, and walks the streets of Belize City with him, experiencing the relentless insults and humiliations reserved for Belize' most public gay man.
It speaks about the quiet culture of persecution that less public gay persons face, and notes that 24 months after the constitutional case on Belize anti-sodomy law, the decision on the case has been, quote, "unusually delayed." The article notes that, Orozco's supporters hoped, that his case would establish a precedent across the Caribbean and, quote, "even create a domino effect, putting pressure on other governments to decriminalize sodomy." End quote. It notes that ten Caribbean countries still have anti-sodomy laws.
The New York Times magazine has a history going back to 1896 and is a supplement to the Times Sunday paper which has a circulation of more than 2.5 million.
You can find a link to the article at 7Newsbelize.com.

They Dropped The Ball On Charlie Price
(posted on Fri May 22, 2015)
The rat episode at the Western Regional Hospital in Belmopan which emerged four weeks ago - was enough to make your blood crawl. But while the rodent infestation in the food pantry has been contained - what's to stop it from happening again? Today we asked Health CEO Peter Allen who dropped the ball, and what's to stop them from dropping it again:..
Dr. Peter Allen, CEO, Ministry of Health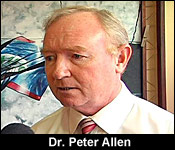 "It's quite an outrageous situation frankly and as soon as the ministry heard about it, we immediately dispatched a team of our technical staff to immediately fix the problem. That problem was fixed but then some of the challenges that had perhaps led to that problem including some infrastructure problems with broken walls and inadequate roofing were identified. And the Ministry of Health then requested from the Ministry of Finance who were quick to support us with a $25,000 estimate for immediate improvements. Those improvements are being done as we speak and we can't avoid the issue of human resources. The ministry felt obliged to write to the management of the hospital to say 'how on earth could this have happened? You have cleaners, cooks, and supervisors for the cleaners, supervisors for the cooks, stores managers, nursing administrators, and hospital administrators. Somebody must have dropped the ball'. And so what we do is ask the managers basically to show caused why we should not take some kind of disciplinary action. Now of course the Ministry of Health can't take disciplinary action but we would pass on that information to the Ministry of Public Service and the Public Service Commission. And then see if that will rise to the level in their opinion of disciplinary action. We have in place infection control procedures, infection control guideline, and proper monitoring procedures to make sure that nothing like this can happen. But of course it did, and so we believe that somebody dropped the ball in this regard but none the less we take the opportunity to retrain and reemphasize in all of our other institutions that everyday proper steps, procedures must be followed, because the hospitals are open 24hours a day, 7 days a week."

Western Region Ambulance
(posted on Fri May 22, 2015)
And while the rats are gone, did they, like, leave in the ambulance? That's what a lot of Belmopan residents have been asking after they called the Hospital requesting an ambulance and couldn't get one, or if they did, it was considerably late.
Well, turns out they are waiting on 2 new ambulances from the US - 2 that were ordered about 9 months ago. Why is it taking so long to reach? Well, we caught up with Dr. Peter Allen at another event today and he told us that one of the "holdbacks" is the stringent requirements for transporting these ambulances from the US to Belize. But he assured us that arrangements have been made to provide this indispensable service.
Courtney Weatherburne
"I understand there's been several cases where patients or people who have called at the Western Regional Hospital for an ambulance had to either, one, wait a long time for one or they simply said 'we don't have the ambulance or we don't have an ambulance ready. How are you guys coping with it? I understand that it's also an ongoing issue. How could you have a hospital without an ambulance?"
Dr. Peter Allen, CEO, Ministry of Health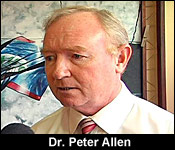 "They do have an ambulance but I do understand that it's actually in the garage at the moment. Within the road safety project you see much of the infrastructure going on along the Western Corridor. The loan allows us to procure two ambulances. Those agreements were actually signed about 8 or 9 months ago and it's a source of great disappointment to us that those ambulances are not here yet. Unfortunately the reasons are beyond our control but so while the Western Regional Hospital ambulances in the garage they are indeed using or making use of others that are available including the Belize Emergency Response Team and including the ambulance in San Ignacio. I'm happy to be able to tell you that the Ministry of Finance has approved for us to procure another 6 ambulances which have now been ordered. The delivery time for those ambulances is about 100 days, but they certainly will help with this situation."
The hospital is using BERT in Belmopan and other ambulance services to hold over until the ambulances come in. As Dr. Allen stated, another 6 have been approved from the Ministry of Finance.

Peter Allen On Doctor's Fight
(posted on Fri May 22, 2015)
And they could have used one of those new ambulances to rush a "chill pill" to two doctors who duked it out at the San Ignacio Community Hospital on Wednesday. As we reported, the doctors had a disagreement about a patient, which led to a physical confrontation. Best reports say one walked away from the fight with a swollen face and the other a swollen wrist. Today, Health CEO Peter Allen said that it is unacceptable, and he's prescribing a double dose of anger management:..
Dr. Peter Allen, CEO, Ministry of Health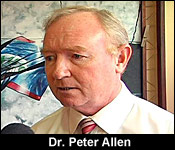 "It's a first for me, I've never ever come across a situation where two physicians resort to fighting and especially at their place of work. So I am aware of it, it was reported to me straight away. We made sure first of all as we always do, that the patients and our clients are safe and not affected or at least as affected as little as possible. we've asked as we do for reports, I have to believe that our response must include some kind of counselling in anger management because without having seen the reports yet, it is difficult for me to understand that disagreements between professionals cannot be handle in a more constructed manner than this."

Anti-psychotic Available
(posted on Fri May 22, 2015)
And, the modestly good news is that if any of those doctors need the anti-psychotic drug Resperidol - it is now available. The medication, which is heavily relied upon by persons with schizophrenia and bi-polar disease had become scare to unavailable at public health clinics in March and April - seriously affecting those persons who rely on a daily dosage. Today, Allen told us it is now available at the health centers:..
Dr. Peter Allen, CEO, Ministry of Health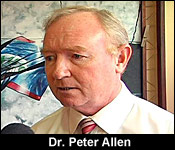 "There were previous categories of drugs that use to be used in the past, but some of them have some side effects. And so we've been fortunate in being able to increase our budget for medical supplies and that has allowed us to procure some of the more modern drugs which are perhaps more affective and have less side effects. Respiredol is one of those and we were having a problem with the supply around about the end of March and the beginning of April, but that has been resolved. Respiredol is available and will continue to be available at all clinics. We procure them under tender, so there's a tender where different agencies bid. Some of these drugs are control drugs so they are not freely available at every pharmacy or supplier and you will need to have the proper permits and licenses."
"That was actually one of the challenges for us even when we're having problems with the supply, because we couldn't simply go over to for example, Mexico, buy some and bring it over. Because they are controlled and controlled not just by national legislation but by international legislation. So what happens for us is that at the joined course of every year, we ask our pharmacists around the country, 'what has been the historic usage rate'. So approximately, how much each and every other medical supplies have they used. Then we ask them based on the patient flow, to predict what will be the usage rate for the following year. of course this isn't an exact science, but we are required to predict a number so that, that is the number that people are going to bid for when they tender for medical supplies and we do this for each of those. Now, whoever is the contractor who wins the contract, they are required to procure, store and distribute the supplies to the appropriate clinics or hospitals around the country."
"Within our mental health program, we used to have just one physiatrist, Doctor Claudina Cayetano. But now we are fortunate to have multiple physiatrists, but of course one of the challenges with that was the usage rate of some of our medications increased. So that the predicted usage rate was actually not as accurate as we would have wished. We also have a network of psychiatric nurse practitioners working in clinics around the country because we want to make sure that we offer mental health services at the community level. I think one of the biggest challenges with mental health is the stigma that's attached to it, people don't like to talk about mental illness. Although in fact most of us will experience some category of mental illness during our lives. There's still that stigma where you may feel comfortable saying to your neighbour that you are going to see the doctor because your pressure is high. But you may not feel comfortable saying to your same neighbour that you're going to see the doctor because your bipolar depression isn't being controlled properly. It's one of those things that an intrinsic discrimination occurs. So it's something that we try to be very careful with. We also try through the mental health association and through the consumer groups to try to engage with the patients and the clients themselves. Because of course mental health, like any other chronic disease, when it's controlled, allows our clients to be perfectly normal members of society and go on with their lives as possible."

Weed For Cops
(posted on Fri May 22, 2015)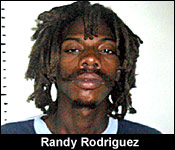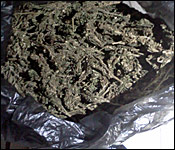 The Gang Suppression Unit is reporting tonight that it made major drug seizures between yesterday and this morning.
At around the start of news yesterday, officers of the GSU visited a yard at #91 Lacroix boulevard, where they searched a house owned by 31 year-old Randy Rodriguez. He was there at the time when the officers searched a clothes barrel and found 2 bags of marijuana containing a total of 471 grams - or just over a pound - of marijuana. Rodriguez was charged with drug trafficking.
Half hour earlier, GSU officers were on Linda Vista Street conducting operations when they searched an abandoned lot in the street. There they found 115 grams - or 4 ounces - of marijuana and 7 live rounds of 9mm ammunition inside a black plastic bag. That bag was hidden under a garbage pile, and because no one was around at the time, the items were deposited as found property. The officers believe that the drugs and ammunition belong to a known gang member in that area.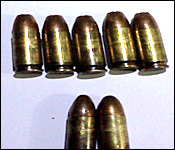 And, officers conducted an operation in the Gungulung Area on Holy Emmanuel Street this morning at around 6. While there, they conducted a search in an empty lot. There, officers managed to find 18 black plastic bags filled with marijuana. The officers weighed the drugs and find out that it amounted to 17.4 pounds. No one was in the area, and so these drugs were also deposited as found property.
The GSU believes that the drugs belong to a known drug peddler who operates in that area.

FECTAB Calls on GOB
(posted on Fri May 22, 2015)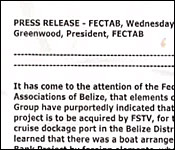 Earlier this week, we told you about the ongoing discussions about the way forward for cruise tourism in Belize. Government feels it is stuck because if it allows the Stake Bank project to proceed - it will end up having to pay head tax compensation to the owners of the Fort Street Tourism Village. So from government's position the possible compromise seems to be to encourage the owners of Fort Street to partner with Mike Feinstein - who is the owner of Stake Bank. But those FSTV owners, namely Royal Caribbean Cruise Line and Diamonds International don't want to be in a minority shareholders in Stake Bank - and Feinstein refuses to concede his majority position on his project. So, things are at a standstill.
But, yesterday FECTAB issued a release declaring that it quote, "completely condemns the concept of the stake bank project or any dockage project within the Belize district being sold to or developed by anyone except a Belizean developer," close quote. They say that if a cruise dockage project is developed by a foreign investor, quote, "we at FECTAB know that Belizean tourism elements will not be let in and…we would see the end of business in that sector for all Belizeans…" end quote.

Cops Got Ammo
(posted on Fri May 22, 2015)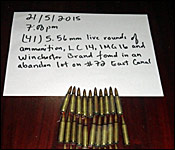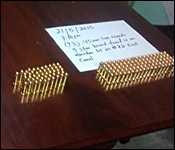 Earlier we told you about the GSU operation that netted a few pounds of weed, well yesterday evening a Joint operation in Precinct One came up with a whole bunch of high powered ammunition.
They found 16 sixteen live 5.56mm rounds, twenty five live 5.56mm rounds - both of them the type used in assault rifles. They also found (93) ninety three live .45mm rounds of Ammunition and (52) Fifty two live .38mm rounds.

Cacao for All
(posted on Fri May 22, 2015)
The Cacao festival is opening right now in Punta Gorda Town with a wine and chocolate Gala. The festival goes all weekend and will touch on all things cacao. Complementing the experience for visitors is a newly opened Maya House of Cacao. It was built with a 400 hundred thousand euro grant from the European Union - and on Saturday at the opening - the recipient and the donor explained its importance in getting out the story behind the uniquely positioned Belize cacao industry:..
This initiative is part of the European Union's Belize Rural Development Project, which has also helped in making the cacao plant more resistant to a fungus that had badly affected the crops in the area.

Importance of Being Early
(posted on Fri May 22, 2015)
Early education - it's the little acknowledged panacea to many social ills - and UNICEF has started a multi sectorial push to get more kids into productive preschool environments. Today they brought together the Ministries of Education youth and sports with the ministry of human development social transformation and poverty alleviation for a national forum on early childhood development. Health CEO Peter Allen told us it is about getting a strong start in life:..
Dr. Peter Allen, CEO, Ministry of Health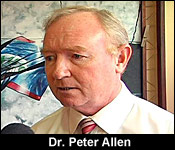 "Early childhood development is such an important component of the work that government does. and now you see that the Ministry of Health of course and health systems all over the world have various programs which begin even before conception with the micro-nutrient supplements to young women of child bearing age and the encouragement of good nutritional practices to young adults. So that we want women, when they choose to become pregnant, and young men when they choose to enter into a relationship which will result in a pregnancy, we want them to do it in a planned way and we want them to be healthy. So that the pregnancy itself has the best possible chance of a successful outcome. Then of course we have our anti-natal clinics and subsequently afterbirth or post-natal clinics. We do our immunization programs, food supplement programs, we encourage breast feeding. Matron Roberts has just become the first poly clinic to be officially recognized by UNICEF as 'mother and baby friendly' and encouraging breast feeding. And then of course we have our child health care clinics where we immunize and vaccinate against certain vaccine preventable diseases. Now, the really important thing about Early Childhood Development is all that is going on in the context of other services that different government departments are also offering. All of that work is really important, but what's perhaps more difficult, that may be in the end be even more important, is when we take the different ministries and all the different actors who are involved and have them working in a collaborative way, in an integrated way and in a coordinated way. Essentially saying that the whole, when it's coordinated is much greater and much better than the sum of the individual parts. And we get some real benefits from this. You can't separate out the health of the child from the education for the child and the social development of the child. So for example we're looking at the child's language skills, we're looking at the child's emotional intelligence as well as the child's ability to count, subtract and to make sensible decisions based on the evidence that's available."
It was a one day event.

Another Murder
(posted on Fri May 22, 2015)
We started tonight's news with a story about murder, and end with another. At about 6:30 pm two men were shot on Iguana Street near Kim's Store. One of them is deceased - and the other survived. And while his name is known to us, we cannot report it without first ensuring that his family has heard. 7news is on the scene right now and we'll have the full story on Tuesday.

Home | Archives | Downloads/Podcasts | Advertise | Contact Us