Man Killed, Gunmen Ambushed Him At Door
(posted on Thu Aug 17, 2017)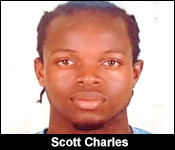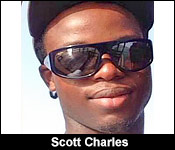 There was a shooting last night on San Pedro, which unfortunately, has now turned into a murder investigation.
The victim is 25 year-old Scott Charles, a tour guide of the Bay Side area of the island town. His loved-ones say that he is a hard-working family man, but last night, gunmen went hunting him at his house. Reports to police are that gunmen knocked on his door, and when he opened it, they opened fire. We've spoken with his family today, and their account is a little different. They believe that his killers were watching him, and as soon they realized that he was alone, they kicked in his door and shot him to death.
He was injured in the abdomen and the upper part of the thigh, and first responders managed to rush him in time to the San Pedro Poly Clinic. He was then airlifted to the KHMH in Belize City, where the doctors performed life saving surgeries on him. He clung to life until this afternoon, when his prognosis took a turn for the worst.
His grieving family is now trying to cope with the sudden loss, and today, we spoke with his girlfriend. She was the last person to see him alive last night before she left for church. She told us that she got the news no one ever wants to hear, and she rushed to the Polyclinic just in time to travel with him to the KHMH on the air ambulance. She recounted the conversation she had with him on the flight, and she tried to encourage him to stay strong, and survive for their 8-month-old daughter. Here's what she had to say this evening:
Nicole Menzies, Girlfriend of the Deceased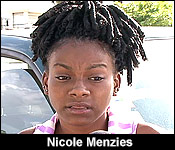 "I ran on the pier with my baby and when I saw him in that condition I was in a shock, but I was just trying to be strong not to cry in front on him and when I was speaking to him I asked what happened and he told me he got shot. And so I asked the people where he got shot and they say he got 2 shots; on in the abdomen and one in the leg. I asked if he was critical and they told me they don't really know and that he is a stable condition. I asked if he was serious and they say they can't tell me because they aren't doctors."
"I was speaking to him on the plane to tell him to stay focus and to try to stay awake, because if he fell asleep he might end up dying on me. I told him to be strong for his baby. I told him that he will recover because he is strong and to be strong for the baby, because I don't want it to be like him and I; he father and my father died when we were only 2 years old. We have in common basically everything,"
"I told him that I don't want my baby to be like that. I want to her to know her father when she is grown. My princess stick to her father. I don't understand why they wanted to kill him, because he is not a trouble maker, he is a hard working tour guide person. He didn't deserve to die. He didn't do anybody anything. But whosoever killed him, I am watching you straight in your face and all what I have to tell you all, is that I forgive you, Jesus loves you and vengeance is in the hands of God. Whatever you do, you conscience will kill you and you will come to the foot of God and ask for forgiveness and what you did, you better pray that God doesn't turn his back on you. That is all I have to tell you all."
"He was actually a sweet loving person. He likes to party on the weekends with his friends. He come and spend time with me. Now and again we go for a walk and eat ice cream in town. When he is in the mood, he takes me to swim. That was the last thing we do together."
Reporter
"Did you or any members of the family ever suspected that he may be in any kind of trouble that would suggest that somebody would want to come and shoot him?"
Nicole Menzies, Girlfriend of the Deceased
"No. Nothing I could say about that, because I know when he wakes in the morning, he goes to work. As a tour guide, he takes out the tourists on the sunset and comes home after work. Sometimes he go visit a friend that he takes as his biological brother. He would call me and let me know where he is and when he comes, he would stay at home. We would eat and then watch television and little while and then we go to sleep. That's about it with him and me."
The San Pedro Sun Newspaper reports that residents heard up to a dozen gunshots ring out in the neighbourhood. They believe that the culprits arrived and escaped by a boat that was docked nearby. The murder comes days after three males, including two minors were shot on the island.

Retired Cop Beaten, Loses Tooth
(posted on Thu Aug 17, 2017)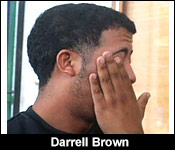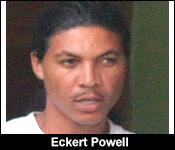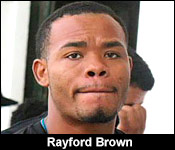 Well-known retired Assistant Superintendent of Police Francis Williams was badly beaten by three men who allegedly jumped him one week ago. Police have arrested the suspects and they appeared today before Acting Chief Magistrate Sharon Fraser today.
They are 24 year old security guard Darrell Brown, his brother, 29 year old personal trainer Rayford Brown, and 28 year old sales agent Eckert Powell, from Freedom Street. They all pleaded not guilty.
The prosecutor objected to bail and Acting Chief Magistrate Fraser offered Rayford Brown a bail of $1,500 while she remanded Darrell Brown and Powell until October 19.
On Sunday, Williams was driving his pickup on Unity Street when he pulled up at a location where a party was being held. He claims that when he got out of his vehicle, one of the men punched him twice in his face while another hit him on the back of his head with a pint bottle and he fell to the ground. He said that's when they kicked him several times until he lost a tooth. A doctor classified his injury as wounding.

Not Another Tropical Storm!
(posted on Thu Aug 17, 2017)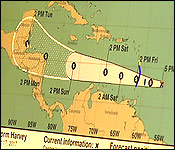 About a week and a half ago, stores, banks and businesses countrywide closed down early in preparation for Tropical Storm Franklin. Fortunately for us, Franklin veered north, and his rains and winds had very little effect on Northern Belize.
But before you can properly say, "Farewell Franklin", it may already be time to say "Hello Harvey!" - with a clear sense of dread!
That's right, today, a weather system that formed off the coast of Africa has made its way into the Caribbean, and as of 3:00 this afternoon, has been upgraded to a tropical storm, and its projected path has it coming straight to Belize by early next week. Now, we stress this is just a projection, but we spoke to the Deputy Chief Meteorologist, Catherine Cumberbatch, to get a clearer idea of where this storm may be heading...
Catherine Cumberbatch - Deputy Chief Meteorologist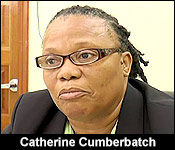 "As I, Alex, earlier today one of the hurricane hunters went in to investigate the system that was east of Barbados and they came back with information, their observation and it's shown that the area of disturbed weather that is out there has been upgraded to tropical storm Harvey, Which makes it the 8th tropical system for the 2017 Atlantic Hurricane Season."
"Let me just give you a quick where the system is exactly located right now. At 3 pm time the center of tropical storm Harvey was located at Latitude 13.0 N and Longitude 55.8 W, that makes it about 251 miles East of Barbados. The system is moving West near 18 mph and that motion is expected in the next couple of days. Now, with TS Harvey, is being steered by a ridge pattern, a deep layer ridge that is steering the TS Harvey. And with that motion it is expected that TS Harvey will be in the Eastern Caribbean in the next 12-24 hours, in the Central Caribbean by 48-72 hours and in the Western Caribbean, which is out area, by 96-120 hours. That is like on Tuesday we expect on that motion and that forecast track that the system should be in our area at that time."
Cumberbatch warned against listening to rumors about potentially threatening storms circulating around the internet and social media, and urges people to always refer to the latest advisories issued by NEMO and the Met. Office.

Stolen Hilux Almost Made It Back Home
(posted on Thu Aug 17, 2017)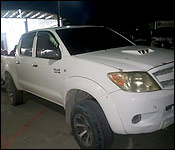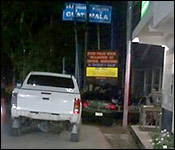 The next story about a stolen vehicle almost has a happy ending, but not quite. It's about a Toyota Hilux pickup that was stolen from a mechanic shop in San Ignacio last week Friday. And like every other stolen Hilux it ended up in Melchor.
But, yesterday there was a major break in the case, when the Hilux showed up at the border and Guatemalan police were ready. They had been told to look out for the pickup and they dutifully impounded it.
The police press office happily announced, quote, "the stolen Hilux was recovered in Melchor De Mencos, Guatemala by the PNC…Arrangements are being made with the PNC for the return of the stolen Hilux." Happy ending, right?
But, not so fast. Turns out that the persons who now have the pickup took it to the border to pay duty on the Guatemalan side. That's when it came to the attention of the Guatemalan police. And they called Belizean police. But the new owner had already paid duty at the Guatemalan bank - and that caused the Public Ministry on that side of the border to open a case. That now has to be completed before the pickup is handed over.
The vehicle is the property of ISIAS DAVID BANNER, a contractor from San Ignacio. The pickup was at the mechanic shop to do an overhaul.


Finally! Carnival Route Finalized
(posted on Thu Aug 17, 2017)
After much anticipation and speculation, the route for the 2017 Carnival Road March has been confirmed.
It's been an unresolved issue for months now because authorities insisted that the safety hazards posed by the route were just too great: it blocked Belize's two major highways and the entrance to the Karl Heusner Memorial Hospital for hours.
The carnival committee has been weighing multiple options and routes, and has finally made a decision. The vice president of the Committee told us what the route will be:..
Patrick Thompson, VP. - Belize Carnival Association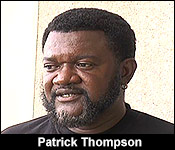 "Well I guess this is what everybody is being waiting to hear. Yes, you all know that there is a route change and the change route is we start at the original spot which is Caesar Ridge, we go into the Boulevard, then we go contrary to traffic in Vernon Street, we take a left into Youth For the Future Drive, we go into Douglas Jones, Cinderella Plaza, we take a left into Kelly Street, right into Baymen Avenue and a left into Princess Margaret Drive and finishing inside the Marion Jones where there will be an after party until 10pm."
Reporter
"You feel this route is reaching everybody in Belize southside/northside?"
Patrick Thompson, VP. - Belize Carnival Association
"It is because when we go from Caesar Ridge and go all the way to Vernon Street then we only have a small number of people from Vernon Street to the Karl Heusner Memorial Hospital and these people can surely line Vernon Street, Youth For the Future Drive and the other streets that we have change to."
Carnival is set for September ninth - and to go over the route once more - it starts as usual on Caesar Ridge Road, and goes up cEntral American Boulevard, but instead of crossing Belcan, it makes a right turn into Vernon Street and goes up to the Bel China Bridge, where it crosses, and heads over to Cinderella Plaza, turns unto Baymen Avenue - where it goes the whole length of that road, and then turns left into Princess Margaret Drive for the final stretch to the Marion Jones Sporting Complex where it ends.

Belize Biochemist's Groundbreaking Stem Cell Research
(posted on Thu Aug 17, 2017)
A young Belizean's groundbreaking research has been published in a top US medical Journal. On Monday, Aimee Flores, who is pursuing a Ph.D in Stem Cell Research and Bio-chemistry at UCLA had her paper published in the "Nature Cell Biology", a leading medical journal. She's in Belize on a week's break and sat down with Jules Vasquez - to talk about her project. We looked back at her long history of academic excellence which has brought her to where she is now:
Jules Vasquez, Reporting
I first met Aimee Flores back in 2002, when she was in Standard Six and had just topped the PSE.
Aimee Flores
Tops In PSE
"Well it feels good to put in your work and to know that I came out as first"
We next met her four years later, when she was the second best nationally in the CXC's.
Aimee Flores, Second Nationally in CXC
"It certainly feels good. I am very proud of myself."
And now all of Belize has reason to be proud of Aimee. Now a doctoral student, she has gotten a major piece of groundbreaking stem cell research published in a leading medical journal called Nature.
Aimee Flores, Doctoral Student - UCLA
"For this particular project I've been working on hair follicle stem cells, so those are the stem cells that are in your scalp basically that are responsible for growing the hair. As you know, not just you specifically, but a lot of people have baldness for many different reasons, men and women and one of the underlying causes is the inability of the stem cells to activate, to form hair. And so a lot of the drugs out there currently target more the external factors that affect the hair follicle's stem cells, so like hormonal changes that somebody might be going through, stress, genetics play a factor, that might affect the stem cells and cause them to not be able to to activate and form hair. And so our research basically was on how do we get the stem cells to activate regardless of the external cues?"
Jules Vasquez
"How exciting is this, how new is this?"
Aimee Flores
"Well it's the first time that anybody has ever really described something like that so it's pretty huge. Ahm, whenever people think about stem cells, they generally think about the genetics behind it, nobody has really done work on the metabolism of the cells. And so we were one of the first groups to look at metabolism of stem cells, and in particular the metabolism of stem cells."
Jules Vasquez
"Is this a cure for baldness?"
Aimee Flores
"We can't go so far as saying a cure, it's definitely something we can probe more to see if it can potentially treat baldness. It's not something that you can go, and, you know, buy lactate and put it on your head and say that it's gonna work."
Even though this was a big breakthrough, for example, primarily what I'm working on in my lab is squamous cell carcinoma, which is a form of skin cancer, so that's actually the main work that I do. This was just a sort of 'by the way'. So, if by the way we can make a drug that can make an impact for those who are suffering from baldness, and if we generate funding, that funding will be pumped right back into our skin cancer research."
And she plans to bring her research program here to Belize.
Jules Vasquez
"Where do you see yourself in 10 years?"
Aimee Flores
"Hopefully back in Belize. I do want to come home, my family is here. I probably have a few more years that I need to wrap up over there in terms of, you know, some more experience I want to get in the pharmaceutical industry, but my long term goal is to come home. I want to have a pharmaceutical company here if I can."
Jules Vasquez
"How do you hope to make that real by bringing your expertise back to Belize. And is it in a developmental effort to say, well, if we do this certain other things can happen with a younger generation?"
Aimee Flores
That's exactly what it is. I feel like, you know, if we're constantly waiting for a reason to come back... I mean somebody has to come back and do something first, right? So, I'm not necessarily waiting for somebody to suddenly open the pharmaceutical world in Belize. I'd be happy to be that person to begin.
And in the meantime here's her advice to those young students who have a faraway dream:
Aimee Flores
"I feel like you can be anything that you want to be. I really don't believe in that whole concept of, you know, you come form a small country you're not gonna make ti very far in the world. Small fish big pond as you said. I feel like if they work hard enough, whether it's a scholarship that they need to get where they need to go, or even if they need to take longer routes to get there, I feel like if they're determined in what they're doing they can achieve what they want."
Aimee Flores will be finished with her doctorate at the end of the year, and will go to work full time on it starting early next year.

Wilfred Riles Them Up Again
(posted on Thu Aug 17, 2017)
Foreign Affairs Minister Wilfred Elrington is no stranger to controversy - and his seemingly blasé comments about the border always find a way to properly tick people off.
And, last night, he did it again, which is why, tonight, he's the subject of an open letter of protest which Former PUP Foreign Minister Lisa Shoman addresses to Prime Minister Dean Barrow.
She's angry about what Elringotn told the press yesterday in an interview about the Jacobo Arbenz 4-lane freeway to Puerto Barios . Here are his remarks:...
Hon. Wilfred Elrington - Foreign Minister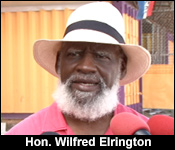 "The whole issue of the building of the road under the 1859 treaty was regarded by the British as a non-issue, that's a non-issue. So whether they build it or not is not of any moment, it's not going to affect in any way the litigation in which we have, that's a non-issue, it has no real bearing on the issue. Why we have to go to ICJ is because we don't have borders that are internationally recognized and that can put us in trouble."
Lisa Shoman's letter says "For the Foreign Minister of Belize to make that statement is nothing short of ridiculous and it is utterly wrong. Prime Minister, as you well know, Belize does in fact, have borders that are internationally recognized. It is GUATEMALA that refuses to now recognize portions of those borders. They must - and do - recognize our border at Benque Viejo Del Carmen. It is an international border crossing. It is actually that a public official of the highest caliber, such as Foreign Minister Elrington who makes this kind of statement that can put us in trouble."
So, can such a small statement really have such a lasting impact? That's what we asked Shoman this evening, and she asserted that it definitely does:
Lisa Shoman, Former Foreign Minister
"Words matter. What you say matters. When you are the foreign minister of Belize, you speak for Belize. I have known this all the time that I was an ambassador and the short period of time that I had the honor of Belize's foreign minister. I carefully measured my words, because words matter."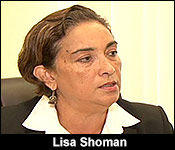 "For Foreign Minister Elrington to say that we have to go to the ICJ because Belize has no internationally recognized borders is not completely outrageous, it is completely and totally inaccurate. Even Guatemala who does not all of our borders, even Guatemala recognizes and has to recognize the border at Melchor and Benque every single day. They do not recognize some of our borders. For instance, the Sarstoon River since 2015. They do not recognize our maritime areas. They claim all of our territorial seas and all of our cayes except St. George's Caye. But not even the Guatemalans who are the only country on earth that do not recognize all our borders. Not even Guatemala thinks that we have no internationally recognized borders. So that statement has to be rejected in its totality and so my open letter is more than a letter of complaint. It is really as a citizen and as a former foreign minister of Belize I demand that it be rejected and that the Prime Minister of Belize say so to the entire world on behalf of the people and government of Belize."
"You know there is a convention that former foreign ministers do not criticize the sitting office holder. I've held to that for almost 10 years for the most part. I cannot let this latest pronouncement by Foreign Minister Elrington just fly by the radar. It isn't just words. Somebody has to call it out. I am calling it out. Other Belizeans are calling it out and I think justifiably so and the Prime Minister is the one who has the responsibility ultimately to pronounce what is the official policy of the government of Belize and it cannot be that we are going to the ICJ, because we have no internationally recognized borders and we can get into trouble. That is with all due respect completely and totally wrong."
And, today, another PUP former Foreign Affairs Minister weighed in on the statement. PUP Senator Eamon Courtenay said via text message, quote, "Mr Elrington continues to exhibit utmost incompetence and lack of understanding of international law. Our borders were defined and recognized even before independence. He should resign rather than continue to misrepresent Belize."

Cunil For Cultivation
(posted on Thu Aug 17, 2017)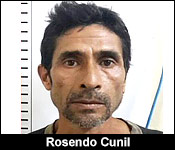 Yesterday police conducted a search on small farm about 4 miles West of Cotton Tree Village where they found 47-year-old Rosendo Cunil relaxing in a hammock under a palm hut. The cops searched him and found about 2 ounces of cannabis. They proceeded to search the rest of the hut, where they found a 16 gauge shotgun and 6 shotgun cartridges. Police then inspected the surrounding area and found 3 small marijuana plantations about 100 feet away from the hut. In total the cops found 638 marijuana plants ranging from 3 inches to 3 feet in height.
Cunil was detained and appeared in court today where he was charged for cultivation. Cunil pled guilty to charges and was sentenced to 7 years in prison.

Pounds of Weed in Bze District
(posted on Thu Aug 17, 2017)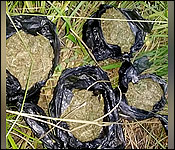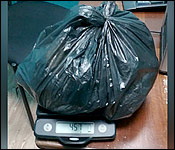 Police made two weed busts in the Belize District yesterday. The first one occurred in the evening at mile 19 and a half on the Phillip Goldson Highway in Sandhill. The team searched a bushy area and found a crocus bag with one pound of weed divided into 4 parcels. No one was in the area, so it was labelled as found property.
The second bust was made last night. Going on a search warrant, the south side strike team searched the residence of David Haulze on Aloe Vera street. They found 4 plastic bags weighing in one pound of weed. Haulze was charged with possession of a controlled drug with intent to supply.

Capital Cops Crackdown on Highway Craziness
(posted on Thu Aug 17, 2017)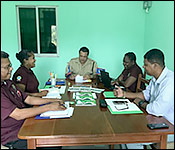 Just this week, we've reported on two fatal accidents on the George Price Highway. And that's why the Road Safety Project Management Unit, Belmopan Police, National Transport Department and Belmopan Municipal Traffic Department met today to discuss traffic management on that Highway and within Belmopan. Police statistics show that most serious and fatal accidents occur mostly during the weekends and so they have agreed to increase patrols during peak hours on the Western corridor and also on the Hummingbird highway, and within the Capital city. Motorcycle offenders will specifically be targeted.
The patrols begin this weekend with National transport and Belmopan Police patrolling the George Price and Hummingbird highways and Belmopan police taking care of city streets.

Yoga Therapy Expert in Belize
(posted on Thu Aug 17, 2017)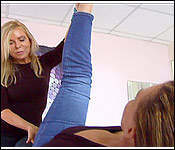 Earlier this week we told you about the BELTRAIDE "Maya Spa Experience Brand Competition". Well, today, an expert in another kind of massage arrived in Belize to offer training to masseuses at resorts and spas across the country. Sudevi Kramer will conduct a training in Vedic Thai yoga therapy at the Om Shanti yoga studio here in Belize City. She explained her craft to us today:..
Sudevi Kramer, Vedic Thai Yoga Instructor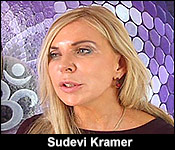 "The roots of this work actually are in Thailand and it goes back about to 500 BC and its actually part of their medicine. It originated with the indigenous people and it's around because it works. Its accessible folk medicine yet in the last degree of a physician training they study Thai massage. That kind of says it all. So it's not just people coming for a massage to feel good although that's certainly part of it. It can be taken to the level where if somebody has like frozen shoulder or rotator cuff or a sprain ankle or any just mundane things that happen to us in life. Certainly it's not a surgical procedure, but it is everyday first aid for the mind, the body, the spirit. It works with energy lines in the body."
Reporter
"This workshop in Belize is mainly targeted for massage therapist, privately or at different hotels. You think that this will be something useful for them and it is something you think that clients would want?"
Sudevi Kramer, Vedic Thai Yoga Instructor
"Absolutely, it's my favorite form of work to receive and I love massage absolutely and the difference between regular massage and this massage is you feel good at the time. You get that massage and in that moment you feel your stress melt away and you feel better, but if you get a Thai massage, you've peel back a layer and you feel good for weeks. The results in having your energy unstuck and what happens with this work and it can take very simple movements to create sophisticated results. What happens with this work is it just opens up the body and they get unstuck in their lives."
The workshop is runs from Friday to Sunday. If you are interested in participating or need information you can call Om Shanti at 629-3763.

BELTRAIDE Wants To Find You A Job
(posted on Thu Aug 17, 2017)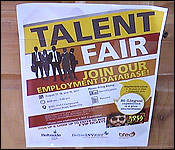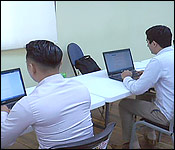 We have reported extensively on many entrepreneurship trainings and small business programs hosted by Beltraide. Well, they want to go a step further by connecting you to your potential employer. They plan to do this through an online registration system and if you were unable to register today you can do so tomorrow at their talent fair. Today was day one of the fair and We dropped by to find out how you can finally get that job you were desperately looking for.
Hero Balani, Manager, Belize Invest Generation, Beltraide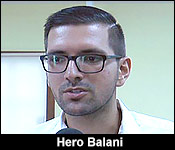 "So today we have the Beltraide talent fair, one of the first editions that we are hosting. Essentially anyone 16 years or older is able to come in and register into our employment database, as you know Beltraide we work with investors and we also work with training entrepreneurship and exports so what we are trying to do is to better match the talent capacity in Belize with investment demands right, so again as you can see we are just doing a registration where people can come, in put in their information about education, their work experience much like a resume and we will contact them when opportunities come up in their field."
Courtney Weatherburne, reporter
"What are some of the job opportunities that some of these applicants could possibly get?"
Hero Balani
"So there are different opportunities that we look forward to especially in tourism we have opportunities in the BPO contact call center industry, we also have opportunities that will come up in agribusiness, in fisheries in the different priority sectors for investment in Belize."
"Talent goes anywhere from anyone looking for a part time job to a full time job so anyone that could be a recent graduate or someone who wants a part time opportunity can also come out to the talent fair and register. The other aspect is that we also do training so you will not only hear about vacancies that come up but also training opportunities we have at Beltraide."
The fair continues tomorrow and on Saturday. It starts at 8 and ends at 5:00 at the ITVET compound. Registration is free.

CITCO Looks to Kid Advisors
(posted on Thu Aug 17, 2017)
This afternoon, the Belize City Council held a grant ceremony to recognize 15 children who they will assist with back-to-school funding.
They are all members City Council's Child Advisory Board, which was set up to give youths a seat at the table where City Hall makes policy decisions. The Councillors say that the Child Advisory Board often give their opinions on different policies that could affect the children of the City.
For over 2 years, they've been diligently working with these municipal leaders, and today, as show of appreciation, they were gifted with a back-to-school package. 7News was there, and we spoke with the City Councillor responsible for children about the advice they have gotten from this board:
The Child Advisory Board is made up of children at the primary, secondary and tertiary levels of education.

Fire At FUNDAECO, Guatemala
(posted on Thu Aug 17, 2017)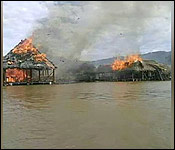 Fundaeco is a Guatemalan NGO that operates on the other side of the Sarstoon river. They recently got a grant along with Toledo's TIDE NGO to invest in communities. TIDE built piers and tourism attraction in Punta Negra and Monkey River while FUNDAECO built a restaurant for the fishing co-op on the Guatemalan side.
Well, that restaurant - opened only weeks ago by the German funders and Belize's Ambassador to Guatemala - went down in flames this week. Reports from FUNDAECO say that it was caused by a faulty gas tank while other reports say tensions are high on that side between the fishermen and the CO-OP.

John B Defends Home Turf On Campaign Trail
(posted on Thu Aug 17, 2017)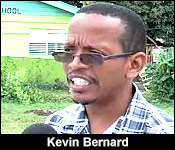 We're about 7 months away from the 2018 Municipal Elections, and both political parties are getting in campaign mode.
Apart from the paid political ads on the evening news, many of you have started getting visits from the municipal candidates.
The PUP, which hasn't won a major election since 2003, has a lot of ground to make up for because the ruling UDP won 8 out of the 9 municipalities countrywide, and 62 of 67 seats in 2015.
The PUP was only able to hold on to a split council in Orange Walk Town, and now PUP Leader John Briceno has to defend his home turf. Our colleagues at CTV3 News caught Briceno on the campaign trail earlier this week where he spoke about the importance of retaining Orange Walk.
Hon. John Briceno, Leader of the Opposition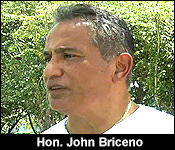 "Everybody that lives in Orange Walk Town and even the UDPs would admit that Kevin has been a very successful mayor. He has received zero dollars, not one cent from central government and despite all of that, despite having to pay the bills that the former mayor Phillip de la Fuente left. I think it was over $600,000 - he got 1.8 million dollars from central government and had nothing to show for it. Despite all of that, paying the overdraft, paying social security. Mayor Bernard roll up his sleeves and he has work hard and today we are seeing the fruits of the work that he has done. So I have every confident that the people of Orange Walk Town will once again re-elect Mayor Bernard as the next mayor of Orange Walk Town."
The UDP has its own hopes in Orange Walk, since former mayor Phillip De La Fuente has entered the race as their mayoral candidate.

Home | Archives | Downloads/Podcasts | Advertise | Contact Us