PM Barrow Presents Budget; Makes Bold Boasts
(posted on Fri Mar 7, 2014)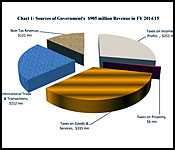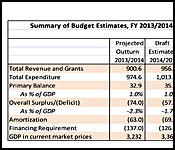 Budget Day in Belmopan is typically quite straightforward as the presentation of the revenue and appropriations bill takes center stage. But these days, there's always more stuff happening. So today, the teachers union staged its national rally and demonstration in Belmopan to coincide with the budget presentation - even if the centerpiece of that Budget was to give them a raise of pay - the teachers who went to Belmopan still aren't happy - and they made their presence felt all through the prime minister's speech as they sang and vocalized outside on the national assembly stairs. We'll have a full report on that shortly, but that wasn't the only distraction at today's House Meeting.
At the end of the meeting, at least one blow was thrown right in front of the House - and right when the representatives were walking out. It was a dispute between the PUP's Vaughn Gill - who was all upset about Anthony Boots Martinez getting land for his constituents in Cayo south - where Gill is the PUP political officer. That got really heated - and we'll show you as much as we have of it later on.
But first to the real news of the day, the Budget Presentation. This year's Budget was slightly different than its predecessors. Prime Minister Dean Barrow cut out most of the technical parts of the budget - to present a shorter speech that it seemed made way for the insertion of more political boasting. And there was a lot of that to be done. You might have thought the Barrow Administration was humbled by coming off the roughest half year in its six years in office, when it lurched from scandal to scandal and crisis to crisis, but not to for the PM, who, flush with Petrocaribe dollars was feeling feisty, and he showed it in a budget speech where politics not dull statistics dominated. Jules Vasquez was in Belmopan to hear it all:
Prime Minister Dean Barrow

"This is a train bound for glory and we have the will and the wherewithal to drive it straight on through. Truly 2014 is a sort of annus mirabilis, a year of miracles under this United Democratic Party Government."
Jules Vasquez Reporting
The miracle really is the Venezuelan fund, which stands now at 168 million dollars - and it's being used for everything for deficit funding to the national bank to road works:
Prime Minister Dean Barrow
"This source of bilateral support has yielded some $168 million. So far, $10 million has been invested in the start-up of the National Bank, about a million in the commencement of works by the Belize Infrastructure Ltd, and around $15 million in the national infrastructure renewal program launched after last year's epochal floods."
"Never before has so much spending been programmed on construction, road and bridge building, drainage, street rehabilitation, community centers, sporting facilities. Cities, Towns, and Villages; every nook, every cranny, every corner of this country will benefit from our Herculean public works drive." (applause)
Now that ample availability of funds has become a sort of mantra for the Barrow Administration, which at its sixth year in office is trying to turn the corner from corruption scandals:
Prime Minister Dean Barrow
"There will be no existential agonizing for us, no dithering. We are inheritors of the Baymen's legacy and we meet adversity resolute and clear-eyed. So whether it is replenishment of crops and rescue and repair of livelihoods after the worst rains in a generation; whether it is intervening in the sugar industry to empower justice, rehabilitate roads and enable a crop; or whether it is promoting reconciliation, providing bailout money and avoiding factory closure in citrus, Belizeans can be sure of one thing. This Government will always take arms against any sea of troubles and by opposing end them."
But one thing's that's not being funded by Barrow's Venezuelan war chest was the centerpiece of today's budget presentation, that's the raise of pay for teachers and public officers:
Prime Minister Dean Barrow
"Teachers and Public Officers with this Budget, this Budget, Mr Speaker, are receiving the nectar of a not less than 5 percent salary increase on top of the annual 2.5 percent increment. Altogether this translates into around 34 million dollars "
"Unfortunately, notwithstanding Government's extraordinary munificence, there seems to be in some quarters ingratitude "sharper than a serpent's tooth". But we will not allow that to rain on our grand raise-of-pay parade."
"Despite our disagreements with some of the Union Leaders, we tremendously value both our Public Officers and Teachers. We believe in them, we treasure them and we consider it our special obligation to properly reward them. Thus, we were and are happy to make and live up to this commitment. And we consider its fulfillment the centerpiece of this Budget."
And, while Government does have that 22 million to pay the teachers this year, what about next? Well, that will take care of itself - because Barrow who's bent on expansive public spending, also signaled a sharp shift from the strict fiscalism that had become the UDP's calling card under his predecessor Manuel Esquivel.
Prime Minister Dean Barrow
"And that is the objective in modern times: to balance the economy, not the Budget. Now a country can spend more than it earns because of the availability of debt as an instrument to fund investment and construct the pillars for accelerated growth."
He's talking Venezuelan again, and intoxicated by all those Petro-dollars, he called some big shots in a speech that was overtly political:
Prime Minister Dean Barrow
"I promise you, Mr Speaker, we will win every single seat in every single City and every single Town." (APPLAUSE)
"True sunshine is breaking out all over Belize and we in the UDP are messengers of the day. In this refulgent dawn those that can't see the many good things around us must be blinded by the light."
The budget took one hour sixteen minutes to deliver, compared to last year's one hour and fifteen minutes. It will be debated starting on Monday, March 24th.

Teachers Rally: Tells PM To Put Salary Adjustment In Writing
(posted on Fri Mar 7, 2014)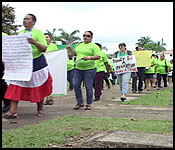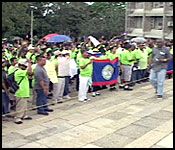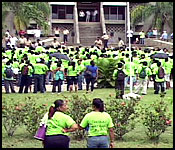 But the teachers started their debate today - and they say it's about issues bigger than the budget or any raise of pay. They called today's event a rally on social issues, but they've also thrown in that for all the promises of a 5% salary increase, it has not been formally put to them.
But, more than just social issues were driving today's event, and that's because Education Minister Patrick Faber warned on Wednesday that the teachers who attend the rally will get their pay docked for the day of lost classes. That - and the fact that the 5% raise is basically "in-pocket" had to have an effect on the crowd - which was not impressive for a BNTU National Rally; such an event usually draws thousands, today they had hundreds. But those that did appear were spirited and defiant. Daniel Ortiz was in Belmopan, and here's his report:
Daniel Ortiz reporting
Teachers from all branches across the country assembled on the Belmopan Ring Road, ready to show their unions might at a little after 9 a.m.
With their placards and crafty tunes to taunt the Prime Minister and their Minister of Education, they organized in two rows and then took over the streets all the way to Independence Hill.
Adelida Guerra - First Vice-President, BNTU

"We are expecting numbers from all our 10 branches. Right now I am not able to tell you because we just came and we have not checked with the other presidents but maybe later on we will be able to give you that."
Luke Palacio - National President, BNTU
"We are not looking at numbers, but what we do know is that we have the 10 branches on the BNTU out here and as you can see they are out here in large numbers despite the intimidation by the minister of education."
And while that's the teachers' interpretation of the Education Minister's comments, numbers are important, and we counted 706 green shirts and persons marching.
There was another 40 or so stragglers who waited at the end point instead of joining the big group. That's 746 professionals who pride themselves on not being "paycheck teachers", where they are willing to risk a pay cut for the cause.
Luke Palacio - National President, BNTU
"Our teachers are fully well aware that when they take industrial action their salary may be withheld, it doesn't say shall, it says may be withheld and that is what we are about. Again we've said it, Saturday and Sunday is a non-school day and we are hoping that those managements and the ministry of education in particular will not try to penalize our teachers by taking out of their salaries on Saturday and Sunday as they have been purported to be attempting to do."
But their pay remains on their minds, particularly the salary increase. Government has committed in principle to at 5% increase. They say that is lip service until it makes it into black and white.
Luke Palacio - National President, BNTU

"That is one of our requests that it be given to us in writing because in fact if you listen to the radio this morning one of the media were saying that the minister of national security is now saying that the Prime Minister have said it's going to be five and a half percent. Why every time there is a change? Let us get this thing in writing. We again, our condition here has to be with the fact that we agreed that the salary adjustment would come effective in July. We are not fighting that, but our concern has to do that how can they already be making that pronouncement as if although it is final and the financial year has not yet ended. The financial year ends at the end of March and if additional revenue is had within this month, what will become of that? Is that not a part of the formula that we are proposing and we have basically said okay, we will try out that formula?"
Daniel Ortiz
"Sir, this raise is costing the country 22 million dollars. Why is it the teachers still feel that they should be given more when 22 million is being diverted to this particular raise?"
Luke Palacio - National President, BNTU
"I think you did not hear what I said. I said we have a formula that we are working that they proposed. If the formula is showing that the amount that is going to be given to the raise is 22 million - that is 50% of what was raised. So it is not the teachers demanding more. We are saying that there is a formula that we are working and we are going to adhere to that to see how it works out. I don't want you or the public to go with the idea that we are asking for more than what they are proposing at this stage. That is what the figures are showing that the formula will allow us to get."
And as normal, the Teachers demonstration had its fair share of harsh criticism.
Daniel Ortiz
"I saw on the social media the minister of national security making a post saying that the leadership of the BNTU is hijacked by PUP politics. How do you respond to those criticisms?"
Adelida Guerra - First Vice-President, BNTU
"Well I will tell you sir that I cannot respond to my leader of our union. I think he can respond for himself."
Luke Palacio - National President, BNTU
"We don't want to waste our time answering that, but obviously this has nothing to do with politics, but that is what politicians do, they practice politics - everything for them is politics. As far as we are concern this is a movement that is legally established in this country since 1970 and we continue to do what we need to do for our people of Belize."
But it must be noted that the crowd became more boisterous when members of the Opposition Party exited the House for a brief intermission, lending to that perception of political grandstanding. In somewhat similar fashion they loudly boo'd Patrick Faber when he exited the House.
Luke Palacio - National President, BNTU
"We are going to stand up because we are going to change this whole culture of this 5 seconds democracy that exists in Belize every 5 years. We are going to deal with the national issues that need to be dealt with for the sake of our children and our grandchildren and for the sake of this beloved country we called Belize. We do understand that some of our individuals are intimidated. We do know that some have some other agenda. We want them to understand that we respect their views, but don't let them come and try to impose that on us."
Daniel Ortiz
"We are only 6 weeks from the PSE and the criticism is that you are giving up another teaching day when you should be in class. How do you respond to those who say that the students are taking a hit because of the agenda that you guys are putting forward?"
Luke Palacio - National President, BNTU
"Why didn't you ask the minister that question yesterday when he declared Thursday a non-school day?"
The teachers dispersed at 1:45 p.m., when the Budget presentation finished and the representatives had left.

PM Reacts To Teacher's Rally
(posted on Fri Mar 7, 2014)
And while those 750 teachers railed and rallied outside, inside, in his budget speech, the Prime Minister talked about ingratitude and political agendas by some union leaders. In an interview after the budget presentation, he was more guarded in his choice of words, but still firm:..
Prime Minister Dean Barrow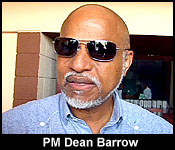 "It can't be done."
Jules Vasquez
"Yet still the teachers are across the way hollering at you incessantly for hours."
Prime Minister Dean Barrow
"Well I am not going to quarrel. I have said all that I have to say during the speech. The fact is though is that the Belizean public will surely make an assessment of the legitimacy of their protest in view of this wonderful largess that they are getting by way of salary increases. That also speaks for itself."
Jules Vasquez
"However, do you support the minister in their pay being deducted for the day missing from school?"
Prime Minister Dean Barrow
"Absolutely, I think when they were doing the rallies during the month of January that was fine, but to do this after it was disclosed that they were getting not less than 5% - I think that was utterly unreasonable."
The unions and the Government are set to meet shortly to hammer out the final figure for the increase.

Opposition Leader Says Budget Doesn't Meet Anyone's Needs
(posted on Fri Mar 7, 2014)
But the former Education Minister Francis Fonseca was not impressed with the raise of pay that the Prime Minister was beating his chest over. Instead Francis Fonseca was chanting reggae lyrics:..
Hon. Francis Fonseca

"The Prime Minister's budget presentation almost moves me to sound. I'm reminded of the Morgan Heritage tune "ends nah meet, dem ah seh dat tings di get betta, but we can't feel it, dem ah seh money di run, buy we can't see it," and I think that is the overwhelming response of the Belizean people to the flowery empty rhetoric we heard this morning. It is a budget divorce and disconnected from reality like this UDP government. That is my initial reaction to the budget, obviously we will pour into the details of the numbers and look at it and give a very comprehensive response at the time of the budget debate."
Fonseca will lead the budget debate in two weeks' time - no word yet on whether he will be inviting the Morgan Heritage Band to fill the back-bench.

What Caused That Ugly Scene...
(posted on Fri Mar 7, 2014)
As we told you at the top of the news, there was an ugly episode in front of the House Of Representatives this afternoon. It happened around 1:30when the meeting was finished - and the representatives were leaving. But before we get to the fight where actual blows were thrown, we first have to give you the background. It all started with the member for Cayo South Julius Espat speaking on the adjournment. His matter of public interest was a parcel of land in Cotton Tree Village that has been set aside to allow for 254 lots to be given to Port Loyola residents. Espat said it disenfranchises villagers who cannot get land for themselves: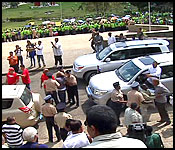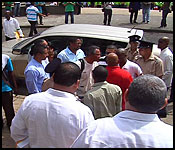 Ok, so that should have been the end of it, right. Issues raised, solution proposed, and things move on…except they didn't. The House meeting adjourned right after that and that's when chaos unfolded. The media was interviewing the Prime Minister at the top of the House stairs when he saw something going on at the bottom of the stairs:..
Prime Minister Dean Barrow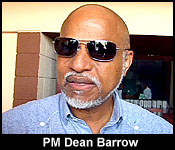 "Well, what's happening man? What is going on?"
That's UDP soldier extraordinaire Allan Kelly trying to throw a blow at a PUP operative. It all started when Vaughan Gill - PUP political Officer For Cayo South - started shouting at Port Loyola's Anthony Boots Martinez as he walked down the stairs.
Mase-bearer Brian Yellowman Audinett stepped in and lunched across to slap Gill in his neck. Now, we didn't get any of that on camera because we were interviewing the Prime Minister upstairs, but we did get the aftermath - which is when Kelly was trying to get in his blow.
We spoke to Martinez about it and more chaos unfolded:..
Jules Vasquez
"What went on?"
Hon. Boots Martinez
"It's just Vaughan Gill pushing in people face, in my face and was being disrespectful. You see him coming again."
Vaughan Gill

"Stop lying about me pointing in your face."
Hon. Boots Martinez
"It's you who came pushing in my face."
Vaughan Gill
"He has enough land in Cotton Tree for all the people in Port and I will make everyone in Port Loyola know that Boots is giving away land so some for your land - that is what pissed him off."
Hon. Boots Martinez
"Vaughan Gill as far as I am concern is not my colleague, but to be disrespectful and wanting to push up in people face of which we had nothing to do with. That's why when he was rude and upstart....."
Vaughan Gill
"You have land and you are giving it to special people - that is what I will make the people of Port knows - put pressure on you and I will give them your phone number so they can call you for their piece of land because you have enough."
Hon. Boots Martinez

"You can give them your mother's phone number sir."
Vaughan Gill
"You need to respect yourself as minister."
Hon. Boots Martinez
"I haven't said anything. I said you can give them your mother's phone number."
Vaughan Gill
"I don't put things in my mother's name to cover it up - that is what I know."
Hon. Boots Martinez
"Don't give them my phone number, I am no relative of yours, give them your mother's phone number sir."
Jules Vasquez
"Boots you really didn't need to get to this level."
Hon. Boots Martinez
"You came to give me an interview and you hear his intervention, rude and disrespectful. All I was saying to him that him and I are not colleague, you come and approach me rude and disrespectful. I am not PUP, I am UDP representative for Port Loyola - how he came in my face and be rude - that was what the commotion was about. It was not even about me."
"The fundamental issue is Vaughan Gill coming up disrespectful. I am coming down from the House and it was he who approaches me about this and that. Him and I are not colleague. He is a fanatic of the PUP and I am a representative you see and that's why I need to say what I say to him."
"Maybe you like the drama, that's why you turn the mic, but it was me that you were interviewing. I think you will have to agree with me and without knowing what happen - he aggress me personally."
As you see there it was still going on for a while after - but by the end of it, Martinez and Gill were laughing, not with each other, but at each other.

Man Killed In Bar Brawl
(posted on Fri Mar 7, 2014)
San Ignacio is looking for a man who they stabbed a Dangriga resident to death last night outside of a night club, just after midnight.
Police say that 20 year-old Earl Baizar, a resident of Dangriga, was involved in a fight inside the club, and they were ejected. The altercation then flared up once again, and where Baizar was stabbed by the man he was fighting with.
Today, the Deputy Commander of San Ignacio Police told us what investigators know at this time about this incident:
Inspector Reymundo Reyes - Deputy OC
"Sometime around 12:50 this morning San Ignacio police received information of a male person who has allegedly been stabbed and rushed to the hospital. As a result police went to the hospital and on arrival they saw a male person receiving treatment for a stab wound under the left side of his chest, his arm and whilst undergoing treatment he succumbs to his injuries."
Daniel Ortiz
"Are you able to give us the name of the individual?"
Inspector Reymundo Reyes - Deputy OC

"The name of the deceased is Earl Baizar. At this moment his age and other particulars are unknown. We know that he is a resident of Dangriga. Investigations so far shows that the young man was socializing at Blue Angel's Night Club when an altercation happened resulted in he and other guys being taken out of the establishment and whilst in front the establishment that is when he was allegedly stab by a male person with a knife."
Daniel Ortiz
"What information can you guys share with us about the person who is allege to have committed this crime, is he detained? What is his status in terms of the police investigation?"
Inspector Reymundo Reyes - Deputy OC
"At this moment police are looking for him."
Daniel Ortiz
"You guys know who you are looking for sir?"
Inspector Reymundo Reyes - Deputy OC
"Yes we know."
Daniel Ortiz
"Is this person someone known to police or is this an incident the first time he has shown up on your radar?"
Inspector Reymundo Reyes - Deputy OC
"It is a person who we could say has previous encounters with the police but for a period of time he remained dormant and calm, but unfortunately last night he got involved in this altercation and committed himself."
An hour so after he was stabbed, Baizar succumbed to his injuries while undergoing treatment at the San Ignacio Hospital. Police are looking for their main suspect at this time.

DPP Waiting On Full Penner File
(posted on Fri Mar 7, 2014)
Today word went out that a full file has been sent to the Director of Public Prosecutions about police investigations in the Citizen Kim Passport Scandal. Viewers may remember that on Monday, the Supreme Court compelled the Commissioner of Police to investigate Elvin Penner for this passport scandal.
Well, our check with the Director Public Prosecution, Cheryl-Lynn Vidal, has revealed that she has gotten some materials from the National Criminal Investigation's Branch, but the file is not complete.
This evening, the DPP Vidal told us quote, "On my request, they copied certain statements and forwarded to me, but I have not been given a complete investigation file. As it is right now, I am working with what I have and what has already been in the public domain."
She added in an email sent a few minutes ago to the media, "Today at 5:43pm, members of the investigating team again came to my Office and at that time, handed over to me a file for the matter. The investigation is still incomplete and it appears to me that statements have not been recorded from certain key persons and this has been discussed with the investigators." End Quote She added that she is waiting to see if police will provide her with more materials. But, there is a sense of urgency because one of the offences that Penner could be charged with has become statute barred since Tuesday, and the other will become barred by next Tuesday.
Speaking on that issue, DPP Vidal, says, "the period of limitation will end on 11th March 2013. I must state at this stage however, that I am yet to see any evidence on the file which would enable me to give a directive for any charge under Section 22 of the Belizean Nationality Act.
So, everyone is looking closely how police is handling this matter because the Commissioner of Police risks Contempt of Court if he doesn't comply with the order to investigate. Today, 7News spoke with the The Leader of Opposition about how the matter is progressing with the deadline looming:
Hon. Francis Fonseca

"What is the status of this investigation because we are approaching a long weekend and if action should be taken we believe it should be taken today."
Reporter
"Have you spoken to him to find out if he even intends to provide an update?"
Hon. Francis Fonseca
"No, I have had no personal contact with the commissioner but as I said my lawyers have written to him on the record and we hope that this time he will respond. The last time he refuse to respond and it is only by forcing him to go to court that we found out on behalf of the Belizean people that he in fact had made that determination not to investigate this matter. But now he has been ordered by the court to carry out an investigation and we expect that that investigation will be done and should be done and we are once again reminding him that there is a deadline that we believe he should meet."
Mike Rudon, reporter Ch5
"Sir, the commissioner might well say that well the court orders us to investigate him, we are investigating, but the court did not order us to provide updates to the opposition."
Hon. Francis Fonseca
"No, he is right. The court hasn't order him to provide updates but we took him to court, we sought the order against him, we received the order and so we have an obligation to follow up on that order to make sure that it is in fact being done as it is done in every case when the court issues an order compelling a defendant to do something. The other party has an obligation to make sure that that person does it and if the don't to bring that to the attention of the court."
To quell the perception that Penner may not face any criminal charges because of statute of limitation, DPP Vidal adds, "My analysis of the evidence presented to me thus far however, has centered around a consideration of a charge under Section 178 of the Criminal Code which makes it an offence for a person to "make a statement which is to his knowledge untrue for the purpose of procuring a passport whether for himself or any other person". This is an indictable offence and IS NOT subject to any period of limitation."
And there is a possible second charge that Penner could face that has no limitation period.
Vidal says,"I have also given certain directives to the police in relation to the gathering of further evidence which would enable the consideration of yet another indictable offence which is not subject to a period of limitation."
But even if there is no criminal charge that Penner faces, he will have to defend himself against the private prosecution launched by COLA. He must present himself before the Belmopan Magistrate on March 27, to answer to their complaint against him for the Nationality Certificate and Passport prepared for South Korean fugitive Won Hong Kim.
Theoretically, COLA can apply to the court to have the criminal file that investigators have compiled be disclosed to them.

Prison Did Full Body Cavity Search
(posted on Fri Mar 7, 2014)
Last night, 7News told you about Natalie Hamilton who allegedly tried to smuggle weed into the prison. Well, the other woman who was caught in the act is 19 year-old Christy Ramclam, she was taken to court today.
Ramclam was busted yesterday when she went to prison to visit inmate Anthony Carballo Jr. She was given a thorough body cavity search which resulted in the discovery of the cannabis wrapped in a piece of toilet paper and tucked in her private parts. Carballo Jr, who is remanded to prison on a charge of murder, is the father of Ramclam's child.
She was arraigned before Magistrate Leslie Hamilton where she pleaded guilty to drug possession and was fined $500. She had to pay half of it upfront today, after which, she was released.

A Police Officer Caught On Camera Again?
(posted on Fri Mar 7, 2014)
We often hear about shoplifting on the news but it gets quite interesting when a police officer is the accused shoplifter. According to the owner of Dibary Store on Church Street in Belize City, a woman police officer was caught red handed stealing a purse from out the store. The incident happened just before midday on Wednesday and we were told it was all caught on camera.
The value of the purse is fifteen dollars.
Reliable reports is that quite incredibly another woman constable was caught stealing in the store a few months ago. There are over 20 security cameras in the store.

CCIC Inviting B'zeans To Apply For Grants
(posted on Fri Mar 7, 2014)
There are international experts in Belize being hosted by the Caribbean Community Climate Change Center. These experts are from the Carribbean Climate Innovation Center, and they are here to promote their project to Belizean engineers. They're doing so by holding a contest where interested persons can win grants of up to $50,000 US to start projects that takes the effects of climate change into consideration.
Today, the CEO of CCIC explained the contest to 7News. Here's how it will work:
Interested entries will be assessed for their innovation under the categories of water management, resources use efficiency, energy efficiency, solar energy, and sustainable agriculture.
We'll post a link on our website where interested Belizeans can apply to see if they qualify for one of these grants. www.caribbeancic.org


PROFILE...
(posted on Fri Mar 7, 2014)
So far teachers have been all over the news tonight. They got their raise in the headline story, and rallied for social issues in the second. But so much of the talk about teachers has been controversial and about money, that in the process, the art of pedagogy and the commitment to it seems to have been forgotten.
And that's why the format of the I Am Belize Profile has been changed in timely fashion this year to look at teachers and the first episode features Emily Martinez-Palacio. She's been a teacher for 26 years, and she tells the Profile about some of the challenges she's face while trying to inspire young minds and lead students on the path to success:
The profile will now be back on a regular basis.

SDA Sets Record Straight On Women Rally
(posted on Fri Mar 7, 2014)
And as we close tonight, the Women's Empowerment Rally is history - and while many are still trying to size it up - we've got some housekeeping to do. On Wednesday's news we reported that the Seventh Day Adventist Church had joined the Roman Catholic Church in its opposition to the march. We heard that informally, but we should have followed up - and we didn't. Turns out the SDA did no such thing. The SDA church sent out a statement saying our statement caused them distress and consternation because they said no such thing. Indeed, they didn't and we apologize for our error.
And while the Seventh Day Adventist Church was not opposed to the march, the PUP seemed to have staged an unofficial boycott of the event. None of the party's prominent women leaders such as Area Rep Dolores Balderamos Garcia or Senator Lisa Shoman were there. But John Briceno was there in support of his wife who was a guest speaker. Also present was former PUP Representative Patty Arceo. Here's why she said it's bigger than politics:..
And as we close tonight, we look back at some of the images of the women's empowerment rally.
Have a great holiday weekend - and join us back her on Tuesday as we recap all the long weekend events.
Be safe, enjoy, and have a great night.

Home | Archives | Downloads/Podcasts | Advertise | Contact Us