Notorious "El Diablo" Executed in Paraiso
(posted on Thu May 26, 2016)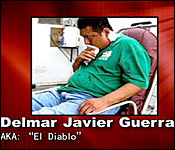 A man was shot and killed on the main road in Paraiso village in the Corozal district this evening. It happened around 5:00 pm, and according to unofficial reports, the victim is 44 year old Delmar Javier Guerra, better known as El Diablo, a notorious figure from San Joaquin. Reports from Paraiso say that Guerra was driving a white minivan when he pulled up at a home in the village where he regularly washes his clothes. But before he could get out of the van, two men pulled up on a motorcycle and shot him. Residents report hearing as many as 10 shots - on the scene police put down 9 markers. The shooters sped off, and when residents came out to see what was the commotion they saw the bullet riddled van - we saw 5 bullet holes in the windshield. They opened it, and Guerra was still alive inside while his revolver fell out of the van - he may have pulled that weapon to try and defend himself. Residents in the area tried to rush him to the hospital but he died on the way.
Guerra made the news in 2013, when he received a bullet to the face in Calderitas, Chetumal in an apparent drug deal gone wrong. He survived that attempt, reportedly when the shooter's gun jammed.

Behind The Blackadore Curtain
(posted on Thu May 26, 2016)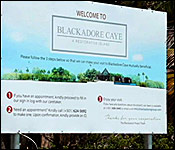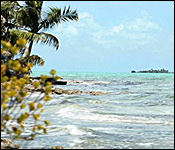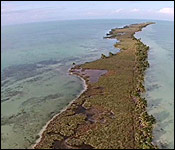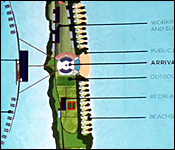 We first reported on Blackadore Caye in 2005. That's when reports were that Hollywood Mega star Leonardo Di Caprio had bought the 104 acre private island off the coast of Ambergris Caye. In the 11 years intervening, much has been said about Blackadore, but little done - and today the Caye remains undeveloped, like a pregnant promise that just never delivered. And why is that? Well the media was invited out to the caye today to find out why Blackadore is a beautiful and odd mystery:...
Daniel Ortiz reporting
Looking at Blackadore Caye from it's coast line, a fly over of its land mass, or from its malformed beaches, you might be tempted to view it as just another island paradise waiting to be developed into a pricey tourist getaway.
But, the biologists hired by the intended developers of the Blackadore Caye project say that it's a location under ecological pressures, both man-made, and by nature.
Dr. Dionne Miranda - Chamberlain Consulting/Blackadore PR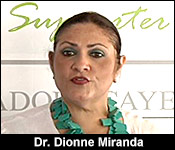 "We want you to understand Blackadore Caye and what it was like. Over a 100 years ago, this island was used for coconut harvesting, it had wild boar on the island, it actually had one of the only fresh water sources and we are going to take you to see that shortly. This island has been pillaged and ravaged by people coming here."
Juan Rovalo - Biologist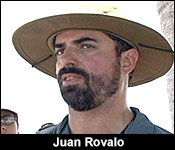 "Eighty Percent of the coverage of the island is the grass that have been taking over the land. The land is being taken over by the grass through erosion of the fertile soil that is produced by the coastal literal forest. When you lose that soil into the water, then the grass can grow another feet forward. Also when you lose the coastal line, as you can see the erosion on this side, then the coastal literal forest start to get shorter and shorter and eventually die back. When that happens, the only vegetation that can grow on this hyper saline soil is the hyper saline grass."
Dr. Dionne Miranda - Chamberlain Consulting/Blackadore PR
"Erosion is happening at a very fast rate and if you look around where Blackadore is, our biologists feel that all that area was the actual island. It's now only that narrow black strip. You are on an island which can no longer exist if we do not start doing something and making some changes immediately."
Juan Rovalo - Biologist
"So instead of having a diverse thriving caye, we're having an ecologically hammered and sick caye."
Dr. Dionne Miranda - Chamberlain Consulting/Blackadore PR
"When the island's bought it was 107 acres it has cut down almost 7 acres since then over the past couple years."
So, what's their plan to fix the decades long damage?
Dr. Dionne Miranda - Chamberlain Consulting/Blackadore PR
"We are seeking to restore this island."
Juan Rovalo - Biologist
"The ecological functions that shaped Blackadore are no longer here anymore."
Dr. Dionne Miranda - Chamberlain Consulting/Blackadore PR
"We cannot restore it to 10 or 15 years ago, we have to restore it to over 200 years ago."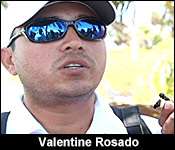 Valentine Rosado - Biologist
"Throughout the consultations there has been criticisms like why introduce mangroves if there has never been mangroves at Blackadore Caye? But the biological data does confirm that even if it was 100-500 years ago there has been mangroves as they were an important part of the evolution of this island. So what we're going to be doing with the mangroves structures is that we are going to be reintroducing them back into the ecosystem. They are also going to form, if you are familiar with the root system of the mangrove, this intense network of roots that serve as nurseries for the fish but at the same time if you have the juvenile fish it will attract the larger fish that will stay around the area. We are integrating them with the rocks that is in line with the "ramas" that the fishermen used to use because the mangroves take 3-5 years for them to begin having that function. It really depends on the conditions, it could take more but in the short term by integrating them with these rock structures we will ensure that on the short term they're going to begin to attract fish. So that's one aspect of the mangrove."
Dr. Dionne Miranda - Chamberlain Consulting/Blackadore PR
"This is our 20 year vision, its not going to be immediate. We've taken over a hundred years to destroy it, we're not going to fix it in 5 days or 20 days or a year. It will take 20 or more years."
And according to the technicians and consultants, this press tour, which is allowing us to take you on a walkthrough of the island, is by no means an attempt at a positive PR Campaign. For them, this just a familiarization trip to show the public that they heard and listened to the views given at the January Public Consultations.
Dr. Dionne Miranda - Chamberlain Consulting/Blackadore PR
"At the end of the day you are here prior to our addendum of our EIA being submitted so that we can include areas of importance that you as journalists have heard of and learned within the Belizean environments as you have heard of this project as well."
A major gripe for the conservative-minded attendees at the January consultation was that the developers were considering building over the water. The concern was that this would have been destructive to the fragile ecosystems which make up a part of Blackadore Caye's coast. That idea has since has been scrapped completely.
Dr. Dionne Miranda - Chamberlain Consulting/Blackadore PR
"So the project summary from when you were at the last consultation it has changed considerably. We have taken out that outrigger completely that people were against in the original consultation. So the welcome centre has now been removed to the other area that I mentioned and that entire outrigger has been dismantled. The hotel size has shrunk considerably because all of it is going to be on the land. So it's going to be a small hotel, a village centre, private estates, club house, wellness centre, the ecologists centre is there because we believe the need to preserve the history and the ecology. Everything that was brought up in the consultation we have considered, we've listened and we've made changes. This is one of the first time that an investor in this country is an unprecedented event where people actually listen, who actually hold consultations and actually speak and want to hear what it is that need to be different. We want to certify by international green associations abroad. Every step of the way we'll be audited, we will be checked, you will know and we will keep you informed so that you know that we are following the rules and we are going to be here for perpetuity. The investment that is going in this island is not for 5-10 years. People are worried that another developer may come and take it over, the developer that takes it over will not want to live under these strict conditions with these high costs of running. So at the end of the day this is going to be our legacy, this will be here for the rest of the world to see as the best practice."
You heard in the story, back in January, there was a big public consultation hosted by the Department of the Environment, the kind that is required by law for any major private development. Conservation minded San Pedranos were very critical of the first draft of the Environmental studies, which were outlined by the professionals hired by the developers.
And just who are these developers? Well, in April of last year, no less than the New York Times said that Di Caprio bought the island and that he was developing it along with Paul Scialla, a New York City based developer.
Today, though, they downplayed the whole Di-Caprio angle - and no one would confirm if he is indeed the owner of the project. It seems though that Di Caprio has since tried to put some distance between himself and the project because of the polarizing effect of having a Hollywood megastar involved. Of course, he did give the New York times a very forthcoming interview about the project in 2015. There is another public consultation which will take place in a few weeks from now.

Broken Tie Rod Causes Woman's Death
(posted on Thu May 26, 2016)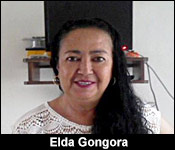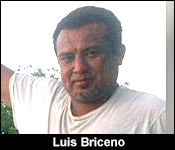 A traffic accident in the North yesterday claimed the life of 55 year old Elba Gongora, a resident of Orange Walk Town. It happened around 4:30 when Gongora, accompanied by two others, was driving a rented Kia Sportage on the San Felipe Road. Near the entrance to the village, Gongora lost control and flipped several times. Elba Gongora was flung out of the vehicle in the process. She sustained severe injuries and died on the spot. But just what caused the vehicle to flip in the first place? Well police believe that a broken "tie-rod" might have been the source of the problem. The deputy commander of Orange Walk Police Inspector Nicholas Palomo told us more.
Insp. Nicholas Palomo, Deputy OC, Orange Walk Police
"Upon our arrival, on the left side of the road, police observed a blue KIA Sportage with an Orange Walk license plate with extensive damages. The windshield was broken and at the top of the KIA was damaged; the front bumper was off. About 3 feet from the KIA Sportage there was the lifeless body of a female who was later identified as Elda Gongora, a resident of Belize Corozal Road in Orange Walk Town. Initial investigations was that Miss Gongora was travelling from the direction of Orange Walk heading to San Felipe. Upon reaching the curve, she lost control of the vehicle and flipped several times. There were other occupants in the vehicle, Luis Briceno who was also a resident of Orange Walk, he suffered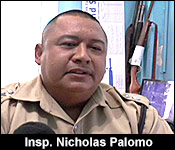 injuries to his leg. Also Amalia Cocom, a female resident of Yo Creek, she suffered minor scratches. Police visited and inspected the vehicle and saw that one of the tie-rods of the vehicle had broken off."
As for the other two occupants of the vehicle Amalia Cocom escaped with minor injuries while Louis Briceño remains at the KHMH in a critical condition. Reports are that he sustained two broken legs and has since undergone surgery. As for Elba Gongora, she has no children but is survived by her husband. Family members also say that Gongora will always be remembered as a hard working independent woman.

Who Knocked Out Knox
(posted on Thu May 26, 2016)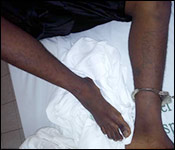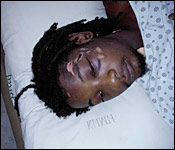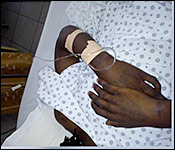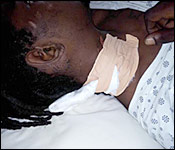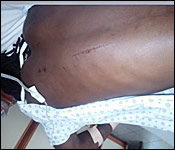 Yesterday you heard Assistant Commissioner of Police Chester Williams respond to the questions posed to him regarding the medical status of 19 year Zacharia Knox. As you may recall, he is the one being accused of attempting to shoot ACP Chester Williams during a high-speed chase that turned into a deadly stare down. Knox allegedly fired 3 shots at Williams but missed. Somehow, after that, he ended up at the Hospital in a critical condition. Yesterday when the question was brought up to ACP Williams, he simply told us he didn't know. But Knox remains at the hospital in a very bad condition. Today a close friend of his shared some pictures of his injuries and told us that Knox wanted to tell his side of the story. But just how he intends to do that we don't know, because he remains under police guard. The images that were shared with us show multiple abrasions, lacerations and bruises - clearly indicating someone who endured a punishing full body beatdown.

Alrick's Alleged Attacker Gets Bail
(posted on Thu May 26, 2016)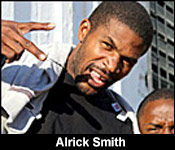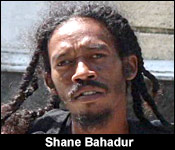 Two alleged Ladyville shooters got Supreme Court bail today. The first is 29-year-old Shane Bahadur. He is accused of shooting at Alrick Smith and later on he was charged with attempted murder and wounding. Well today in court, Bahadur was able to go home after he met his $10,000 bail. But he must still follow certain conditions: he has to report to the Ladyville police station twice a week, and he must not interfere with the victims. The shooting happened on Friday May 6th. Smith was outside his house with his now deceased brother in law Lionel Rhamdas when Bahadur and another man allegedly opened fire on them, hitting Smith in the leg.

Prado Remains Behind Bars, Got Bail Didn't Meet It
(posted on Thu May 26, 2016)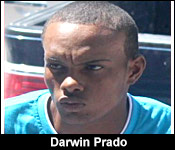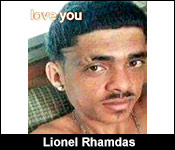 The other alleged shooter is 19 year old Darwin Prado. He was involved in the Lozano home shootout on May 16th. Today in court he was also granted bail, his one for $15,000 but he was unable to meet it. Since Prado could not pay the bail he was taken back to prison. Prado, along with 18 year old Egbert Baldwin were both charged with several offenses ranging from wounding to attempted murder. This is after the crazy shootout on Marage Road that left 3 men from the Lozano home injured and Lionel Rhamdas dead. Prado and Baldwin go back to court on August 15th.

Teenaged Arsonist Terrorizing LADYVILLE Residents
(posted on Thu May 26, 2016)
A wild car-burning teenager is on the loose in Ladyville. Police had caught the 13 year old boy who was behind the recent vehicle fires, but he escaped yesterday. In the past 2 weeks, two Ladyville residents have reported that they woke up to find their vehicles torched. Apparently the boy lurks around at night in Ladyville and just sets cars on fire. Today Assistant Commissioner of Police for Eastern Division Edward Broaster told us more about this mischievous boy and how they plan to recapture him.
ACP Edward Broaster - OC, Easter Division Rural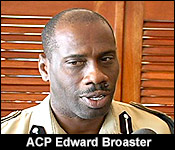 "We arrested a juvenile who is no more than 13 years old, who has confessed to the burning of two vehicles for no apparent reasons. Unfortunately last night or I should say early this morning when he asked for a bathroom break, he forced his way through an opening of the window and made good his escape. So we are now searching for him and that matter we will be dealing with."
Courtney Weatherburne
"When did you guys became aware of this or found out about the burning of these vehicles?"
ACP Edward Broaster - OC, Easter Division Rural
"We had two reports of residents in Ladyville area woken up to their vehicles on fire and through our investigation and through our "see something, say something, stop something" campaign, we got information as to an individual who may be of interest to us and yesterday he was caught and he confessed to burning of the two vehicles and like I said he escaped. But we will have him in custody pretty soon."
Courtney Weatherburne
"You said this is just mischief."
ACP Edward Broaster - OC, Easter Division Rural
"Yes, it's just out of mischief. Yes, it is a resident of Ladyville."
For all you concerned Ladyville residents, we will keep you updated as to when the police find him.

Police Connect the Dots in Recent Ladyville Murders
(posted on Thu May 26, 2016)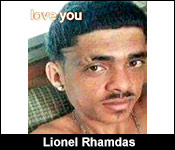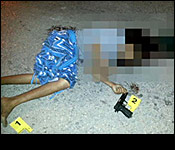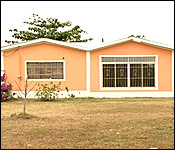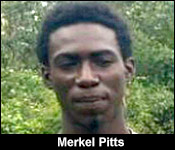 So while police are on the lookout for the teenaged arsonist, they still continue to investigate the links between the recent Ladyville shootings. The latest update is that police had found a gun in the Ladyville area that is believed to be the one used to kill Lionel Rhamdas during the Lozano house shootout.
Well, to add to that piece of evidence, the shells found at Merkel Pitts' April Murder scene, the ones found after Lloyd Robateau was executed in the Japan area and the ones found at the Lozano home shootout, were all fired from the same gun.
But while more elements are coming together, they still don't bring police that much closer to solving these cases because although they have the gun and matched shells, they still need to find the shooters. Police told us more today.
ACP Edward Broaster - OC, Easter Division Rural
"The result we got back from the firearms examiner, reveals that the shells we found at the scene of Merkel Pitts, at the scene of Lloyd Banks and at the scene of the Lozano's - all came from the same firearm. I believe that we may just have that firearm in our possession, either one of the two firearms that we've recovered after that last shooting with Lionel Rhamdas."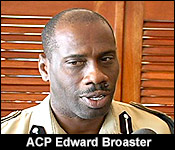 Mike Rudon, Ch5
"In terms of connecting persons to that specific firearm, how is that going?"
ACP Edward Broaster - OC, Easter Division Rural
"That's the difficult task for our investigators, because we have to identify those persons who were the shooters in those murders, in those instances. So while if we're lucky we have the firearm, we still have to try and identify who is it that pulled the trigger and that is going to be somewhat real tedious for us."
Police had also recovered another gun on the scene of the Lozano home shootout. That one was found right beside Lionel Rhamdas' body.

Senator Ashley Supported S.I.
(posted on Thu May 26, 2016)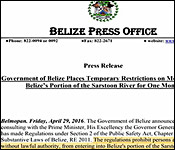 The Sarstoon S.I is history; it was rescinded earlier this week. And while all anyone heard were the criticisms of it, there was a not so vocal section of the populace who supported the measure. Senator for the council of churches Ashley Rocke is one of them. Today he told the media that it was necessary:...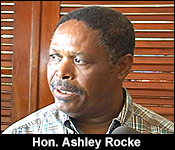 Hon. Ashley Rocke, Church Senator
"As a senator I did not see the issue. The thing I saw was that the Prime Minister had a responsibility to make sure that he did all he could do to prevent whatever incident could have happened there with the Belizean people. I think writing the SI was one of the ways that, if you were thinking of another way, that would have been the best way to do with the understanding that that is not ultimately going to restrict Belizeans from going to the Sarstoon, but was going to quench the obvious disquiet that was there."
The Council of Churches also took a stand last week when they criticized the PUP for its plan to go to the Sarstoon.

CWU And Port (Authority, Not, "Of Belize") Sign CBA
(posted on Thu May 26, 2016)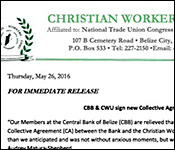 The Christian Workers union has taken all kinds of flak for failing to make any breakthrough in its collective bargaining negotiations with the private Port of Belize. And while that negotiation trudges on, tonight the Union is proudly proclaiming that it has signed an agreement with the Belize Port Authority - which is a statutory body. 48 CWU Members employed at the Port will get a 12% increase in salaries. The CWU also signed a collective agreement with the Central Bank of Belize. According to a press release, 106 CWU Members at the Central Bank will get a 5% salary increase, retroactive to January 1, 2015.

The Mentally Ill And The Law
(posted on Thu May 26, 2016)
How to deal "legally" with mentally ill persons who break the law? The situation is not uncommon to Belize and recently we have seen major crimes perpetrated by mental health patients. The Death Penalty Project, a London-based NGO, is here in Belize to host a three day workshop in an attempt to at the very least, create a baseline protocol for dealing with the mentally ill within existing laws.
We spoke to the event organizer this morning and he told us about the importance of hosting such an event in Belize.
Parvais Jabbar, Co Exec. Dir., The death Penalty Proj.
"We've been working in Belize now for over 20 years on individual cases representing prisoners who had been sentenced to death. Over that period of time, we got to know the country very well, we have very good relationships with lawyers and other organizations here and one area that we wanted to explore was the criminal justice system. A couple years ago, together with other stakeholders in Belize, we launched a report 'Behind the Prison Gates' which looked at issues that were important not only in relation to death row prisoners, but other vulnerable prisoners such as juveniles, mentally disordered, and so on. As a result of this report and some of the findings and recommendations that were agreed and considered by a number of important stakeholders in Belize, together with the Chief Justice and with the Belize Bar Association, we agreed to hold a number of training workshops and seminars looking at mental health and the law."
Reporter
"Why is it important to look at that particular aspect of legal processes, especially considering people with mental health issues?"
Parvais Jabbar, Co Exec. Dir., The death Penalty Proj.
"It's one of the most important areas that is being looked at all over the world. There is serious concern about how mental health is dealt with within the criminal justice system and how it is applied and used in individual cases. So as a result of that, what we have found, not only in Belize but in the many jurisdictions, is that people suffering from mental disorder whether it be some mental illness or some intellectual disability. These individuals need to be treated and considered in specific ways when looking at the administration of justice."
Today's session was a closed workshop for Belizean judges. The seminar is being organized by the Death Penalty Project in collaboration with the Bar Association and the office of the Chief Justice.

More Police Promotion Needed For "Eat and Greet"
(posted on Thu May 26, 2016)
Today the police department held its first "Lunch with a Cop" session. The idea behind this initiative is to give residents a chance to sit down with officers in their area to voice concerns or even make suggestions on how the police can better protect the community. So officers from both South and Northside gathered at the Sea View Restaurant at the Princess Hotel for lunch. But the cops pretty much enjoyed their meal amongst themselves because…Yah! Nobody showed up. Luckily there were a few willing lunch-goers who sat down and spoke to the officers.
Assistant Commissioner of Police for Rural Eastern Division Edward Broaster told us that the lack of proper publicity played a role in this case. And we also spoke to a youth advocate who gladly joined in the session, she told us how it went.
The next Lunch with a Cop session will be held next month. The police will also be rolling out another initiative called Shop with a Cop.

Top Cop Honoured
(posted on Thu May 26, 2016)
Yesterday we told you about Police Constable Edward Gonzalez. He shot himself in the head yesterday morning in front of the Queen Street Police Station. The suicide stunned everyone because Gonzalez was known for his good police work. And maybe it would have been him who would have received an award sometime this year for officer of the month. But now it is left up to other officers to keep his memory alive through their hard work and dedication. And his colleagues PC Gregory Witty and Harris Gabourel are doing just that. Today they received their award for officers of the month for April and May. Today we found out why they stood out among the rest.
PC Witty has been a police officer for 20 years while PC Gabourel has been for 2 years. Zitro Western Union sponsored the monetary gifts.

Festival Finish
(posted on Thu May 26, 2016)
And tonight we close with highlights of the Primary School Festival of the Arts Districts Showcase. That brings the best youth performers from all over the country to the Bliss Stage. We leave you with the Belize City and Orange Walk Showcase. Enjoy and join us back here tomorrow...

Home | Archives | Downloads/Podcasts | Advertise | Contact Us