Date Set For PUP Nomination Deadline
(posted on Thu Oct 12, 2017)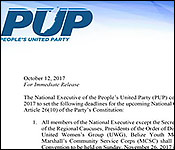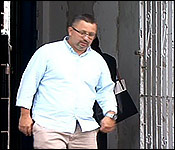 The PUP's internal politics got a whole lot more interesting yesterday when PUP Deputy Leader Kareem Musa called the press to his office to say that he's considering challenging John Briceno for party leadership at a National Convention on November 26th.
But Musa didn't make a commitment - and didn't even discuss a timeframe for a final decision - because he said he didn't know when the party would set the deadline for nominations.
Well, he knows now - because that deadline was set today at a National Executive meeting. Party Chairman Henry Usher discussed the dates:
Henry Usher, Chairman - People's United Party
"What was approved at the national executive is that all nominations for the positions being challenge are being open, must be submitted in writing by October 27th, at 4pm here to the secretariat. These nominations must be accompanied by the person nominated sending in an acceptance of this nomination in writing as well by 4pm on that date, October 27th."
Reporter
"Is there any discussions on the challenge from Mr. Musa?"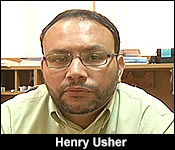 Henry Usher, Chairman - People's United Party
"No, it was a very quick meeting. I think that the different we went through all of the logistics and so on for the national convention and everybody agreed to it. Mr. Kareem was here. He agree to the deadlines and we just have to wait until after the 27th to see exactly what positions will be challenge, if any and what nominations will be received."

Musa Says There May Be More Than One Challenger
(posted on Thu Oct 12, 2017)
So the deadline for nominations and the delegate lists is 4:00 pm on October 27th., which gives Kareem Musa or any other challenger 15 days to decide.
Yesterday, Musa told us that he might not be the only one interested in a challenge:..
Hon. Kareem Musa, PUP Deputy Leader (East)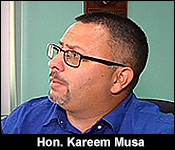 "But there's no challenger in the ring but yet we're getting these letters signed and a lot of the area reps and standard bearers are calling me and saying you're being pressured to sign unto these letters of endorsement and my suggestion to them is: I understand what you're saying but I'm not in a position this is a huge decision for me and for all my supporters, so I can't just make a rash decision even though it's a very small window that we have to make the decision. I can't make the decision right now so my advice to them was he is over Party leader there is no problem signing onto an endorsement letter at this stage on October 26th or whenever the Rules of Engagement are put in place the ball game changers."

Party Chairman Says Briceno Support Is Unanimous
(posted on Thu Oct 12, 2017)
And while the young Musa refers liberally to a lack of party unity and fractured support for the Party leader, the Chairman says that Briceno has met unanimous support in his travels across the country:...
Henry Usher, Chairman - People's United Party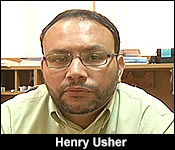 "From all of his traveling across the country, the party leader has really reached out countrywide. In fact I've have gone on tours with him to almost every village in the south. We've been to every municipality. We've been to every constituency. We've been meeting with the caucuses and at all of these levels he has had unanimous support wherever he goes."
Reporter
"Yesterday, I think Mr. Musa also mentioned that there was some division within the party. Could you speak to that?"
Henry Usher, Chairman - People's United Party
"I can only say that that is a matter of opinion for him and I don't necessarily agree with him."

Musa: Endorsements Are Not What They Seem
(posted on Thu Oct 12, 2017)
And to hear the Briceno camp tell it, that unanimous support is evident in the voluntary offering of endorsements from the party's regional caucuses.
But, yesterday Musa told us those endorsements are the product of not so subtle coercion:...
Hon. Kareem Musa, PUP Deputy Leader (East)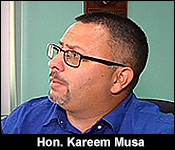 "And, so, I'm not saying it's going to be me, I'm not going to say any names who have been contacting me in terms of they want to be leaders, but I can tell you it's a high possibility we might get a challenge on October 26th or whenever that deadline is set."
"And more important than any and all of this, Jules, is the fact that I am the one getting the concerns, I am the one hearing the calls and saying this is wrong we need to fix this we don't like this steering committee, we don't like the fact that there no standard bearers in place, there a lot of issues. So even if I don't challenge or no one else challenge, challenges the party leader we need to sort all these issues we need to come together as a party and address these issues, and that is a huge thing that I think the leader ought to be listening to, to these cries and to these calls, because there needs to be more inclusivity in the party, this George Price big tent approach, we have to go back there. You know this party has been in a battle since 2004 I'm sure you're aware of that, you have young bloods like myself even though I am not in any particular faction, I am branded in a faction, but we have to get out of that mindset man."
"We cannot just say ok we won the leadership and so we're going to oust the entire next half of this party and not include them, that is not the way that were supposed to be working we're about to form government, I am confident of that, but we need to be more inclusive and that again is another one of the cries from the people."


Kareem's Cash or Briceno's Betty's?
(posted on Thu Oct 12, 2017)
But, if that ball game changes, so will the cost of doing business. You don't need a Ph.D in political science to know that politics is a money game - and right now Briceno - whose family owns SMART and Centaur Cable - has the cash flow to back up his political ambitions. We asked Musa about it:...
Jules Vasquez, reporter
"Mr. Briceno is a wealthy man, you ain't poor, but, in terms of cash flow..."
Hon. Kareem Musa, PUP Deputy Leader (East)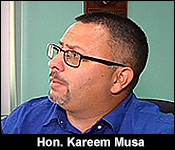 "I will be straight up with you, and say I could never match the amount of resources that our current party leader has. Never, But at the same time, as another colleague, you could say, Mr. Faber taught us, I think he said, it's all about the base. It's not all about the money."

Orlando Vera Fights For Freedom
(posted on Thu Oct 12, 2017)
Three months ago, we told you about the very bad luck that Orlando Vera was having in the Supreme Court. He's the ballistics expert who had a mighty fall from grace. He went from the Deputy Director of the National Forensic Science Service to incarcerated convict, after he was found guilty of abetment to pervert the course of justice.
He went to the Supreme Court for bail pending an appeal, and was denied 3 times. He is convinced that the former Chief Magistrate, Ann Marie Smith, wrongfully convicted him of offering to accept a bribe for businessman Michael Modiri so that he, could disappear evidence that police may have used against Modiri in a firearms case.
Vera even tried to get Justice Herbert Lord to recuse himself from as the judge who would hear his appeal. That's after those 3 failed bail applications, and that was also denied.
So, after spending 4 months of his 2-year sentence at the Prison, Justice Lord heard his appeal this week. It started on Tuesday, and ended today with his attorney, Anthony Sylvestre presenting 6 grounds of appeal.
The main ground focuses on trying to convince the judge to disqualify a key piece of evidence used against him in the case. That's the recording of a conversation which outlines Vera offering to take the bribe from Modiri to get rid of evidence.
The appeal lasted for 2 and a half days in which the judge carefully listened to the grounds of appeal from Vera's attorney, and the response from DPP Cheryl-Lynn Vidal. After it ended today, we spoke with Anthony Sylvestre about the appeal, and here's what he told us:
Anthony Syvestre - Attorney for the Appellant

"We were arguing six grounds on behalf of Mr. Vera, 5 of the grounds were in relation to why his conviction ought not to stand, and the sixth ground was in relation to sentencing. We finally finished this morning. It was a very tedious exercise but what we hope from the outcome of all of this is that there will be some guidance in relation to how other potential future cases will be dealt with. Two things emerged in argument, one in relation to the fact that this is the first time somebody was charged under the amendment to the criminal code, in the relation to the offense of the pervert of the course of justice."
"Then there is always the issue that contained a lot of our time was the issue in relation to whether CD recording, and the transcript ought to have been admitted into evidence under the provisions of the electronic evidence act. Of course, the prosecution had a different opinion, and our position was that that law, it changed the rules of admissibility in relation to how you're supposed to have certain documents be proven to be authentic, and those were things which we pointed out to the court would not have been established. The result of that is that if you take away the CD, and you take away the transcript, there may not be any evidence on which the court could then have active. And so, that is a substantial point, and an important point."
"Much may have been said, or much is being said outside of the court room, but our focus is what is taking place inside these walls. Whatever may or may not be people's perception, that ought not to color how a court conducts matters. And so, our focus, my focus has been and will continue to be addressing the law, and in that regard, that is how I advance my various cases for clients."
The judge has reserved judgement, which will be handed down at a date to be announced.

Truck Driver Charged In Fatal Accident
(posted on Thu Oct 12, 2017)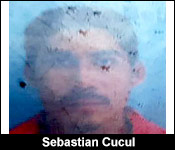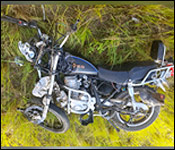 Yesterday we told you about the fatal accident between miles 32 and 33 on the Southern Highway - on the same stretch of road that had witnessed another fatality less than two days earlier.
32-year-old Sebastian Cucul, from San Isidoro Village was heading to Georgetown Village when he crashed head on into the left side of an 18 wheeler. 33-year-old Hector Amilcar Melara from Hopkins was driving that trailer truck and was heading in the opposite direction towards Belize City.
Cucul died on the spot from his massive head and body injuries. A notice of intended prosecution has been served on Melara.

Eight Million for One Mile
(posted on Thu Oct 12, 2017)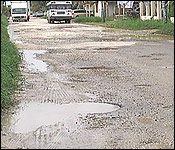 Fabers Road in Belize City is an important thoroughfare - it's an alternate route to the Western Highway, especially for those trucks hauling containers to the Port of Belize on Caesar Ridge Road.
It was last paved 19 years ago - and today, it's all broken up, to the point that, in some parts, is almost unfit for driving, especially after intense rains.
Well, now, Faber's Road - or at least a part of it - is going to get a multimillion dollar makeover. The Ministry of Works today signed a contract with popular UDP contractor the Imer Hernandez Development Company for the "reconstruction" of a one mile portion of Faber's road.
And while it may only be a hair more than a mile being reconstructed, the contract is for almost 8 million dollars. A press release from the Government says that 7.995 million will be used for roadway clearance, including the removal of any remnant structures, obstructions, fencing and the like within the road reserve; earthworks; construction of reinforced concrete box drains, sidewalks with roadside curbs and runoff channels; and pavement rehabilitation including the construction of a rigid concrete pavement.
The release also says that it was put out to tender, and Imer Hernandez's company won the bid, since his offer was consistent with the engineer's estimate.
The press was not invited to a signing ceremony in Belmopan today led by Works Minister Rene Montero, Port Loyola Area Rep Anthony "Boots" Martinez, and Imer Hernandez. They only called the government press office, and here's what the two government ministers had to say: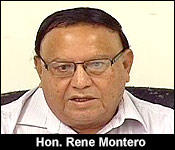 Hon. Rene Montero - Minister of Works
"It is important - very important and strategic because it is in the Southside of Belize City. We are committed to improving the city, because it is still the commercial center of this country."
Hon. Anthony "Boots" Martinez - Port Loyola Area Representatives

"This Faber's Road is about my constituency. The Port of Belize sits in my constituency, and that is the main artery for the cargo going out to the districts, and coming in to go to the port. And especially with the Lake Independence Boulevard, linking Chetumal Street, it a main traffic area for the cargo going in and out from the Port."
According to our records, the last contract to "rehabilitate" Faber's Road was completed by CISCO Construction in 1998.
The value of that contract was just 1.86 million dollars for 1.6 miles of a 2-lane bitumen surface road, including 115 culverts. 20 years later, this contract is 8 million dollars for a little more than a mile.

BDF Soldiers To Dominica
(posted on Thu Oct 12, 2017)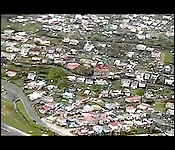 For the past three weeks, we have been reporting on the Caribbean island nation of Dominica which was devastated by the Hurricane, Maria's 185 mile an hour winds, which flattened the island's infrastructure, and caused 27 deaths.
They're on a very long road to recovery, and any assistance they can get is needed. So, that's why the Belize Defense Force is sending a company of Belize soldiers to help in the rebuilding efforts.
Defense Ministry CEO Felix Enriquez told the Government Press Office outlined the intended deployment:
Rt. Lt. Felix Enriquez, CEO - Ministry of Defense
"One of the various partnerships that we are heavily involved with in the region is disaster relief and in that effort the Belize Defence Force and through the Ministry of Defense is sending a platoon of light engineers to Dominica to assist with the reconstruction. As you all know that country has been badly devastated recently by Hurricane Irma and so Belize is sending a platoon of light engineers and they will be deployed hopefully within the next week for a period of 2 months to construction roofs and housing reconstruction in Dominica as part of the regional security system that Belize is a part of."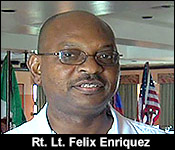 "Initially the request from the RSS was for security and because of various initiatives that were coming, not just from Belize, from other countries of the RSS. That has been addressed. If they do need security troops afterwards, perhaps we would consider it. However, what they need now is assistance with the reconstruction efforts and the light engineers which is within the Belize Defence Force, has been developed with our partnership with the US and Canada. Again thanks to the efforts of our partners are here today. They are equip fully to deploy and we've been asked to deploy and so we will."

Security Conference In Belize
(posted on Thu Oct 12, 2017)
That opportunity to speak with CEO Enriquez presented itself last week Friday when high ranking military officials from Mexico, Canada, the UK, and the US came in Belize for the 3rd Annual Multi-National Security Conference.
It's a roundtable session where all of Belize's military partners sit down to discuss share security concerns, and how best their military units could assist the Belize armed forces improve their capacities.
Last week's conference emphasized security cooperation and military capacity building for the Belize Defence Force, Belize Coast Guard, and the Joint Intelligence Operations Centre. The representatives from different military units who attended spoke on the importance of their participation in the discussions:
This year's conference was a 1-day event held at the Radisson Hotel.

CARICOM Open to Belize Chicken
(posted on Thu Oct 12, 2017)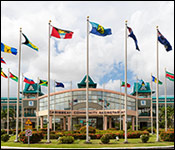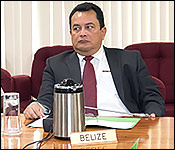 In February, Quality Poultry Products in Spanish Lookout was HACCP certified. and then in May, it was Caribbean Chicken in Blue Creek. HACCP stands for Hazard Analysis and Critical Control Point. It is basically a food safety system put in place by businesses to ensure that consumers get clean, quality goods which meet an international sanitary standard.
Now, beyond local customer satisfaction, Quality Poultry and Caribbean should be able to export chicken within CARICOM because of this certification.
A release from CARICOM states "The approval came on October 6th … poultry plants from six CARICOM Member States including Barbados, Belize, Guyana, Jamaica, Suriname, and Trinidad and Tobago - were cleared to sell poultry products intra-regionally ." This was the decision of the 71st Special Meeting of the Council for Trade and Economic Development (COTED) on Agriculture at the CARICOM Secretariat, Georgetown, Guyana.
We'll see how it goes, because Caribbean countries - Belize included - are famous for putting up barriers to trade to protect local producers.

PG Bar Owner Explains Extortion
(posted on Thu Oct 12, 2017)
Last night we told you about the two PG cops who allegedly extorted bar owner Joe Bejerano of $3,000. They had initially charged Bejerano for Human Trafficking but offered him to pay them off so he would not have to face the charges. Bejerano is not happy with the unprofessioanl actions of the police. He told PG TV he wants his money back.
Joe Bejerano, Bar Owner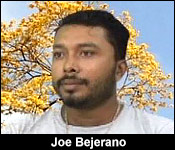 "They offered a deal that if I could come up with 1000 dollars for each end she could make this go away."
Reporter
"$1,000 dollars for each of the ladies arrested."
Joe Bejerano, Bar Owner
"Yes. I told her I did not have that kind of money she told me that she is the only one that could help me. I could go to prison for 15 years or I could try and go to trial but I will be charged."
"She took out her cell phone and called someone and asked for the mobile and in 5 minutes the mobile arrived. They drove me to my business place MJ's Bar."
Reporter
"So you believe you were hustled by the Police?"
Joe Bejerano, Bar Owner
"Yea because then how can they charge me for Human Trafficking and I was not in any vehicle with any women."
As we reported, the officers were both arraigned before a tribunal committee for the Act of Prejudice of Good Order and Discipline. Both officers pleaded not guilty. They have since been interdicted from pending the outcome of this matter. They were not charged criminally.

FFB, the Possibility Of An Alternate Future
(posted on Thu Oct 12, 2017)
On December second, the FFB will have its 11th Ordinary Congress to elect a President and a Vice President. Sounds simple enough, but the last two attempts to do this failed miserably.
It's one more ugly blemish on a Football Federation that's publicly perceived as chaotic. And into this mess steps two relative newcomers - who want to clean up the FFB, and restore some beauty to the beautiful game.
They publicly launched their campaign today and 7News was there:
Jules Vasquez reporting
Daniel Fabro and Frank Sharp are businessmen, but also football lifers - and now they want to save football in Belize by offering themselves as president and vice president of the FFB: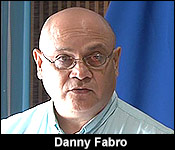 Danny Fabro, Aspiring for FFB Presidency
"You could say that our beautiful game has gone from grace to grass to even...Well just to think that a mere 50 or so years ago Belize could more than hold its own against the likes of Jamaica and others in this region. It was not long ago we could rally our powerful neighbors such as Mexico evenly without fear or favor. As a matter of fact it was recently that Belize was the second weakest in Central America behind Nicaragua. We are not even there anymore."
"Ladies and gentlemen we can do better than this. We must do better than this. We must heal its wound to the pride of our nation, for the sake of generations to come we must do better."
Frank Sharp, Aspiring for FFB Exec. Post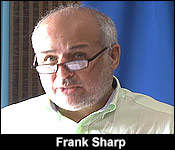 "I cannot emphasize that our intentions; Danny's and mine are noble and true, but also practical. I intend to do my utmost best to see our football family reconnect through the rebuilding of trust and confidence among all the members of the FFB at all levels."
It's a heartwarming and heartfelt pitch but football elections are a muddy ordeal - the last election was tied for 22 rounds without a winner. Now, football elections are pretty simple, 20 delegates vote, so the winner needs 11 votes:
Danny Fabro, Aspiring for FFB Presidency
"But it boils down to 20 delegates who will decide who wins - and these are the people the public needs to become familiar with and express what they want , because really the sport belongs to the public. It has been hijacked for years now from the public."
"We have been at it for over 8 weeks already meeting privately with all the delegates. We have met most of them on multiple occasions both face to face and on the phone. There is only probably about 2 or 3 members that we have not met yet of the 8 members. So we have been doing our ground work also behind the scenes."
Frank Sharp, Aspiring for FFB Exec. Post
"The people we've met with have all express absolute frustration at the support that they have gotten. There are no programs, there is no funding and there is no follow through on promises. I can tell that if we are involved, if we tell you something is going to happen, it's going to happen."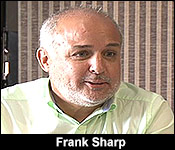 So - while they have the endorsement of a big name striker and other personalities in their promotional video, what makes these two outsiders think they can break into the bloodsport of football elections?:
Danny Fabro, Aspiring for FFB Presidency
"We are very much aware that the task we are trying to accomplish is a big one, because there are a lot of vested and monied interest involve and it is our hope that by going public with it with this campaign that the public will become involve in what is the entire process which has always been a hush-hush process and that way maybe we can pry away some of those delegates from looking out for their best personal interest and possibly putting the sport and the country first."
And with their supporting cast, these outsiders held this press conference to make a public pitch to try and change the entrenched culture of organized football in Belize:
Danny Fabro, Aspiring for FFB Presidency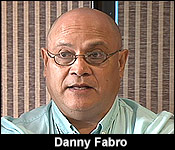 "And every time the public hears about football, it's usually negative and it's usually an infighting and we are hoping that we can overcome that."
Frank Sharp, Aspiring for FFB Exec. Post
"If the football family is happy with the state of football today, we are not the option. If they are looking for a new direction, a new vision, I think we present a new fresh vision."
Fabro and Sharp also launched a manifesto and a plan of action. They did not have any noted FFB personalities or delegates at today's event.

City Council Gets Fancy Equipment
(posted on Thu Oct 12, 2017)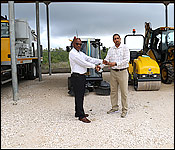 For months we've been showing you all that fancy heavy equipment which the city council got through the IDB funded Flood Mitigation Infrastructure Program.
But, all that fancy equipment was like a good "Sunday best" outfit, we only saw it in action once or twice.
Apparently, that's because the 2017 jet-vacuum truck, the 2016 street sweeper, the 2016 asphalt distributor truck, the 2016 backhoe loader, and the 2015 vibrator compactor were being kept scarce like "good cheese" by the Ministry of Works.
Today, the 1.7 million dollar package was handed over to the City council. We cannot tell you much more because the media was not invited - which seems to the standard operating procedure for the small minds at the Ministry of Works.

Keeping Cancer Message In The Forefront
(posted on Thu Oct 12, 2017)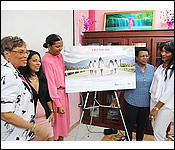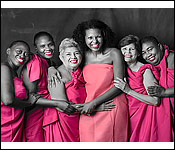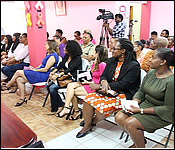 Its breast cancer awareness month, and to commemorate it, for 4 years the Special Envoy for Women and Children Kim Simplis Barrow along with her team have been releasing Cancer awareness posters. The women featured in the posters including Barrow are battling cancer. Now these posters aren't just pictures - they represent each survivor's journey, but more importantly the posters celebrate hope and strength in the face of cancer. The Special envoy's office usually just emails the posters but this year they invited the media to an official unveiling. It was held this morning at the Belize Cancer Society Office. The theme for this year is "A mile in my shoe."
Laura Tucker-Longsworth, President, Belize Cancer Society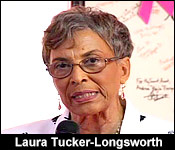 "We thought that this was a very important event because for the past 4 years this has been happening in kind of not enough publicity and we thought that cancer survivorship is such a key aspect, it is so important to life. It is the image, it is the whole thing."
Lisa Jeffries, Cancer Survivor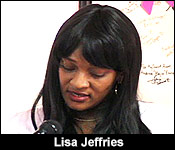 "How symbolic that we took these pictures that day on the bridge facing the sleeping giant, I see it as God showing us that with faith and with love we can cross over the other side. Through the sleeping giant I have come to appreciate life. I see how amazing life can be. I carry a new found torch, I will not let it burn out."
"To all women don't give up, as I said, don't let your torch burn out. We can do this, we can fight it."
Kim Simplis-Barrow, Special Envoy For Women and Children, Belize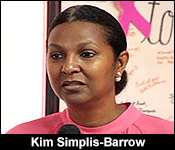 "It is not an easy journey, we might make it look easy but the emotional, mental, physical toll that cancer does to you it is something that can't be easily explained."
"My message is always to do self-breast examination, yes touch your breast, play with them, know them and be a amazed by them because that is what helped me to realize that I had a lump on my breast."
A few of the women in the previous posters have passed away but many are still fighting to survive.

Girls Rule
(posted on Thu Oct 12, 2017)
Yesterday was International Day of the Girl Child. It is part of the women's empowerment movement but in this case the focus is on young girls and how to overcome the many challenges they face on a daily basis. It is recognized all over the world but Belize has now caught on and observed the day. Member of the UN Gender Theme Group Ann-Marie Williams discussed the significance:
Ann-Marie Williams, UN Gender Theme Group Rep.
"The first celebration of the International Day of the Girl Child actually rolled around on December 19th 2011. The international day is not a new day but for us here in Belize it seems new. What happened the girl child has been a feature ever since 1995 when the Beijing conference was held. Belize prioritized five major areas and the girl child was not one of them, many of the African countries prioritized the girl child because of the vulnerability the girl child faces at that time and continue to face such as female genital mutilation, gender violence, all forms of sexual violence and we find out in Belize now, the time has come to actually mark the observance because the girl child is in trouble, to be born female is a disadvantage and it doesn't matter what people say, the data shows you that."
"The awareness though it brings to bear an opportunity for people in Belize to look at the marks we have made in terms of the girl child and to keep stock of the gains and to build on the gains that we have made. Belize has done well in terms of education."
"We have a number of women graduating almost 3 to 1 over the male counterparts at the University but we notice a lot of these women are not in fields like IT and engineering they have been taking part in non-traditional fields, still not many opportunities are open. In terms of health you have a number of young people particularly young girls who cannot access sexual and reproductive health services at the age of 15 or as an adolescence on their own."
"So we need to look at that, we also need to examine gender based violence, a lot of young girls face sexual violence and the common street harassment that men feel are okay "Hi babes, hi sweetie." Girls are not safe and it has been shown that when, that girls have a right to be safe, they have a right to an education and to live healthy lives and if as a society we can nurture those things then girls grow up to realize their full potential."
Information pamphlets were sent out to high schools and people are being encouraged to post #DayoftheGirl along with pictures and messages in support of young girls on social media.

Green Turtle Found Dead
(posted on Thu Oct 12, 2017)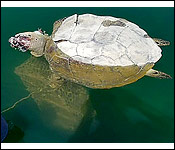 Yesterday a female Green Turtle was found dead off the coast of Punta Gorda. Nicanor Requena and his colleagues came across the lifeless turtle while on a recreational boating excursion. Requena and his colleagues immediately tried to assist the turtle but it was too late. He took to social media to share pictures of the sad sight. Today via phone he told us how it was trapped.
Nicanor Requena, Found Turtle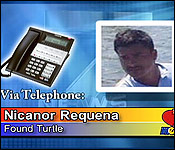 "We were on a recreational and basically what we observed was the Tuttle entangled a rope attached to 2 fish traps and what I proceeded to do along with my other colleague was to document it. We took pictures of it and we subsequently reported it to TIDE and to the Fisheries Department who in my opinion are the entities to follow up on it. Based on what I observed it could be that maybe it was a fish trap that was abandoned, but I have no evidence to say for surety that it was what happened."
"From my perspective it is a protected species being entangled in fishing gear and like I said I don't know if this is an isolated case or not, I simply meant to document it and have it be brought to the attention of those that can follow up on it."
Requena says this is the first time he has seen an incident like this. They did report it to TIDE and The Fisheries Department which will investigate.

A Hawksbill's Tale
(posted on Thu Oct 12, 2017)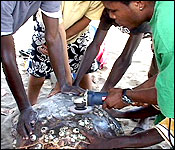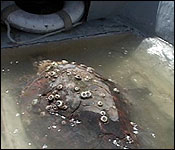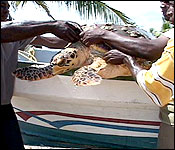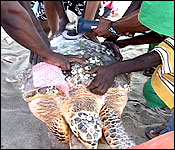 Indeed,6 of the 7 turtle special that inhabit the waters of Latin American and the Caribbean are threatened with extinction. In 2011, Jules Vasquez found out how researchers at Gales Point Manatee were using satellites to track and preserve Hawksbill Turtles:...
Jules Vasquez Reporting
Putting a sanding machine to a turtle's shell? That may seem cruel and unusual, but really, they're not torturing this mature female hawksbill - they're trying to help.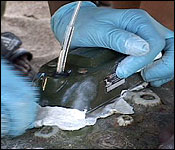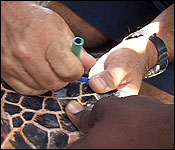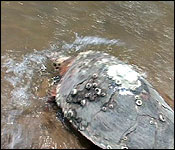 What they're trying to do is sand off these tough barnacles that have molted unto her - and while the old girl looked distressed, maybe even despairing - the grinding continued.
Why? Well, to take it back a few steps, she was captured two nights ago on this beach at the southern edge of the Belize district. As so many turtles do in the area she was laying eggs.
She was detained, not pending charges, but pending the attachment of this satellite tracking device.
So after being stored in this boat's bottom flapping furiously she was carted across the beach to this simple plank where no less than five strapping young man had to hold her down for the grinding off of those barnacles then some finding - which put her no more at ease and then the epoxy application.
And attachment of tracking device - which may not look like much - but is a five thousand dollars piece of hardware that sends out signals all day telling the world where she is..
And for all that money - you know there had to be a sponsorship tie in - this time it's PACT.
She seemed thoroughly un-impressed - but it is for the good of her species:
Kevin Andrewin, Chairperson - Gales Point Wildlife Sanctuary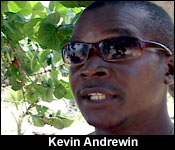 "What we are trying to do is install some satellite tag that we could track their migration pattern and also to tell how much time they come unless on the beach. Well we know normally they do 5-6 clutch but we want to be exact...we don't want to assume and also to see if they are in any danger, if they travel to any other country and check the population. That would give us an idea of how far these turtle migrate and it will also give an idea how it will return back to the nesting beach, whether it takes 3 or 4 or 6 years."
The satellite tag mounted on her back will last between three and ten months - and during that time - all types of information about her movement will be transmitted to researchers.
But before she started to move there was more odious testing to be done - measuring, and that other process no mature female is ever at ease with, weighing - and she made her displeasure known:
Kevin Andrewin, Chairperson - Gales Point Wildlife Sanctuary
"This is one of the biggest turtle we caught so far on the beach. She is a full grown female in good health and condition. She weighs 160-170 pounds - that a full grown female and a full grown female like that definitely will have the age of a little bit over 100 years old."
You heard right - she's more than a hundred years old - and some of them live to 200 years old - so no you know why those barnacles look so hardy - they've been formed in over a century of saltwater immersion! An incredible animal for sure
Linda Searle, Ecomar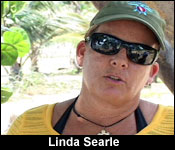 "They've evolve 110 million years ago. They are essentially living dinosaurs and they are very beautiful in the water. There is only 7 species in the world. They are very interesting to study. They migrate long distances. Some of the turtles that we spotted at Robinson Point - they actually nest in Costa Rica and they feed at Robinson Point. So every 3 years they migrate back to Costa Rica to nest which is like 1,500 miles."
They are the great ocean migrators and it's rare to get such a robust, well-aged specimen and tissue samples were also taken and she was embedded with a computer chip.
Linda Searle, Ecomar
"And also we take a tissue sample and what we are going to do is send away the tissue sample because actually the DNA from each turtle can be link to its nesting beach. We also put a pit-tag underneath the skin so if somebody was to encounter that turtle again probably in some time they will start to actually tag turtles on this beach and they will be able to record the different locations where the turtle nest."
An incredible animal for sure, and when it was all done, this, heavy old girl was lugged back to the water's edge and from there she knew just what to do - she flapped off like she'd just gotten out of jail, even generating a wake when she sped off.

Late Evening Murder
(posted on Thu Oct 12, 2017)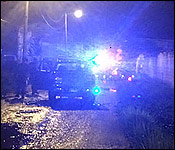 And before we close tonight - there is more bad news to report in Belize City. There has been another murder. It happened on Hicatee Street beside Roger's Stadium. We know that a man is dead inside a taxi, which is alongside a ditch. It happened just 10 to 15 minutes ago. Our news team is on the scene and we'll have more on this story tomorrow.

Home | Archives | Downloads/Podcasts | Advertise | Contact Us