Zika & The Plan to Keep It Out of Belize
(posted on Tue Feb 9, 2016)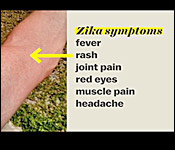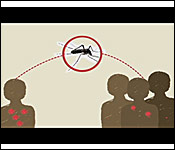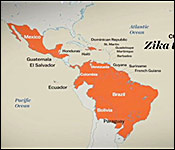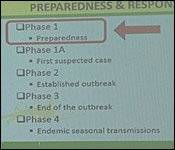 The Ministry of Health has activated its national plan to keep Belize Zika free. Today Health Professionals held a sensitization meeting at the Inspiration Center to discuss the possible threats of Zika. On Monday, The World Health Organization declared an international public health emergency after an outbreak of the virus has been confirmed in 26 countries of the America's - but Belize is not one of them. Still, it's all around us, in Mexico, Honduras, and Guatemala.
And so, although, Belize presently has no confirmed cases of Zika, three samples have been sent for testing, and Director of Health Services Dr. Marvin Manzanero told the media today that they have initiated their response plan and have engaged all health regions across the country.
Of course, ZIKA is spread by mosquitoes and a major component of any response has to be vector control. Chief of Operations in the Vector Control Program also highlighted key geographical areas of concern in Belize.
Dr. Marvin Manzanero, Dir. of Health Services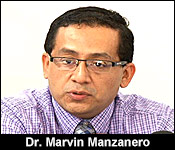 "So in essence what we did was we've revisited the plan, we've completed the plan. That is now going to be shared electronically with all the health regions and each health region will now have to do duplication of that training or sensitization session at their local level and I know Dr. Manzanero's epidemiology and surveillance team will start visiting the different regions as from tomorrow. In terms of getting the surveillance committees activated, we have started sending samples to CARPHA. We have so far sent 3 samples to Trinidad and Tobago. We have gotten one result back and that result was negative for dengue, chikungunya, zika. We still have no confirmed cases in Belize."
Kim Bautista, Chief Ops. Vector Control Program
"We are basically highlighting in the national preparedness response and preparedness plan for them to go back and look at their data. They already know the little hotspots within their district for example, if you look at the Cayo District, you might be able to single out certain areas within Santa Elena or maybe Las Flores, Salvapan, San Martin, Maya Mopan, St. Matthews, Camalote and even within Belize City, within certain areas within the Southside. So areas within San Pedro for example, San Mateo, San Juan and these areas. So countrywide I believe that the public health department knows the areas that are at risk and so what we have been trying to do is for them to work with the local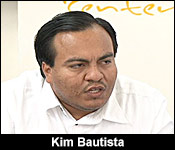 municipalities and stakeholders to not only disseminate health information messages and how to prevent the mosquito bites, but to start actively organizing themselves in terms of cleanup campaigns."
As it relates to the 3 samples - the first sample that came back negative for Zika is from a person who had traveled to Honduras, the second was from one who lived in an area where there are frequent travelers to Central America and the last sample came from a pregnant woman. The results of the 2 remaining samples should be in by Friday. Now, let's be clear on what Zika is. It's a virus spread principally through mosquito bites. The most common symptoms are fever, rash, joint pain, and pink eye. The symptoms are usually mild, and can last from a few days to a week. The greatest threat is to pregnant women because Zika has caused birth defects in Brazil.

Safe Sex and Zika
(posted on Tue Feb 9, 2016)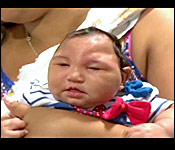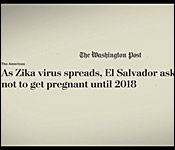 But, it's not just mosquitoes, health officials also discussed the possibility of the virus being sexually transmitted. This is after someone from Texas was reportedly infected with Zika after having sex with someone who had just travelled from Venezuela. The Centers for Disease Control has issued a warning for men who have traveled to Zika-affected areas to abstain from sex with their partner -especially if she is pregnant. Today health professionals issued that same warning to Belizeans.
Dr. Marvin Manzanero, Dir. of Health Services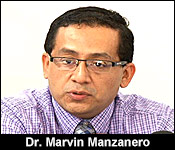 "The recommendation I guess would be we want to have protected sex. We were asked earlier this morning to put any particular precautionary messages outside. I guess we can continue to try to engage people in terms of condom use. I am not so sure how effective we will be in terms of zika, because I don't know if we have been effective in HIV for example, in promoting condom use. So I don't know if zika would be any trigger for people to start using condoms as a means of protection or as a means on contraception, which is what is being documented. I think our message will be sexual transmission is a possible form of getting zika. If you have been in an area where zika is documented, but I don't know if we will implement specific measures beyond the messages that we can share."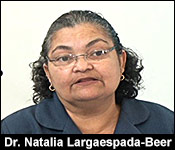 Dr. Natalia Largaespada-Beer, MCH Survellance
"Persons traveling to communities with active zika virus transmission especially men. When they come back to the country, they should be utilizing condom for at least 28 days. If the person travel to a community with active transmission of zika virus and confirmed to have an infection by zika virus then the recommendation is to utilize a condom for 6 months. That is what is documented and recommended so far by the World Health Organization."

The Microcephaly Threat
(posted on Tue Feb 9, 2016)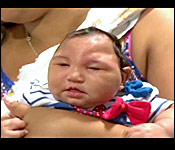 But while there is only that one Texas case so far with sexual transmission, the greatest risk - as you heard earlier - is to pregnant women. Specifically, Zika has been linked to a terrible birth defect called microcephaly, which causes babies heads and brains to stop growing to full size.
In Brazil where the Zika outbreak is the most aggressive, 4,000 cases of microcephaly have been reported. Additionally, the Centers for Disease Control in the US has issued a first-of-its-kind travel advisory for Zika, asking pregnant women to consider postponing their visits to countries where the virus has been detected.
But Manzanero told us that more thorough research and testing needs to be done to confirm if Zika is directly linked to Microcephaly.
Dr. Marvin Manzanero, Dir. of Health Services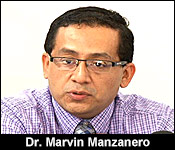 "There is not an establishment direct link. There seems to be something that needs further investigation. Microcephaly if you notice has been primarily documented in a certain geographic area of Brazil. But I was having a discussion and if you also read some of the articles over the weekend, Colombia has close to 30,000 cases of zika, but they had not have any Microcephaly cases in that population. So even that would warrant further investigation why in a certain geographic area it was more. If there was any other factor and I don't think any other country outside of Brazil has had any cases of Microcephaly linked to zika."

How To Stay Zika Free
(posted on Tue Feb 9, 2016)
Now you have heard what the Ministry's plan is to address Zika and the other health complications associated with the virus, but what can you do to protect yourself from getting infected? That was the main message of today's meeting. Health Surveillance Representative Dr. Natalia Largaespada- Beer told us that the public also holds the responsibility to prevent the spread of the virus.
Dr. Natalia Largaespada-Beer, MCH Survellance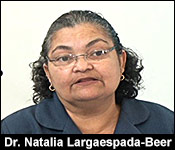 "One of the take home messages, to team that was at the meeting earlier, the planning session is prevention. There is nothing we can do once a person is bitten by the mosquito with the zika virus. But there is a lot we can do to prevent that to happen."
"For pregnant women, what we are recommending is, or women that wants to become pregnant, the recommendations are to use clothing that can cover the majority of the body parts during the day and in the night. To avoid being bitten by the mosquitoes, the use of repellents. There are specific names of repellents that persons need to look at. Keep the yard clean. That is nothing new. We have to keep the yards free to breeding sites. Use of bed net. Not only in the night. It is recommended now if you take a nap in the day, sleep under a bed net to avoid being bitten by these mosquitoes that circulate during the day. And most importantly for women and for their partners or other family members - to avoid traveling to communities with confirmed case of active transmission of the zika virus."
Again, there has been no confirmed case of Zika in Belize - and the results of the 2 remaining samples that were sent to CARPHA should be in by Friday. To be safe, those who develop a fever, other flu like symptoms and rash - somewhat similar to the symptoms of Dengue - should consult a doctor to be safe.

Rice War Stalls?
(posted on Tue Feb 9, 2016)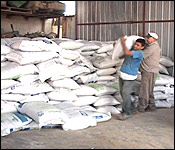 Since last week we've been reporting on the allegation that Belizean rice - the same kind you eat every day - could be contaminated. That's what importer Jack Charles reportedly told BAHA to look into last week. We say reportedly because BAHA, and the Ministry of Health have denied any knowledge of a complaint from Charles, while the Ministry of Agriculture said it is a matter for government's lawyers - and Charles himself only said that he would have something newsworthy for us on Monday.
That was yesterday, and nothing was forthcoming; and there was also nothing today - last word from him this evening was that he would make a public disclosure on Wednesday.
But, if he does make an allegation, or offer proof that there is any kind of rice contamination, we are reliably informed that the local rice producers are ready to strike back to dispute his claims. We'll see how it goes tomorrow.

How I Survived A Gun to the Head
(posted on Tue Feb 9, 2016)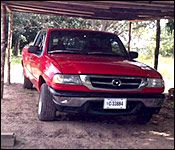 Last night, we told you about the two Canadian tourists who were robbed by 2 armed men who then shot a man and tried to kill him so that they could use his vehicle as a getaway.
Well tonight, a little more is known about the attack in which the Canadians, 75 year-old Stephen Temple and 65 year-old Cynthia Fredrick, were held up in their room at the Belize Zoo's Tropical Education Center, located between miles 28 and 29 on the George Price Highway. The men then fled the scene of the crime on foot, and stopped the first vehicle which came down the dirt road. That happened to be 52 year-old Jorge Lopez. Last night you heard a little of his story in Spanish - tonight we have the gripping firsthand account in English:...
Daniel Ortiz reporting
For the very first time since its doors were opened back in 1994, there was an armed robbery the Tropical Education Center.
Celso Poot, Operations Manager - Belize Zoo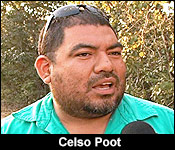 "A little after 4pm yesterday evening, two of our guests staying in one of the guest houses came over to the office and reported to the manager working at that time that they were just robbed at the guest house. Apparently, two mask men entered their house and held them at gun point and robbed them of their personal belongings."
"The Canadian woman had just come out of the house to take a photograph of the crocodile and while she was getting ready to take the photograph she was held up by one of the men with a gun and told not to make any noise and then took them in the house and lock them up in the bathroom and then went through their personal belongings."
That's when the men searched their bags, and found what they thought was valuable, and stole an assortment of electronics and camera equipment.
It is believed that they entered and exited the compound of the Tropical Education Center at this back gate.
Informed sources say that the two armed robbers stood at this area of the dirt road which leads back to the George Price Highway.
That's when they flagged down 52 year-old Jorge Lopez, the first driver to come venturing down the dirt road.
He's a concerned Belizean who thought he was stopping to render aid two honest individuals, and he was rewarded for his kindness with a bullet. He's very lucky to be alive because the robbers attempted to kill him for his truck. He came face to the muzzle of a ruthless gunman, and he only escaped because the shooter's gun jammed when it pressed up against his head.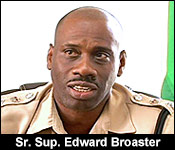 Sr. Supt. Edward Broaster - OC, Eastern Division Rural
"One Jorge Lopez who was coming in his red pickup attempted to render assistance and he was shot, not before he inflicted a chop wound to one of the suspects who is at the KHMH under police guard at this time."
Yesterday, he recounted his that deadly stare down with his would be killers.
Jorge Lopez - Shot By Armed Robbers
"When I stopped, one of them came forward quickly followed by the other. I got out of the vehicle and turned to close the door behind when I felt the shot on my back. I fell to the floor and same one that fired approached me with the gun but it snapped three times. He was about 2 yards away. I pulled out my machete that I keep in the pickup and I injured one of them."
That's when the other assailant grabbed a rock, which he intended to use to bash Lopez in the head, but he managed to fend off that attack. He then instructed the injured shooter to shoot Lopez in the head.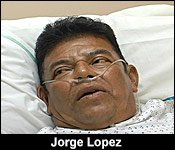 Jorge Lopez - Shot By Armed Robbers
"One of them told the other to shoot me in the head but the gun didn't fire. So they get inside my car and escaped."
That injured man was forced to seek medical attention at the KHMH for his chop wound, and that's how the police found him. He is under guard while the doctors treat him, and as soon as he is well enough, he's going to be facing a slew of criminal charges.
Sr. Supt. Edward Broaster - OC, Eastern Division Rural
"Our investigation is ongoing right now and more than likely we will have the suspect who is at the hospital charged for robbery, aggravated assault and what have you."
Police continue to look for the stolen red vehicle, a Mazda double-cab pickup truck, which they believe might still be in the possession of the other assailant who escaped unharmed. Anyone with information on the whereabouts of this vehicle, or a suspicious one looking like it, is asked to assist the police by passing that information along.
The shooting victim, Jorge Lopez, continues to receive treatment at the Belize Healthcare Partners Hospital, and he told us yesterday, that the doctors aren't sure yet when he might be well enough to go home.
The man he chopped, continues to receive treatment at the KHMH, and though we have his name and photograph, we cannot release it as yet because police are concerned that it could prejudice their criminal investigation against him.
He is expected to be charged with robbery, aggravated assault, and possibly attempted murder. Until then, we're obliged not to reveal his identity.

69 Slaying Still Unsolved
(posted on Tue Feb 9, 2016)
Police still haven't confirmed if the knife found at 69 bar in Teakettle is the murder weapon. They say they hope to get the results by the end of this week. As we told you, Chinese bar owner Zhijiang Zhang was slashed and stabbed to death early Saturday morning. Police believe the masked robber got into the bar through the 3rd floor window. He struck one of the female workers on her head with a gun and then went downstairs after Zhang. Another female worker emerged out of a room to help Zhang but she was shot in the leg. The culprit then cut and stabbed Zhang after he lost the gun's clip in a struggle with Zhang. Today police told us that they have released all 12 female workers, and are looking for one more person. Also police told us that about $600 was found at the scene but they can't confirm how much money had been stolen. The woman who was shot in the leg was released from the KHMH yesterday. We will keep following this case.

Vision-ing Yabra
(posted on Tue Feb 9, 2016)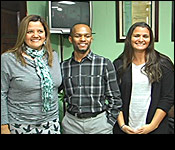 40 years ago, it used to be that the area called "Yabra" - was like the end of Belize City. Since then, the city has fanned out into the swamps, and "Yabra" is now more like off center to the city. And now some American planners want to make it a model community.
These consultants are experts from The American Planning Association, a non-profit NGO which specializes in improving communities in the US. The head of the delegation is Justin Moore, a New York City Department of City Planning, and he and his other colleagues landed in at the PGIA this afternoon. Shortly after arriving in Belize, 7News got a chance to meet with the APA consultants, and we spoke to them about their mission for the place known as "Yabra". Here's what they told us:
Justin Moore, American Planning Organization
"We are here to look at the Yarborough neighborhood and the waterfront re-development potential. Really looking comprehensively at the city, not only redevelopment, but transportation, social, cultural, social issues, infrastructure and long term resiliency and sustainability for the city."
"This first team is really looking at the lay of the land and understanding what the issues of stakeholders area and we'll come back with multiple experts; so people from different backgrounds and different types of expertise later in the year and where we'll do more detailed recommendations."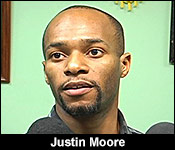 "In urban planning and design, it really looks at the entire context of the city. So all the issues of the economy; what are people's housing situations; what we are the education and recreational activities for young people. Those are all conditions that need to go into how a neighborhood is put together. So I am coming from New York; it is a place that historically had issues with crime and many social issues. Over the generations there have been improvements both in the kind of programming, policing, education programs, but there have also been changes to the city itself - improvement in parks, improvement in transportation. So those are the types of things that we want to look at and investigate and talk to people here in Belize City and Yarborough to kind of understand the opportunities there."
Daniel Ortiz
"Is zoning a major part of this or is that the main focus?"
Justin Moore, American Planning Organization
"Yes, it's a part of it; I would say it is one of the major tools in terms of administrative things that could be done; actionable things the city government can do to help control development and guide development. So that is one of the reasons we are being brought in, planners, people that have this technical expertise to talk about how land use, zoning, different regulations can be paired with things like infrastructural improvements and even kind of cultural social programs to sort of improve the development of the neighborhood. So that's something that I personally have expertise in."
Daniel Ortiz
"For this to work we would presume that participation from the Yarborough community is necessary."
Justin Moore, American Planning Organization
"Ultimately it's your community, it's your neighborhood and your ideas are valid for what the future of your neighborhood is going to be. So we will be a number of different stakeholders while we are here. We will be coming back and I think there is opportunity for people to start brainstorming ideas that they would like to offer. But also to respond to things that we say."
Moore and his fellow consultants are expected to go on a tour of Yarborough with the Mayor tomorrow, and after that, he will start to meet with the residents of that community. We'll show you how that goes in tomorrow's newscast.

Clinics Now Cost More At KHMH
(posted on Tue Feb 9, 2016)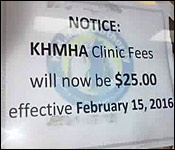 The price that you pay at the Karl Heusner Memorial Hospital for some services is going up. That's right, starting next week it will cost 150% more to get non-emergency services at the KHMH. A notice went up on the hospital door informing the general public that starting on the 15th of February, all clinic fees will now be $25 dollars. We phoned the public Relations officer at KHMH to ask him about this price change and he told us that the increase in clinic fees is a necessary adjustment to keep up with the rise in health care prices. Tillett also noted that despite the increase, patients will still be paying only 36% of the actual cost of the services. We understand that there are other price changes taking place in areas such as the physiotherapy unit. This is to come into effect in March.

Killed Two Men, Home Defender Got Time Served
(posted on Tue Feb 9, 2016)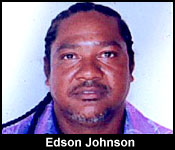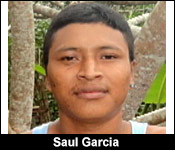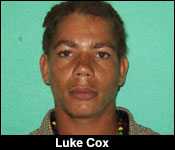 A man was freed yesterday in Orange Walk after he was sent to jail for killing two men in 2014. In April of that year Edson Johnson, now fifty-three, was arrested and charged for the murder of twenty three year old Saul Garcia and twenty four year old Luke Cox. Johnson shot the two men after he caught them stealing on his property on the outskirts of Carmelita Village, Orange Walk. They had torn off the electrical wires, removed the zinc roof, sheet rack and had taken other items from the buildings on the farm on his property. The two were sprinting towards an escape vehicle when Johnson caught up with them and fired several shots in their direction fatally wounding both men. It was argued in court that Johnson was only protecting his property; nonetheless he was slapped with conviction of six years in prison after the court ruled that he had used excessive lethal force. But CTV-3 in Orange Walk reports that yesterday after 18 months in prison Johnson's sentence was reduced to one year. However, due to the time already served behind bars, CTV says Johnson was released immediately.

Nah Not Prosecuted
(posted on Tue Feb 9, 2016)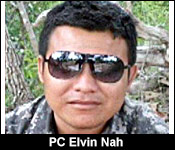 In July of 2014, Carlton Flowers accused Police Constable Elvin Nah of shaking him down for $400 dollars - so that he wouldn't be charged for two small bags of weed. It happened on San Pedro after Nah searched a golf cart Flowers was driving and found four grammes of weed. The constable was charged for extortion but the charge was struck out today by Chief Magistrate, Anne Marie Smith, when complainant, Carlton Flowers, failed to appear when the trial was set for its final adjournment. Nah was represented by attorney Anthony Sylvestre.

Guate-Milperos Moving In To Chiquibul
(posted on Tue Feb 9, 2016)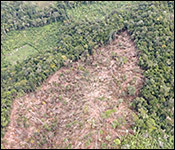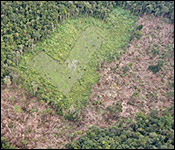 The Friends for Conservation and Development, FCD, is reporting tonight that it did a fly-over tour of the Western Flank of the Chiquibul National Park last week and found 17 new clearings made by Guatemalan milpa farmers.
The FCD is concerned that this activity has started up once again, and may progress rapidly if left unchecked as the dry season starts to set in.
They're recommending the activation of patrols and operations to suppress the advance in the clearing of primary forests in the areas affected.
The major areas of impact are noticeable on the northern section of the Caracol Archaeological Reserve and on the southern region of the Chiquibul, known as the Cebada area.
The Guatemalans are being warned with an information campaign through radio stations in the villages near the border. These citizens are being reminded of the penalties if they are caught in the Chiquibul clearing forests for milpa farms.
The FCD will take several fly overs as the dry season sets in.

Cycling Association Responds To Kaya Controversy
(posted on Tue Feb 9, 2016)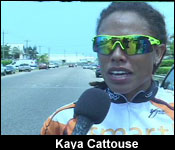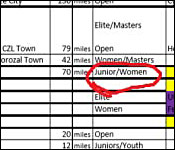 For the past week we have been following the case of elite female cyclist Kaya Cattouse who made a facebook stink about the cycling federation. Kaya alleged that the federation was discriminating against her and other female cyclists by excluding them from the upcoming Digicell Valentine's Tour. The vice president of the cycling federation told us yesterday that the entire matter was blown way out of proportion. Today he visited our offices where he hoped to set the record straight once and for all. He says it all started with the annual cycling calendar that was released to all cyclists in January 4th.
Orson Butler, VP, Belize Cycling Federation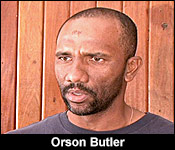 "She went back to the same point again and explained why is it that they don't have for the female when the female cross country is before and I explained the same thing that I explained a little while to you just now, that the female competition doesn't have international competition. So the federation sees it best to have a tour for the elite, but at that same moment I explained to her they have an event later on the year for the female which is a tour. Because the federation is seeking a race to go internationally. So we believe it's going to be best to have the tour for female and juniors around that time. So that they are in better condition to face that type of competition. Well Kaya's response at that time was "well you know I have to write my thing on facebook." I told her be very careful of what you write and that was it."
A few likes and a couple of facebook shares, was all it took for the complaint to go viral. And, pretty soon, the Prime Minister's wife Kim Barrow - was taking a stand with Kaya.
But Butler insists that contrary to perception, the Federation does strive to develop women in cycling:
Orson Butler, VP - Belize Cycling Federation
"I'll be frank with you, I've been around cycling for 25 years and from ever since 1990 I believe when it was Solis rode the first cross country, we only had one female participation in one race and that's the Holy Saturday Cross Country. At this stage 2015, every race on the cycling federation calendar has a female event. So it cannot be female equality. It's just to me, I believe it's just rudeness - outright rudeness."
Emanuel Pech
"So where would the perception of gender base discrimination come from?"
Orson Butler, VP - Belize Cycling Federation
"Well to be honest, that's all make up. It can't be a gender base. If you check all the resources and all the sporting event in Belize, cycling is the only sport in Belize that has a female race every time there is a male or junior event on our calendar, being it's a classic or criterium. Once its run under the federation of Belize we have an event for the females."
According to the Federation's calendar of events, a country tour for the female and junior cyclists is set to take place from the 13th to the 15th of May. As for the warning letter issued to Kaya where she was threatened of a possible fine and suspension, we understand that the federation never followed up on that.

Ebony Smothered By Dust
(posted on Tue Feb 9, 2016)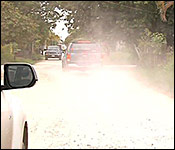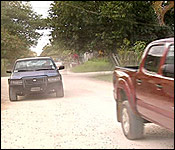 Residents of Ebony Street in Belize City are making a public plea to the City Council and the Government to remedy a situation that is smothering them in thick clouds of dust. Residents told us that the situation only got worse when the Chetumal Street Bridge was opened to the public. The city council used to send a truck to water the street, but it has been a while since the water truck has been around. And, in the meantime, residents say the situation is getting so out of hand that it now poses a health risk:
Jose Sosa, Concerned citizen
"This is happening for the past 3, 4, 5 years. But it has gotten worse now with that bridge that got fixed. Because it's like every 2 minutes, every 2 -3 seconds vehicles pass here and its big trucks, buses, BEL truck - all of those trucks brings lots of dust. If you see everywhere, you will see the dust."
Emanuel Pech
"What are some of the things you have to deal with on a daily basis?"
Jose Sosa, Concerned citizen
"The dust. What how I am living - everything is dusty. That's how my vehicle look. What how everything looks - dusty. You can't even hang clothes outside because it gets dusty. In fact it's not healthy at all. In 2016 middle town, this not a back street, nor village - this is middle of a city and look on the road."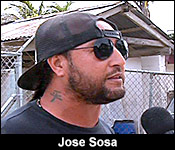 Emanuel Pech
"What is the ideal situation you want to see?"
Jose Sosa, Concerned citizen
"Just a water truck. All this place needs is a water truck, because it looks like they plan to pave it. But in the meantime you have to have a water truck for keep down the dust and I am glad that they will pave it too. Just in the meantime send a water truck. Constructive criticism for the government, nothing personal. No PUP, UDP - we are not involve in politics at all. We don't deal with politicians. Anyone who is in charge, it is them I would want this message reach out to. Nothing personal."
We could not get a comment from the City Council today.

The Mestizo Carnaval
(posted on Tue Feb 9, 2016)
Tomorrow is Ash Wednesday, the First Day of the Lenten Season, an important observance for Christians. But where there is Lent, there is also Carnival - in countries all across the world. In Belize, our Carnival is in September, but the Mestizo in Corozal and Orange Walk have an observance called Carnaval.
The Institute of Social and Cultural Research today released the second part of its Belize Cultural Celebrations Series, which features the study of Carnaval. That happened today, and we have a short excerpt of their report on this Mestizo cultural mainstay. Here's what NICH found out:
If you would like to see the rest of the documentary, it will be posted on NICH's YouTube Channel, and their website. It will also be shown on Channel 7 later this week.
And….It will be handed out to schools across Belize to be used in social studies class on the history and cultures of Belize.

Baby Nina Gag Order
(posted on Tue Feb 9, 2016)
The custody battle for Baby Nina made national headlines in November of last year, and we followed her case when it went to court in December. But, when a child's future is in the balance, too much publicity can be a bad thing - and that's why the judge decided that all sides would be bound by a gag order. And so when the case went to court today - no one could tell us anything. We do know that it has been adjourned to Friday and that 2 year old Nina remains in foster care.

One Last Look From Haitiís Martelly
(posted on Tue Feb 9, 2016)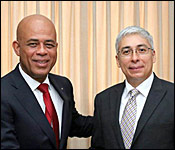 Haitian President Michel Martelly may have left office on Sunday with no replacement yet named, but before he did that, he accepted the credentials of Belize's Oliver del Cid, the Ambassador of Belize to Mexico.
A press release says that Martelly and Ambassador del Cid expressed their countries' commitment to furthering their ties of friendship and collaboration.
The Embassy of Belize in Mexico, is now accredited as Belize's Non-Resident Embassy to Haiti, and also serves as Non-Resident High Commission to Jamaica.

Home | Archives | Downloads/Podcasts | Advertise | Contact Us