Gunmen Kill Kneeling Tacos Vendor and Shoot Three Females
(posted on Mon Jul 28, 2014)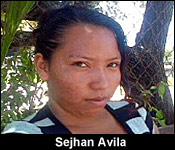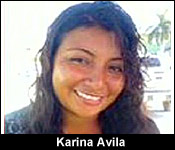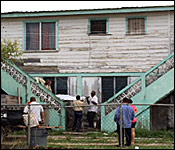 This morning patrons of the tacos lady near Atlantic Bank on Freetown Road - didn't see "Ms. Alida" there - and that's because she is in the KHMH intensive care unit fighting for her life.
Alida Ascencio was one of four victims in a brazen home invasion and shooting which left one man dead and three females with gunshot wounds. It happened at dawn on Saturday morning, when two men walked into a home on Mopan Street with the intent to rob the tacos vendor who was up early preparing chicken. But, instead of just robbery, they turned the gun on all four persons in the house. It's an act of gratuitous and excessive cruelty and Police told the media more today.
Daniel Ortiz reporting
At around 6:20 a.m., Police removed the body of 52 year-old Carlos Mayorga, about an hour and a half after he had been killed inside his Mopan Street House.
It was a bit too much for his family and friends to deal with, and after the body had been escorted out, they huddled together and consoled each other.
His death was the result of a gruesome crime. 2 armed gunmen barged into their home while they were putting together their ingredients for their tacos business.
Sr. Supt. Alden Dawson - OC, Police Precinct 1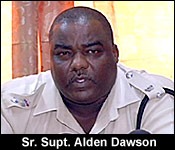 "Police from Precinct 1 responded to a report of shots being fired at #47 Mopan Street. Upon their arrival at that resident they saw the lifeless body of Carlos Mayorga, 52 years old, a food vendor of the same address suffering from apparent gunshot wounds to the back of his neck, his left shoulder in a kneeling position inside his room at the foot of his bed. Also there were 3 other females."
Those females are 21-year-old Sejhan Avila, 19-year-old Karina Avila, and 42-year-old Alida Asencio. After the men robbed them of a substantial amount of money - which they handed over freely - one of the gunmen callously executed Mayorga. He then turned the gun on the others in the house and fired without conscience.
Sr. Supt. Alden Dawson - OC, Police Precinct 1
"Initial investigation revealed that these 4 persons were preparing food at that address when 2 male persons entered the home from the back door and made demand for money. They took all persons into the Mayorga room where they demanded money. He handed over a total of $2,000 - that was when he was ordered to kneel at the foot of the bed and one of the male person who were carrying a firearm - there were two persons; a short and a taller one, the short one who had in possession a firearm then pointed the gun at Mayorga and fired two shots which caught him one in the chest and one at the back of the head. He then pointed the gun single times at each females and fired a shot which led to the injury they are suffering."
"Mayorga succumb to his injuries while the other 3 females are in the hospital recovering. At this time we have 3 person in custody and the investigation is ongoing."
Of important note is that Carlos Mayorga was found in a kneeling position. He complied fully with the robbers, and so did the other women, yet they were still shot, even though the men got what they were after. He died from injuries to the back of neck and the left shoulder.
Police have detained three Belize City men, pending investigation. Reports say that Alida Ascencio received massive internal injury from the shot to her abdomen and remains in the intensive care unit.

BTB Driver Says Motorcyclist Veered Into His Lane In Double Fatality
(posted on Mon Jul 28, 2014)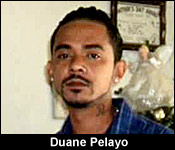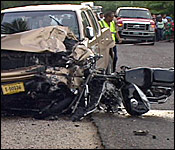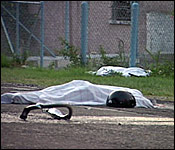 When we left you on Friday night, it was with the tragic news that there had been a double fatality on the Northern Highway near mile 7. Two men on a motorbike were flung across the road when they collided into a Nissan Navarra. One of the men was found 13 feet away from the point of contact, the other was found 41 feet away.
Monica Bodden was out there on Friday night, and she has the full details in tonight's story:..
Monica Bodden reporting

The fatal traffic accident happened between miles 6 and 7 on the northern highway - at around 5:45 on Friday evening.
Traffic was backed up for miles and for hours as police processed the scene.
Facing towards Belize City - this gold Nissan Navarra - belonging to the Belize Tourism Board -is seen here on the extreme right of the highway with extensive damage to the left side of the vehicle.
Next to it was the wrecked motor cycle that 31 year old Duane Pelayo and 48 year old Gerald Gillett were travelling on when they lost control.
Both men died on the scene.
One body was seen about 13 feet away from the crashed vehicle and the other lay off the shoulder of the road on the opposite side of the highway.
After processing the scene for over an hour, the men's bodies were removed by police and taken away before of a crowd of spectators.
Supt. Chris Noble, OC - Ladyville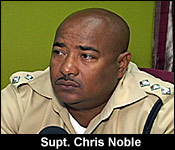 "The information we have presently is that the motorcycle rider and pinion rider were on their way to somewhere in this area, in Ladyville and collided, may have collided into the pickup. We are looking at what may have caused it. We did speak to the driver who was injured to some extent. We are looking at what may have caused either party to veer into whatever lane. Our indications may be one that one left his lane and collided into the other, or something else may have caused that fatality."
Howell Pandy - Eyewitness
"When the thing happen, I got out of my car and the one in the middle of road looks like he was dead, but the one on the fence was breathing for a while and then he stops and then we thought that he must have died too."
Mike Rudon, Ch 5
"I guess it massive head and body injuries."
Howell Pandy
"The one on the road, his whole face looks like it got torn off, he was face down and blood was coming out. The next one on the side over there didn't look like he was burst up but it looks like his feet were broken up."
40 year old Leslie Nicholas was the driver of the BTB pickup truck and was travelling in the direction towards Belize City. Nicholas told police that between miles 6 and 7 of the highway, he saw the black motorcycle that was travelling in the opposite direction suddenly serve into his lane. He tried to avoid the accident but the motorcycle which was driven by Pelayo slammed into the side of the pickup truck. Howell Pandy was travelling on the highway at the exact time of the accident and saw what happened.
Howell Pandy - Eyewitness

"I saw the cycle fly passed me and hit into a black truck on the side of the road. When it hit the black truck it cut away right into a BTB vehicle and right up in the air and flat on the ground."
Mike Rudon, Ch 5
"It seems that the BTB truck was on its side just from looking at it. Was the cycle overtaking or did it lose control when it knock the black vehicle?"
Howell Pandy
"It overtake the black truck and hit the mirror on the black truck and then it went over to the left and the BTB truck look like it was trying to get out of the way off the road, but it still hit him."
Today both families are grieving the loss of their loved ones. Gillett who was a security guard was getting a ride to work when he lost his life in the tragic accident.
Kimana Gillett - Sister-In-Law
"Actually Friday was his mother's birthday and so he came to his mom's house to wish her happy birthday and he was joking around with everybody as usual because he is a very loving person. He is always expressing his love to everybody in the family and he left for the bus terminal to go to work because he works up in Ladyville. When we got the news nobody expected that. Sitting down and think about his, the on word that keeps on resounding in my head is love. He was always full of love, always expressing love to everybody. Wherever he went he was so full of life and so energetic and so caring and always sincere about it."
The driver of the Nissan Navarra 40-year-old BTB Employee Leslie Nicholas received only minor injury.
Police are not yet saying who caused the accident - but Nicholas told the cops that the cycles swerved into his lane.

Police Say MS-13 Members Set Up Foiled Extortion
(posted on Mon Jul 28, 2014)
Last week Friday, we told you how police foiled an extortion attempt of a businessman in Orange Walk and charged a man who they say was caught in the act during a sting operation.
That man is 23 year-old Edwin Flores, and tonight, he and his girlfriend remain at Belize Central Prison. Still police continued to investigate the crime, and at this time they now believe that he is a member of the MS-13 gang.
Today, the high command of the Police Eastern Division held a press briefing, and they explained how Flores was caught in the act.
Supt. Hilberto Romero, O.C., C.I.B., Belize City

"As a result of an operation that was conducted in Belize City in regards to a report made by a businessman in Orange Walk, police conducted an operation at the cemetery in Belize City which led to the arrest of a female. The information was that this person was called in Orange Walk via cell phone and threats were made to him to deliver a certain amount of money at the cemetery. Police set up the operation and when the money was delivered, this female had retrieved the bag of money that was placed at a certain location. Further investigation led to the arrest of one Edwin Flores on Newtown Barracks along with one Francisco Rodriguez. Edwin Flores along with this female has been charged jointly for blackmail. The operation also led to 4 other gang members who have also been charged with gang insignia, namely the MS-13 Gang."

Police Say MS Members Also Set Fatal Kimmie's Fire
(posted on Mon Jul 28, 2014)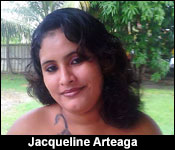 And good police work hasn't stopped at that foiled extortion attempt. According to police, 21 year-old Francisco Rodriguez, was with Edwin Flores at the time of their sting operation, and he was picked up by police.
Under questioning, he has reportedly confessed to setting the fire on Newtown Barracks which destroyed Kimmies Bar, Business Computer Systems, and Pandora's Café. Viewers may also remember that 21 year-old mother of 3 Jacqueline Arteaga perished in that fire.
The Officer Commanding Eastern Division's Criminal Investigations Branch explained how the details emerged about the Kimmie's Fire, and how Rodriguez is also linked to an armed robbery in Benque Viejo.
Supt. Hilberto Romero, O.C., C.I.B., Belize City

"Francisco Rodriguez was wanted in Benque for robbery with firearm, as a result he was taken there. He was charged and taken to court and he plead guilty and was sentenced to 5 years. Further investigation was conducted on Francisco Rodriguez. Statements were recorded which led police again to prepare a file. That's in regard to the death of one Jacqueline. This is the fire that occurred at Newtown Barracks where 5 building were destroyed and this female had died in the fire. Again we will charged Francisco Rodriguez for arson and for manslaughter regarding that fire."
Rodriguez is currently serving 5 years after pleading guilty to that robbery in Benque. He will also be charged at the earliest convenience for the crimes of arson and manslaughter for the Kimmie's Fire.
His family has claimed that he isn't responsible for the Kimmie's fire, and that police brutalized him into giving that confession.
Police intelligence is that Rodriguez may also a member of the MS-13 gang. Viewers may know that this gang started in Los Angeles, but has since spread to the other parts of the US, and it has embedded itself in Mexico, Honduras and other parts of Central America. It now seems that the gang is making a presence in Belize's underworld, and so today, we asked the police about their operations to counter this transnational threat:
Sr. Supt. Edward Broaster, Dep. O.C., Eastern Division
"The MS-13, the way they operate, they do a lot of extortion especially in particular to Central American immigrants who are working here in Belize, but the threat and retaliation does not occur in Belize; it occurs in El Salvador. Their operation is kind of sneaky as it pertains to extortion and so forth from the immigrants who are working here in Belize, but the repercussions occur in Salvador. So we have to really gather good intelligence and do quality investigation in order to deal with the MS-13 here in Belize."
Elvin Guiterrez, Hilberto Ruiz Sr., Jose Reyes, and Edwin Flores, were all charged with DISPLAY WITH GANG INSIGNAs for their MS-13 tattoos.

Foreign Minister's Brother A Wanted US Fugitive
(posted on Mon Jul 28, 2014)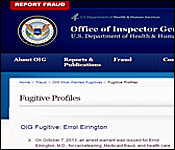 Dr. Errol Elrington, he's well known in Belize as the US-based younger brother of Foreign Minister Wilfred Elrington and attorney Hubert Elrington. But tonight, news has emerged that he's a wanted fugitive in the United States. The website of the office of the US Inspector General in the Department of Health and Human Services has him listed on its "fugitive profiles" page.
It details that in October of 2013, an arrest warrant was issued for Elrington for racketeering, Medicaid fraud and health care fraud. The website says Elrington falsely billed Medicare and Medicaid more than four hundred thousand dollars for services that he never performed, and he employed an unlicensed physician who engaged in criminal sexual misconduct.
The allegation is that Elrington was the owner of a private medical center known as Elrington Medical Center in Michigan where he employed an unlicensed doctor then billed Medicare and Medicaid as if he performed the services. That unlicensed physician is being held, but according to the website, Elrington fled the United States for Belize 24 hours after he was questioned by Federal and State agents. He remains a fugitive at large, the website states.
We note that the offenses he's accused of are Federal, which are very serious because they allow for extended criminal penalties. Elrington is still reported to be in Belize where his brother is foreign minister. Notable, because in all cases, requests for extradition of wanted US fugitives come through that Ministry.
And while he's considered a fugitive in the states, in Belize, Errol Elrington received the Order of Distinction IN 2009. That is the third highest official honour that can be given by the Government of Belize - for recognition of his contributions to the Belizean Community in Detroit.

9 Days Missing, Police Not Giving Up On Hattieville Chairman
(posted on Mon Jul 28, 2014)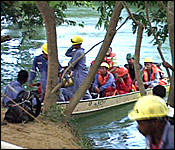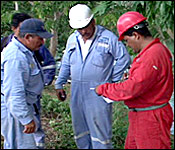 Tomorrow morning will make it 9 days since Hattieville Chairman Kevin Carcamo left his village home; he hasn't been seen since. Hope is fading fast that he will be found alive - but this morning, the officer commanding Ladyville police told us that law enforcement remains committed to the search.
Robin Schaffer reporting
This swatch of red is the last known area where Kevin Carcamo was seen. Since then, two helicopter flyovers of the area have crisscrossed it north and south, east and west.
The blue and yellow lines show the route that the helicopter took in two flights last week. Both of them showed no sign whatsoever of Carcamo.
His employer Discover-seis Geophysicial Services has downsized their search team, but eight days in, law enforcement is still carrying on:
Supt. Chris Noble, OC - Ladyville
"We are still having active searches on certain areas and we expanded that search over the weekend with persons going into these areas to physically check particular places. The Coast Guard is still onboard with us. The BDF is still onboard with us. We are still looking for Mr. Carcamo. We are hoping for the best outcome. We may end downsizing it a bit, but not to the extent where we totally rule it out. Persons have been missing for years and continuously whenever we get that information we check different areas. It's not that we are going to be moving away from it. It's just that we want to bring Mr. Carcamo home safe."
Police say they will be questioning some persons:
Supt. Chris Noble, OC - Ladyville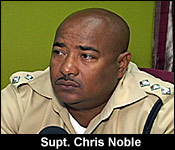 "We are going in a positive direction. However it will now become something quite uncomfortable for some people and now we will be hack holding on to persons for clarity with regards to our investigation. It is now on our part that we are questioning certain things that was said to us at the initial stage and that may end up having persons detained for the purpose of clarity or as a part of our investigation."
And, police say, if you have any information, please call:
Supt. Chris Noble, OC - Ladyville
"We are asking the public to just use the numbers that are out there because a reward is now being offered for his return."
The company he works for Discover-seis has offered a ten thousand dollar reward for his safe return.
And while the helicopter searched the air, the Coast Guard has searched miles of waterways - including diving within the Sibun searching its depths. No one has come up with even a fragment of clothing.

Caye Caulker Water Taxi Blamed For Manatee Death
(posted on Mon Jul 28, 2014)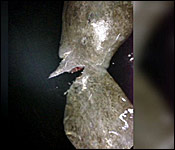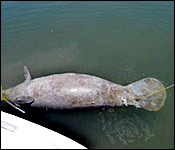 On Saturday evening at around 5:30, passengers returning to Belize City via Caye Caulker Water Taxi heard a loud bang as they were entering the Harbor near the Fort Street Tourism Village. According to eyewitness reports, after the bang, the vessel stopped briefly, then moved at a significantly slower pace into the harbor.
One of the passengers contacted the Belize Port Authority, and when a search was conducted, a mature manatee was found dead in the no wake zone. Well Port State Control Officer Martin Garcia along with Manatee Expert Jamal Galves held a press conference today where they spoke about the incident and the implications it has for the Antillean Manatee population in Belize.
Jamal Galvez - Manatee Expert
"Was known that the boat has hot something. The passengers on the boat felt it as well. We always encourage boat operators travelling on the waterways or within areas the Manatees are. If you suspect or if you hit a Manatee please report it, it give us an opportunity to go out there and investigate the situation. Perhaps it's an animal injured and it's something that we can do to help. This animal by no means would have survive the impact that it had. The chop wounds that you have seen in the photographs are pretty intense - almost taking the tail apart, which damage major vessels - I assume that animal may have bled out in a matter of time and died almost instantly. We haven't received any
call from the boat captain or anybody else on the boat which was quite surprising. It was a nice gesture of a passenger to have reached out to us to report the incident. That passenger had no interest in the situation, she is just a tourist in Belize. We encourage all passengers riding on these vessels to report these acts. We cannot tolerate these kinds of acts and it's not something I would like to share with the public - I wouldn't want the public to see a Manatee I this manner because you would want to see a nice quite Manatee living in the wild and going about their business, but it is the reality of the situation and it's what we are facing, so people needs to see what it is and to be aware of what's happening in our country. All Belizeans should be aware of it. All Belizeans should take ownership to it. It's something that we recognize for country worldwide and it's something that we should be proud of and we should protect. No wake zones are not that long of a distance, these guys can take their time to go their destination in time."
While Belize is the last stronghold for the Antillean Manatee, only about 1000 are left. The death rate for these animals has been on the rise from 11 in 2009 to 27 in 2013. This is the 23rd manatee killed this year, and the majority of deaths have been from watercraft collisions.
We contacted a representative from the Caye Caulker Watertaxi who said that the captain of the vessel did hear a bang, but because the water was dirty, he could not see the animal. The collision damaged the vessel which is now being repaired, but it wasn't until later in the night that they heard that the boat had hit a manatee.
During the press conference Port State Control Officer, Martin Garcia pointed out that while harming a manatee can result in a 500 to 1000 dollar fine, and a 6 month prison sentence, not reporting a collision or damage to a vessel can result in a 15 thousand dollar fine. The forestry department is planning to take legal action.

325 Arrests, Police Say Quality of Life Arrests Paying Peace Dividend
(posted on Mon Jul 28, 2014)
For the past 2 weeks, we've been telling you about the police crackdown on the quality of life crimes in Belize City. It's caused major inconveniences to residents of the city, who claim police harassment and uneven application of the law. But, the high command of the Eastern Division told the media today that they make no apologies for the crackdown.
They says that they've made 325 arrests for these petty offenses, and 225 have been completed in the court with convictions and fines. More importantly, police say that the targeting of persons committing these crimes has helped to get gang violence under control. Here's how they explained why:
Sr. Supt. Edward Broaster, Dep. O.C., Eastern Division

"We continue our stop and searches as well as our enforcement of stop and searches as well as the enforcement of bicycle offences, loitering, public drinking and so forth. And over the past 3 weeks, we've made approximately over 325 arrests of which 225 of those have concluded in our courts. Now, we are quite aware of the controversy being spun around in the media and we want to assure the general public that the Quality of Life Enforcement is working. When there is no scout, have no doubt, lives are being saved. We have young men who loiter at corners who ride bicycles, who scout for victims and call in "shottas" for them to come in and take out individuals and our enforcement has been reducing shooting incidents in the city and we will continue to press this Quality of Life Enforcement and we will ensure that we do everything in our power to ensure that the citizens can move about this city safely and freely without harmed being caused to them. So we want to assure the public to do the right thing and continue to cooperate with us and call when they see crimes occurring and call when they see guns being stashed and what have you and we will ensure that we protect you as best as possible that we are able to with your cooperation."
ACP Dezerie Phillips, O.C., Eastern Division
"I want to make it very clear that police officers themselves who contravene any of these Quality of Life offences that we are embarking on, anyone caught, they will also be dealt with."
As we showed you last week, there has been a rush by the Belize City riders to comply with these laws, and so bells and lights have been flying off the shelves. But, as they say, haste makes waste, and police are warning that even though you may have bought your light, if it's not a white one, and it can't attach to the bike, you're still breaking the law:
Supt. Alford Grinage, Officer Commanding, Precinct 2, Belize City Police
"Since we intensify our efforts we notice that the public they began getting lights and bells, but the type of lights they are getting may not be the correct lights. They are getting lights with all different colors, like Christmas lights and this is not that. It must be white light affixed to the bicycle - that's the law. So it's not just matter of just getting any blinkers and try to say that that's a light and using a flashlight in their hands also - that is not it. It must be a white light affixed to the handle of the bicycle along with the bell."
Some Belize City riders have complained that police should have given the public due warning to get their bikes ready, instead of bringing the pressure so quickly. Police say that while that may be a fair criticism, the biking public ought to have known that these offences are on the books, and that they should have been complying a long time ago:
Supt. Alford Grinage
"The law is basically there. It has always been there and the police was the one to do their job and really enforced these quality of life offences. Now that it was not being targeted that much, the public now believe that it's normal to do certain things and yes I agree that we could have did it a little more by alerting the public, but it's there, it's in the books that we should follow."
Eastern Division's Police Commanders say that the quality of life crackdown will continue, and they're asking the public to comply with all the laws.

Tropic Air, Feinstein Reach Secret Settlement On San Pedro
(posted on Mon Jul 28, 2014)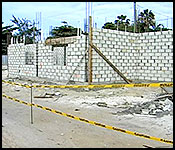 The land dispute involving Tropic Air in San Pedro has been settled. Both parties informed the court today that they had reached an out of court agreement and that the details are confidential.
We have learned that Tropic Air will get to continue to construction on its new building and Feinstein's Construction Depot Limited will move to another parcel of land along the airstrip.
Tropic Air had lease to an area within which Construction Depot had a title.
A cash consideration may have also been involved in the settlement. Attorneys would not comment.

Shrimp Farm Watchman Shot
(posted on Mon Jul 28, 2014)
A watchman was shot on Saturday night in the Milpa Area of Ladyville at the end of Marage Road. It happened at Caribbean Shrimp Farm around 10:30 pm. Police told us more.
Supt. Chris Noble, OC - Ladyville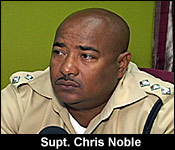 "A gentleman who's a watchman in a farm in the area did receive an injury that we are suspecting is a shotgun blast. The gentleman has been taken to the hospital and treated and we are looking at who may have been the persons targeting him."
Alejandro Calderon received multiple, mostly superficial pellet wounds.
He told police that someone stoned his house and when he came outside, they fired one shot at him.
Because it is a shrimp farm, police suspect it could be persons trying to steal shrimp.

BGYEA and GOB Can't Meet In Mediation
(posted on Mon Jul 28, 2014)
Since BGYEA started challenging the Government over the land in the buffer zone for Harmonyville, the two sides can't seem to agree on anything else.
The ongoing court litigation has reached the point where Justice Courtney Abel believes that court-ordered mediation can yield a resolution.
We were outside of court today, when BGYEA and it's attorney emerged from the hearing, and their attorney told us that they certainly hope that the mediation will help:
Audrey Matura-Shepherd, Attorney for BGYEA
"Two orders were given by the court: the first one is a mediation order. Both parties, the attorney for the government and I, on the instruction of my clients, believe that it is a matter in the interest of all that can be settled. So we consented to mediation which will be worked out through the courts. That means we'll get an independent mediator to put the issue on the table and I think that's good, it's always good to try and settle your problems with talking because if you don't then the court will make a decision. The second order that was given is that in case the talk doesn't work out then there'll be full trial."
Isani Cayetano, Ch 5
"Is there a timeline when the mediation commences?"
Audrey Matura-Shepherd

"Yes. We must have mediation within 45 days from today."
Reporter
"And end?"
Audrey Matura-Shepherd
"Mediation is usually a day or two but when you go into the first day of mediation, depending how the dialogue is going on, you decide right there and then that you need an extra day or another two days or stuff like that. That how mediation works. It's a new process that the court has. It's a process that many people are exploring now to settle issues and so that's the first step. After the mediation if that doesn't work out then we go to full trial. In the meantime attorneys from both sides have committed to discuss the issue with each other and we feel that - if you look at the purpose why Harmonyville came about, if you look at what BGYEA was advocating for - it wasn't to be contentious with the government. And I am sure that when sober minds reflect on everything people want to sit back and see what it is that we were trying to do. What is it that the community is supposed to represent? Who are the people who will benefit? I am sure the government, as BGYEA feels, will want to make sure that people who are supposed to benefit from that community end up benefiting. That they don't get lost between a fight and that's what we are looking at."
The mediation must take place within 45 days, and if no resolution can be reached, then the case goes back to court for a full hearing.

Police Move Checkpoint To Keep Up With Criminals
(posted on Mon Jul 28, 2014)
Motorists passing by mile 4 on the Western Highway may have noticed that police have moved their checkpoint from that booth where the entrance of the Coast Guard Base is. If you're wondering why that decision was made, the commanding officers from Eastern Division say that criminals found a way to circumvent it, which defeated its purpose:
ACP Dezerie Phillips, O.C., Eastern Division

"The decision was made to remove the checkpoint where we believe that it would be more efficiently or effectively managed by the right officers out there. Because just having a building and having officers in and around there is a different result than what we are projecting. We believe it would be more effective and beneficial to everybody at the location where it's at."
Supt. Alford Grinage, Officer Commanding, Precinct 2, Belize City Police
"We have learn through intelligence about the checkpoint that where the checkpoint was located we have people that bring in drugs and other illegal things and bypass the checkpoint by walking across that road left from where the checkpoint is and go alongside the sea and then they will bypass the checkpoint completely. So that is one of the reason too that we decide to move up that side so that we could easily identify what is coming on from that area."
The checkpoint is now located at Miles 6, just before the bridge, in front of Jenelles' Gas Station.

QR Newspaper: Bze Mex Northwester Border A Smuggling Hotspot
(posted on Mon Jul 28, 2014)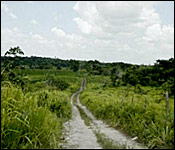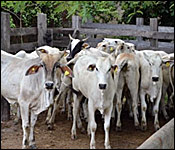 Chemical precursors - the kind that used to be smuggled through customs into Belize by the container-ful - haven't been in the news much recently. But, you can be sure that this important ingredient in the manufacture of crystal meth continues to be smuggled through Belize. The Quintana Roo based Mexican newspaper Por Esto reports that 400 litres - or about 100 gallons were intercepted in a Mexican village named Pioneros Del Rio on Thursday. The articles explains that the pre-cursors came from Belize in a Dodge van and were accompanied by four men, all Mexicans. The paper quotes Mexican Authorities as saying that there may be a narco-lab or a narco-warehouse in Belize which produced the precursors.
The paper also reports that the smugglers road which the pre-cursors came through was built five years ago to facilitate the movement of contraband cattle between Blue Creek in Belize and Pioneros Del Rio in Mexico.
It reports that the Mexican who built the road, one "Angel" was arrested but the article says Mennonites form Blue Creek continue to use it to smuggle cattle and chicken to a village named Nicolas Bravo. 10 days ago the Mexican military intercepted 14 head of cattle using this route.
And, in another article, the Por Esto discusses an apparent drug plane which was seen flying in the area on July 10th. Guatemalan authorities were tracking and while there was some uncertainty about whether it landed in Guatemala, Belize or Mexico, the conclusion seems to be that it landed in Mexico. The newspaper reports that even if it did land in Guatemala near the Aguas Turbias marker between the three countries, it might have still been funneled to Mexico through that same road between Blue Creek and Pioneros Del Rio.

Police Shoot Machete Wielding Pablo Escobar in San Vicente
(posted on Mon Jul 28, 2014)
There was a vicious chopping followed by a police shooting in the remote San Vicente Village, Toledo District on Saturday night. The first victim was a Mayan descent male 46-year-old Petrolino Lorenzo Ramirez of the border village of Santa Cruz, Guatemala. He had multiple chop wounds and was taken to the Hospital. Police went looking for the suspect - who they found holding a machete.
Police say they told him to drop it, but instead he raised the blade in the air and attempted to throw the machete towards the Police Officer. The police officer shot him with rubber bullets but he was undeterred. The Police Officer then pulled his gun and fired one shot hitting him in the right upper leg. He was then disarmed and transported to the Punta Gorda Hospital where his name was learned to be Pablo Escobar, an 18year old Belizean of San Vicente Village.
And apart from being the scene of the shooting of Pablo Escobar, on Sunday night, San Vicente welcomed an unexpected guest: a BDF soldier who had gotten lost. The BDF today confirmed that the soldier was in a group of 6 when he fell back to get water from a creek, but failed to tell the patrol. When he finished they were gone, and he headed back to the came, but missed it by a few hundred yards and ended up spending the night in San Vicente. The BDF believed he was lost in the deep and dangerous south, until he turned up at 9:30 this morning.

Police Bust Weed Move In Free Zone
(posted on Mon Jul 28, 2014)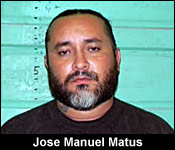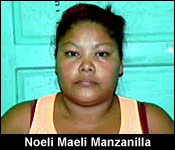 Around 11:00 last Friday morning 3 people were arrested for drug trafficking in the Corozal Free Zone. While police were on mobile patrol, they approached a grey car parked in the Commercial Free Zone Compound when it sped off leading to a brief police chase. The driver threw a parcel out the window before coming to a complete stop. When the police recovered the discarded package, they found what appeared to be one kilo of cannabis. Police subsequently arrested 39 year old electrician Jose Manuel Matus, 32 year old Noeli Maeli Manzanilla, both of whom are from Paraiso Village in Corozal as well as 18 year old Brian Steve Martinez, a laborer of the Rainbow Town Area in Corozal Town for drug trafficking.

"JJ" Guilty of Murder
(posted on Mon Jul 28, 2014)
35 year old Jamie Dawson, also known as "JJ", is at prison tonight, awaiting a sentencing hearing after pleading guilty to manslaughter.
He was supposed to stand trial for the murder of Maurice Neal, but instead, he pleaded guilty to the lesser charge of manslaughter when he was taken before Chief Justice Kenneth Benjamin.
Viewers may remember that Neal was shot and killed on December 7, 2002, at Bismark Club, located on Queen Charlotte Street. Dawson stood 2 previous trials. He was found guilty of manslaughter at the first trial which took place in 2004. He then appealed that conviction, which was allowed by Court of Appeal. He was allowed a retrial, but the jury was unable to reach a verdict in 2006. Nicholee Lewis, the person who identified Dawson as the gunman, was killed before he could testify.
Dawson was represented by attorney Anthony Sylvestre. Crown Counsel Sheneiza Smith represented the prosecution. He will be sentenced next week Monday.

Community Health Workers Certified
(posted on Mon Jul 28, 2014)
47 community health workers were certified by the Ministry of Health on Saturday in Belize City. The certification ceremony was held after a 16 month long training program which involved new recruits as well as veteran workers. They were introduced to a new curriculum which strengthened leadership and communication skills. At the ceremony on Saturday, Arlette Sheppard spoke more about the updated curriculum.
Trainees included workers from the rural, urban and coastal areas of the Belize District, and the purpose of the training program was to strengthen primary care services in Belize.

Matura Takes Gun Plea, Family Gets Free
(posted on Mon Jul 28, 2014)
32 year-old Martin Matura, a resident of 3188 Unity Street, is spending his first night of a 5-year prison sentence, after admitting in court that he was carrying an unlicensed weapon.
Police reported that on Saturday, they went to his house, and they were accompanied by the K9 Unit. The dog detected that something was buried in the yard, and when it was dug up, they realized that it was a bag containing a .380 revolver with 3 rounds of ammunition. 49 year-old Margaret Vasquez and her daughter, 21 year-old Kimbery Beltan were present at the time, and so they were charged with keeping an unlicensed firearm, and keeping unlicensed ammunition. Matura went to the station on the following day handed himself in, and told police that the gun was his.
All 3 persons were arraigned today before Senior Magistrate Sharon Frazer, and Matura pleaded guilty to both offences. He was sentenced to 5 years in prison for each charge, but they are to run concurrently, so he will only spend 5 years. The prosecution withdrew the charges against the other 2 defendants, and they were released from custody.

PM: "Up Close And Personal"
(posted on Mon Jul 28, 2014)
In February, the Prime Minister gave a remarkably candid interview to the press outside the National Assembly. It was during the cheque scandal at the Belize Airports Authority and he spoke plainly about corrupt acts by his ministers threatening to cause his government to come undone. After that he said he would address it at length during a long form interview. We were told the PM was having some difficulty selecting a media personality with whom he felt he could do the interview, and so, after five months, his office settled on Steve Duncan, a banker who hosts a UDP talk show. He's not a media personality by any working definition, but he was Johnny-on-the-spot for the PM in what is called an "Up close and personal interview." The 77 minute interview aired last night simultaneously on all channels, and the PM discussed a wide range of issues, including his misbehaving ministers and all the credibility they have caused his administration to lose:..
Hon. Dean Barrow, Prime Minister of Belize

"I came to office with a determination that people ought to be able say well you know the people we voted out were bad, the people we have voted in are good. That has slipped away to a large extent. Indeed people have started saying well you know your government is just as bad as the last government. That is exaggerated, that is hyperbolae, but the fact is that it is the actions of some of the members of my government that those actions had been abled people to start making that huge leap. Though it doesn't take away from the fact that they did something wrong and they did something wrong under my watch and under the watch of the United Democratic Party, so we have to live with that, but I say again, there is no way you are ever going to have a perfect government with perfect individuals and the deal, the undertaking with the public could never have been that I will absolutely prevent any minister from going astray - that's not possible."
The interview will repeat tonight at 8:00 on Channel 7.

Major Car Rental Companies In Belize
(posted on Mon Jul 28, 2014)
Tonight the Belize Estate and Company Limited car dealership is having its official launch of the company's rental division with two internationally recognized brands, ALAMO Rent a Car and National Rental in Belize.
Those are marquee international franchises and to make this venture a success, Belize Estate Company Limited say they have partnered with a company from Trinidad.

Both Alamo and National are owned by Enterprise Holdings - which is the largest car rental service provider in the world with 1.4 million cars and trucks.
No Luck In Commonwealth Track
On Sunday, Belize participated in another round of Commonwealth Games events, with unremarkable results. Kaina Martinez placed 6th out of 8 in 100 meter race, finishing with a time of 12.12 seconds, 20 seconds slower than her personal best.
Mark Anderson did not do much better in his 100m heat, placing last at 8 out of 8. The Athletics portion of the Commonwealth Games will continue tomorrow where Martinez and Anderson will compete the 200 meter races while Brandon Jones competes in the Men's Long Jump.
As for the Shooting Competition, adopted Belizean Andy Wigmore shot 33 shots out of a possible 50 for the day. He will compete again tomorrow against Canada, Scotland, Norfolk Island and the Falkland Islands.





Home | Archives | Downloads/Podcasts | Advertise | Contact Us