Guat Prez Resigns: Arrested On Corruption Charges. How Does That Affect Belize?
(posted on Thu Sep 3, 2015)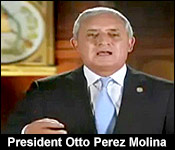 Guatemalan President Otto Perez Molina resigned last night - after the attorney general obtained a warrant for his arrest on corruption charges. And today, a judge ordered the former President to be held in Matamoros military prison in Guatemala City pending his hearing on those corruption charges. The judge says it's because he's a flight risk. His former vice president, Roxanna Baldetti is already imprisoned for corruption charges. Perez Molina has not been formally charged, but the attorney general's office plans to bring charges against Perez for illicit association, taking bribes and customs fraud.
So, with the resignation, a new president Alejandro Maldonado Aguirre was sworn in today at the Congress building in Guatemala City.
It's a time of incredible, unprecedented upheaval in our neighboring country - and it certainly does have ramifications for Belize - especially with Guatemala's unfounded claim on half of Belize's territory. Today we spoke to the Prime Minister and the BDF Commander about what it means for the future of Belize-Guatemala relations:...
Hon. Dean Barrow, Prime Minister

"Instability in Guatemala given our particular circumstances. Given the difficulties we have just experienced with respect certainly to the Sarstoon incident. Instability is extremely conserding. I hope that because the military to military relationship is not just good, but is based on structures and operating protocols as well as the interpersonal relations between our general and his opposite number. I hope that in these circumstances, professionalism will prevail. But it has to be worrying if there are some sort of vacuum at the top."
Jules Vasquez
"Sir, you famously embraced President Otto Perez Molina at the meeting in Placencia, I believe it was early this year and he then made the extraordinary statement which he did that he respects the Belizean state, that we are neighbors etc. Now that his career in politics has been rubbished. Were those words - have they now evaporated into the.... Have they disappeared?"
Hon. Dean Barrow, Prime Minister
"Well let me say with respect to Molina, I was very pleased with the way he behave towards Belize during his tenure, because we all know his history that he was chief of staff or certainly extremely high in the Guatemalan military. I had feared that as president he would have been belligerent, hawkish, irredentist. He was restrained. He was responsible. He appeared to be not one dimensional. He struck me and he said it as somebody who absolutely recognized and welcomed the separate reality of Belize, while of course still insisting that they had their claims and their point of view. So from that point of view, quite frankly I am sorry to see him go. In terms of a change that is possible with is ouster, his departure, all I can say is that Baldizon who is still as I understand it the front runner, came to Belize and met with me. Before he was the front runner, he had already declared, but at the time I didn't get the impression that people thought too highly of his chances. We had a long chat, we had a long exchange at the Coney Drive office and he certainly made it absolutely plain, that he if he were to become president of Guatemala, we could expect a strengthening of corporation between the two countries. We could expect a profile that would see hid administration absolutely respecting again the separate reality of Belize. So without expressing any preference for any of the candidates, I merely point this out because it does appear that Baldizon is likely to become the next president."
Jules Vasquez
"So no cheering for Sandra Torres possibly a dark horse - She by way of Melchor through Benque or the other way around?"
Hon. Dean Barrow, Prime Minister
"Well I got to know her when her husband was president and she was fond of talking about rice and beans and her closeness with Belize. Her sister of course is married to Greg Garcia and the mother the PUP candidate for the general election in Corozal Bay. I would want to hope that if she does win, that again, her connection with Belize will mean that there won't be any slippage in terms of Belize/Guatemala and that in fact there might be more sympathy than somebody else not in her circumstances could be expected to show. But I don't know. The other side to that coin is that she might feel she has something to prove, because there is the argument that she was born in Belize. I think from what I saw, she is a stronger woman than that and I would hope and believe that rather she would recollect not only her former ties to Belize, but her current ties to Belize in terms of her sister and her brother-in-law and her nephew."
As you heard the Prime Minister say, he is counting on the professional relationship between the militaries in Belize and Guatemala to keep relations on an even keel amidst all the turmoil in Guatemala. Today we asked the BDF Commander directly about that relationship and if the resignation of the president could prose difficulties:..
General David Jones, BDF Commander
"It's not a concern for us because the military leadership is still in place. We have very cordial relations. I have spoken to the new commander. He is of the same view as I am; let us keep peace in the area of the Sarstoon. Let us keep peace between Belize and Guatemala. Let the military professionals work together continuously as professionals. Don't get involved in the civilian hype that is trying to cause provocation. Between the two militaries we have a long standing good relationship military to military and let us keep it together as professionals. Even though they may not be a head of state the moment, the military leader and I have an understanding that we are going to cooperate with each other and that remains in place. Until there is a change in military leadership, then I may need to have the similar discussions with whoever is the new leader."

General Jones & Admiral Thomas Discussed Sarstoon Incident
(posted on Thu Sep 3, 2015)
And while we had the opportunity, we asked General David Jones about his recent meeting with Guatemalan Vice Admiral Carlos Thomas. He was the ranking officer from the Guatemalan Navy who led his officers in an incursion into Belizean Territory on Sunday, August 16th when they tried to block the Belize Territorial Volunteers from visiting the Sarstoon Island.
That prompted a protest note from the Government of Belize and an outpouring of anti-Guatemalan sentiment in Belize. It has also revealed that Guatemala treats the Sarstoon as theirs, and regularly tried to intimidate the BDF on their patrols.
In fact, Vice Admiral Thomas told the Guatemalan press that they were out there to stop the Belizeans from asserting sovereignty over Sarstoon Island. Since then, General Jones has spoken to the Vice Admiral, and he shared a few details of their conversation with us:
General David Jones, BDF Commander

"The discussion I had in Colombia with Vice Admiral Thomas, who is responsible for the navy over there is in regards to better communication, in regards to incidents happening inside the Sarstoon. We pledge to work closely with each other and have closer communications, because of lack of communication, things haven't been happening as either side would like it. Belizeans were being harassed apparently by the navy and they were not aware of what actually was happening in the area and because of their concern, they wanted to ensure that Belizeans or anyone who would go into the Sarstoon would respect their laws if they inadvertently go over to their side of the Sarstoon. So based on that we've had discussion and we've decided that we will try and communicate more effectively. So we've exchanged numbers, so we can speak to each other immediately if there is something occurring or if there is a plan event, where we going to do some exercise or some operation in the area, we share information with each other and if they are going to do certain operations in the area, they are going to do the same with us - they are going to passed it to us and let us know."
Daniel Ortiz
"In the course of discussions, was the topic ever brought up of the aggressive tactics that the Guatemalan navy employed in that Sarstoon trip by the Territorial Volunteers? Because I know that they still feel bruised by that. They think that that was an outward show of aggression."
General David Jones, BDF Commander
"In regards to the Territorial Volunteers, as they understand it that the Territorial Volunteers intend to go and exert their Belizean sovereignty on the Sarstoon Island and I have expressed before, they have a problem with that. They believe the island belongs to them. So they would take offence of them going in there to put a flag on what they believe is Guatemalan territory. They don't want a situation to be provoked. They were given directive to stop such activity from occurring and they will continue with that same directive, because as they have been directed, that island belongs to them. So it is best for mediation to happen, for us to have something formalize that this is the way things should operate in the Sarstoon, which included the Sarstoon Island. Because they want to corporate with us, we want to corporate with them. But it doesn't make sense to try and provoke a situation, because in our eyes the Sarstoon Island belongs to us. There are opposing views. So it's better to have it formalize and then let us go forward with that."
We'll have more in the news from the General as he responds to an accusation from COLA and other quarters that he is being used as a pawn by the Barrow Administration to try to swing support in the UDP's favor.

PM: Elections Coming Near 4 Year Mark
(posted on Thu Sep 3, 2015)
And amidst all this upheaval in Guatemala - they will have elections on Sunday. You've already heard who is the Prime Minister's favourite in that race, but what about elections in Belize? When will those be held? Everyone knows it's soon - but could it be before the end of the year? That's the prevailing wisdom right now and we asked the Prime Minister and about a specific date:...
Jules Vasquez
"PUPs are saying that elections will be November 3rd. Is that true?"
Hon. Dean Barrow, Prime Minister

"November 3rd? I'm trying to... But why am I thinking about it? Because I can't know if my calculations have even contemplating the possibility of November 3rd, because I have not yet made those calculations."
Jules Vasquez
"So there is still no date?"
Hon. Dean Barrow, Prime Minister
"No. Still no date. I don't know. I will go as far as saying this and I don't think I am giving away anything. Elections will be no later than the first part of next year. The PUPs on the last occasion had said they think that the term should be a four year term. And quite frankly I agree with them and if we win again, I would want to see that change. I am thinking in terms of the next general election of somewhere close to the 4 year marker, which would mean then that we are looking at not beyond February/March of next year."

Boots Says To Call Elections Tomorrow
(posted on Thu Sep 3, 2015)
So, while the Prime Minister says he is looking to finish up a 4-year term, his colleague, Port Loyola Area Representative "Boots" Martinez, would like if he calls the elections tomorrow(!). When we asked him about November 4th as a possible day, he said he wants it to be September(!) 4th.
Jules Vasquez
"There are PUPs who told me yesterday that election will be November 4th. Is that accurate sir?"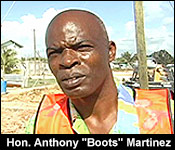 Hon. Anthony "Boots" Martinez
"I don't know sir. The only man who has the date for elections is the Prime Minister. But I wish that election was September 4th. That is my wishes. Which is tomorrow. But the only man who has the string for to call the election is the Prime Minister. I know it can't be tomorrow based on... but I wish it was tomorrow, because I am ready and I think that United Democratic Party is ready and I believe that the People's United Party is not ready. That is my personal view."

Brazen City Murder on Castle Street
(posted on Thu Sep 3, 2015)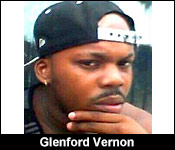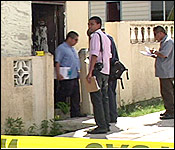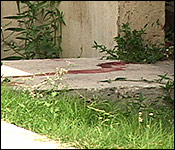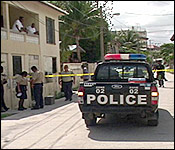 There was a murder in Belize City this afternoon. It happened at about 1:45 on Castle Street, which is between New Road and Freetown Road. Police say 25 year old Glenford Vernon was getting a tattoo when he was shot. I spoke - off camera - to the man who picked him up and rushed him to the hospital:...
Bystander, Assisted Victim
"Right around the lane about 2 lots from this house, my friend came with her daughter. We just came from a press conference and I was laughing and talking having a few drinks and afterwards I heard "pow." So put down the baby and told everyone to duck. After that I heard like 6 more shots. But somebody passes and said that it was one of my family resident on Castle Street. So I ran from here around the lane. When I look, it was in the tattoo shop that my family own. I said it must be my family. So when I ran in there I saw someone with multiple gunshot wounds to his body. I don't know the guy. But from we were little, my father taught us to help people in these situations. So when I ran into the shop I saw him with his head backwards and his eye turned up and blood spraying and like people passing the shop and peeping. I told them to call 911. Someone came and assist. A police who lives on Victoria came and I came and took off some of those guys shirt and place it on the wound."
"As I reached in there I lift up his head and told him to stay with us, don't go. Then he started to get back consciousness. Then the police officer, who was off duty came and help me. On the way to the hospital, I still talking to him when the last thing he said, he was trying to tell me something, but I saw like blood coming out of his mouth and so I told him to stay with us. Putting him on the stretcher, he was still breathing and everything. I don't know. Maybe it might be 50/50."
And while he said it was 50-50, police this evening confirmed that Vernon - who is a resident of Cran Street - was killed. We spoke with the commander for the northside formation:..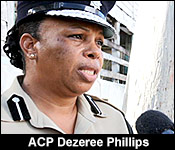 ACP Dezeree Phillips, OC - Eastern Division North
"All I can say at this time is somewhere around 1:45pm we received information of shots being fired at the Castle Street by a tattoo shop and that's where Glenford Vernon was doing a tattoo and a male person entered and fired several shots. He was rushed the Karl Heusner Memorial Hospital and a few minutes thereafter he succumb to his injuries. That's the basic information that I can give at this time and that we are looking for one person."
Vernon's family declined comment.

Micah Blazes His Party On FB (Again)!
(posted on Thu Sep 3, 2015)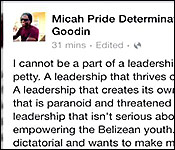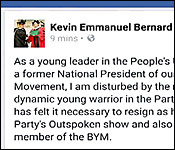 Former PUP Candidate for Collet Micah Goodin is in the news again tonight for blazing up his party on Facebook. The last time he was criticizing his successor in the Collett division, but this time it's more serious. That's because Goodin was the former host of a show on the PUP's Vibes Radio. We say former because he quit spontaneously last night. Why? Well, he had booked the PUP's Standard Bearer for Orange Walk East Josue Carballo to be his guest last night - but Carballo is a part of the 11 PUP rebels. And so, word came down that even though he is a PUP Candidate, Carballo could not be on a Vibes Radio show. So, the PUP higher up's cancelled the show - and Goodin then went to Facebook to say, quote, "as of this point I will no longer be the host. Also I offer my immediate resignation from the executive of the Belize Youth Movement."
In a later post, he added, "they cancelled the show…based on a...frivolous...rumour that I met with the G11 last week in Orange Walk and planned to overthrow Francis Fonseca." He continues, quote, "I cannot be a part of a leadership that is insecure and petty...that thrives on hearsay and gossip…A leadership that is paranoid and threatened by its own shadow...A leadership that is dictatorial and wants to make me nothing but a little black puppet. I will never be anyone's puppet." He concludes, quote, "Until this leadership sorts out its self esteem issues I will be looking on."
That's a major diss, and the PUP's mayor from Orange Walk, Kevin Bernard - himself a former president of the BYM - backed him up today with his own post, saying, "I am disturbed, angry and frustrated because I am told he was being pressured by our PUP leaders to lash out at the standard bearers who have taken the decision to fight for change in our Party." He continues, quote, "When will we learn? After we lose elections AGAIN?" He asks, "Even in Opposition, are we showing signs of becoming as arrogant and dictatorial as the UDP? Have we lost our minds, just as we've lost our way?"
Bernard took down the post later in the day.

COLA Launches T-Shirts: Build The Base Now
(posted on Thu Sep 3, 2015)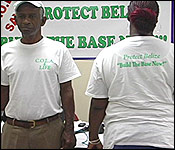 A week ago, we showed you the launch of COLA's campaign to pressure the Government to build the Coast Guard's Forward Operating Base on Sarstoon Island. The campaign is called "Build the Base Now", and we showed you how they seem to have major financial backing, mobilizing supporters, much like a political mass party.
Today, they followed up their campaign with the public launch of their T-shirts campaign. COLA President Geovannie Brackett told us that it is the continuation of their sustained activism on the Sarstoon Island issue:
Geovannie Brackett - President, COLA
"Daniel, being in the media you would understand that marketing is very important. So when you are doing your campaign, people want to be a part of it. People who may be in PG, but might not be able to make it out to a press conference. But by wearing a shirt they are showing solidarity and so the shirts are there. The back of it has our theme for this campaign "Protect Belize, Build the base now." This was effective when we did the "No ICJ" campaign. We had a skeleton budget, but at the same time it made the government had to spend millions in advertisement to battle this. We believe this is the same strategy that we are using and people and our membership, they want to be a part and so wearing the shirt is showing solidarity and it's always a good way to market the campaign."
Daniel Ortiz
"What do you expect in terms of the amount of persons who will buy in, support and wear this shirt along with you?"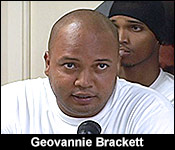 Geovannie Brackett - President, COLA
"Edward, I think is out district today, but we were out last night and I can tell you we almost had to give away all the shirts. We had to try and fight to save some for what you see in a here, you see a pack room. The support is there. I mean from last week to now, we are the t-shirts launching. That is very evident of the support. I am not sure what you mean, in terms of realistic, but to me when you have people all over the country calling you and making request how they can help, how they can assist - that shows tremendous support and I believe that the government may be underestimating this situation and I think by ignoring the campaign or try to ignore the people by extension, they are doing themselves a disservice. We saw what that had done to them when they ignored those 30,000 people came out in the mock referendum on the No-OFF SHORE DRILLING. If you want to ignore the entire nation, then its to their jeopardy."
Daniel Ortiz
"Do you expect the government representatives to take you seriously in this campaign?"
Geovannie Brackett - President, COLA
"Do you expect us to take government seriously? It could be reversed the other way around. I mean when you look at an artificial minister - it's a joke. I am dying to sit in any room with Sedi Elrington and I would hope that the Prime Minister who have sat with me before would come to the table and to say hear what, let us push this base now. Before your election, let us push this base now. Let us build this base and let us remove Sedi. I know that ego is a big thing and I know that it may look bad. But the truth is Sedi really has done it to himself."
When we asked again today about where their financial backing for these events is coming from, COLA's members said that it came from concerned Belizeans who wanted to remain anonymous. We did notice on their new posters, a peculiar element. Seen here, one of the posters has a hashtag at the bottom, inscribed, "#GoBlue" - which we take to clearly suggest an alignment with the PUP, but we can't say for sure.

BDF General: We Won't Make Military Mistakes By Buckling Under Public Pressure
(posted on Thu Sep 3, 2015)
So, as you saw, the pressure groups aren't letting up on the Sarstoon Island issue any time soon, and so we had to ask BDF General David Jones if the military commanders, and by extension, the National Security Ministry, are taking note.
He said that, as of right now, whether or not the Government builds the base on Sarstoon Island or somewhere nearby will be determined by logistics and not by public pressure:
General David Jones, BDF Commander

"The forward operating base in the area of the Sarstoon, the island itself is not really practical to have a base there. There will be too many challenges to have the base on the island. We have checked two areas; one at the mouth of the Sarstoon and about 2km from the mouth of the Sarstoon that has some land that some construction may be able to happen. It will be up to a civil engineer and we are expect that it will be open to tender, but any civil engineer who is willing to go and take on the challenge to construct the base, we will welcome it. Any day they would like to go out into the area, we will go along with them and if they conclude that yes the base can be constructed anywhere in that area, then we will pursue with the construction."
Daniel Ortiz
"Now sir, I am sure that at some point if the national ministry decides that they will choose to build the base somewhere else apart from on Sarstoon Island, there will be those critics who suggests that that is somehow a concession - a cessation of our sovereignty on that island. Is that valid in any kind of way?"
General David Jones, BDF Commander
"It will be for practical reasons. There are points that you may decide is strategic in where to put your position there. Maybe a point that you say well this is Belizean territory. We don't actually need to sit on it, but for practical reasons, if it doesn't make sense to have a building there, then why put a building there. Even though it is Belizean territory, we can exercise control of it without sitting on it. And that's part of military operation. But for practical reasons, if you can't build a building on a swampy area, then why put it? We've seen two other areas that is more practical and that's the position that we will take to construct the building on some place practical. Not because of the civilian pressure that is out there, we will make military mistakes."

COLA Mauls The BDF Commander
(posted on Thu Sep 3, 2015)
So, as you saw, right now the General is defending himself against COLA, and they made it clear today that they won't spare him criticisms of cozying up to the UDP government.
The President Geovannie Brackett and COLA member Rufus X both took a public swipe at him at their press conference. Here's the harsh put down they had for the BDF Commander: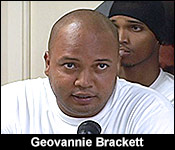 Geovannie Brackett - President, COLA
"To Brigadier General David Jones who has been interjected into this political exercise in his military capacity. We respect you and your long career, but you are not the government. You are the army. Do not let yourself be used, keep your lane and as you yourself has said, let the military do its job and the politician do theirs."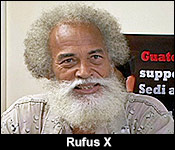 Rufus X - Member COLA
"To see that the politician have convert these two people that I have come to respect so much; the Commandant and the Admiral to simple political - really moved me. It touches my heart Daniel and now two more victim."
General Jones responded, making it clear that he would prefer to stay out of the conversation between civilians discussing a divisive political issue. The problem, he says, is that civilians are meddling matters of national security which if handled poorly, could cost soldiers their lives:
General David Jones, BDF Commander
"Whenever I speak, its behalf of the Belize Defence Force and more importantly for the national interest of this country. I have personally been out there talking about this issue because the situation has escalated to a point where it was becoming close to straining relations military to military and it was coming to the point where pressure was being bared upon the BDF to disclose information happening inside the
Sarstoon and for national security interest I will not do it. I will go as far as to pass on caution to these organizations who are going into the area and can provoke a situation that can escalate into conflict and can put civilian's lives at risk. What I have been expressing is primarily for the national interest of the country. I prefer not to be getting on the media and disclosing things that our civilian leadership can articulate, but being that it interferes with military operations I believe that I am the best person to articulate the security interest that affects our soldiers on the ground. Because which one of our senior leadership can do it more better than I am since I am in the position. I work with the soldiers on a daily basis and I know the effect that it will have on the security and the lives on our soldiers, so felt it was better for me to go and articulate it and I will continue to do so if it's necessary if our soldiers' lives are put at risk I want to be there to look after their welfare."
Tune in to tomorrow's newscast, when we'll show you the BDF's position on trying to stop suspected Illegal Guatemalan fishermen from poaching in Belizean waters around the Sarstoon area.

PM Not Moved By COLA
(posted on Thu Sep 3, 2015)
And while the general is unfazed about COLA's second guessing his military professionalism - the Prime Minister also told us today that he is not feeling the COLA pressure:
Reporter
"Is COLA even bickering at government radar at this point?"
Hon. Dean Barrow, Prime Minister
"I don't want to be rude. I don't want to be mean. So all I will say is that COLA has every right to do what it's doing. They are supposed to be some sort of a pressure group and one of their objectives is to try and ensure that there is transparency in public affairs. I would really want to know who is funding them, but it doesn't really matter. I wish them well in their continued advocacy. Government of course will simply proceed with its agenda and with its timing convinced."

PM Was Shocked To Find Out About Cpl Wagner
(posted on Thu Sep 3, 2015)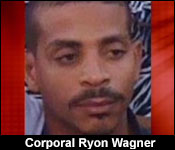 WE also asked the Prime Minister about Police Corporal Ryon Wagner who ahs been charged for murder. The Corporal had been the personal driver and security guard for the Prime Minister's wife going back for at least four years - so he was an intimate of the Barrow household. But tonight, Wagner is in jail, on remand for the murder of Nicaraguan Eduardo Manuel Perez Sanchez. Perez Sanchez was found last weekend - hos body thrown on the Young Gial Road. Reports say Wagner told other cops he shot a man - and appeared to have been drinking. Today the Prime Minister told us he was shocked to hear the accusation:..
Jules Vasquez
"Were you shocked at the allegation against Cpl. Ryan Wagner, an intimate of your household now on remand at Hattieville Prison for murder?"
Hon. Dean Barrow, Prime Minister

"Of course I was. I still can't quite understand what happened. During the time he was with my family he was extremely professional. He was a highly trained individual, a member of BSAG at one point. I thought that he was very disciplined, very level-headed. I didn't know him to be a drinker or a smoker. So what has happened profoundly disturbs me, profoundly baffles me. I of course can't get into the circumstances such as are being described by various people who don't necessarily know what they are talking about."
Wagner next appears in court on November second. He was one of three officers handpicked to secure the Prime Minister's family.

A New Housing Community Off Fabers
(posted on Thu Sep 3, 2015)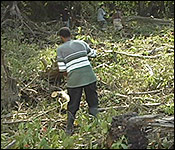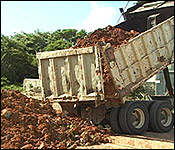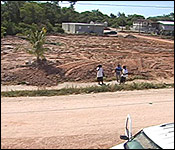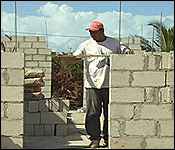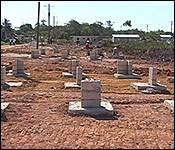 Last night, we told you about the housing agreements signed between the Ministry of Works and the local contractors from Port Loyola and Lake Independence to build over 100 houses for needy first time home owners.
It's the second phase of the Southside Poverty Alleviation Project, and today, we got a chance to see how this agreement will actually work on the ground in these constituencies. Daniel Ortiz reports:
Daniel Ortiz reporting
This area off Fabers Road is well on it's way to becoming a housing community in the Port Loyola Division.
A few months ago, however, it used to be all bush and tall trees, very much like what these men are working hard to clear away here.
Hon. Anthony "Boots" Martinez - Area Rep., Port Loyola
"It was literally Faber's Road, but it was that kind of road like what you see right over there - raw bush."
Laborers handpicked from the Port Loyola constituency have been toiling from cutting down the bushes, to trucking in landfill, and even getting a head start on making this area fit for human habitation.
Yesterday's contract has only stepped the activity by providing the funding needed take the project to completion.
Hon. Anthony "Boots" Martinez - Area Rep., Port Loyola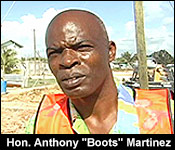 "This project is a new development in Port Loyola. We have been preparing this site for years, now it's come to fruition now. A lot of houses will be going here under the poverty alleviation project."
Though it's still a work in progress this neighborhood to be was not haphazardly put together. Careful thought was put into getting the road filled, the lots plotted, and the project managers even got BEL and BWS to install infrastructure for utilities to be put in as soon as the houses are finished
Hon. Anthony "Boots" Martinez - Area Rep., Port Loyola
"We lobbied both with the utility company, mainly BEL and BTL. If you notice lamp post and lights are going in. Water lines are going in and so I think it's a great day for people in Port Loyola."
We also found houses, in various levels of completion, masons working as fast as possible to get the homes completed.
Hon. Anthony "Boots" Martinez - Area Rep., Port Loyola
"We will be building 48 new houses and doing like 20-30 repairs to new homes."
Daniel Ortiz
"How was the persons chosen for these housing grants?"
Hon. Anthony "Boots" Martinez - Area Rep., Port Loyola
"The persons were chosen by me as representative. Also on a need basis."
So, 48 families will benefit by getting their new home, and they will become first-time owners. There is also the social aspect that there is in increase in job opportunities.
Hon. Anthony "Boots" Martinez - Area Rep., Port Loyola
"This project here employs over 100 people. Now that we will step up and contracts have been signed, I think we will move up to 150 people with contractors. Apart from that the infrastructure, the streets, the bushing of the streets and so that employs another 30-40 men. There were chosen from people living in the constituency for two reasons; they were qualified, they had a prequalification process; they were qualified under the first phase of Southside poverty alleviation project and also to they look at the contractors in the economical state of which they come from a neighborhood and they hire people from the same neighborhood. So the Southside project looks on opening opportunity for residents in the area."
Then, this oval roadway, that you see the Minister riding around on bike, will then be upgraded to almost paved standards.
Hon. Anthony "Boots" Martinez - Area Rep., Port Loyola
"Thanks to the Prime Minister who help us to develop this portion. The street we are doing now. All these streets will have proper drainage and will be upgraded almost to paving standards right between here from Pen Road to Faber's Road will be paved, to the corner of the police station, so I think it's a tremendous work."
The estimated cost of this housing community is 2.6 million dollars. As you heard, Martinez hopes to start moving in the families sometime in Mid-October.
And, that's just in time to bring a political boon for Martinez in Port Loyola. We asked him pointedly if the rolling out of this program is electioneering, and here's what he had to say
Daniel Ortiz
"There is always that suspicion that because the elections is right around the corner, that you are increasing this type of activity to improve your standards with the voters - trying to get a bit of last minute support. Is that what's happening here?"
Hon. Anthony "Boots" Martinez - Area Rep., Port Loyola
"To start with, you can't develop a program like a space like this in weeks. If you know about development, this is years of development. But just because it's coming to fruition now. At some point in time, before election, some project will come to fruition so, you could take a look and say oh, you are doing this because. But this won't be in time for election if election is soon."
Jules Vasquez
"There are great housing needs in Port Loyola. You know that far better than we do, but you have a thing that sometime it hurts you for who you don't give rather than who you give."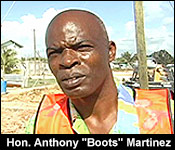 Hon. Anthony "Boots" Martinez - Area Rep., Port Loyola
"It's a aspect that I think that I will live with and I have to live with and especially after people see the signing last night and see this interview today. Put it this way, it hadn't been a one off scenario in Port Loyola. We have built over 100 houses in Port Loyola already and so maybe if you never get in the truancy, maybe you had that same opinion. If you never got in that, or this - you would have that same opinion, but I will do the best that I could for the needy people."
Jules Vasquez
"44 households have to vote for Boots Martinez."
Hon. Anthony "Boots" Martinez - Area Rep., Port Loyola
"Not only 44. 44 and more. 44 x 5 plus all the other employees that we hire; the truckers that run filing for us; the man that chop bush for us, because the people working are employees."
Jules Vasquez
"You certainly see it as an election boost - real talk. That can't hurt."
Hon. Anthony "Boots" Martinez - Area Rep., Port Loyola
"Anything that you can do leading up to an election is very important and this is an extra you would say election boost for the representative of Port Loyola."
The CEO in the Ministry of Works tells us that 3 other Belize City constituencies will benefit from this project.

3 Belizeans Still Missing At Sea
(posted on Thu Sep 3, 2015)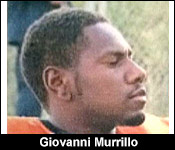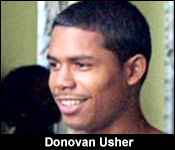 There is still no sign of the 3 Belize City fishermen who went missing at sea one week ago. 20-year-old Donovan Usher, 29-year-old Giovanni Murrillo, and 33-year-old Jerome Bowen left for Turneffe Island on Thursday morning on a one day fishing trip but have not returned. We spoke with relatives today who are demanding answers from the Coast Guard - because one of the missing men Giovanni Murrillo was in the news in February of this year for allegedly firing on the Coast Guard. The family says he had received threats of retaliation:..
Anna Cardenes, Mother of Donovan Usher

"They are fishermen. Every day they go out for one day and come in back. But on the trips that they go they say that they were being threaten - that the coast guard was threatening them. They told them that anytime they meet them out there they will kill them. Giovanni Murrillo and Jerome Bowen had a case with the coast guard and they won the case and ever since they won the case, the coast guard were threatening them. My son went with them."
"One night they went to do an overnight and the coast guard went out there like after 12. They went to the camp and they beat them up bad and one of my sons were involved in it. My son said that they hold down his head under water and told them that they will kill them. Tell me what do you want me to think?"
Dannica Usher, Giovanni's Girlfriend

"I just want to say if anybody out there know anything about them to please let us know because we need closure. Right now I am pregnant with Giovanni second baby and I can't do it without him. We need to know, we need closure."
When we contacted the CG today they told us that they have no comment until there is something concrete and formal to respond to.
We note that all 3 missing men have been in the news for a number of offences including firearm and fisheries involving undersized conch.
Tonight - they remain missing and anyone knowing their whereabouts is asked to call the police.

CSME: How It Really Looks In Belize
(posted on Thu Sep 3, 2015)
How does the Caribbean Single Market and Economy factor into everyday life and business in Belize? That's what 19 tertiary level students from Grenada traveled to Belize to find out. It's part of the CSME mission where these students get to study and evaluate first hand how other member countries operate. Well, when we spoke to the coordinator, he told us that it's more than just an educational trip -it's looking for cross border business opportunities.
The mission ends tomorrow and there is a closing ceremony tonight at the Radisson. The team visited various agencies such as the Immigration Department and BAHA.

BDF Trained By The US Marines
(posted on Thu Sep 3, 2015)
A month ago, we showed you how the United States Marines Corps trained 16 officers from the Coast Guard to become part of a new infantry marine division. The goal was to prepare them with modern skills and techniques, the kind that the Marines have used to become one of the most respected fighting forces in the world.
Well, for the last 4 weeks, they've been doing something similar for the Belize Defence Force, and today, 21 Belizean soldiers graduated from a regiment in weapons handling, hand-to-hand combat, and marksmanship.
We stopped by the graduation and met the newly trained soldiers. Here's what their Chief of Staff had to say about their progress through the program:
This the 5th group of soldiers to be trained by the US Marines in this program.

National Bank Opens Bze City Branch
(posted on Thu Sep 3, 2015)
Two years after it was opened in Belmopan, today the National Bank of Belize christened its Belize City branch. The branch is located on Regent Street and is the first branch for the small but growing bank which is headquartered in the Capital. This morning at a very well attended opening, the General Manager said it is about getting closer to customers:..
Alvaro Alamina, General Manager
"To help in getting closer to our customers, we now have this modern new office at 53 Regent Street. This branch will mirror the activities of the Belmopan Branch, but will also offer new services such as night safe facilities, safety deposit boxes - targeting business and corporate customers in Belize City. The catchment area for this branch will mainly Belize City, San Pedro, Caye Caulker, Corozal, Orange Walk and the growing areas outside Belize City such as Ladyville, Lord's Bank, Burrell Boom and the other small villages in the Belize District. This bank will continue to follow its motto of being "the people's bank." Priority has been given from inception to those persons who fall within the low
to middle income category. Going into the second year of operation, the bank is now offering a number of deposit accounts, in addition to a wide range of lending products including mortgage finance, vehicle finance, business loans, and personal loans. The focus presently is on rolling of other services to include online banking, debit cards and chequeing accounts within the coming months as well as placing more emphasis on consumer, business and corporate financing."
Jules Vasquez
"How many people will work here?"
Joy Grant, Chairman - National Bank
"I think when I checked with Mrs. Arnold, she told me it was 7."
Jules Vasquez
"7 people for this big building?"
Joy Grant, Chairman - National Bank
"Yeah but listen, we are very much computerized and its one system. So that was a challenge to make sure that this system is the same one in Belmopan and Belmopan at this point is the head office and this is a branch. So by using IT which is my thing, trying to push IT - just about everything will be computerized for the workers. So we are using less man power, but to get the same results."
Jules Vasquez
"Did you all really need such a grand and imperious building? This is just a branch. The branch is bigger than the headquarters."
Joy Grant, Chairman - National Bank
"Not with persons."
Jules Vasquez
"The physical space."
Joy Grant, Chairman - National Bank
"But then you want to grow man. You never have a bank for today. As I said today, we have this 176, I expect that to triple, quadruple in a very short period of time. But what is the goal, the aim, the vision for this branch, this will be our corporate headquarters. This is where we are going to reach out to the business community in San Pedro, in Caye Caulker, in Belize City and offer services that currently we are not offering."
Alvaro Alamina, General Manager
"We decided to create a look which will depict our image for the future."
Jules Vasquez
"This building a fit for the bank?"
Joy Grant, Chairman - National Bank
"Yes. I think that the building, what we wanted and we are glad that the building is this magnificent, because it sends a signal that we are not fly-by-night little thing. We want to be the best bank in this country. Like in Brazil, their national bank is the biggest bank in the country."
The Belize City branch opens for business on Monday September 7th. And as it moves into stylish and new "digs" in the city - the bank will also have to learn to fend for itself. Government has provided seed capitalization of up to 40 million dollars - but now it will have to attract depositors and fend for itself - according to the Prime Minister:..
Joy Grant, Chairman - National Bank
"Well capitalize at this point. However this is a good time for me to say that we want more deposits. We want bigger deposits, because we also want to do bigger loans. You cannot have a bank with only loans at a certain size. So we will continue to do that. The demand is there, but we want to go to the larger loans and larger deposits."
Hon. Dean Barrow, Prime Minister
"I think we put in something like 40 million dollars in equity. We gave a little something extra for the opening of the Belize City branch, because it means that the clientele would have expanded. But government is basically now going to draw the line and say that continue operations of the bank, the future operations of the bank will depend on now on the deposits that to take."
And while the bank looks for deposits, it also has to watch its loans portfolio. We asked about the moral hazard associated with having a state bank:
Jules Vasquez
"Now, I remember when you all had this very concessionary Christmas loan. People would line up at the bank from 5am. Now in all my knowledge of bank, I've never seen people line up to make a loan and when people do that it makes me wonder that you don't have to pay it back, because it's the government of Belize and Dean Barrow, in some Independence Day address he is going to forgive all the debts and we will all go to heaven in a little row boat."
Joy Grant, Chairman - National Bank
"That's an excellent question. There are two parts to that question; the first part was the amount of people that came for the Christmas loans, because even the Prime Minister called and said, what interest rates are you giving and I say we are comparable. We weren't lower than anybody else. Well I feel that Belizeans who have never walked in a commercial bank feel comfortable walking into the National Bank and that is something we never anticipated, but it's a really good thing. So everything was by the books. We were working very to make those loans."
"Now the second part of the question as to political forgiveness. Absolutely there are some people who when they walk in the bank - well why you need all of this? This is national bank. And then we have to explain to them that first the Central Bank will come in and do their evaluation of us. But if we don't follow banking practices, the bank be here next year. We are in this for the long haul. So there are some of that feeling out there because of what has happened in the past, but there is no way that we operate under that principle."
Hon. Dean Barrow, Prime Minister
"I think it's still fairly early days yet. But as far as I know there are not the sorts of problems with delinquent loans that would suggest that the bank is in any danger of not being able to operate viably on its own."
Of course, the bank was created to drive down commercial lending rates, and make the banking system more robust. But has it really done that? We challenged the Prime Minister:..
Jules Vasquez
"But overall I could argue that the excess liquidity in the system is still in the hundreds of millions and while indeed lending rates may have ticked down slightly, we are still facing a system that is flush with excess liquidity and it's not a robust banking sector."
Hon. Dean Barrow, Prime Minister
"I don't know that it's not a robust banking sector. The question of the excess liquidity and why it is that not more loans are being given. Why is it that the fact of all this liquidity hasn't translated into a more robust lending program is something that has all sorts of explanation. While the entrance into the sector of the National Bank of Belize has not solved all the problems. There is no doubt that it has made a difference."

Who Did GOB Buy The City Building From For NBB Branch?
(posted on Thu Sep 3, 2015)
And while the bank is opened for business as of Monday - there's been much political banter about the building it's in. The press asked the Prime Minister about it today:...
Reporter
"Sir, could you confirm for us that the acquisition of the building was indeed bought from the brother of your economic ambassador Mark Espat for 3 million dollars?"
Hon. Dean Barrow, Prime Minister
"I believe it was bought from a company, but there is no doubt at all that the company is either owned by or controlled by members of the Espat family."
Reporter
"The price of the building?"
Hon. Dean Barrow, Prime Minister
"I don't remember. May have been a little more, may have been a little less."

Mas Camp Madness: Day 2
(posted on Thu Sep 3, 2015)
Carnival is set for Saturday September 12th - that means right about now, Carnival camps are working overtime to finalize costumes and polish their dance chorography for the big day. Last night 7news stopped in at 4 more carnival mas camps around the city. Here's what we saw.

Madness Erupted Into Violence
(posted on Thu Sep 3, 2015)
And there was a commotion outside of Jam Jam carnival camp last night on West Collet Canal. Just before 9, police had to fire warning shots above the crowd of spectators, after a fight broke out and chaos ensued. We are not sure about the persons involved in the fight but we were told that some of the DJ's equipment were destroyed in the mix of things. The incident caused police to shut down Jam Jam carnival Mas camp. And not long after another fight broke out
on Allenby Street across from the carnival camp. Police managed to control the crowd- and a minor was detained by the officers.
Tonight is the last night for carnival Mas camps. 7news will be visiting Mohogany Masqueraders, Sunshine Masqueraders, Soca Moca, Mother Nature's Creation and Titans Mas Band.

Police Will Shut Down Mas Camps Early
(posted on Thu Sep 3, 2015)
And that incident you just saw is why the officer commanding for the eastern division Southside Chester Williams says he has had enough(!) of the mas camps. He told us today that he will force them to shut down early tonight:…
And if you're wondering what got Williams so upset - here is the incident he was referring to:...
Tomorrow, we'll tell you how that little experiment went.

Home | Archives | Downloads/Podcasts | Advertise | Contact Us