Low Income Neighborhood Burns, Dozens Dislocated
(posted on Fri Mar 24, 2017)
Tonight one of the city's oldest low income neighborhoods has been flattened by fire, and, likely, dozens are left homeless. The fire started in Pink's Alley - between Queen And North Front Streets - at around 4:30. It burned one of the apartment buildings which is home to many families. The fire was brought under control at around 5:30.
Tonight we can confirm that very fortunately no one was hurt in this area which is home to many families with children. But residents are vary raw and angry. They say that the Fire Department did a very poor job and weren't ready with water or equipment. Our team is just back after speaking with the area representative and a prominent member of that neighborhood. Here's the interview with Leroy Grandmaster Young - who's one of the neighborhood;'s oldest resident:
Leroy "Grandmaster" Young

"I was born and raised in this neighborhood and it's a sad situation. It's the third time this neighborhood burnt down and the thing that upset me is that when I got the news I was at work at the Chinese restaurant. By the time I reach there, 1 fire pump was there. I always watch news and I heard people complaining about the fire engine comes without water and this and that and I watch the first fire pump come and they took like 10 minutes to hook up the hose and when the water really started to run - it's about 3 minutes later and slowly. The houses are up in flames and they are running about confused."
"It hurts me, this is all I got her on me and the whole life story, the whole history of grandmaster went up material wise. These apartments went through 3 fire burn already."
"When I use to be a rapper, I had a song that I made about the first fire burn "Fire de inna our area." then the second time and now this is the third time. In other words I am saying these stuff need to be broken down, taken down and start build a house for each family. Nothing fancy - a nice little cement bungalow house and the family house that I lost, my father went through blood, sweat and tears to build that house to have it where it is today."
We also spoke with long time area representative Said Musa who's been working in the area since the 70's. He put the fire in context for us and told us about the temporary housing for residents::
Rt. Hon. Said Musa, Area Rep. - Fort George

"What we are doing as an immediate emergency measure temporary is to find accommodations for these people tonight. Most of them lost everything, so we have to get some materials for them, mattresses and different things and also we are finding accommodation for them temporarily until we can sort things out properly, because that whole block of the apartment building is complete destroyed as can see and several houses behind it too."
"I am certainly hoping that we can redevelop the area and I will appeal to the government to come and assist us as well, because as the area representative I have to lean on the government this time, because this is a major disaster and we will need to do a major reconstruction of the area - of all the apartment buildings quite honestly - houses at the back too."
Alex Courtenay, 7News
"As you said reconstruction will be necessary, but is there may be more of an idea to get some planning done, because we know that the fire spread very quickly from the apartments top different houses around here. Will there be more of an effort to ensure that that kind of thing doesn't happen again and fires can be contain much easier?"
Rt. Hon. Said Musa, Area Rep. - Fort George
"Yes, you know how these things are. A lot of planning has to go into it to ensure that... I am told that this fire started in a kind of deliberate kind of way - negligence basically. I can't say deliberate, I have to say negligence and this kind of thing you can never prepare for except to educate people about it - you can't play with fire - serious business."
It is still very much a developing story tonight as so many families are homeless. We'll have an update before the end of the news.

Fire In The Center Of Caye Caulker
(posted on Fri Mar 24, 2017)
And almost simultaneously there was a report of a major fire in downtown Caye Caulker. This one started in the center of the village near the police station at Tina Auxilou's Hotel. Reliable reports say that the fire equipment on the island ran out of water and tourists and residents had to join together to form a bucket brigade. We'll have more on this later on in the news.

Calaney Gets Off Alleged Murder of Ex
(posted on Fri Mar 24, 2017)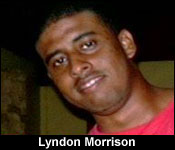 Trial without jury cases have been making the news all this week, and tonight, there is another high profile one coming out of the Supreme Court.
Back in August of 2012, it made headlines news when Belize City resident Calaney Flowers was charged with murder and attempted murder for allegedly knocking down and killing her baby's father. He was 29 year-old Lyndon Morrison, and he was riding his signature Suzuki motorcycle with his new girlfriend, Sochyl Sosa. The couple were traveling on Freetown Road, when Flowers ran into them in her car. Morrisson died from his injuries, while Sosa was badly injured.
Flowers stood trial without jury last year June, where the prosecution showed evidence that she intentionally ran into them, and caused the accident which killed Morrison and caused severe injuries to Sosa. After 9 month wait for the judgment, Justice Troadio Gonzalez finally delivered his verdict today. He acquitted her of murder for Morrison's death, and attempted murder for Sosa's injuries.
7News was there for the very controversial outcome of the case, and Daniel Ortiz has that story:
Daniel Ortiz reporting

Calaney Flowers walked up the steps of the Supreme Court for the very last time this afternoon with the charges of murder and attempted murder weighing her down.
It had been a 9-month wait for Justice Troadio Gonzalez to come to a decision, and today, he announced that he did not think that Flowers intentionally knocked down and killed Lyndon Morrison in that traffic collision which left girlfriend, Sochyl Sosa, severely injured in the process.
Obviously aggrieved by the judge's verdict, the Morrison family walked out of court disappointed, the tears and pain visible.
Colin Morrison - Brother of Deceased
"Well we had definitely, because you have to try and prepare, that's the only thing you can do, but we had discuss 2 ways; either the murder or manslaughter, but we definitely wasn't prepared for a case being thrown out. Definitely wasn't prepared for this. It ripped out the heart of my mother. I mean I couldn't imagine losing my child, much less anything else. At one point my brother was like my son when my mother was away studying. I took care of them for about 2-3 years. So for me it's horrific."
So, even though the family firmly believes that she is guilty, her attorney says that the judge had to look at the evidence before him to determine that conclusion objectively.
Richard "Dickie" Bradley - Attorney for Calaney Flowers
"We went to a full trial. Calaney gave her side of the story and also a security guard who work at one of the banks in the vicinity of the accident or the incident, also testified on behalf of the defense. So this afternoon in effect the judge has said that he had carefully gone over the evidence. He could find no evidence, he could find nothing to confirm with the legal ingredient of the crime of murder. Murder means you must have the intention to kill at some stage. He could find nothing at all in the evidence that it was Calaney Flowers who actually form that intention and executed it."
Sochyl Sosa, seen here consoling Lyndon Morrison's mom, testified in the trial on behalf of the prosecution, and with a first-hand account, she told the court what happened. Back in August of 2012, she granted an interview to the press, explaining it from her perspective:
File: August 30, 2012
Sochyl Sosa, victim
"At the round-about, we had to stop at the speed bump there. When we stop there she crash into us. I was frightened, I told him to stop that this girl will kill us, please stop. He says babe I can't stop, I am speeding right now but we had to stop because of the bump. After we stop she hit us and that was when everything happens. After that I don't remember anything."
The attorneys for Calaney Flowers cross examined her in the trial, and Dickie Bradley told us today that she made disclosures which were favorable to the defense's case:
Richard "Dickie"Bradley
"Out of the mouth of their witnesses we were able in cross examination to have the sole survivor the young lady who was on the motorcycle at the back admit to us that she had said and there is written proof of it - she had said that when she told Mr. Morrison that Calaney Flowers was at the back coming over the first speed bump at the flag monument, that he said "babes I am in a high speed, I can't stop.""
He also focused on other parts of the evidence for which there was doubt:
Richard "Dickie" Bradley
"The other scientific evidence I want to tell you because I know that there are family members who are hurt, this is one of the many photograph of the vehicle. This is not the clearest one, because the others are with the court. The photograph of the vehicle after the accident from the left side, from the right side, from the front shows that the bonnet is unchanged - that not even the glass on any side of the vehicle were broken. There is no dent, no tire marks, no nothing on the front of that vehicle. So it cannot be true (its a scientific matter) that a small car like this can slam into a ninja motorcycle with such force to send the two persons flying many feet in the air and there is not a single telltale trace."
Colin Morrison - Brother of Deceased
"The judge actually agreed that the evidence that that was the car that killed my brother and hit Sochy. So we had expected at least if he had come to that conclusion, maybe a manslaughter charge. But he juts dismiss the case and said that 'Oh he know cases like these will definitely go to appeal.' So it's very disappointed."
"It's been about 4.5 years or more now and basically we have move two steps forward, but most times we move back one step. So I guess that where we at right now."
So, for Calaney Flowers, she get to go home after 4 years and 7 months in jail. But, for the family of the man she was accused of killing, forgiveness may never come.
Reporter
"As a sibling, have you considered forgiveness? Where have you been in terms of that emotional space to look at Miss Calaney Flowers now that she is a free woman?"
Colin Morrison
"My only answer for that is that is between she and God."
It is notable that the judge did not consider manslaughter which is the usual alternative to a murder charge. He did acknowledge in court that his decision could be appealed, and we've confirmed with DPP Cheryl-Lynn Vidal that her office intends to do exactly that. So, it is only be a matter of time before the appeal of this case is filed at the Court of Appeal.
Also of note is that this is one of those very last cases that Justice Troadio Gonzalez had before him before he goes on retirement.

Day Two Of Budget Debate is More Blustery Back And Forth
(posted on Fri Mar 24, 2017)
Today was day two of the budget debate at the National Assembly Building in Belmopan. The leader of the opposition got the ball rolling on day one, and today his predecessor, the former PUP Leader Francis Fonseca took the lead. Fonseca, sporting a new look, took a familiar party line, saying the budget was a fraud. Here's some of the back and forth that followed:...
Hon. Francis Fonseca, PUP Freetown
"This 2017-2018 budget is a fraud, it is a budget built on sand, it is a budget stitched together with obvious glaring creative manipulations of the numbers to create a UDP reality that does not exist for the Belizean masses, speaking plainly madam speaker, it is a budget that seeks to take the Belizean people for fool. Who feels it knows it and the Belizean people today are feeling the hardship and pain the current economic crisis that has engulfed our nation."
"The productive sector is at increased risk as well as all of our major exports, our major export commodities continue to face perilous challenges."
Hon. Tracey Panton, UDP Albert
"The access to new markets and the emergence of other industries are on the rise Madam Speaker , dairy products such as ice cream was exported to CARICOM for the first time in 2016, and our legumes and beans are now being exported in significant quantities to markets around the world with 25 containers of black eyed peas shipped to the Egyptian market last year, both poultry and cattle industries have been working assiduously Madam Speaker to meet the requirements of the Caricom, Central American and the Mexican markets, these local commodities hold great promise and a resurgence of Belize's export performance this year."
Hon. Kareem Musa, Caribbean Shores

"This budget madam speaker is what you would call a hit and run budget, the PM has slammed our economy into a brick wall and now has all plans of abandoning this train wreck after he captained one of the most fiscally unsustainable spending sprees that has resulted in increased poverty throughout this country while at the same time unjustly enriching many of his family and close friends."
"This is a fanciful budget, it is all make believe or what in Creole we would call a force ripe Bukut, oh sorry I meant to say budget."
Hon. Francis Fonseca, PUP Freetown
"This budget offers more poverty, more poverty for the Belizean people, imagine that 9 years in government and you come to the Belizean people with a budget offering more poverty and higher cost of living."
Hon. Anthony Boots Martinez, UDP Port Loyola

"No matter how much our friends on the other side try to feed the Belizean people their version of things, that's why the UDP won 3 consecutive terms because the people believe in us, no matter how they try to paint a picture of doom and gloom a sanky they have been singing for the past 8 years but the Belizean people are not joining in their chorus, they are joining in the UDP Chorus."
Hon. Tracey Panton, UDP Albert
"In 2016 the Ministry along with Beltriade was able to champion the culmination of 4 major investment projects generating some 587 million dollars and 3,800 jobs spanning across all sectors of our economy, we also successfully concluded a record increase of re-investments totaling 114 million dollars translating into 1300 additional employment opportunities, a bold move if I can say so Madam speaker and a vote of confidence by our partners in the private sector."
"In addition there are currently 19 smaller projects being evaluated as we speak and are estimated to generate 1.5 million in investment and provide 2000 future jobs."


A Shyne In the Story
(posted on Fri Mar 24, 2017)
And while Caribbean Shores Kareem Musa threw his fair share of jabs at the budget, he also had plenty of firepower in reserve for the Barrow brothers: Shyne and Anwar. Here's what he dished on Shyne, followed by his Uncle's response:...
Hon. Kareem Musa

"Then you have others like my brother Shyne, he has a certificate from the big house. These guys haven't gotten certified yet on this side. He has a certificate and every Belizean remembers that when he first came to Belize he wanted nothing to do with our beloved country. All he wanted was to get back to America. But now that he has been blocked out of America, guess what, he wants to run. Very interesting times ahead for the UDP indeed."
Hon. Michael Finnegan
"Like the member from Caribbean Shores have a problem with the prime minister two sons. I never know Shyne was part of the budget debate. Every minute I hear Shyne and Shyne gone to jail. So the whole of Belize knows that. Shyne will not be the first or the last man who went to jail."
"Madam Speaker, I don't know what is the thing with him and the 2 Barrows boys. I don't know if because the 2 Barrow boys so good looking like their father or it's because they are black, or because they always dress elegantly. But you have a problem. Maybe I will ask Shyne to teach you how to dress, when you out on a brown shirt what color pants to put on etc, how you comb your hair and how you walk etc, because it looks like jealously - you get petty and small."
And while Finnegan played off the entire Shyne situation, he wasn't playing when he laid into the PUP for embracing a neoliberal philosophy:
Hon. Michael Finnegan
"You all have turn George Price institution and party into a rightwing Donald Trump organization. I listen to the Leader of the Opposition talk for over an hour and his biggest thing was the productive sector. Of course the productive sector is important, but they are trying to tell the Barrow administration that they should use Chavez money for the productive sector. You all will make Chavez turn in his grave."
"Chavez money is to help the poor, not the productive sector. The productive sector must learn to manage their business properly. That party across there is no more the PUP. I know what the PUP use to be under Mr. Price. You all are for the rich and the mighty and the powerful."
At newstime, the budget debate was still rolling along and the Prime Minister is expected to wind it up shortly.

Family Says Chan Pine Ridge Skull May Be For Their Missing Loved One
(posted on Fri Mar 24, 2017)
Last Saturday Orange Walk police found a burnt skull at the dumpsite on the Chan Pine Ridge Road, but were unable to identify who it came from. No one had been reported missing in the area. The skull was taken to the Northern Regional Hospital for DNA testing, but the authorities had no one to match the results with. Well, a new lead may have turned up. Today the family of Israel Cruz, an Orange Walk resident, went to the media on Orange Walk. They told CTV-3 that heh has been missing since March 10th, and they they reported him missing days ago. But most concerning is that Cruz frequented that very same dump site to recycle bottles and plastic materials. Here's a translated version of what Cowo told CT3 V-today.
Voice of: Marleni Copo
"Well the last time we saw him was Thursday evening. He went to sell some shoes with the neighbor. He asked me for a dollar, and said that he was going with my grandmother because he had some stuff to take for her. That was the last thing he told me. He went to my grandmother's through Palmar, but my grandmother said he hadn't been there since Tuesday. So we don't know what has happened to him."
"He goes to the dump site and gathers bottles, aluminum, copper, and bronze*. He sells those, and then in the evenings he goes to my grandmother's. There's a group of them that gathers at her house. Sometimes he might go to my mother's house too. But most of the time he is either at the dump or my grandmother's house."
"We know that last week a human skull was discovered there at the dump. Do you think that it is him?
"Well, we think that there's a possibility that it is him, because we found his bicycle, and his chain in a crocus bag tied up. Well it's not us that found it, it was the police. My mother was there when they did their investigation and she saw the chain and burnt up bicycle hidden in the bushes."
Now the family must wait for authorities to find a match between Cruz and the skull - which can take a while since DNA testing is not available in Belize.

Pen Road Shooting
(posted on Fri Mar 24, 2017)
There was another shooting in Belize City last night. It happened just after 8:00 on Neal's Pen Road extension. 26-year-old Ron Myvette was shot in the back by a man who came up from behind. Myvette is in a stable condition. Our camera's caught police canvassing the area for expended shells.

Stakeholders Angry About New Citco/BTB Plans
(posted on Fri Mar 24, 2017)
For months now we've been reporting on the Tourism Board's plan to move tour guides, hair braiders, and food vendors from their spot just outside the Tourism Village into the Memorial Park. The service providers - who are all local interests - have been resisting it mightily. They say the move will cause them a total loss of business in a year that is already seeing a significant falloff in earnings. Last night the Tourism Board and the City Council had a meeting with stakeholders at the Memorial Park. Here are some of the viewpoints that were expressed:…
Participant
"Who will we pay $300 a month, the money that we make is from hand to mouth to turn over the business the next day. Sometimes our customers don't buy from us because when we don't make any money, they don't want to buy, because they don't want to owe. So if we have to pay $300 where will we get $300 dollars from. That rent is too high. Its been 14 years I'm doing tourism. This is the worst things it ever get. I have been here for 14 years and it wasn't like this yet, and we are in high season. So I don't know how we will pay $300 dollars, we have to try make an agreement so that we could pay. I cant pay $300 dollars."
City Council Rep.
"I understand what you are saying, we base rent on space and location and so you say its high, fine I wont argue with you, but from a method point, we looked at very carefully, it was higher than that because the price per square feet, it was 16 US which is very high."
Participant
"We are impacted intimately by this new system, we are on the ground, we are the one who is there from a daily basis. This is our bread and butter and not just today or tomorrow, we have been here for the last 15 years as stake holders in this cruise tourism industry and so its important that you guys are very careful in the way you bring about this new system because a lot of people are being affected in a negative way."
The meeting started at around 6:00 and went until almost 9:00 pm.

Mayor Says Stakeholders Running From Taxes
(posted on Fri Mar 24, 2017)
The BTB's Cruise Planning Representative Noriko Gamero would only say, quote, "we got great feedback and so we are adjusting as necessary." But Mayor Darrell Bradley was less cautious. He says this is all about taxes and fees, which everyone has to pay, but which the service providers are trying to run away from:…
Darrell Bradley - Belize City Mayor
"We are planning on encouraging all of them to move into the memorial park, this is of course a very contentious thing because everybody wants to be in front of the gate where the action is. So that what we have done is, we are working with BTB to work with the cruise ships to have the vendors alike, behind the memorial park. The cruise passengers alike behind the park and they would then walk through the park and that will give the vendors that degree of comfort to know that they will be where the action is, where the passengers are."
"It has been something that has been met with some resistance because clearly people want their organisational development, they want the spending in terms of infrastructure but of course when you speak about fees and trade license, nobody likes that. So the idea is that there has to be the incorporation of fees because the maintenance of this area has to come with some budgetary support and that must only be paid for by people who use the space."
"This is something that has been talked about for at least 2 years, so this is nothing new. We have had a series of discussions, but of course there is resistance to the idea of introducing any kind of fee. The reality though is that these people are vendors within Belize City, they benefit from using this community but everything that we have been doing right now is a series of consultation. We have put a date in terms of implementation. We are talking about this for sometime but essentially the reality is that if you are a vendor within Belize City, you should be paying trade license. The consultation yesterday was very healthy. Some people had strong reactions to the proposal that was put forward. All of that was noted but essentially the bottom line is that a significant amount of investment has been put in this area in terms of time and money and we have to have a serious conversation with the vendors within the space in relation with having them pay a nominal amount so that we can continue the maintenance of this space. We are trying to get the vendors to be co-opted into accepting the table of fees. if it is something that they are saying that this is very high and these kinds of circumstances, then we could look at the phase-in in proposal."
Jules Vasquez, 7News
"You give a very benign interpretation, millions of dollars invested in the park. You need to regularize the situation in front of the terminals, suppose you take another interpretation - You went to build a white elephant at the park yet no one can use it except for may be 1 or 2 users, in terms of everyday rentals and now you all are trying to pursuit, Carnival Corporation which is trying to keep all the money for itself, you all are workng in concert with them to dislocated those who are fighting for crumbs outside the village and say when you go there you will fight for nothing, because we need to populate this white elephant that we are stuck with. Respond to that interpretation."
Darrell Bradley - Belize City Mayor
"From the very inception I could have told you that you would have had a problem because the simply reality is, if I'm a business person I want to be where the action is, if the tourist are coming through memorial park that's where I want to be, if the tourist are only going from the gate to the bus, that's where I want to be and I will encourage the business vendors, the small business vendors to hold the various regulatory authorities to this but BTB and the City Council and I'm the mayor do not move unless you are assured that the buses will relocated and the tourists will go through the park. The reason why that park is a white elephant is a simple reason, if you make the buses park in the area because anyone will drive out there, you see the area that's designated for the buses to park, the park was actually built with that as part of a whole core concept . The buses park in that designated area and the people walk through the park to the zone, if that happens, if that vision of the initial plan happens then the people have no fear because hundreds of tourists will be walking right pass your booth."
As the mayor indicated, the council is open to adjusting the rental fees.

PM Called Out Mayor, Mayor Incredulous
(posted on Fri Mar 24, 2017)
And while the mayor took that bull by the horns, he was far more careful when discussing a political hot potato that the Prime Minister put in his lap. 11 days ago when he presented the budget, the media caught the PM outside the House and we asked him about former UDP City Councilor Eric Chang. And that's where the PM told an interesting story: he said that even after the whole Citizen Kim affair blew up, Mayor Darrell Bradley still pushed for Chang to be on the UDP ticket in the next city council election. Well today we asked the mayor what that was all about. For context, we air the PM's disclosure first, followed by the Mayor's quite stunned reaction:...
Rt. Hon. Dean Barrow - Prime Minister
"I recollect the mayor of Belize City, a mayor who from time to time talks about unjust enrichment and that sort of thing and he was insisting that Eric Chang be part of the UDP ticket for the city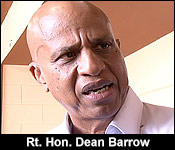 council elections and I said absolutely not and I told Eric "don't you put up your name, because I will personally go to the ethics committee of the party and I will ensure that you cannot run for this party again."
Jules Vasquez, 7News
"That's what the prime minister said, now I know you are a man who always speaks about good governance and ethics in public life, why would you have wanted Eric on your slate?"
Darrell Bradley, Mayor of Belize City
"I again have not seen that comment, I don't know anything in relation to that."
Jules Vasquez, 7News
"It was on the news."
Darrell Bradley, Mayor of Belize City
"I wont make a comment in relation to anything that I haven't seen and I will say is that I have never had any conversation with the Prime Minister or with any member of the United Democratic Party in relation to Eric Chan's candidacy. I have never ever had a conversation. I never went to bat for him, I never asked anybody for him to run as a candidate, that was never an issue and never had any conversation, I haven't seen the comment. I don't know what you were speaking about in relation to that but I can only say what I know and at no time..."
Jules Vasquez, 7News
"The Prime Minister says he doesn't lie."
Darrell Bradley, Mayor of Belize City
"Jules, I have the utmost respect for the Prime Minister, I have not seen what you are telling me about and I don't have any intention to look at it. I would only say that for the record I did not have any conversation with the Prime Minister or with any member with the United Democratic Party."
The mayor says relations between his council and central government have never been better.

Foreign Ministerís In Court Again
(posted on Fri Mar 24, 2017)
Viewers may not be aware but Foreign Affairs Minister Wilfred Elrington and his law firm, Pitts And Elrington, have been fighting a case in court since 2010. The dispute that he has with his former business partners is now ending up all the way at the Caribbean Court of Justice.
It's private quarrel within the company Progresso Heights Limited over land and money. Elrington won at the Supreme Court, and the Appeal Court, but his opponents, the principals of Progresso Heights were not satisfied with the outcomes. So, they've approached the Caribbean Court of Justice, who has granted them leave to appeal.
The law firm representing them is Courtenay Coye, and today, lead attorney Eamon Courtenay discussed the backstory of the case with us:
The actual appeal will be heard at a later date.

TB Is Still A Health Issue
(posted on Fri Mar 24, 2017)
Tuberculosis is one of the world's deadliest bacterial diseases which has killed countless people throughout history. An estimated 10 million people contracted TB last year, and 95% of those who fell ill came from developing countries. 120 cases were diagnosed in Belize in 2016. But while the disease is extremely infectious and dangerous, it does not have to be life threatening. You may not know it, but there is a cure for TB. Which is why the Ministry of Health held the Tuberculosis Awareness Fair today. The fair was aimed at educating the public on the symptoms of TB as well as preventative measures. We spoke the the Ministry's TB Adherence Councilor, Kevin Mendez, about the even...
Mendez told us staying in shape is the easiest way to prevent the disease, but if you should see symptoms in yourself or a loved one, do not hesitate to get tested.

House Hijinks
(posted on Fri Mar 24, 2017)
Earlier on we showed you some of the meat of today's debate. But there's also what you might call the fat, and that's the sparring across the house floor which is when members hurl insults at each other under the microphones. It's not exactly exemplary parliamentary conduct, but it can be entertaining in a day of debates that runs for as long as 10 hours. Here's an example in an exchange between Francis Fonseca and Anthony Boots Martinez about votes and houses in Belama:
the budget debate is still going at this hour, and the Prime Minister probably won't get to wind it up until after 8:00.

Latest on Fire In Pinkís Alley
(posted on Fri Mar 24, 2017)
Tonight about one dozen families are homeless, and as many as three dozen people have been dislocated after a fire that burnt the central apartment in one of the city's oldest low income neighborhoods, which is Pink's or Majestic Alley. The fire burnt out 8 units, four upstairs and four downstairs in the main apartment building and it also brunt three houses behind that. At this hour, temporary shelter is being arranged by CEMO and the Area Representative at St. Mary's Hall. Said Musa and The Grandmaster have been in the neighborhood living or working for four decades going on five, and they told us what's next, both for the investigation and for starting over...
Rt. Hon. Said Musa, Area Rep. - Fort George
"And of course we have to ensure that we have good electrical system in all these houses and I have been trying to do my best to ensure that that has happened. So I don't think it's an electrical fire."
Leroy "Grandmaster" Young

"I will tell you again, we don't want it turn political or nothing like that, but sometimes politics got to do with it, because if they were updating the fire station system - house were leaking, this could have been avoided or at least it could have been minimized. It hurts me. I am looking after the elderly first - give them to option to have the shelter and thing. I am not a young rooster again, but I've been through worst that this and I could survive at least for tonight, but somebody has to come through."
So tonight, a number of persons have taken up temporary shelter in St Mary's hall and CEMO is seeking to facilitate them with basic food and shelter needs.

Another Difficult Appeal Case
(posted on Fri Mar 24, 2017)
Earlier in the news we showed you judgements from The Court of Appeal for this current session which ended today.
One of their last rulings was in a case brought by the Belize Bank Limited, which is not being allowed to enforce a 36 million dollar arbitration award that has been accruing interest since 2012. You may remember fight over the Belize Healthcare Partners Hospital, which used to be named Universal Health Services.
In 2004, the then Prime Minister Said Musa entered into a 33 million dollar agreement with the Belize Bank over Universal Health Services. The Development Finance Corporation provided funding for UHS, but there was a shortfall, so the Belize Bank was approached to provide additional financing. The Bank agreed, but it wanted a government guarantee, which was given. DFC went bankrupt, and the Government then asked the Belize Bank to take on the entire loan, and again, the Bank agreed. The Government guarantee was cancelled, and the Musa Administration then issued a loan note in 2007. That triggered the ad hoc organization, Association of Concerned Belizeans, who challenged the loan note on the premise that it was another those Musa secret agreements which never got parliamentary approval. They won at the Supreme Court, and the Court of Appeal, and that case went all the way to the Privy Council, which vindicated Said Musa's actions as Prime Minister.
The Belize Bank then continued international arbitration over the loan note which the Barrow Government refused to honour. They won an arbitration award against the Government, which they then attempted to get enforced at the Supreme Court. That attempt failed when the Supreme Court ruled that this award cannot be enforced because it is contrary to public policy. The Ashcroft Alliance made a second attempt at the Court of Appeal, which handed down a ruling today, upholding the Supreme Court Decision. It was a majority decision, with the dissenting Judge, Christopher Blackman, reading his reasons for disagreeing with his brother judges.
It's a defeat for the alliance and a victory for the Government. Belize Bank Attorney Eamon Courtenay gave us a reaction having only heard it in court today:
Eamon Courtenay, Attorney for Belize Bank
"This was an appeal from Madam Justice Griffith in which she refused to allow permission to enforce the arbitral award relating to the UHS financing. You will recall that the Development Finance Corporation provided financing for UHS hospital and it was eventually - that debt, the government of Belize issued a promissory note. You will recall that the Privy Council had ruled that the promissory note was not in violation of the finance and audit reform act and therefore we then came to enforce the award."
"Madam Justice Grifitte refused and said that she will not enforce it because it was contrary to public policy. I have not read the judgement that the court just handed down, but it was a majority decision in which they upheld her decision and one of the judged appears to have given a very strong dissenting judgement from listening to what he said in court just now, but we would have to read it to say anything more about the judgements."
Daniel Ortiz, 7news
"How does this affect your client's position given that enforcement has been refused once again?"
Eamon Courtenay, Attorney for Belize Bank
"Again, just coming out of court, we have to look at the judgements to advise the client, but I would suspect that the CCJ is an option."
This is yet another of those enforcement fights, very much like the BCB fight which went to the Supreme Court just last week. These are disputes where the Ashcroft Alliance has an arbitration award against Belize from the London Court of International Arbitration, but the Barrow Government is resisting its enforcement in the Belizean Courts.

UDPís From Toledo Protest
(posted on Fri Mar 24, 2017)
And finally tonight, a small story about the one protest that took place during the house debate. You might think it was against the government, but in fact it led by at about 50 to 75 Toledo residents. They went to the stairs of the National Assembly to protest against the two PUP representatives for Toledo East and West. They told us why:...
The protest lasted for about an hour and a half, but we're not sure the Toledo Reps even knew about it.

Home | Archives | Downloads/Podcasts | Advertise | Contact Us