Striker Deon McCauley Is Home
(posted on Fri Apr 17, 2015)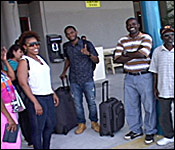 On Wednesday night's news, we told you about the fundraising effort organized by a grassroots group of football fans. The group calls itself the Association of Belizeans Concerned with Getting Deon Home. They wanted to show maximum support for the prolific striker, Deon McCauley by raising $5,000 in donations to cover his travel expense, and a weekly stipend to pay him for the next 10 weeks while he trains with the National Team for FIFA World Cup qualifying match against the Dominican Republic.
The "ABC Deon," as the group became known, took action in the wake of the public outrage which resulted when President Ruperto Vicente announced that, due to FFB rules, they couldn't pay for McCaulay's return.
The group gave itself a two-day deadline, asserting that it could get McCauley home from the US by today. Well, they delivered, and at around 1 p.m. this afternoon, Deon McCauley arrived from Atlanta via Miami. 7News was there at the airport to greet him, and he had only gratitude for the general public who gave generously to the dollar drive. Here's what he told us:
Deon McCauley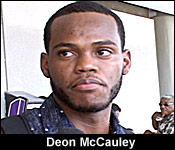 "It feels very good to be home. Very good to be here where I live - my country. Feel very good to represent my country once again. Looking forward to training, looking forward to being with the team. Looking forward to put in the work and contribute positively to the team and help build the team."
Daniel Ortiz
"So, you must be ecstatic that Belizeans support you in this fashion? They rose to the call immediately as ABC formed itself and started mobilizing."
Deon McCauley
"Well of course, I feel very good that the people of this country appreciate the work that I do and appreciate football on a whole and without the country and the support of the people, who knows what could have happen. So, at the end of the day I have to be grateful to the people and thank them very much for the 50 cents or dollar that they donated towards this cause. Expect the same from me - I always represent to the best of my ability. Like I said before, my resume speaks for itself. I have scored 17 international goals for this country. Nobody has never reached that and might never reach that and I feel good that the people of Belize appreciate me for what I do and I look forward to just doing my best as usual and making everybody proud in this country. And that's me. That's what I do."
We also got a chance to speak with few of the ABC Deon members, and the described the encounters with members of the public as they went around looking for support to raise the $5,000 dollars. They told us that the generosity of the youngest and oldest fans who gave shillings and dollar coins to the fundraiser was the most fulfilling aspect, since it showed the appreciation the public has for football:
Cordelia Belizaire, Member - ABC Deon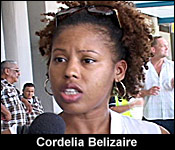 "We've had a lot of persons contacted us in supporting us financially to get Deon home, which we are very much appreciated and grateful for the effort. We basically did the dollar drive and we went around. It wasn't just us, there were 10 of us actually, who were actually involved in mobilizing and getting the pledge sheets out ad collecting the funds needed. We had numerous offers from different businesses. One thing that we wanted to stick to was the fact that we wanted Belizeans to do it. For the love of football, the fans, to support, to show Deon how much we really appreciate him, his skills` that he has and to just get him here. That was basically it. We managed to raise all the funds that were needed to cover the expenses."
Dylan Williams, Member - ABC Deon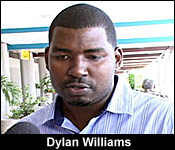 "We reached to everybody and anybody. The bottom line was that we wanted to really reach out to 5,000 Belizeans giving one dollar. That was the real intention, but once that process started, we got the support of other persons who gave much more than that and which was really appreciative. But, we really sing the song of the 3 year old and the 8 year old and the 52 year olds, who provided their dollar, their shillings - their 2 dollars and everybody basically that contributed."
Kyle Miller, Member - ABC Deon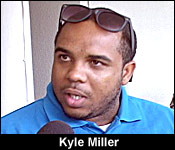 "It's coming from fans, its coming from young people and we love what we're doing and so, here you go, here is a $25, $5, $50 - we even have kids coming and say see a dollar here sir, we want Deon to come home - we want our team to win, so, it touched my heart, to see so many Belizeans behind this and despite what other people may say, it's a lot more other people that come behind and say you know what, we believe you guys and we understand what you are doing and we are behind you. We support what you are doing - just a bunch of fans coming together and want our player to come home and play and that's just basically it."
Reporter
"You have a very good record when it comes to your sporting discipline and as a result you've made the FFB proud. Are you dishearten by the fact that they are not the main organization or organizers of seeing to it that you got back home?"
Deon McCauley
"No. I am not really worried about them. At the end of the day, it's all about Belize. It's not about them. At the end of the day, i am here now and I am here to work."

FFB Embraces Deon Rejects Bad Rap
(posted on Fri Apr 17, 2015)
The Football Federation of Belize, and its president, Ruperto Vicente, were the target of harsh criticism all this week. That's because they said they couldn't buy a plane ticket to get him home for the national team camp.
But, now Deon is back in Belize and so what does the President of the FFB think? Well, he was at the airport to greet the striker - and told us the anger directed at the FFB was misplaced:...
Ruperto Vicente, President - FFB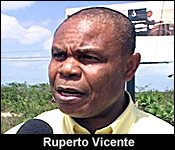 "It is a good thing and I have to embrace it as well. It shows that the people wants to participate in the process and they also want to participate in what is now our football. It shows a level of patriotism. It shows a level of commitment to the country. I have to embrace that, but at the same time, we must also understand that they are rules in place. Because we are changing things at the football federation. Nobody comes to the federation or to the national team automatically. Every time we called the national team, even if you have been on the national team for 15-20 years, you have to come back and prove yourself. That is the criteria that has been in place and we are enforcing that kind of criteria. So, for the Belizeans coming to support Deon coming home - to prove himself and try out for the national team - is a welcome gesture. I will not fight against that. It is Belizean and our national team is Belizean team. I am here as the custodian, as the person who sets the standard for our football federation and we the standard for our national team. As I said before, it is no longer business as usual. Our national team has to fit into that kind of program and that is the reason we have this. It is good for football."
"Remember that football, it is a controversial sports. When you are on the field, it is controversy, because the referee makes a decision and people do not agree with it and similarly in administration, there are decisions that are going to be made that some people do not agree with, but must be enforced, because that is the rule of football."
Daniel Ortiz
"You are just trying to set a good example, but your comments spark a bit of rage amongst the football fans who wanted to see Deon coming home. Is that something regrettable to you and if you had to do it over again, would you make that same call?"
Ruperto Vicente, President - FFB
"Yes, I would make the same call, because it is the criteria that has been put in place by the football federation, not by Mr. Vicente, but by the football federation - by the coaches, by those who manage the national team. Those are the criteria that are in place and I embrace that and I will make the same call anytime, any moment."
Both Vicente and McCauley told us today that they have no ill feelings toward each other, and that they want to move forward with the business of getting ready for the second round of World Cup Qualifiers against the Dominican Republic in June. But, what about the rest of the team? Are the other football players able to be just as magnanimous, given that McCaulay got all the attention from the public? That's what we asked president, and here's his response:
Ruperto Vicente, President - FFB
"I spoke to Deon in Miami and I ask him quite blankly 'are you prepared, are you ready to report to camp and he says, Mr. Vicente, I am ready to report to camp on Monday,' so he is reporting to camp. There is no tension. These are just policies that we have in place and everybody have to understand that we must live by those policies. Now, that is regrettable, that this situation I have gotten a lot more attention, that those players who have committed themselves to camp and who are working hard for the national team. They also deserve the attention. They also deserve to be treated fairly, because they have committed themselves and they have put in the time. Every national team player must put in the time. And Deon must put in his time. He is here now. Now is an opportunity for him to put in his time and to prove that he is worthy of being on our national team and I welcome him back."
Deon McCaulay reports for his first day of training camp on Monday.

Cayo Coast Guard Killers Charged
(posted on Fri Apr 17, 2015)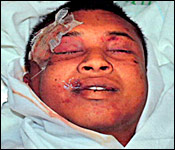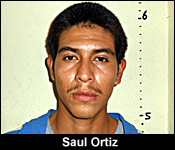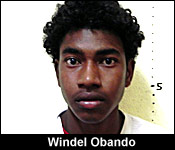 Three persons have been charged for the murder of 23 year old Aurelio Montero Jr. He is the Coast Guard officer who was found unconscious with a head injury in downtown San Ignacio early on Holy Saturday morning. Montero never regained consciousness and passed away shortly after he was found.
Well, Cayo police have now charged three males, including a 17 year old minor for his murder. Apparently, Montero Jr was sleeping on the ground near the Welcome center after midnight on Good Friday. He was likely inebriated - and the three decided to rob and beat him up. They dragged him behind a building and did just that- taking his wallt with his ID and his footwear. Montero who remained unconscious put up no resistance and they are believed to have inflicted the injuries that led to his death.
Police have gotten confession statements from three men: 20 year old Windel Obando, 23 year old Saul Ortiz and a 17 year old - all of the Kontiki area in San Ignacio. They have all been charged for murder.

BELís Big Blackout
(posted on Fri Apr 17, 2015)
Residents of the Belize City northside neighborhoods of Coral Grove, Buttonwood Bay, Belama Phase I and the portion of Belama Phase II between Chetumal Street and Gwen Lizarraga Street had better prepare for a warm Sunday! And on the southside, Nargusta street, St Jude Street, Mopan Street, Hondo Street and a portion of Mahogany street between Mopan And Sitee Streets should do the same. That's because BEL has announced an eleven-hour outage! - that's right half a day of blackout, from five in the morning to four in the evening. This is to replace lamp posts carrying high voltage lines and tension high voltage lines
But, even if you live in other areas of the city, you're still going to fell some inconvenience, because there will also be two half hour long city wide outages from 5:00am to 5:30am and 3:30pm to 4:00pm to commission recently constructed Banak and Palotti Substations.

Leased Land For Evicted Squatters
(posted on Fri Apr 17, 2015)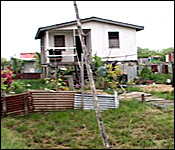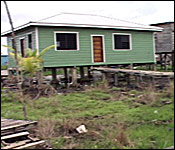 Tonight it seems that the eviction dispute in the Gungulung area of Lake Independence has been settled without a great deal of fuss. Area Representative Mark King told us that he today handed over 12 land leases in Cotton Tree as promised to the dozen squatters being evicted from the 6 acres of private land along the river. The landowner also gave them a grant of one thousand dollars to cover relocation costs.
And while this story had a reasonably happy ending, there are scores of squatters in that same area. King says he will deal with them starting Monday through the Land Amnesty programme. Of course it's a losing proposition, because demand always exceeds supply, but King says he remains confident.

Corrupt Cop Caught By Canuck
(posted on Fri Apr 17, 2015)
A Caye Caulker Cop was charged for extortion after he shook down a Canadian woman visiting Belize. It happened on Tuesday night at 11:00 on Crocodile Street. Police Constable #621 Daniel Requena caught her with a small amount of marijuana clenched in her hand. He told her she would go to jail unless she paid him eight hundred dollars. She reported the case to his superiors and they arrested and charged him for extortion. He was arraigned and granted bail of $3,000 and one surety.

Polling Sexual Perceptions
(posted on Fri Apr 17, 2015)
About 16 months ago, The United Nation Population Fund - or UNFPA - released a report which showed a high number of teenage pregnancies in Belize. At that time, Dr. Peter Allen, the CEO in the Ministry of Health made the dramatic declaration, "Our Children are having sex. Our Children are having children."
That was a very critical look at a topic which appears to still be taboo within the Belizean society. Well, another survey, this one done by UNAIDS, looked at the society's attitude toward getting tested for HIV, age appropriate sex and sexuality education, adolescent access to condoms and contraceptives, child physical and sexual abuse, the protection of people living with HIV from discrimination, and the attitudes toward homosexuality. In other words, this survey asked random respondents from all over the country about sexual behavior and the attitude toward sex-related issues.
About 773 persons, ages 18 to 64, were quizzed in November 2013, and UNAIDS released the findings to the public today. The Regional Director for UNAIDS Caribbean told us what they found out:
Ernest Massiah, Regional Director, UNAIDS Caribbean

"The first bit is a poll that was on as a nationally representative poll of 773 Belizeans; men and women across the country. And we are asking them questions about their attitudes to sexual and reproductive health, sex education in schools, testing for HIV, domestic violence and child abuse. and what we found is, and I think is really interesting, we found that Belizeans are perhaps more accepting of sexual diversity than perhaps one gets when one looks in some of the stuff in the newspapers. So, 34% of Belizeans said that they accept someone who is gay or homosexual and 34% said they would tolerate someone who is gay or homosexual. And that statistic is higher than what we've seen in many of the countries in the eastern Caribbean. So Belize is really showing itself to be a more accepting society than we would have first thought when we compared it to other islands in the Caribbean. What we see is that there is much more acceptance, but I say 34%, put that into perspective. That is one out of every 3 people you coming across and saying 'yes I'm okay I can accept people, I don't believe in discrimination'. That's the other thing too we found out, high levels of support for anti-discrimination legislations. Belizeans don't want a society that discriminates. When we looked at the finding on say, testing of HIV, I think it's interesting but 40% of people say that their concerns with confidentiality are one of the reasons why they don't go in to be tested for HIV. And we are seeing that across the entire Caribbean. It's really a question of in small societies; how do we ensure confidentiality? How do we tell people that if you come in and you provide us with detailed information that information is not going to get out. So it's a challenge still for the health system to see how you make people believe and accept that your information is confidential."
"The most interesting element of not just our polling but other polls in surveys that we've seen is that young people are very sexually active and when I say young people I am talking about teenagers from the age of 13 up. We're seeing that large numbers of them are sexually active. We are also seeing that in Belize, 1 out of every 5 births is a teenage mother and let me just put a teenager into perspective here. If your 13 or 14 and you've had a child, it is likely that perhaps by the age of 19 you will have a second child. And so for that young mother with two children at the age of 19 who may not have been able to complete school. Who is perhaps going to have to find a job, which may not be able to pay enough to support her children. It affects the mother and it affects the future of those two young children. And we've seen in our poll, support for the introduction of family life education in school but the really interesting thing is that 82% of Belizeans say that they would support the introduction in secondary schools of condoms and contraceptives for young people. And that is something we didn't expect, but there is wide support for that because people are seeing and understanding what is happening to young people. All societies in the Caribbean have two faces when it comes to sexual behavior. We know what is happening, it's very prevalent that there is high levels of sexual activity from young. But we have policies and attitudes that pretend as if we don't really want to talk about it. What this poll is showing that the population is actually moving in different directions. The population is aware of what is happening and wants introduction of policies that will allow people to be protected."
The poll also reveals that 55% of the sample pool knew someone who experienced domestic abuse and 55% also knew of a case where a child was being sexually abused.
That was only one of the reports which UNAIDS released today. The other is called the Caribbean Men's Health Survey, which is targeted at getting information from Belizean men who have sex with men. The Carimis Caribbean Men's Internet Survey was filled out over the internet by 112 Belizean men. Here's what the experts had the say about the results of that study:
Ernest Massiah, Regional Director, UNAIDS Caribbean
"It shows some interesting things. Number one; it shows that these men, 88% of them have gone to be tested for HIV. So you're finding that this is a responsible sample that the men who are having sex with men in Belize are taking care of their health. What we also see, which is a bit distressing, is that 71% of them say that they've had some point in time been verbally abused and 17% have been physically abused. That is a really telling statistic because it's saying that because of your sexuality, you can be beaten up and I think we need to put physical abuse into that context, people attacking you. And that is not a value any society wants to have for its people but we are also seeing that when people are under that label of men who have sex with men, it's a range of sexual behavior. So 63% of the sample that we have are saying yes, they classify themselves as gay or homosexual, 17% of them classify themselves as bisexual, 1% as Tran's gender, 2% as straight and the remainder not using any label. So what we're seeing for men in Belize is that there's a range of sexual behaviors and identities, it's not world is someone is heterosexual or homosexual. It's a world where you have variety."
The results of these two surveys, which came with corresponding recommendations, have been released to the frontline agencies dealing with these issues.

The case For And Against Senator Ray
(posted on Fri Apr 17, 2015)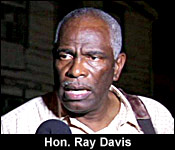 Since April second, the dispute in the National Trade Union Congress of Belize has been playing out on the public stage. It's all because Labour Senator Ray Davis abstained in the vote on the Petrocaribe Loan Motion on March 30th. The Trade Union Congress opposes the bill - and wanted him to vote against it. But they never told him that - and the dispute over whether he should have known better continues. If you ask Trade Union Second Vice President Audrey Matura Shepherd, it's a black and white issue - but Jules Vasquez found many shades of grey in the documents he's seen:..
Audrey Matura-Shepherd, 2nd Vice President - NTUCB
"I had objected before, on how he voted on the cane issue and how he voted before on the Petrocaribe money."
Jules Vasquez reporting
Indeed she had - in this November 2014 letter Matura asked how it is that Senator Davis voted yes on the first Petrocaribe loan motion. She said, quote, "in a matter of such great importance we the members of the Trade Union Congress should have a say. So can I please be enlightened as to who come it is that our Senator voted yes and who gave that mandate?"
In response, Senator Davis asked for guidance, he says "I will be more than pleased to have a subcommittee we spoke about at the start of my tenure." End quote. He adds that the chamber has meetings with its Senator before meetings and they have solid legal input. He says Matura Shepherd would be welcome to energize such a committee. No committee was ever set up. That was his idea in November, but on Wednesday, Matura said it was her's:
Audrey Matura-Shepherd, 2nd Vice President - NTUCB

"And so I was one of the persons who suggested that clearly before my time there had to be a process in place but I was not satisfied with the process if there was one. Because parallel to what I know, the chamber of commerce does, where Senator Lizarraga has a court team that advises them immediately."
Immediate is just the response that Trade Union Congress Secretary Kathleen Flowers begged for when the bill went out.
She called out the trade union to act directly and immediately, castigating them for quote, "wilfull passivity and lack of response." Still no meeting was held and no directive given to the Senator. Nonetheless, Matura-Shepherd insists no instructions were needed:
Audrey Matura-Shepherd, 2nd Vice President - NTUCB "Mr. Davis, if he wants to be honest, can reveal to you all the paper that he read when the Petrocaribe loan money issue came up. The position was clear, what he took. The position he stated then was clearly against the Petrocaribe loan money, how it is being spent etc."
But, actually, the position Senator Davis is not against Petrocaribe - as he told Matura in that same November letter after voting "yes" to the first Petrocaribe loan motion, "I am not going to play Pontius Pilate and pretend that we were not a party to receiving the funds" and he points to the Petrocaribe funded loans from the National Bank loaned to teachers and public officers.
But Matura-Shepherd seems to hold that receiving Petrocaribe funds is one thing, but saying no to the bill is non negotiable and axiomatic:
Audrey Matura-Shepherd, 2nd Vice President - NTUCB
"It still comes down to common-sense. Think about it. You already know what is the unions position, you mean you literally need the president to say 'hey boy Ray, please remember we aren't down with the Petrocaribe thing because it lacks accountability'. You really mean that if that is the level we have to go then he deserves to be moved from there."
So now, it comes to whether Davis will resign, be removed or retain the Senatorial seat for Labour. There's nothing to suggest he will resign, and it's not clear how he can be removed since he likely retains the support of the PSU. Days to come will tell if he can retain the seat - and former PSU president Jackie Willoughby - who is abroad studying - has vowed to return home to put up a fight - against Audrey Matura Shepherd in his defence.

Auditor Generalís Report Review
(posted on Fri Apr 17, 2015)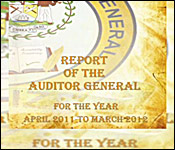 The Auditor General's most recent report on the Government's finances has been released to the public. You'll be able to find it on 7Newsbelize.com tonight - and Jules Vasquez looked inside today for a few juicy buts.
Jules Vasquez reporting
The auditor general's report for the fiscal year 2011 - 2012. It is almost 300 pages long - but does not provide any screaming headlines. For the second year in a row, the auditor general laments the absence of a functioning Public Accounts Committee.
Just like last year, she found bank accounts un-reconciled. - 23 of them in this case. And that's why she gave an adverse opinion - whereas in the previous year she simply with-held her opinion.
The police reward fund is one reconciled account where regulations were ignored, saying that withdrawals should not exceed four thousand dollars annually - but in this case - one withdrawal for 53 thousand dollars was made in one day without the Minister's approval.
The Prime Minister and Minister of Finance said it is the fault of the public service:
Hon. Dean Barrow, Prime Minister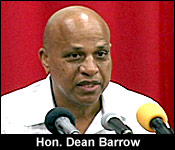 "Things like a lack of reconciliation, I'm not blaming public officers. But that's hardly the sort of thing that the political directorate can ensure will take place."
But, the auditor general sees it differently - she says the Executive must be more vigilant, and held accountable.
Because it costs the taxpayer. She also found that contracts were drawn up after works had been done - which the PM was clearly not too alarmed about:
Hon. Dean Barrow, Prime Minister
"Again there are exceptional circumstances where you shouldn't, but you do move quickly because you feel there's a special urgency to the case. I repeat, they ought not to happen, but look, you're not talking about any case of fraud. You're not talking about any case of any politician or any public servant having made off with monies."
But reckless management of resources came up more than once - both in terms of supplies, and vehicles - where the Auditor general found that control of the use of government vehicles is poor and misuse undetected.
And there was also a review in the ministry of Labour, Local Government, Rural Development & Sanitation dating back to the year two thousand where it was found that in 2006 and 2007 Five vehicles received fuel although the vehicles did not belonged to the Ministry - not much more could be found because No Fuel Order book was provided to Audit for examination for the period May 2002 to July 2008.
In Dangriga, two cashiers at the sub-treasury cancelled a bunch of electronic receipts and pocketed the cash. How much? 93 receipts totaling seventeen thousand dollars.
Under student loans, a quarter million worth between 2001 and 2011, no evidence of repayment for one or any Student loan was seen. Also in the period between 2001 and 2011, at the Belize Tourism Board.
18 hotels paid less than the amount assessed to a loss of over 160,000 thousand dollars in revenue. And the BTB is instructed to go collect the money.
So will the BTB make those collections? We contacted the Director of Tourism Karen Bevans who told us that she was not aware of the audit and would look into it.
You can check the full 284 page audit when the news is posted tonight on 7newsbelize.com
https://www.dropbox.com/s/auzp2miska523gv/AUDITOR%20GENERAL%20REPORT%20APRIL%202011-2012%20copy.pdf?dl=0

SJC: Taking The Mystery Out of History
(posted on Fri Apr 17, 2015)
"A people without the knowledge of their past, history, origin and culture is like a tree without roots." That's the well-known black consciousness mantra of Marcus Garvey and they were brought into harness and currency today at the St. Johns' College 4th annual Reading Fair. The event featured the usual educational and historical displays and activities, but there were also several displays that challenged the conventional approach to learning history and connecting to the past. I found out more when I visited:
Other activities held at the fair include a Spanish Spelling Bee that was held in the Art Center, a Poetry Slam section and there was also several Ancient Maya Exhibits.

Cops Care, Really
(posted on Fri Apr 17, 2015)
Today, the Central Christian Primary School got a donation of a printer from Police Precinct 3. It's a good turn after the school participated in the Eastern Division's BLACK March 3 weeks ago.
The the printer was handed over today and 7News was there. We spoke with the Commanding Officer about the token of appreciation:
Central Christian School is also one of the education centers which benefit from the police's program called the Gang Resistance Education and Training, or GREAT. One of the coordinators organized an event for students who recently passed through the training. They were to show appreciation for their school, and we saw the children in action. Here's what the police coordinator had to say about it:
Belize Yellow Pages collaborated with the Police for this effort.

The First Belize Jazz Fest
(posted on Fri Apr 17, 2015)
2 days ago, we showed you how musicians and the government agencies responsible for culture and creative arts were holding workshops to improve the business aspects of the local music industry. Well, that's not the only new initiative that NICH and the Institute of Creative Arts is spearheading to provide local musicians with greater opportunities to showcase their talents.
The first ever Belize International Jazz Festival is being planned for the this summer starting on June 5 and ending on June 14. It will feature a group of influential international artists as well as local bands who have been well established and who have generated a following. This morning, ICA officially introduced the Jazz Festival to the public, and 7News was there. Here's what the organizers and the participating musicians had to say about it:
Apart from the 10 performances, there will be music workshops offered to the musicians to help them develop their musical talents in whatever instrument they specialize in. The festival will be spread all across the country starting from Belize City, then to Belmopan, to Cayo and then to San Pedro.

Take A Walk In OW Park
(posted on Fri Apr 17, 2015)
Orange Walk Central Park - if you haven't been there recently, you should take a stop in. It's been transformed from a shabby old space to a thoroughly modern park with all the amenities - even wi-fi. It's been opened for some months now - but the World Bank made it official earlier this week. And politicians from both sides tried to claim ownership for the spending space:…
Depending on who's in power in the town board - the park is known either as Queen Elizabeth Park - which is the UDP name, or the Central Park which is the PUP name.

Field Of Dreams Achievable
(posted on Fri Apr 17, 2015)
Belize's sports facilities - often have to double as concert venues - and when they do - a football pitch or a wooden basketball court can take a pounding. In fact, many say that a Beenie Man concert in the rain profoundly damaged the MCC pitch. Well, a Trinidadian civil engineer says he can prevent that form happening again. He's offering a product called the I- Trac Matting system and a soil stabilization formula. With these, Christopher Berkeley says you can party all night long on any football field and not worry about how it will look the morning after. He told me more:...
Berkeley was busy this week pitching his product to other stakeholders.

Home | Archives | Downloads/Podcasts | Advertise | Contact Us