SSB Will Buy 55 Million Dollars of BEL and BTL Shares
(posted on Thu Jun 23, 2016)
The Board of Directors of the Social Security Board has approved the purchase of Government's shares in BEL and BTL, subject to the final negotiations with the Government of Belize. As we told you, the SSB Investment committee recommended that SSB purchase 40 million dollars worth of BEL's shares and 15 million dollars in BTL shares. The board met this afternoon, and after reviewing the investment committee's reasons on why this is a sound investment, there was unanimous support for the investment, including the representatives from the social partners.
This evening, the chairman of the Board of Directors, Doug Singh, told us why the board looked favorably at the proposal. He told us that the monies that will be invested in these shares are sitting in the bank and are growing at only a 2% rate of return, so 6 to 10% that the utilities have historically been making is a far more attractive opportunity:
Doug Singh, Chair. Board of Directors, SSB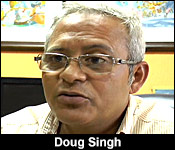 "A thorough analysis was done by the investment committee, a very well done analysis I believe, to demonstrate what the historical return from these companies have been, what the projected return can be anticipated to be and also a demonstration of what our existing investments are in particular in liquid cash deposits at the bank. As a result of that, the investment committee recommended to the board of directors that it favorably considers purchasing some of these shares or the value of these shares. They also made a recommendation on a ceiling that should be paid for these shares which is as a result of a thorough analysis that was done. It is in light of that the social security reviewed it and it was a unanimous decision on the board of social security which include its social partners to forward this which means that the social security will be engaged with the government of Belize on their proposals. The social security reserves is approximately $503 million BZD and it is the responsibility of the board and investment committee to get the best possible return on the investments and to look at the palpable investments. In the past it was quite easy when deposits rates were at 9%-10%, the social security chose to put deposits in the bank and earn that kind of return. Those days are behind us at this point in time and we have watched our deposit rates at the bank drop from 9% to 8% to 7% to 5% and most of the deposits now range between 2% and probably 3 and 3/4% at a maximum. In fact a substantial amount of money are invested at 2% because the banks don't want it and they will only take it at 2% if they take it. That kind of return is not acceptable so it is critical for the fund to be able to sustain and not get to that point of equilibrium where you're paying out more than your getting in. Certainly it's better to invest your money that you're earning 2% interest on to get 7%-9%-10% return and that is precisely the kind of returns that BTL and BEL has been getting on their balance sheets and income statements over the last few years. In fact the average return from the BTL shares has been between 8% and 10%."
But, as you heard last night, the Opposition Party thinks it is a bad investment. They went a step further and urged SSB's Board to reject the investment, suggesting that if they do, they will put the Social Security fund in jeopardy to bail out a cash strapped government. Singh responded to that criticism:
Daniel Ortiz
"Can you give a categorical position that the investment in these particular instances is not directed from the political bosses?"
Doug Singh, Chair. Board of Directors, SSB
"In fact if you look at the context of the letter you will see, to the contrary, and the structure of the social security investments also tell you that it's rather difficult to have those kind of influences. first of all, the government asked if social security was interested, didn't say 'I'd like you to buy', it said 'if you're interested because it's getting a good return, etc. we would want to know if you would consider investing, we're looking for so much and if you are we are prepared to engage you on a purchase price'. That was the approach from the government of Belize. in addition to which it goes to the investment committee who must first look at it, evaluate it and then make a recommendation to the board. The board of directors can't even consider these kind of opportunities unless it is first recommended by the investment committee. That is the structure that is in place and is there to safeguard the resources of the social security, but beyond that I am pleased to say that all the members of the SSB which includes 2 from the business sector and 2 from the labor sector representing the unions, unanimously agreed to the investment. It is really an opportunity for social security."
Singh told us that the Social Security Board will now set up a meeting with the Government to negotiate the final price per share.

US Embassy Hoists Gay Flag Over Belize
(posted on Thu Jun 23, 2016)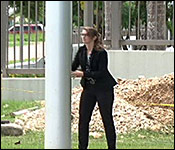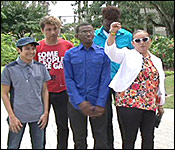 There was a flag raising ceremony this morning at the US Embassy in Belmopan, but it wasn't the US or Belizean flag that was hoisted: it was the rainbow flag that represents the LGBT movement. Now although it was done on the embassy grounds, which is considered American soil, it is the first time that this flag has been flown beneath Belize's skies at an official event, and for some residents, it wasn't a welcomed sight. Today when we traveled to Belmopan we got to see the divisive effect of the ceremony. Now, we warn you, this story features images of men kissing, and if you don't like that kind of stuff, you might want to channel surf for the first few seconds. Here's the story from Courtney Weatherburne:
Courtney Weatherburne reporting
For this couple, kissing and being affectionate to one another in public is natural, but in homophobic society like Belize, it's openly rejected and condemned. But that is just at the surface. That denouncement is a representation of a much larger social and cultural battle on human rights, one the LGBT community has long been advocating for, and today their struggle was acknowledged with a symbolic raising of the rainbow flag at the US Embassy. US President Barack Obama declared the month of June LGBT Pride month and this ceremony was part of the commemoration. The Belizean LGBT rights supporters celebrated in this occasion.
Lisa Shoman, Advocate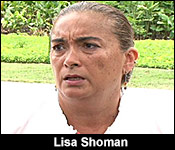 "We're really delighted to be here at this pride event that the ambassador has kindly invited us to. I think it's very symbolic and wonderful."
But today was more than just an official observance, more than just hoisting this colorful flag, it's all about continuing that fight for basic human rights.
Carlos Moreno, US Ambassador to Belize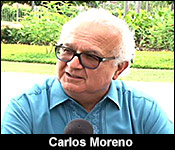 "LGBT rights are human rights, human rights are LGBT rights, there is no distinction, and there is no difference."
And the hope that that sameness will be recognized, lies in the outcome of the challenge to Section 53 of Belize's Constitution. It's a pending case, one that has stirred major controversy but one that the LGBT community believes it has already won.
Caleb Orozco, LGBT Advocate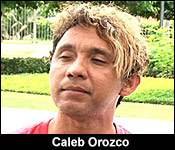 "No other legal case has triggered debate at a dinner table, no other case has challenged Belizeans to reflect on the dignity and rights of the fellow LGBT citizens. More precisely force families to reflect on how much or how well they're treating or not treating their own family members, their blood, that are LGBT self-identified. Outside of that, it's a case which triggered the community ownership of the defense and protection of its rights and walking up the LGBT community in getting them to take action in whatever little way in getting things done."
Lisa Shoman, Advocate
"We're coming towards the end of the first phase of a very long journey. Caleb has been at this 10 years, I've been at this 7 years. We are absolutely delighted that in about 6 weeks, we expect to finally get a decision on this matter. No matter the outcome, we feel as though we've already won, because as Caleb says, we are getting people to listen and to notice. It's sad that something like the Orlando massacre woke people up in Belize, but it did and that is the important message. We not only expect to win, but we expect to win even if we have to take it all the way to the CCJ. The win won't be for Caleb alone, the win won't be for me, the win will be for all Belizeans."
The US Ambassador also reiterated that the principle behind this challenge and LGBT movement is simple and should be applied across the board.
Carlos Moreno, US Ambassador to Belize
"I think that the Belize perspective and the Belize constitution really seeks equal treatment for all regardless of sexual identity, gender identity and so forth. What the US is advocating for is simply equal treatment for all to be free from stigma, discrimination, in particular, name calling. I can't think of any Belizean who would really favor or advocate name calling or bullying against any person. So I think the overall perspective here is to advocate against discrimination and housing, inheritance rights, healthcare, so the panoply of rights associated with human dignity is so broad that it would apply to everyone including those in the LGBT community. I don't think that religious community has anything to be concerned about when the advocacy here is really to accord everyone basic human dignity."
But the church community says it has every reason to be concerned, outside the embassy gates, a small group of religious leaders were having their own ceremony with bowed heads and clutched hands.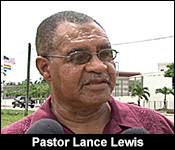 Pastor Lance Lewis, President, Evangelical Association
"I have never seen a rainbow flag raised anywhere before, to see it at the American Embassy in Belize really grieves my spirit. This is LGBT month, I don't think this is the first time, but for them now to put the American Flag with the LGBT flag, is sending a clear signal that they are pushing an LGBT agenda as far as I am concerned. We are concerned about this because LGBT represents a downgrade, a family division, a destruction and we will see more and more situations like what occurred in America happening around the world. People are oppose to this and they know the order that got us place in the book of Genesis."
For these church leaders, it's not about the denial of human rights, it's about the possible effect that the LGBT agenda can have on the existing social norms.
Kerm Thimbrel, Concerned Christian
"Our position is that we have separated the lifestyle of the individual from the actual agenda that their pushing. You guys have brought up the interesting term of the rights of those people, which I believe everybody pretty much respects. We all know of section 53 in our laws and none of these people have been arrested, none have them have been put in prison even though that law is in the books. What we have said out rightly to the LGBT community is this, 'you guys want to live that lifestyle, it's a personal choice, but whenever you formulate an agenda that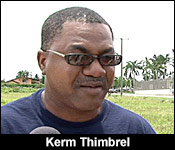 you seek to push in the society to redefine it, we have a very serious problem with that'. Teaching our kids in school that this is right, this is normal and good, I'm telling you that I'm actually using words, I'm paraphrasing words that I've actually read from some of the manuals that have been put together by this community."
Pastor Lance Lewis, President, Evangelical Association
"We are praying that God will divine intervene; in what is happening in America and it's being exported in our nation to make us come under the judgment of God. God is not pleased with this and he will judge."
While the religious community stands firm in their faith and await God's judgment, the LGBT community awaits the outcome of the Section 53 challenge and what it will mean for them as citizens. But regardless of the conclusion of this case, there will still be a very long and difficult road ahead on their journey to true freedom and acceptance.
Carlos Moreno, US Ambassador to Belize
"That arch of history and the trajectory towards the quality and justice is a long and incremental one. You asked about my experience, and in my experience during my lifetime in the United States, interracial marriage was prohibited until 1967, certainly within my lifetime. So I would point to that as a fine example where I can't imagine in a society as diverse as Belize, multinational and so forth, they would find that hard to understand, but it took the United States decades to really have that basic stigma and discrimination, some of which still, I am sure exists. So I think what I would suggest is to look at this as an incremental, a long arch of history, equality and justice."
And just like in Belize, hoisting the flag also caused backlash in Jamaica. According to the BBC, after the rainbow flag was raised at the US Embassy in Jamaica, Jamaica's attorney general tweeted: "I strongly condemn #OrlandoNightClubShooting but find it disrespectful of Jamaica's laws to have #RainbowFlag flown here."
Jamaica - like Belize - has laws criminalizing gay sex so it was seen as an affront.

Gay Rights Case Judgment Soon
(posted on Thu Jun 23, 2016)
So as you heard, the main point brought out at the ceremony was the anticipated outcome to the Section 53 challenge. Now in this case, both sides: the LGBT and religious communities believe they have the upper hand. But they surely disagree with the effects of the final decision. On one hand Caleb says the outcome won't have a polarizing effect on the community while the religious leaders say it definitely will. Here are both sides.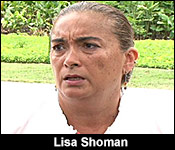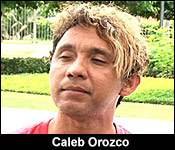 Lisa Shoman, Advocate
"Any legal decision is only one component. I think there is a cultural shift and the groups that Caleb mentioned that have been growing and getting support, demonstrate that polarization is only one face, the other face is unification and that is absolutely happening."
Caleb Orozco, LGBT Advocate
"I'd like to complement that and reference the UN's report of 2013. The UN's report points out that 68 percent of all people are accepting or tolerant. What we are seeing or what we are allowing is a small minority of our population to take hostage, the upholding of dignity and rights of their own citizen based on extreme thinking. We are not a society of extreme thinking. We are not facetious in our response to governance and we're not extreme in our response of excluding people based on a personal bias. So, polarization may occur, but it will not occur with the majority of Belizeans who are fair and just."
Pastor Lance Lewis, President, Evangelical Association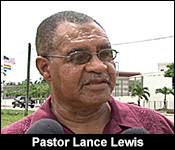 "I think if it drops in favour of the LGBT Community, it will create much more collateral damage. So, we are praying for the Chief Justice, that he will rule according to what was done 3 years ago. We saw overwhelming evidence that the LGBT group were not the winners. They were the losers from some of what we saw. So, for it to have been delayed 3 years, a lot of things can come in to play including what happened today, because he has until July 27th to make his decision. If it happens, whichever way, the worst case scenario will be for it to be in favour of the LGBT group. This will create much more chaos and confusion and concern and division in the nation."
The judgment will be delivered at the end of July.

Crawford For Leslie Shooting
(posted on Thu Jun 23, 2016)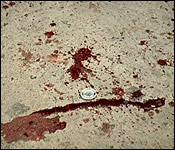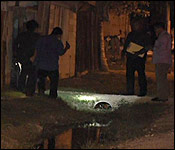 Last night, we showed you our interview with police on the Monday night shooting of 40 year-old Anthony Leslie on Iguana Street Extension. Police told us that they intended to charge 33 year-old Anthony Crawford for that incident, and tonight he is at the Belize Central Prison.
Leslie was on Iguana Street Extension at around 7 on Monday night. He was allegedly approached by Crawford and another man who tried to convince him to commit a crime. When Leslie refused, Crawford allegedly shot him in the chest and fled the scene.
Today, Crawford was arraigned before Magistrate Carlon Mendoza on the charges of attempted murder, use of deadly means of harm, dangerous harm and possession of 3.6 grams of marijuana. He pleaded not guilty to all the charges except the possession of controlled drugs. For that plea, he was sentenced to spend 1 month in prison, which will run concurrent to another month that he has to spend for defaulting on a 100-dollar fine which he was to have paid since last year.
For the other charges, he will be taken back to court on August 11.

Kaina Got The Cold Shoulder
(posted on Thu Jun 23, 2016)
Yesterday the Belize Athletic Association named the two athletes who will be representing Belize at the Rio Olympics. They are Katy Sealey and Brandon Jones. Perennial favorite Kaina Martinez was not chosen - even after she had just represented Belize at the Central American Games the week before. Last night on the Lik Road TV Show, BAA Vice President Jaheed Smith explained why:...
Jaheed Smith, BAA Vice President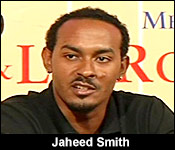 "In terms of Kaina and Katy, they were both neck to neck in the events. However, the problems lies because the Olympic Committee sends out information for the athletes to follow up. When Miss Martinez got her information, she did not respond back in time. These things have deadlines and she did not respond in time. So, there is an uproar about why we didn't send her or why we selected.. But the thing is we can't select her if she did not send in her proper paper work. We can't force Rio to put her in. So, it's not a matter of who was.... the dispute is who was closer to qualifying in the event and granted yes, Miss Martinez may have been closer to qualifying, but even if she had qualified and not sending her paperwork, we can't send her. That's the deciding factor right there."
Today we reached Kaina Martinez by phone in Texas where she is a student athlete on an athletic scholarship. She told us she was very disappointed and perplexed to learn that she had been omitted.
Kaina Martinez, Denied spot on National Olympic Selection
"I was surprised because I spoke to Jaheed Smith, I spoke to Deon Sutherland, when I was at Central American Championships and to no extend did I get the impression that I was not chosen or was not on any team or list. So when I saw that Katy Sealy was chosen, I know that I was the best female athlete, I remain in awe and up now I still am. I've given it my all just to find out that my all was not good enough."
Jules Vasquez
"They are saying that they repeatedly made request of you which you did not comply with."
Kaina Martinez, Denied spot on National Olympic Selection
"Wow, this is what it comes to? Is this really what it come to? Why didn't they told me that when I was talking to all 3 of them in El Salvador? Why weren't they verbal enough to tell me that when I asked questions and shared my concerns?"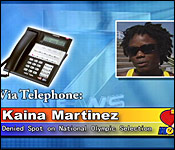 "I sent the information. Why would I have not sent the information when I have sacrifice everything to represent Belize at its best? Why would I not have? Disappointment is not strange to me, but this hurts. It's like a concussion, it's like a blow in the head, because I have sacrifice everything. Why would I not sent information as such? Why? When I ran at Central American Championship without a uniform? When Dave asked for the uniform I have it to him and I ran with pride for my country without a uniform. That again, speaks volume to me."
"But you know what, I was never rude to them and you will come and tell me that I have not responded to your request? Is this what it come to, to cover yourself? It hurts. I am still basically in awe as to how they chose her. Why her and not the other athletes too. I don't choose someone who has a better time than somebody else. That hurts. But like I said I will stand firm. You will see me represent my school. You will see me graduate with honors. You will see me a success. I will not make this takes me down. It hurts. I won't lie that it doesn't hurts. It does."
Kaina - who is originally from Seine Byte - has been representing Belize since she was 15. She is now 30 and enrolled at Texas A & M University.

Gender Politics Invades Youth Advocacy Movement
(posted on Thu Jun 23, 2016)
In a press release issued this morning, the Youth Advocacy Movement, which is the youth arm of the BFLA, came out strong against one of the District presidents of the National Youth Council of Belize. The issue was a homophobic facebook post made earlier in week.
Now before we get into the details of that post, the real issue that the Youth Advocacy Movement (YAM) addressed in their press release has to do with a decision made by the National Youth Council to have the word "gender" redacted from a clause in their constitution. This decision was made at their AGM last week. The release said that YAM is, "disappointed in the actions of elected members of the council." The omission of the word gender, according to YAM opens the doors for discrimination. We spoke to the President of YAM Belize who told us more about their stance.
Emanuel Pech
"What are some of those real concerns that you guys have with the word gender now being extracted from their constitution?"
Leandra Betson - Pres. YAM Belize City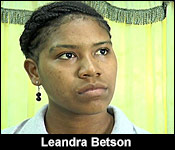 "Our concerns are that when it comes to the discrimination process maybe a young person in the future wants to be a part of the district, anyone of the district youth council of the country and then because they are of certain gender class they are discriminated against simply because the constitution did not say anything against not discriminating against the gender part of your make up."
Emanuel Pech
"So, you can see how someone might feel discriminated by their constitution."
Leandra Betson - Pres. YAM Belize City
"Yes, we want to avoid that. We want for everybody equally."
Emanuel Pech
"Have you gotten any complaints that people feel discriminated because of this?"
Leandra Betson - Pres. YAM Belize City
"No, no, no it's just something - prevention is better than cure. So, we are just trying to prevent it should in case it happens."
Emanuel Pech
"Will you guys be compelling or advocating for them to do a re-voting?"
Leandra Betson - Pres. YAM Belize City
"That is something that we are considering, because we understand the severity at which not including the word gender in this constitution how it can affect the District Youth Council, all of them. So, we understand, I as a young person don't want to see them go through that. Maybe, a young person can come up and because they have a different gender orientation they feel like well, they are being discriminated against and then they go to court. We try avoid those things. So, that's why."
We spoke to the president of the Belize District Youth President, Stafin Duncan via phone today and he told us that he was disappointed that the Youth Advocacy Movement went on a media rampage before speaking to them privately on the matter. According to Duncan, at their AGM last week they were discussing the criteria for youth groups who should be considered as full members of the council. A clause under that heading spoke of discrimination against race, religion, sex, sexual orientation and others. Now when it came to including the word "gender" under that clause, one of the members argued that the term was too open to interpretation. It went to a vote, and the majority voted to have it removed. However according to Duncan they maintain that this is in no way a license for any form of gender based discrimination. Further, Duncan affirms that as the official youth arm of the government they remain opened and committed to dialogue.

Ugly Meme Sparks Outrage Against Youth Leader
(posted on Thu Jun 23, 2016)
Now going back to the matter that triggered this whole thing in the first place. The Stann Creek president of the National Youth Council, Jamal Swaso had posted a homophobic meme on facebook a couple of days ago. Now according to Swaso, it was in no way referring to LGBT community. The issue picked up quite a bit of traction when it was reposted by UNIBAM president Caleb Orosco. District president Swaso did apologize in a subsequent post, but by then the damage had been done, according to Youth Advocacy Movement.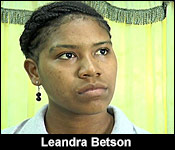 Leandra Betson - Pres. YAM Belize City
"We understand that in the leadership position that we don't only represent ourselves, but we present a group of people and we are grateful that Mr. Swazo owned up to his mistake, but we are also kind of dissatisfied of shaky in the way that we expected better because we expected that based on the constitution and the makeup of it that he would re-think and not only - even though it was his opinion when you are in the leadership position, your opinion, you have to kind of put that aside for the betterment of everybody, because maybe somebody else took it in offense."
To this the National Youth Council President Stafin Duncan said to us and we quote, "We don't condone discrimination but we will accept the member's mistake and we are willing to listen to BFLA if they come to us in a private channel."

Debating A Divisive Matter
(posted on Thu Jun 23, 2016)
In about half an hour, the Social Security Board debate on the Belize Guatemala Territorial Dispute will start at the Bliss Center.
SSB has put together a panel of experts on both sides of the issue, those who want to go to the ICJ, and those who think it's a bad idea. Those in favour include Ambassadors Lisa Shoman and Jim Murphy, and History teacher Gian Vasquez. Those against include Dickie Bradley, Fred Hunter, and Paul Morgan.
The Debate starts at 8:00 and this afternoon, SSB Chairman Doug Singh told us why they want to inform the wider national debate on this divisive issue: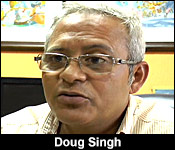 Doug Singh, Chair. Board of Directors, SSB
"As a result of the incidents that have happened on the border and the ramping of the dialogue on this whole territorial question and the ICJ, we felt obligated to do what we can to help provide information to the public. There was no better way that to actually bring the parties who we're actually advocating for and advocated against the ICJ to come and present their case to the public. So we're having an open forum at the Bliss Institute tonight and it will be on television nationally and also on the radio nationally. The hope is that people get to contrast both sides and to see if it re-enforces their position or changes their positions, but at the end of the day that it provides more information and does so in a civil manner. The format of the debate affords each side the opportunity to present their case and it also affords each side the opportunity to rebut points made by the other side. It's up to the public at the end of the day to determine whether or not they believe the points were made or the points strengthen their own resolve from the position that they have taken. but we want people to be exposed to this, in fact if we could arrange a debate later in the year that deals with the legal arguments on both sides, it would be fantastic except I have come to learn that in fact while Belize has embarked on an education exercise that has put a tremendous amount of material together that speaks to its position and what it feels should be its defense position and legal opinion on Belize's position. Guatemala has not done so, so the basis of Guatemala's claim is still somewhat unknown or what they would use as their arguments in court is very much unknown. It may very well be a challenge to do this debate because substantial material is not available. Maybe that material is not available because it doesn't exist, but we don't want to take that for granted. We feel at social security board, that if we can contribute to the dialogue and increase the education exercise or contribute to that in any way, then we will be happy to do so and continue to do so."
We'll highlights of the debate in tomorrow's news.

Prisoners Performed on PSE
(posted on Thu Jun 23, 2016)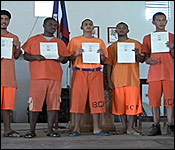 6 days ago, we showed you the best and brightest primary school students who got the top marks in this year's PSE.
But, while the exam is designed for Standard 6 students, there were a number of inmates from the Belize Central Prison who also took the test and passed with excellent grades. IT'S part of the Prison's rehabilitation policy, and on Tuesday, those inmates who passed were honored in their own ceremony.
Here's Norman Wallacey, the former Principal for the Belmopan Baptist High school, who now the head of the Prison's Education and Rehab Department, explaining why Kolbe is excited for these inmates:
Norman Willacey - Dir. Edu. & Rehab. Kolbe Fdn. Prison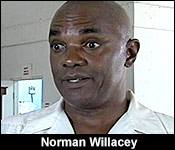 "The program we run here is geared towards helping inmates, to one; recognize that there's a need for a change. Something went wrong in his life, with some decisions making and that person is here. So, we recognize that need and we have implemented programs to help to meet that particular need in inmates' life. We signed up 14 inmates out of a total of about 450. I'm still trying to figure out what really hinders a greater enrolment, but that's what we had. So many saw that well, there is something really good for me, I can do it. So, we'll be motivating others and helping them to get on board and increase the statistics."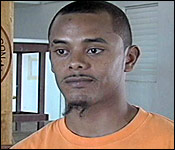 Prison Inmate - Passed PSE
"They were good, they did their part with Math, English, Science and Social Studies. They did their part. Every day they helped us. From since getting us ready from a couple months before this PSE, from Monday to Friday. We go to school from 8:30 to 2 in the afternoon. That gives us enough time to go through what we need to do and freshen up the mind for the day."
Reporter
"Talk to me about which of the 4 subjects you thought to be a little bit challenging."
Prison Inmate - Passed PSE
"I will be real, you can see it. I am speaking Creole right now. English is the hardest one for me."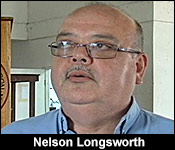 Nelson Longsworth - Head. Exams Unit. Education
"The traditional mainstream in terms of who takes the PSE has been Primary School Students, but because of their providing the opportunity for the inmates here at KOLBE to be able to prepare and also sit the exam. So, we go through a process of ensuring that they are provided with resources."
The prison hopes to provide an equivalent high school education for inmates in the near future.

Police Arenít Playing with Park Initiative
(posted on Thu Jun 23, 2016)
Community policing - it's about more than just community meet and greet sessions, and to put work behind their words, today, South Side Commander ACP Chester Williams teamed up with a youth group from Mesopotamia and other corporate sponsors, to renovate Daker's Park on West Street. This is a community based initiative to give kids, in less priveliged communities something positive to do. The park was inaugurated at a brief ceremony this morning.
The park which had previously been in extremely deplorable conditions received a brand new set of swings, a couple of see-saws, some picnic benches and a brand new fence. The total cost of works at the park are estimated at about 6 thousand dollars. Corporate sponsors that assisted in this project include Pine Lumber Limited, Bulridge, Port of Belize, Brodies, Habet and Habet, and Cisco Construction.

Cops On the Albert
(posted on Thu Jun 23, 2016)
Yesterday, police were in the same general area conducting their weekly meet and greet session. We found the south side commander on Albert Street along with some of his officers meeting the local business community and taking note of their concerns.
The meet and greet session went from East Canal to Cemetery lane.

Trinity Gets Upgrade
(posted on Thu Jun 23, 2016)
Today, the Social Investment Fund formally handed over newly renovated bathrooms to the Trinity Methodist Primary School.
Now, receiving new restrooms might not seem like that big a deal but to the students, faculty and staff of Trinity, it is a very welcomed and long overdue upgrade.
Here's the Principal expressing their gratitude at today's inauguration ceremony:
The project cost just under $60,000 Belize dollars and was funded under the Commonwealth Development Initiative.

Home | Archives | Downloads/Podcasts | Advertise | Contact Us