Dr. Arlie Petters Grooms Belize's Generation Next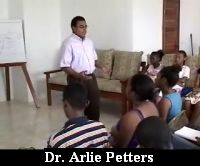 Dr. Arlie Petters has the brain of a quantum physicist and the soul of a Belizean renaissance man. In his off time, the Duke University Professor has tutored BDF Cadets who are applying to American military schools, written a math guide book for standard six students, and coordinated a computer assembly course. Sounds like a lot but for the accomplished and ambitious professor it isn't. This year the Petters Research Institute, which he opened in his old hometown of Dangriga, and the Lifeline Foundation co-sponsored a Youth Leadership Academy. Graduation day was today and we went to Dangriga to meet the future leaders. Keith Swift has the story.
Keith Swift Reporting,
This is Dr. Arlie Petters' crop of future leaders. They are ethnically, economically, and geographically diverse.
Christy Irving, Student
"My name is Christy Irvin and I am 17 years old and I am from Belmopan City. Right now I am presently going to UB. I graduated from high school, Our Lady of Guadalupe High School, so I am starting my associates in bio-chemistry."
Jerome Williams, Student
"My name is Jerome Williams. I live here in Dangriga, I am 17 years old. Currently I am going into the college here in Dangriga, Ecumenical Junior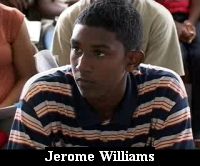 College. Personally I want to be a civil engineer or a pilot."
Cordel Wade, Student
"My name is Cordel Wade and I am presently going to Ecumenical College and I am 13 years old."
Different ages and aspirations but one calling.
Jerome Williams,
"I always saw myself as someone to make a change. This is like a help for me. So I came here to strengthen my whole goals and to really look into myself and to understand myself better so I can go out and try to make a change in the community."
Cordel Wade,
"They have a saying that says the blind can't lead the blind. So for you to be a leader first, you have to learn to lead yourself and that was one of the main things I need because in this life you need to be a leader so you can lead others."
Christy Irving,
"You have to learn yourself first because you are able to lead other people and I think that is a very important thing. If you want to lead people, you just can't go out there and lead them like that because they are going to look at you and reflect your behaviour. So if you are a bad leader and you are not honest and stuff, they're going to be dishonest. So you have to look at yourself first before you lead other people and I think that is one of the main things here."
That was one of the main lessons Christy and these other young adults learnt after a week at Dr. Arlie Petters' Youth Leadership Academy.
Dr. Arlie Petters, President – Petters Research Institute
"The Youth Leadership Academy is an attempt to generate a new group of Belizean leaders. We are taking first steps in a direction that I think is extremely important. What we want to do is at times to have a paradigm shift, in other words to be able to develop qualities that highly effective leaders must have."
The young adults were groomed by the world class physicist but also by the Academy's Director Marcia Petters and transformation specialist and life coach Randolph Cain. It isn't set up like a regular academy because Dr. Petters says it isn't.
Marcia Petters, Chief Operating Officer – PRI
"It is really a partnership where you are trying to elicit creative thoughts from the students so that they can be equal participants and also to take accountability for their learning. So it is definitely a more relaxed, a more reciprocal give and take relationship and we see that the students open up a lot with honesty in getting to know themselves."
Dr. Arlie Petters,
"The difference between this is, in a sense, we take for example the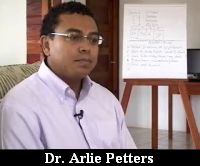 issue of emotional intelligence. That unfortunately is not something that is taught in school in a tradition setting, that you sit behind a chair and the teacher writes on the board. This has to be an interactive situation where you open up and you reveal aspects about yourselves and you have to identify that it is keeping you back from making progress, from being successful in your career. For example, if someone upsets you, how do you react to that, do you learn that in school? The way you handle a situation like that has everything to do for example with being proactive, being emotionally educated. The first thing you have to do is decide whether to react then decide when to react and to what extent you react.
It is not to learn through book knowledge but they are separated into teams, they are given opportunities to reflect, discuss, and so it is a different kind of educational experience you have from pop quizzes and doing math problems."
Randolph Cain, Transformation Specialist
"What I see as a barrier to them minding their genius is resignation and what resignation basically is, is when someone has just become resigned like they can't make a difference, so more of the same results; so they've basically given up. So that is the paradigm in which a lot of people operate. The initiative here is really creating openings for actions by allowing the children to recognize that the way they are looking at life has only to do with the meaning that they have assigned to life."
Marcia Petters,
"And they are leaders right now in the present by how they handle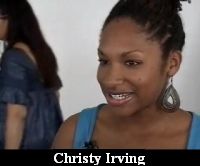 their daily interactions so we have discussions that are character dilemmas. We would say what happens if this bully picks on you, how do you respond to that and that you do have a choice, you understand what the realm of control is and that thing that you cannot control and how that can be a very empowering thing for a fourteen year old."
And that's why these young adults were leaders for a week. Christy Irving was the prime minister.
Christy Irvin,
"I am right now the Prime Minister and I have town councillors and mayors and Ministers. And the mayors and the town councillors, they come up with ideas. We were doing health and HIV and they came up with ideas on how to lower HIV in our country and they suggested to the Ministers and we had a meeting and as a Prime Minister I see how hard it is to lead a country because you first have to put the major things first because we have lots of different problems in the country. So it is very difficult."
Jerome Williams,
"It opened my eyes to what the bigger people di do."
Cordel Wade,
"A very changed young man because now that I have learnt some skills, how to be a leader, it really help me."
This is afternoon the students received certificates. Dr. Petters hopes that's not the only thing they take with them.
Dr. Arlie Petters,
"We feel that they are that age, they are at an emotional development stage where they are open minded and are willing to listen to new ideas and these are the kinds of things we explore in great depth."
Reporting for 7NEWS, Keith Swift.
During the week there were a number of guest speakers who addressed a cross section of issues, ranging from HIV and Aids to computer technology. There are plans to convene a similar leadership academy next year.
Read more about the Petters Research Institute.