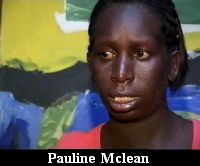 She told 7NEWS that she does not believe she should be charged for the death of her baby boy after three year old Omar Aguilar perished in a fire but yesterday thirty year old Pauline McLean was arraigned in Belize City Magistrate's Court for causing death by careless conduct. McLean who is five months pregnant was offered and met five thousand dollar bail and is tonight staying with relatives in lords bank. She is scheduled to reappear in court on January twenty second.
Ten days ago, she left her one room apartment at number eighteen Dean Street around five thirty in the morning to go to work. The three year old boy was left in the care of his nine year old brother. But some eight hours later a fire started and it is believed the child suffocated from smoke inhalation and died. His charred remains were later recovered by fire fighters.
Fire officials discovered during the investigation that baby Omar Aguilar was trapped because he had been locked inside the room, a report that the mother has denied. Neighbours did try to rescue baby Omar Aguilar but those attempts were futile. It is still not known what caused the blaze.