Ben Bou-Nahra Killed with a Bullet to the Head. Suicide or Homicide?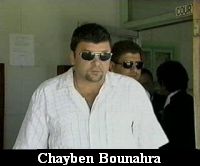 Chayben Bounahra – he was as known as he was notorious, and tonight his death is a most confounding mystery. Bounahra was shot to the head on Sunday morning in Cayo and died four hours later at the KHMH. The question is, was he killed or did he shoot himself? – and even if he did was it accidental, or suicidal? There are many plots and possibilities that have been put out there, all based on the central belief that Ben Bounahra would not kill himself. But police say otherwise, they say all the evidence suggests that, indeed, he may have taken his own life.
Jacqueline Godwin went to Cayo today and she found that a night that ended in tragedy started out happily enough at a staff party for Belize Natural Energy employees. Bounahra was there with his girlfriend who worked with the oil company. Here's where things went wrong.
Jacqueline Godwin Reporting,
It all happened after three on Sunday morning inside the San Ignacio Resort Hotel where thirty four year old Chayben Bounahra was staying with his girlfriend twenty two year old Evita Bedran, a resident of Central Farm in the Cayo District. The couple had just retired to their room when the sound of a single gunshot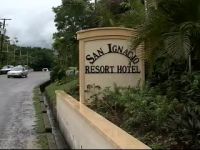 rang out. It is still not certain what transpired inside room 101 but initial reports are that the girlfriend was inside the bathroom when the boyfriend shot himself in the head.
Officer in Charge of Cayo Police Formation Sr. Supt. Paul Wade says when the police arrived on the scene Chayben Bounahra was lying face up on the bed in an unconscious state. He was bleeding from a single gunshot wound to the head. Bounahra was first transported to the San Ignacio Hospital and then onto the Karl Heusner Memorial Hospital where he died some four hours later.
Sr. Supt Paul Wade, OIC - Cayo Police Formation
"At the scene the police recovered one 9 milimeter pistol with 12 live rounds of ammunition. The police also recovered one expended 9 mm shell from the scene."
Police say only his girlfriend may have answers as to. why Chayben Bounahra is dead.
Sr. Supt Paul Wade,
"The only witness is Ms. Bedran. She is currently being questioned in relation to what might have taken place. On arrival at the scene the police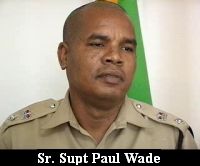 was told by Ms. Bedran that Mr. Bounahra shot himself because he was upset. That is as far as I know at this point in time. The scene has been processed, swabs were taken from both Mr. Bounahra and Ms. Bedran for testing.
That is the only comment because she was in a state of shock and we did not talk to her properly at that time. That is being done today in Belize City because she has also been admitted in the hospital in Belize City. But she only uttered that to the police when they arrived. That's all I can say at this time.
There is no sign of any struggle in the room and as I said there is no indication that anyone else other than Mr. Bounahra and his friend was present in the room."

Upon returning to their hotel room the couple reportedly got into a misunderstanding because earlier that night Chayben Bounahra was involved in two altercations.
Sr. Supt Paul Wade,
"We have interviewed some witnesses which confirm Mr. Bounahra was involved in an altercation; first one at the Benque Rock disco in Benque Viejo sometime before this incident occurred and another incident in the parking lot of the San Ignacio Hotel."
In the altercation at the Benque Rock Night Club, Bounahra was reportedly struck in the middle of his head. Bedran and Bounahra had returned to the San Ignacio Resort Hotel so he could change his shirt. It is then reported that he got into another fight in the parking lot. He reportedly pointed his nine millimetre pistol at Richard Acosta. BNE employee Richard Arnold intervened but Bounahra allegedly pistol whipped him on the forehead. Arnold received several stitches and police say more than likely Bounahra would have been charged for aggravated assault.
Sr. Supt Paul Wade,
"Basically they were alleging that Mr. Bounahra assaulted them with the weapon, with a weapon. So they were at the station making a report against Mr. Bounahra at the time when the shooting occurred at the San Ignacio Hotel."
Police say that so far all evidence on hand strongly suggests that Bounahra took his own life – either intentionally or accidentally, but they cannot rule out the possibility of a homicide until the result of a post mortem which is scheduled for Tuesday. Jacqueline Godwin reporting for 7NEWS.
And so while police believe Bou-Nahra shot himself, his family and friends strongly dispute that. Though they declined to comment on camera, the family issued a statement this evening. It says, quote: "the family wishes to state for the record certain facts in response to allegations circulating in the media: 1. No post mortem has yet been conducted and as such, no definite cause of death can be concluded as at today's date by anyone. 2. The family wishes to observe the initial post mortem and as such, has retained the services of a forensic expert on standby as the family representative at the relevant time. While this has been known to happen in the past, it is not being allowed in the present instance."
And that's it from the family; the release says this is the formal and only version of what the family has to say at this time. And it raises a few points: police say they had nothing to do with the decision not to allow oversight from any forensic expert. They say it is the decision of the Forensic Pathologist Mario Estradabran. Estradabran today told us he had no comment. Another point we note is that the family's release speaks about an initial post mortem which tells us that they plan to do their own after Estradabran's one. But still, a great deal hinges on that Estradabran post mortem which is scheduled for tomorrow afternoon at 1:30. We'll have the result for you in tomorrow night's news.