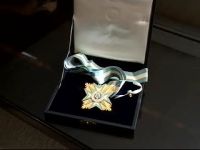 Belize's Speaker of the House Emil Arguelles has been awarded Guatemala's Orden Presidencial – the Order of the Presidency. Speaker Arguelles along with representatives from the parliaments of Mexico, Panama, Dominican Republic, and Honduras received medals last Wednesday at the presidential palace in Guatemala City. The medals were presented on the eve of the start of Guatemala's new session of congress on Thursday.
It is a largely symbolic gesture, but a huge one because it acknowledges that the Speaker - as head of the parliament – represents a sovereign country – and it does so in Guatemala's powerful congress. More than that – the session of congress which convened on presentation of the medals - is the same congress which will decide if a referendum on the territorial dispute will be held in Guatemala.
Also noteworthy is that after the awards – the Belize delegation had cocktails with the Guatemalan President, the President of Guatemala's Congress, and members of the congress – most notably Zury Rios Montt – the daughter of a Guatemalan hardliner Efrain Rios Montt. Speaker of the House Emil Arguelles was accompanied by Deputy Speaker Mark Pech and Belize's Ambassador to Guatemala Fred Martinez.