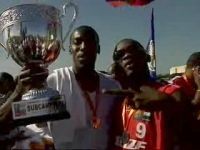 On Friday night, Belize's national basketball team played for the gold at the COCABA championships in Cancun. The stakes were high: the Belizean team had battled adversity throughout the games to get to the championship again – and they ended p facing the host country and tournament favourite, Mexico. So how can a team from a country with a population of three hundred thousand ever hope to challenge a team from a country of 110 million? With speed and skill, that's how. Jules Vasquez found out how close they came.
Jules Vasquez Reporting,
The hardware was on display as the players did their pre game stretches. The Belizean cheering section was ready but on this night the Mexicans had us outnumbered even had a wave going – or in this case, una onda. Extra security was in place to make sure there were no incidents.

Belize came out pushing the ball and slashing its scrappiness contrasting with the offensive precision and perimeter shooting of Mexico which seemed to have a shooter at all 5 positions. But Belize had its own perimeter shooting: Marlon Garnett was on fire from the three point line.
Belize pushed the ball even off made baskets – in this case Milton Palacio driving and then kicking it out to Marlon Garnett for another three. That was the strategy to keep the slower Mexicans on their heels by pushing the ball up to court on every possession – in this case scoring with just 5 seconds ticking off the shot clock. Or in this case, scoring in 6 seconds off a made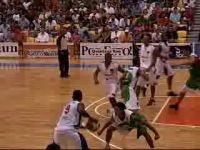 basket. Marlon Garnett was even scoring three's off the fast break as Belize broke out to a 23 to 16 first quarter lead.
And while Belize had speed, Mexico had precision, exploiting Belize's weak interior defence leading Mexico to trim down the lead. Milt Palacio ended the quarter with this last second shot to leave Belize up by three at the end of the first.
In the second quarter the Mexicans stepped up their defence smothering Marlon Garnett. Romel Beck's array of skills, and Noe Alonzo's shooting would be the difference makers and they led Mexico to take a commanding 9 point lead into the locker room at the half meaning a 12 point scoring differential in Mexico's favour in the second period. But Belize battled back, in the third quarter the attack would be led by Milton Palacio who brought Belize to within 4 with this bucket – and Alex Carcamo who on this hustle play kept it at within 5 and on this tough turnaround, he brought it back to four.
Free throws by Garnett would give Belize a one point lead at the end of the third quarter in this up and down game. Mexico had deep scoring too – this three would put them back on top by 1 and this other shot by Alonzo again would put them up three with five minutes left – while Rommel Beck pushed it to 5.
Still, Belize remained poised, and Marlon Garnett's eighth three of the night tied it with under three minutes left. Marlon Garnett continued his incredible shooting to give Belize a one point lead with 1:47 remaining. The Mexicans went to their go to guy Horacio Llamas who was too deep in the paint for an outsized Alex Carcamo to stop to give Mexico a one point lead. Mexico would score another two to go ahead by three with 39.5 seconds remaining.
Marlon Garnett curled off a baseline screen and responded with this three his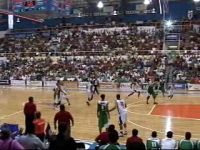 tenth of the night to tie it up with thirty seconds to play. Belize immediately went into a trapping defense which Horacio exploited by slipping his defender and cutting down the middle for what looked to be an open lay-up until he was stripped from behind Keenan Jourdon.
The ref called it as flagrant – meaning two free throws possession of the ball (24:06) but look again, it is not even a personal foul, it is a clean strip, "lone ball" as they say, and not a difficult play to make on a three hundred and twenty pound man who is lumbering towards the rim. But despite protestation, the bad call stood, Llamas converted his free throws and on the possession belize was forced to foul Pedroza, who scored only one of his free throws – leaving the lead at three with 15 seconds remaining.
Milton Palacio brought the ball up court, Marlon Garnett came off a baseline screen on the left side, but the Mexicans switched on everything leaving Gustavo Ayon, a seven footer on Garnett. When Garnett was doubled, he was forced to toss it back to Palacio, and Ayon switched back over, and his three with time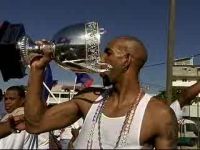 running out his three pointer didn't have a prayer. A sad ending for what had been a miraculous run but the team remained dignified.
And they were appreciated at home- that was apparent when they arrived at the Phillip Goldson International and they were greeted as heroes. Outside, the airport looked like a carnival as the motorcade got organized and the team was celebratory.
Marlon Garnett, Team Belize
"Man we in the building. We brought back the silver but it's all good."
And while Alex Carcamo took a sip from the cup of pride, the patriotic spirit was on display and the flags were everywhere. Belizeans stood or jumped up on sidewalks, verandahs, truck backs, and even a Minister on a day off came out to cheer. It was spirited on street corners and sentimental on sidewalks and emotional in Charlie Burgess's family's neighbourhood.
In all, the motorcade took about two and a half hours to wend its way through the city in a patriotic frenzy. It ended at the City Center where the drums set the stage for an extended autograph session and an opportunity for the captain of the national team and the captain of the ship of state to have an informal chat before the big speech.
Hon. Dean Barrow, Prime Minister
"When we all come together Belizeans living at home and Belizeans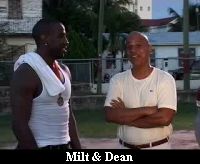 living abroad and we will use all our resources to get to the top of the highest possible mountains. Congratulations again to all the members of Team Belize. Congratulations to the organizers, to those who put this team together, and before I close I want to make you one promise: I will find the funds to build a dedicated first class basketball facility. The achievement of Team Belize deserves no less."
"God is great. The President of CDB happened to be here on Thursday, had come to talk to me about the fact that CDB wants to have a general capital increase and wants to ramp up its lending to the borrowing member countries in the light of the global crisis. And one of the first things I said to him was in terms of the new lending program, the Belizean projects that we will put in the pipeline, can you lend for a basketball facility and he said that in the context of urban rejuvenation, in the context of the social problems that we are having in Belize City, he thought the answer was yes.
If I can ultimately come through in terms of doing something to concretely signal and underline the gratitude that we feel as a nation, the gratitude that the government feels, then I am afraid I will have to, I am not even going to contemplate that – it's going to happen."
Jules Vasquez,
"You know we were robbed and I know there is no official protest."
Hon. Dean Barrow,
"We was robbed."
Jules Vasquez,
"We was robbed and I know there is no official protest to be filed but I would hope that whenever you see the Mexican President you can indicate to him that you know you owe us one."
Hon. Dean Barrow,
"I think he is the next one we will ask for the stadium."
The Prime Minister gave each player a signed flag.
Jules Vasquez,
"Going through the streets today, did you feel the love?"
Milton Palacio, Team Belize
"Ahh it was great man. You cannot even explain it. You cannot explain what the parade was about. I told Alex that in 1998 it wasn't even like this and we won gold so coming here and winning silver was great."
Jules Vasquez,
"You got cold seed, goose bumps?"
Milton Palacio,
"Of course man it is great because you know the country is behind you and that is biggest thing. Everybody was positive, everybody was saying in our hearts we are number one, even though we won the silver."
Jules Vasquez,
"I've seen you in Serbia with Valde hugging you up and you are rousing the crowd, how does this compare to that?"
Milton Palacio,
"I think it is more because you are playing for your country. I played in Serbia and it was good but playing for your country is even better and even sweeter."
It's of note that the Mexican team shot 62% from the field and 68% from the three point line – and it's virtually impossible to beat a team that's allowed to shoot that well. Belize shot 48% from the field and 52% from three led by Marlon Garnett's ten three-pointers. He ended with a game high 43 points. As regards the basketball facility discussed by the Prime Minister, he said he will also ask the Venezuelans for assistance as they plan to hold the next petrocaribe summit in Belize. And we'll have much more from Cancun later on in the newscast as Keith Swift takes us inside the journey of the Belize team.