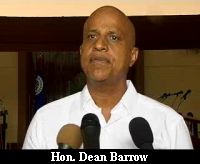 So in the next 48 hours, we should expect to see major changes at BTL – along with the paroxysms of an enforced transition in ownership. Today after the House sitting the Prime Minister discussed a few contingencies with the media.
Hon. Dean Barrow, Prime Minister
"There will be a prospectus done after the new Board of Directors takes over and the new articles of association have been adopted, shares will be valued and offered for sale to the public. That offer will not be limited to Belizeans. We are determined however and the new Articles of Association that will be adopted will in fact oblige this, that ultimately Belizeans must maintain at least a 51% ownership of the company that's being taken over."
Jules Vasquez,
"Sir is that realistic to say you cannot step into the same river twice, you can't step into the investment climate that prevailed in 1988, 21 years later and expect that strategic investors will not want to be the majority shareholders. That means unrealistic."
Hon. Dean Barrow,
"Well that's your opinion and I suppose the events will prove whether you are right or wrong but certainly as of now that is the clear intention of the government and that is what the Articles of Association will in fact prescribe."
Jules Vasquez,
"Sir Mr. Finnegan said the decision was an agonizing decision. What made it so? clearly you feel that it is the right thing to do so was it agonizing because you know of the many intractable legal battles you are now invoking?"
Hon. Dean Barrow,
"But you are putting Mr. Finnegan's words into my mouth. Did I say that I was agonizing? If you ask me, I would say that of course long and anxious thought had to be given to this and for some fairly obvious reasons. One, Michael Ashcroft is nobody to lightly challenge, we know now that he will do everything in his power to hurt Belize and that is our first concern. Certainly, it will hurt the UDP with respect to the next election. He will spend every last dime if he has to, to ensure a loss for the UDP. The need to reassure the international community, the legitimate concerns about whether the signal that the signal the acquisition sends is not one that could potentially be harmful, all these things made the inputs into the final decision, inputs that had to be made after exhaustive discussions and over a long period, but in the end there was absolutely no doubt I believe in anyone's mind that this was what we needed to do."
Later on, we'll tell you how the Prime Minister also made an offer to the family of Charles and Hirian Goode.