The Prime Minister's oldest son, Jamal Shyne Barrow, latterly known as Moses Michael Leviy is still in custody of Immigration and Customs Enforcement at an unspecified holding facility in Western New York state at this hour. As we told you last night, he is being held pending deportation to Belize. Shyne was released from the Clinton Correctional Facility – the largest maximum security prison in New York State – yesterday – but was immediately detained by Immigration and Customs officials. That's because Shyne who migrated to the United States when he was 7 - is a green card holder and standard US policy is that permanent residence holders who have been convicted of a violent crimes are deported to their home countries. But his attorneys are fighting deportation because Shyne's home is in New York and so is his future as a recording artist.
His Uncle Michael Finnegan who is just back from Detroit, Michigan today told us that he has been in constant and close contact with his sister Imion Myvett, who is Shyne's mother. She lives in New Jersey and is waiting for her son to come home to her but Finnegan admits that right now they can only hope that he will get there, if not, he will end up coming to this home in Belize.
Michael Finnegan, Uncle of Shyne Barrow
"He has been released from the prison and he is being attended to or being held by the immigration authorities. The matter will be dealt with by a well known immigration lawyer and he is being supported by Professor Overtree, you know the guy that was connected to Barack Obama campaign, well known professor,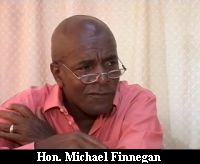 and as I understand from them while I was there yesterday, the process would want to appear to be looking kind of positive. But as a family we are not over, we don't want to be too confident because any number can play once you're dealing with court matters.
Yuh know dah me raise him so if he have to come back home he will come back to Goldson Avenue where he started out from. He is in good spirits."
Jules Vasquez,
"Was he expecting that the Immigration and Customs Enforcement would have intercepted him?"
Michael Finnegan,
"Yes we knew that would happen but he had the differed legal people in play so that when this happened, they can process the necessary documents and so on and carried it from there."
Jules Vasquez,
"Have they indicated if and how soon he will be deported?"
Michael Finnegan,
"But that is what I am saying to you, I don't know if he will be deported. I know there are legal challenges that are being made by his attorneys and I would want to believe that those matters would be able to be resolved next week or the following week. So we'll know shortly."
Jules Vasquez,
"Do you feel sadness knowing that my nephew had to endure all these struggles?"
Michael Finnegan,
"Well yuh know I am a tough man but two times I cried in my adult life; when he was first sentenced to prison and when he was released on the 6th, on Tuesday."
Jules Vasquez,
"You cried on Tuesday why?"
Michael Finnegan,
"Just the emotion and the feeling. Dah part of me that and also his father, he has been very instrumental in trying to resolve his legal problems that he has over there."
Finnegan told us that just as a back up plan – he is preparing living quarters at his home on Goldson Avenue if Shyne is deported. Whatever the case, when he is released Shyne has two multi-million dollar recording contracts pending. Make no mistake, Shyne Barrow is a big star in the recording industry – his eponymous first album sold nearly a million copies. Hi second album, recorded and released while he was incarcerated sold just under half a million copies.