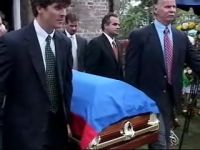 The funeral procession ended in front of the St. John's Cathedral on Albert Street West which is where there was an official funeral service officiated by Anglican Bishop Phillip Wright and Canon Leroy Flowers. Here is that story.
Keith Swift Reporting,
The first to arrive at St. John's Cathedral was Sir Barry's wife Lady Dixie and their children. Lady Dixie was greeted by other family members and friends. Later she was in tears and had to be consoled as the BDF soldiers slowly carried the body of Sir Barry Bowen into the cathedral. Outside the cathedral
it was standing room only. Two Belikin tents placed in the yard were at capacity.
Inside the cathedral the pews were filled and so was the balcony. The mood was sombre. There was a smattering of political leaders including Prime Minister Dean Barrow and his wife as well as former Prime Minister Said Musa and his wife along with other dignitaries. The official remembrance was given by Senator Douglas Singh.
Douglas Singh, Official Remembrance
"But most of all Sir Barry Bowen was a true Belizean. He invested in Belize. He truly believed in helping to develop Belize. He did not restrict himself to the bottling and distribution business. He ventured into shrimp farming,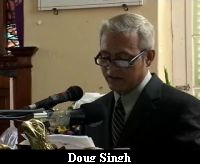 energy production, cattle and other agricultural tourism ventures that helped to create more employment for Belizeans and increase the country's exports. The Bowen enterprise has lost a leader. His wife has lost a great husband, the children a great father, and Belize has lost a great son."
John Searle, Bowen's childhood friend, delivered the remembrance.
John Searle, The Remembrance
"I mention that Barry grew up along the Southern Foreshore in Belize and that is where I had the good fortune of meeting him and that is when I realized what type of a person Barry really us. Even at an early age, Barry was handsome, headstrong and daring. Amongst us kids, because that's what we were, it was he that excelled in everything that he did. He had to, he would not accept second best under any circumstances.
Barry had a tremendous zest for life, a real joy for life and I think that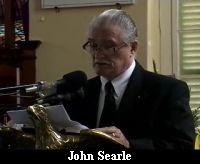 amongst his contemporaries he probably got more out of life than the rest of life."
The mood went from reflective to emotional.
John Searle,
"Sir Barry Mansfield Bowen, Knight Commander of St. Michael's and St. George, you will always be remembered in Belize and abroad as an icon in our time, a man of the people and for the people. I will assure you all that Sir Barry Mansfield Bowen will be sadly missed by this entire nation. Goodbye Barry. May you rest peacefully with the Lord forever."
And the last stretch of his journey to his final resting place here on earth
began as the bell at St. John's Cathedral tolled and his sons carried out his flag draped coffin for Sir. Barry's final journey to San Ignacio.
The journey continued to Cayo where all along the route – in a quite remarkable showing - school children and businesses came out to pay their respects and watch the motorcade. This afternoon after the marching in of the firing party, and religious burial rites there was the interment followed by a gun salute at the San Ignacio Town Cemetery. Barry Mansfield Bowen is buried alongside his father: Eric William Mansfield Bowen, his mother: Emilie Josephine Bowen with the fourth space vacant.
A memorial service will be held tomorrow in Gallon Jug for Mike and Jill Casey and their two young children – 2 and a half year old Makayla and their five month old son Bryce. Their bodies will be flown back to Albany New York for burial.
Much is still not known about the accident but we should have answers tomorrow. The Civil Aviation Department will a host a press conference at 2 pm at the international airport. We'll have full coverage of that.