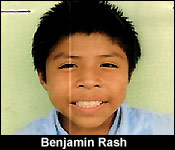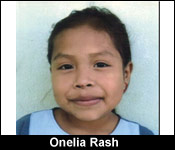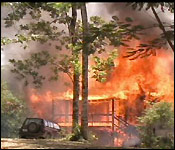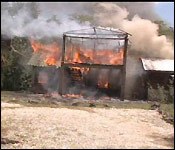 Tonight two children, a 9 year old boy and an 11 year old girl from San Marcos Villagers are missing. The worst is feared because they have been missing for over a week. And their disappearance has caused an uproar in Punta Gorda Town.
Villagers from San Marcos feel the police have been casually ignoring them - and that bitterness culminated yesterday when a home was burnt down.
But tensions started to boil over from early Sunday morning when armed villagers - about 100 of them - showed up outside the PG police station demanding that police go and search an American couple's home in the Water Hole Area. Police didn't accede to the demands and shortly after the home was on Fire. We got this video from our friends at PGTV:….
Jules Vasquez, Reporting
This is Vincent Rose's home in the water Hole Area outside of Punta Gorda at about 10:30 yesterday morning. The house was set on fire by an angry mob who believe that Rose was somehow responsible for these two missing children, Benjamin 9 and Onelia Rash 11 - who disappeared 17 days earlier. This is information the villagers got from an oracle and passed unto police:
Fitzroy Yearwood, Police Press Officer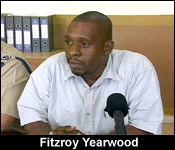 "September 2nd, I am going back a little, police received a report that the owner Vince Rose of Croc Land in Toledo - they believed that these children were being held there against their will. Police conducted searches on the premises and it was fruitless. The reason I am mentioning that is because...."
Jules Vasquez
"They reached that conclusion based on what information?"
Fitzroy Yearwood, Police Press Officer
"Well the family claims that they consulted an oracle and, Jules, when your children are missing, whatever lead given to us we will follow."
But they followed it and nothing was found at Rose's home or his adjoining property, the American crocodile education sanctuary.
But the villagers were fixed on the notion that Rose somehow knew about the missing children. So a mob went to his home in the water Hole Area outside of PG and burnt it down. Rose was in San Pedro when it happened
Vince Rose, Owner of house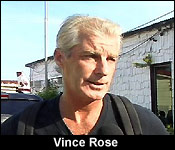 "I am still at a shock and all I've done since I've heard of this is me and my wife crying. It's just unacceptable that a pre-meditated group of savages - and they are not human beings, they are savages - they should not even be out on the streets; they should all be in prison because they are not human beings. It was pre-meditated and they are savages and I am going back to see if any of the animals are alive or dead. That's unacceptable. Belizeans should be ashamed of themselves to allow people to live in their country that are savages."
Jules Vasquez
"For the avoidance of doubt, do you have any idea, do you know anything about these kids?"
Vince Rose, Owner of house
"I never knew anything about the kids missing until Thursday, the day I left to come to this island to go and catch crocs. 4 boys showed up at my front gate with machetes and asked if I heard anything about a missing child. I said no. I don't know anything about it; I didn't heard anything about it and at that time they did not ask me 'Vince can we just walk around and search' sure I would have let you - come on in and I'll give you a tour of the whole place. No they didn't ask me nothing, they went on their way. I thought nothing of it, got on a plane, came here, caught 3 crocodiles, tied them up and put them at Tamara Sniffin's place, got the phone call from the police department that I had no more ACES."
After the fire, police intercepted the mob, took control of their bus and their arms which included machetes and rifles and detained the still enraged group at the PG station. They feel that police have ignored them because they are friendly to Rose: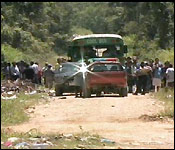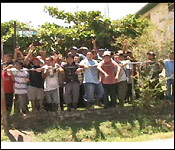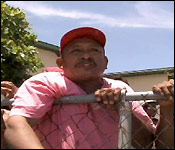 Angry villager
"From Monday we make a report. No police, no BDF come and assist us in the San Marcos Village. No BDF or police came, something is wrong somewhere."
Fitzroy Yearwood, Police Press Officer
"Like you rightfully mention they were highly armed but for some miraculous reason these persons were disarmed and contained. Yes, additional personnel and BDF had to be brought in but at the end of the day these persons were escorted to the Punta Gorda police Station where the disarming took place."
Disarmed and detained - after the fact - when the police should have known where they were heading.
Jules Vasquez
"Did the police fail to protect property? I was all the way in Belize City and I knew that they are going from the police station to burn down the man house. No oracle told me."
Fitzroy Yearwood, Police Press Officer
"In all fairness to the police department. That's Mr. Rose's private property, Mr. Rose had a wooden building on his property that was properly secured by burglar bars. You are saying that the rumors were going around that they were going to burn that building. The police did everything in their power to secure that building, but fire, we cannot prevent fire."
Jules Vasquez
"But you can prevent people from going to set a fire."
Fitzroy Yearwood, Police Press Officer
"Jules, if you are going to set a fire; will you go into the front entrance to that property?"
The fact is though that the police were neither at the front or the back - they came after and now Vincent Rose says he only has the clothes on his back:
Vince Rose, Owner of house
"My whole life that I built as a little boy is gone. I didn't just move here with a couple of bags, my whole life that I had was there and I know material things but they have meaning to me and my wife besides all the hard work we did. So Punta Gorda lost out because that sanctuary is gone; so is the education; so is any help. This is going to go on every news station I can ever get to internationally. I guess I have to go back like when I was 18 years and go find a job and a place to live and go buy some underwear and maybe some shampoo and start all over because I got nothing."
The men were detained until around noon yesterday and then released without charge. Police say a special team is investigating.
The villagers went back to the police station this afternoon and started a picket which lasted three hours. San Marcos has cancelled school for a week.
There were 17 crocodiles housed at ACE which is next to the house that was on fire. None of them escaped but reports are that one was shot and one was hacked with a machete.
The physical damage to the structure is estimated at one million dollars - it was not insured. And having seen the damage Rose said he plans to move the crocodiles to San Pedro - where he will set up a mini sanctuary if he can find financing.. But even as the uproar on all sides increases - the most worrying aspect of the case is that the children are still missing. Police say they were selling fruits for their family when they went missing on Monday August 30th:
Fitzroy Yearwood, Police Press Officer
"The father, a farmer of San Marcos Village in Toledo, visited the Punta Gorda Police Station on Monday August 30th where he reported that his 2 children was sent to Punta Gorda Town to sell lime and craboo and they have not return home since. Our investigation led us to the southern highway somewhere in Cattle Landing Village where the children were last seen around 3:45 pm where it is believe that they were trying to catch a ride to go back home to San Marcos Village. On Friday September 3rd, 50 police recruits were sent to this area along with special constables from Toledo, Toledo police personnel and the search intensified because from the 30th until the 3rd and we haven't found them. We believe that the need to intensify this search was there."
Police say that with those recruits, they have over 100 persons looking for kids - but so far they have not been found and there are no leads.