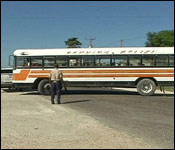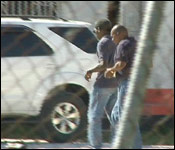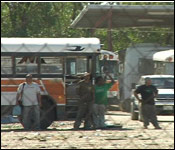 On Tuesday, we told you about the Belize Bank sending receivers to collect the assets of on Bel-Bus, a Novelo's luxury bus company.
And while that seemed remote, today it hit home for scores of commuters as, receivers moved against a more well-known, much-used Novelo's company. That's National Transport - the bus line that controls 20 bus runs between Benque Viejo Town and Belize City.
This morning at 10:00 am - our news team was at the National Transport compound at mile 3 on the Western highway where police were on site and receiver Kevin Castillo and Bob Garcia were on hand.
Now, if you're getting an odd sense of déjà vu - you're dead on: Castillo and Garcia were the same receivers appointed to take over the original Novelo's bus line in March of 2004 - when DFC and the Atlantic Bank hired them to take over. This time it's the Belize Bank - and according to National's former Manager Of Operations Philip Jones, employees were sent home immediately by the receiver:…
Phillip Jones, Former Operations Manager NTSL
"This morning a little bit after 9 the receiver acting on Belize Bank Mr. Kevin Castillo along with Mr. Robert Garcia and Mr. John Flowers who is the chairman of the transport board came in burst the lock and saying that they are now the present receiver and they are acting on behalf of Belize Bank and immediately Mr. Kevin Castillo told me that I need to exit off the compound because I no longer work there. I was terminated this morning on the spot."
Andrea Polanco
"There are busses that are going to be running the regular route that National Transport use to travel that busses were gotten to provide the service that you guys were providing."
Phillip Jones, Former Operations Manager NTSL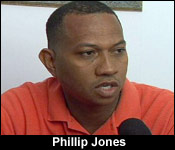 "Ok, presently this morning we run our normal schedule as National Transport before the receiver from Belize Bank takeover. Up until 9:30 after that it was like a scuffle due to the fact that the bank had personnel along with police to take passengers off the National bus and have them return back to Belize, we had instance in Belmopan, we had instance in San Ignacio, Benque, Corozal, Orange Walk and the border that passengers was taken off the bus literally so that the bus can be escorted by bank personnel and receiver personnel to Belize City empty and as far as I know this morning after we send the 9:30 immediately there was no bus running and passengers was really inconvenient due to the fact that they were taken off the bus. We have over 275 workers including myself that did not get salary today and will not get salary."
Andrea Polanco
"How did the employees react with all the news?"
Phillip Jones, Former Operations Manager NTSL
"Well the employees they were shock, they were at dismay, they knew we had a good relationship with Belize bank and we can't believe that Belize bank will do this at this point in time knowing that it's a crucial payroll for this week and for the holiday because today which is Friday we would have arrange to pay the employees for the entire Christmas season up until the end of the month because that the way we normally do at Christmas and if we have any extra we give them a bonus in advance so that they can do their Christmas shopping. The workers fates are uncertain at this point in time."
Andrea Polanco
"You weren't given any prior notice that this was going to take place that today they would come and take the busses."
Phillip Jones, Former Operations Manager NTSL
"Nothing, they just showed up at the yard Mr. Kevin Castillo just showed up and had the lock cut because we keep the lock for security reasons, we had some problem in the past and we ensure safety for the employees. Mr. Kevin Castillo went up there and he cut the lock and he just burst in and says that he is here on behalf of Belize bank, he is now the receiver accompanied by Mr. Robert Garcia and Mr. John Flowers and they are taking over the company."
We were unable to reach the receiver, Kevin Castillo.
National controlled 20 runs on the Western Highway, travelling form Belize City to Benque from 5:30 am to 12:30 pm and in the other direction from 12:30 pm to 5:30 pm.
According to Transport Minister Melvin Hulse they got notice of the impending receivership yesterday evening and held emergency meetings with other bus lines in the west to assume those runs starting at 10:00 am this morning - so there was no major inconvenience to commuters. Those operators will keep servicing those 20 runs as long as it is needed. In the north, where the Novelo's held unto 5 runs - that case is not so clear and according to Trasnport CEO Candelaria Saldivar Mortis there may be some inconvenience there because of the two year old injunction that National has against the Ministry Of Transport.
A release from National Transport this evening says that their demise is due to the Zoning Scheme implemented by the Transport Department, which, the company claims has denied them over 50% of the bus runs it had held prior to October 19, 2008. The release states that National's revenue has plummetted leaving it unable to service its debts.
But, it's the Novelo's, after all, and they're not going out just like that…the release states that they, quote, "intend to take all legal action in respect of the Belize Bank Receivership that is necessary to safeguard their rights.." The release ends with a flourish, warning that, quote:
"Belize's economic wellbeing will be seriously impacted if actions taken by commercial banks…impede and hinder the…efforts of….entrepreneurs and allow the extraction of short term financial gain at the expense of …development," end quote. As we alluded to earlier in the week, the Belize Bank has activated a Group Risk Unit to purge the bank of many of its multi-million dollar non performing debts. The clamp-won commences with Luke Espat and the Novelo's, not exactly blue-chip names, but as the Unit works its way down the list, there are suggestions that some captains of commerce may be called upon - and - with 275 jobless in today's single swoop - the implications for an already torpid economy could be massive….