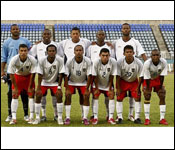 Belize's National Football Selection will play the return match of its World Cup Qualifier against Montserrat. But it won't happen at the FFB headquarters in Belmopan; the game will be played in Honduras on July 17th - as we had reported two nights ago.
FIFA today announced that it is provisionally lifting the suspension of the Football Federations of Belize, quote "following some positive developments in the case, as reported by the FFB to FIFA." Now, according to a release this evening from the Government of Belize; there are no developments at all - the matter is just where it was on June 27th when both sides left the Supreme Court. The FFB has still not been registered by the Spots Council - in fact the Sports Council has not even met to consider the submission of the 2010 statutes.
Government says it views FIFA's decision with dismay because that body has been informed that the FFB, quote, "is not authorized to represent the people and country of Belize in local or international competition, (and FIFA) continues to sanction matches for a team that is not recognized by the country of Belize as its National Team," end quote. The release from the FFB is far more upbeat. It says quote, "While the FFB is disappointed that our local fans will not be able to support our boys (at home), it will continue to work with our local authorities to find a solution to this impasse."
It adds, "given the willingness of the FFB and the readiness of our local authorities to find a solution, the FFB is hopeful that all football fans will be able to enjoy future World Cup Qualifier games on our home soil."
Well, we don't know about the readiness of local authorities - the Government says quote "(We) call on FIFA, and our sister nation Honduras, to respect our national sovereignty and our right to require accountability from those who represent us in international sports. " FIFA of course, couldn't be bothered with what any government says, and they warn that the suspension will be re-instated on the the 15th. August if the FFB is not able to definitively settle the issues at stake with the Sports Council.