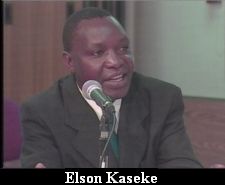 Today's Cayo Star Newspaper has an explosive story about former Solicitor General Elson Kaseke, who, the article tells was locked up by police on Tuesday night. On Monday, he was in fine fighting form when he represented Glen Godfrey at the DFC Commission of Inquiry, but a day later, Cayo police had attorney Elson Kaseke in lockdown.
The Star reports and 7NEWS has independently confirmed reports that on Tuesday night Kaseke was detained by San Ignacio police. It started at around 10:00 pm, when police were called to Champion's Bar in the center of San Ignacio Town where Kaseke and some friends were socializing.
Police were responding to a report that a patron at the bar had been brandishing a toy gun. When police got there, they searched three men including Kaseke's driver Ruben Echeverria. But Kaseke told the police the men were his clients and they could not be searched. Despite bitter protestations from Kaseke, the police continued with the search and proceeded to escort Echevveria downstairs to search his vehicle.
That is when one of the officers allege Kaseke assaulted him, and they placed a cuff on one of his hands, but when Kaseke resisted, they forced him to the ground and that's when the attorney got an abrasion above his eye. He continued to protest loudly and Kaseke was taken into the police station, where he was locked down. That's when the calls started coming in, from at least one Minister of government.

Officer in charge of Cayo Superintendent David Henderson was called to come down to the station, and he invited Kaseke into his office to talk it over. But in the OC's office Kaseke reportedly exploded into a rage again and had to be put back into the cell. Around 1:00 am Kaseke had cooled some and was let free without any charge. The well connected lawyer got a warning for a summons.
Kaseke told the Star Newspaper that his rights and those of his friends had been violated by police. He tells the paper that it was an act of unlawful imprisonment.
Kaseke's vehicle was impounded. His friends were detained for 13 hours and were released at 2:00 the next afternoon without any charge, the vehicle was also released to Kaseke's driver who was one of the detainees.