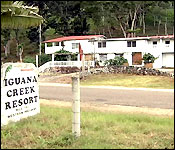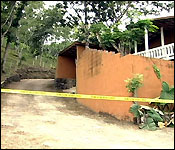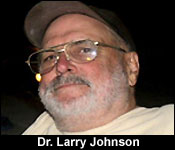 This week, we've been reporting on the alarming number of armed home and property invasions in the Cayo District - there have been at least five since August first, all of them involving various groupings of and variously equipped masked, armed men.
So far, a number of families have been terrorized but no one has been seriously hurt - that is up to last night, when an elderly American resort owner was cruelly killed.
Jim McFadzean has been out west all day and he has this report:..
Jim McFadzean reporting
The American businessman/Chiropractor was well known in the small community he lived, and only an hour before he became victim to the mindless violence that has been on the rise in the area, he was the guest of friends nearby for dinner. As a matter a fact, this photo you see of Johnson was taken only an hour before his cruel death.
What happened after he returned back home sometime around 9pm is anybody's guess. The Manager of his property told us what he found out from the man that ran to the rescue of Johnson after he was being attacked in his home by six masked men.
Voice of Manager of the property
"According to him he was making tortillas in the downstairs and he hear the noises up there when Johnson call out for him. At the same time I heard him called out for Felix and Michael, so I thought that probably Felix and Michael was here."
Reporter
"How many people did you hear?"
Voice of Manager of the property
"According to the guy it was six of them. Only the police can give you more information about that."
But what the police has offered to tell us so far came in the form of a press release. According to their preliminary investigations, they found the 68 year old lying face up in a van, with injuries to both his face and arms. As the investigation reveals so far, six male persons with mask over their faces invaded the home of Johnson and proceeded to beat him. One of his workers heard his cry for help and rushed to his aid, but the Guatemalan laborer, Julio Funes was given a whipping by the men with a machete to his back and leg. The group of attackers then tied up both Funes and Johnson and placed them in Johnson's van where they proceeded to throw gasoline on them, and then left the area. The guess is that neither of the men had a match or lighter to complete their vicious and senseless act.
68 year old Lawrence Johnson maintained residences in both Belize and the United States. According to his friends he fell in love with the country and set up shop in the quiet village of Ontario some 20 years ago. Since then he built a small resort called the Iguana Creek Lodge, and then got involved in the trading of livestock and Arabian horses with the mennonites. But besides the business, he was an active member of the Belize Landowner's Association. This afternoon, two of his colleagues, both prominent members of the community spoke briefly about the last moments they spent with their late friend Lawrence Allan Johnson.
Dr. Errol Vanzie, Retired Public Health Officer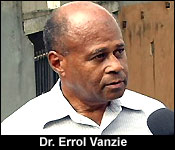 "I saw him about 4 months ago. He usually go to the states to work for a couple of months and then he comes and spent the winter months here and during that time he was very active in the lands' owner association. We used to meet at his place for our monthly meetings. The last time I communicated with him was on Monday through email because he told us that he was coming to Belize and we were going to organize a meeting. That's the last I heard of him."
Jim McFadzean
"Mr. Carr you have roots in Belize, you are a Belizean and you've been around here and everybody knows you, there is got to be some great concern about what's going on in the west right now. This is the 6th incident that involves x number of armed men breaking in and committing not only robbery but murdering innocent civilians. How safe to do feel?"
John Carr, Banana Bank Lodge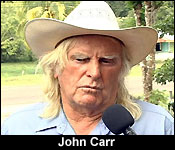 "I am the president of the Livestock Association; we had a meeting this morning. We all kinda live on farms; we spend time on our farms with our cattle and stuff. You can't always be around all the time and that was a large part of our discussion this morning about how safe we don't feel and we feel very insecure and we are trying to think about how we will get hope. We think we will get hope when some justice happens and they catch people that commit crimes. Until that happens, we are very worried."
At midday today the police crime scene tape was still up at the Johnson's residence, indicating that the police are vigorously looking for clues still in determining the motive for this latest homicide.
No one has been detained. Johnson's wife is expected to come to the country to tend to his affairs.
Johnson came to prominence some time ago as the former secretary of the Landowner's Association which was battling government on the sixth amendment.