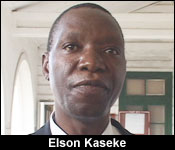 Well-known attorney Dr. Elson Kaseke died this morning in a Merida Hospital. Kaseke had been ailing for some time - so much so that two months ago, it was wrongly reported that he had passed away.
Well, this time it's true: we have confirmed with his close legal Associate Godfrey Smith that Dr. Kaseke is dead.
There is no specific word on what illness claimed his life, but he was known to have multiple, very serious medical issues.
He was in his early 40's - we could not reach a family member as Kaseke comes originally from Zimbabwe - and he was pre-deceased by his wife and sister-in-law, both of whom were his only adult relatives in Belize.
Kaseke had also suffered the loss of a young son - who had a neurological disorder. As we understand it, he leaves behind a daughter who is 12.
And while his personal life was beset with tragedy, in his professional life, Kaseke was a highly-regarded attorney, known for his tenacity, tirelessness and research. One colleague called him "a force of nature."
But more than just a formidable barrister, Kaseke was also a competent legal draftsman.
That is how he first came to Belize - in the early 90's when he worked in the Attorney General's Ministry.
Then in 2001, he was promoted to Solicitor General and served three successive Attorneys General in that post.
In 2006, after a rocky departure from the Attorney General's ministry, he blazed out into private practice where he enjoyed a meteoric ascent in the private bar.
And while professionally respected, Kaseke had an abrasive personal style and excessive habits that earned him more enemies than friends.
Still, his work lives on; he's responsible for the online version of the Laws of Belize as well as the Supreme court rules of 2005 among copious contributions to the body of Belizean laws.
Funeral arrangements have not been settled as his body is being returned from Merida.