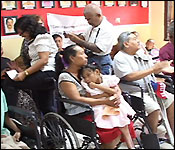 As we showed you at the top of the newscast, Kim Simplis Barrow is coping with chemotherapy, but she's also doing her best to keep up with her duties as Special Envoy for Women and Children.
And so this morning at the Lion's Clinic, she partners with CARE Belize and the Tawianese Embassy to hand over over 60 wheelchairs to physically challenged Belizeans and several organizations.
Monica Bodden was there and found out about the effort:..
Monica Bodden reporting
The Prime Minister's Wife, Kim Simplis Barrow, Special Envoy for Women and Children along with the Embassy of the Republic of China - Taiwan- handed over 60 wheelchairs this morning to a number of organizations and physically challenged Belizeans.
Those who benefited from the donations included the Karl Heusner Memorial Hospital which received 25 chairs, Stella Morris School which received 5 chairs, Care Belize clients in Corozal and Orange Walk which received 12, while 8 chairs went to residents of Benque, and ten chairs to an organization called VOICE which represents older people of Belize.
Kim Simplis Barrow - Special Envoy for Women and Children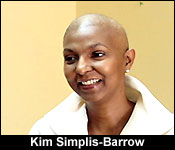 "The wheelchairs that are being handed over today are part of a much larger donation of 250 wheelchairs and come courtesy of the Pusian Foundation in Taiwan."
"In July I had the opportunity to visit that country and met with several NGOs, in an effort to lay a foundation for future collaboration."
"During the trip I was pleasantly surprised when the foundation made known their intention to donate these wheelchairs and it came to be a more timely donation."
"Mobility is something that many of us take for granted, with our properly functioning legs it may be hard for us to imagine being stranded inside our house and not being able to get around without assistance from family and friends or being limited by crutches, walkers, wheelchairs and even cane but that is reality for many Belizeans."
In his remarks, Ambassador David Wu mentioned that his government was pleased to support the provision of the wheelchairs and he also stated that the government of Taiwan will also be donating 200 hundred thousand US dollars to put towards an Inspiration Centre - which is the brainchild of Simplis-Barrow to provide various therapy and basic healthcare to persons with disabilities.
David Wu - Taiwan Ambassador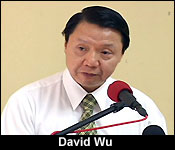 "The inspiration center project is aimed at providing services for the Belizean population, living with disabilities and what a truly honorable project it is indeed."
"There are many people throughout the world that must live with disabilities every day and they endure struggles to live a normal life. Their handicaps make every day activities which we take for granted daily, a tremendous task and a burden, where Mrs. Barrow, the special envoy for women and children gave a presentation to introduce the project at a diplomatic briefing held on September 20th 2011, and ask from the international community to extend in assistance."
"My government of the Republic of China, Taiwan stood ready to extend any assistance to such charitable cause. Aside from the donation of the 250 wheelchairs which was donated by the Pusian Buddhist Foundation in Taiwan, my government will also donate two hundred thousand US dollars for the construction of the inspiration center."
Those were just 60 chairs out of a donation of 2 hundred and 50 that were gifted to Mrs. Barrow by the Pusian Foundation of Taiwan.
Kim Simplis Barrow - Special Envoy for Women and Children
"We are only donation some today, because we still have to assembly them but the 250 wheelchairs basically already have owners, it's amazing the demand these wheelchairs have in Belize."
"A wheelchair cost about 500 dollars and for a cash stricken families, it's really hard to come up with 500 hundred dollars to make a family member mobile again, so it is really a much needed piece of equipment if you want to call it, because it really helps to enable the person to be independent, so we are very thankful for the donation from Pusian Organization which came through the Taiwanese's embassy."
THE KHMH received 25 chairs; VOICE received 10 chairs, and Stella Maris received 5.