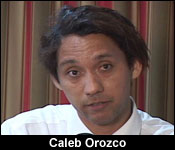 President of UNIBAM and gay rights activist Caleb Orozco was physically assaulted this evening. The incident happened around 4:30 in the George Street area.
After shouting gay slurs at him, one of the young men then rode up and hurled a beer bottle at him, resulting in a bruise to his face and damage to two of his teeth.
When we spoke with Orozco this evening, he told us he saw the incident coming after he noticed the man conversing with another.
Orozco has given the police a statement, but so far no one has been arrested. He also told 7news that before the incident occurred, he was walking on Euphrates Avenue when he was threatened by two men who told him not to walk on their street.