Last week we told you about a bizarre home invasion when a group of men - allegedly the GSU - stormed into a home on Dean Street and brutalized the residents, beating them with bats and clubs.
At the end of it, two men had broken bones, and two others had multiple abrasions and deep bruises.
One of those same men was beaten back in August when the Gang Suppression Unit descended on George Street.
And now, it looks like a smaller replay of that same incident: brutality just for the sake of it - since no arrests were made, and no charges were brought.
GSU Commander Superintendent Marco Vidal told us that he was certain his officers were not involved.
Well, today the Prime Minister told us he believes the GSU was involved, and he's not going to stand by and just let it pass:
Prime Minister Dean Barrow - Prime Minister of Belize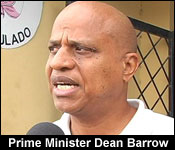 "I don't accept that the GSU was not involved. I don't know that the GSU was, but all the evidence - I wasn't here. And so, I perhaps need to be careful. I believe that the GSU was involved, and I want to say that there is no way that I can countenance anything that appears to be human rights abuses. And while I repeat that I wasn't in the country - I didn't see the newscast. I haven't seen the images. Everything that I've heard suggests that the officers went overboard. I am going to be discussing this with the Police Minister. I'm probably going to be discussing it with the Commissioner of Police and with head of the GSU, Mr. Vidal. I have to be careful. I want to be as moderate as I can in my language, not having seen the evidence, but I want also to be equivocal about signaling that nothing can justify simply storming into people's homes and beating up on people. I don't care who they are."
Area representative Michael Finnegan had much stronger words. He told us that, according to the residents, they (the Police) behaved like thugs and criminals, and their conduct was not becoming of officers of the law.
He added that it is the second time they have gone into his divisions and abused the human rights of residents and quote, "I am asking to them for god's sake don't let there be a third time." END QUOTE...