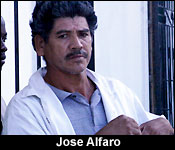 53 year-old Jose Alfaro, a Guatemalan businessman of Ladyville, was arraigned for attempting to commit human trafficking when he appeared before Chief Magistrate Anne Marie Smith.
It is alleged that sometime between February 22 and March 16 of this year, and on March 17, he tried to recruit a 16 year-old female minor to become a prostitute in his bar in Ladyville.
Alfaro pleaded not guilty to two counts of the same charge, but he couldn't be granted bail because the prosecutor objected on several grounds.
The prosecutor told the court that Alfaro is a flight-risk because he is a Guatemalan national. Secondly, the prosecutor asked the court to consider the serious nature of the crime, its penalties, and the age of the victim. He also objected to bail on the grounds that he may be able to interfere with the victim and the witnesses.
After considering the prosecutor's objections, Chief Magistrate Smith remanded Alfaro to prison and adjourned the matter until April 26.