Today gay and human rights activists in Belize joined 80 countries around the world to celebrate IDAHO, not the state in the USA famous for potatoes, but the "International Day against homophobia."
Today supporters of UNIBAM and the We Are One in Human Rights Campaign gathered at the Smokey Mermaid Restaurant today in a show of solidarity against, homophobia, violence against gay persons, and all forms of discrimination in Belize.
Of course, it's also a chance to shore up support against the religious right - which is stridently opposed to the homosexual lob buy. 7news spoke with Gay Rights activist and President of UniBAM - Caleb Orozco.
Caleb Orozco, Gay Rights activist and President of UniBAM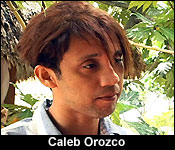 "While societies speak about discrimination, the issue of discrimination around homophobia. It also is a day to highlight some of the problems that gay bisexual transgender persons face across the world. There are 1.5 billion people who experience or lived under very discriminatory laws around the world. There are 78 countries according to International Lesbian and Gay Association in their report which has laws that discriminate against gay people but more precisely today is about the humanness about how people treat each other because of their difference."
"For us the issue is to bring the issue of homophobia to the table. You don't have to believe about or take a position of sexual orientation or marriage equality or gay rights but we all want the same thing to be treated with respect when walking the streets. Not everybody is treated fairly or with respect. There are things that are happening in Belize like getting into a taxi and just because you are suspiciously gay, the taxi would charge you more or the taxi would simply pass by because you look too gay."
"There are things like acting a little bit too feminine in school and being suspended because you look too feminine and being told to get counseling. There are things like people yelling "bun fyah" on the streets and they don't even know you. This is just for walking the street to go buy at a shop or to go to school or to go to your house."
"There are many indignities that gay people face in Belize, include experiencing sexual abuse and after many years of guilt and trauma being able to tell you mother that the sexual abuse happened and the mother turned around and tell you, you deserve it because you ask for it. Or there is the parent who decides they would threaten to kill their child rather than embrace their own blood. These are the indignities that gay people face not just in Belize but around the world."
"What are asking basically (it doesn't cost anything) for people to tape up their mouths to show support that they are concern with discrimination. What we are asking is that if people have Facebook to change their Facebook status to the word IDAHO. What we are asking is for people to share a particular testimony or a particular story of watching discrimination as it occurred on Facebook and they could do it on the UniBAM webpage or they can do it specifically on my personal web page. But more precisely what we've done is created an international day of IDAHO page just for this day and they can go on Facebook and document that story or too that they might have."
Since 2005, IDAHO day has been observed on May 17 to mark the day the World Health Organization removed homosexuality from the list of mental disorders in 1990.