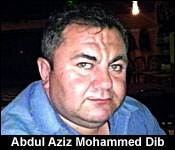 And while you could say that Alfred Schakron was an institution in Belize City - yesterday's murder victim, 40 year old Abdul Aziz Mohammed Dib was only a visitor who came to Belize every few months.
Dib was a US Citizen and car dealer who went for lunch yesterday at King Kabob Lebanese Restaurant.
Police say he was sitting with Khaled Assaad when a masked creole make strode in and opened fire at close range.
Today, police are reporting that he was shot 5 times, to the left hand, center of the abdomen, upper chest area, head, and lower back.
Police found nine 9mm expended shells on the scene. No one has been detained for either murder.
According to the 2010 census, there are 240 Lebanese in all of Belize, which is less than .1 % (point 1 percent) - so, to have two Lebanese murdered in 22 hours is highly exceptional.