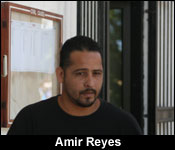 28 year-old Amir Reyes, a former prison officer from Orange Walk Town, has to pay $10,000 after he was convicted of drug trafficking in Magistrate Court today. He was caught trying to smuggle weed into the prison.
The prison officer who busted Reyes testified in the trial that at around 6:50 p.m. on May 7, 2012, Reyes reported to work with a black bag.
When the officer searched the bag, he found a container which contained food. Underneath the food, the officer discovered two black plastic bags stuffed with 324 grams if cannabis, almost three-quarter pound.
As a result, police arrested and charged Reyes with drug trafficking.
In his defense, Reyes testified saying that while on the way to work, he met a man who gave him to bag to take to prison. He said that this was the first time he met this "Kent", and he didn't know that drugs were inside.
Chief Magistrate Anne Marie Smith, after considering the evidence, found Reyes guilty of the offence, and she particularly remarked that his story was, quote, "a pack of lies".
Since it was his first drug trafficking conviction, Chief Magistrate Smith sentenced Reyes to pay the mandatory $10,000 fine. He was ordered to pay $5,000 forthwith and the balance by June 30, 2013, or he will face 3 years in prison if he defaults on payment.