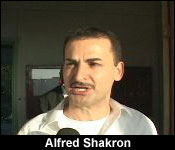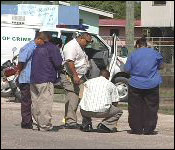 Belize City is still recovering from yesterday's stunning murder of 51 year old businessman Alfred Schakron.
It happened on Coney Drive in broad daylight - and investigators say the fatal shots were fired by men who drove a 2003 Ford Escape. Eyewitnesses told 7news that Schakron and the men appeared to be having an argument in Arabic before the shooting.
But, that is about all that is known tonight. There is no known motive, no suspects and no trace of the vehicle. The officer commanding Eastern Division Elodio Aragon today told the media they have set up a special multi-department team to investigate.
We also spoke with the Minister of National Security who underscored what a ministry press release said yesterday: that the execution of two Lebanese descent men in 24 hours is not a part of the current crime wave:
Hon. John Saldivar, Minister of National Security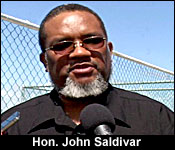 "It doesn't appear to follow the pattern of crime that we have been experiencing over the last few months and that this appears to be an act totally out of the norm in terms of the crime that we've been seeing recently and that it certainly appears to us an orchestrated hit against both business persons and we are looking into it to see the possibility of them being connected."
ACP Elodio Aragon - Officer Commanding Eastern Division
"We have a small team put together to oversee these investigations especially the two murders that we have had in regards to the Lebanese nationals. We have people from special branch, crime investigations branch, CIU and other personnel are involve in this investigation. We are hoping that we will receive the kind of leads and the investigation will bring about the kind of information and intelligence that we need to begin to deal with this case."
Jules Vasquez
"The Lebanese culture maybe somewhat insular secretive and if you are an outsider it is hard to understand or penetrate the inner workings of that fraternity. Is that a difficulty?"
ACP Elodio Aragon - Officer Commanding Eastern Division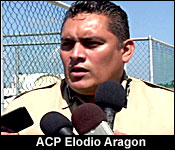 "It is always challenges in investigations, whether we are dealing with a child, whether we are dealing with groups of people etc. the job of the police department is to carry out the investigation as best as they could, look at working with the community etc. to try to solve these crimes."
The PUP today issued a release condemning the Ministry's statement as "callous and insensitive" and showing disregard for the loss of life.
Alfred Schakron's funeral will be held at the Divine Mercy Church on Saturday. From there his body will be taken to Lebanon for burial.
As we reported last night, Schakron had been in Belize for 16 years where he amassed an impressive business empire, complete with prime real estate holdings.
He had recently married a new wife Zeina Schakron, after finalizing a divorce with Yolanda Schakron now Yolanda Rodriguez. He was the father of two children.