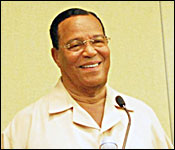 Nation of Islam Leader Minister Louis Farrakhan will make his third visit to Belize in December. He is on a five nation Caribbean Tour and will arrive in Belize on December 6th for a four day visit.
He will have a number of appearances and addresses - starting with a youth rally at Bird's Isle. He will also speak to the entire prison population at Kolbe Central Prison. And, as he did in his prior visits in 1975 and 1986, he will address the general public at Bird's Isle in a night-time gathering.
And while that is the public part of the visit, Farrakhan will also meet with the Governor General, the Prime Minister and the Leader of the Opposition and be hosted at an official welcoming reception sponsored by Foreign Minister Wilfred Elrington.
His Caribbean Tour started last week in Grenada and moves next to Barbados, then Dominica, the U.S. Virgin Islands, Belize and ends in the Bahamas.
Farrakhan has Caribbean roots: his father is from Jamaica and his mother is from St. Kitts.