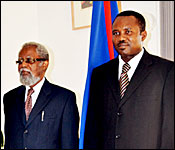 For the first time in a year, Belize has an Ombudsman. Lionel L. Arzu, was officially sworn in as the new Ombudsman this morning in Belmopan by Governor-General Sir Colville Young.
Arzu is expected to be in office on the first day of January, 2013. According to an official release, the PG resident leaves behind his job teaching at Julian Cho Technical in Toledo.
Arzu holds a Master of Science Degree in International Commerce and Policy from Valparaiso University and a Bachelor of Science in Liberal Arts with Management and Computer Science concentration from Knoxville College.
Will he be able to withstand the rigors of being the champion of the down-trodden? We hope to ask him next week.