There was a burglary in Mahogany Heights over the weekend and the burglars are from the same community. It happened early Sunday morning just before 2. Neighbors noticed when 4 burglars pried opened the back door of Shelly Edwards's home. Edwards and her family were not at home at the time so neighbors alerted the police who responded quickly. The robbers escaped with a variety of items including a bag of soap power and ice-cream - but they didn't make very far after they were caught red-handed. We found out more from the homeowner Shelly Edwards:..
Shelly Edwards, Victim of Burglary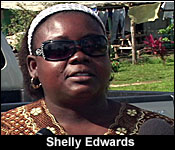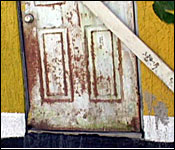 "I got a call from my neighbors stating that they burglarized my home. I went away for the weekend to spend my birthday with my mom. When I got that call I hurriedly came. I spoke to the police and they confirm that my home was burglarized. They told me that they retrieve the stuff and they got the culprits in custody."
"I could tell you that I have very good neighbors because they were the ones who call the police and alerted them about what was happening."
Reporter
"How did the burglars gained access?"
Shelly Edwards, Victim of Burglary
"They gained entry through the back door. They used a crow bar to pry open the back door because the police have the crow bar, they found it in my yard. Because of the quick police response here they got the culprits."
Reporter
"What was stolen from inside the house?"
Shelly Edwards, Victim of Burglary
"My stereo was stolen, they took my microwave, my daughter ice cream from the freezer, soap powders; they went into my daughter room and they ransack the room - threw around things. They broke my clock. I don't used matches at home and there is matches in the freezer and the hall - they used matches to see their way."
Monica Bodden
"I understand the culprits are from right around the neighborhood."
Shelly Edwards, Victim of Burglary
"Yes, they are right from up here. That was surprising to me because the culprits - I know them and everyone knows me, they call me Miss Michelle. I spoke to them and they told me that they would never do that to me."
Monica Bodden
"The items were found inside their home."
Shelly Edwards, Victim of Burglary
"Yes."
Reporter
"They were caught red handed, why lie about it?"
Shelly Edwards, Victim of Burglary
"I don't know."
The four culprits have been detained by police. They range from ages 13 to 20 years old.