The other major announcement coming out of today's meeting was that BTL will no longer be blocking Voice Over Internet Protocol services. That means that internet users will be able to use SKYPE, Net2phone and, presumably, Vonage to make their long distance calls for free. It's the end of a blockage that's been going on for more than a decade – and the PM said that, it's about time:..
Hon. Dean Barrow - Prime Minister of Belize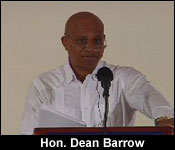 "At the end of this month, tomorrow, BTL will enable full and open access to VOIP based services and applications in Belize. I want to recognize and pay tribute to the BTL Board of Directors - there are several members of the board present this morning; I have to single out the indefatigable 82 year old Chairman of BTL who is like the energizer bunny that keeps on going and going (Mr. Nestor Vasquez) and COO Mrs. Karen Bevans. This will mean the use of high speed internet services including DSL, wireless internet and mobile internet, and will mean that there won't be any restrictions whatsoever on Voice Over Internet Protocol. This of course will affect BTL's revenues from it's voice traffic tremendously. I think we're thinking something around $7M being lost in the first year. But the government needed to keep its commitment. Technology is moving so quickly that we would have been playing a losing game if we had continued trying to restrict VOIP."
The background to that last statement is that increasingly popular applications such as Facetime and GMAIL Talk – which could not be blocked – have made Voice and Video Over Internet a reality for some time now.