There are two murders to report tonight – but our headline is, of course, the Jaguars – Belize's national football team that is in Portland, Oregon tonight 24 plus hours away from the biggest games of their lives.

Our Jules Vasquez is embedded with the National Team in Portland and he'll have a number of reports from there.

First, though we go to the news surrounding the team – or what coach Ian Mork calls distractions. Elroy Kuylen, midfielder for the Belize team has been replaced on the roster by Chris Gilharry – who is on his way to Portland right. Kuylen was held by US Immigration in Houston and returned to Belize on Friday.

Second, the thorny issue of those contracts that the players were demanding – those were presented to the team on Sunday – and contained all that they had asked for. It included a fee of $75 per day while in the US, a match fee of $250 US per game, and a participation award of $5,000 Belize for each member. So, there's no complaining about that.

Thirdly, the team is in high spirits, there is no carryover from the Slusher incident and relations with the coaching staff and the executive are very relaxed and friendly.

Fourth, the biggest news coming out of Portland is that an attempt has been made to try and involve Belizean Players Woodrow West and Ian Gaynair in Match fixing – that is he try to get them to throw the game so the US would win. The man first met them in Guatemala, attempted to befriend them – and then called them again in Portland – where he met them at a mall near to the hotel:
Andres Makin Jr. - Belize National Selection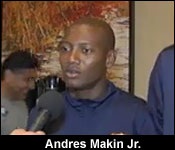 "The man asked me a lot of questions and the man asked me how much money I made in Belize and I told him we make a certain amount of money. Then he told me that that isn't any kind of money and he kept asking questions and questions and only about money he was talking about and that is when he pulled 'Yolo' aside and told him that he didn't want to talk to me only to Yolo and Woodrow."





Ian Gaynair - Belize National Selection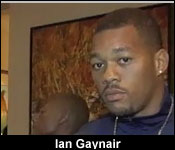 "He started talking that we don't really stand a chance to beat the U.S so he wanted us to promise him that we would lose the game and that he would give us a large amount of money to change our lives in Belize and to help our families. Then as he said that my entire features changed and I just felt a different way, I felt really uncomfortable just to be around the guy because I was already aware about the 'match fixing' and I know that I could get banned for life. He saw that my features changed and he saw that we weren't into it so he got frightened and took out a large amount of money to bribe us, a lot of hundred and fifty dollar bills and threw it at us on the table and told us to keep it and to not say anything and to keep the money. Like I told him, 'we can't take that money' because at the end of the day our entire country is behind us and we just made history for these big games so we can't just sell out our country for a little bit of money. At the end of the day we might not be making a lot of money in Belize but still we have to look at our career and our future."


Woodrow West - Belize National Selection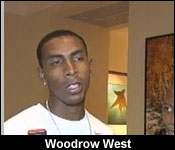 "That is what I explained to the man - I made him understand that we're not into taking money from him or anything like that, and we're here for our country - regardless if we're in the U.S.A but we're not into that none at all. He got frightened and we walked - Yolo walked away and I followed him because I didn't want to stay back there so when we went he chased us and grabbed us and told us not to tell anyone; and that if we didn't tell anyone - that when we got to Belize he would give us $10,000 euros. We are Belizeans and that is what we're doing out here - to represent our country and to me Woodrow West and being loyal to my country - that bigger than any amount of money that they can ever give me and that is why I stood firm and Thank God we had that strength to deny this man because he was really into giving us a large amount of money."
Ian Gaynair
"I think this man thought that we would have fallen and that we were desperate. At the end of the day I'm glad he met two strong men and didn't easily fall for money. One thing I want to assure the entire nation - anyone of us that are going out there, we'll give it our all because we're not into any match fixing because we're strong and we're all about our country and we'll give our best tomorrow."
CONCACAF is leading the investigation and has committed to beef up security for the players.