But as we showed you last night, someone from the international community tried to bribe Woodrow West and Ian Gaynair.

These men dealt with the situation admirably. The offer, however, was only made because the person thought that it would have been enticing enough they would have accepted.

The President of the Football Federation of Belize arrived in Portland, where our Jules Vasquez is, and he got a chance to speak with him on that topic.

He said that the members were warned that this could happened, and he also announced to the nation that the Government of Belize also donated an additional $50,000 dollars towards the team. Here's how that conversation went.
Ruperto Vicente - President, Belize Team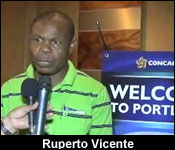 "Things are improving and I must thank the Prime Minister of Belize, the Hon. Dean Barrow, for giving us further financial assistance with our national team - thanks to the Prime Minister for the extra $50,000 that was given to me for the expenses that we're going to be having here with our national team players in Portland."
Reporter
"So now you've crossed the $300,000 margin?"
Ruperto Vicente
"We have crossed that $300,000 margin."
Reporter
"How do you find the team?"
Ruperto Vicente
"Well the feeling that I've been getting is that the team is in good spirit and I'm happy for that - there was some distractions before coming here but we've gotten over that hurdle. There will be distractions and continue to have distractions and especially when it comes to monies - it can be a distraction and I am greatful that we have gotten more money to take care of our National Team."
Jules Vasquez
"Again now there's another distraction - the match fixing issue. Is there an official reaction to that, how the guys conducted themselves and the fact that the offer was made in the first place."
Ruperto Vicente
"I'm happy that the players came forward and made the report when they were approached. This happens as a result of what happened right before the players left Belize. When people like this find that the players are clamoring for monies - they become targets for people who are involved in match fixing. Belize then has become a target because they realize we are a poor federation. We're a federation that doesn't have money and who isn't paying the players a lot of money. So monies offered to players by match fixers is very attractive so they will come and offer to our players. But understand that we had spoken to our players and we told them that there will be people in the United States who will come and try to bribe them and get them to be involved in match fixing."