Over the last decade and a half The Image Factory has been pushing the edge of contemporary art in Belize. But, along with art impresario Joan (Juan) Duran, they've been doing the same thing in Central America and the Caribbean. And now they've put together the combined output of all those art interventions in a dramatic new book. It's a beautiful edition, over 400 pages long and costs one hundred dollars. But what is this art book about? We tried to find out at the very unusual launching today:..
Jules Vasquez reporting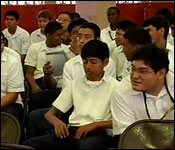 An isolate cropping of students, friends, fans and press in the middle of the cavernous SJC Gymnasium. Hand-fans aflutter in visible discomfort form the oppressive heat.
It's probably the first book launch staged in such a strange setting but this is Art with a capital 'A' and the audience was only allegorical:
Yasser Musa - Artist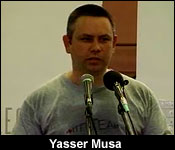 "The reason we are sitting here in this hot, beautiful, well-lit gymnasium is not by accident. It is intentional because we wanted to create a metaphor that says that this space is a laboratory of energy."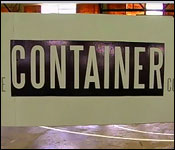 And the book, landings new art + ideas from the Caribbean and central America 2000 / 2010 comes in at 464 pages, painstakingly compiled and lovingly curated over 4 years. It is what they call a container of that energy harnessed from across the region:
Yasser Musa
"I like to think that as an artist participating in this project, I helped to unload some ideas and now that I can work and get it into the library system then maybe some students will unload some of the ideas. So it's this kind of ying and yang - it is really the ping pong of my art life at this stage."
Joan Duran - Curator - landings new art + ideas from the Caribbean and central america 2000 / 2010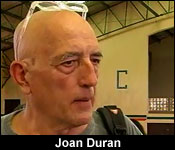 "It's well over 500 views from young people 99% of them - mostly artist - they're also people that their main job is to write or people that their main duty life is just to think. It will make you realize that the entire world - even our own region, it's not only us from Half Moon Caye to Benque - we are living in a grandiose planet."
Yasser Musa
"From him to the artist from the Guatemalan highlands to the aritst from Belize, Honduras, Cuba, the Yucatan - as far east as Trinidad and Tobago - we have brought the Hurricane Zone artist and cultural thinkers and writers together - but not under the physical or meteorological hurricane - but we've said we're living in a political and social upheaval which is a kind of living hurricane. So under that context we brought that together. My view is that, I'm not naive, we're not a nation of readers but over time who knows - maybe in two or ten years it might be of value - that is why I call it an artifact, it is beautiful yes -but how you act with it and what you get from the artifact is important."
Doctoral student in art History, Salvadorean-American Kency Cornejo says the book bridges an important and often overlooked divide:
Kency Cornejo - PhD Candidate Art History, Duke Univ.

"This book, the value that I see in it, is that it's exactly that - it's a history and narrative written from the perspective of Central America by Central American artists and that is very important. For you, it's not for you to read it and consume it and say this is the history - it's for you to read it and criticize it and challenge it - throw tomatoes at it if you want, like it or don't like but be open to the fact that these are voices coming from Central America talking about art and visual culture and about decolonizing the way we see. But when people are colonized, they're not just colonized as bodies right? They have to colonize their minds in order to control them, they have to colonize the way that they see in order to implement different ways of seeing so that they can see themselves in certain ways. So the challenge is not just political and economic, it's visual and knowledge that's an epistemic level. So that's very important and that is what this book contributes to the region."
The evangelical power of art was much discussed today:
Yasser Musa
"Art is not about beauty, it is not about putting something on the wall - it is about being a warrior, being a fighter, being an activist, art is a social action - it is a political action. But it's the mind, the power of ideas that will transform your society."
And curator Joan Duran says transformation is required:
Joan Duran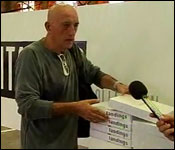 "We in Belize we have this disease, it's a mental disease from even before independence that we only seem to praise our Blue Hole's and Victoria Peaks and the Jabirus and Manatees and orchids. Look don't even forget that accidentally it happened to be me who introduced the postcard business in this country in the 70's and out of 100's of postcard - the overwhelming majority was not the buildings and Blue Hole's and national icons - it was ordinary people. That is what I'm sending to my mother ,that is what I'm sending to my friend because you want them expect to see that I live in a little Kayak in the middle of the Blue Hole and that I'm scuba diving all day? That I spend all day wiht my binoculars to see the Jabirus and the Toucans - no man. To build a nation, you need to do that - this is a cement block - this is another brick and that's how you build a new nation -with things produced by you and you and me on the side too - not just praising the inheritance from the science and nature and the different gods of the Universe, that's not nation building. that is ******** - which is a lot different"
The Book is available at the Image Factory and other booksellers. Through the donation of sponsors, a number of copies will be circulated to libraries and schools.