Last night we showed you how the Barrow Administration's Mother's Day Gift Programme works. Each UDP area representative was earmarked fifty thousand dollars to distribute to mothers in their constituency. Most, we gather, distributed fifty or a hundred dollars vouchers, while others gave gifts of an equivalent value. The programme is alleged to have cost 850 thousand dollars and based on the feedback we have gotten, it was shored up amongst fifteen to twenty thousand recipients, presumably all mothers living in divisions with UDP representatives. The 14 PUP Representatives didn't get anything - unlike what happened with the Christmas Cheer Programme - when they got, but significantly less than their UDP counterparts. That's politics as usual, but today the Opposition cried foul. They held a press conference to say that it demeans democracy:..
Hon. Dolores Balderamos Garcia, Area Rep. - Bze Rural Central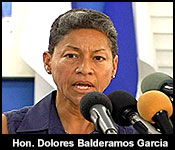 "What we disapprove of in the strongest terms is the use of the people's money - tax payers' money to fund gifts and parties in connection with mother's day in a way that is partisan, patronizing and political. Such is move is just plain wrong. The misuse of Belizean tax payers' money for solely partisan political purposes. As our secretary general has told us belittles and cheapens our democracy. We therefore call on all of Belizean civil society including our religious and faith leaders to join us in condemning this dishonest and offensive approach to carry in favor."
But civil society, or the churches for that matter are not likely to be roused by the pots and kettles of the P-UDP. After all, they didn't say anything either when the PUP representatives and standard bearers divvied up 15.3 million Belize dollars in the one month before the 2008 general elections. It was shared out in so called housing loans ranging from 400 dollars to eight thousand dollars. A disproportionate number of those loans were distributed in the Freetown Division where Francis Fonseca was and still is representative. We asked him about it today:…
Hon. Francis Fonseca, Leader of the Opposition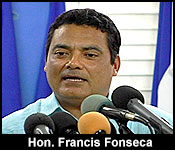 "I think the point is Jules that as many has said because that is the UDP propaganda that is their line: it was done by the People's United Party, so we can do it as well."
It is worth noting that in the aftermath of the 2008 defeat, many PUP politicians we spoke to felt that the pre-election giveaway backfired because it created a feeding frenzy among their supporters, many who ended up with hard feelings because they did not end up getting any housing loans.