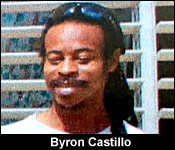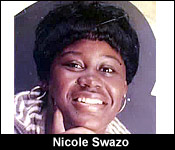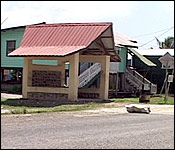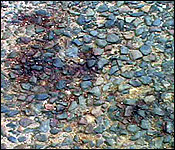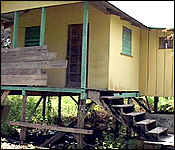 The small southern village of Seine Bight is recovering from the shock of a public stabbing and suicide after a well-known resident allegedly killed himself after putting his common-law wife in the Hospital.
33 year-old Byron Castillo viciously attacked and stabbed the mother of his two children, 34 year-old Nichole Swazo on Saturday afternoon in broad daylight. A few minutes later, they founding him hanging from the ceiling of his house.
He died shortly after he was discovered, either from the hanging attempt, or from allegedly drinking poison. The problem is that this entire incident caught Seine Bight residents off-guard because Castillo was a career educator at the St. Alphonsus Primary School, and so, that has led them to condemn his actions, but not his character.
Today, our news team went to the village to find out more, and Daniel Ortiz has that story:
Daniel Ortiz reporting
Residents say that it happened here at the bus stop. The couple was having a long discussion, which turned into a very public argument.
Voice of: Seine Bight Resident - Eyewitness
"Mr. Byron Castillo cross the street coming from his house and he went and sit-down beside Miss Ann and they start a normal conversation, which is not our business, so we just continue on hanging out. We continue cook our food. We went to the back and got some firewood and in that time getting some firewood we heard a commotion and when I look I just saw my brother over the sister apparently assaulting her. That was after an hour or normal conversation between his and his girlfriend or ex or whatever his kids mother. By the time we advance towards the road because we were at the back getting firewood, I guess he saw us coming and he just left here there and he ran across the street and so I took my undershirt off and put it beside her neck because it looks like she was apparently bleeding from the neck, so I gave her my t-shirt and I told her "hold here sister, don't move.""
With the help of concerned neighbours, Swazo was rushed to the Placencia Polyclinic.
In the time that the resident rushed to get medical help, they didn't see where Byron Castillo ran off to.
Police went to look for him, and they found him inside his house, behind the door, hanging from his neck. Apparently, after he attacked his common-law, he tried to kill himself.
Voice of: Seine Bight Resident - Eyewitness
"I went to the back to get some more firewood and when I look, because Byron Castillo lives right in the back and when I look I saw a crowd there again, but I thought it was the police searching for him so I say I am not going to interfere with that and then one of his nephew came out and said that his uncle killed himself."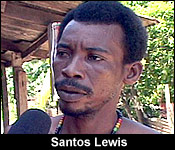 The almost involuntary reaction is to criticize Castillo's actions, trying to figure out why he would viciously attack his common-law wife. His family and friends join the rest of the community in condemning his actions, but not the man.
Santos Lewis - Brother of Deceased
"First of all my brother is a very great educator in this society because he sent so many children to high school especially in certain areas in subject like math; he trained and teaches them and they go and do good."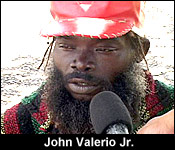 John Valerio Jr. - Relative of Nichole Swazo
"Its bedroom affairs, it's a family structure and we left everything in the hands of Jah. I wasn't on the scene, but I come on the scene to deal with the after collapse, but Jah will deal with it."
Eyewitness
"The truth is that Mr. Castillo is Mr. Castillo, I am Augustine, i wouldn't really do that right and to tell you the truth if the world had seen everybody - it's not a good thing but I mean I am not here to find blame or whatever, but it's just to say that it happen the way it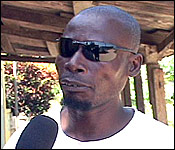 happened and in fairness to Mr. Byron Castillo we want to state for the record that he was a very good member of this community; he was a respected individual in this community; he was one of the greatest teacher in this community."
Castillo is known for his contribution to his Standard 6 students' education, especially in Mathematics. But, while that is the prevalent memory, some residents also report that he was in an altercation with one of his nephew, which led to a stabbing incident, an accusation which supposedly caused him to lose his teaching position at the primary school about a year ago. He is also credited with school championships in Volleyball as one of the trainers while he was there.