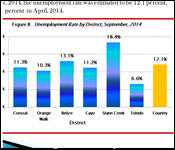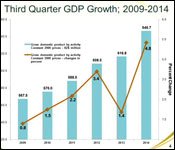 What is Belize's unemployment rate? Well according to the latest labour force survey, it is less than at this time last year. In September of 2013, it stood at 14.2%, but in September of this year it was down to 12.1%. The new Director General of the Statistical Institute of Belize explained at a press conference in Belize city this morning:….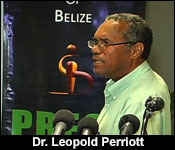 Dr. Leopold Perriott – Director-General, SIB
"This graph is telling us that of the labour force that 12.1 percent of the labour force unemployed country wide. 18.4 percent of the labour force in Stann Creek are unemployed. The lowest of course 6.6 percent in Toledo is unemployed. The high levels in Stann Creek reflects the large amount of jobs that were lost over the last quarter, last half of the year. As fas as trends goes, we're experiencing a down turn in the unemployment rates. 18,479 persons are unemployed in September and most of them are in the Belize district; 37.1 in the Belize district and we have. That wouldn't be surprising with the biggest population"
According to the survey, eighteen thousand persons are unemployed, and unemployment rate is highest in the Stann Creek District – which is attributed to a downturn in the Citrus industry. Notably, the unemployment rate for youths, or persons 14 to 24 years old is an alarming 25%. During the survey period, Stann Creek lost the most jobs while Cayo gained the most.
In April when the last labour force survey was conducted, the unemployment rate was 11.1%.
The SIB also released the latest figures on the GDP today. Again, it showed strong growth – and they explained why:…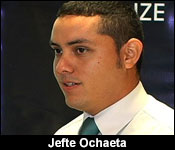 Jefte Ochaeta – Statistician I
"There is a cumulative growth up September of 4.2 percent in all economic activities. As you can see for the third quarters there has been a linear curve going up. We have a 4.8 percent growth rate compared to what was produced in 2013 for the months of July to September. What drove the economy? Well we had the primary industries increasing by 20.1 percent. That is agriculture and forestry went up by 20.4 percent. The reason being in sugar cane for instance in May last year the crop ended. But this year the crop went into July, so we had an excess of 50 thousand tons in July. Fishing industry went up by 19.8 percent. Production of shrimp increased by 53.5 percent for the third quarter and that correlated directly with the export of shrimp, which was 6.3 million more than the 3rd quarter of 2013. Livestock production had a huge increase and correlated directly with the primary industries. In 2014 for the months of July to September, we sold 7 thousand heads of cattle. Out of this 7 thousand, 80 percent was exported, either to Mexico or Guatemala. Pigs also went up by a lot. So all our animal production has been increasing. Given our poultry products, they produce 9.7 million tons of poultry for this 3 months. We ate a lot of chicken. We've seen increases in the beverage section in the manufacturing industry, it went up by 18.2 percent. Where beer went up by 10.3 percent, soft drinks by 13.3 percent and rum production by 20.4 percent. We could assume right, that most of the production is being marketed not only to Belizeans, it is being marketed to all these visitors. There has been 65,000 more persons from July to September and all these visitors, they come to enjoy themselves. So they need our beers, they can't drink Coronas in Belize, want to drink belikins."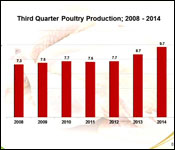 But while the economists can haggle over who drinks what beer, for most people, they want to know about what's in their shopping bag. And that's express in the consumer price index – which is the measurement of what you pay at the market and the store for basic items.
The figure for the month of October shows a less than one percent increase from October of last year: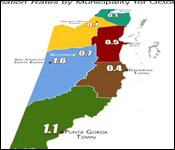 Angelita Campbell- Statistician II
"The average rate of inflation for January to October is at 1.3 percent and if you look closely, you'll see Corozal town reflects the lowest inflation rate of 0.1 percent. Followed by Dangriga at 0.4 percent. Then we have Belize city at 0.5 percent. We have Orange Walk town and Belmopan recording they same inflation rate of 0.7 percent. Then we have Punta Gorda town reflecting 1.1 percent and San Ignacio 1.6. We have Jamaica at 8.2%. Then we have Dominica by 2.9 percent. Closer to home we have Guatemala at 3.6 percent. We have Honduras at 6.3 percent. We have El Salvador at 1.9 percent. We have Nicaragua at 6.6 percent, Costa Rica at 5.7 and Panama at 2.1. The United States recorded an increase at 1.7 percent, while Mexico stands at 4.3. However the overall food index declined by 1.2 percent. The meat category went up by 0.4 percent and that is reflected in the increase of beef and pork. There was a decrease in eggs by 19.3 percent. There was also a decrease in pasta products. Vegetables also went down by 3.3 percent and this was observed in sweet peppers decreasing by roughly 19 percent and lettuce decreasing as well. Fruits went down by 3.4 percent, mainly observed in the decrease of apples of around 7 percent. Seafood also went down by 0.3 percent."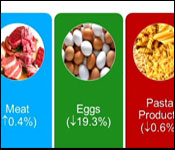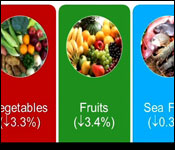 This was the last SIB press conference for this year.