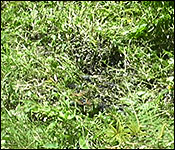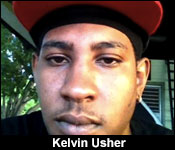 On Monday, we told you about a burnt body which was found on the main road heading to Scotland Half-moon Village in Belize Rural. Well tonight, police are no closer to identifying him, but as we've told you, they suspect it to be a Ladyville villager who went missing since last week Thursday.
He's 28 year-old Kelvin Usher, a resident of mile 9 on the Phillip Goldson Highway, and we stress at this time that he is still listed as missing. His common-law wife told us on Monday that she doesn't believe that the charred remains are Usher's, but as we've shown you, his mother has given police a partial identification using a tattoo that she recognized on his chest. We have seen Facebook posting from relatives also accepting that the burnt body is his.
The investigators say that they are waiting for the post-mortem to be 100% sure if indeed the victim is Usher. That examination was to have happened this afternoon, but it has been postponed until tomorrow.
Scotland Half-moon villagers came across the body in the bushes just off the main road to the village, around 10 a.m. on Saturday. The remains had been burnt beyond recognition. Investigators suspect foul-play and they believe that the body was burnt elsewhere and then transported to that location where it was discovered.