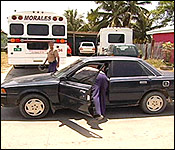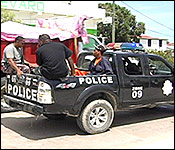 Police say the minor who was caught with a gun in Belize City yesterday fled the car with the weapon. Cops intercepted a Toyota Camry on Central American Boulevard around 12:15 pm – but when they stopped it, a 16 year old minor dashed out. Police set chase and saw him fling an object over a fence. They searched a yard on Zericote street and found a .38 caliber revolver. Now, the interesting thing about this weapon is that it was stolen – and guess form where? The police station in Punta Gorda! Of course, this wasn't even reported to the media – and this very important detail still was not included in today's police report.
But 7News has been reliably informed that the theft happened between the 19th and 20th April, 2015.
Police searched the car presumably because persons with known gang ties were inside – but only the minor has been charged because the weapon was not found in the car, he fled with it.