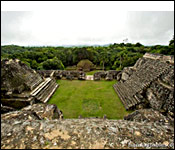 Who can forget the terrible Thursday of September 24, 2014? That was day when Belizean Special Constable Danny Conorquie was killed on duty at the Caracol Archaeological Park in Western Belize, a few meters from the border. It was suspected - but never confirmed - that his killers were Guatemalan cross-border bandits who may have fled into the Guatemalan village of La Rejoya.
His murder shocked the country and forced the National Security Ministry into activating strict security measures for the Caracol Site. This was an urgent situation which was exposed by a Police Internal Memo which identified the clear and present danger to the Special Constables who were forced to guard the site, but it apparently fell on deaf ears.
Well, 10 months after that tragic incident, the Government, through NICH, has completed a conservation outpost at the Caracol Archaeological Reserve. It was constructed in close collaboration of the Ministry of National Security, and it will be able to house a number of Belize Defense Force Soldiers, who will provide support and back-up for the Tourism Police Officers.
This new facility is scheduled to be inaugurated on Friday, and we'll be there.