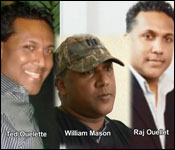 So, while the authorities continue to investigate the origin of William Danny Mason's fake birth certificate, his attorney, Herbert Panton, says don't believe anything you hear about his client unless it comes from him, Panton.
There are reports that Mason has been in communication with attorney Dickie Bradley and Mark Flowers while Flowers was on remand for those 3 nights last week. The suggestion is that he may be making disclosures about his dealings with Cabinet Ministers. We told you last Friday that it was believed that after Flowers was released on bail, he would have revealed additional information, which would reveal further unknown details about Former Police Minister John Saldivar's relationship to Mason.
Well, we spoke to Panton via telephone today, and he told us that it needs to be clarified that neither Dickie Bradley nor Mark Flowers speaks for his client, William "Danny" Mason. Panton told us that only he is authorized to make any comments on behalf of Mason, and if anyone else claims that Mason provided them with any information, it should be treated as unreliable and inaccurate, since it did not come from Panton himself.