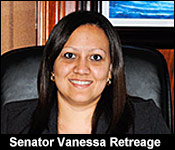 And later on you'll hear what Hulse thinks of the job ahead. But first to the other promoted Minister. That's Attorney General Vanessa Retreage. Just one year ago she was a private attorney - and tonight she is one of the most power ministers in the Barrow Administration. The Prime Minister said he hopes she can continue the transformation at the Lands Department - which was started by Hulse.
Rt. Hon. Dean Barrow, Prime Minister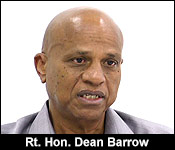 "I don't think I have ever been to that new building which is not new anymore in my life. But I use to hear the stories of all the hangers-on and the hustlers, the grifters gathered on the verandas or in nearby precincts. My understanding is that that phenomenon has disappeared in the few short months since Godwin Hulse took over. I am absolutely secure in my conviction that the Attorney General will continue along those lines and I can rest a little easier at night. When last has there been a land scandal? Maybe I talk too quickly, but let me just stop by saying Godwin has made progress and I think the AG will continue to make progress."