And finally tonight, new Police Minister Godwin Hulse speaks about his new assignment after moving on rather abruptly form the Ministry of Natural Resources:...
Hon. Godwin Hulse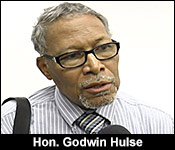 "I will have people that I have to work with, people at the top, middle and bottom. I think all of you know my style, there are two things that is legend with me, I will listen to everybody, hear everybody's complaint, try to work with everybody, because I believe in the positive C's compromise, the corporation, the comrade, but I have zero tolerance for anything else and it doesn't matter who that is."
Jules Vasquez
"But if in your due diligence you review this very important, almost nationally existential investigation into Mr. Mason and find that it would seem that Mr. Saldivar, your predecessor, might be a person worth speaking to in the investigation. Would you get involved and say 'man we need to talk to this man'?"
Hon. Godwin Hulse
"Well clearly Jules I mean we have short memories man, you all forget Minister Penner, that in fact it was from one day to the next I took the matter to cabinet and said 'we have to talk, come', and yes I'm not an investigator, I'm not an expert but as I said and I will continue to say, nobody on the face of the earth is sacrosanct to me when it comes to any untoward thing, t doesn't matter if it's my mom and my dad who is already dead, my son and my daughter to whom I tell them that every day."
Hulse added that leaving the Ministry of Natural Resources after just 9 months is bittersweet since he feels he had accomplished a great deal there.